Netstor Unveils Cutting-Edge HPC-Ready Rackmount PCIe Gen4 GPU Expansion Chassis: NA265A-G4
Taipei, Taiwan – September 12, 2023 – Netstor Technology, a renowned leader in GPU/PCIe expansion products, has just launched the TurboBox Rac NA265A-G4, a 19" rackmount GPU PCIe 4.0 expansion chassis that's set to redefine data transfer speeds for high-performance computing (HPC) applications.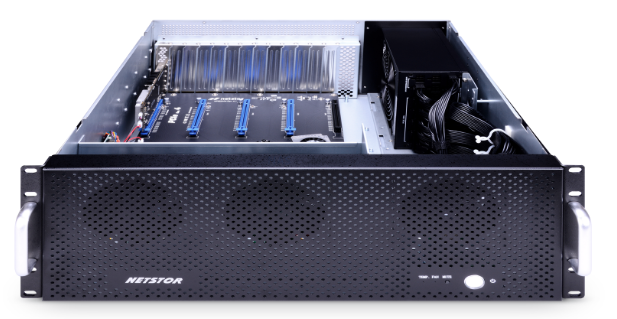 Blazing-Fast Data Transfers at 256 Gbps
The TurboBox Rac NA265A-G4 is engineered to deliver unprecedented data transfer rates, soaring up to a mind-blowing 256 Gbps between servers and the GPU enclosure. This ultra-high-speed connectivity empowers workflows with unmatched efficiency and responsiveness.
Four PCIe 4.0 x16 Slots for Unleashing GPU Power
Inside the Netstor powerhouse, you'll find four downstream PCIe 4.0 x16 slots, ready to accommodate up to four triple-width, high-performance graphics cards. This opens up a world of possibilities for server and workstation applications, delivering unparalleled processing capabilities.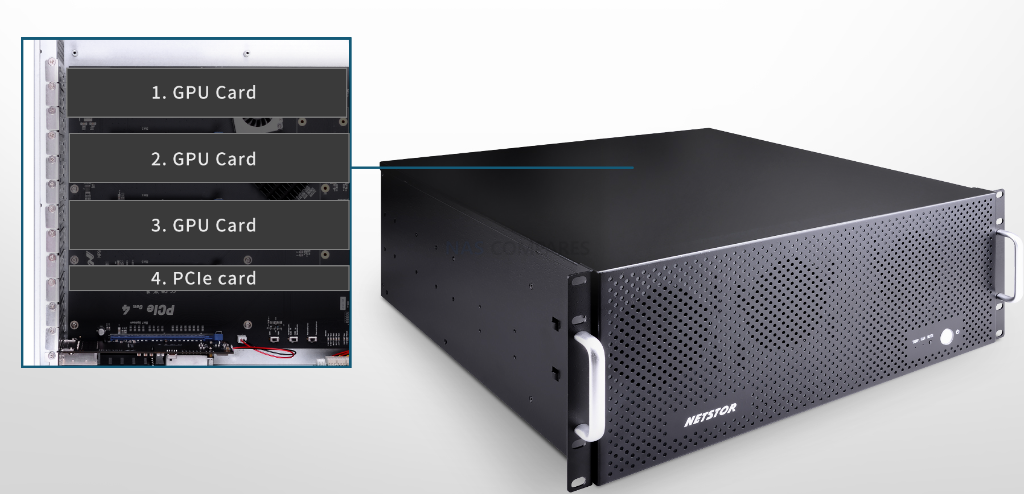 Versatile Compatibility with Space Constraints
The NA265A-G4's host card is designed with a Low-Profile height, ensuring compatibility with both full-height workstations and low-profile 1U/2U PCIe 4.0 and PCIe 5.0 servers. This adaptability means that an existing server can be transformed into a high-performance workstation in a cost-effective manner.
Supercomputing Capabilities for Various Fields
By harnessing the power of the NA265A-G4, servers can be transformed into supercomputing workstations. This transformation offers an exceptional cost-performance ratio, making it an ideal solution for users and administrators in High-Performance Computing (HPC) fields, telecommunications (including cloud computing), and enterprise/corporate applications such as data analysis, surveillance, and storage.
Reliable Power Supply for Demanding Workloads
The TurboBox Rac NA265A-G4 houses a built-in high-efficiency dual-mode 1650W/2000W power supply unit. This PSU provides twelve supplementary 6+2 pin PCIe power cables, ensuring it can meet the power demands of modern GPUs and graphics cards, even for the most demanding heavy workloads and mission-critical applications.
Continuing Innovation in GPU/PCIe Expansion
Netstor's commitment to innovation shines through with the NA265A-G4. Building on the success of the desktop version GPU chassis, NA255A-G4, which has already found extensive use in video editing, digital content creation, and post-production, Netstor continues to push the envelope in GPU/PCIe expansion. The release of the rackmount-type PCIe expansion chassis NA265A-G4 opens up new possibilities for HPC, telecommunications, and enterprise/corporate applications and solutions.
Explore the Future of GPU Expansion with NA265A-G4
For more in-depth information about the TurboBox Rac NA265A-G4, please visit the product webpage at NA265A-G4. Elevate your computing capabilities and embrace the future of high-performance computing with Netstor's latest innovation.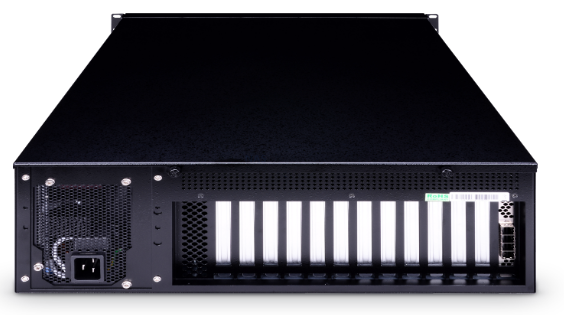 Specifications
NA265A-G4
Form Factor
4U Rackmount
Host Interface
Up to 256Gb/s external PCIe 4.0 x16
No. of Slot
4* PCI Express 4.0 x16 signal and connector slot
All slots support up to triple-width PCIe card
Card Length Available
Supports full length(320mm), full height(130mm), triple-width PCI Cards

LED Display for Enclosure
Power-On LED – Blue
FAN normal – green; Fan failure – Red
TEMP normal – green; TEMP Over 55°C – red
Cooling
Front: Three 90x 90x 25 mm cooling fans
75 CFM each fan @ full speed
Alarm
Buzzer beeping for fan failure or over temperature (over 55°C) occurs
Material
Solid heavy-duty cold-rolled steel housing
Power Supply

Model : NA265A-G4

 Universal Single 1650W/ 2000W (High-Efficiency & Low Noise)


1650W

 – AC Input: 115V @16A or 240V @9A (60-50 Hz)


2000W

 – AC Input: 200V ~ 240V @ 12A (50 Hz)
Dimension
448 (D) x 482 (W) x 177 (H) mm
17.6 (D) x 19 (W) x 7 (H) inch
Weight
17 Kgs (Including external cables)
O.S. support
OS Independent
Host Requirement
One PCIe Gen4 / Gen5 x16 slot (non Bifurcation support)
Note: Low profile available
Package Content
Enclosure x 1
PCIe Gen4 x16 host adapter card x 1
Low profile bracket x 1
mini-SAS HD cable (1.5 meter) x 4
Power Cord x 1
Accessories
Model No.
Description
NA265A-G4
4U Rackmount PCIe Gen4 Expansion Enclosure, 

1650W/2000W Single

 Power Supply(Different AC-Input Requirements) with extra 12* PCIe power connectors 6+2 pin for up to 4 * triple-width GPU cards, with one PCIe Gen4 x16 host adapter and four external miniSAS HD cables.
If you like this service, please consider supporting us.
We use affiliate links on the blog allowing NAScompares information and advice service to be free of charge to you.
Anything you purchase on the day you click on our links will generate a small commission which is
used to run the website. Here is a link for
Amazon
and
B&H
.
You can also get me a ☕
Ko-fi
or old school
Paypal
. Thanks!
To find out more about how to support this advice service check
HERE
If you need to fix or configure a NAS, check
Fiver
Have you thought about helping others with your knowledge?
Find Instructions Here
☕ WE LOVE COFFEE ☕

Or support us by using our affiliate links on Amazon UK and Amazon US