Introducing the ASUSTOR Xpanstor 4: 4 Bays, 4 Times the Storage Power
Taipei, Taiwan, September 12, 2023 – ASUSTOR, a pioneer in private cloud storage solutions, has unleashed its latest innovation, the Xpanstor 4, and it's set to revolutionize your NAS experience. With four bays and a plethora of cutting-edge features, the Xpanstor 4 is ready to take your data storage to the next level.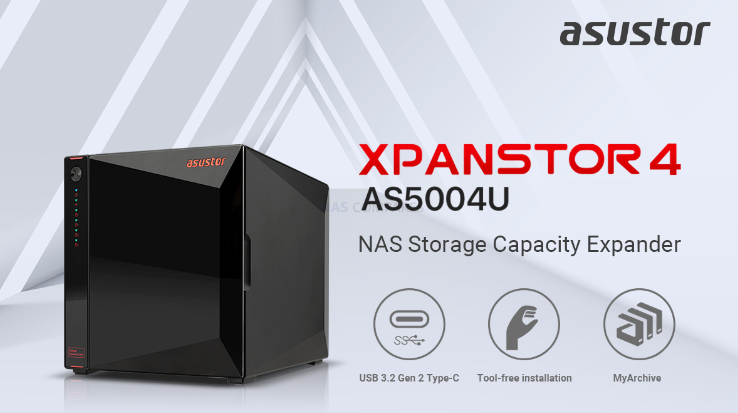 Blazing Fast Speeds with USB 3.2 Gen 2 Type-C
The Xpanstor 4 arrives with USB 3.2 Gen 2 Type-C connectivity, pushing your data transfer speeds to a whopping 10 Gbps. This represents a significant upgrade, doubling the connection speeds from the previous 5 Gbps, and remains backward compatible with USB 3.2 Gen 1. Say goodbye to sluggish data transfers, and hello to efficiency and productivity.
MyArchive Cold Backup Technology: Secure Your Data with Ease
ASUSTOR understands the importance of data security. That's why the Xpanstor 4 comes equipped with MyArchive cold backup technology, which now supports scheduling for convenient 3-2-1 backups. Safeguarding your critical data has never been simpler.
Smart Energy Efficiency and Cooling
The Xpanstor 4 is designed with intelligence in mind. When your connected NAS enters sleep mode or powers down, the Xpanstor 4 follows suit, conserving energy and extending hard drive lifespan. Its smart fan system adjusts fan speeds according to hard drive temperatures, ensuring the perfect balance between performance and noise levels. Additionally, the specially designed cable secures the Xpanstor 4 to your device, preventing accidental disconnects.
Versatile, Expandable, and User-Friendly
With four hot-swappable hard drive bays, the Xpanstor 4 can be seamlessly integrated into your existing NAS setup. Whether you use it for MyArchive backups or RAID volumes, it offers the full suite of ASUSTOR data protection features to adapt to your evolving needs.
Three-Year Warranty and Beyond
ASUSTOR stands by the quality of its product, providing a generous three-year warranty for the Xpanstor 4. Rest easy knowing your investment is protected. For purchase information, please contact our official distributors.
Discover the Future of Storage with ASUSTOR
The ASUSTOR Xpanstor 4 isn't just an expansion unit; it's a game-changer. Elevate your NAS experience with lightning-fast speeds, intelligent energy management, and unparalleled data security. Embrace the future of storage solutions with ASUSTOR.
AS5004U Specifications:
USB 3.2 Gen 2 Type-C @ 10 Gbps
Plug and Play
Supports MyArchive Cold Storage Technology
Sleeps when your NAS sleeps or shuts down
Intelligent fan control
Supports 4x 3½" or 2½" Hard drives or SSDs
Supports hot-swapping
Supports single disk, JBOD, RAID 0, RAID 1, RAID 5, RAID 6, RAID 10
If you like this service, please consider supporting us.
We use affiliate links on the blog allowing NAScompares information and advice service to be free of charge to you.
Anything you purchase on the day you click on our links will generate a small commission which is
used to run the website. Here is a link for
Amazon
and
B&H
.
You can also get me a ☕
Ko-fi
or old school
Paypal
. Thanks!
To find out more about how to support this advice service check
HERE
If you need to fix or configure a NAS, check
Fiver
Have you thought about helping others with your knowledge?
Find Instructions Here
☕ WE LOVE COFFEE ☕

Or support us by using our affiliate links on Amazon UK and Amazon US