New U24-612 24-bay NAS from terramaster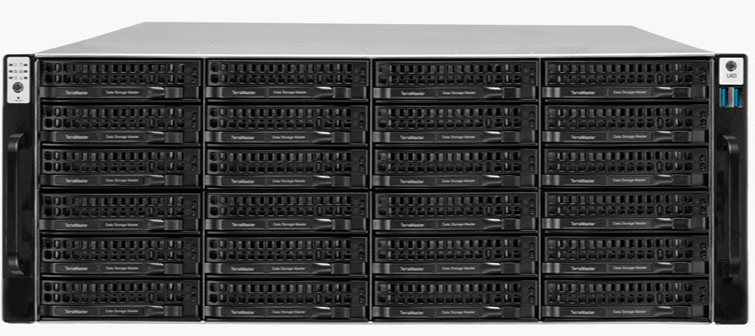 High Scalability
Configure four DDR4 slots to support up to 16GB of memory modules with total memory up to 64GB; configure three PCI-E3.0 8X expansion slots for expansion of 10 Gigabit network cards (2 SFP + ports) and hard array RAID cards.

Fast and stable
Equipped with four network interfaces and the Link Aggregation function, the server access will not be interrupted even if a network interface fails online, greatly reducing the probability of online interruption without warning. In addition, the Link Aggregation function breaks through the limitation of network transmission speed of a single network interface and has the on-load balancing function of automatically balancing network traffic, thus providing stable data transmission for customers.
SSD cache technology
Hard disks, though large in capacity and cost-effective, are not as fast as SSDs. The use of SSD cache technology in hard disk arrays will optimize the response speed when accessing data and improve transmission performance by about 25%.
Server clusters
Using a server cluster, merge two TNAS into one cluster, with one server serving as a work activity server and the other as a standby passive server. The active server processes data requests and services while continuously replicating all content to the passive server. This provides a comprehensive hardware and data redundancy solution in the event of an accident.
Centralized storage, smart backup
You can backup the data of Mac, PC, USB external device and server to TNAS for centralized management. TerraMaster backup application supports data deduplication and incremental backup technology, greatly reducing storage space consumption.
| | |
| --- | --- |
| Processor | |
| Processor model | Intel® Celeron® E3 |
| Processor architecture | 64-bit |
| Processor frequency | Quad-Core, 3.3GHz (Maximum Turo: 3.7GHz) |
| Memory | |
| System memory | 8GB |
| Pre-installed memory module | 8GB (1 x 8GB) |
| Total memory slot number | 4 |
| Maximum supported memory | 64 GB (4 *16GB) |
| Storage Device | |
| Diskette slot number | 24 |
| Compatible disk types | 3.5″ SATA HDD |
| | 2.5″ SATA HDD |
| | 2.5″ SATA SSD |
| Maximum internal storage capacity | 288TB (12 TB drive x 24) (Capacity will vary along with the RAID type) |
| Disk hot plugs | √ |
| External Ports | |
| RJ-45 1GbE network jack | 4 |
| USB 3.0 port | 2 |
| USB 2.0 port | 4 |
| File System | |
| Internal disk | EXT4 |
| External disk | EXT3, EXT4, NTFS, FAT32, HFS+ |
| Appearance | |
| Size (H*W*D) | 440 x 550x 176  mm |
| Others | |
| Fan mode | Smart, Fastest, Low temperature, Mute |
| Automatic recovery of power | √ |
| Timing On/Off | √ |
| Power supply / transformer | 650W |
| AC input voltage | 100V – 240V AC |
| Current frequency | 50/60 Hz, Single frequency |
| Environment Temperature | |
| Working temperature | 5°C  ~ 40°C (40°F ~ 104°F) |
| Storage temperature | -20°C ~ 60°C (-5°F ~ 140°F) |
| Relative temperature | 5% ~ 95% RH |
| Maximum iSCSI Target | 32 |
| Maximum iSCSI LUN | 256 |
| Supported RAID types | Single,JBOD,RAID 0,RAID 1,RAID5,RAID 6,RAID 10 |
| Large capacity hard disk for expanding storage space | RAID 1,RAID5,RAID 6,RAID10 |
| File Sharing | |
| Maximum local user's account number | 16000 |
| Maximum local group number | 512 |
| Maximum shared folders number | 512 |
| Maximum shared folders syncing tasks | 32 |
| Maximum concurrent CIFS/AFP/FTP sessions | 2000 |
| Windows ACL integration | √ |
| NFS Kerberos  authentication | √ |
| Mail server, web server | √ |
| Rsync remote server | √ |
| FTP server, MySQL server | √ |
| Cloud Station Server | √ |
| Download Station | √ |
| Media Server | √ |
| DLNA Compliance | √ |
| Network protocol | CIFS、AFP、NFS、FTP. WebDAV. iSCSI. Telnet, SSH, SNMP |
| TNAS Supported OS | Windows. Mac. Linux |
| TNAS OS Supported web browsers | Chrome48; Firefox30, Internet Explorer 9,Safari(mac):4.5 |
| TNAS Supported mobile devices | iOS8.2, Android6.0 |
| language | English, Chineses, Japanese, German, French, Spanish, Italian, Korean |
| Warranty | 2 years |
| Environment | Meet RoHS standard |
| Package contents: | Host (x1) |
| | Accessories package (x1) |
| | Power line (x2) |
| | RJ-45 network cable (x1) |
| | Quick  Guide (x1) |