Synology Release the BC500 and TC500 NAS IP Cameras for Surveillance Station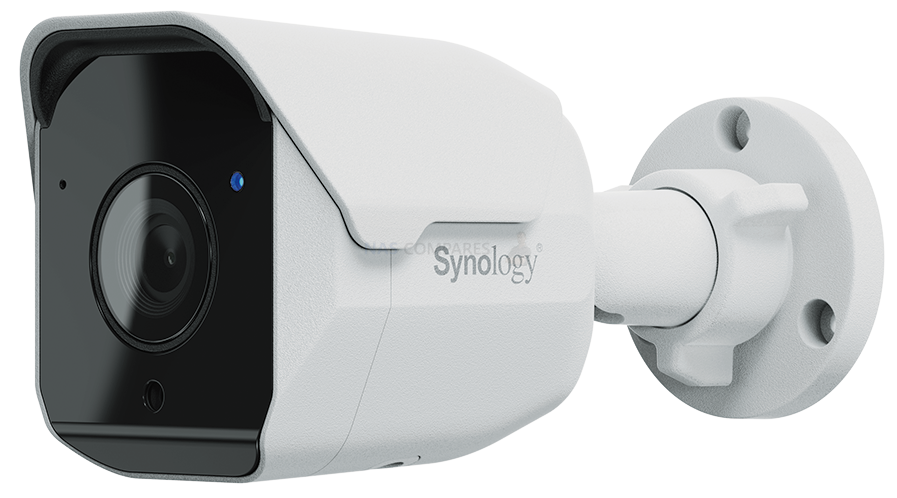 It's been over five months since Synology revealed that they were in the process of releasing their own NAS surveillance cameras for use in conjunction with Surveillance Station, but today is the official release date for the Synology BC500 bullet camera and TC500 dome camera. These new Synology cameras are designed to pair with the brand's popular CCTV/NVR software to provide unparalleled ease-of-use with quick and easy setup, batch configuration, and seamless firmware updates. They feature camera-based AI that enhance Surveillance Station deployments with smart capabilities—bringing some AI analytics features without requiring a Deep Learning NVR NAS, such as the DVA1622 or DVA3221. Security is also at the forefront of their design, with SRTP support and NDAA and TAA compliance. They allow standard Synology NAS systems to use the camera's built-in AI services for person/vehicle/object recognition than to an onboard NPU. Additionally, the cameras feature an onboard SD Card slot that allow for edge recording functionality with a micro SD card in Surveillance station, as well as working with the Synology Surveillance C2 cloud service to greatly decrease the possibility and up-to-the-second recording loss of physical tampering/damage on the units.
Crisp Video, Night and Day – 5 MP sensor with wide-angle lens, recording at 30 FPS,

and high-power IR LED for 30 meters of night vision

Edge AI Detection and Search – On-camera AI powers people and vehicle detection,

intrusion detection, and Instant Search

No Device License Required – Camera requires no Surveillance Station Device License

or activation

Failover Edge Recording – Supports failover recording onto microSD, in case of

network failure

Security and Compliance – Suitable for sensitive applications thanks to HTTPS/

SRTP support and US NDAA/TAA compliance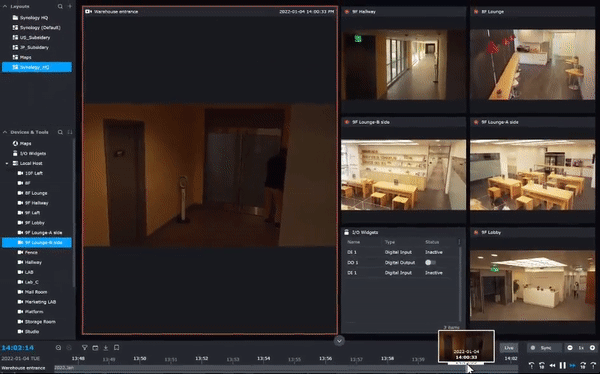 Why is Synology NAS Releasing IP Cameras a Big Deal?
Until now, if you wanted to make the most of the Synology Surveillance Station on your NAS, you needed to consult the list of approx 8000+ supported IP cameras on the Synology compatibility lists. Even then, some cameras would have lesser/limited functionality or cameras that feature ONVIF/RTSP support would still not be on the compatibility list – understandable, as there are thousands of cameras released every year from hundreds of manufacturers! The result is that for a very, very long time people have wanted a NAS brand to either CLEARLY HIGHLIGHT a recommended IP Camera brand and models they should use OR release their own! And Synology opted for the 2nd choice!

Now, Synology could have just rolled out a budget camera and slapped their name on it, but instead rolled out two PoE cameras, with high-security protocol and onboard AI services for your NAS to utilize. So, let's discuss the hardware of the BC500 and TC500.
Hardware Specifications of the Synology BC500 and TC500 Cameras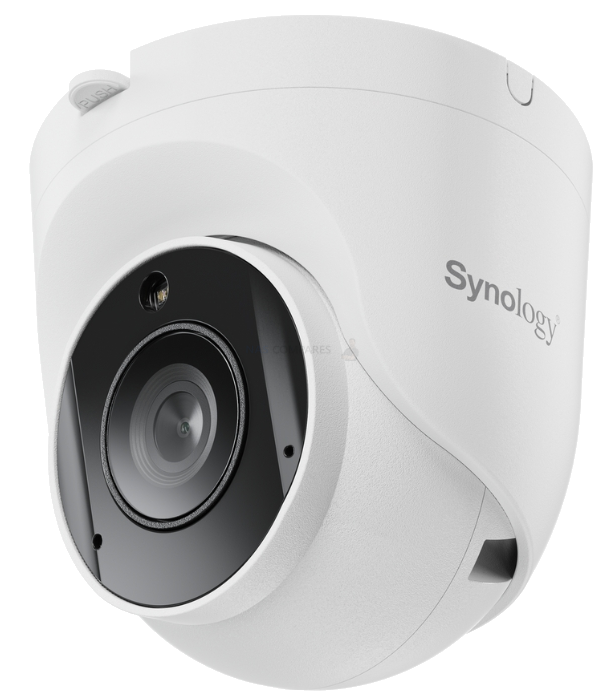 The hardware specifications of the Synology BC500 and TC500 Camera series are fairly standard. Certainly of a robust build and high quality, but not exactly groundbreaking – arguably comparable to many current available cameras in the market right now. Where they excel is in terms of network/connection security and how their Synology surveillance station optimized firmware that allows integration with the NAS software in a far more efficient manner – ultimately resulting in smoother feeds, secure connections and significantly more reliable alerts and AI analyzed results.
Synology BC500 and TC500 IP Camera Specification Highlights:
BC500 = Compact Style IP Camera

TC500 = Dome Style IP Camera

Resolution: 5MP – 2880×1620 – 30FPS

Horizontal angle: 110 degrees

Weatherproof standard with IP67

Nightvision  covers 30 Metres

SRTP/HTTPS support for enhanced security of video streams

Complies with US NDAA/TAA standards

Intelligent vehicle and person detection

Integrate seamlessly with Surveillance Station, enhancing the seamless surveillance management experience

Encrypted recordings

SD Card Slot
| | | |
| --- | --- | --- |
| Model | Synology BC500 | Synology TC500 |
| Firmware Version | 0.0.17 | 0.0.17 |
| Device Pack Version | 6.1.0 | 6.1.0 |
| Video Codec | H.264H.265 | H.264H.265 |
| Highest Resolution | 2880×1620 | 2880×1620 |
| Multiple Stream | 2 | 2 |
| CBR | YES | YES |
| Variable Bitrate | YES | YES |
| Audio In | YES | YES |
| Audio Out | NO | NO |
| Motion Detection | YES | YES |
| Audio Detection | YES | YES |
| Tampering Detection | YES | YES |
| PIR Detection | NO | NO |
| Digital In | NO | NO |
| Digital Out | NO | NO |
| Pan | NO | NO |
| Tilt | NO | NO |
| Zoom | NO | NO |
| Focus | NO | NO |
| Auto Focus | NO | NO |
| Auto Pan | NO | NO |
| Object Tracking | NO | NO |
| Patrol | NO | NO |
| Pan/Tilt Speed | NO | NO |
| Zoom Speed | NO | NO |
| Absolute Position | NO | NO |
| Edge Recording | YES | YES |
| Native Dewarping | NO | NO |
| Video Orientation | YES | YES |
| Day/Night Mode | YES | YES |
| OSD | YES | YES |
| NTP | YES | YES |
| HTTPS | YES | YES |
| SRTP | YES | YES |
Once again, the actual hardware of the BC500 and TC500 Synology cameras is actually pretty mid-range for 2023, but are still more than enough for more businesses and ensure a high camera recording quality in their deployment – as well as a sturdy build quality. Let's discuss those AI-assisted surveillance services that are supported by the cameras in Surveillance station, as well as where they end and the DVA3221/DVA1622 begin.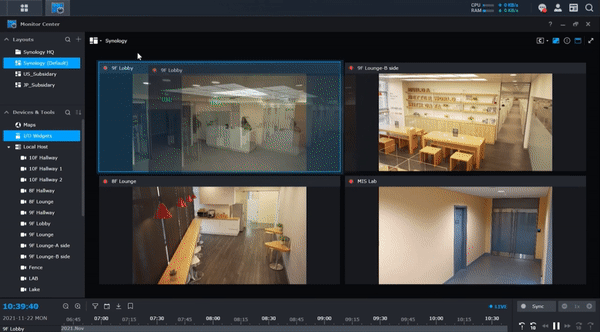 Which AI Services Are Included with the Synology BC500 and TC500 Cameras (and which ones are not)?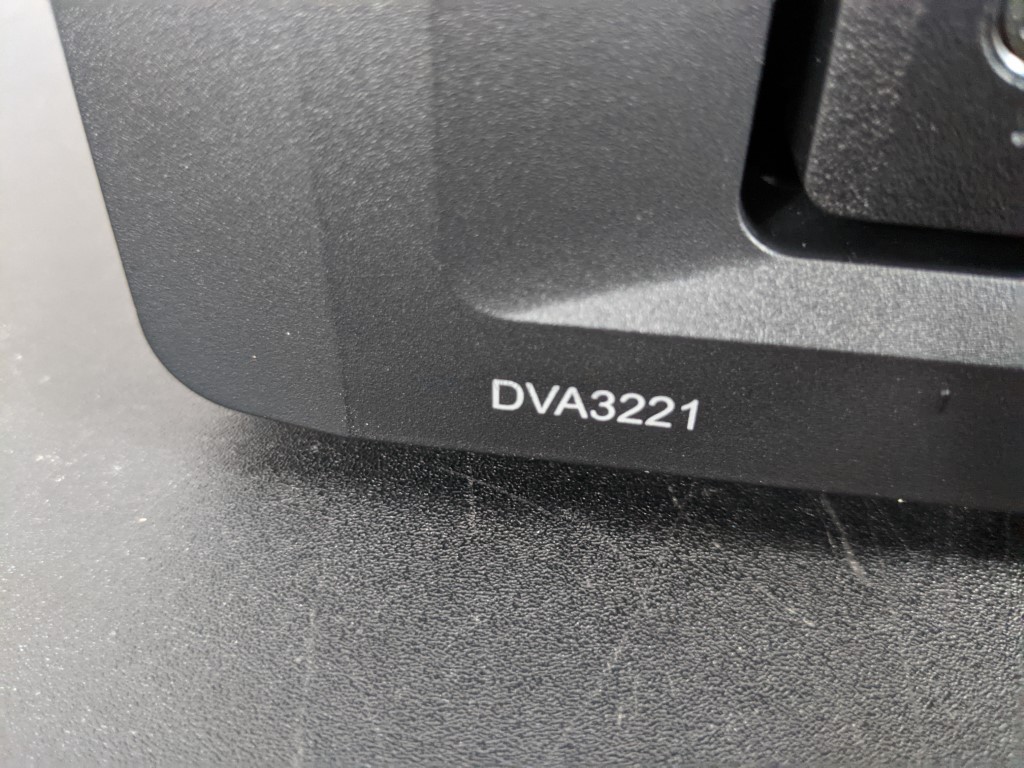 Now, despite the Synology BC500 and TC500 Surveillance Cameras arriving with onboard hardware for AI-powered recognition tasks, it is worth highlighting that using them is NOT the same as using the Deep Video Analysis (DVA) series of NAS servers in Synology's portfolio. These operations are managed from inside the camera and the alerts are handled and actioned by the NAS after the camera sends the appropriate alert – and these cameras so NOT have the same level of hardware as the DVA1622 and DVA3221 inside each of them! Additionally, whereas the DVA series manages multiple tasks internally from multiple cameras, only using the camera hardware as a life 'feed', these cameras cannot run deeper AI tasks that involve counting, internal database management and keeping records of AI referral data internally – they do not have the storage or processing power for that. So more complex people counting and specific facial recognition will not be immediately available to your PLUS series Diskstation, just because you are using the BC500 and/or TC500. Here is a breakdown of the services available to users with either Synology Cameras or a Synology DVA NAS:
| | | | |
| --- | --- | --- | --- |
| AI Service | Case Use | BC500 & TC500 | DVA1622 & DVA3221 |
| People / Vehicle/Loitering Detection | Reduce false alarm and protect against loitering | YES | YES |
| Crowd Detection | Monitor public safety or quality of service | YES | YES |
| Intrusion Detection | Protect perimeter and restricted area | YES | YES |
| Instant Search | Investigate incidents quickly after they happen | YES | NO |
| People/Vehicle Counting | Calculate occupancy in shops, food courts, or parking lots with aggregated counting of people and vehicles entering and leaving | NO | YES |
| Face Recognition | Automate personnel identification and prevent unauthorized access | NO | YES |
| License Plate Recognition | Identify license plates and set up triggers based on configurable allow or block lists | NO | YES |
If you are unaware of the Synology Deep Video Analysis NAS system, you can find out more about it in the video reviews of the hardware and software below from our YouTube channel:
Do the Synology BC500 and TC500 Cameras Still Require Camera Licenses?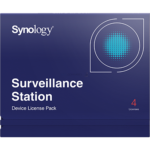 Probably one of THE most important questions to long-time Synology NAS users who have considered the platform for surveillance is how they have approached the subject of Camera Licenses in Surveillance Station. For those unaware, ALL Synology NAS systems arrive with the Surveillance Station software included in the DSM package of applications, features and services. This means that regardless of whether you choose a £100+ DS120j or £16,000 HD6500 system – you have the same software (though of course the hardware inside scales the abilities of the system generally). Now, in order to maintain a fine line between keeping the software maintained constantly, ensuring everyone can use it AND keeping it suitable for home AND business needs, Synology uses a camera license system to scale it's deployment. ALL Synology NAS arrive with at least 2x camera licenses, which means that you can use 2 cameras with your Surveillance Station software (which most home users will use for a camera front and back of their home/office). After that, if you want to add more cameras to your surveillance setup, you need a license for each camera. This means that businesses that want to use 5, 10, 20, 30, etc cameras (as they likely have corporate assets, team members and commitments to insurance/security) who would be massively reliant on the software remaining tip-top will need to pay for camera licenses – either individually or as bulk packs of licenses. This is quite common and pretty much all the popular NAS brands support this methodology (with some offering more licenses by default, annual subscription licenses or service packs). Now, the big, BIG question is – do Synology BC500 or TC500 IP Cameras include a camera license of their own? Or do they even need one? These are premium Synology cameras after all! Synology has already shown itself to be flexible on Surveillance licenses – just look at the NVR1218, DVA1622 and DVA3221, which all arrive with significantly more base-level surveillance camera licenses than regular Diskstation/Rackstation NAS systems, as they are DESIGNED for Surveillance Station deployment primarily. I am pleased to confirm that each Synology BC500 and TC500 camera features a camera license, so you will not need to purchase an additional camera license for your Synology NAS to mount them into your existing surveillance setup.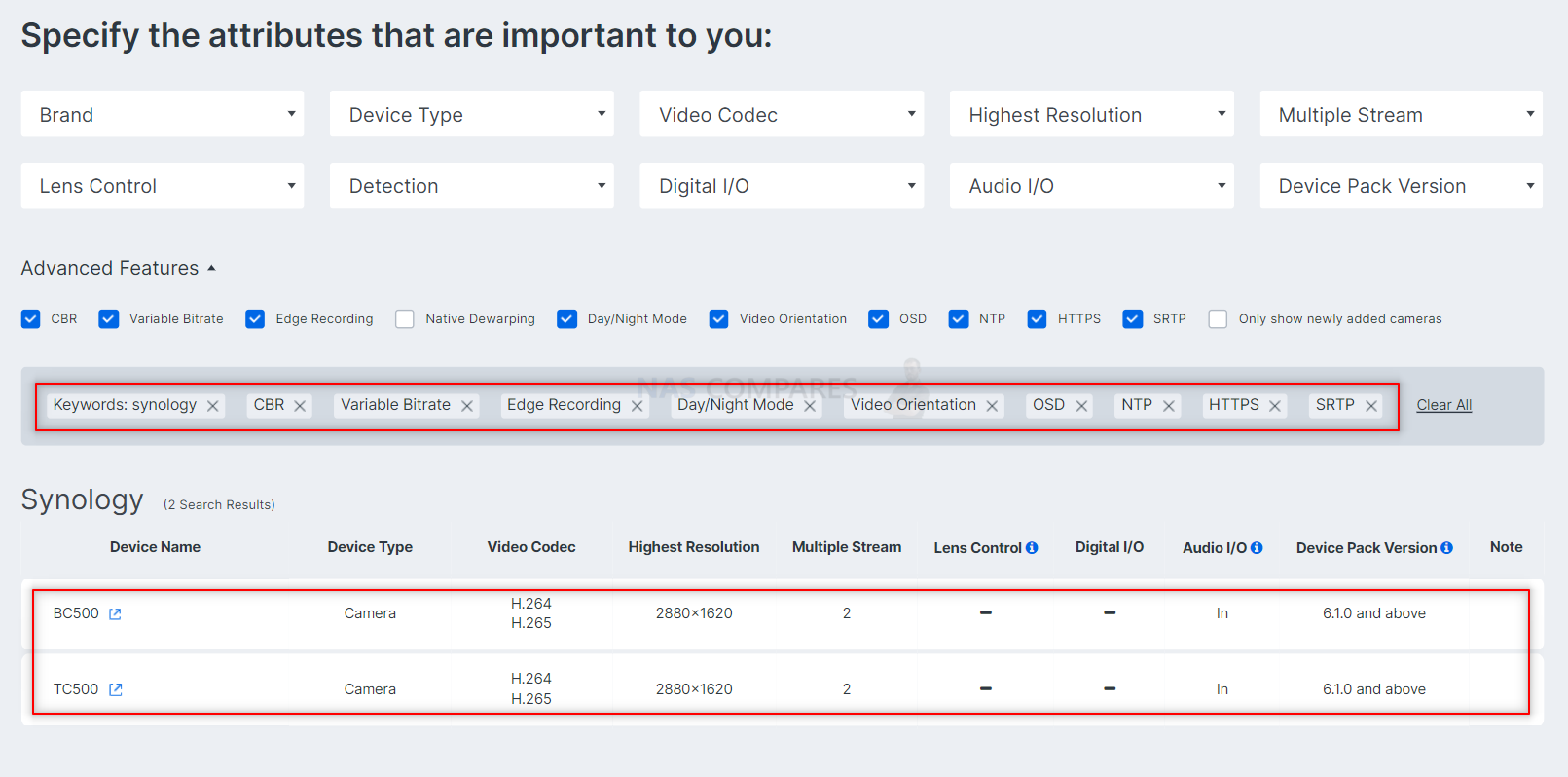 How Much are the Synology BC500 and TC500 Surveillance Cameras?
This is likely going to be a point of contention for some, as the cost of the average IP camera with ONVIF support has substantially decreased in recent years. The Synology BC500 and TC500 Surveillance Cameras have certainly got a premium price attached which, although you need to factor in the included camera licence and Synology software integration, is still surprisingly high! Full details on the pricing of the Synology BC500 and TC500 will be available in the next few days at the launch begins, but we have seen some quite wild pricing online already (e.g $499 HERE). We will update this article shortly when confirmed prices appear launch.
| | | |
| --- | --- | --- |
| Design | | |
| Camera Model | Synology BC500 Bullet Camera | Synology TC500 Turrent/Dome Camera |
| Where to Buy: | | |
Need More Help Choosing the Right Surveillance NAS?
Choosing the right data storage solution for your needs can be very intimidating and it's never too late to ask for help. With options ranging from NAS to DAS, Thunderbolt to SAS and connecting everything up so you can access all your lovely data at the touch of a button can be a lot simpler than you think. If you want some tips, guidance or help with everything from compatibility to suitability of a solution for you, why not drop me a message below and I will get back to you as soon as possible with what you should go for, its suitability and the best place to get it. This service is designed without profit in mind and in order to help you with your data storage needs, so I will try to answer your questions as soon as possible.
📧 LET ME KNOW ABOUT NEW POSTS 🔔
Join 1,670 other subscribers

Get an alert every time something gets added to this specific article!



This description contains links to Amazon. These links will take you to some of the products mentioned in today's content. As an Amazon Associate, I earn from qualifying purchases. Visit the NASCompares Deal Finder to find the best place to buy this device in your region, based on Service, Support and Reputation - Just Search for your NAS Drive in the Box Below
Need Advice on Data Storage from an Expert?
We want to keep the free advice on NASCompares FREE for as long as we can. Since this service started back in Jan '18, We have helped hundreds of users every month solve their storage woes, but we can only continue to do this with your support. So please do choose to buy at Amazon US and Amazon UK on the articles when buying to provide advert revenue support or to donate/support the site below.

Finally, for free advice about your setup, just leave a message in the comments below here at NASCompares.com and we will get back to you.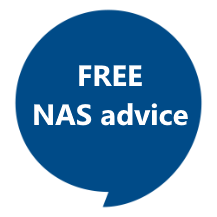 Need Help? Where possible (and where appropriate) please provide as much information about your requirements, as then I can arrange the best answer and solution to your needs. Do not worry about your e-mail address being required, it will NOT be used in a mailing list and will NOT be used in any way other than to respond to your enquiry.
TRY CHAT
Support What We Do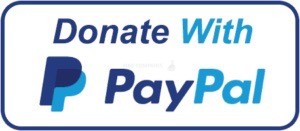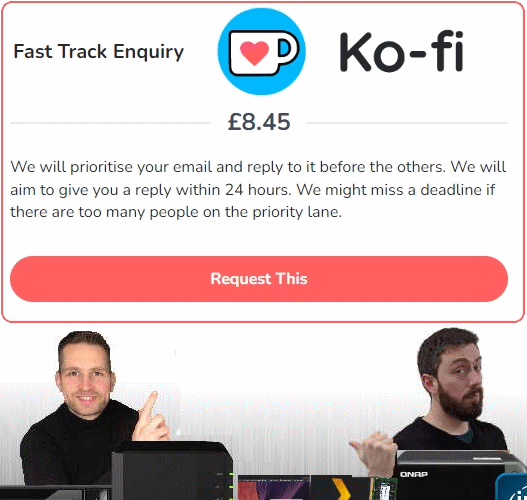 Terms and Conditions Alternatively, why not ask me on the ASK NASCompares forum, by clicking the button below. This is a community hub that serves as a place that I can answer your question, chew the fat, share new release information and even get corrections posted. I will always get around to answering ALL queries, but as a one-man operation, I cannot promise speed! So by sharing your query in the ASK NASCompares section below, you can get a better range of solutions and suggestions, alongside my own.
If you like this service, please consider supporting us.
We use affiliate links on the blog allowing NAScompares information and advice service to be free of charge to you.
Anything you purchase on the day you click on our links will generate a small commission which is
used to run the website. Here is a link for
Amazon
and
B&H
.
You can also get me a ☕
Ko-fi
or old school
Paypal
. Thanks!
To find out more about how to support this advice service check
HERE
If you need to fix or configure a NAS, check
Fiver
Have you thought about helping others with your knowledge?
Find Instructions Here
☕ WE LOVE COFFEE ☕

Or support us by using our affiliate links on Amazon UK and Amazon US