TerraMaster 16-bay Thunderbolt 3 DAS – D16  – £3,199.99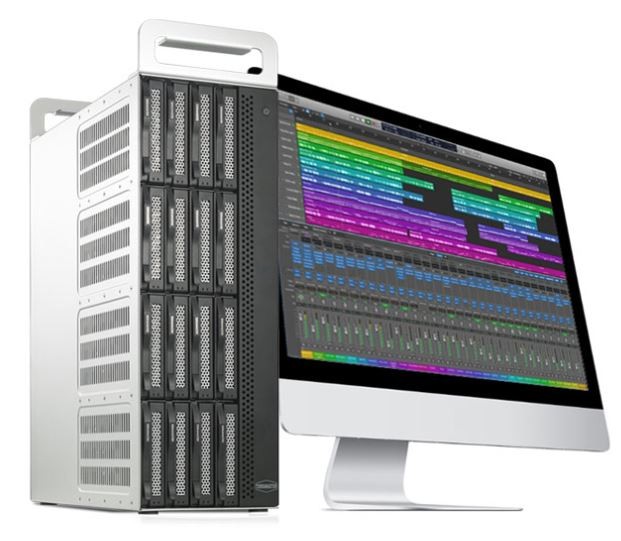 | | |
| --- | --- |
| Storage | |
| Disk Slot Number | 16 |
| Compatible Disk Types | 3.5″ SATA/SAS HDD |
| | 2.5″ SATA HDD |
| | 2.5″ SATA SSD |
| File System | FAT 32, FAT 16, NTFS, and EXT4 |
| Maximum Internal Raw Capacity | 288 TB (18 TB drive x 16) (Capacity will vary along with the RAID type) |
| RAIDs Supported | SINGLE DISK,JBOD,RAID 0,RAID 1,RAID 5,RAID10,RAID 6,RAID 50 |
| Hardware RAID | √ |
| RAID Manager Software | √ |
| RAID Manager Software Language | English, Chineses, Japanese |
| RAID Online Expansion | √ |
| RAID Migration | √ |
| RAID Auto-rebuilding | √ |
| Drive Hot Swap | √ |
| HDD Sleep | √ |
| HDD S.M.A.R.T. Inspection | √ |
| Sector Inspection and Parity Check | √ |
| SSD Cache | √ |
| Daisy Chain | √ |
| HDD NCQ Technology | √ |
| Alert Notice | √ |
| Event Log | √ |
| | |
| External Ports | |
| USB | USB HOST 3.1 Gen 2 |
| Thunderbolt | 40Gb Thunderbolt 3 x 2 |
| DP Interface | DP 1.4 x 1 |
| Power Socket | AC IN 220V |
| Reading/writing Speed (max.) | |
| Reading Speed (max.) | Read: 2817MB/sec |
| Writing Speed (max.) | Write: 2022MB/sec (Use SSD 512GB  under RAID 0 mode) |
| | |
| Appearance | |
| Size (H*W*D) | 348*160*498 mm |
| Packaging Size (H*W*D) | |
| Weight | |
| Others | |
| System fan | 90mm x90mm x 25mm  4PCS |
| Fan mode | Smart |
| Noise Level | 35dB(A) |
| Power Supply | |
| Power Supply | 550W |
| AC Input Voltage | 100V to 240V AC |
| Current Frequency | 50/60 HZ, Single Phase |
| Power Consumption | 210W(Access) |
| | |
| Environment Temperature | |
| Working Temperature | 5°C  ~ 40°C (40°F ~ 104°F) |
| Storage Temperature | -20°C ~ 60°C (-5°F ~ 140°F) |
| Relative Humidity | 5% ~ 95% RH |
| Supported OS | Windows OS、Mac OS |
| Warranty | 2 years |
| Certificate | CE, FCC, CCC |
| Environment | RoHS compliance |
| Package Contents: | Host unit (x1) |
| | Power cord (x1) |
| | Thunderbolt 3 cable (40Gbps) * 1 |
| | Quick Installation Guide (x1) |
| | / |
| | Screws (several) |
| | Limited Warranty Note x 1 |
Thunderbolt 3 and Thunderbolt 2 Compatibility (for Mac only)
If your Mac has Thunderbolt 3 and Thunderbolt 2 ports, you can capitalise on the D16 Thunderbolt 3 to achieve high-end transfer rates. With Apple's Thunderbolt 3 (USB-C) to Thunderbolt 2 adapter (not sold with the D16 Thunderbolt 3), compatibility between the D16 Thunderbolt 3 and earlier Thunderbolt technologies is straightforwardly achieved.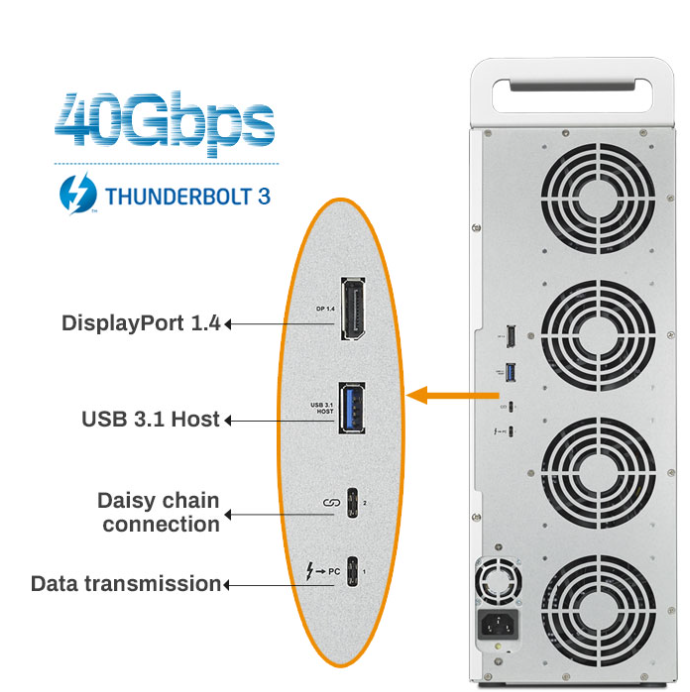 Lightninging-Fast
Drawing on a pair of Thunderbolt 3 interfaces (40 Gbps) and a hardware RAID controller, the D16 Thunderbolt 3 can operate at transfer speeds of 2817 MB/s under RAID 0 array mode. Under RAID 6, the device can achieve a speed of 2480 MB/s.
Enjoy Rapid Video Workflows
The time needed for virtually every aspect of the post-production workflow falls when using the D16 Thunderbolt 3. At lightning speed, users can transfer several hours of footage from a Blackmagic® device to Adobe® Premiere Pro. In turn, with uncompressed HD 10-bit and 12-bit video, users can edit the ProRes 422 (HQ), ProRes 4444 XQ, and other data streams. Thumbnails and preview rendering are significantly more responsive when using large items with numerous high-definition clips.
Compact design
D16 has a compact design that saves a lot of space, making it suitable for small video production teams and designers with limited desktop room. D16 has a specially designed handle that makes it easy to carry, facilitating the work of video production teams by greatly increasing convenience when out and about.
Peace as a priority
To support designers, a non-coded storage device must be quiet. D16 has a high-quality silent fan and specially optimized interior structure, that effectively increase the internal air flow of the device to reduce the working temperature of the hard disk while greatly reducing the resonance between device components. Even under full load, D16 can thus still maintain a satisfactory low noise level.
Large Storage Capacity
TerraMaster's 16-bay D16 Thunderbolt 3 is compatible with 3.5″ SATA disks and 2.5″ SSDs, allowing professionals to capitalise on a total storage capacity of up to 288TB. As a result, you can be assured the device gives you the tools you need to overcome any storage challenge.
High Scalability
Using one cable, Thunderbolt 3 enables users to daisy-chain more than five devices to their computer. As a result, users can achieve an enormous 1PB capacity by linking together six D16 Thunderbolt 3 devices.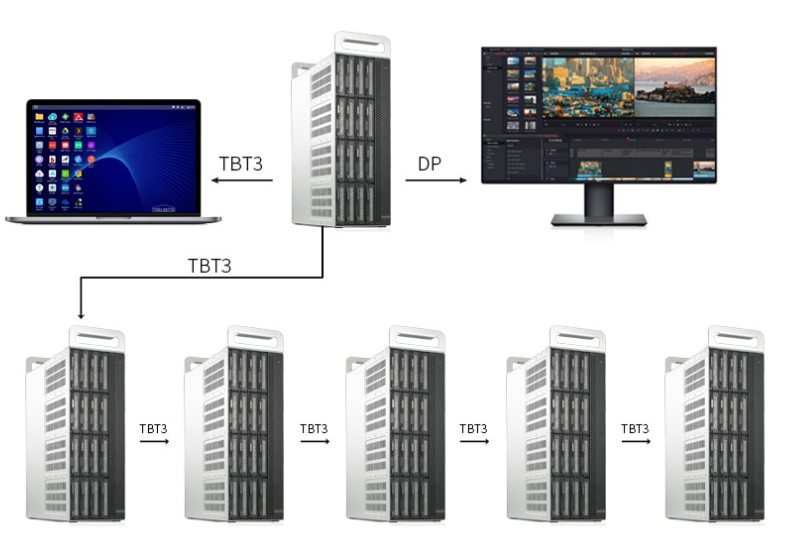 Multiple RAID Supports
The D16 Thunderbolt 3 can operate with RAID 0, 1, 5, 6, 50, and 10, as well as JBOD disk array modes for all your application needs. This underpins the all-important concern for guaranteed data security, and it ensures that your storage capacity is utilised in the most efficient way possible.
Professional and Safe
Replacing lost content is inconvenient, costly, and, ultimately, unworkable for all professionals. Therefore, with the D16 Thunderbolt 3, TerraMaster has not comprised on its use of state-of-the-art storage technologies to ensure data safety and security. Now, freed from concerns about inadequately protected data, users can focus on what matters to you.
Compatible with

 multiple arrays in one device

Online RAID Level Migration

 

(ORLM)

RAID Online Capacity Expansion

 

(OCE)

Compatible with

 hot 

swapping and hot plugging

Automatic drive (insert / removal) detection
Support

s

 hot spare disk

Hard disk NCQ (native command sort) technology
Flash cache
Automatic RAID rebuild
Multiple RAID 

i

nitialization 

t

ypes

SHI (Storage Health Inspector – S.M.A.R.T.)
Verif

ies

 RAID for 

b

ad 

s

ectors and 

p

arity 

c

heck

Regular and automatic hard drive checks
Bad sector repair and remapping
Spin down idle mode
Alert notifications via email
Staggered drive spin up
Event 

l

og
The Ideal Companion for All Professionals
Given its compactness, its large storage capacity, and its lightning speed, the D16 Thunderbolt 3 is ideally suited for the most demanding applications, including 4K video editing, as well as seamless 4K streaming. Other users, especially those with strict speed and storage requirements, will find a valuable partner in this device.
If you like this service, please consider supporting us.
We use affiliate links on the blog allowing NAScompares information and advice service to be free of charge to you.
Anything you purchase on the day you click on our links will generate a small commission which is
used to run the website. Here is a link for
Amazon
and
B&H
.
You can also get me a ☕
Ko-fi
or old school
Paypal
. Thanks!
To find out more about how to support this advice service check
HERE
If you need to fix or configure a NAS, check
Fiver
Have you thought about helping others with your knowledge?
Find Instructions Here