TerraMaster T9-450 9-bay NAS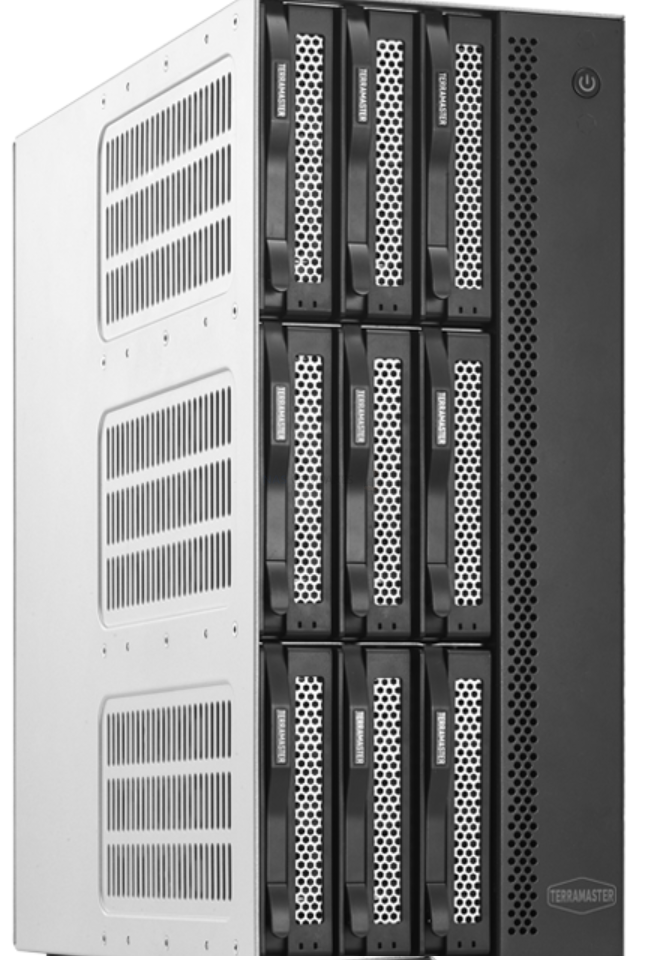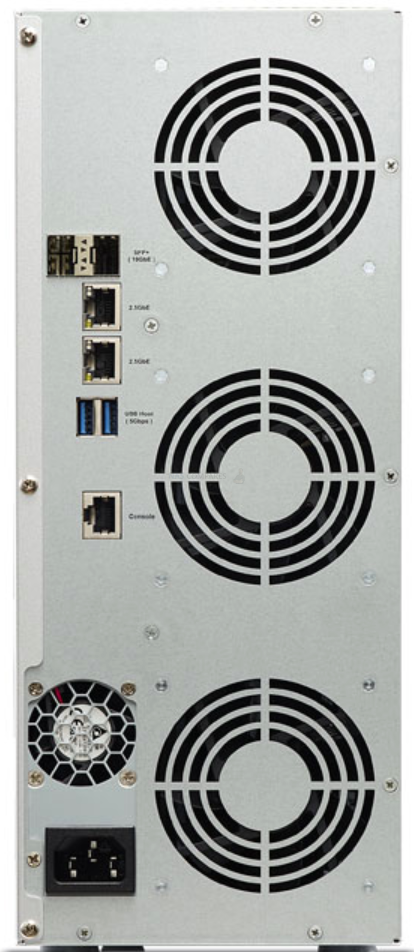 The T9-450 is powered by an Intel Atom C3558R quad-core processor, with main frequency of up to 2.4GHz. It is also equipped with a 8GB DDR4 dual-channel memory (expandable up to 32GB); dual SFP+ 10GB fiber interfaces; and dual 2.5GbE ports, providing up to 20Gb transmission bandwidth through Link Aggregation. In addition, the transmission performance of the T9-450 has been doubled by the installation of dual M.2 NVMe SSD slots in combination with TerraMaster Hyper Cache SSD cache acceleration technology. The T9-450 has been specifically developed for users who require high-speed storage, which can meet the stringent demands of 4K image editing, virtualization, databases, and other applications with high storage performance requirements.
The T9-450 supports up to 20TB of hard drive, and the total capacity can reach 180TB. It can store 60 million HD photos, 36 million working documents, 80,000 HD movies, and 8 million downloadable music, enabling you to back up the data in Windows PC, MAC computer, mobile phone, HDD enclosure, and network disk to TNAS for centralized management. This adequately protects users from data loss resulting from hardware malfunction or ransomware.
Flexible Storage Space Management
TRAID is the abbreviation of TerraMaster RAID. TRAID is a flexible disk array management tool developed by TerraMaster. It has features such as the automatic combination of disk space, hard disk failure redundancy protection, and automatic capacity expansion. All these functions do not require manual configuration by the user, and the system will automatically complete the configuration according to the properties of the hard disk. TRAID provides users with an optimized, flexible and elastic disk array management solution, especially suitable for new users who are not proficient in how to configure a disk array.
Processor
Processor Model
Intel Atom® C3558R
Processor Architecture
X.86 64-bit
Processor Frequency
Quad Core 2.4 GHz
CPU Single-Core Score
/
Hardware Encryption Engine
√
Hardware Transcoding Engine
/
Memory
System Memory
8 GB
Pre-installed Memory module
8 GB (1 x 8GB)
Total Memory Slot Number
2 (DDR4 SODIMM)
Maximum Supported Memory
32 GB (16GB+16GB)
Note
TerraMaster reserves the right to replace memory modules with the same or higher frequency based on supplier's product life cycle status. Rest assured that the compatibility and stability have been strictly verified with the same benchmark to ensure identical performance.
Storage
Disk Slot Number
9
Compatible Drive types
3.5″ SATA HDD
2.5″ SATA HDD
2.5″ SATA SSD
Maximum Internal Raw Storage Capacity
180 TB (20TB x9) (Capacity may vary by RAID types)
Drive Hot Swap
√
Note
 . Hard drive vendors will release their latest models of hard drives, and Maximum internal raw storage capacity may be adjusted accordingly.
. The maximum single volume size is not directly related to the maximum raw capacity.
File System
Internal Drive
Btrfs, EXT4
External Drive
EXT3, EXT4, NTFS, FAT32, HFS+
External Ports
RJ-45 1GbE Network Jack
/
RJ-45 2.5GbE Network Jack
2
RJ-45 10GbE Network Jack
/
SFP+ 10GbE Network Jack
2
USB3.1 Host Port
2(5Gbps)
USB2.0 Host Port
/
Console Port
1
HDMI
/
VGA
/
PCIe Slots
1
M.2 2280 NVMe Slot
2
Appearance
Size (H*W*D)
334 x 135 x 295 mm
Packaging Size (H*W*D)
437*235*370  mm
Weight
9.0 kg
Others
System Fan
80 x 80 x 25mm  3PCS
Fan Mode
Smart, High speed, Middle speed, Low speed
Noise Level
31.2 dB(A) (Fully loaded Seagate 4TB ST4000VN008 hard drive(s) in idle state)
Power Supply
250 W
Redundancy Power Supply
/
AC Input Voltage
100V – 240V AC
Current Frequency
50/60 Hz, Single frequency
Power Consumption
73 W(Fully loaded Seagate 4TB ST4000VN008 hard drive(s) in read/write state)
30 W (Fully loaded Seagate 4TB ST4000VN008 hard drive(s) in hibernation)
Limited warranty
2 years
Certificate
FCC, CE, CCC, KC
Environment
RoHS, WEEE
Temperature
Working Temperature
0°C  ~ 40°C (32°F ~ 104°F)
Storage Temperature
-20°C ~ 60°C (-5°F ~ 140°F)
Relative Humidity
 5% ~ 95% RH
Package Contents
Host unit (x1)
Power cord (x1)
RJ-45 network cable (x1)
Quick Installation Guide (x1)
Limited Warranty Note(x1)
Screws(a few)
TOS Features
OS Supported
Supported Client OS
Windows OS, Mac OS, Linux OS
Supported Web Browsers
Google Chrome 97.0.xxxx, Mozilla Firefox 9.3,Apple Safari 12.1 ; Microsoft Edge 99.0.xx or later version.
Supported mobile OS
iOS12.0, Android 9.0 or later version
Storage Management
Supported RAID Types
TRAID, Single, JBOD, RAID 0, RAID 1, RAID5, RAID 6, RAID 10
Maximum Internal Volume Number
256
Maximum iSCSI Target
128
Maximum iSCSI LUN
256
Volume Expansion with Larger HDDs
TRAID, RAID 1,RAID5,RAID 6,RAID10
Volume Expansion by Adding a HDD
TRAID, RAID5,RAID6
RAID Migration
√
SSD Cache
√
Hot Spare
√
SSD TRIM
√
Hard Drive S.M.A.R.T.
√
Seagate IHM
√
NVRAM write cache(BBU-protected)
/
Shared Folder Snapshot
√
LUN Snapshot
/
File Services
File Protocol
SMB/AFP/NFS/FTP/SFTP/WebDAV
Maximum Concurrent SMB/AFP/FTP/SFTP Connections
500
Windows Access Control List (ACL) Integration
√
NFS Kerberos Authentication
√
Account & Shared Folder
Maximum local user's account number
2048
Maximum local group number
512
Maximum shared folders number
512
Maximum shared folders syncing tasks
8
Backup
Rsync Backup
√
Duple Backup
√
Centralized Backup
√
Snapshot
√
USB  Backup
√
Cloud Sync
√
Time Machine Backup
√
File System Snapshot
√
TFM Backup
√
Networking
TCP/IP
IPv4/IPv6
Protocols
CIFS/SMB, NFS, FTP, SFTP, HTTPS, SSH, iSCSI, SNMP
Link Aggregation
√
DLNA Compliance
√
VPN Client
√
VPN Server
√
Proxy Client
√
Proxy Server
/
UPnP/Bonjour Discovery
√
TNAS.online Remote Access
√
DDNS
√
Access Right Management
Batch users creation
/
Import/Export users
√
User Quota Managerment
√
Local user access control for CIFS/SAMBA and FTP
√
Domain Authentication
AD Domain
√
LDAP Client
√
LDAP Server
/
Security
Firewall Protection
√
Account Auto-block Protection
√
AES Volume and Shared Folder Encryption
√
Importable SSL certificate
√
Instant Alert via email, Desktop Notification, Beep
√
RSA 2048 Encryption(TOS 5.0)
√
PAM (Pluggable Authentication Modules)
√
OTP Authentication(TOS 5.0)
√
HyperLock File System(TOS 5.0)
√
Power Managerment
Power Resume
√
Scheduled Power On/Off
√
Wake up On LAN(WOL)
√
UPS Supported
√
Administration
Multi-window, Multi-task System Management
√
Custom Desktop
√
Control Panel
√
Resource Monitor
√
Syslog
√
OS UI Language
English,German, French, Spanish, Italian, Magyar, Chinese,Japanese,Korean,Turkish, Portuguese, Russian
Applications
Application Center
√
iSCSI Target
√
Terra Photos
/
TerraSync
√
Duple Backup
√
CloudSync
√
Centralized Backup
√
USB Backup
√
VPN Server
√
Transmission
√
qBittorent
√
Aria 2
√
Terra Search
√
Deduplication
√
Web Server
√
Clam Antivirus
√
EMBY
√
Multi Media Server
√
Plex Media Server
√
Docker Manager
√
Snapshot
√
If you like this service, please consider supporting us.
We use affiliate links on the blog allowing NAScompares information and advice service to be free of charge to you.
Anything you purchase on the day you click on our links will generate a small commission which is
used to run the website. Here is a link for
Amazon
and
B&H
.
You can also get me a ☕
Ko-fi
or old school
Paypal
. Thanks!
To find out more about how to support this advice service check
HERE
If you need to fix or configure a NAS, check
Fiver
Have you thought about helping others with your knowledge?
Find Instructions Here
☕ WE LOVE COFFEE ☕

Or support us by using our affiliate links on Amazon UK and Amazon US