Toshiba Announces 18TB MG09 Series Hard Disk Drives
3rd-generation 9-disk Helium-sealed design and innovations in energy-assisted recording help customers achieve new levels of storage density and power efficiency
The MG09 Series features Toshiba's third-generation, 9-disk Helium-sealed design to advance Conventional Magnetic Recording (CMR) density to 2TB per disk, achieving a total capacity of 18TB.The industry-standard 3.5-inch form-factor provides 7200rpm performance, and integrates easily into cloud-scale storage infrastructure, business-critical servers and storage, and File and Object storage solutions.
The massive 18TB CMR capacity is delivered using Toshiba's innovative Flux Control Microwave Assisted Magnetic Recording (FC-MAMR) technology. These advances help the MG09 Series to achieve optimum storage capacity and application compatibility, with unsurpassed data reliability. Available with either a SATA 6.0Gbit/s or a 12.0Gbit/s SAS interface, the MG09 Series models integrate easily into standard 3.5-inch drive bays to help reduce the footprint and operational burden of cloud-scale storage infrastructure, File and Object storage systems, and business critical servers and storage systems.
Form Factor
3.5-inch
Buffer Size
512MiB
Rotation Speed
7200rpm
Data Transfer Speed
(Sustained)(Typ.)
268MiB/s
Power Consumption
(Idle-A)(Typ.)
SATA
4.16W
SAS
4.54W
MTTF/AFR
2 500 000h/0.35%
Weight (Max)
720g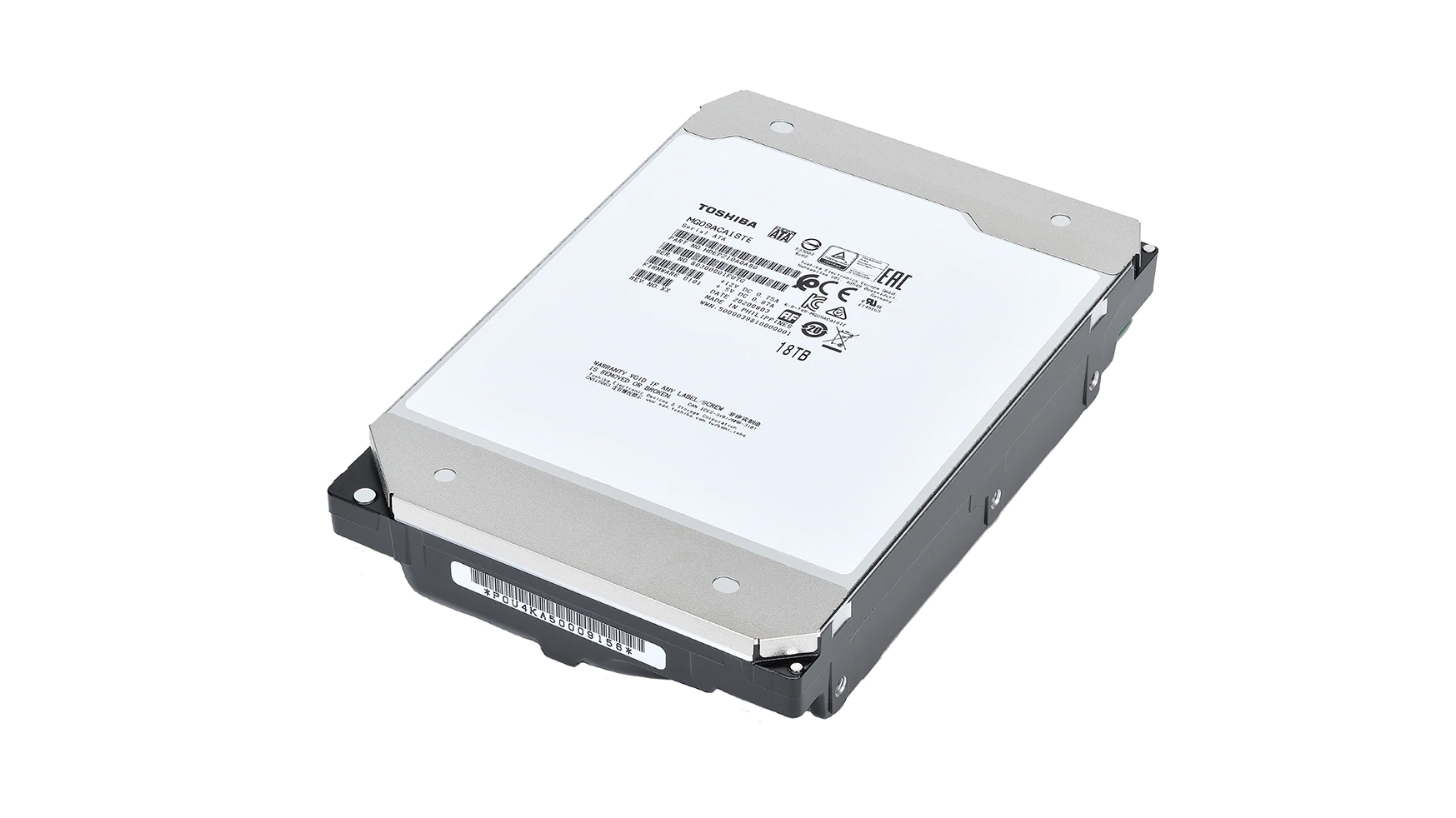 18TB capacity

Conventional Magnetic Recording (CMR) for broad compatibility

Toshiba Flux Control Microwave-assisted Magnetic Recording (FC-MAMR) Technology

Industry-leading 9-disk helium-sealed design for superior storage density

Industry Standard 3.5-inch 26.1mm height Form Factor

7200rpm Performance

Choice of SATA 6.0Gbit/s and 12.0Gbit/s SAS Interfaces

Lower operational power profile, providing excellent power efficiency (W/TB) for better TCO

550 Total TB Transferred per Year Workload Rating

512e or 4Kn Advanced Format Sector Technology; (512e Model) Includes Toshiba Persistent Write Cache Technology for Data-Loss Protection in Sudden Power-Loss Events

Sustained transfer rate and power efficiency improvements vs. prior MG Series generations

Sanitize Instant Erase (SIE) option model and Self Encrypting Drive (SED) option model
Cloud-scale Sever and Storage Infrastructure

Software-defined data center infrastructure

File- and Object-based storage infrastructure

Tiered Storage Infrastructure Solutions

Workloads and Use-Cases that Benefit from High Capacity per Spindle disk drives

Capacity-Optimized Cloud-scale and Rack-Scale Storage Systems

Compliance Data Archives and Data Life-Cycle Management Storage Systems

Data Center Data-Protection and Data Back-up Infrastructure
| Capacity | Interface | Format | Type | Model Number |
| --- | --- | --- | --- | --- |
| 18TB | SATA-3.3 | 4Kn | | MG09ACA18TA |
| 16TB | SATA-3.3 | 4Kn | | MG09ACA16TA |
| 18TB | SATA-3.3 | 512e | | MG09ACA18TE |
| 16TB | SATA-3.3 | 512e | | MG09ACA16TE |
| 18TB | SATA-3.3 | 4Kn | SIE | MG09ACA18TAY |
| 16TB | SATA-3.3 | 4Kn | SIE | MG09ACA16TAY |
| 18TB | SATA-3.3 | 512e | SIE | MG09ACA18TEY |
| 16TB | SATA-3.3 | 512e | SIE | MG09ACA16TEY |
| 18TB | SATA-3.3 | 4Kn | SED | MG09ACP18TA |
| 16TB | SATA-3.3 | 4Kn | SED | MG09ACP16TA |
| 18TB | SATA-3.3 | 512e | SED | MG09ACP18TE |
| 16TB | SATA-3.3 | 512e | SED | MG09ACP16TE |
Source of Industry-leading : Toshiba Electronic Devices & Storage Corporation, as of January, 2019 for the 3.5-inch, 26.1mm height.

Product image may represent a design model.

Definition of capacity: One terabyte (TB) = one trillion bytes, but storage capacity actually available may vary depending on operating environment and formatting.  Available storage capacity (including examples of various media files) will vary based on file size, formatting, settings, software and operating system and/or pre-installed software applications, or media content.  Actual formatted capacity may vary.

A mebibyte (MiB) means 1048576 bytes.

MTTF (Mean Time to Failure) is not a guarantee or estimate of product life; it is a statistical value related to mean failure rates for a large number of products which may not accurately reflect actual operation.  Actual operating life of the product may be different from the MTTF.

Read and write speed may vary depending on the host device, read and write conditions, and file size.

SIE: Sanitize Instant Erase. SIE is a function to invalidate the data recorded on the magnetic disks at a blink.

SED supports TCG Enterprise SSCs.

The HDDs which have any security function may not be available in the countries where the use of such HDDs is prohibited or limited due to export control and local regulations.

"3.5-inch" mean the form factor of HDDs. They do not indicate drive's physical size.

Workload is a measure of the data throughput of the year, and it is defined as the amount of data written, read or verified by commands from the host system.