TS-h973AX 10GbE QuTS hero 5-bay (+4 SSD) NAS:AMD Ryzen V1500B 4C/8T 2.2GHz CPU, U.2 NVMe and SATA SSD caching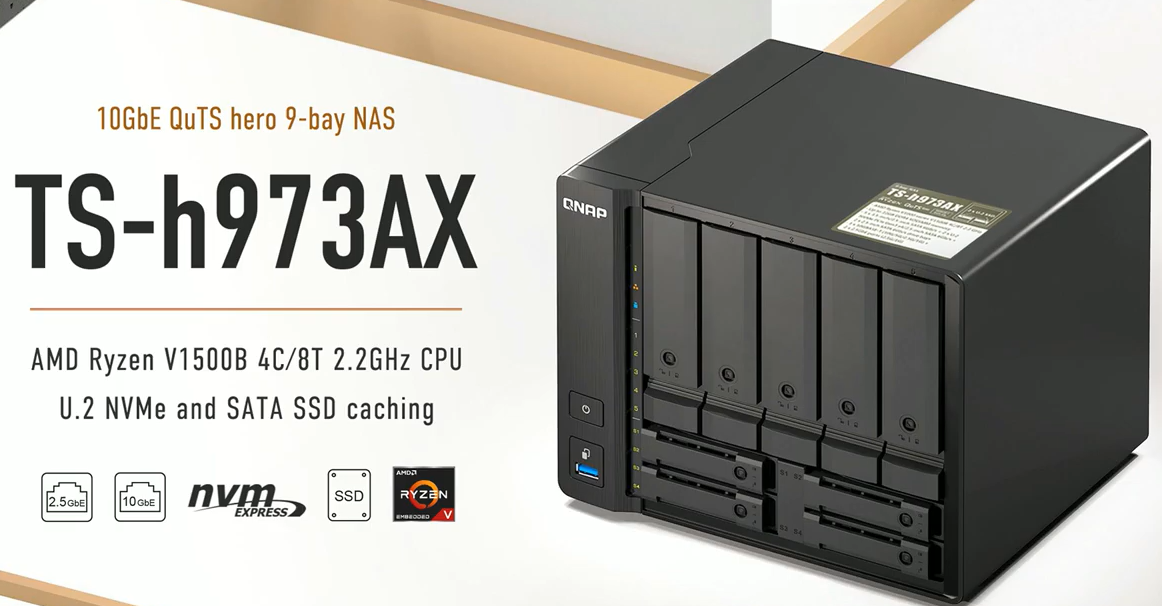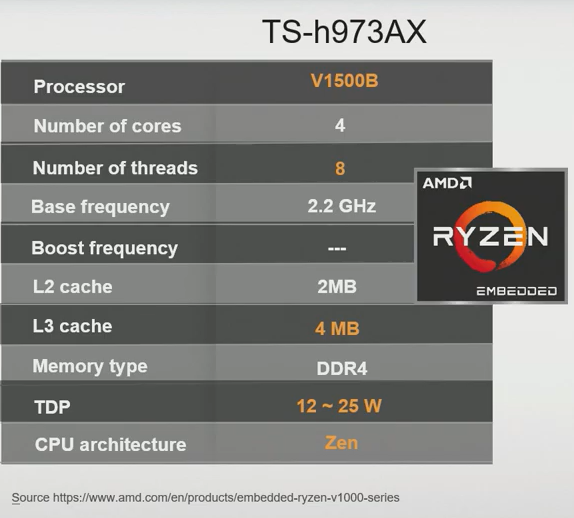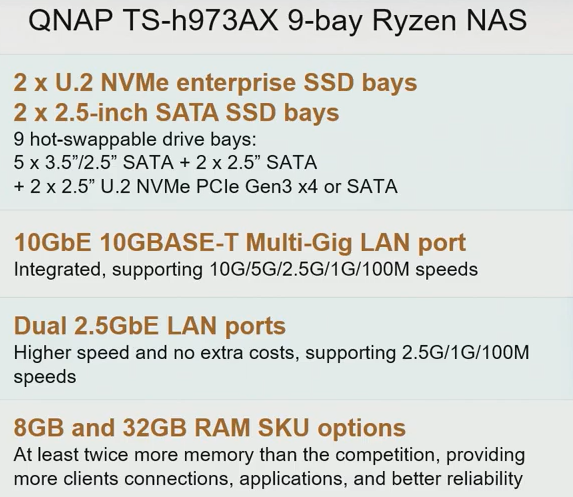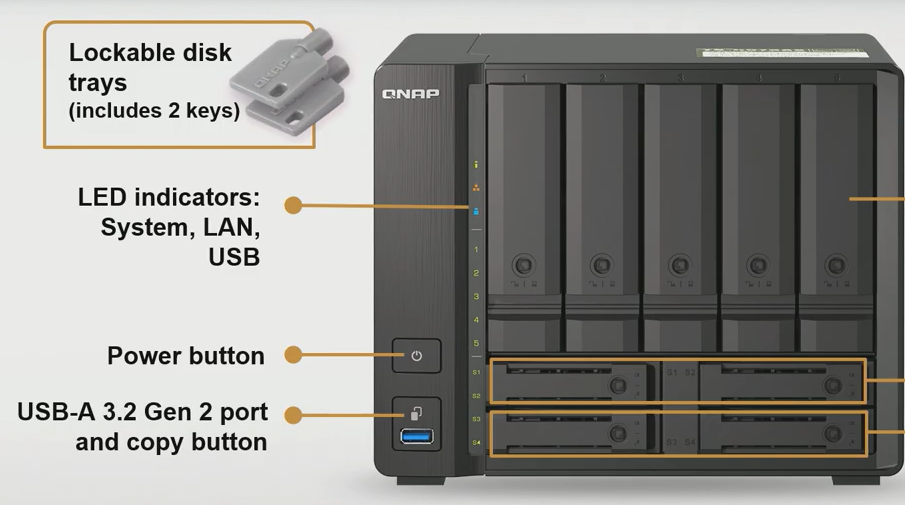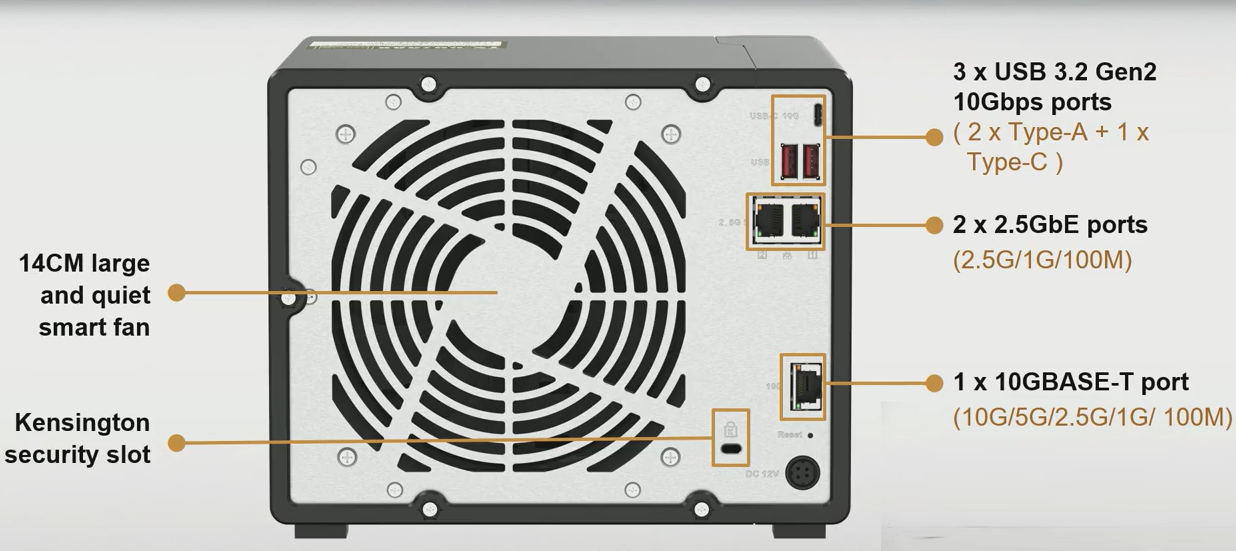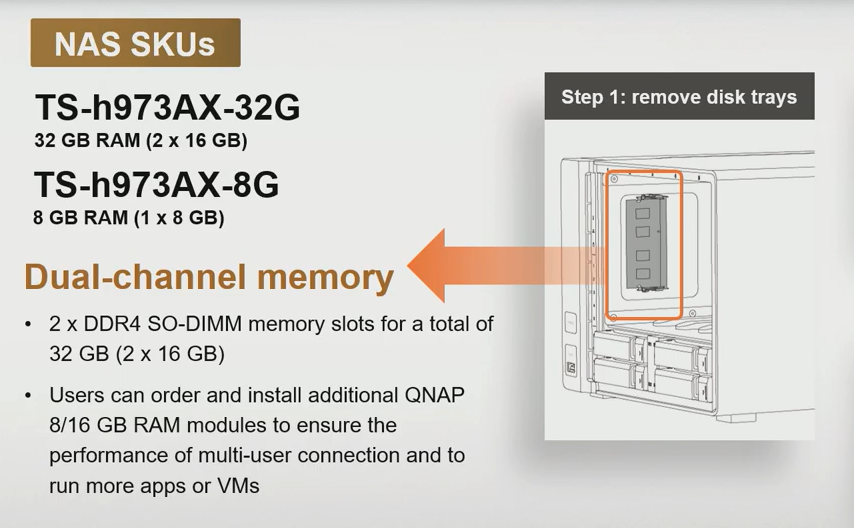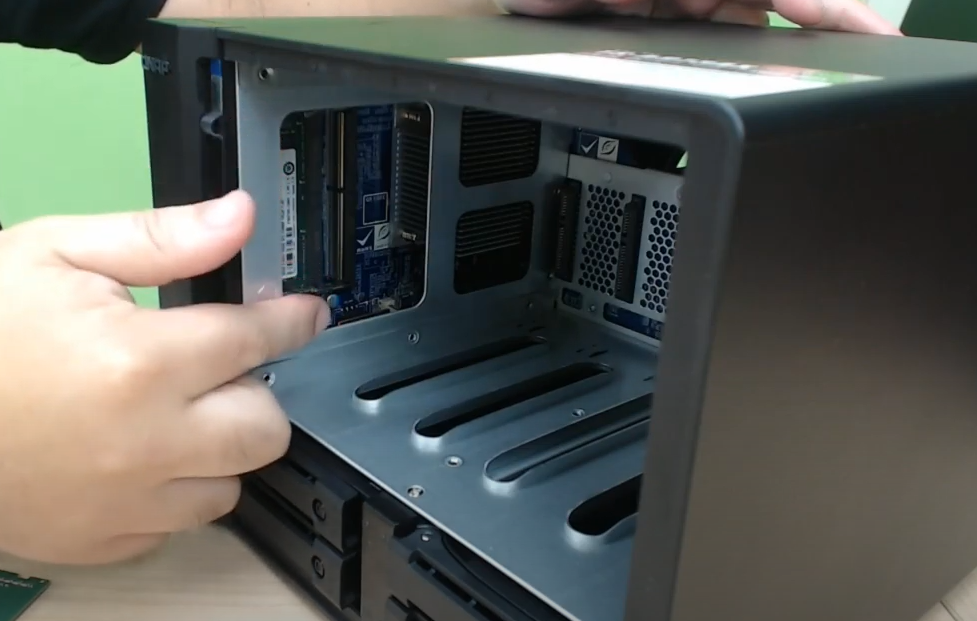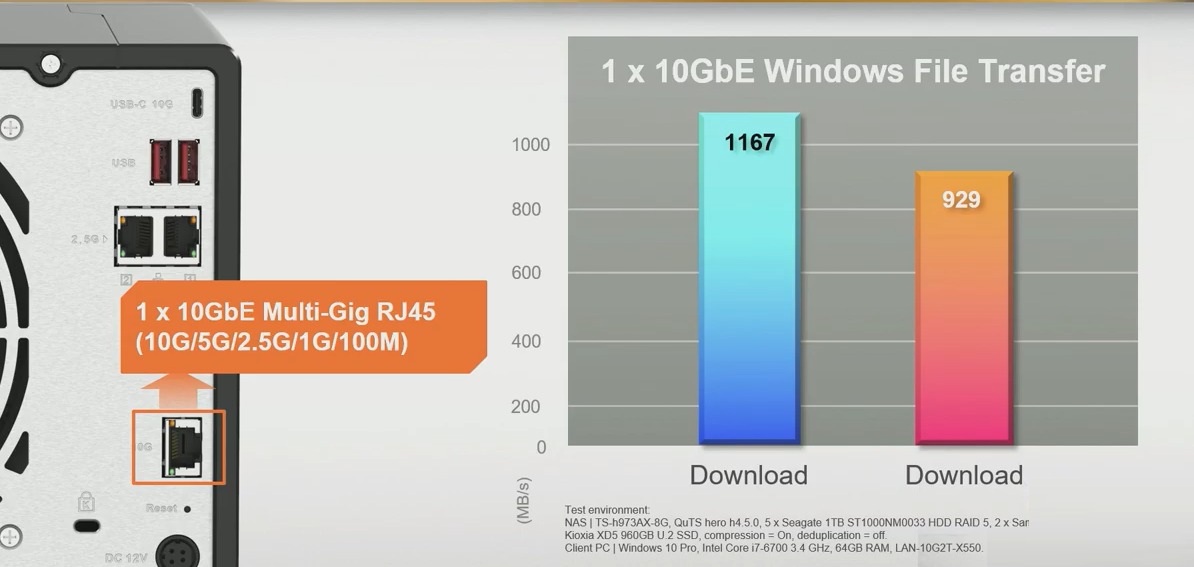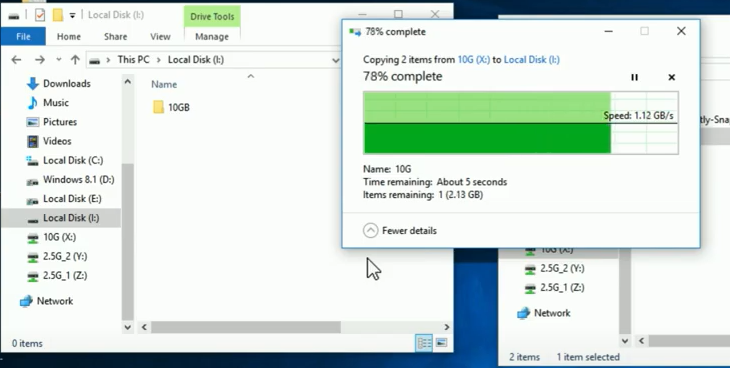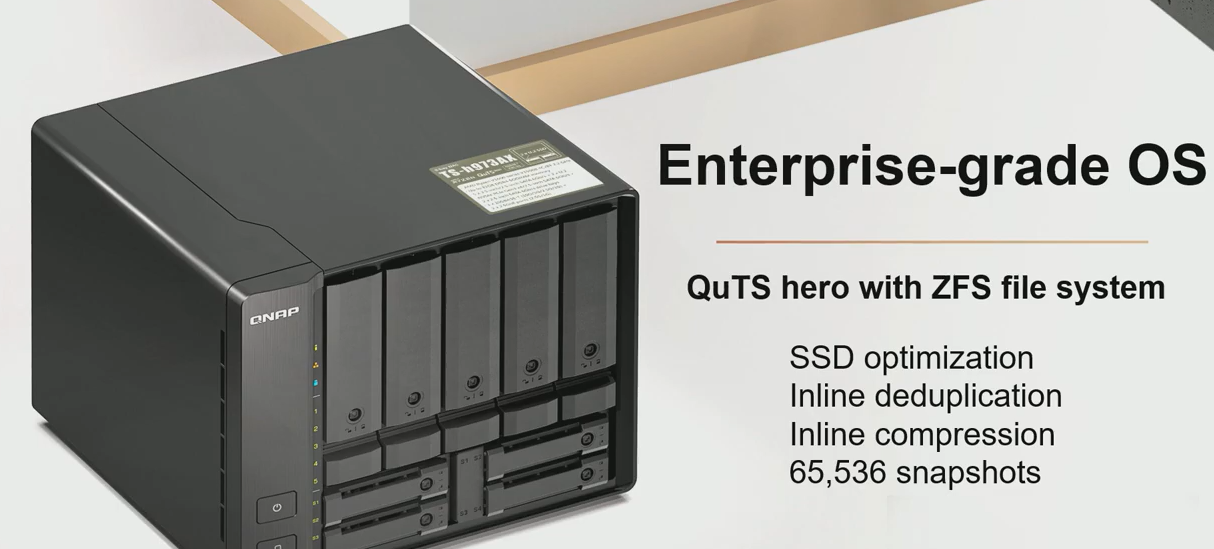 processor

AMD Ryzen™ Embedded V1500B quad-core 2.2 GHz processor

Processor architecture

64-bit x86

Floating point arithmetic

Encryption engine

 (AES-NI)

System memory

32 GB SO-DIMM DDR4 (2 x 16 GB)

Maximum memory

32 GB (2 x 16 GB)

Memory slot

2 SO-DIMM DDR4

For dual DIMM configuration, pairs of identical DDR4 modules must be used.

Flash memory

5 GB (Dual boot operating system protection)

Number of hard drive slots

5 x 3.5-inch + 4 x 2.5-inch

The system is shipped without HDD/SSD.

For the HDD/SSD compatibility list, please visit 

https://www.qnap.com/compatibility/

Support hard drive type

3.5-inch bays:




3.5-inch SATA hard disk drives




2.5-inch SATA hard disk drives




2.5-inch SATA solid state drives

2.5-inch bays:
2.5-inch SATA hard disk drives
2.5-inch SATA solid state drives
2.5-inch U. 2 NVMe PCIe Gen3 x4 solid state drives (2.5-inch Bay #1 & #2)

2.5-inch bay #1 & #2 support either U.2 NVMe SSDs or SATA 6Gb/s SSDs.

Hot plug support

SSD cache acceleration support

2.5 Gigabit Ethernet port (2.5G/1G/100M)

2

5 Gigabit Ethernet port (5G/2.5G/1G/100M)

Optional via the QNA-UC5G1T USB to 5GbE network adapter

10 Gigabit Ethernet port

1 10GBASE-T (10G/5G/2.5G/1G/100M)

Jumbo Frame Packet

USB 3.2 Gen 1 port

1 Type-A

USB 3.2 Gen 2 (10Gbps) port

1 x Type-C




2 x Type-A

model

desktop

LED indicator

HDD 1-5, SSD 1-4, Power/Status, LAN, USB

Button

Power, system reset

Dimensions (height x width x depth)

182.65 × 224.6 × 224.1 mm

Weight (net weight)

3.52 kg

Operating temperature

0-40 °C (32°F-104°F)

Relative humidity

5~95% RH (non-condensing), wet bulb: 27˚C (80.6˚F)

Power Supplier

External, 120 W, AC 100 to 240 V

fan

1 (140mm), 12VDC

Noise value

22.9 db(A)

System alert

buzzer

Kensington security slot
Note: Please only use QNAP memory modules to maintain system performance and stability. If the NAS device has multiple memory modules, please use QNAP modules of the same specification.
Warning: Using unsupported modules may reduce performance, cause errors, or prevent the operating system from starting.
* Noise level test environment:
Reference standard: ISO 7779; Maximum number of hard disks loaded according to the number of Bays; Measured by Bystander Position; Take the average data one meter in front of the machine during operation
QNAP reserves the right to modify at any time without notice .
Operating System

QuTS hero 4.5.0 (embedded Linux)

Supported Client Operating Systems

Apple Mac OS 10.10 or later

Ubuntu 14.04, CentOS 7, RHEL 6.6, SUSE 12 or later Linux

IBM AIX 7, Solaris 10 or later UNIX

Microsoft Windows 7, 8, and 10*

Supported Browsers

Apple Safari 7 or later

Google Chrome

Microsoft Internet Explorer 10 or later

Mozilla Firefox

Supported Languages

Chinese (traditional and simplified), Czech, Danish, Dutch, English, Finnish, French, German, Greek, Hungarian, Italian, Japanese, Korean, Norwegian, Polish, Portuguese (Brazil), Romanian, Russian, Spanish, Swedish, Thai, and Turkish

Supported File Systems

Internal hard drive (ZFS)

External hard drive (EXT3, EXT4, NTFS, FAT32, HFS+, and exFAT)




Note: To use exFat you must purchase an exFAT driver license from License Center.

Network & Virtual Switch

TCP/IP: Dual stack (IPv4 and IPv6)

Jumbo frame

DHCP server and client

RADVD

Web Server

HTTP/HTTPS Connections (TLS 1.0/1.1/1.2)

Supports WebDAV Connection

Supports Virtual Host (Max: 32)

Importable SSL Certificate

Security

Network access protection with auto-blocking (SSH, Telnet, HTTP(S), FTP, CIFS/SMB, and AFP)

Host access control for shared folders (CIFS/SMB)

AES 256-bit folder-based encryptions which are validated by FIPS 140-2 CAVP (Cryptographic Algorithm Validation Program)

256-bit external drive encryption (AES)

Storage Management

RAID Hot Spare and Global Hot Spare

RAID Rebuild Speed ​​Customization

Pool Over-provisioning

SSD TRIM

iSCSI (IP SAN)

iSCSI targets with multiple LUNs per target




Note: The maximum number of targets+LUN is 256.

LUN mapping (LUN can be moved between iSCSI and FC if supported)

LUN masking

Online LUN capacity expansion

Fibre Channel (FC SAN)

Support of Fibre Channel protocol (Optional Fibre Channel adapter required, please consult the compatibility list)

LUN Mapping (LUN can be moved between iSCSI and FC)

LUN Masking

WWPN Aliases Import/Export

VJBOD Cloud

VJBOD Cloud is a block-based storage gateway solution that allows you to backup the storage space (LUN/Folder) on your local NAS using cloud space from cloud services providers such as Amazon, Azure, and Google Cloud.

VJBOD Cloud now supports one-to-one pairing between cloud folders/LUNs and local stored spaces.

VJBOD Cloud now supports Amazon S3 Azure, BackBlaze, HuaWei Cloud, Alibaba Cloud, HKT, Google Cloud, OpenStack, RackSpace, Wasabi cloud, IBM cloud object storage service.

VJBOD Cloud now supports local stored mode, which means that data can be stored on the NAS and the data can be backed up to the cloud.

Notification Center

Added support for sending notifications via SMS center (SMSC) or providers, including Nexmo, Twilio, and Clickatell.

Added Outlook as an SMTP service option.

Added support for sending notifications via instant messaging applications, including Skype and Facebook Messenger.

Added support for Overview and History in Notification Center.

Power Management

Wake-on-LAN (WoL)

IPMI Management Module [x89]

Standby mode for internal drives

Scheduled power on and off

Access Rights Management

Multiple user creation

User data importing and exporting

User quota management

Local user access control (AFP, CIFS/SMB, FTP, and WebDAV)

Domain Authentication

Microsoft Active Directory (AD) and domain controller support

LDAP server and client

Domain user login (AFP, CIFS/SMB, FTP, and File Station)

The maximum domain user/group is 200000

myQNAPcloud

Free host name registration (DDNS)

Optional myQNAPcloud SSL certificates (DDNS)

Auto router configuration using UPnP

Web-based file manager with HTTPS 2048-bit encryption

Qsync

File syncing across multiple devices with SSL secure connection

Selective synchronization for specific folders or subfolders

Team folders as file center for better collaboration

File sharing using email links

Resource Monitor

Monitoring of NAS system resources such as CPU, memory and network

Monitoring of NAS storage resources such as RAID, and disk activity

Monitoring of NAS application resource use

Creation of extra swap space when SSDs are installed

Helpdesk

Reporting of issues to the QNAP support team, with automatic collection of system information

Remote connection between QNAP support engineers and NAS for issue resolution (with user permission)

Web Desktop Administration

Multi-window, multitasking system management

Smart toolbar and dashboard for system status display

SNMP versions 2 and 3

Resource monitor

File Server

File sharing across Windows, Mac, and Linux/UNIX

Microsoft networking (CIFS/SMB)

Apple networking (AFP)

NFS version 3/4 services

FTP Server

FTP, SFTP and TFTP protocols

FTP over SSL/TLS (explicit FTPS)

FXP support

File Station

Restore QDFF files and folders with HBS 3

Document viewing using Office Online, Google Docs, and Chrome extension

Microsoft Office file editing using Google Docs, Sheets, and Slides

ISO file mounting (maximum: 256 ISO files)

Qfiling

Auto filing

Recipe function

Archiving through iSCSI, USB, DVD and remote NAS

Advanced settings

HBS (Hybrid Backup Sync)

Cloud storage backup to Amazon Glacier, Amazon S3, Azure Storage, Google Cloud Storage, HKT Object Storage, OpenStack Swift, WebDAV

Cloud storage syncing with Alibaba Cloud, Amazon Drive, Amazon S3, BackBlaze B2, Box, Dropbox, OneDrive, Google Drive, HiDrive, hubiC, OneDrive, OneDrive For Business, ShareFile, Yandex Disk

RTRR server & client with bandwidth control

Rsync server with download bandwidth control

Multimedia Console

Integrating indexing, transcoding, thumbnail generation, and content management.

New content management design, configuring content sources for multimedia applications.

View the status of multimedia apps and services all on the same screen.

Video transcoding (240p, 360p, 480p, 720p and 1080p resolution)

QuMagie

Browse photos in timeline view or folder view.

Virtual albums and smart albums.

AI-assisted photo management, classifying people, things, places, etc.

Photo Station

Photo organization by thumbnail, list, timeline, or folder

Virtual and smart albums

Validity control for album sharing

Photo tagging with text, colors, and ratings

Music Station

Music playing and sharing through web browsers

Music streaming to multiple devices

Changing of album covers through Google search or by uploading photos

Internet radio (MP3)

Video Station

Video organization by thumbnail, list, timeline, or folder

Virtual and smart collections

Video tagging with text, colors, and ratings

Video link sharing through social media and email

Virtualization Station

Virtual machine creation (Windows, Linux, Unix, and Android)

Virtual machine importing, exporting, cloning, snapshot capturing, backup, and restoration

Console display using HDMI output (QVM)

HTML5-based shared remote console

Container Station

Support for LXC and Docker

Application downloading from the built-in Docker Hub Registry

One-click installation

Container importing and exporting

Qsirch

Full-text search

Data distribution using a bar chart

Previews for photos, music, videos, PDFs, Gmail, and others

Advanced search operators and search scope

QVPN Service

Support utility and Mobile apps for Windows, Mac, iOS, Android.

VPN server

Secure remote access with PPTP, L2TP/IPSec, OpenVPN, QBelt(QNAP proprietary) protocol.

Support for a maximum of 100 clients.

DLNA Server

Support for DLNA/UPnP TVs and players such as PlayStation 4 and Xbox One

Support for CUE indexing file for APE and FLAC

Q'center (NAS CMS)

Monitoring of multiple NAS devices

Utilization history reports

Unified configuration management

Monitoring of NAS devices behind NAT routers with Connect to Q'center




Note: The application is available in the App Center and in virtual appliance marketplaces (VMware vSphere ESXi and Microsoft Hyper-V).

Qfinder Pro

QNAP NAS location on the same local network

NAS shared folder mounting

Basic setting configuration (firmware, SMTP server, and network settings)

Direct connection with USB QuickAccess and Thunderbolt (specific models only)

App Center

Official and community software add-ons

Automatic updates and notifications for new versions

Repository for imported third-party content

User-specified pool for storing applications

Chromecast

Video, photo and music streaming to Chromecast using the following:

NAS applications: File Station, Music Station, Photo Station, and Video Station

Mobile applications: Qfile, Qmusic, Qphoto, and Qvideo

Note: You must install the Media Streaming add-on from App Center.

Download Station

PC-less downloads (BitTorrent, FlashGet, FTP/FTPS, HTTP/HTTPS, QQDL, and Thunder)




Note: The application supports a maximum of 500 tasks.




The maximum number of concurrent downloads for Intel and AMD x86-based NAS devices is 90 (30 BT/PT, 30 HTTP, 30 FTP)

BitTorrent: Support for search, magnet links, private trackers, and proxy

Scheduled download and bandwidth control

RSS subscription and download (broadcatching)

Notes Station 3

Insert Evernote Notes in Notes Station 3

Enable Embedding YouTube video into Notes

Table creation using the insert table editor

HD (HybridDesk) Station

Photo, video, and music playback on TV through HDMI

Support for Chrome and Firefox

Support for international keyboards and mouse input

User login permissions




Note: The decoding capability of the CPU and graphics card may affect playback of some video files.

Ubuntu Linux Station

Usage of the NAS as a Linux-based computer

Support for Ubuntu 14.04, Ubuntu 16.04 and Ubuntu Kylin 16.04

Application downloading and usage from the Ubuntu Software Center

Remote desktop for remote monitoring and accessing of Ubuntu

Qcontactz

One-way scheduled sync of contacts from multiple Google accounts

Contact importing from CSV or vCard 3.0 files

Contact exporting to CSV or vCard 3.0 files

Duplicate contact searching and merging

IFTTT Agent

Daily task automation

Social media data archiving

File synchronization between the NAS and various cloud services

System event notifications on Line, Skype, Gmail, and mobile phones

Qmiix Agent:

Trigger based file synchronization between the NAS and various cloud storage services

View miixes made using the Qmiix web portal that include triggers and actions involving QNAP apps.

Create miixes for web-based and NAS-related apps.

Create miixes on the Qmiix web portal that include File Station, a QNAP app

Security Counselor

Multiple Security Policies (Basic/Intermediate/Advanced/Custom).

Checks NAS settings for security weaknesses.

Integrates with existing anti-virus services.

Integrates with existing anti-malware services.

Malware Remover

Detects and removes malware from your QNAP NAS.




Note: To ensure the security of your NAS, update this app when new versions become available.

General Notes

Designs and specifications are subject to change without notice.

Some features may vary by model.

The system does not support DRM content and some IPv6 services.

Some data encryption features may be unavailable because of country-specific legislative restrictions.