WIFI 6E ORBI MESH (RBKE960 Series) from Netgear
The Orbi Quad-band WiFi 6E Mesh System supports the new, more secure WiFi Protected Access 3 (WPA3). With 128-bit encryption, the next generation of WPA protects against weak passwords that are easily cracked by hackers.
The new Orbi system also supports four separate WiFi networks. In addition to the default home WPA3 mesh network for 2.4, 5 and 6GHz devices and a guest network, users have the option to set up their new 6E devices on an exclusive WiFi 6E network to ensure these devices realize the best speeds and performance possible. There is also an IoT network for smart home devices such as smart plugs, lights, sprinklers, etc. that only support WPA2. These discrete networks allow for flexibility of network configuration, maximum performance and the separation of less secure devices from the main network.
Technical Specifications:
Industry-first quad-band WiFi System–– Supports four WiFi bands -2.4, 5 and 6GHz, for connecting the router/satellite to all your devices and an additional dedicated fourth 5Ghz WiFi band for connecting the router to the satellites.
Supports all-new WiFi 6E 6GHz WiFi band – The6GHz WiFi band adds more than double the bandwidth of 5GHz, resolving issues with interference and congestion in the 5GHz WiFi band, and enables amazing multi-Gigabit WiFi speed for connected WiFi 6E devices.
16 WiFi Streams – to provide the best speed, range and performance to blanket your home with Internet speeds similar to what you receive from your Internet provider.
10 Gbit Ethernet port for Internet– Future-proof your home network with support of up to 10 Gbps Internet speeds.
5 Gbps Ethernet port for wired connections–Multi-gig Ethernet port for wired connection to network storage, LAN gaming, in-home media streaming, or use it to set up a wired multi-gig connection between the router and satellites with structured Ethernet wiring in your home.
More Flexibility to Manage your Home Network with support for four different WiFi Networks– Main mesh WiFi Network for all your devices using the latest WPA3 for secure connections; IoT Network for all your legacy and IoT devices; 6GHz Only WiFi Network for all latest WiFi 6E devices and Guest WiFi Network.
Orbi® App— Easily set up your WiFi System, manage your network remotely, pause the Internet on any device, track your Internet data usage and more.
RBKE963: Router and 2 Satellites – 3 pack, $1,499.99 MSRP
RBKE963B: Orbi Black Edition Router and 2 Satellites – 3 pack, $1,499.99 MSRP
RBSE960: Add-on Satellite, $599 MSRP
AXE11000 WiFi Satellite (RBSE960)
NETGEAR® Orbi Quad-band WiFi 6E Mesh Add-on Satellite, 10.8Gbps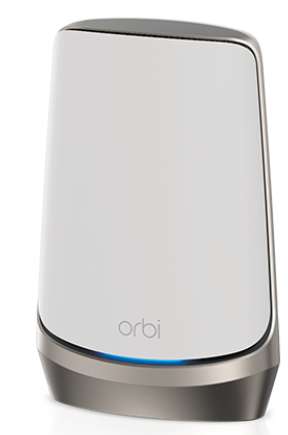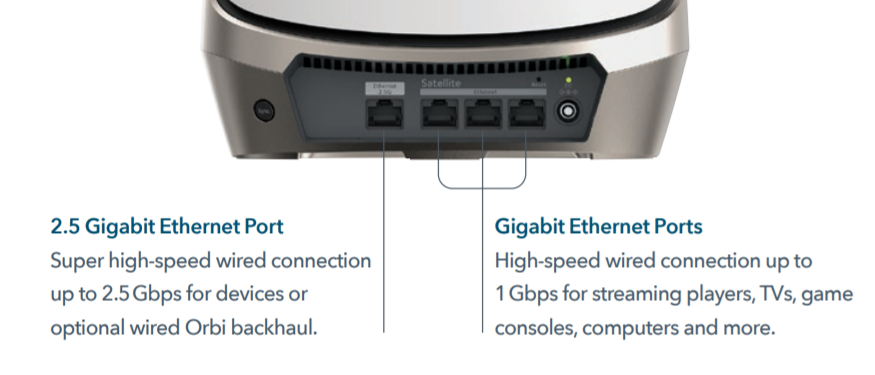 Orbi AXE11000 Satellite
(1200+2400+2400+4800Mbps)†
• Simultaneous quad-band WiFi
– Radio 1: IEEE®
802.11b/g/n/ax 2.4GHz –
1024-QAM support
– Radio 2: IEEE®
802.11a/n/ac/ax 5GHz –
1024-QAM support
– Radio 3: IEEE®
802.11a/n/ac/ax 5GHz –
1024-QAM support
– Radio 4: IEEE®
802.11a/n/ac/ax 6GHz –
1024-QAM support2
• MU-MIMO capable for simultaneous data streaming
• Implicit & Explicit Beamforming for 2.4GHz, 5GHz
& 6GHz bands
• Processor
– Powerful quad-core 2.2GHz processor
• Antenna
– Twelve (12) high-performance internal antennas
with high-power amplifiers
• Ports
– One (1) 2.5Gbps Multi-Gigabit Ethernet LAN port
– Three (3) 10/100/1000Mbps Gigabit Ethernet
LAN ports
• Control your WiFi using voice commands when you
have Amazon Alexa™ or the Google®
Assistant
AXE11000 WiFi Mesh System (RBKE963B) and RBSE960 satellite
NETGEAR® Orbi Quad-band WiFi 6E Mesh System, 10.8Gbps, Router + 2 Satellites – Black Edition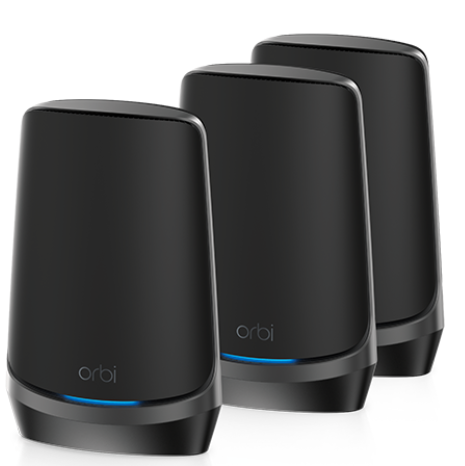 • Orbi AXE11000 Router and AXE11000 Satellites
(1200+2400+2400+4800Mbps)†
• Simultaneous quad-band WiFi
– Radio 1: IEEE®
802.11b/g/n/ax 2.4GHz —
1024-QAM support
– Radio 2: IEEE®
802.11a/n/ac/ax 5GHz —
1024-QAM support
– Radio 3: IEEE®
802.11a/n/ac/ax 5GHz —
1024-QAM support
– Radio 4: IEEE®
802.11a/n/ac/ax 6GHz —
1024-QAM support3
MU-MIMO capable for simultaneous data streaming
• Implicit & Explicit Beamforming for 2.4GHz, 5GHz &
6GHz bands
• Processor — Router & Satellites
– Powerful quad-core 2.2GHz processor
• Memory – Router
– 512MB NAND flash and 1GB RAM
• Antenna – Router & Satellites (each)
– Twelve (12) high-performance internal antennas
with high-power amplifiers
• Ports – Orbi Router
– One (1) 10Gbps Multi-Gigbit Ethernet WAN port
– One (1) 2.5Gbps Multi-Gigabit Ethernet LAN port
– Three (3) 10/100/1000Mbps Gigabit Ethernet LAN
ports
• Ports – Orbi Satellites (each)
– One (1) 2.5Gbps Multi-Gigabit Ethernet LAN port
(each)
– Three (3) 10/100/1000Mbps Gigabit Ethernet LAN
ports (each)
• Control your WiFi using voice commands when you have
Amazon Alexa™ or the Google®
Assistant
• Security
– Advanced cyber threat protection for your home
network and connected devices, with comprehensive
anti-virus & data theft protection for your PC, Mac®
, and mobile devices with NETGEAR Armor™
– Standards-based WiFi Security
(802.11i, 128-bit AES encryption with PSK)
– Guest WiFi Network is easy to setup separate &
secure Internet access for guests
• NETGEAR Smart Parental Controls™ — Easily manage
your kids' time online across their connected devices.
Learn more at www.netgear.com/spc