QNAP TVS-872XT Thunderbolt NAS – Quantity Versus Quality
The QNAP TVS-872XT newest generation Thunderbolt 3 NAS has finally arrived here at NASCompares and although we have seen alot of inventive network attached storage from these guys, pretty much as soon as we heard about the TVS-x72T series, we knew it was something special. Thunderbolt-enabled NAS drives are not new and in fact, QNAP themselves first released the original Thunderbolt NAS (the TVS-871T) back in 2014/15 and at the time it was seen as a huge gamble. NAS drives are typically designed to be accessed via the network or the internet, with occasional compensations being made for HDMI and Audio ports for media. The idea of the popular photography and video editing connection, Thunderbolt, being used as a means of connecting to your NAS storage was a popular idea but technically thought impossible. Luckily QNAP pushed through this and here we are at the closing stages of 2018 to look at the latest and possibly greatest Thunderbolt NAS yet. The QNAP TVS-872XT includes practically every new and top-tier innovation of hardware and software that they have developed in the last 5 years, coupled with a few new ones. Arriving at a price point a degree lower than last year's TVS-1282T3, yet similar (and for some, better specs) there is certainly slot to get excited about here. So, let's take a closer look at the hardware and software that makes up this content creator's ideal eight hard drive NAS and see if it lives up to the hype!
Quick TVS-872XT NAS Review Summary:
This new 8 bay thunderbolt equipped NAS is about quality, not quantity and although may lack the wider coverage of users that the TVS-1283T3 has, it makes up for it with a much, much better and higher dedicated performance to those fewer connected users. What the XT series brings to the NAS industry is to fill a much-needed gap in the thunderbolt NAS portfolio and gives users an important choice between the existing product family.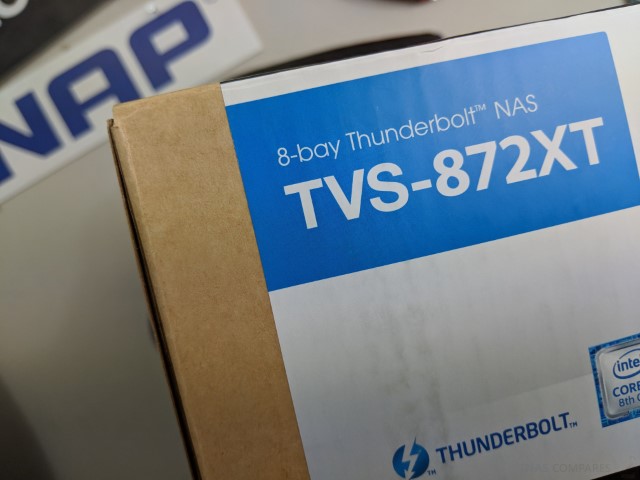 The retail box for the QNAP TVS-872XT is pretty thorough. It's still the regular 'brown box and a label' build, but rather informative for users who need the key reasons to buy this NAS. I have said it before and I'll say it again, despite the fact that these devices are almost exclusively purchased online, I will always appreciate a good retail box as it shows that a brand has a little pride in their product.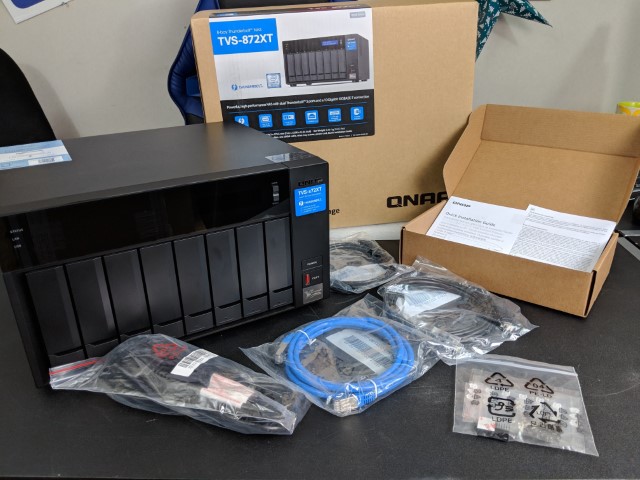 Once we open up the retail packaging, we find the usual contents from a NAS drive, as well as ample packaging to protect this device whilst in transit. Below are the numerous accessories that this device arrives with, although I am still surprised that QNAP continues to skip including a Thunderbolt 3 cable with the Thunderbolt devices.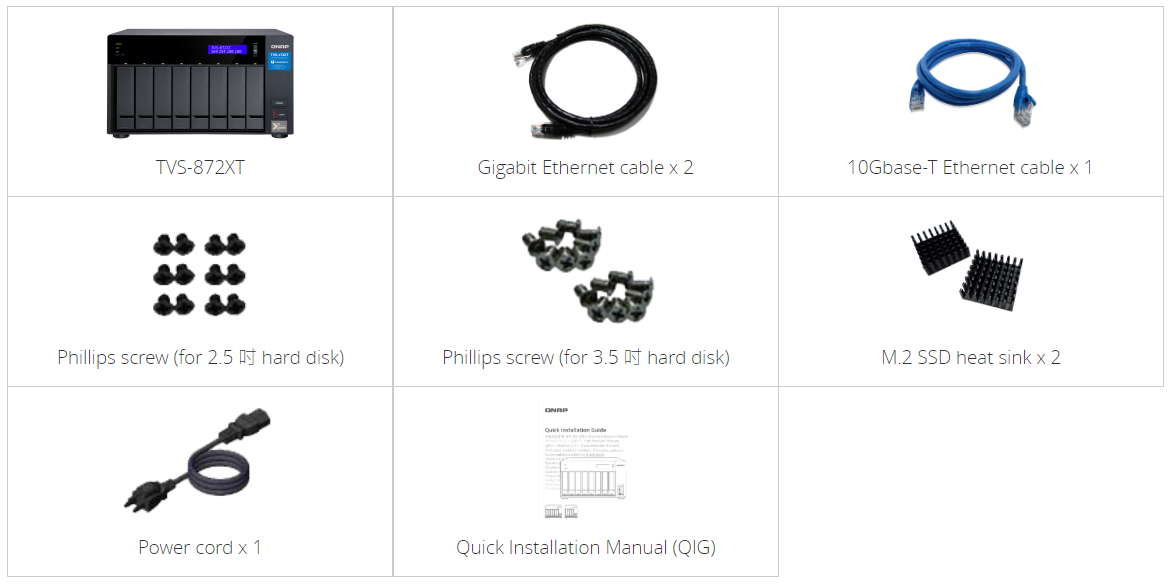 Nevertheless, here is a good base selection of setup accessories to ensure that, with the exception of hard drive or SSD Media, this device is ready to go and be set up straight out of the box.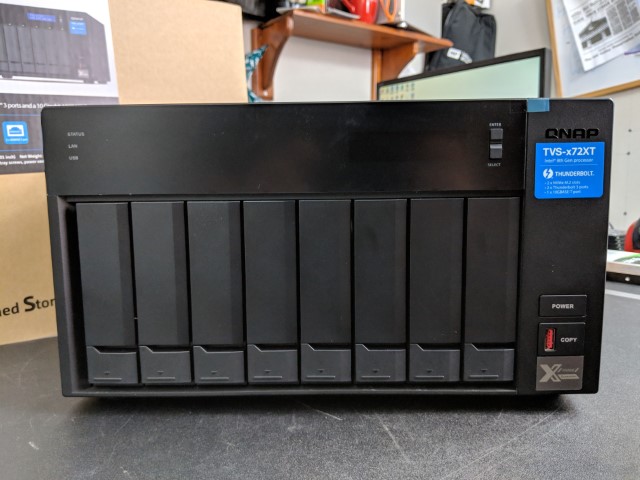 Once I fully unboxed the TVS-872XT chassis, I could see that it is noticeably smaller in size than the TVS-1282T3. This new TVS-872XT thunderbolt 3 device is going to be constantly compared with that of the TVS-1282T3 by me and other NAS websites, as both are the frontrunnerS for most photo and video post-production services looking for a NAS for their workflow. However, the external chassis of this device is remarkably similar to that of the original TVS-871T and TS-832X NAS device, as it has a more classical 8 Bay NAS enclosure design and looks a great deal more in shape and size to the rest of QNAP range.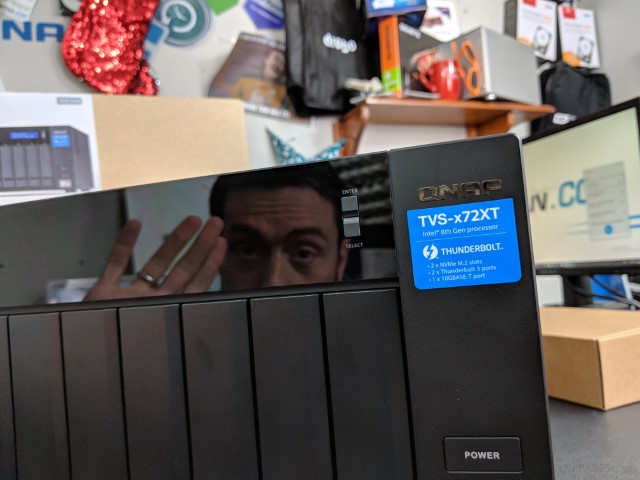 Like many QNAP NAS, the TVS-872XT arrives with an LCD panel that provides real-time information about your NAS drive ranging from individual IP identities and system core temperature, through to more detailed background information centred around the system internals. Almost all other NAS drive vendors rely on a system of multi-coloured LED lights and it is always refreshing to see that QNAP maintains the use of both LCD and LED indicators. This LCD panel can be navigated via physical buttons on the front of the NAS interface.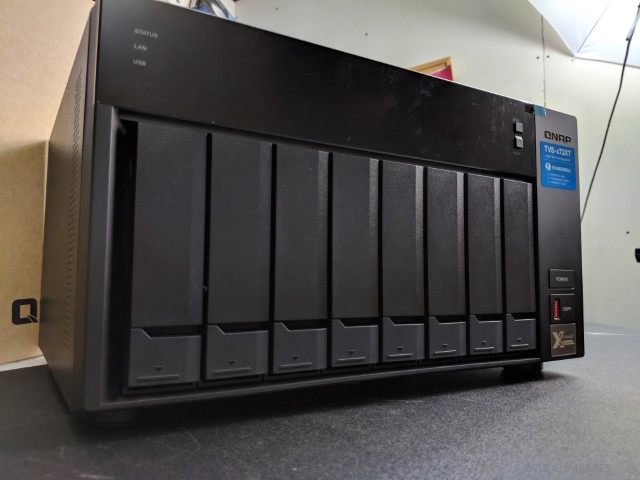 The 8 Bays of the Thunderbolt TVS-872XT each have their own dedicated LED indicator, as well as their own locking mechanism to ensure drives are not accidentally removed whilst in use, an annoyingly common way that people screw up there RAID array – you would be amazed! The TVS-872XT thunderbolt 3 NAS can be fully populated or even partially populated with the system being able to function with as little as one SATA hard drive or SSD installed. All too often the reason users will buy an 8 Bay storage solution is that of the benefits of a redundant array of independent disks, or RAID. The TVS-872XT allows you to create multiple RAID arrays in a single device or let you create one giant raid storage pool that can be broken down into individual volumes for your users.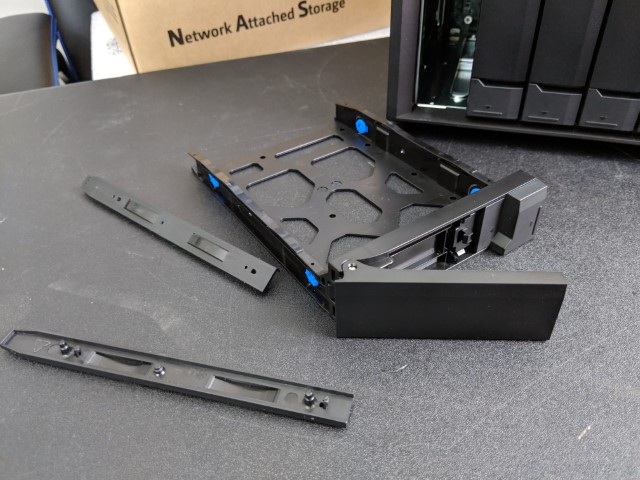 Upon removing the hard drive tray, you find that they are plastic in design and are benefiting from toolless installation (except in the case of solid-state drives which will require you to use the screws provided in the accessory pack). I am a little underwhelmed by the plastic trays, but it is worth mentioning that the quality of plastic trays in both DAS and NAS over the last 1 to 2 years has vastly improved and is no longer the heat-up-snap fest that they once were. Plus, it has long been a suspicion of mine that more rugged enterprise level hard drives with 10 to 14 TB in a metal tray produce substantially more vibration noise overall. So I will happily give QNAP I pass on this one.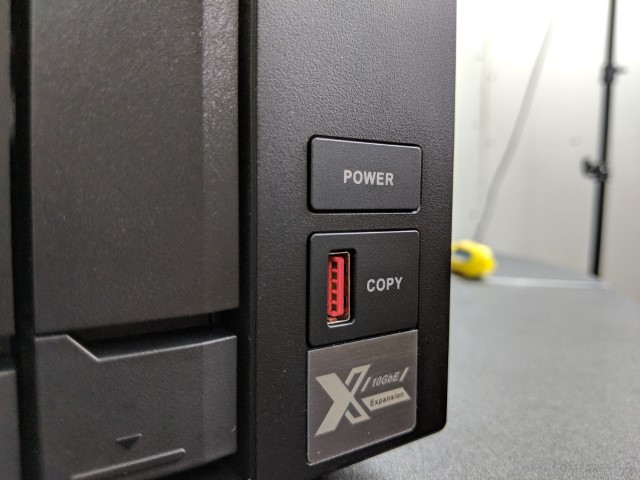 Another common feature of QNAP NAS that I am pleased to see is still apparent is the front-mounted USB port that allows users to back up the content of a NAS to an external USB drive or vice versa as needed. this can be configured in a number of impressive ways on the backup software included with this device and these backups at a single touch of a button can conduct file folder or entire volume level replication when needed. A small but useful addition. However, what makes this nice particularly impressive when compared with other QNAP thunderbolt 3 and non-thunderbolt NAS drives is that this device utilizes USB 3.1 Gen 2 10Gb copy button Port. Essentially meaning that you had now have one-touch backup speeds possible via speeds that are equivalent to Thunderbolt 1 for your USB backups. Aside from the functionality of the Thunderbolt 3 ports, HDMI, and other cool tricks this device has, the inclusion of USB 3.1 Gen 2 via USB copy button functionality as the preferred method of backup locally is very, very impressive indeed.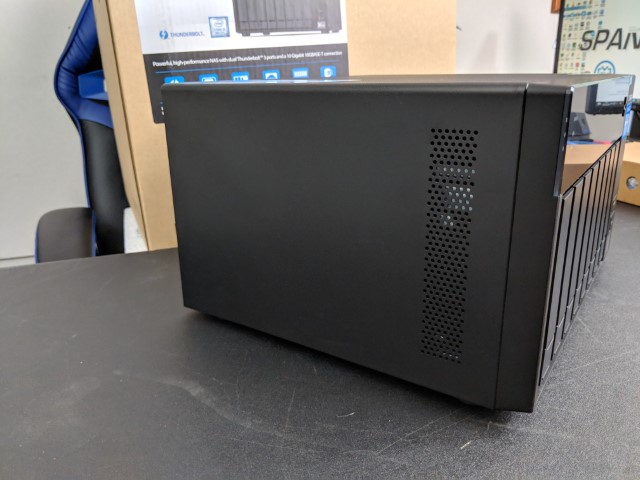 The external chassis of the TVS-872XT is metal in design and in fact, there is very little plastic visible on this device aside from those hard drive trays. This will, of course, mean that noise will be a pinch higher than that of more cost-effective and home designed plastic sheeting, but this is to be expected on a more enterprise-level device and in my eyes can be forgiven. Most users that buy this device for thunderbolt use, will be within one metre or two of this device may argue with me and this presents a more user case argument for later. Both the left and right side have ventilation panels for passive cooling via air flow(though one is used to draw cool air in/out for the dynamic fan inside – will cover later). There is additional ventilation at the base of the device, between each HDD bays and this is further improved with ventilation on the rear, surrounding the active cooling fans.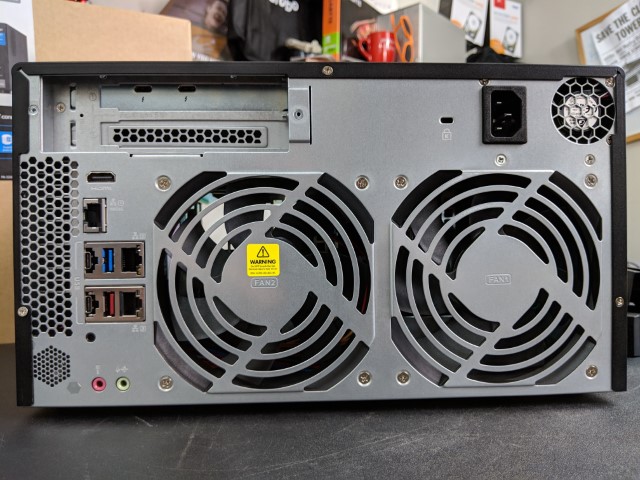 Once we turn this device around, we really get to see something interesting. What first impressed me about the TVS-872XT when I first heard about it back in September was that despite it still being innovative (something I am often heard saying here on NASCompares), QNAP has been the tiniest bit restrained this time around. Unlike the TVS-1282T3 (which included EVERYTHING QNAP was working on, doubling up in some cases, therefore increasing the price) this new TVS-x72XT series gives you innovations, sure, but does not bombard you unnecessarily.

The result is that the new TVS-872XT gives you the same connectivity as the TVS-1282T3 (and even a better CPU, which we will go through later), but because it gives you that SAME connectivity in fewer ports (e.g. 2x TB3 ports instead of 4x, 1x HDMI instead of 3x, 1 10Gbe instead of 2x, etc), it arrives at almost £1000 lower in price!!! That is pretty insane and opens the doors to spending more on your storage media, or just keeping the saved money. There is no avoiding that much larger post-production facilities will feel the pinch a little with over around 50% less connected users via 10Gbe/TB3/HDMI, but unless you KNOW you are going to use this connectivity to that extent, save the money!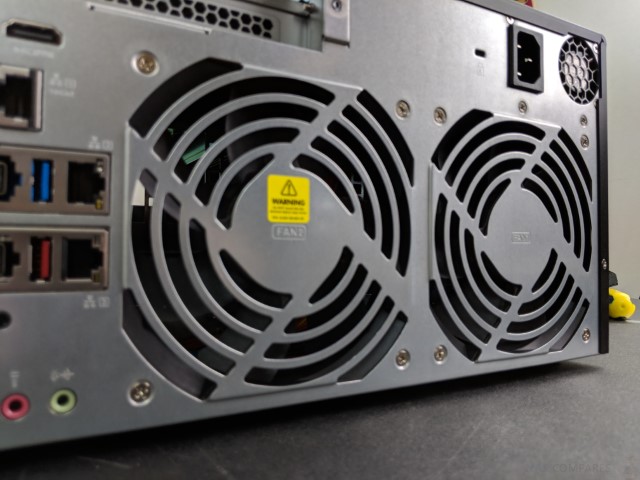 A common design choice for both QNAP and most NAS brands when storage reaches 8 Bays and above is to use twin cooling fans. As with most NAS drives, the fans on the TVS-872XT arrive with the ability to heighten or lower the RPM automatically or manually as needed – this is for temperature control or for is you want to lower any hum/buzz from rotating fans. Again, this is commonplace but still a good feature to highlight to new users.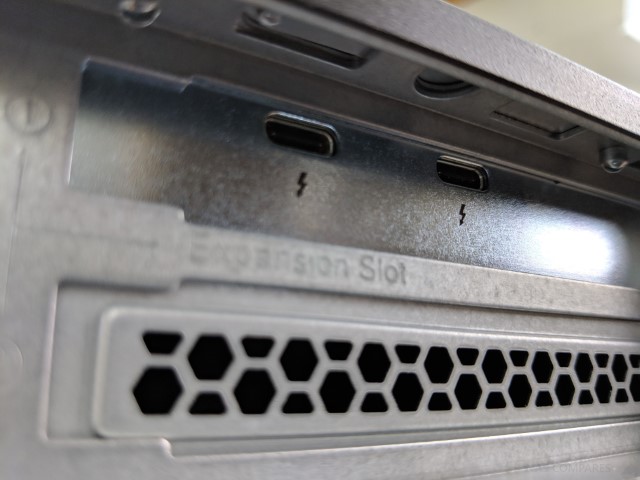 I think it is a fair assumption to say that 4/5 users who buy the QNAP TVS-872XT, do this for the Thunderbolt 3 connectivity. There are a whole bunch of other connections on offer (many with the ability to cross over with the Thunderbolt 3 USB-C port for gained efficiency) but the core selling point of this device is Thunderbolt 3 for many of you. I am pleased to confirm that the device arrives with two USB-C TB3 ports, that allow individual Mac/Windows users to connect to the TVS-872XT NAS and access the RAID storage as both a mapped network drive or via the QTS QNAP User Interface(with all those apps and dedicated desktop workspace). I could really fill this entire article with the importance of Thunderbolt-enabled NAS, but instead, this video from early this year will cover it much quicker for you:
https://www.youtube.com/watch?v=bEwSw9bZWDc
In short, it is about allowing the QNAP TVS-872XT to replace a significant portion of your creative workflow and make post-production quicker, easier and allow many, many users to use the same storage array at the same time (via TB3, 10Gbe, 1Gbe, USB, Internet, etc) and massively improve productivity. I currently use a Thunderbolt/10gbe NAS for my YouTube channel and this blog and I can personally declare that it hugely improves your workflow, whilst letting you double up tasks into single actions very easily.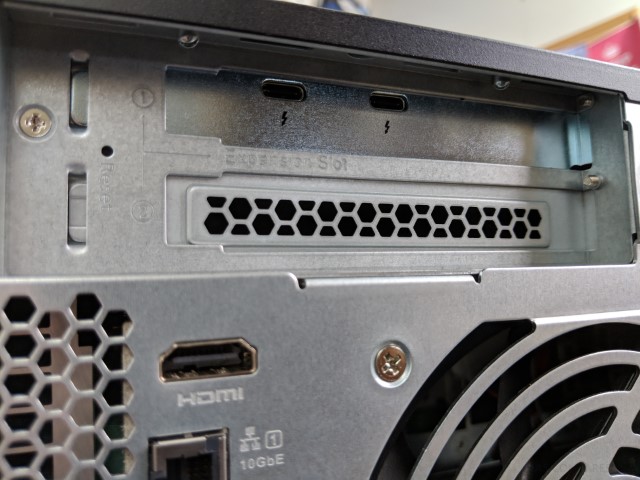 Another rather interesting difference between the TVS-872T and TVS-1282T3 NAS is that this new NAS uses a 10Gbe port that is soldered to the main controller board, whereas the older 1282T3 occupied the PCIe slots with the 10Gbe ports. The result is that the new QNAP TVS-x72XT series arrives with Thunderbolt 3, 10Gbe AND an available PICe slot – no more asking you to give up one of your vital connections in order to use the PCIe slot. Popular cards you can use are GPU cards (check compatibility in advance), Wireless access cards such as the QWA-AC2200, 40Gbe cards and more. It is nice to know that this lower price unit manages to give you better connectivity in the long run.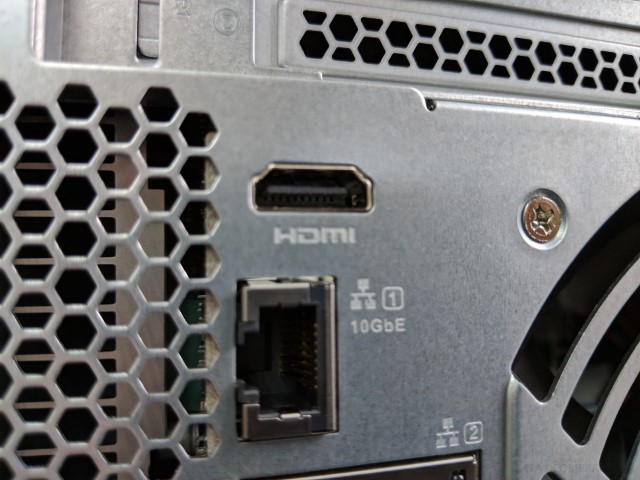 As mentioned earlier, the QNAP TVS-872XT features an HDMI slot. This direct video means of accessing your NAS is also highly 4K enabled as it is HDMI 2.0a (4K 60Hz), so if you plan on using the device for displaying/sharing especially dense media, this will be able to handle it. QNAP NAS arrives with the application Hybrid DeskStation (HD Station) that allows many popular 1st party and 3rd party applications to be displayed locally over HDMI (PLEX, Surveillance QVR Pro, VMs, Skype, Linux Station, KODI, etc) and can be controlled with the official QNAP Remote control, QRemote (free for Android and iOS) or a keyboard+Mouse over USB. All the while, this NAS drive can still be accessed by TB3, Network, Internet and locally at the same time – very cool indeed.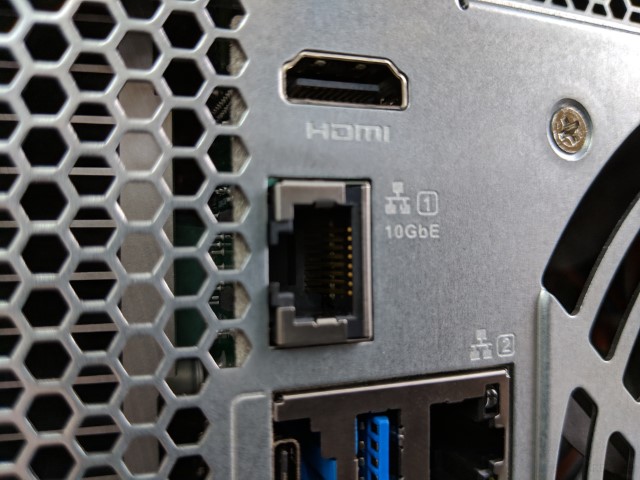 Just in case the fact you have Thunderbolt connectivity to the TVS-872XT doesn't win you over, the NAS also arrives with the ability to connect it to a 10Gbe network in your home/office/studio. Few NAS brands have been adapting their devices for the big move to 10Gbe than QNAP and alongside the ability to connect this device to a 10Gbe network switch (such as the QNAP QSW-1208-8C) over 10GBASE-T, you can also connect DIRECTLY from a 10Gbe enabled Mac/Windows machine to the NAS. This enables a 3rd means to directly edit on the NAS device. Finally, the QNAP NAS software allows Thunderbolt 3 connected users to use the TVS-872XT as a network switch and allow TB3 devices (that do not feature 10Gbe connections) to pass through the NAS and be connected to an existing 10Gbe network – very, VERY cool indeed and a big feather in QNAP's cap. Only the one port (to keep costs down, as mentioned earlier) but as you have TB3 for live editing, this port would almost certainly be just for connecting to a 10Gbe network. Remember, it works both ways, so this would allow your 10Gbe network to access the completed works on your QNAP NAS (during or after TB3 editing) and then distribute as needed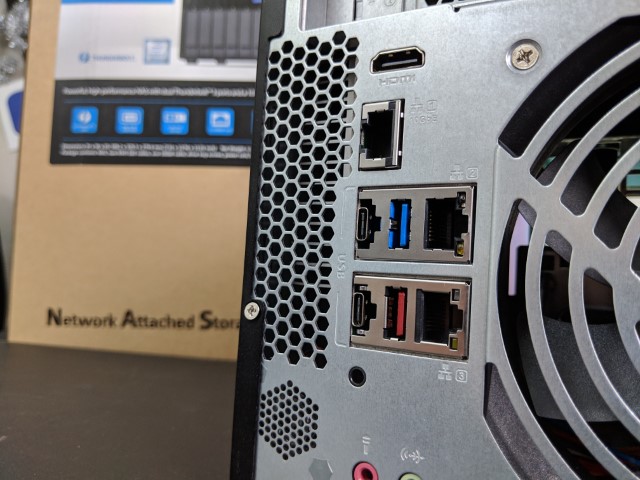 Alongside the 10Gbe port, we find 2x1Gbe ports. In the previous 8-Bay 1282T3 we found 4 LAN ports, but given the number of much, much faster access options, as well as the upto £1K price difference, this can be forgiven. Plus, users looking for 1Gbe LAN priority should not be looking at this device.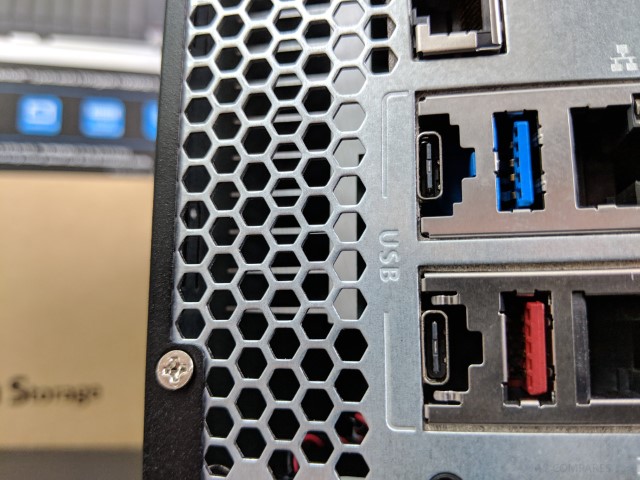 Despite the QNAP TVS-872XT's huge resonance with TB3 communities, I think that it is worth mentioning that this device also provides possibly the best range of USB connectivity I have ever seen in a NAS to date. Aside from the front USB 3.1 Gen 2 port mentioned earlier, the rear of the TVS-x72XT arrives with another USB 3.1 Gen 2 USB-A port, 2 USB-C ports for connecting more modern external devices and a USB 3.1 Gen 1 USB-A port. So, in essence, you can connect any form of a USB device to this device and it will either allow you to upgrade the performance o your hardware, become available in a Virtual machine or add it as external storage (making it network/internet accessible). just check the compatibility list in advance. But it's really nice to see this amount of coverage and again, a noticeably chunk lower in price with likewise devices.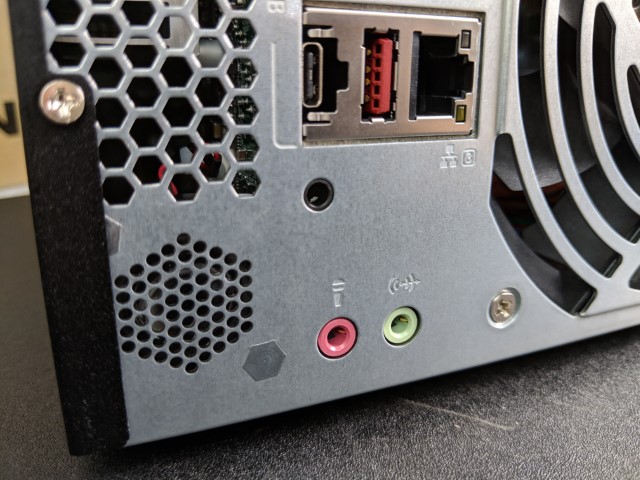 Somewhat tucked into the bottom corner of the back panel, is a mini speaker to give you real-time notifications and alerts to the NAS behaviour. These are more than just beeps and arrive in verbal form (which can be silenced if you do not want the NAS telling you that there is a new update available). Alternatively, you can connect an external speaker or use a mic in socket to use a microphone in a VM, Linux machine or HD Station application such as Skype or Chrome App extensions. You can always connect this NAS to a sound system directly, but as this is the lesser form of audio connection, I would stick with network/internet connectivity between this NAS and your Sonos, Bose or Amazon Echo device (check out MyMedia Amazon Skill for that last one).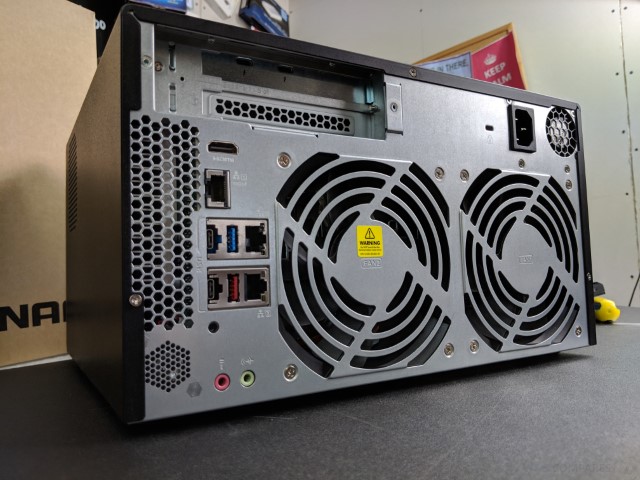 Overall, I find it hard to fault the hardware externally on the QNAP TVS-872XT, as it is a much more mature and balanced approach to hardware compared with the "ALL IN" approach of the TVS-1282T3. So, let us get inside.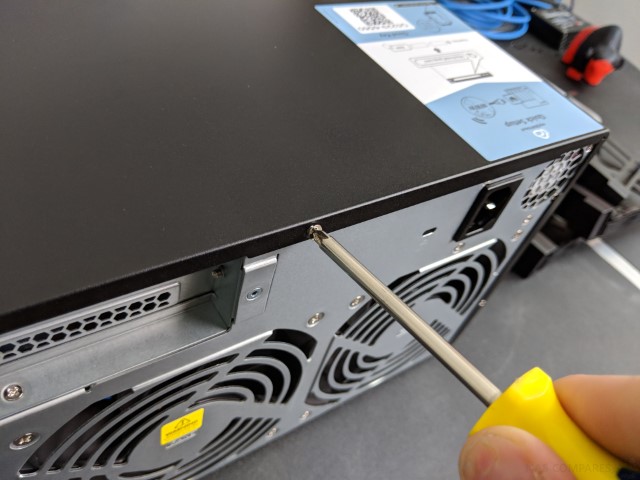 In order to get inside the QNAP TVS-872XT NAS, you will need to remove the 3 rear screws that hold the top of the chassis in place. This is a relatively easy procedure and something that those looking to upgrade the DDR4 memory, add a PCIe or add SSD inside will need to go ahead with.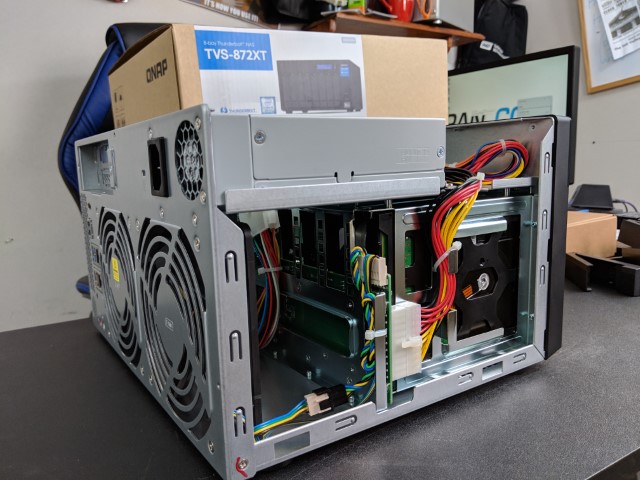 Once we have the lid removed, we can get a good look at the well organized internal layout of the TVS-872XT. I have seen the inside of ALOT of NAS over the years and although the TVS-872XT (like most NAS drives) resembles a PC in most ways, it is definitely better organized than a number of recent releases. This is a device that is going to produce heat in a number of ways to really push those performance benchmarks high, so you can tell that alot of work has gone into making sure the internals are distributed in the best way they can be.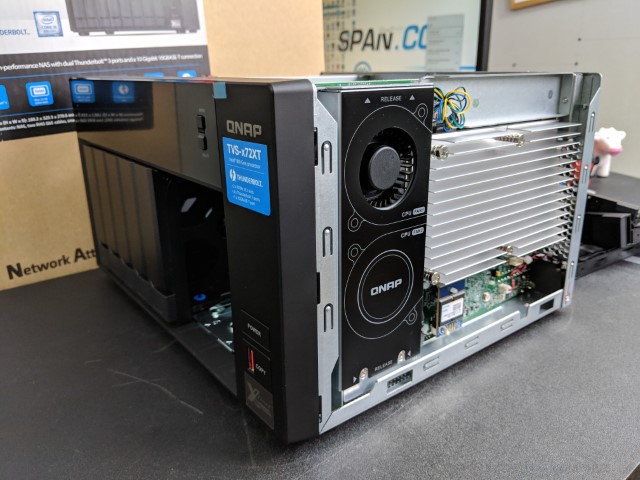 I have peered inside quite a few NAS over the years, but this was possibly one most cooling optimized QNAP servers I have ever seen. They have reworked the chassis that was used in previous NAS and this time included one or two additional active and passive cooling measures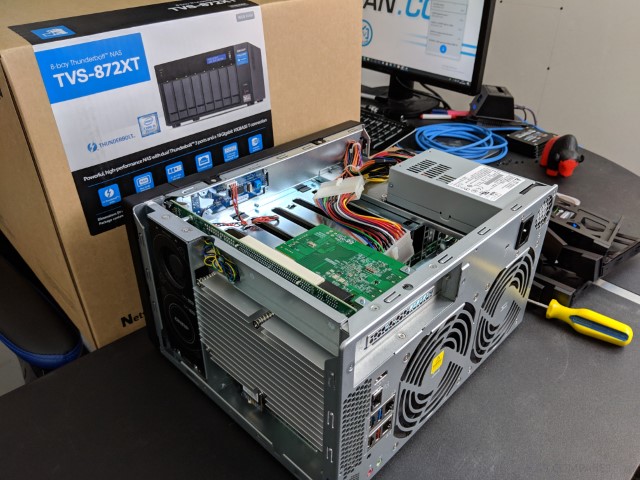 First things first, the CPU. I am used to seeing a chunky heatsink to keep the efficiency as high as possible. However, the Intel i5 8th Gen processor in the TVS-872XT features a huge rectangular, spring-loaded heatsink that hugely covers this 6 Core CPU.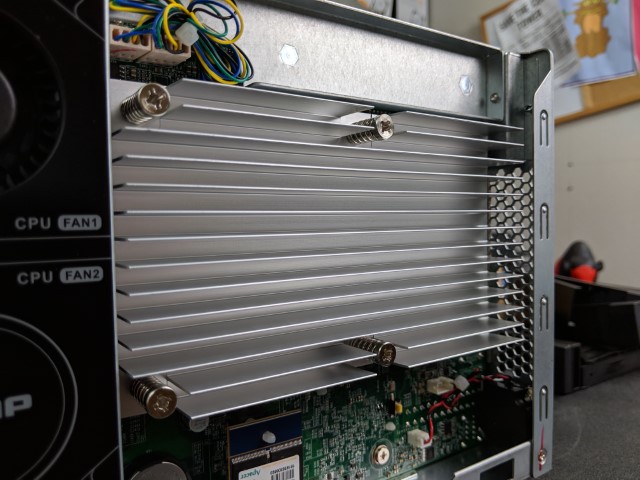 Alongside this, there is a unique and almost gamer quality branded, twin fan parallel fan that ensures air circulates wide and low under and over the heat sink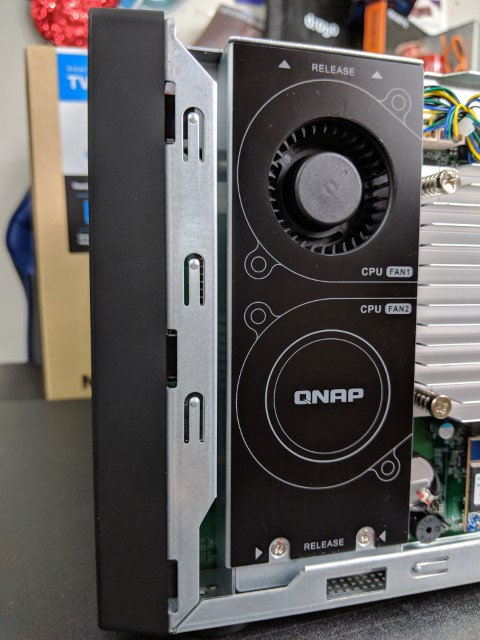 I decided to take a closer look and set about removing the four spring-loaded screws to take a good look at what is going on under that big heatsink.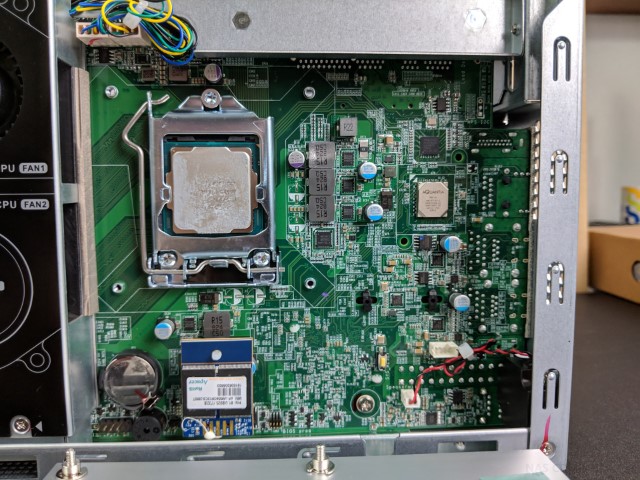 Under the heatsink, I found a couple of very interesting things. First off, the Intel i5 processor is in a much more PC familiar mobo pinned dock, along with an additional layer of thermal paste. All too often brands are trying to keep their hardware under cost and re-use old generation chassis, resulting in compromised build quality. However, in the case of the TVS-872XT, there has been a double down in terms of fitting the components and a much-layered approach to cooling. Impressive indeed
One extra thing I spotted that was worthy of comment under that big heatsink was a dedicated controller chip in the form of the Aquantia ACQ107 network controller. This was a nice extra touch and certainly something that filled me with confidence regarding 10Gbe performance alongside the Thunderbolt 3 transmission.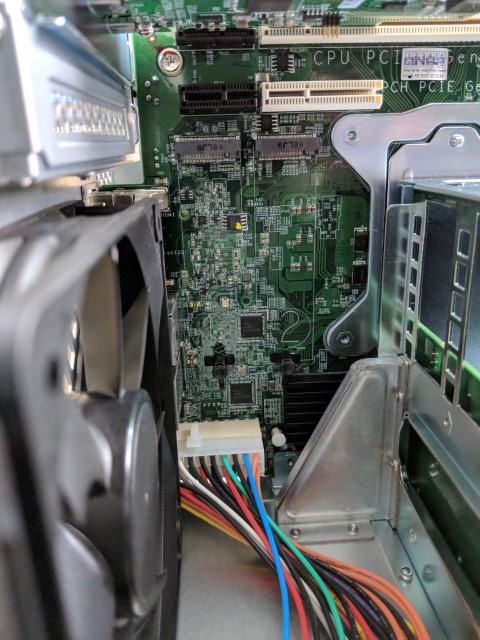 Turning the TVS-872XT chassis around shows you the main area of the controller board for the PCIe and NVMe slots. As previously mentioned, this new generation of Thunderbolt 3 NAS arrives with PCIe based NVMe SSD bays that can be used for tiered storage, caching or hot data as needed. This, when combined with the HDD bays, gives you a much better-layered storage environment and will further increase the read and write speeds to you and other connected users over Thunderbolt 3 and 10Gbe. The two NVMe SSD bays can be fully or partially populated and in terms of improving Read/Write speeds, can be set as Read Only Cache, Read and Write Cache or Write Only cache as needed.  In 2018 we have seen increased use of NVMe SSD caching in both home and business storage and it is good to see it so prominently featured here.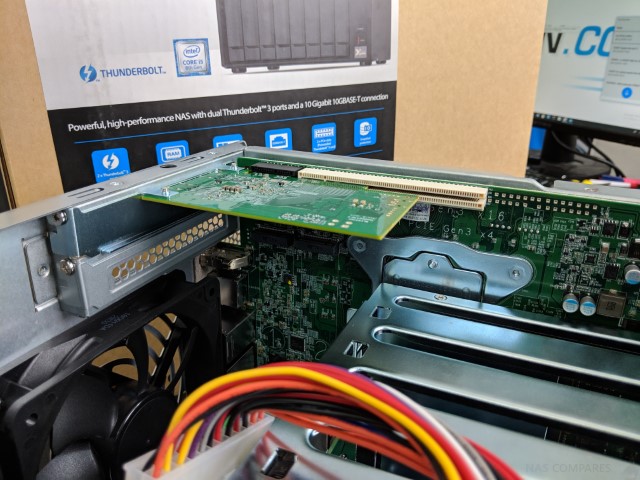 The two Thunderbolt 3 USB-C Ports arrive on a PCIe upgrade card and not on the main controller board, which means that they benefit from having their own onboard controller, taking the work off of the NAS CPU. Alongside this, the 2nd PCIe slot is empty (as previously mentioned, the 10Gbe arrives on the main board and supported by that Aquantia chip) so you can upgrade the TVS-872XT  with numerous PCIe upgrade cards, ranging from the QWA-2200ac Wireless access card, the QM2 10Gbe/SSD Caching upgrade cards, compatible audio-visual PCIe cards and more. Just take a moment to check out the compatibility pages at QNAP to learn what other accessories are available.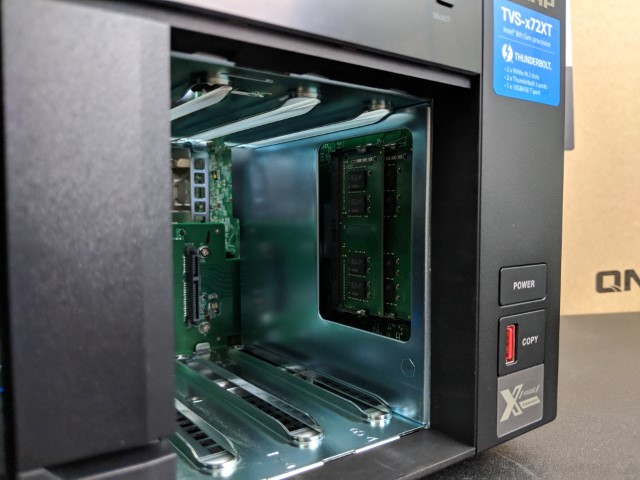 As is the case with other QNAP NAS drives, for reasons of convenience and design, the memory upgrade slots are found by removing the Hard drive trays on one side to reveal the memory slots. This 16GB DDR4 model arrives with 2 SODIMM DDR4 sticks of 8GB each. The TVS-872XT supports up to 32GB (2x 16GB) compatible QNAP or crucial memory in these bays. If you intend to use the TVS-872XT QNAP NAS to it's fullest extent in VMs or Surveillance in conjunction with Thunderbolt 3, it would be recommended to upgrade this unit beyond the default 16GB.
What are the specifications of the QNAP TVS-872XT NAS?
The QNAP TVS-872XT NAS arrives with an impressive array of hardware on offer. All to often users will focus on the Thunderbolt 3 connectivity and not take a serious look at what else you get with your QNAP NAS. I am pleased to say that the QNAP TVS-872XT features every single modern and popular hardware innovation that QNAP has ever featured (with the exception of SSD 2.5″ bays, but counted with NVMe m.2 SSD instead). They are as follows: 
CPU+Memory for TVS-872XT
Intel® CoreTM i5-8400T six-core 1.7 GHz processor with clock speed up to 3.3 GHz
processor architecture: 64-bit
graphics: Intel® UHD Graphics 61016GB UDIMM DDR4
Encryption acceleration engine
 (AES-NI)
Maximum expandable memory
32 GB ( 2 x 16 GB)
Number of memory slots
2 x SO-DIMM DDR4
(paired DDR4 memory of the same speed, capacity, and die type required for two or four DIMM configurations)
Flash memory
4 GB (Dual boot OS protection)
Number of supported hard disks
4/6/8 x 3.5 " SATA 6 Gbps hard drive, hot swappable
Support for hard disk type
3.5 " hard disk slot
. 3.5 " SATA hard drive
. 2.5 " SATA hard drive
. 2.5 " SATA solid state drive
M.2 SSD
2 M.2 PCIe (Gen3 x2) NVMe SSD ports supporting 2280 interface
Thunderbolt
2 x Thunderbolt 3 transmission
10 Gigabit Ethernet
1 x 10GBASE-T RJ45, support 10G/5G/2.5G/1G/100M Five-speedNote: Please use CAT6a or CAT 7 network route (additional) to achieve 10GbE transmission speed
Gigabit Ethernet
2 x RJ45
PCIe expansion slot
Slot 1: PCIe Gen3 x16 (CPU)
Slot 2: PCIe Gen3 x4 (PCH)Note: Slot 1 is pre-installed with a Thunderbolt 3 network expansion card
USB port
1 x USB 3.0
2 x Type-C USB 3.1 Gen2 10Gbps
2 x Type-A USB 3.1 Gen2 10Gbps
HDMI output
1 x HDMI 2.0a, highest resolution 3840 x 2160 Ultra HD @60Hz
Source
• 2 x 3.5 mm dynamic microphone jack
• 1 x 3.5 mm line-out jack
• 1 x speakerNote: Speaker and line-out jack cannot be used at the same time
LED indicator
Hard Disk 1-8, Status, Network, USB, M.2 SSD 1-2
Button
Power, reset, USB one-button backup
What can the TVS-872XT do in terms of Software and Applications?
Finally, we can discuss the software abilities of the QNAP TVS-872XT Thunderbolt 3.All that hardware and power will be rather useless without being able to do anything with it! We have covered that this device can be connected via Thunderbolt 3 and 10Gbe for live editing of 1080p and 4K on the NAS remotely as an external drive (using Final Cut Pro, PhotoShop, Da Vinci Resolve and more), but what about the general NAS uses outside of this content creation industries? I am pleased to confirm that this NAS can do EVERYTHING that QNAP and QTS can offer and here is just a handful of them:
Up to 90 Simultaneous downloads over HTTP, FTP, BT and PT
Steam Media from the NAS to a Chromecast, Apple TV and Smart TV over DLNA
Over 120 Apps for free in the App Centre
YouTube Livestream Hosting
Support upto 40 IP Cameras with the free enterprise class surveillance software, with 4 free licences included
Upto 256 iSCSI targets with multiple LUNs supported
Host multiple Windows, Linux, Unix, and Android Virtual machines
Host an iTunes server for your home and media devices inside and outside your network
synchronize with 3rd party clouds to backup to and from them, such as Amazon S3. DropBox, iCloud and Google Drive
Transcode 240p, 360p, 480p, 720p, 1080p and 4K resolution to change media to more acceptable formats on the fly to your iPhone, Android device or more
Use programs like IFTTT to streamline your digital life and record all data made and shared about you in a central location
Use the HDMI Outputs and Remote control for multimedia, a standalone surveillance system, Standalone PC and more
Backup multiple devices (weekly, daily, hourly, etc) with multiple sync and backup apps/processes like Apple Time, QSync and RTRRR
QNAP TVS-872XT Thunderbolt NAS -Conclusion
The QNAP TVS-872XT is a NAS drive that has taken the elite and overpowered attitudes that were previously the hallmarks of the Thunderbolt 3 NAS range and turn it into something a great deal more mature and accessible to mid-range users. Till now, if you wanted access to the full features and functionality of a fully equipped thunderbolt and 10Gbe enabled 4K NAS, you were forced to either compromise too much with the TS-453BT3 or break the bank with the TVS-1282T3. Thanks to this new QNAP TVS-872XT NAS however, you no longer need to compromise and have access to a much more balanced and well equipped NAS platform for photo and video editing post-production in 2019.
This new 8 bay thunderbolt equipped NAS is about quality, not quantity and although may lack the wider coverage of users that the TVS-1283T3 has, it makes up for it with a much, much better and higher dedicated performance to those fewer connected users. What the XT series brings to the NAS industry is to fill a much-needed gap in the thunderbolt NAS portfolio and gives users an important choice between the existing product family. It is worth mentioning that you lose out on the 3rd tier of storage offered by the 82T series, as well as the long-term future proofing it offers for PCIe upgrades to the GPU and adding high-speed users later – but unless you think this is a necessary possibility in the next 3-4 years, you should save your money and go for the QNAP TVS-872XT. Easily in my top 3 NAS of 2018 and going forward into 2019.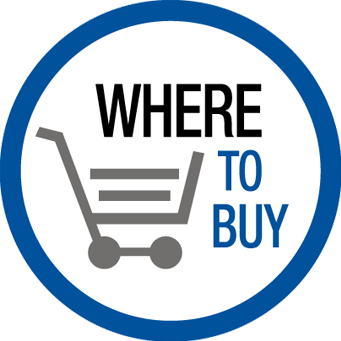 What the QNAP TVS-872XT can do (

PROS

):

High Virtualisation Use
Two USB-C Thunderbolt 3 Ports which can allow 2 devices access at once
SSD Optimized with NVMe Support
Business Use
SMB Storage
Optimized for Post Production and Broadcasting
Embedded  10GBe Port
Thunderbolt-to-10Gbe Adapter possible
DLNA Support
Apple Time Machine Support
Surveillance including multiple camera licences – 8 Licences FREE
iTunes Server
email server
Download server (FTP, HTTP, BT,NZB)
CMS and CRM systems
Office applications
Media Center support

What the QNAP TVS-872XT cannot do (

CONS

):

Only 2 TB3 Ports – so only 2 Editors at once
No Remote Control
no Intel i7 8th Gen option
Only 1 10Gbe Port
PCIe Slot that is available not compatible with 40Gbe cards
📧 SUBSCRIBE TO OUR NEWSLETTER 🔔
🔒

Join Inner Circle
Get an alert every time something gets added to this specific article!
This description contains links to Amazon. These links will take you to some of the products mentioned in today's content. As an Amazon Associate, I earn from qualifying purchases. Visit the NASCompares Deal Finder to find the best place to buy this device in your region, based on Service, Support and Reputation - Just Search for your NAS Drive in the Box Below
Need Advice on Data Storage from an Expert?
Finally, for free advice about your setup, j
ust leave a message in the comments below here at NASCompares.com and we will get back to you.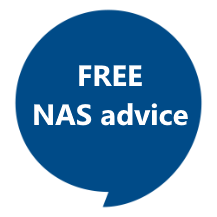 Need Help?
Where possible (and where appropriate) please provide as much information about your requirements, as then I can arrange the best answer and solution to your needs. Do not worry about your e-mail address being required, it will NOT be used in a mailing list and will NOT be used in any way other than to respond to your enquiry.
TRY CHAT
Terms and Conditions
If you like this service, please consider supporting us.
We use affiliate links on the blog allowing NAScompares information and advice service to be free of charge to you.
Anything you purchase on the day you click on our links will generate a small commission which is
used to run the website. Here is a link for
Amazon
and
B&H
.
You can also get me a ☕
Ko-fi
or old school
Paypal
. Thanks!
To find out more about how to support this advice service check
HERE
If you need to fix or configure a NAS, check
Fiver
Have you thought about helping others with your knowledge?
Find Instructions Here

ASK NASCompares forum
, by clicking the button below. This is a community hub that serves as a place that I can answer your question, chew the fat, share new release information and even get corrections posted. I will always get around to answering ALL queries, but as a one-man operation, I cannot promise speed! So by sharing your query in the
ASK NASCompares
section below, you can get a better range of solutions and suggestions, alongside my own.
This description contains links to Amazon. These links will take you to some of the products mentioned in today's video. As an Amazon Associate, I earn from qualifying purchases
Summary
Reviewer
Review Date
Reviewed Item
QNAP TVS-872XT Thunderbolt 3 NAS Review
Author Rating