Reviewing Diskstation DS918+
Synology DS918+

    

Top Speed: 226 MB/s  IOPS: 6000

Noise: 19.8 dB(A)

Power: 28.8 W / 12.6 W

PROS
CONS

Dual M.2 cache

High Availability

Excellent choice of Apps

Snapshot Replication

Support Plex

Virtualization

4K Video transcoding

FHD Plex Transcoding

Hot-Swap trays 

DLNA Compliant

Expandable

RAM upgradable

No Copy button

Only 1Gbe Ethernet ports

No PCIe slots
DS918+ Review |

Best use case for
Basic Virtual machines
Web/Database server
Network file server for medium size office
Multi-user collaboration tool
PC backup and Apple time machine
Itunes or music library for Sonos
Home HD & 4K multimedia server for DLNA smart TV
DS918+ Review |

Hardware review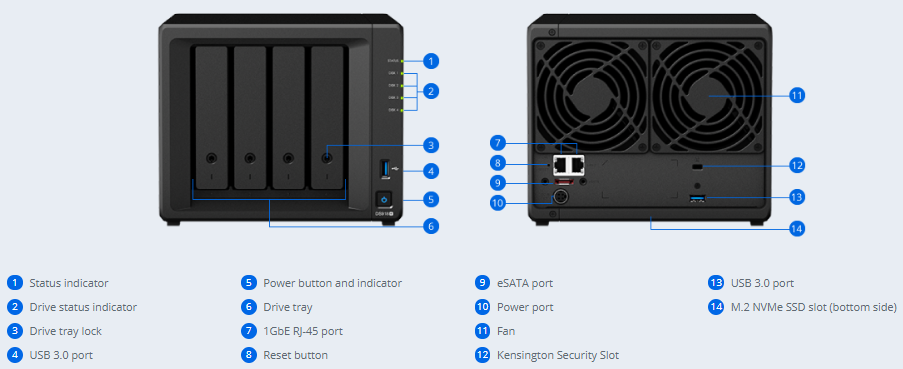 This CPU will support Plex server and 4K /FHD transcoding function.
RAM memory can be easily upgraded.
USB3 ports will provide faster backup speeds.
Dual LAN ports will double transfer speed in a multiuser environment.
Scheduled power on and off can be set up automatically.
Plastic chases and adjustable fan speed will let you make it super-quite.
DS918+ 100V to 200V power will let you use it in any country.
Thanks to esata port, you can add 5 extra drives under the same volume.
Hot-swap bays, will let IT quickly replace the drive if needed.
DS918+ Review |

  Unboxing
DS918+ Review |

Alternatives to it?

DS418play is 40% weaker NAS, but in the environment, around 1-3 people you would not notice a performance difference.

DS718+ will be a very same NAS but only with 2 drive bays and no SSD caching. With expansion box, it can be converted into a 7 bay

DS418 will be a weaker option if you want to save money, but still be able to transcode some 4K (no Plex)
DS918+ Review |

How fast is it?

RAID 1 ST6000VN0001 6TB HDD, 1GbE LAN port: MTU 1500; connected to 1 client PC via HP 2530-48G switch

SMB Sequential Throughput (64KB)

Read MB/s 225.91 Write MB/s 222.13

SMB Sequential Throughput via Encrypted Shared Folder (64KB)

Read MB/s 225.91 Write MB/s 222.49

Windows File Transfer (1MB file x 3000)

Read MB/s 93.12 Write MB/s 68.10

Windows File Transfer via Encrypted Shared Folder (1MB file x 3000)

Read MB/s 80.12 Write MB/s 41.34

Mac File Transfer (3GB file x 1)

Read MB/s 94.87 Write MB/s 91.10

Mac File Transfer (1MB file x 3000)

Read MB/s 76.12 Write MB/s 65.62

Web Server – PHP Response Efficiency

Responses per second: 14003.82
DS918+ Review |

What is maximum capacity hard drive compatible with it?

Maximum raw capacity DS918+ can handle is 48TB (4x12TB). That is storage with RAID0 setup, which offers maximum storage space and data writing speeds. A solution like this requires a backup plan in place. If disaster strikes, users will not be able to use NAS functions until data on it is restored.

WD is the very popular choice because they are quieter than other drives, due variable disk spinning speed.

Seagate is popular because of their rescue services and integrated health check shared between NAS and a drive

HGST is popular among IT professionals who need faster spinning disks with higher IOPS for faster data accessing rather than transfer speed.

Toshiba is a budget option drive. It often comes with the shorter warranty period. But whilst it is protected by RAID its worth the risk.
DS918+ Review |

Final Thoughts- should I buy it?

DS918+ is the most popular 4bay NAS this year, because of its price/performance. It will do anything that modern NAS need to do at quite acceptable speed. It can be upgraded and expanded. It even features two SSD slots for caching if you need to increase its performance even more.  It comes with amazing free apps. You can not go wrong with this choice. It is powerful enough to last the next 5 years.
DS918+ Review |

What can I connect to it?
Wireless Speaker Sonos
The great thing about Sonos is that you don't need to pay for music subscription service. With the cheapest NAS at home like DS918+ or any other, you can have your backups done for all of your devices and still use your network drive as a Sonos music library. Sonos will connect to your NAS via your network and let access your provided music library. If you have little more of IT knowledge, you can even set up your Alexa or Sonos with Alexa built in to play music on your voice commands ("Alexa! Ask DS Audio to Play Music!").
Casting devices
Nowadays it is so cheap to upgrade your old TV and make it smart. All you need is Google Chrome or EZcast alternative plugged into your HDMI port at the back of your TV. Now you have great functionality added to your TV to send a video file directly from your NAS to a TV. No need for wires and chargers and other mess. You can use your phone as a remote to go to your movies or family videos and cast that content on your TV during family or friend gatherings.
Amazon Fire TV
You may not have a smartphone, or you just simply prefer to control your content with a remote in that case Amazon Fire TV will be a great addon to get to your TV. It also plugs into your HDMI port and will play content from your NAS to a TV. No wires no mess.
Nvidia Shield TV
It gets even better! If you want some more entertainment and all previously mentioned functions – nVidia TV is a great thing to get. You can use it for playing games and watching movies from your NAS. The greatest thing is – shield TV does video transcoding. So even if you have a cheap NAS with a weak CPU, in a combination of shield TV you can now automatically on the fly change video file size and format for a destination device. It is a great way to reduce network load and let older devices to play video content which normally was not supported on the device.
Similar Reviews:
Related Posts:
The DS918+ NAS Versus DS216+II – Synology Plus Series NAS Comparison
Synology DS218 Or DS918+ Or The DS218Play
The Synology DS918+ NAS Versus The Synology DS918+ NAS – Which NAS Is Best?
The Brand New Synology DS918+ Diskstation NAS Has Been Uncovered
Unboxing The Synology DS918+ Diskstation NAS – Is Two Bays Enough?
Where to buy from?
SPAN.COM offers Free Build and Test service with every NAS you buy with hard drives included. Either it's party or fully populated, SPAN will setup your preferred RAID type, install your favorite apps, do firmware updates and do hardware tests. That will put your mind at ease knowing that hard drives and NAS unit are all set and tested and will definitely work straight out of the box. When sourcing components from many different resellers you could end up with incompatibility issues or untested/ broken bits and with no support. On top of all that you also get a Free Bespoke solution before you buy and also free support after you got your NAS.
If you still prefer local retailer:
Find regulary updated NAS offers here
Of course I would prefer you choose
AMAZON UK
AMAZON USA
to buy your perfect solution, however, if you would rather buy locally, please use the links used above to take you to your local Amazon store and help support this free advice service with ad revenue. More ways of supporting the blog are described
HERE