Reviewing Thecus N2810PRO
Thecus N2810PRO

    

Top Speed: 220 MB/s  IOPS: 8865

Response time 17ms

Noise: 21 dB(A)

Power: 15W / 11W

PROS
CONS

BTRFS support

Support Plex

fast RAID creation

Video transcoding

Plex Transcoding

Hot-Swap trays 

HDMI, DisplayPort, and SPDIF ports

Low Noise

DLNA Compliant

Kodi support

Expandable

RAM upgradable

Free Acronis Software

Thecus System Failover

Fewer apps

Not many mobile apps

User interface

Dual drive RAID is not cost effective
Review |

Best use case for N2810PRO
4K Home multimedia center
Dual NAS syncronized system (Thecus System Failover)
Network file server for medium size office
Multi-user collaboration tool
PC backup and Apple time machine
Itunes or music library for Sonos
Home HD multimedia server for DLNA smart TV
Review |

 N2810PRO Hardware review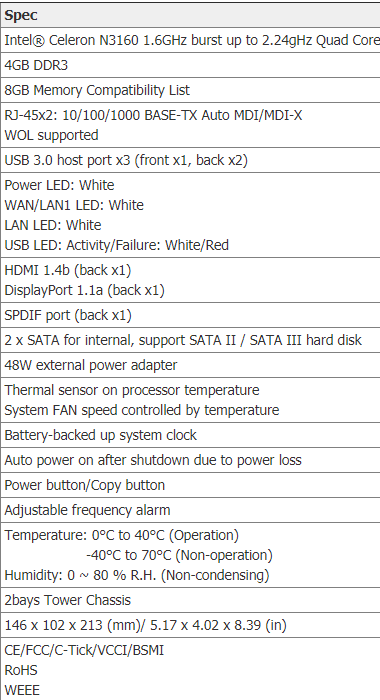 This CPU will support Plex server and HD transcoding function.
RAM memory can be upgraded.
USB3 ports will provide faster backup speeds.
Dual LAN ports will double transfer speed when aggregated.
Scheduled power on and off can be set up automatically.
Can extend for 5 additional iSCSI volumes from other Thecus NAS.
Hot-swap bays, will let IT quickly replace the drive if needed.
Uninterrupted Accessibility with Thecus System Failover.
Secure Remote Access with Virtual Private Network (VPN).
Through BTRFS subvolumes, snapshots of data at various time points can be manually or automatically made.
Flexible Storage Allocation with iSCSI LUN and Thin-Provisioning.
Review |

N2810PRO Unboxing
Review |

Alternatives to N2810PRO?

DS718+ will be a more powerful option if you intend to use it for virtual machines, or more simultaneous users.

DS218 will be weaker option if you want to save money, but still be able to transcode some 4K (no Plex)
Review |

What can I connect to N2810PRO?
Wireless Speaker Sonos
The great thing about Sonos is that you don't need to pay for music subscription service. With the cheapest NAS at home like N2810PRO or any other, you can have your backups done for all of your devices and still use your network drive as a Sonos music library. Sonos will connect to your NAS via your network and let access your provided music library. If you have little more of IT knowledge, you can even set up your Alexa or Sonos with Alexa built in to play music on your voice commands ("Alexa! Ask DS Audio to Play Music!").
Casting devices
Nowadays it is so cheap to upgrade your old TV and make it smart. All you need is Google Chrome or EZcast alternative plugged into your HDMI port at the back of your TV. Now you have great functionality added to your TV to send a video file directly from your NAS to a TV. No need for wires and chargers and other mess. You can use your phone as a remote to go to your movies or family videos and cast that content on your TV during family or friend gatherings.
Amazon Fire TV
You may not have a smartphone, or you just simply prefer to control your content with a remote in that case Amazon Fire TV will be a great addon to get to your TV. It also plugs into your HDMI port and will play content from your NAS to a TV. No wires no mess.
nVidia Shield TV
It gets even better! If you want some more entertainment and all previously mentioned functions – nVidia TV is a great thing to get. You can use it for playing games and watching movies from your NAS. The greatest thing is – shield TV does video transcoding. So even if you have a cheap NAS with a weak CPU, in a combination of shield TV you can now automatically on the fly change video file size and format for a destination device. It is a great way to reduce network load and let older devices to play video content which normally was not supported on the device.
Review |

How fast is N2810PRO?

This is the case again when hard drives inside the NAS are much faster then LAN ports can handle. So with one cable connected you get around 100MB/s. With two ports link aggregated you can expect around 200MB/s. All this just because single gigabit LAN port speed is around 100 per port.
What is maximum capacity hard drive compatible with N2810PRO?
Maximum raw capacity N2810PRO can handle is 24TB (2x12TB). That is storage with RAID0 setup, which offers maximum storage space and data writing speeds. A solution like this requires a backup plan in place. If disaster strikes, users will not be able to use NAS functions until data on it is restored.
WD is the very popular choice because they are quieter than other drives, due variable disk spinning speed.
Seagate is popular because of their rescue services and integrated health check shared between NAS and a drive
HGST is popular among IT professionals who need faster spinning disks with higher IOPS for faster data accessing rather than transfer speed.
Review |

 Final Thoughts- should I buy N2810PRO?

N2810PRO is very cost effective NAS. It will do anything what modern NAS need to do at quite acceptable speed. It can be upgraded and expanded. It comes with few professional apps included free of charge. It can be used as a multimedia center and professional file server and backup solution. If one NAS would break other would automaticaly take over. Good for business.
Similar Reviews:
Related Posts:
The QNAP 251+ Versus The Thecus N2810 NAS Faceoff Brand VS Brand
Where to buy from?
SPAN.COM offers Free Build and Test service with every NAS you buy with hard drives included. Either it's party or fully populated, SPAN will setup your preferred RAID type, install your favorite apps, do firmware updates and do hardware tests. That will put your mind at ease knowing that hard drives and NAS unit are all set and tested and will definitely work straight out of the box. When sourcing components from many different resellers you could end up with incompatibility issues or untested/ broken bits and with no support. On top of all that you also get a Free Bespoke solution before you buy and also free support after you got your NAS.
product/Thecus-Desktop-2-Bay-NAS-N2810PRO-SATA-HD-JBOD-RAID-0-1~58788
If you still prefer local retailer:
Find regulary updated NAS offers here
Of course I would prefer you choose
AMAZON UK
AMAZON USA
to buy your perfect solution, however, if you would rather buy locally, please use the links used above to take you to your local Amazon store and help support this free advice service with ad revenue. More ways of supporting the blog are described
HERE