Terramaster and the TOS 3.1 NAS Software Review
When buying your first NAS it is easy to spend too much time looking at hardware. Until recently, network attached storage (NAS) was an item that only the more techie and IT knowledgeable would invest in. Now, of course, NAS and Cloud storage is very accessible indeed and used by a large % of web-enabled users in one form or another. However, NAS buyers are still too preoccupied with the hardware on a device and not the software, which is a shame because it is the applications, user interface and stability of the NAS software that will dictate how much you use the device. With Terramaster NAS, every unit arrives with the free operating system, TOS 3.1 (Terramaster Operating System). In the last two years, we have seen this platform grow from a rather basic interface to a now, pretty impressive user interface NAS platform with support for almost all the popular 3rd party software most NAS users want (Plex Media Server, Apple Time Machine, Cloud Migration and more). Using the new TerraMaster F4-220, we will take a closer look at the TOS NAS software and see what it can and cannot do.
Setting up your TerraMaster NAS and Installing TOS 3.1
Setting up the device is quick and easy and unless you are setting up a more complex RAID, such as RAID 5, the device will be up and running inside 15 minutes and presents you with the user interface automatically, accessible via the web browser. The user interface is a nice hybrid between an Android Tablet UI, a windows desktop with shortcuts and a clean icon led Apple Mac options/tools backend. Overall, it is a clear and intuitive user interface.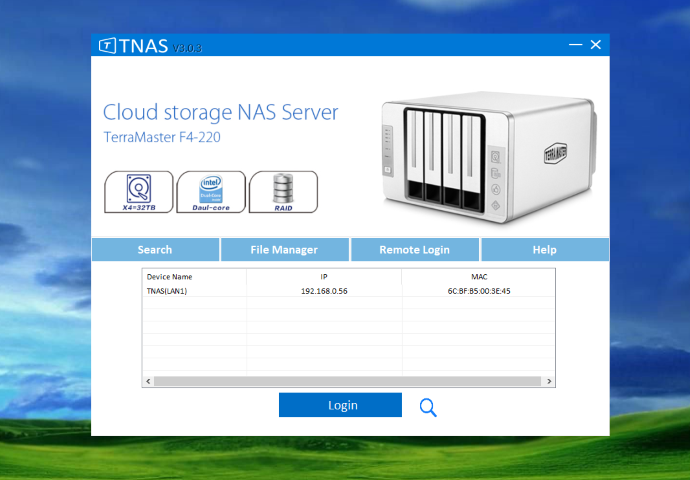 Support NAS Compares and Buy your TerraMaster NAS using the link below


At the first time logging in, and set up system information is displayed at the bottom right of the screen, very helpful and discreet at the same time.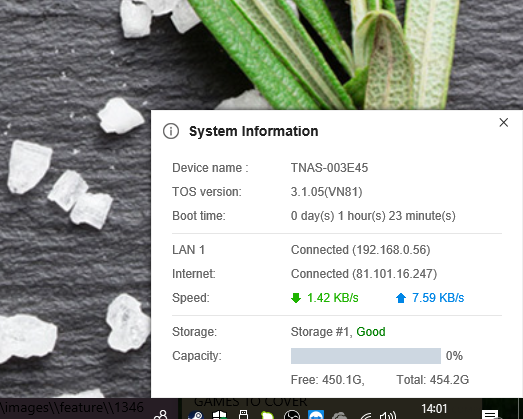 The desktop wallpaper can be changed, like any other computer system, as well as multiple apps having shortcuts on the desktop just like your familiar Windows PC. Although many apps are available for download for free in the app store, on the Terramaster F4-220 NAS, several more rudimentary applications are available from the off.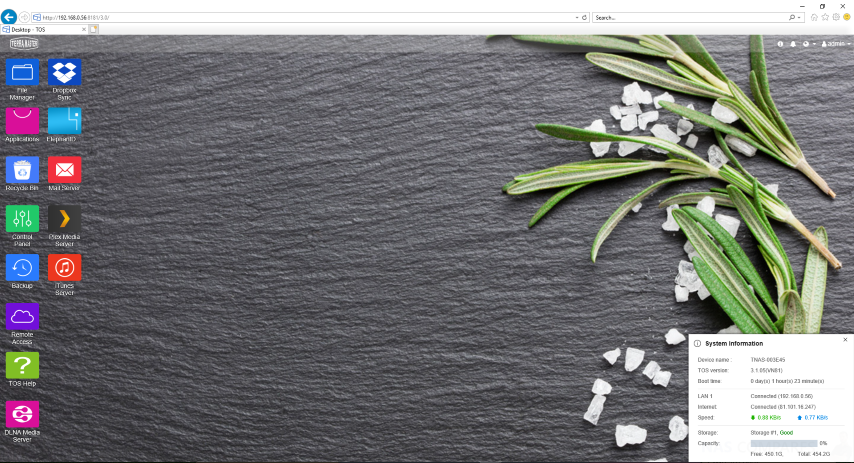 As you would expect, there is a file explorer available straightaway and this file manager, though simple, is more than enough for file and storage management.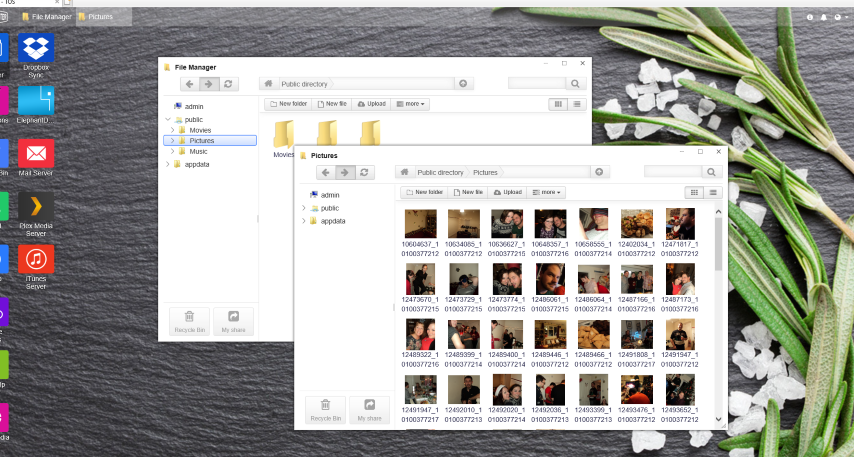 As well as sharing files and viewing individual files in the directories on the NAS, via the network or internet. Any file you upload to the NAS, you can share easily in seconds with password and time managed access. Files that are
uploaded,
can be done so locally via your web browser or via a network mapped Drive utilising the original NES finder software discussed earlier.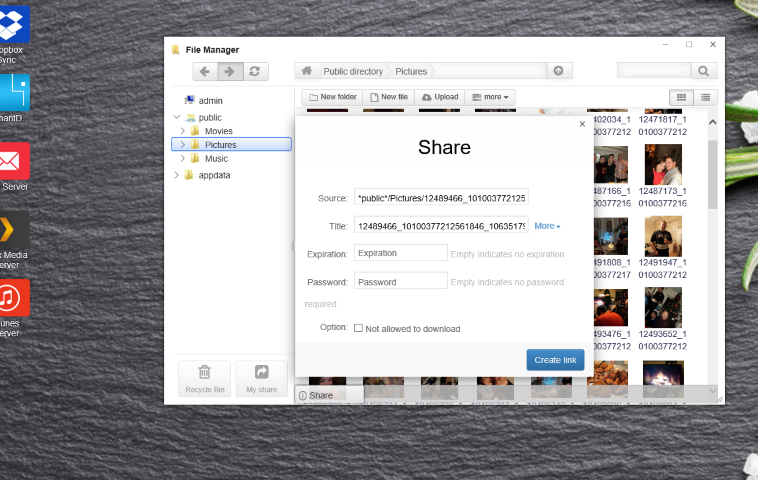 Those that like to configure the NAS interface and storage setup to a more bespoke environment will be pleased to hear that the control panel on this NAS is both clear and detailed. In terms of layout and design, it finds a great middle ground between the simplicity of Synology and the details UI of QNAP.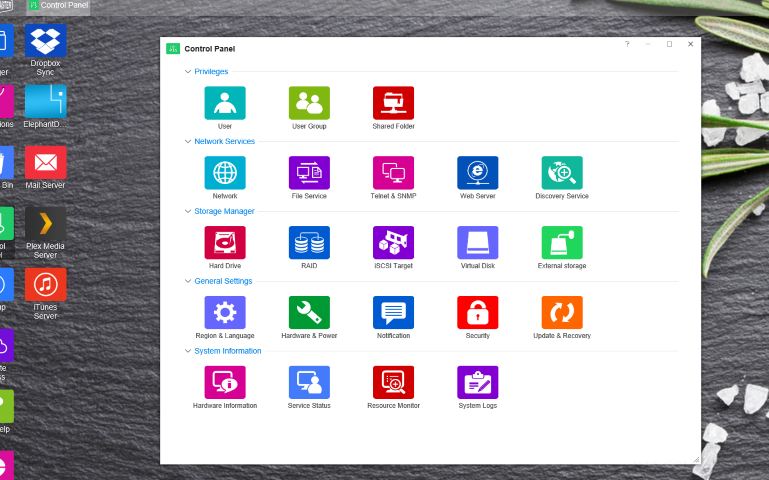 From here you can manage everything from storage to shared folders, to web hosting and VPN servers that will be run on this NAS. Additionally greater storage options for your RAID, connected USB disks, as well as virtual drives and iSCSI targets. Once again finding a great middle ground between ease and utility.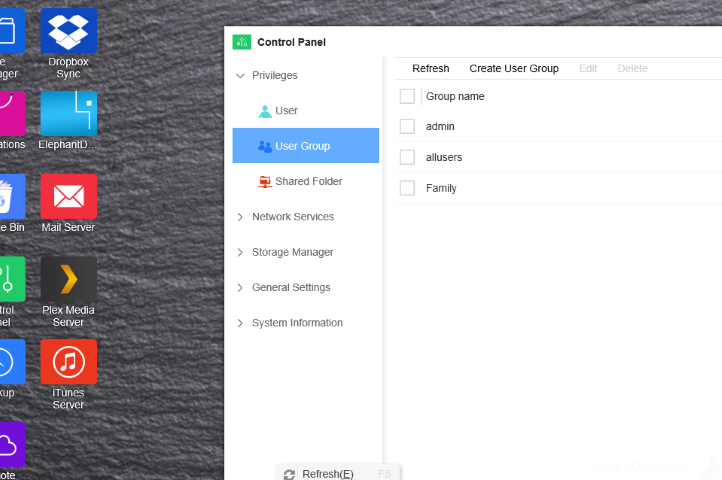 As this NAS features a dual-core Intel-based CPU, that means it can handle many, many users accessing the NAS at the same time. Those that want to use this NAS server for business or even large family that want individual family members to have access to their own files with their own permissions will be pleased to hear that you can create individual users and user groups with their own
log in to
the NAS. As well as having universal admin accounts that can assign storage capacities and individual folder permissions to all users for safety and security.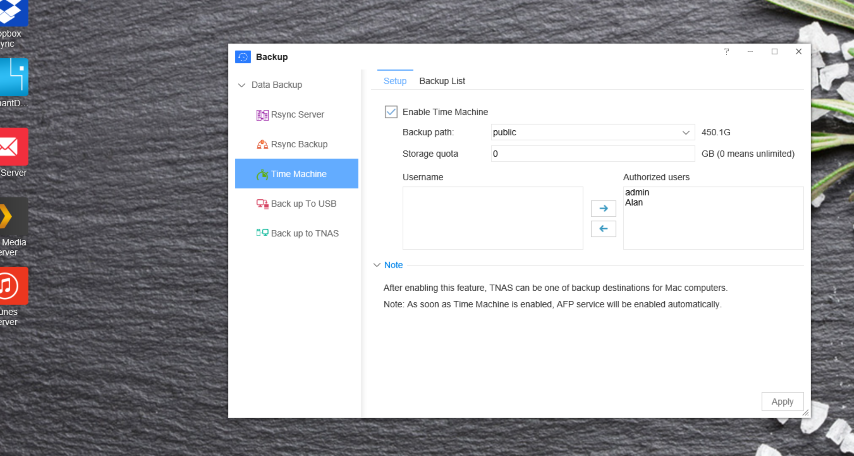 Speaking of security, it is worth touching on the fact that this NAS arrives with multiple means of backing up your data. As I have touched on before, most people do not use a NAS as a correct form of backup. If you backup multiple devices to your NAS, such as iPhones and laptops, then delete files from those devices to make room, the files on the terramaster NAS are no longer backups –  they are near the original files and the only ones that exist! Therefore multiple means of backing up within a NAS and two a NAS are important. The Terramaster F4-220 (like the F2-220 and F4-420) features support for Apple Time Machine, Real-time synchronisation, backup to a USB drive and network backup to another terramaster NAS or other NAS brand model on the same network.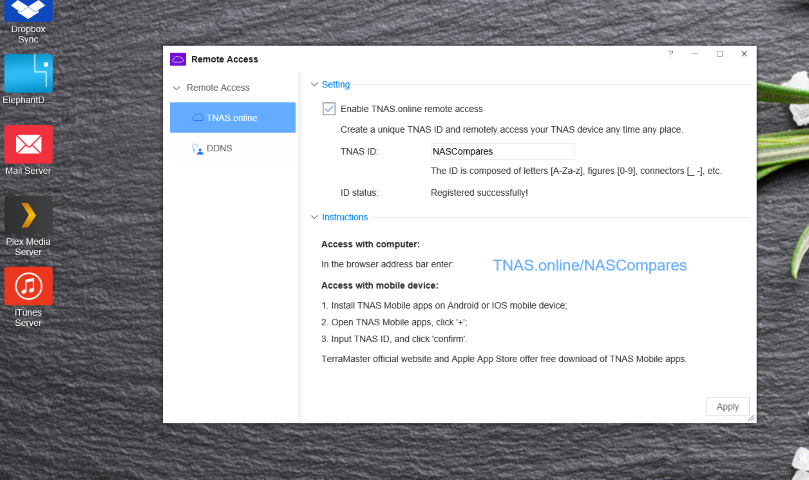 With regard to accessing your NAS outside of your home/office network, you will be pleased to hear that you can set up remote access and configure DDNS easily, setting up your own log-in with the TNAS
.online
domain and your own bespoke login for internet access. This means you have worldwide access to your NAS, whilst still maintaining encryption and security.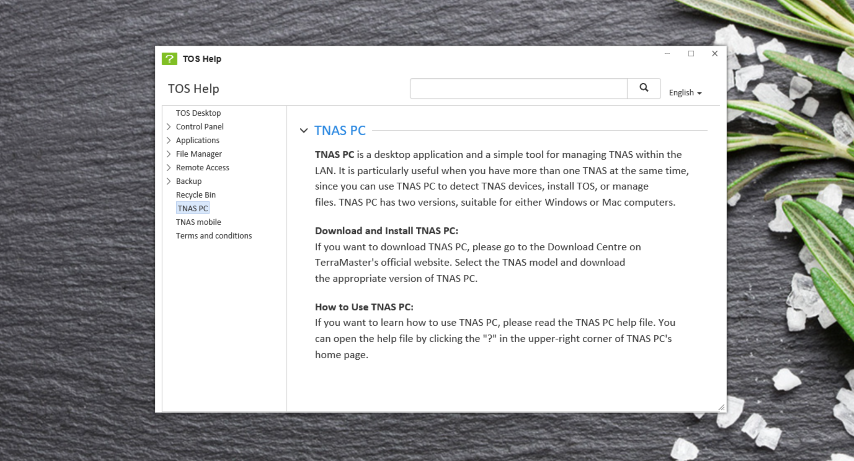 Lastly, as an extra bit of support, the unit also arrives with a help index that is available offline for troubleshooting and guidance with the use of your Terramaster F4-220 NAS on a day to day basis.
TerraMaster NAS and TOS 3.1 – Applications and Software
Let's get to the good stuff, namely the applications. The terramaster TOS 3.1 software arrives with fewer apps than
it
rivals in Synology DSM 6.2 and  QNAP QTS 4.3.5. it arrives with around 30-35 Apps available for free download, however, of these applications, almost all of them are important. This is an important distinction between Synology and QNAP, who have hundreds of apps in their store, but only around 10-15% of them being used by the majority of those users. Apps are installed very easily with a single click in the applications centre and are automatically installed onto the NAS for use in minutes.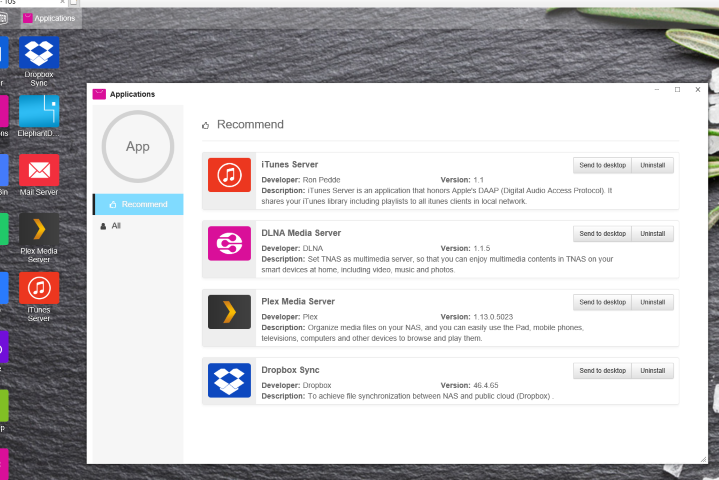 The DLNA media server application is one of the first apps you will want to install, as that ensures your files can be accessed by all devices on your network, such as your Smart TV, Sonos sound system, portable WiFi devices and home consoles.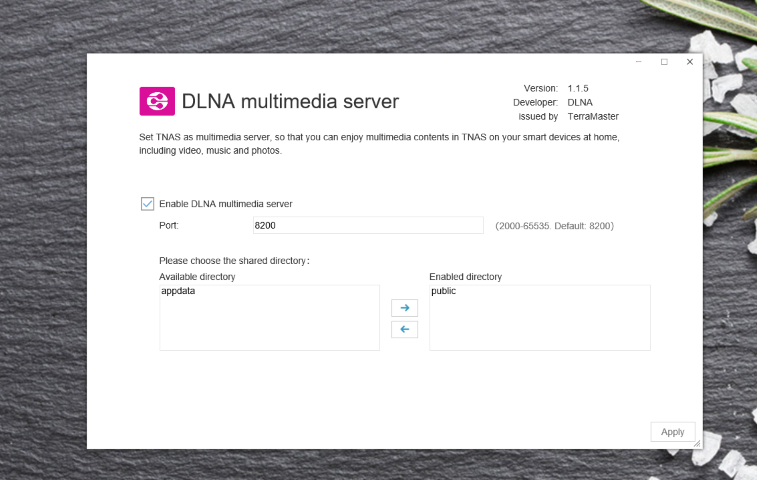 As well as several means of backups to and from the NAS mentioned earlier, the device also supports migration and communication with third-party Cloud services such as elephant drive and Dropbox. This serves as an additional layer of backup security that is off-site, however, you will need subscriptions with these providers in order to backup (though you can usually get 2-50GB of free space pretty easily).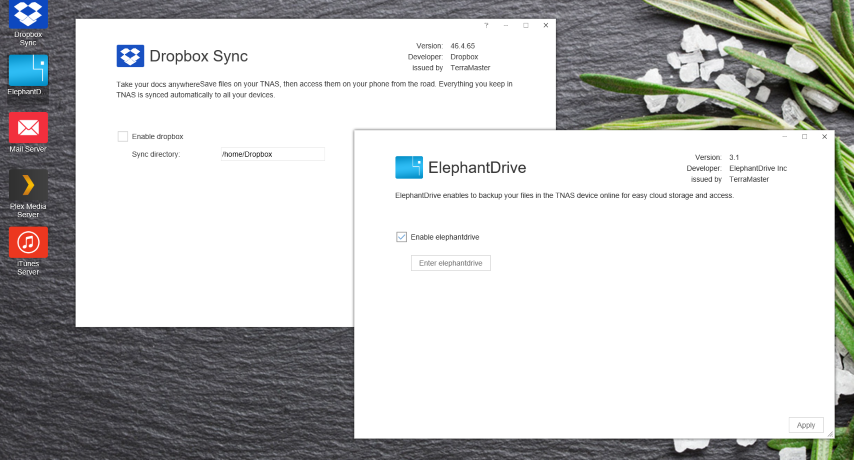 For those that want to run a fast and reliable email server,  you will need to install the mail server application. This will let you not only enable an email server hosted on your NAS, but also set-up multiple domains and communication to and from the NAS for business.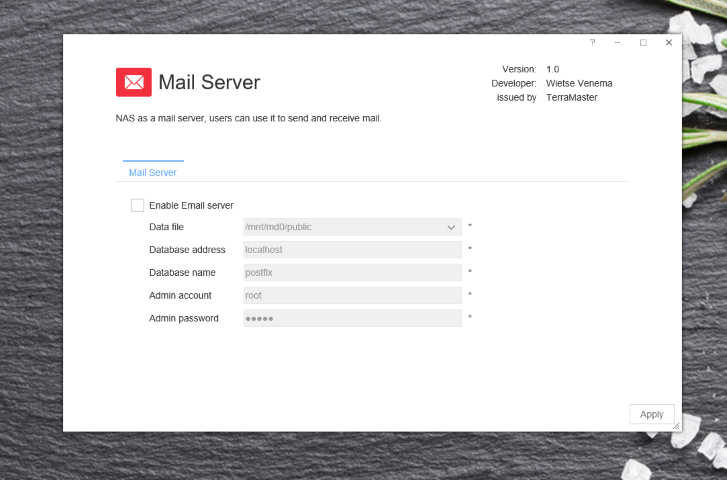 Probably the most popular application right now for Terramaster NAS and definitely for users looking at the F4-220 because of its low price versus large storage and hardware is the Plex Media Server app. Like other apps available on TOS 3.1, it is free and can be set up in less than 2 minutes. Once the app is installed and you set up a free Plex account, you can set up directories to the folders you set up in the file explorer earlier, scan them, and then you can access these media files via the Plex app on your mobile phone, smart TV, console and more.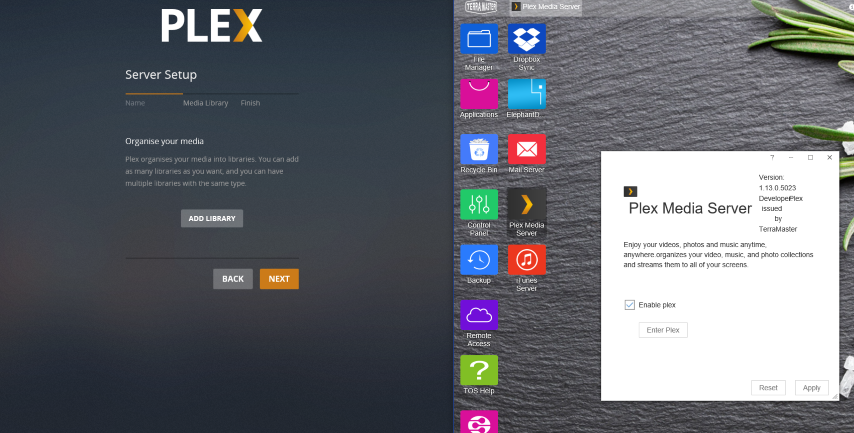 Another popular NAS application is the iTunes server. This will enable you to broadcast your Media as a visible iTunes server, which in a number of situations is more acceptable for media playback on certain network devices. Likewise, it will make it easier to synchronise the NAS and your media with your Mac devices in iTunes and add it as a source of Media over the internet and network.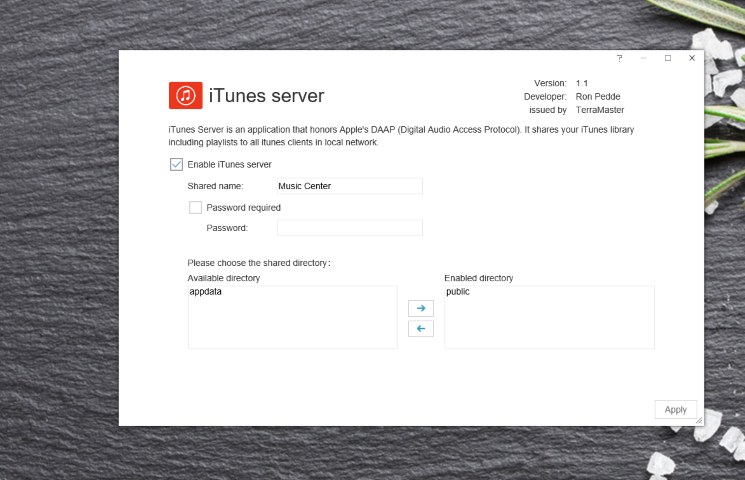 TerraMaster F4-220 4-Bay NAS Review- Conclusion
Internally the hardware that this unit arrives with it's pretty good for this price tag. Terramaster F4-220 4 Bay NAS features an Intel CPU and 2GB of DDR3 memory which although cannot officially be expanded, opening up the device and installing an 8GB stick is very easy indeed. This internal hardware certainly enables a number of features that a large number of cost-effective ARM CPU could not.
Most important of which is acting as a proficient and encoding enabled Plex media server. The device can support many users at the same time, each with their own login and privileges thanks to this CPU. All the while, setting up, configuring and maintaining a stable RAID across all available hard drives or SSD. However, if your budget is tight, you will be pleased to hear this device can function with a single HDD/SSD if need be and you can add further storage media as your budget allows (and expanding a RAID)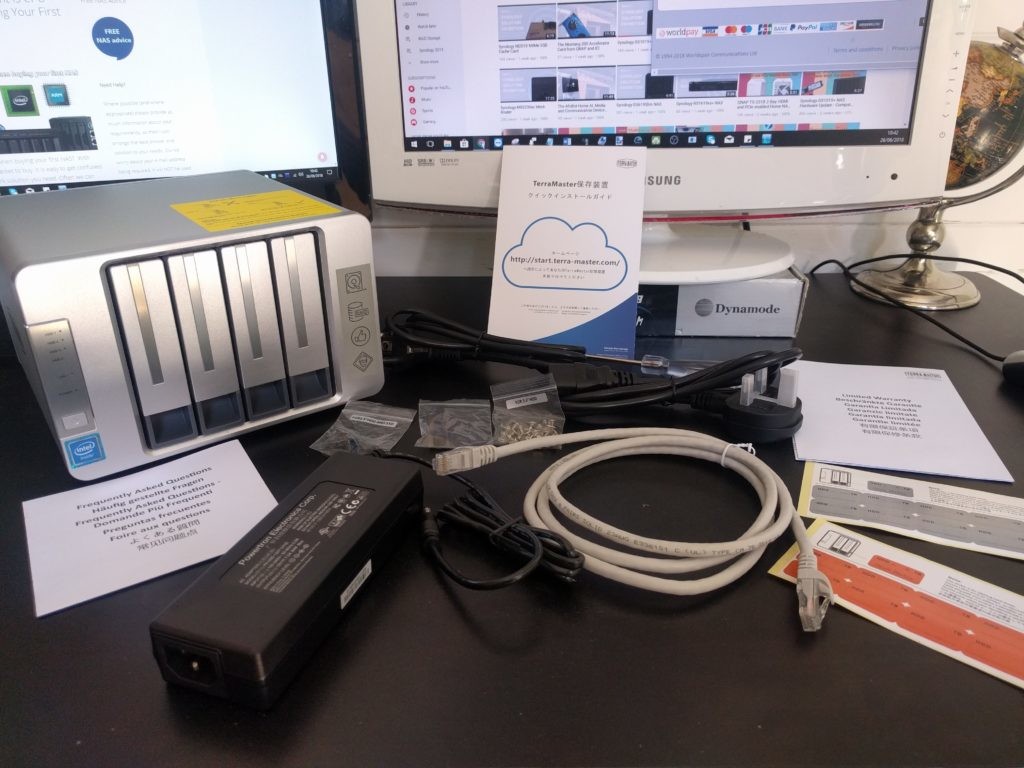 Overall the terramaster F4-220 NAS is definitely worth the price. I have seen numerous NAS brands grow in the last 8 years and the speed with which terramaster is developing, both the hardware and software, massively outpaces the likes of Synology and QNAP, that have taken twice as long to reach the point that terramaster has. If you are looking to buy your first NAS, but want to ensure that you get maximum features at a modest price-tag, you genuinely would be hard pushed to beat the Terramaster F4-220 right now in 2018.
That said, there is no denying that some cost-cutting measures have taken place in the chassis and other more fully featured software choices such as btrfs and link aggregation have been omitted with this device. However, you will never find features like those, or software options with this hardware at this price limit and the Terramaster F4-220 serves as a great middle ground for those that want their cake and eat it in their first steps into the world of NAS.
Click the link below to take you to your local Amazon store and where to buy the terramaster F4-220 NAS.
TerraMaster F4-220 4-Bay NAS – Where to Buy?
Terramaster

4-Bay NAS

F4-220 NAS

Intel J1800 dual-core CPU (2.41Ghz)

2GB RAM

4 Drive Bays

1 x RJ45, 1 x USB 2.0, 1 x USB 3.0 Ports

RAID 0, RAID 1, RAID 5, RAID 6, RAID 10, JBOD, SINGLE Support

Additional apps: Mail Server, MySQL, Web Server, Plex, FTP, RSync,

Dimensions: 227(H) x 225(W) x 136(D) mm

Weight: 2.28kg

Score Based on nascompares.com, Units sold, Review and User Feedback

EU – €319+

UK £299+
US – $280+
📧 LET ME KNOW ABOUT NEW POSTS 🔔
Join 1,669 other subscribers

Get an alert every time something gets added to this specific article!



This description contains links to Amazon. These links will take you to some of the products mentioned in today's content. As an Amazon Associate, I earn from qualifying purchases. Visit the NASCompares Deal Finder to find the best place to buy this device in your region, based on Service, Support and Reputation - Just Search for your NAS Drive in the Box Below
Need Advice on Data Storage from an Expert?
We want to keep the free advice on NASCompares FREE for as long as we can. Since this service started back in Jan '18, We have helped hundreds of users every month solve their storage woes, but we can only continue to do this with your support. So please do choose to buy at Amazon US and Amazon UK on the articles when buying to provide advert revenue support or to donate/support the site below.

Finally, for free advice about your setup, just leave a message in the comments below here at NASCompares.com and we will get back to you.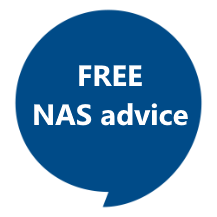 Need Help? Where possible (and where appropriate) please provide as much information about your requirements, as then I can arrange the best answer and solution to your needs. Do not worry about your e-mail address being required, it will NOT be used in a mailing list and will NOT be used in any way other than to respond to your enquiry.
TRY CHAT
Support What We Do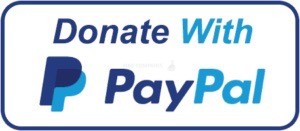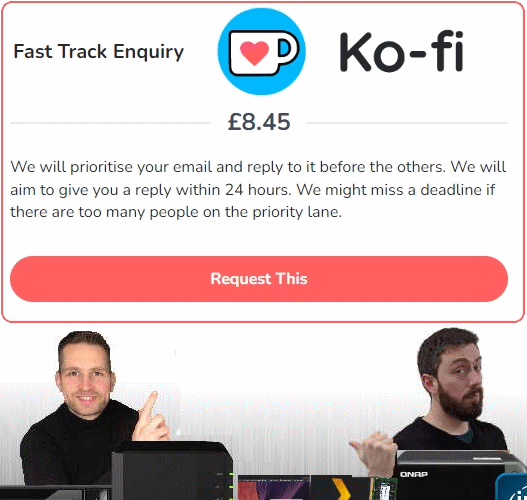 Terms and Conditions Alternatively, why not ask me on the ASK NASCompares forum, by clicking the button below. This is a community hub that serves as a place that I can answer your question, chew the fat, share new release information and even get corrections posted. I will always get around to answering ALL queries, but as a one-man operation, I cannot promise speed! So by sharing your query in the ASK NASCompares section below, you can get a better range of solutions and suggestions, alongside my own.
This description contains links to Amazon. These links will take you to some of the products mentioned in today's video. As an Amazon Associate, I earn from qualifying purchases
Summary
Reviewer
Review Date
Reviewed Item
TerraMaster TOS 3.1 NAS Software Review
Author Rating