Best 10Gbe Enabled NAS to Buy in 2018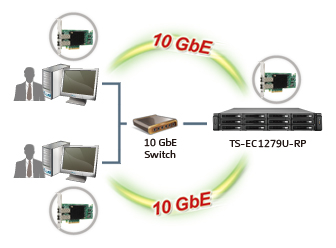 The importance of 10-gigabit ethernet (10Gbe) in 2018 cannot be understated. With advances in affordability and the utility of this kind of hardware, many users are now making the jump into this faster more efficient means of improving their workflow. Not so long ago, most companies/businesses that had adopted 10G, did so for backup purposes only. However, until recently, the sheer cost of the switches, cables, port upgrades and internal cabling of 10Gbe pushed the upgrade cost into the £10,000's – a HIGH price for backups! But fast forward to 2018 and not only has the cost of upgrading a home or business user to 10Gbe cost just £100's, but the utility of 10Gbe in most data environments is much broader and featured in such industries as:
Fast, high-resolution photo editing environments
Dense 1080p and 4K Video Editing suites that want to simplify their workflow and save time, staff and money
Company-wide backup solutions, supporting numerous simultaneous versions
Virtual Machine environments, where latency must be kept to a minimum over the network and internet
10Gbe is available in two popular forms, Copper (10GBASE-T) or Fiber (SFP+) and primarily designed to suit different data environments.  Learn more about the difference between 10GBASE-T and SFP below:
Should you Choose 10GBASE-T Copper Over SFP+ for 10G Ethernet
So, the best 10Gbe NAS solution for 2018 is more than just about having the connection. You need a CPU that can multi-task, render when needed and have a floating point that facilitates multi-user access at once. All three of the NAS in my top 3 10Gbe NAS of 2018 have this, as well as options such as end to end encryption and network UI for admin and guest users alike.
2019 NAS Update!!!
A quick update to this article. Since it was first published, a brand new and hugely powerful NAS has been released in the QNAP TS-2888X AI NAS. Had this new enterprise NAS server been released at the time of this post, it would 100% have featured in 1st place. In the interest of keeping you all informed, I am adding this 2019 NAS Update to keep you in the loop. Visit the QNAP TS-2888X Hardware review below on NASCompares, watch the Video to see it or visit the store below to order yours today (and support this site with Ad Revenue – it just costs you a click and keeps me able to help many, many more users. Thank you.
1st Place – QNAP TVS-951X HDD + SSD NAS
0-70TB, 10GBASE-T x1, 5 HDD bays, 4 SSD Bays for hot data, 4x USB 3.0, HDMI 1.4b, Speaker, Intel Celeron 3865U dual-core 1.8 GHz, 2GB DDR3 Memory, 2 Year Warranty- £630 + ex.VAT
For an excellent balance of storage versus speed (both internally and externally), you would be hard push to beat the QNAP TVS-951X. The third unit in the 9-Bay range from QNAP in 2018, this device features 5x hard drive bays for traditional storage and 4x 500MB/s+ SSD bays for a varied range of storage media – so you can ensure data is moved to the media that best suits to speed of access needed automatically or manually. In real terms that means that your long-term and archived data live on the HDDs (in a RAID ⅚ configuration, whereas the hot data or content but it needs to be edited live, can live on the 4 SSD bays in their own respective RAID 0/1.
With this improved internal handling of data that maximizes speed, combined with the 10Gbe external connection, you have a very compact and affordable 10Gbe solution available to you that can be upgraded and expanded remarkably easily. Ideally this setup is targeted at photo/video editors that want to centralize their workflow and have one device being used for editing heavy content LIVE on the NAS, then it can be distributed/prepared (metadata, descriptions, etc) on the network and then distributed to the world via the internet accessibility (with its own security measures in place).
This slideshow requires JavaScript.
Like most QNAP NAS, the QNAP TVS-951X arrives with the QTS operating system that features hundreds of applications, supporting first party and third party programs. So, you can use this NAS server as a simple network drive or ISCSI target for your own software to access, edit and utilise, or use many of the apps that are included with the TVS-951X to further improve the flow of data in your environment, this NAS is a complete package. Do remember that this device does not include the Hard Drive and SSD media, so you will need to factor that into your purchase.

Support this site with Ad revenue
---
2nd Place – Buffalo Terastation NAS Range
4-56TB, 10GBASE-T x1, Windows Server 2016 Licence and User licences inc, USB 3.0 x3, LCD, Metal chassis, Lockable, 2x 1GBe, Intel Atom C3338 1.5GHz, 8GB DDR4 ECC, 3year Warranty,Advanced Replacement- £900 + ex.VAT
Buffalo has been a brand that has lived with 10-gigabit ethernet hardware options before most other brands even contemplated releasing their own. Arriving in a multitude of 2, 4, 6 and 8 bay storage options, the Buffalo Terastation series is easily the most robust and enterprise level desktop 10Gbe solution I have ever come across. Additionally, like WD My Cloud, the Buffalo Terastation NAS server devices arrive with Hard Drive media included. Alongside the hardware, Buffalo also includes some impressive backup and network storage tools, although not as shiny or home user-friendly and Synology or QNAP, are solid and reliable tools for business users everywhere. That is the key thing about Buffalo NAS and their Terastation series, it is primarily aimed at business users and not home users looking to get enterprise quality at supermarket prices!
This slideshow requires JavaScript.
Another impressive fact about buffalo NAS is that they have one of the most detailed and well-thought warranty service options available from any brand. Alongside their blanket 3 year warranty across TeraStation NAS devices, there is advanced replacement options, technical support lines, warranty extension options, service packages. They even off a unique, high-data security warranty procedure where in the event of a hard drive unit experiencing problems, you can request not to send back the physical drive for fear of confidential data being seen (just sending back the top plate only).

The Terastation from Buffalo arrives in two key versions, one that features the Buffalo UI and software ready to access over the internet/network and the WSS 2012 R2 and WSS 2016 Range. The newer WSS 2016 Terastation series is the same 10Gbe hardware combined with the included Windows Server 2016 software and licenses included. So if you are familiar with the Windows server UI or just want a NAS that runs on a much more familiar Windows 10 desktop design, then Terastation WSS 2016 is something to certainly consider.
Several NAS brands include some one or more of these features, but only Buffalo NAS include all of these support options and alongside consistent high speed over 10Gbe on all the Terastation range. It is an impressive device for any business user's consideration. So if you are looking for snazzy popular apps and multimedia add-ons for things like Plex and DLNA, give the Terastation range and miss and look at the LinkStation range instead.

Support this site with Ad revenue
---
3rd Place – Synology DS1817 10GBASE-T 8-Bay NAS
0-112TB, 10GBASE-T x2, 2x LAN, 2x USB 3.0, Annapurna Labs Alpine AL-314 quad-core 1.7GHz, 4GB DDR3 Memory, 3 year warranty, Do not confuse with the DS1817+ – £750 + ex.VAT
Synology NAS is a brand that is top of their game in the field of network storage devices. The station manager software is truly award-winning and provides incredible scope for first and third party application use. However, they have always kept 10Gbe dedicated NAS generally at arm's length and typically will only go as far as to include a PCIe slot for upgrading on there NAS and rarely include a dedicated 10G network Port. The DS1817 is a particularly rare exception, in that it features 8 bays of storage and two 10Gbe ports, both supporting link aggregation and direct PC/Mac to NAS connectivity if needed. Most users who are looking at a 10Gbe network attached storage drive for Mac use, generally would have been recommended to buy a Synology NAS thanks to the simplicity platform. Currently in 2018, for desktop users that want ready to go 10Gbe NAS solution from Synology, either have to choose one of many flagship devices that feature 10Gbe or skip ahead and go straight for the DS1817 NAS.
Featuring an Annapurna Quad Core 1.4Ghz CPU, it can handle files quickly and efficiently. The eight bays of storage mean you have some serious future-proofing available in order to maximise on your investment over time (with each bay supporting 1-14TB NAS hard drives). The dual 10Gbe ports mean that you can either collect the device via link aggregation to a 10G switch to effectively enable 20Gb connectivity to your users. Alternatively, you can directly patch your 10Gbe editing machine, connect to the DS1817 and then the NAS connects to the network over 10G/1G simultaneously for them to be able to edit photo/video data quickly and easily, then network connectivity allows you to distribute your completed work to staff/clients/customers. This is a Synology NAS that is designed to improve your workflow substantially as well as backups and archiving your data over time.
This slideshow requires JavaScript.
Finally, despite the fact this NAS is the oldest device on this list, in the meantime there has been significant improvement in applications for the DSM 6.2 (DSM 7.0 in beta soon) platform in 2018 and it is easy to see why I think DS1817 is still a Synology NAS if deserves your attention in 2018.

Support this site with Ad revenue
---
Articles Get Updated Regularly - Get an alert every time something gets added to this page!
This description contains links to Amazon. These links will take you to some of the products mentioned in today's content. As an Amazon Associate, I earn from qualifying purchases. Visit the NASCompares Deal Finder to find the best place to buy this device in your region, based on Service, Support and Reputation - Just Search for your NAS Drive in the Box Below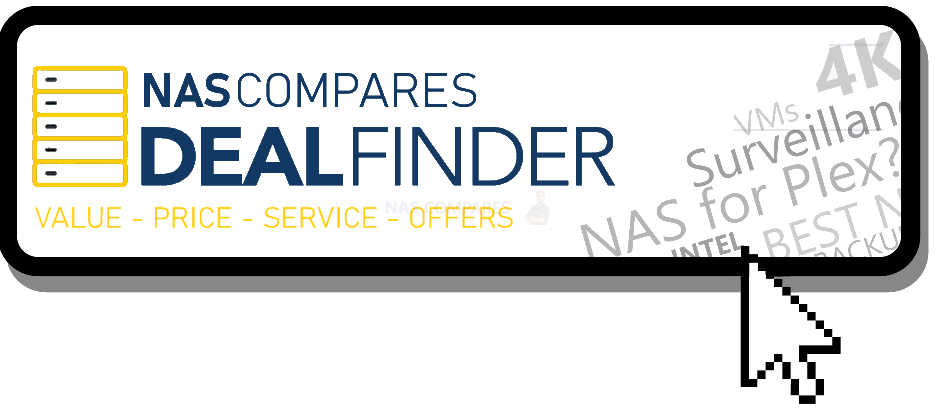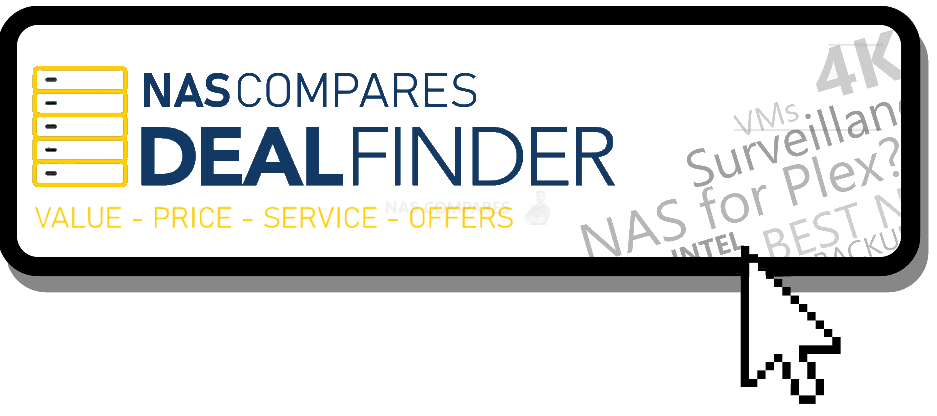 SEARCH IN THE BOX BELOW FOR NAS DEALS
Need Advice on Data Storage from an Expert?
We want to keep the free advice on NASCompares FREE for as long as we can. Since this service started back in Jan '18, We have helped hundreds of users every month solve their storage woes, but we can only continue to do this with your support. So please do choose to buy at Amazon US and Amazon UK on the articles when buying to provide advert revenue support or to donate/support the site below.


Finally, for free advice about your setup, j
ust leave a message in the comments below here at NASCompares.com and we will get back to you.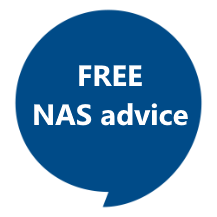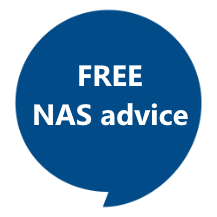 Need Help?
Where possible (and where appropriate) please provide as much information about your requirements, as then I can arrange the best answer and solution to your needs. Do not worry about your e-mail address being required, it will NOT be used in a mailing list and will NOT be used in any way other than to respond to your enquiry.
Terms and Conditions
Alternatively, why not ask me on the
ASK NASCompares forum
, by clicking the button below. This is a community hub that serves as a place that I can answer your question, chew the fat, share new release information and even get corrections posted. I will always get around to answering ALL queries, but as a one-man operation, I cannot promise speed! So by sharing your query in the
ASK NASCompares
section below, you can get a better range of solutions and suggestions, alongside my own.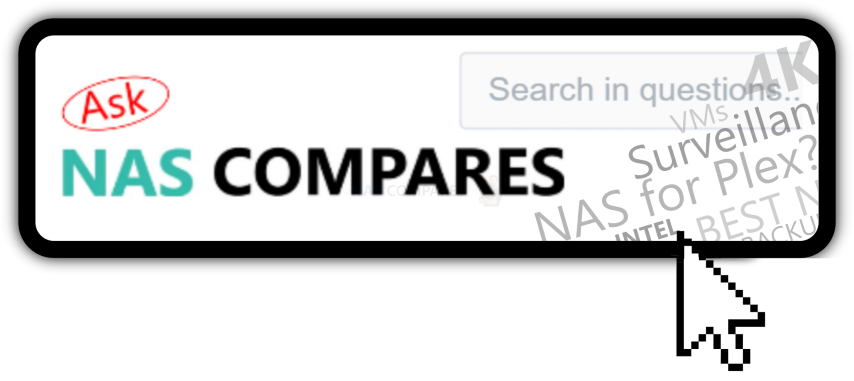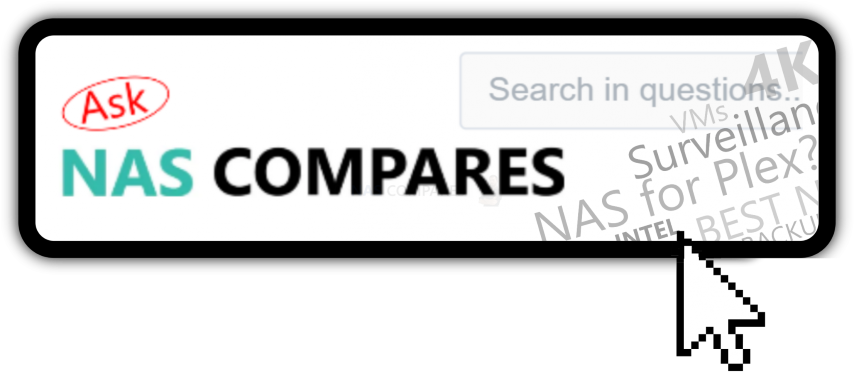 This description contains links to Amazon. These links will take you to some of the products mentioned in today's video. As an Amazon Associate, I earn from qualifying purchases