New Synology NAS Release for 2016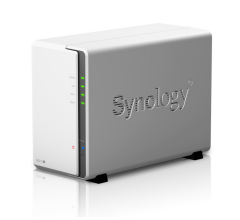 NASCompares is happy to announce the release of the Synology DS216 2-bay NAS, a budget and cost effective network attached storage device for their J Series. We originally covered this on SPANTV back in early January but definitely think it is worth covering this again to highlight the unit to you and go over why this could be the budget NAS device for your Download, sharing and low demand NAS needs.
The Synology DS216j details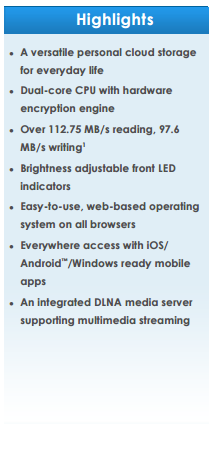 The unit is going to be available for SPAN.COM shortly for around the £100-120 mark without VAT and without Hard Drives, Heavily influenced but the design and chassis of it's predecessor, the Synology DS215j, this device may not exactly take your breath away in the hardware stakes, but that is not it's intended audience – for that I would recommend the Synology DS716+ or the DS216+. No, this device is for those looking for a low powered, low demand NAS for the home for tasks such as preparing download lists, accessing media on your internal network (definitely NOT Plex) on devices that are DLNA (as is the DS216j) and storing backup images with software such as Apple Time Machine. Lastly this device is also ideal for those looking to create a cross platform file sharing network – in caveman speak that means that you can have a mixed environment of Mac and Windows PCs and this device can act as a bridge to send files from one to another easily.
What can the DS216j NAS do?
With regard to transmission speeds, Synology themselves report average speeds of 112.75 MB/s Read and 97.6 MB/s Write (speeds recorded under a RAID1 storage configuration).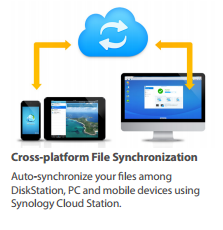 With regard to the nuts and bolts of the hardware, it arrives with Marvell Armada 385 Chip (the 88f6820 Dual Core 1GHz processor) as well as 512MB RAM of memory, which sadly cannot be expanded (officially). Alongside this the unit has a Hardware Encryption, a Hardware Floating point and utilities the ever familiar DSM software on-board we know and love, but less app access will be available on this unit (as is the case with DS215j and DS216se). Lastly drives are installed in by removing half of the chassis and screwing the drives in – so hot swapping and click and load trays are not present here.
What's on the rear of the DS216j?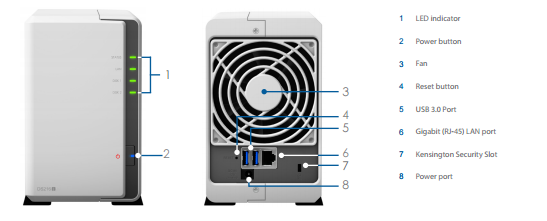 If we take a look at the rear of the device, we can see that the unit somewhat surprisingly arrives with 2x USB 3.0 ports. This is VERY surprising given the price bracket and definitely a welcome change. All too often we are seeing USB 2.0 pop up in more and more devices and it could have been so easy for Synology to keep this NAS a USB 2.0 only box (like the DS216se). These great ports aside, the unit also arrives with a single LAN/Gigabit LAN port – So no link aggregation and that should be a big surprise to be honest given the target audience and price. Lastly we are told that the power consumption is comparable to that of the DS215j, so that's good news for those who keep an eye on the meter!
We will of course be hosting an unboxing, walkthrough and talkthrough of the Synology DS216j now that is released and available to buy from SPAN.COM, as well as compare it against the Synology DS215j and DS216se. If you cannot wait, why not check out our comparisons of the 2016 2-bay Synology NAS units here on NAScompares.com
P.S. Here is the video from back in January of this year of SPANTV announcing the device