WD Red Drives just hit the 8TB mark with the WD80EFZX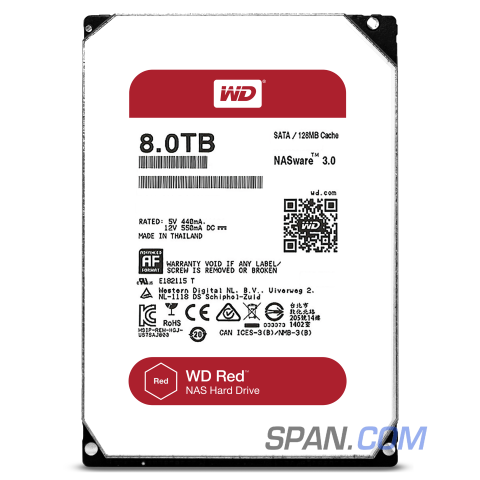 Good news for all you lovers of Network Attached Storage, Western Digital have released new iterations of their popular Red NAS and Purple Surveillance Range in the form of massive 8TB capacities. Of course 8 Terabyes of Storage has been available in NAS and Surveillance drive form for a little while now from the chaps at Seagate with their Enterprise NAS drive ST8000VN002 and Surveillance 8TB, the ST8000VX002 (catchy name, right?). However many of you are ever failful to the WD Brand and more over heavily recommend the WD Red Series of NAS drives. So what is the fuss about? What is thte big deal?
Well, for a start the drive Red WD80EFZX drive will have a 128MB Cache (something previously only available in the WD Red Pro Range) where as the WD Red drives 1-6TB have just 64MB. That said, the newer drive in the selection does not feature intellipower (the RPM at a fixed speed of 5400-7200rpm) and is listed at 5400rpm. Of course the WD80EFZX 8TB NAS will include the NASware 3.0 software on drive. Providing numerous optimizations in the stability, performance and reliability of the NAS HDDs in a Network Attached Storage Device.
And Surveillance Storage improves with WD Purple 8TB 
As for the WD Purple 8TB, the WD80PUZX, likewise it features that increased 128MB of Cache on-board, however it also features that fixed 5400RPM (not really a disadvantage but worth noting). We will of course be updating you on this as more details become available . The WD Red 8TB drives are also available pre-installed in The Latest WD My Cloud EX2 Ultra NAS devices being released soon giving you a total of 16TB of storage available (in RAID 0, JBOD) for all your NAS requirements- be they Plex, file transfer or backing up those time machine images!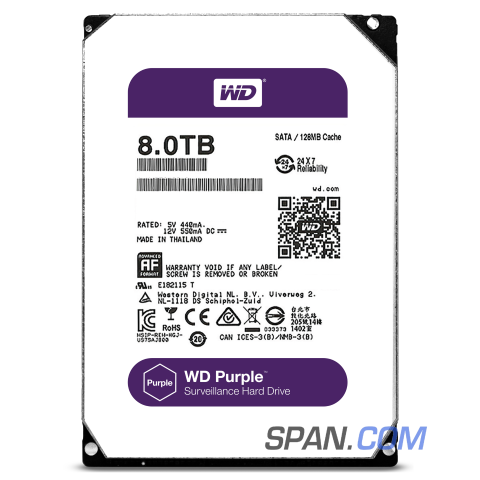 There is also mention of WD Red Pro 8TB and we are looking forward to seeing what new twist they can do (aside from standard 7200RPM and 5-Year warranty) and we will be hosting a comparison later this year between the WD 8TB Red Pro against the Seagate Enterprise Class NAS 8TB. In the meantime don't forget to subscribe to get updated on all things NAS!
If you are interested in purchasing NAS and Surveillance Drives, I recommend .COM (obviously..but with good reason) as they really are one of the premier Data Storage specialists in the UK and they ship Worldwide! Take a look via the links below to see which drives are available and which NAS best suits your needs!