Synology and it's flagship 2-Bay 2016 NAS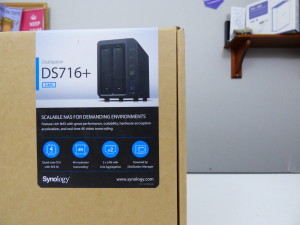 Today we want to take a closer look at a great Synology NAS released in the closing stages of last year. The Synology DS716+ is without a doubt their best and most powerful NAS yet and in this year of 2016, there are few other 2-bay NAS devices that parallel it's hardware (with the QNAP TS-253A-4G being a notable exception with more RAM, HDMI support and dual OS support). Currently in the Synology 2-BAY NAS range of 2016 is the following:
and (soon to be released) the Synology DS216J
However the DS716+ cannot really be compared to them. It is more than double it's closest DS216 rival in terms of Hardware as well as having the ability to fully support the Synology Expansions DX213 and DX513.
The look of this Synology NAS
 The retail packaging of 2 bay Synology NAS devices have reached a truly uniform design. Those that watched my NAS videos in the early days of SPANTV will know that my feelings toward this approach is that is lazy, dull and although excellent in terms of production costs, is hardly easy on the eye! As you can see from the images Synology have attempted to include stickers denoting the contents , but it still feels to me a little lacklustre – perhaps I still harbour the days when you bought a PC game at your local Computer storage and the box was ENORMOUS and covered in loud design.. then you looked inside and found 3 CD's and a manual. So perhaps it's a an arguement for beauty versus substance, and it has to be said that the Synology DS716+ DOES delivery substance!
What do you get for your money?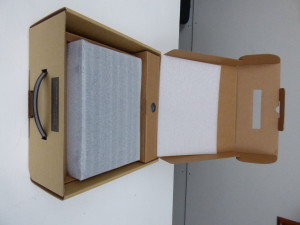 Inside the well proportioned and laid out box I find the unit itself, as well as two gigabit LAN cables (for those two boxes), a UK mains power lead (SPAN.COM will include your regional specific power plug), an external power supplier (most 2 bay devices will feature an external PSU for the sake of space and/or easy replacement) and a document wallet containing a quick start guide, screws for SSDs and 2.5″ hard drives (you won't need screws for 3.5″ desktop Hard drives) and a couple of keys for those that want to lock their NAS hard drives in the device.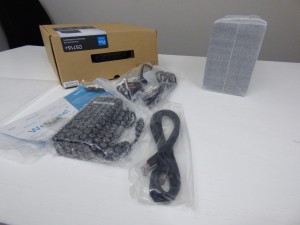 Let's talk about the physicals? How does the device look?
The design of the Synology DS716+ is true to Synology's design chain of it's devices and you can see that the same chassis is used in the rest of their 2 bay devices (with the occasional subtitle difference for individual NAS devices. The trays thankfully are the click and load Synology HDD trays of which I am so fond.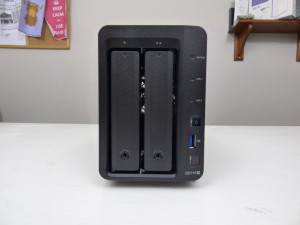 This means that you can hot swap drives as needed which for those working with multiple drives (like me) is a godsend! Also as you can see, there is lots of ventilation throughout and this coupled with the rear smaller fan really limit noise on the whole to a low level – another great bonus of this box. So although it is not silent (for that, you need the QNAP HS-251+ Silent NAS from SPAN.COM) it is still one of the queitest NAS devices I have handled this year.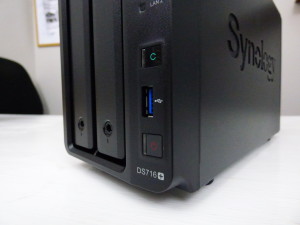 Also it is worth highlighting the front mounted USB 3.0 port with 1 touch copy button. So anyone who keeps an offsite backup on there person or in another part of the building on an external USB Hard drive (such as the LaCie Rugged 2TB USB Drive for added protection and security) are able to backup the conents to the NAS at the touch of a single button, without having to spend time accessing the NAS via a browser or native App to conduct the transfer.
The Back of the NAS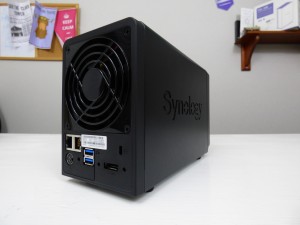 When we rotate the box we can see that the ports of this unit do not disappoint either. Featuring 2 more USB 3.0 ports (so not USB 3.1 Gen 2 at 10GB/s sadly, just the standard 5GB/s), 2 gigabit LAN (1Gbe) ports giving you the ability to link aggregate and practically double your transmission speeds of Reading and Writing, and a eSATA port.
The eSATA port is mainly there for connecting the expansion devices mentioned earlier but of course you can still use it to connect an external drive and harness the 6GB/s speeds available on external SATA.
Click below for our close up shots of the Synology DS716+
And that is about it for the unboxing. The Device itself is a very, VERY competent one indeed and I encourage you to view the video below to find out more about it's Quad Core Intel Celeron CPU (the N3150 with 1.6GHz frequency and bursts to 2.08 GHz), it's 2GB of RAM that sadly cannot be expanded, the fact it is Plex Media Server and the fact it can transcode both 4K and HD. why not watch below and even see a little more on what you get for your money in the Synology DS716+ NAS.