Keep it in the clouds – Choosing Network Attached Storage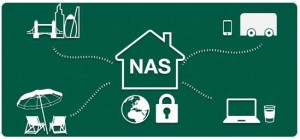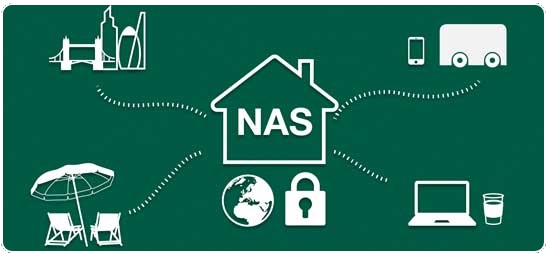 As reliable and steadfast as local Backup can be, it is not the only way. Realistically you should always have two backups in place (this does not include any on your Mac or PC). But you should always think outside the box and this is where a highly competent and versatile NAS (Network Attached Storage) Solution comes into play. Big and established names like Synology Inc, QNAP, Thecus, Drobo and many more. All providing you with both the ability to store a backup off-site and the ability to distribute your hard work wirelessly – but we'll get to onto that in more detail later on. For those with home or low demand Network archive needs, we recommend a compact 2 drive NAS enclosure with drives in a RAID 1 (Mirror or Clone) setup. Take a look:
A bigger NAS is a better NAS?
However for those in need of a Network Attached Archive Solution with a little more bite, should consider a 5 or 8 bay NAS solution. A great many of which include award winning NAS OS' like QNAP's QTS software and Synology's always evolving DSM. Compared to those, two bays of storage in a RAID 1 will feel quite constricting early on. If your Archive & Backup needs are more professional and/or are more business centric, these units will give you a larger capacity overall and more peace of mind.
 
The Synology DS916+8G

Quad-Core Intel CPU, 8GB of Memory, Plex, VMware, Surveillance

 
 The QNAP TS-451+-8G

Quad-Core Intel CPU, 8GB of Memory, Plex, Kodi, HDMI access, VMware, Surveillance

 
The QNAP TS-453A-8G

Quad-Core Intel CPU, 8GB of Memory, Plex, Kodi, HDMI access, 4K Transcoding, VMware, Surveillance
What is the most Powerful NAS device?
Last but important point, if you are in the Professional or Enterprise level of Photography and Videography, then you should really be thinking much, much bigger. NAS (Network Attached Storage) can be more than just a back-up and cloud archive device, Modern day NAS is much, much closer in terms of technological architecure to High-End PCs, than just simple storage. We'll get onto things like Virtualisation (Virtual Machines, or VMware) and on-the-fly Transcoding later, but even for those just looking for bulk Network storage, there Enterprise level NAS devices available are remarkably impressive. Additionally, with the dawn of 4K cinema (4096×2160) and 16K Digital Cinema (15360×8640) now may really be the time to think bigger!
 
The QNAP TVS-871T-i7-16G

Quad-Core i7 CPU, 16GB of Memory, 10GBe support, Thunderbolt 2 connectivity, Large file editing on the fly, QvPC, Surveillance and Heavy VM support

 
 The Synology RS3617XS

Rackmounted NAS with Quad-Core Intel Xeon CPU, 4GB RAM, btrfs File System, excellent for VMware via Docker Station

 
The QNAP TVS-1282T-i7-32G

Quad-Core i7 CPU, 32GB of DDR4 RAM, Thunderbolt 2 and 10GBe connectivity, HDD, SSD and m.2 SSD support, Internal Speakers and the best NAS for Virtual Machines, Surveillance, Plex, Video Editing and more.
Make sure you buy the right NAS drives for your NAS Server
Once again, we cannot stress this enough – Don't forget your Hard Drives! When it comes to selecting your drives, you should always be mindful of your Storage environment. The majority of modern hard drives are now tailor made for specific storage tasks. So, dependant on whether you intend to access them often, have them on for days at a time, or just to sync too sporadically (not recommended) then here is our breakdow of the best drives available. Each was selected to not only cover a specific Storage Environment, but also as the best balance of Capacity vs Speed vs Price in their field.
 
 
 
NAS – Upto 5 Bays
 NAS – upto 6, 7 and 8-Bays

WD Red NAS Drives

NAS – upto 16 Bays
 
 
 
 NAS – upto 16-24 Bays
 Surveillance Data Storage
Enterprise Surveillance Drives
Get your NAS and Drives built for you from SPAN.COM
Last but not least, don't forget that we at SPAN.COM can physically build your NAS device, install the latest available firmware, setup your RAID before shipping and perform numerous diagnostic tests in advance before shipping your order at no additional cost. Our "SpanStor Build & Test" service comes highly recommended and is the perfect way to ensure you recieve your Network Attached Storage order, ready to go out of the box!
Pro Tip – The perfect NAS Solution for you should factor in the following
1. How many users will be accessing this device simultaneously?
2. How much storage will you need? Number of Drives Vs Total Capacity
3. Will you just want to Backup, or do you want to Edit files Live?