QNAP unleash the micro beast with the QNAP TVS-882ST 2.5" NAS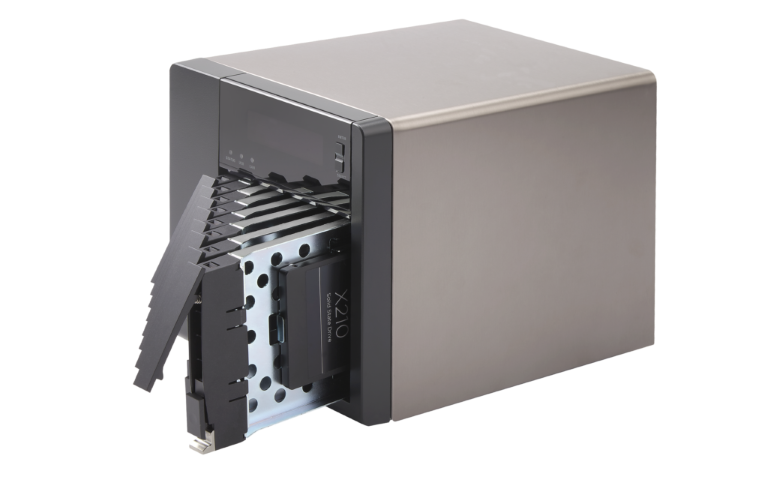 It really is becoming a busy month for those that follow the wonderfully developing world of Network Attached Storage and at the moment the front runners in terms of innovation and sheer technical audacity are QNAP NAS. This month alone we have seen the frankly ENOURMOUS TS-1635 16-Bay Desktop NAS for 10GBe of SFP+, a massive increase in the TS-x31p series and the latest release in the popular QNAP Gold Series with the TVS-x73 Series. Today though, I want to let you know about the jewel in the crown, the pick of the litter, the ONE to really keep an eye on. Of course, I am talking about the latest Thunderbolt 2 NAS designed for 2.5" SSD and HDD, the QNAP TVS-882ST. Ideally suited for Photo and Video Editors and Mac working professional, this petite yet remarkably powerful NAS features almost every innovation from QNAP in recent years, throws in a couple more and keeps the whole thing in a compact 8 Bay chassis.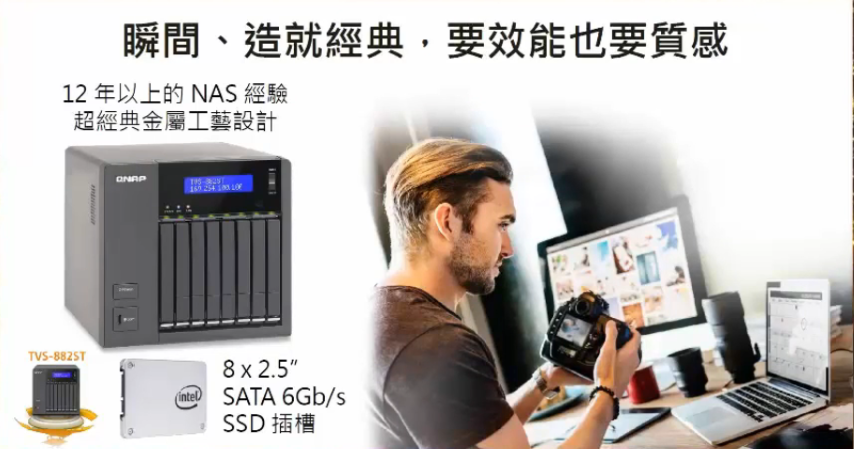 Tell me more about the TVS-882ST. What are the specs?
Althought only mentioned in the QNAP Announcement seminar yesterday, details are becoming clear all the time. Available in two different hardware configurations, the unit will be available in the following Hardware setups:
TVS-882ST-i5-8G – Intel i5 1.9GHz that can be burst to 2.7GHz (Quad-Core) and 8GB Memory
TVS-882STi7-8G and TVS-882ST-i7-16G – Intel i7 2.7GHz that can be burst to 3.6GHz (Quad-Core) and 8GB or 16GB of Memory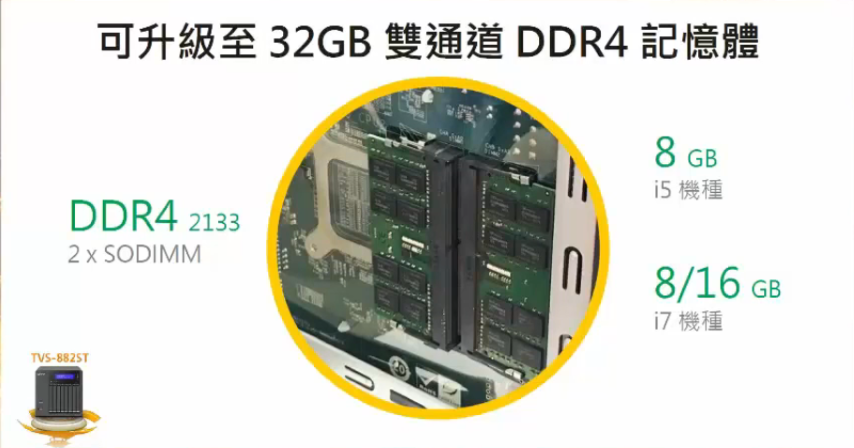 Regarding that RAM/Memory, I am pleased to tell you that both units arrive with DDR4 Memory (2133) and upto a maximum of 32GB of DDR 4 memory. Once again this added tremendous power and upgrade options to those looking for a scalable and powerful Mac enabled Thunderbolt DAS and NAS. Alongside this you can access the device via two Thunderbolt ports in a daisy-chain or with two seperate Mac/Windows Thunderbolt 2 devices and edit files on the fly via that super-fast 20GB/s Thunderbolt 2 connecTION, as well as distributing and sharing files via the NAS facility at the exact same time. Fill the QNAP TVS-882ST with Samsung PRO SSD drives and you will have a workplace storage environment that will easily see you through to the next decade!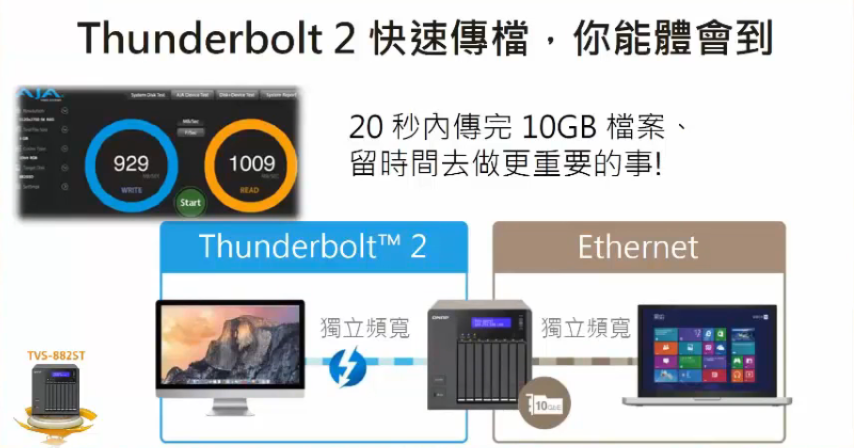 As if that is not enough, thanks to the combination of 10GBe connections and Thunderbolt 2, you can use the TVS-882ST as a Thunderbolt2-to-10Gbe pass-thru. In other words, you can now access a 10GBe connection installed in your home or office without the need of an expensive 10GBe to Thunderbolt switch… just connect your Mac Book Pro or Windows Laptop via Thunderbolt, connect the TVS-882ST into your 10GBe connected environment and boom, you are not on 10 Gigabit Ethernet!
What are the other featured Connections and Abilities of the QNAP 882ST:
In  many ways similar to the TVS-882T NAS released 2 months ago, the newer and considerably smaller TVS-882ST features both new and old. Across 2x 10Gbe ports (via the Intel X550 10GBASE-T card), speeds were reported at 1602MB/s Read and 1274MB/s Write, VERY impressive stuff.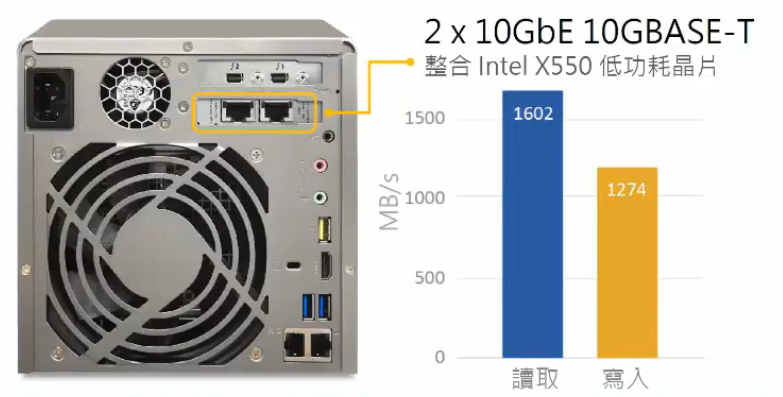 Below are the key points. Take special note of the USB connections and front mounted TYPE C 3.1 port: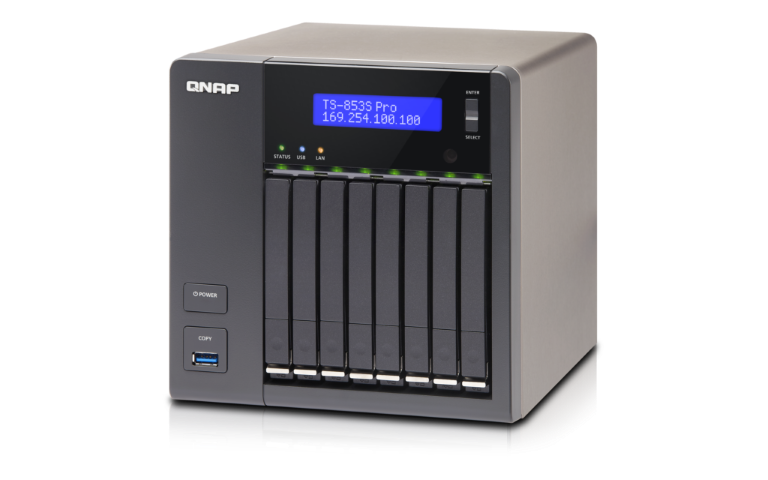 Thunderbolt 2 – Two connectors for daisy chaining and two devices
USB 3.1 Gen 2 (10Gb) – the Newer and faster USB 3 connection across multiple ports
10Gbe Ethernet – Via a card on the rear, two ports
1Gbe Ethernet – available as standard on multiple ports
USB 3.1 Gen 1 (5GBs) – standard USB 3
HDMI – Producing both HD and 4K visuals
Featuring 2K, 4K and Ultra 4K Support
LCD Front Panel – Providing real time information about the TVS-882ST SSD and HDD drives
Same chassis as the TS-853 Pro – But with a TYPC C USB port on the front and Thunderbolt 2