BIG NAS power in a compact case with the QNAP TS-453Bmini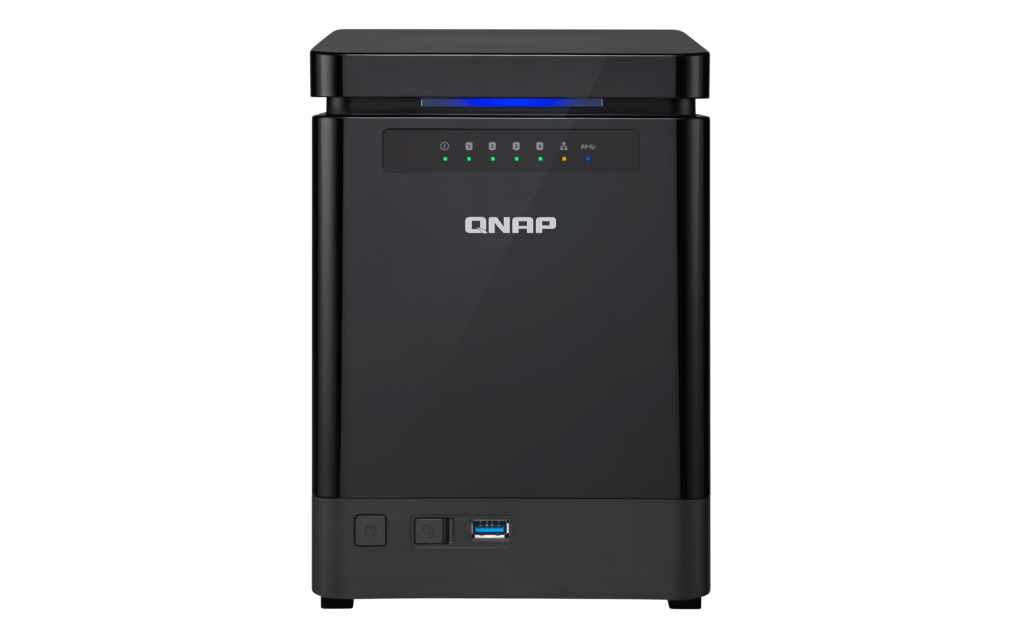 The guys at QNAP NAS have certainly know how to appease the NAS community. Over the last few years they have been the first to release some quite remarkable NAS server improvements and yet they still have the odd trick up their sleeve. The QNAP 'mini' series is not exactly new. First released in the earlier TS-453 Pro SS model, the ability to use standard 3.5″ HDD and 2.5″ SSD and HDD but still kept within a remarkably compact chassis was highly sought after and with noise levels lower and the more petite unit being far easy to place in an office or home environment, it was only natural that in the 2016/2017 range of QNAP NAS, a newer and more powerful mini NAS has been released. Say hello to the QNAP TS-453Bmini NAS.
What are the features and Speciffications of the QNAP TS-453Bmini?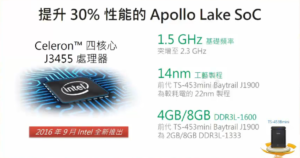 The hardware used in the latest mini NAS is surprisingly unique. The CPU being used is in it's first time introduction to NAS. The Intel Celeron J3455 CPU is a 1.5GHz frequency, that can be bursted to 2.3GHz per core. A fairly new chip and onlly recently released in general circulation, the J3455 is a noticeable increase in frequency and ability compared the J1900 CPU found in the older TS-453mini.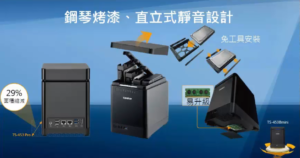 Alongside this, the unit arrives in two different versions. A 4GB and 8GB DDR3 Memory (both with the same J3455 CPU) are a big jump from the default memory of the previous model TS-453mini, which arrived with a 2GB and 8GB option). Another welcome addition is the inclusion of a remote control, an accessory that seems to be popping up more and more with these QNAP HDMI enabled NAS. As is clear too is that it is heavy styled (almost copied) of the external chassis style of the TS-453mini, however with the tooless drive installation at the top of the device, support of 4K transcoding.
What are the ports and connections of the TS-453Bmini NAS?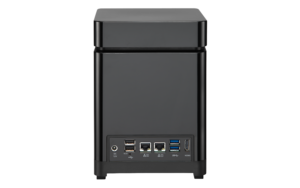 Ports include:
1x HDMI – Supporting HD and 4K
2x LAN – 1GBe ports, NO 10Be here!
3x USB 3.0 – Standard USB 3.0 ports at 5GB/s
2x USB 2.0 – Standard USB ideally suited to Keyboard/Mouse in QvPC and Standalone Surveillance Station use.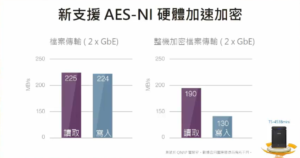 And the upload/Download have been reported at:
Read 225MB/s (via 2x LAN)
Write 224MB/s (via 2x LAN)
Need a little more help buying your NAS? For Worldwide delivery as well as Pre-build NAS and post-sales support, why not chat LIVE to a support agent at SPAN.COM. Just click to start.