Is the AKiTiO Thunder3 PCIe Box the External PCIe Card Box you have been waiting for?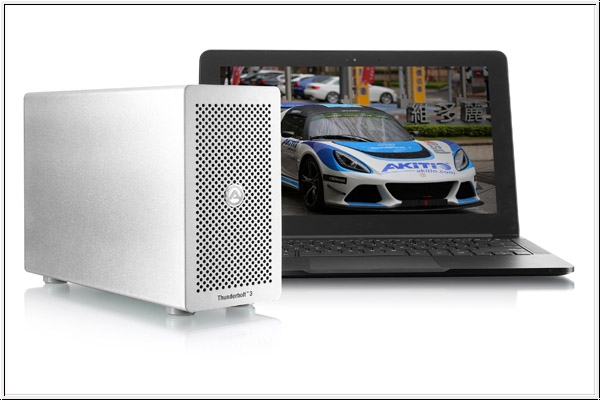 Akitio are a company that really drives the technology market mad. Little known outside of their own country, the consumer that will shop a little harder outside the big brands and a few sporadic areas of the Mac and Windows industry, they never seem to be short of a trick up their sleeve – and it never stops annoying big brands who want to charge 3 times as much! They have always had a range of external Thunderbolt devices ranging from general storage, portable devices and the PCIe market. On top of this they are slowly but surely becoming a contender in the thunderbolt peripheral arena.  Already having a rather popular external Thunderbolt 2 PCIe case with the AKiTiO Thunder2, they are now entering the Thunderbolt 3 market in full swing. This Thunderbolt 3 PCIe expansion box provides an additional PCIe slot for Thunderbolt 3 computers (e.g. laptop computers) where installing an internal expansion card is not an option and for systems where there is not enough space for more PCIe cards. The Thunderbolt 3 (USB-C) connection not only makes adding an external PCIe card easy but it also allows you to take the device with you to use on location and move it from one system to another. Installing and replacing the PCIe card is a simple matter of removing a few thumb screws and does not require any tools. Definitely a feature for the keener techno buff!
What are the features and specs for the AKiTiO Thunder2 PCIe box?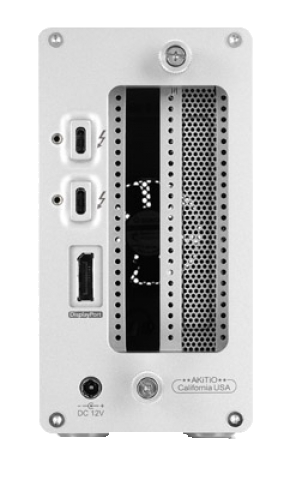 Well, first up the most appealing part of the Thunder3 PCIe case is Thunderbolt 3, which provide lighting fast transfer speeds up to 40 Gbps. However that is not the only rather interesting selling point. Another real game changer is a Dedicated DisplayPort for additional monitor to expand the workspace (no longer relying on the installed card or using up a TB port for display purposes. Whilst we are talking aboue expanded capability, we can discuss the 2nd Thunderbolt port. The two Thunderbolt 3 Type C ports on the T3PB-T3DIS-AKTU both support Thunderbolt 3, however the 2nd port has the welcome functionality of compatibility with USB 3.1 Gen 2 and DisplayPort devices – a real bonus, however if and how the device works connected as a PCIe box via USB 3.1 Gen 2 at 10GB/s is yet to be confirmed. The same speed as Thunderbolt  1, but how the protocol will work is tbc.
More important and relevant specs are:
1 PCIe (x16) slot supporting half-length, full-height, double-width cards

4 lane PCI Express 3.0 compliant interface

Removable back panel for double-width cards

Daisy-chain up to 6 Thunderbolt devices

2x Thunderbolt 3 (USB-C) ports

1x DisplayPort 1.1a

Durable and rugged aluminum casing

No tools required for installation

Operational Fan noise level of 23 dB(A)

Dimensions (23.3 x 14.9 x 7.6cm)
What else should I know before I buy a AKiTiO Thunder3 PCIe Chassis?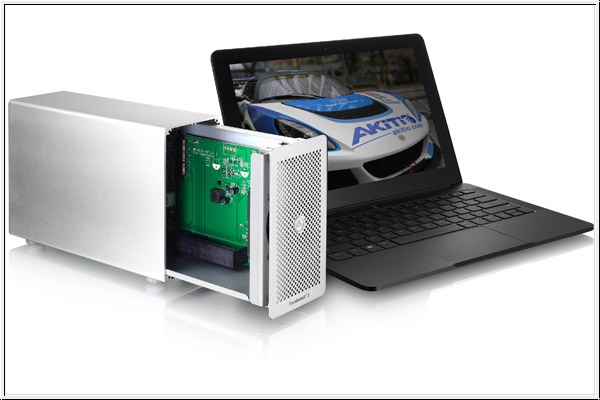 The AKiTiO Thunder3 PCIe Box (otherwise known as the T3PB-T3DIS-AKTU if you want to be pedantic arrives without any PCIe cards installed (as you should expect) and supports half-length, full-height and double-width cards at PCIe (x16) slot, providing a maximum of 25W to power the card. However it is important to consider that this unit current does NOT support graphics cards. Not only for Mac but also for windows. Like the Thunder3 this is a graphics kernel issue and therefore you should consider some of the up and coming Thunderbolt 3 Sonnet series if you PCIe card needs are in the GPU area.Interface/Ports. System requirements (PC) are Windows 7 or later and Computers with Thunderbolt 3 port, however Mac is currently not supported as of 04/10/16. 
If you wish to buy your AKiTiO Thunderbolt 3 PCIe case today, you can pick it up at SPAN.COM today. Just click below. 
AKiTiO Thunder3 PCIe Chassis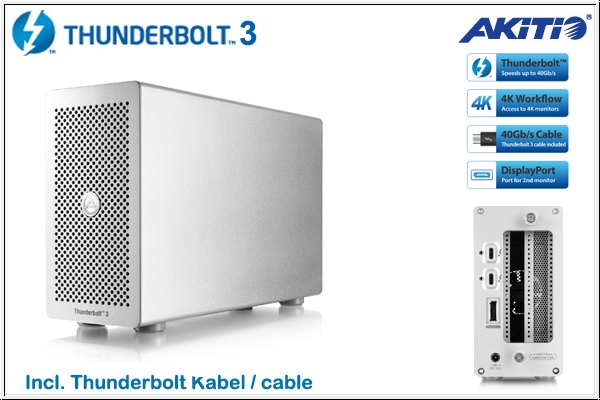 Thunderbolt 3 USB-C cable
Power adapter
Setup guide
Carton/Packing
Retail Box Size: 12.4 x 12 x 4.9in. (31.5 x 30.5 x 12.5cm)