Synology 2017 arrives in London – Did the NAS giants deliver?
I would be lying if I said that for all my talk at NASCompares about Hard Drives, PCIe Expansions, Thunderbolt 3 and more, that in my heart it hasn't always been about Network Attached Storage. We are in the sunset of 2016 and normally around now we see the biggest NAS brands start to unveil their new NAS servers. We have already seen QNAP NAS spill the beans at their show in Taiwan unveiling the TVS-x73 series, the micro Thunderbolt 2 unit TVS-882ST and the SFP+ specialised TS-531X.
Likewise we have seen new kit from the guys at Thecus, Western Digital unveiled new drives for 2016/17 and even the usually quiet Drobo unveiled a new Thunderbolt solution. But despite all of that, Synology have been remarkably quiet. Was this to promote a sense of anticipation? Reaction to the still often spoken Brexit business, a change in product lifespan? I couldn't tell you – however I can maybe try and shed some light on it. Synology 2017 took place in London yesterday and many questions were answered.
What have Synology NAS been upto and have in store for 2017?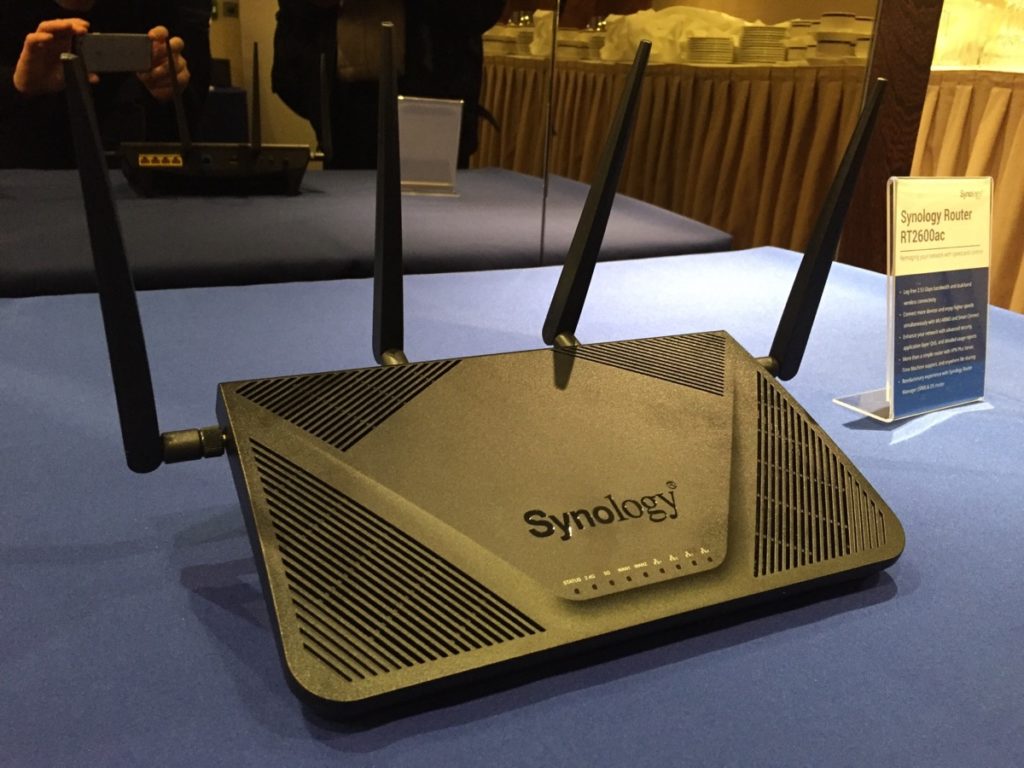 The first thing that hits you about Synology 2017 is the change of focus. I am sure as the year closes and new year begins we will see the newest additions to the popular 2-Bay, range in the form of the DS217. Units such of those alongside a likely DS217PLAY and 4-Bay for 2017 (Though the jury is still out on anything like a DS1817+ NAS – come on Synology, you are killing us!). No, very little in the form of unreleased physical NAS units were present or mentioned. What there was were either already market known and available, such as the follow up to the RT1900ac and soon to be released RT2600ac new and improved Synology router (mentioned earlier here on NAScompares). Alongside this was a tremendously improved Business NAS presence in the form of the latest and greatest synology Rackstation series. Rack cabinets were on show towering over us with units such as the breathtaking newly released and 10GBe enabled RS3617xs, the petite and dimension redefining RS217 Rackstation to name but a few and their team at Synology UK were on hand to answer the more tricky questions that Ed at SPAN.COM could throw their way.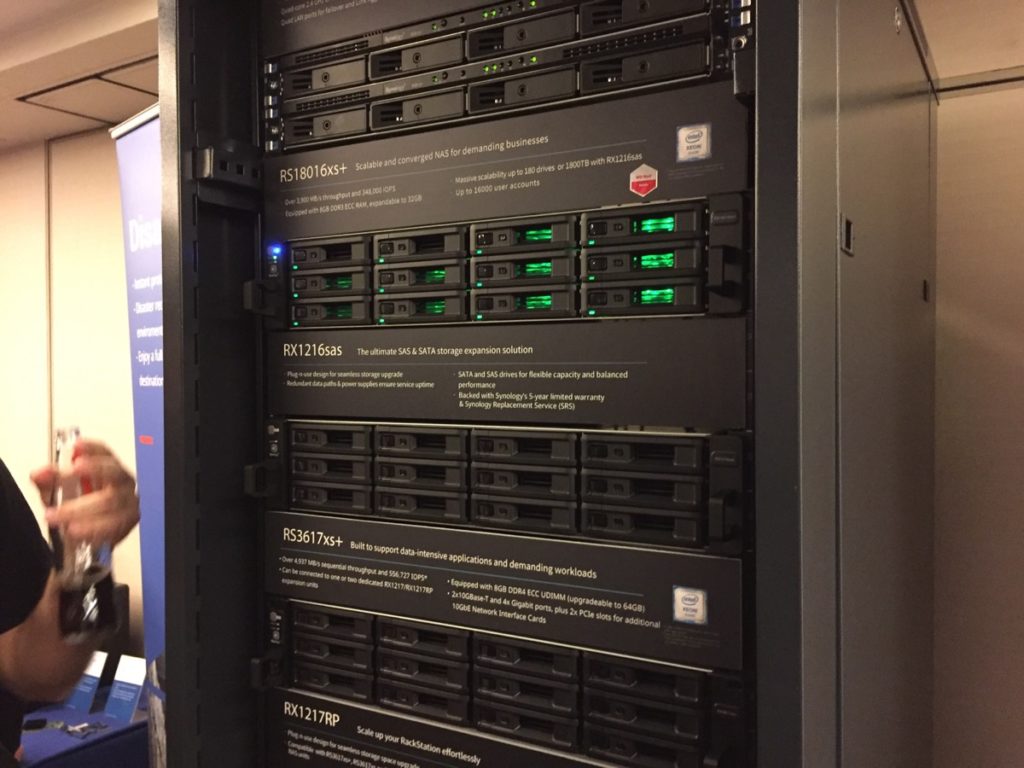 As well as this, the most popular NAS unis of the Year were in attendance to tempt new and old NAS hands alike. For those who had already made their leap into the wonderful world of NAS (be they home or business user) there were many options on show for improving both your software and hardware capabilities. We were especially impressed by the showcase of the PCIe cards for those new and improved RackStation Synology NAS units. Synology have never been in the forefront of peoples minds when it comes to upgrading or scaling your NAS a few years down the line and it was nice to see this change throughout this year and the next. Not that it was all big business. A special place was made for the micro NAS, the Synology DS416slim and it's 'big things in small packages' angle. Likewise it was a breath of fresh air to see a number of popular NAS devices being used for more than Plex and Apple time machine and I look forward to seeing how Synology's improved work in the software and tools arena bares out on these units.
A change of focus and a change of attention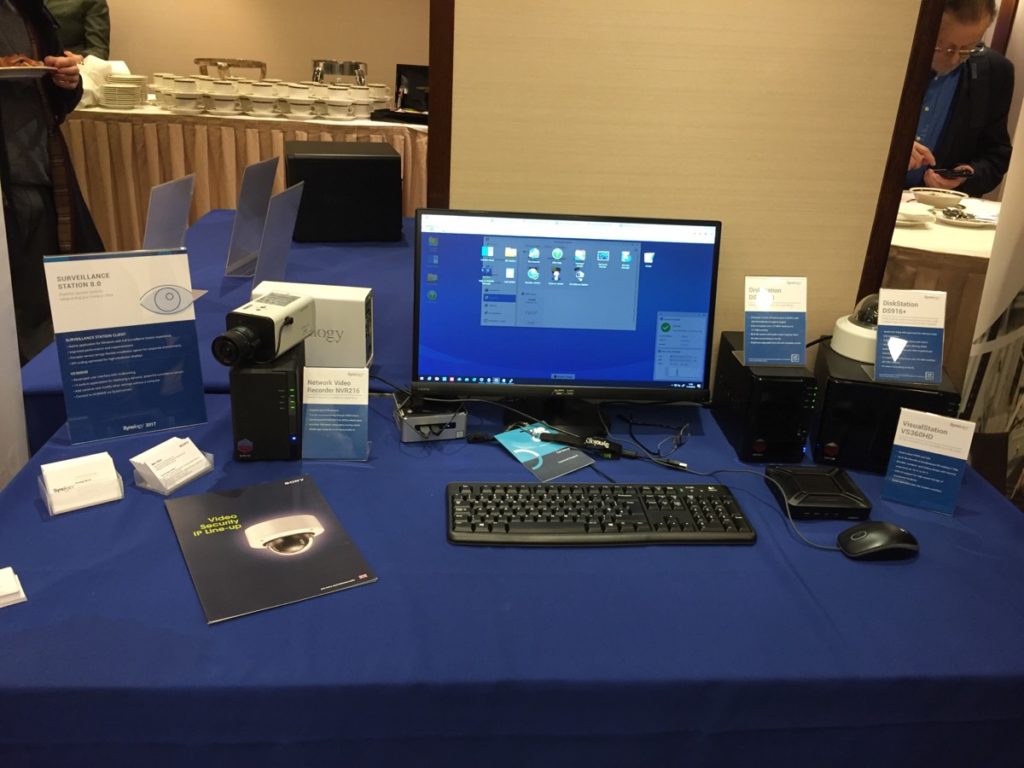 It was after this that things get a little less physical. There was as stronger focus on NAS surveillance and with that a more expanded look into how your Synology NAS server can be used for protecting your home or business. Multiple units released in 2016 were present alongside impressive equipment from Sony. The reason for this seemed two-fold. First of course to promote and sell Synology NAS in all it's forms, but additionally there has been significant improvements made in the Synology Surveillance Station software and this is where they really got our attention. An often overlooked feature of a solid NAS server foundation is the ability to connect multiple IP cameras in your home, shop, office, business or more and have real-time security that most companies would spend thousands a year on. Pretty much ALL Synology NAS devices can operate as a Surveillance NAS to greater or lesser degrees and it's impact on the CPU and running of your NAS isn't too bad and can still run comfortably in the background of your DS716+II or DS916+ whilst you carry out other applications of your NAS like a Plex Media Server, File Server, Mail server, Backup Station or more.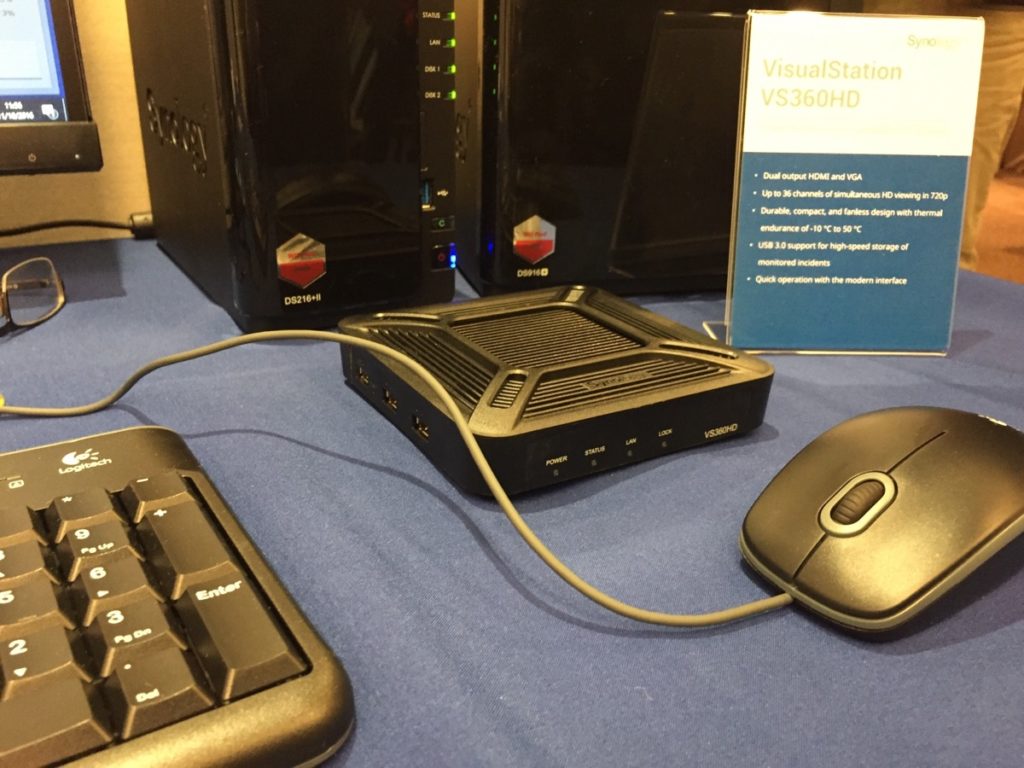 Synology were keen to display the versatility of this with their latest Synology Surveillance Station software and with improved alert, control, multi-camera support and integration with existing surveillance application system, I am left remarkably impressed. Also the VS360HD (one of the more overlooked Surveillance NAS units that features both HDMI and VGA, which though rare on a Synology NAS, is still geared almost exclusively to Surveillance and CCTV NAS use) was present and in full operation for those looking to view a truly compact and versatile 36 Camera NAS solution at 720p, again…impressive. However this alongside the NVR216 are always going to be rather niche and only aimed at those who are truly in the marketing for network recording NAS.
Synology NAS and Business Applications for 2017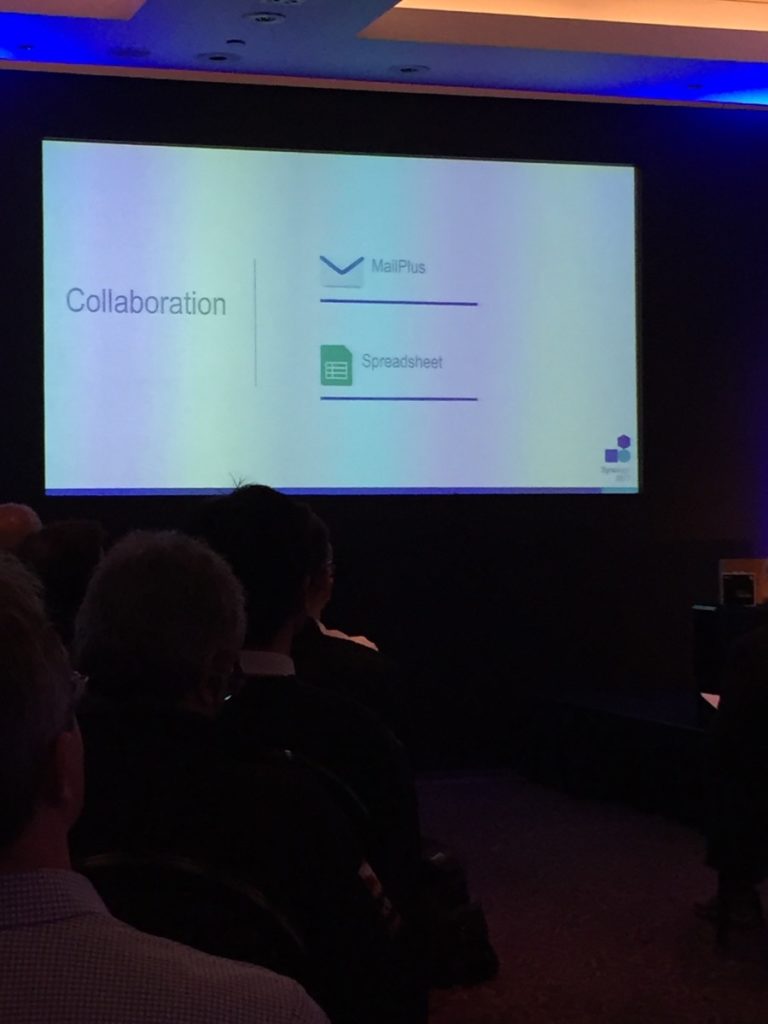 The other big focus (possible THE big focus at Synology 2017) is the shift in focus towards business NAS. Don't worry, they aren't abandoning the home market, but showing how in the latest version of Synology DSM, that you will soon being able to manage and run your entire business from your Synology NAS. The presentation was detailed, highlighting the numerous business tools to help re-create your digital office environment within your Synology NAS. Unveiling more and more of their own own software and changes to how data is handled that lives in the NAS. With changes happening in how the NAS handles, interprets and actions files (not disimilar with how Gmail extends to Google Drive, Google Sheets, and other office tools, the Synology DSM updates provide extensive Office and communication tools that are both local and browser based.
A particularly stand out feature was the new chat feature between Synology users (real time like skype) within the network environment – in short meaning that multiple users accessing the NAS  can communicate, notify and share in a private chat of upto 9 members, or 'channels' which are like open chat pr internal business noticeboard. It was innovations like this that really caught the eye.
Alongside this and the improved email server control, with added and improved support for spreadsheets, docs, and more – Imagine a hybrid of both Google Online office applications and Microsoft office – but on your NAS. Geared more for those with business correspondence, Synology detailed improved Caldeav for scheduling, calendar work and more. Giving you the ability to integrate and migrate between Outlook, Google calendar and more.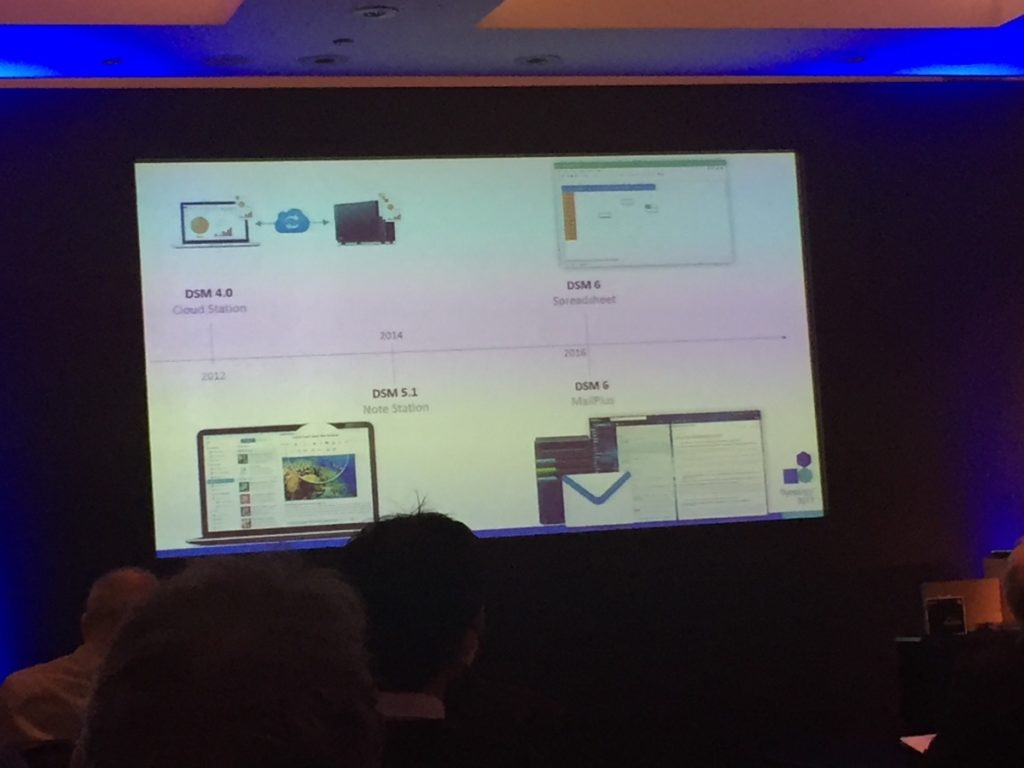 As well as Contacts improvements and giving you the functionality to import and export contacts list as you can with outlook and send and control your email within the NAS via the browser (as well as use Outlook if you prefer that way). These changes along with vastly improved, easy and better search functionality internally of docs, files, directories with universal Smart Search (searching quickly right the way into the document on a text level) these improvements were really worth the boast and with office spaces becoming more mobile, I am genuinely excited to see what is up and coming for Synology in the end of 2016 and 2017.