WD release their brand new My Passport Series in upto 4TB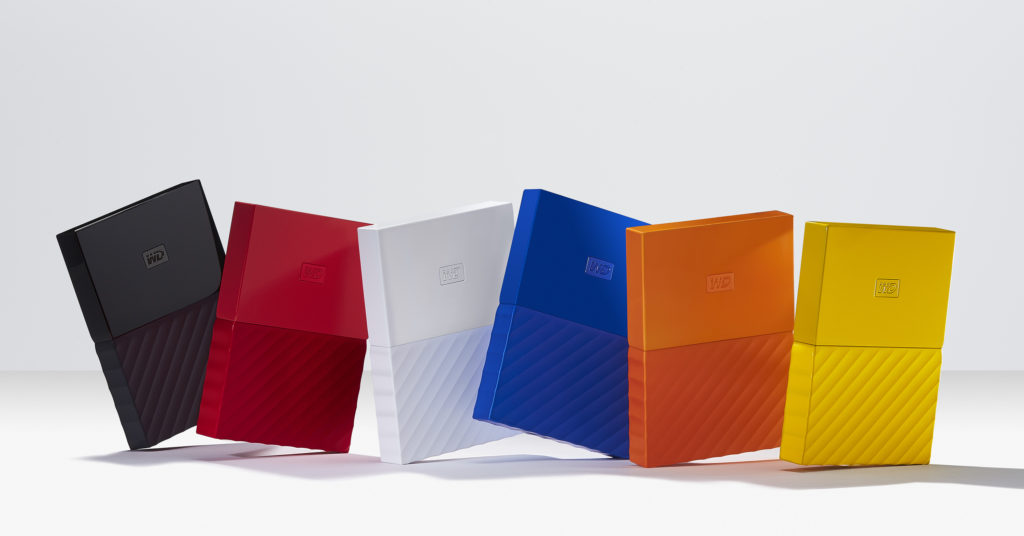 Always the bread and butter of most portable hard drive users, the WD My Passport series has been around a few years and is used by home and business users alike. Finding the balance between capacity and cost, they are often chosen as the perfect go-to tool for the job. As the years have gone by, the casing, design and external chassis have undergone numerous changes in style. Whether this was a market trend approach or just to keep the 'Reebok Classic' of external drives out there in the wild isn't sure, but one thing is – they look sweet!
A number of small tweeks have been applied to the latest series of the WD My Passport, the biggest and best of which is reserved for the WD My Passport Mac Drive. Alongside this a number of the key design and storage options have not changed and as well as now being available in upto 4TB (impressive in such a small, USB powered USB 3.0 external Hard Drive) numerous other features and software details are available
 A new yet still familiar design
More than just a facelift, the new design is for improved protection, integration with newer releases, improved hardware space inside and for portability.
Auto Backup functionality with the Included WD Backup Software
Included with the drive are additional certified WD software. The Backup software will ensure that even Windows users will have the ease and smooth backup safety akin to Apples Time Machine software for Mac.
 Password Protection with Built-in 256-bit AES Hardware Encryption with WD Security software
It is unavoidable with drives getting smaller than mistakes happen, things get misplaced and loss is a factor. In an effort to keep your content private and safe, alongside the enhanced encryption, WD have included a digital "return-if-found" message as the password prompt in the event that someone finds your drive that you lost. And if they are of a more malicious frame of mind – the password protection and AES-256bit encryption will keep your data safe from prying eyes. Keeping you safe from loss and security breaches!
WD Design, Testing and Long term reliability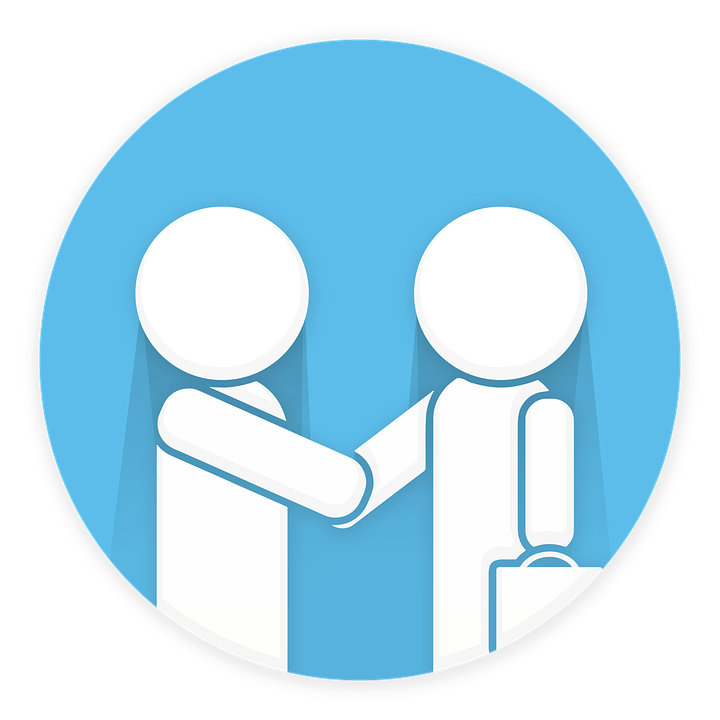 As in the previous WD My Passport Series of drives, they are designed to last and alongside the rigorous testing and designed changes to protect the drive from shock and physical damage, all the New WD My external Drives arrive with a 2-year limited warranty.
Have it your way with multiple colours to fit into your digital environment
Probably the most appealing thing to many about the WD My Passport external drives for a number of years is the selection of colours (that's right, I said 'colours' – not 'colors', sorry America!) available to you across the individual ranges. This high standard is maintained in the latest and newest WD My Passport drives – this time they are particularly vibrant with extra attention being given to the physical design too.
No fuss and ready out the box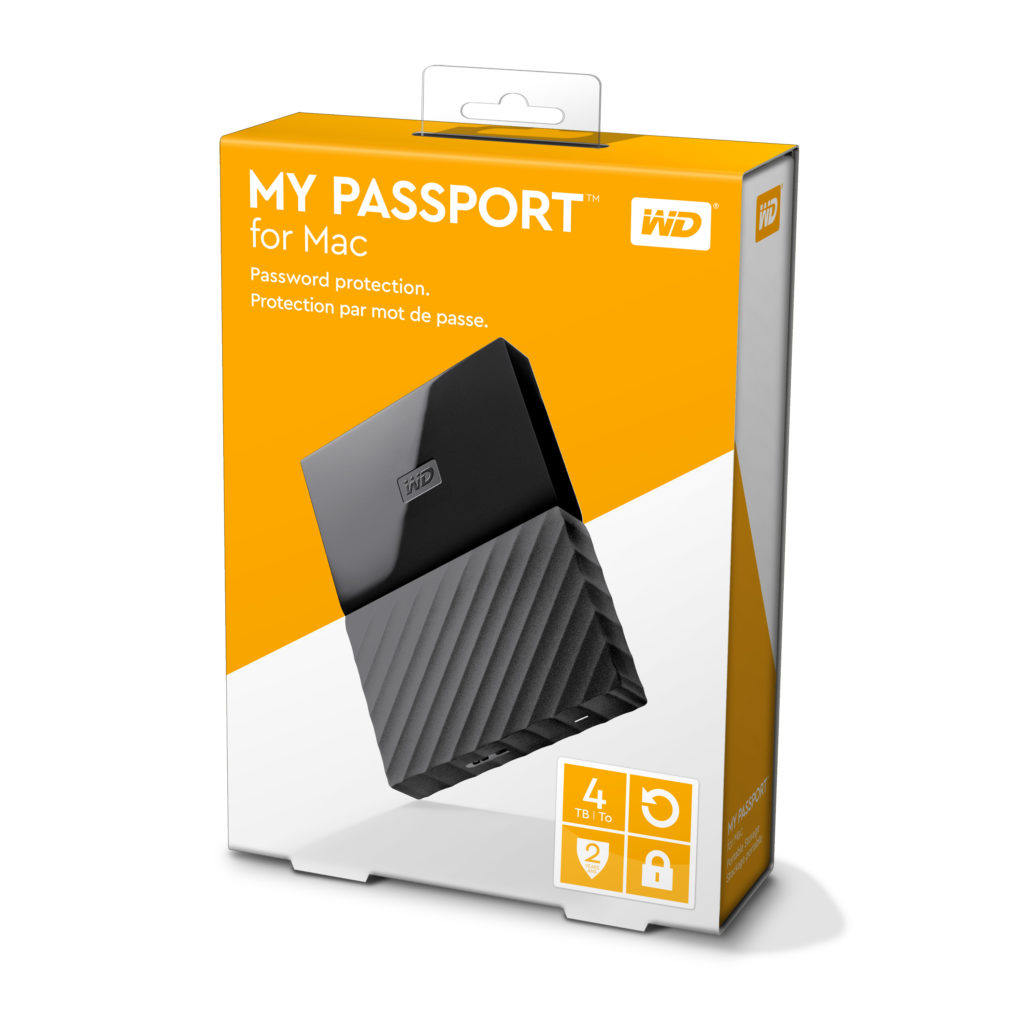 Although the new Passport HDD drives arrive with the above mentioned WD Backup and WD Security software, that doesn't mean there is any additional fuss. These drives are ready to go immediately and NO additional software is required to start reading and writing your data onto it.
Mac and Windows Ready
The drives themselves arrive in both Windows and Mac versions (pay special attention to the Mac Drive if you are an apple user, as though either drive can be used after formatting, you will see enhanced Apple Time Machine and Loss support integrated into OSX if you opt for the Mac dedicated WD My Passport – it isn't just a cheap way to bump up the price by WD). Never the less drives are ready formatted for Windows® 10, Windows 8 or Windows 7, whereas the Mac Drive arrives pre-formatted for the very latest Mac Systems too.
Available in bigger and popular Capacities
Pushing the boundaries of the limits of external USB powered capacity, the new WD My Passport drives arrive in upto 4TB capacity, as well as the still impressive 3TB, 2TB and 1TB.
Made for the future and the past
As before with the older My Passport external HDD from WD, the new drives are both USB 3.0 and USB 2.0 compatible – so no need to worry about compatibility on that score!