Which QNAP 4-bay NAS deserves your money?


Network Attached Storage has been around a fair while now and I think it is fair to say that it is popular! But how to these popular NAS devices compare? Both are 4-Bay NAS from QNAP, but with a different target audience. The QNAP TS-453A is aimed at those looking for a cost effective, yet highly functional NAS for VMWare, NAS Surveillance, a Plex Media Server and all the traditional uses for a Network Attached Storage server. The rival NAS however, the QNAP TVS-463, can do all of these things too and in many cases much better, however this is at a much higher price! Alongside this there are certain features like PCIe card expansion, maximum Memory upgrades, CPU frequencies and upto 4 Gigabit LAN ports that really divide these two NAS devices – and not always with the advantage on the unit you would expect. So please find below our comparison of these two powerful NAS units and find out which NAS is the best NAS for you!
General NAS Performance?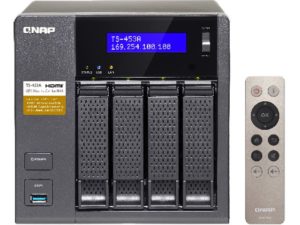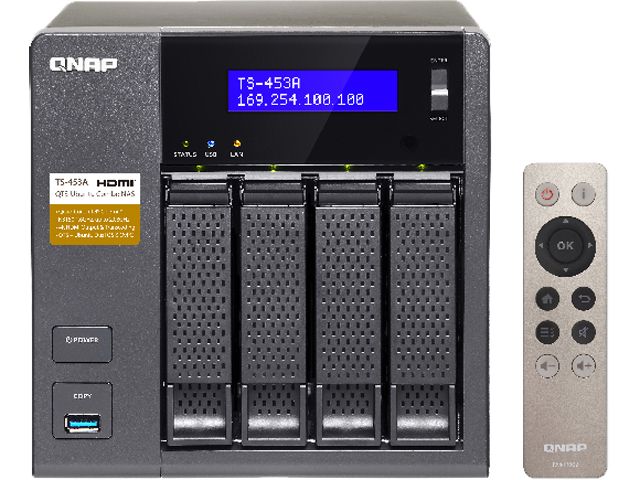 The TS-453A-4G same as the TVS-463-8G is made by Qnap. By choosing Qnap people expect to see advanced configurations opportunities as well as innovative and more diverse business applications. You are able to customize the TS-453A-4G to your needs. This unit also arrives with a One-touch Backup button on the front panel, when it is configured on the TS-453A-4G, it can be used to backup data off of the USB device, or vice versa. The quiet cooling fan has been used in the construction of the TS-453A-4G. This is what you want when box is sitting on your work desk. Unlike the TVS-463-8G this box has the Intel Celeron Braswell N3150 1.6 GHz Quad Core (up to 2.08GHz) processor. Another key difference between the TVS-463-8G is RAM. TS-453A-4G arrives with 4GB RAM. The TS-453A-4G 4GB RAM compared with TVS-463-8G 8GB is clearly weaker.
About the Connections and Ports?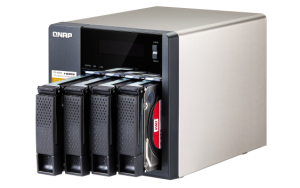 At the back of the box you will find HDMI port which will let you connect it to TV or monitor. In this case you are not limited to network speeds. You might be interested in audio output ports. With TS-453A-4G you can build a personal karaoke system with high-quality audio output. The TS-453A-4G is packed with remote control for you to conveniently control the HD Station via the built-in IR receiver of the TS-453A-4G. With four LAN ports this box is making good enterprise level NAS. Four USB3 ports on this Qnap is offering you up to 5Gb/s transfer speeds of external devices. It is fast enough to get your files through fairly quickly with this speed and make backing up with an external drive or Apple Time Machine a quick and easy process. Sometimes when your business grows, you might consider getting a box with expansion capabilities. With this box you have all opportunities to do so. You might want to contact one of our tech guys to find out more.
About Usage and Abilities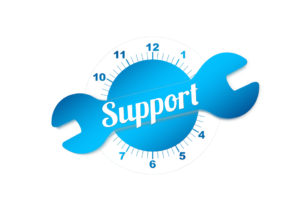 With 4 bay unit you are having additional advantages. You can choose from number of RAID solutions to set up. There could be RAID that saves your data even if one of the drives fail so you can still recover your data. This would be slightly more safe option to keep your data. Besides you can still access your documents or media files over your private network or even internet. You may install Plex Media Server on this box. Plex lets you easily create a feature rich and practical home media playback system. Some boxes offer real time transcoding functionality. That let you stream your media hustle free, based on your device speed or screen size. Please contact us to find transcoding compatibility list.
What about the Price And Warranty?
This box comes with 2 year warranty for your peace of mind and long term hardware security. This Qnap is £141.00 cheaper than the most expensive unit TVS-463-8G.
The QNAP TS-453A

£349 ex.VAT and without HDD Media

The QNAP TVS-463

£490 ex.VAT and without HDD Media

OS
Embedded Linux
Embedded Linux
CPU
Quad-Core Intel® Celeron® N3150 1.6GHz (Burst up to 2.08GHz)
Quad-core AMD 2.4GHz
Memory (RAM)
4GB / 8GB
SO-DIMM DDR3L-1600
4GB / 8GB
SO-DIMM DDR3L-1600
Flash
512MB (DOM)
512MB (DOM)
Number of RAM Slots
2 (Max 8 GB)
2 (Max 16 GB)
Max. number of HDDs/SSDs
4x 2.5″ or 3.5″ SATA 6Gb/s, 3Gb/s
4 x 2.5″ or 3.5″ SATA 6Gb/s, 3Gb/s
Expansion Enclosure Support
1 (UX-800P, UX-500P)
2 (UX-800P, UX-500P)
Rear of the NAS
Gigabit LAN Ports
4
2 by default (expandable to 4 card upgrade)
10GbE
No
Yes (Upgradable)
Expansion Slot (PCI-E)
0
1
USB 2.0
–
–
USB 3.0
4
5
eSATA
–
–
Remote Control

Yes and included

Yes BUT Optional Extra
HDMI
2
2
LED Indicators
Power/Status, LAN, USB, HDD1-4
Power/Status, LAN, USB, HDD1-4
LCD Display/ Button
Yes
Yes
Buttons
Power, Reset, USB Auto Copy
Power, Reset, USB Auto Copy
Power Consumption

Sleep Mode (W)

18.86
34.77
Power Consumption: Operating Mode
32.35
50.38
Power off (S3 Sleep)
1.61
2.26
Noise Level dB(A)
19.7
18.2
Windows Upload (MB/s)
436(MB/s)

(4-LAN Link Aggregation)

425(MB/s)

(4-LAN Link Aggregation)

Windows Download (MB/s)
414(MB/s)

(4-LAN Link Aggregation)

425(MB/s)

(4-LAN Link Aggregation)

File System: Internal Hard Drive
EXT4
EXT4
Surveillance Station
Yes
Yes
Max Number of Cameras
Default: 4, Max.: 40 (optional license purchase)
Default: 4, Max.: 40 (optional license purchase)
Mobile Surveillance App for iOS & Android
Vmobile
Vmobile
Max USB Webcam for liveview or snapshot (QUSBCam App)
2 (up to 1280×960, 5FPS)
2 (up to 1280×960, 5FPS)
Virtualization Station
Yes
Yes
Syslog Server & Client
Yes
Yes
Antivirus
Yes (Optional McAfee Antivirus available)
Yes (Optional McAfee Antivirus available)
Mail Server
Xmail, Xeams (QPKG)
Xmail, Xeams (QPKG)
VPN Server (PPTP + OpenVPN)
Yes (Max clients: 15 + 15)
Yes (Max clients: 15 + 15)
myQNAPcloud Remote Access and File Sharing
Yes
Yes
3rd Party Cloud Storage
Amazon S3/Glacier, ElephantDrive, Google Drive, Symform, Microsoft Azure
Amazon S3/Glacier, ElephantDrive, Google Drive, Symform, Microsoft Azure
Mobile Apps for iOS & Android
Qfile, Qmanager, Qphoto, Qmusic, Qnotes, VMobile, Vcam, Qremote
Qfile, Qmanager, Qphoto, Qmusic, Qnotes, VMobile, Vcam, Qremote
VMware Ready®
Yes
Yes
Citrix Ready
Yes
Yes
Microsoft Hyper-V Compatibility
Yes
Yes
Max. Number of Users
4096
4096
Max. Number of User Groups
512
512
Max. Number of Share Folders
512
512
Max. Number of Concurrent Connections
800
1000
Language
English, German, French, Italian, Spanish, Polish, Swedish, Danish, Norwegian, Finnish, Russian, Japanese, Korean, Dutch, Czech, Traditional Chinese, Simplified Chinese, Turkish, Hungarian, Romanian, Thai, Portuguese/Brazil, Greek
English, German, French, Italian, Spanish, Polish, Swedish, Danish, Norwegian, Finnish, Russian, Japanese, Korean, Dutch, Czech, Traditional Chinese, Simplified Chinese, Turkish, Hungarian, Romanian, Thai, Portuguese/Brazil, Greek