Netstor release their USB 3.1 Gen 2 Type C case for Windows and Mac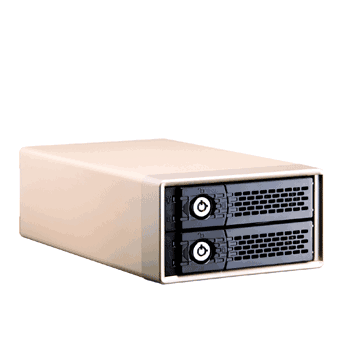 A long standing brand in the arena of digital Storage solutions, Netstor Technology have been around since 2002 when they were one of the first companies in the world to release a truly hot swappable external 2-Bay enclosure for 3.5″ HDD that was RAID enabled. In the 15 years than have passed they have developed data storage technologies in a multitude of directions and have made early and impressive innovations in SAS, Thunderbolt technology and PCIe external solutions, to name but a few. In particular we have seen real innovation in the Thunderbolt 3 arena this year with multiple releases, such as the fantastically powerful 24 Bay Thunderbolt 3 Rackmount solution, an 8-Bay Thunderbolt 3 RAID enabled Desktop Tower (one of the only of it's kind) and an external PCIe solution that arrives with Thunderbolt 3 connectivity. It has been releases such as these that have really pushed the boundaries of storage for many home and business users alike and has given many of their more well known brand rivals pause for thought! However like many things in life, we return to where thing began and today we want to take a closer look at their latest release… yes… you guessed it… a 2 Bay, RAID enabled, external hot swappable HDD solution. Only this time we enter another new growing arena of storage, namely USB 31 Gen 2 and Type C case, the Netstor NA460C.
What makes the Netstor NA460C worth my data and my time?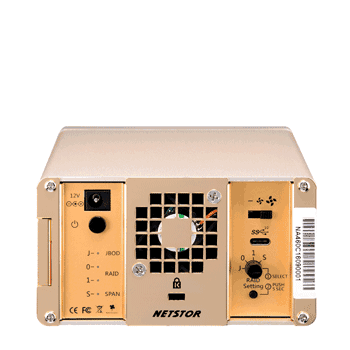 I could most likely swamp you in numbers. Everything from the 10GBps transmission speeds of the latest version of the ever evolving Universal Serial Bus connection, to the ability via the installation of SSD's (prices really are becoming competitive on those) to reach in a RAID configuration 791MB/s Write and 752MB/s Read. Alternatively I could try and win you over with the 3 tiered fan control on the rear or the fast and easy RAID control settings. Perhaps even arouse your interest with the increasing popular USB Type C connection that can connect to a number of Thunderbolt 3 devices and still maintain 10GB/s. I could expand on this and more to tell you why the NA460C is such an interesting device, but if I am honest, the first thing that struck me about the device was the colour.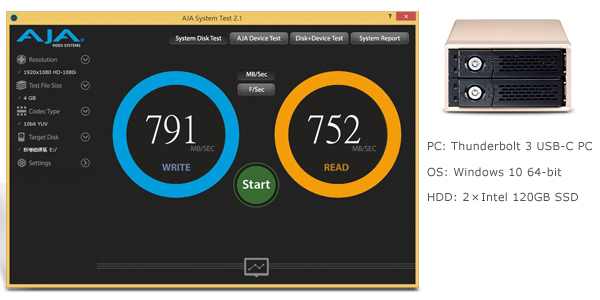 In all my years of data storage, I am a sucker for a chassis that looks cool – I think it's something that a number of the biggest brands on data storage could learn from and with the consumer in his home office or in his skyscraper having real control over his surroundings, design has NEVER been more important! The NA460C arrives in GOLD, though in a darker light it looks copper (which if anything is even better) it seriously looks first class on your desk!
Moreover it isn't just for show, the coating aluminum housing is an anodized surface and benefits for cooling and durability to dissipate heat. 
What are the Key Features of the Netstor NA460C RAID enclosure?
Provides the most high-speed USB3.1 Gen2 Type-C interface

Supports up to 2* SATA 6 Gbps 3.5 or 2.5-inch HDD/SSDs

Hardware RAID Chip providing RAID mode 0, 1, JBOD, SPAN

Aluminum housing, anodized surface, benefits for cooling and durability

Adjustable fan speed for self-contained ventilation

Individual key lock of each HDD tray for physical security

Small, compact, and light weight

 With brands like StarTech and Akitio out there making a real push to grab the budget buyer, it is a breath of fresh air and a mark of endurance that Netstor can stick by their guns and still keep releasing solid units like the NA460AC external DAS RAID unit. Available from SPAN.COM you can find out more precise specifications below.
USB 3.1 Gen 2 2-Bay RAID External Case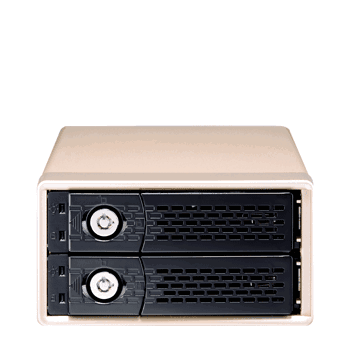 Host Interface          

USB3.1 (Gen2, Type-C)

HDD Interface

SATA 6.0Gb/s

No. of Disk(s)
Up to 2 (HDD/SSD sold separately)
RAID Mode

RAID 0, 1, JBOD, SPAN

LED Display for Tray

Power on- white




HDD Access- flashing blue




HDD Failure – Red

LED Display for Enclosure

Power on LED – white




FAN normal – green; fail – red




TEMP normal – green; over 50°C – red

Dimension

205(D) x 120(W) x 65(H) mm




8(D)  x 4.7(W) x 2.56(H) inch

Material

Plastic and Aluminum alloy

Power Supply

Power Adapter




AC Input: 100–240V, 50-60Hz




DC Output:+12V/5A, 60W

Cooling

One 40 x 40 x 10 mm Cooling Fan

O.S. support

Windows, OSX

Weight

 

Operating Temperature

0 to 40°C  (32 to 104°F)

Storage Temperature

-10 to 50°C  (-14 to 122°F)

Relative Humidity

20 to 80% (non-condensing)