An SSD that changes everything, But is the Samsung SSD 960 PRO is it as promised?
Experience unprecedented performance for heavy workloads and engineering applications with the high-capacity, highly reliable Samsung 960 PRO SSD. Designed for high-end PCs and workstations, the 960 PRO boasts a cutting-edge 48-layer Samsung V-NAND-based architecture that delivers next-generation performance in a compact M.2 form factor.
Why is NVMe such a big deal? What does it mean and is it better?
The NVMe™ interface of the 960 PRO supports PCIe® Gen 3 x4 lanes for an enhanced bandwidth and lower latency than SATA SSDs. You can experience massive sequential R/W (read/write) speeds up to 3,500/2,100 MB/s and random R/W speeds up to 440/360K IOPS, respectively*. This superb performance is enabled by an optimized package design.
*Sequential performance measurements based on CrystalDiskMark 5.0.2/IOmeter 1.1.0 and random performance measurements based on IOmeter 1.1.0.Performance may vary based on the SSD`s firmware version,system hardware and configuration.Test system configuration: Intel® Core i7-6700K CPU@4.0 GHz,DDR4 1700MHz 16GB,OS-Window 10 Pro x64,Chipset-ASROCK Z170 EXTREME 7
Why is the Samsung 960 M.2 SSD a big change from the 950 SSD?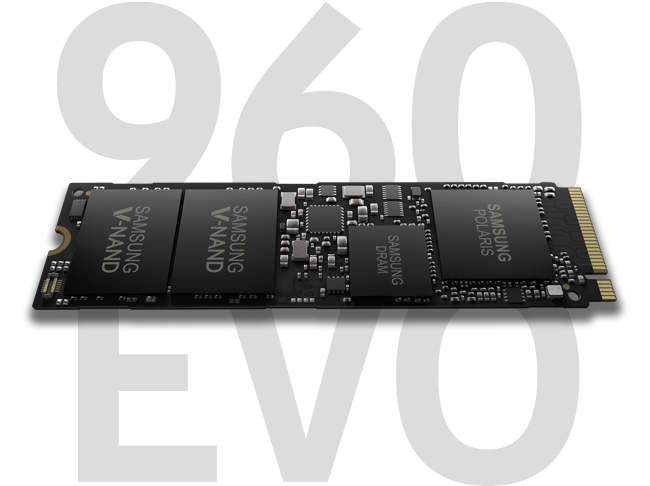 Samsung provides advanced end-to-end integration, fine-tuning each component for optimal results. Individual chips are optimized to pack more in a package to maximize capacity. The 960 PRO enables you to store up to 2TB, which is unprecedented for NVMe SSDs.
*1GB=1,000,000,000 bytes by IDEMA. A certain portion of capacity may be used for system file and maintenance use, so the actual capacity may differ from what is indicated on the product label.
How reliable is the Samsung 960 NVMe SSD?
The 960 PRO boasts 1.2 PBW* for the 2TB model. For further reliability, DTG (Dynamic Thermal Guard) monitors and adjusts the temperature of the SSD, protecting data and achieving optimal responsiveness. Plus, the 960 PRO is backed by a 5-year limited warranty**.
*PBW : Petabytes Written **Samsung's warranty does not cover any costs and expenses relating to SSDs' overhaul/assembly and data recovery for repairs or replacements.
What do you get with your Samsung 960 Pro and EVO SSD?
With the newly upgraded Magician advanced software solution, you can manage, monitor and maintain your 960 PRO like an IT professional. Magician provides personalized firmware checking and additional functions tailored for individual user's drives. It even updates the firmware automatically to make sure that the drive's performance stays up to date.
What are the Specifications and Hardware of the Samsung 960 Pro and Evo?

960 Pro Series Model Numbers
MZ-V6P512, MZ-V6P1T0, MZ-V6P2T0
Form Factor M.2
Capacity 512 GB, 1024 GB, 2048 GB
Sequential Read Speed Max 3,500 MB/sec
Sequential Write Speed Max 2,100 MB/sec
General Features:
Samsung Polaris controller

80.15 x 22.15 x 2.38 (mm) in Size

PCIe 3.0 x4, NVMe 1.2 (partial)

Samsung V-NAND Memory

TRIM Supported

AES 256-bit for User Data Encryption, TCG Opal

S.M.A.R.T Supported

Auto Garbage Collection Algorithm

Up to 3500 MB/sec Sequential Read

Up to 2100 MB/sec Sequential Write

1.5 Million Hours Reliability (MTBF)

1500G, duration 0.5m sec, 3 axis Shock Absorption

Magician Software for SSD Management Software

5 Years Warranty

960 EVO Series Model Numbers
MZ-V6E250, MZ-V6E500, MZ-V6E1T0
Form Factor M.2
Capacity 250 GB, 500GB, 1000 GB
Sequential Read Speed Max 3,200 MB/sec
Sequential Write Speed Max 1,900 MB/sec
General Features:
Samsung Polaris controller

80.15 x 22.15 x 2.38 (mm) in Size

PCIe 3.0 x4, NVMe 1.2 (partial)

Samsung V-NAND Memory

TRIM Supported

AES 256-bit for User Data Encryption, TCG Opal

S.M.A.R.T Supported

Auto Garbage Collection Algorithm

Up to 3200 MB/sec Sequential Read

250GB features p to 1500 MB/sec Sequential Write

500GB features p to 1800 MB/sec Sequential Write

1TB features p to 1900 MB/sec Sequential Write

1.5 Million Hours Reliability (MTBF)

1500G, duration 0.5m sec, 3 axis Shock Absorption

Magician Software for SSD Management Software

3 Years Warranty
Alternatively, you can buy the Different Samsung NVMe SSD Drives below:
Samsung SSD 960 PRO MZ-V6P2T0BW NVMe 2TB – https://nascompares.com/xxx//product/Samsung-SSD-960-PRO-MZ-V6P2T0BW-M-2-2280-NVMe-2TB-SSD~59586
Samsung SSD 960 PRO MZ-V6P1T0BW NVMe 1TB – https://nascompares.com/xxx//product/Samsung-SSD-960-PRO-MZ-V6P1T0BW-M-2-2280-NVMe-1TB-SSD~59585
Samsung SSD 960 PRO MZ-V6P512BW NVMe 512GB – https://nascompares.com/xxx//product/Samsung-SSD-960-PRO-MZ-V6P512BW-M-2-2280-NVMe-512GB-SSD~59584
Samsung SSD 960 EVO MZ-V6E1T0BW NVMe 1TB – https://nascompares.com/xxx//product/Samsung-SSD-960-EVO-MZ-V6E1T0BW-M-2-2280-NVMe-1TB-SSD~59583
Samsung SSD 960 EVO MZ-V6E500BW NVMe 500GB – https://nascompares.com/xxx//product/Samsung-SSD-960-EVO-MZ-V6E500BW-M-2-2280-NVMe-500GB-SSD~59582
Samsung SSD 960 EVO MZ-V6E250BW M.2 NVMe – https://nascompares.com/xxx//product/Samsung-SSD-960-EVO-MZ-V6E250BW-M-2-2280-NVMe-250GB-SSD~59581