A Cost Effective eGPU External PCIe box for your Graphics Card over Thunderbolt 3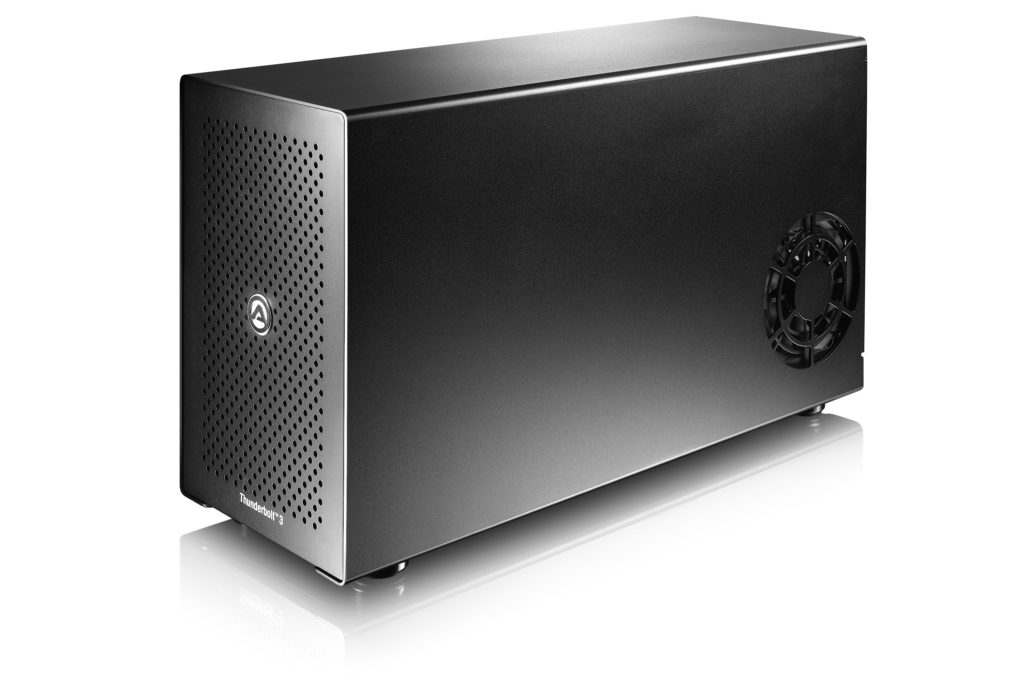 The Akitio Node Thunderbolt™ 3 eGXF box is a low cost expansion chassis. This is not Akitio's first entry into the external PCIe market and not their first Thunderbolt 3 unit either. But what makes this new TB3 release so significant is that it is designed to house an external graphics card. Connected to the computer via Thunderbolt 3, the additional GPU power instantly upgrades a regular laptop or a mini PC and makes it possible to do things that would normally require a high-end workstation or gaming computer. For video editors and colorists, the dedicated GPU reduces the time it takes to render the footage, a computer that was not powerful enough for a VR headset is now potentially VR ready and for those that like to play games, these can now run at much higher frame rates than before. Features
Thunderbolt™ 3 for lighting fast transfer speeds up to 40 Gbps

1 PCIe (x16) slot supporting full-length, full-height, double-width cards

Spacious enclosure for use with standard and large sized graphics cards

Built-in 400W SFX power supply to provide extra power to GPU

PCIe x16 slot supplying up to 75W of power

4 lane PCI Express 3.0 compliant interface

Removable back panel for double-width cards

Carry handle to easily transport the device
Supports standard and large sized PCIe Gen3 x4 cards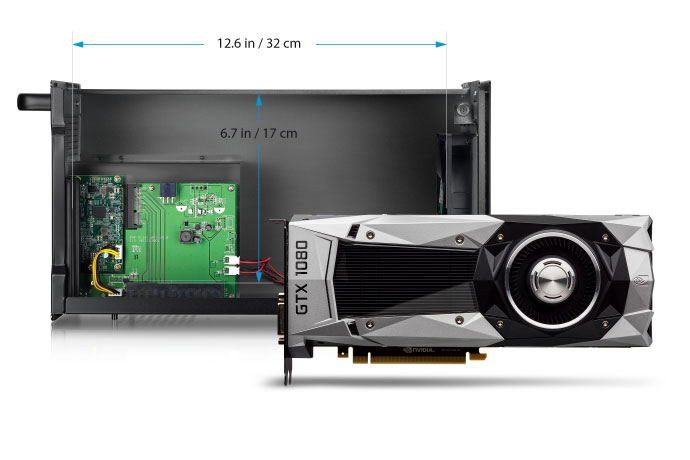 The PCIe (x16) slot accepts full-length, full-height, double-width cards with enough space available inside the enclosure for both standard and large sized graphics cards. The four PCIe Gen3 lanes and the Thunderbolt 3 interface are capable of transfer rates up to 40Gbps, providing enough bandwidth even for the most demanding PCIe cards.
400W SFX PSU
The built-in power supply provides enough power for the AKiTiO Node (~10W) as well as for graphics cards. If the standard 75W through the PCIe slot is insufficient, two extra pairs of 8-pin power connectors are available inside the AKiTiO Node that can be connected to the GPU, providing a total of about 390W.
Thunderbolt™ 3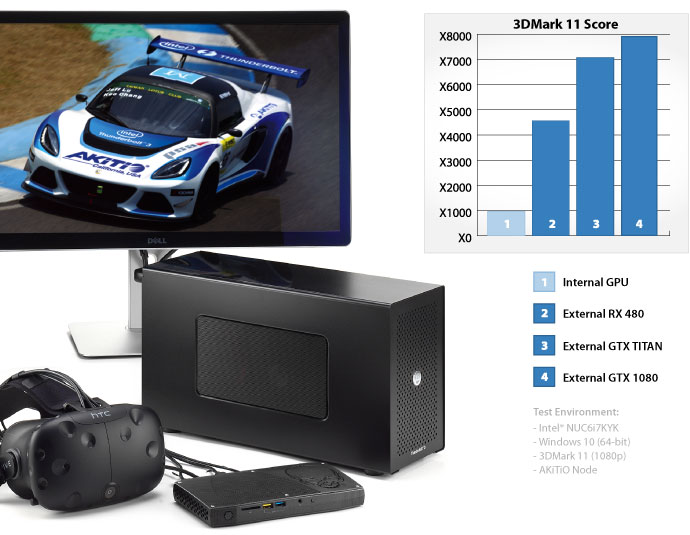 Thunderbolt 3 brings Thunderbolt to USB-C at speeds up to 40Gbps, creating one compact port that does it all – delivering the fastest, most versatile connection to any dock, display, or data device. In combination with the AKiTiO Node, this makes it possible to instantly upgrade your regular laptop or Mini-PC and achieve a performance that usually requires high-end workstations or specialized gaming computers.
Pricing and Availability of the Akitio Node External GPU Box?
The AKiTiO Node is expected to be available in time for the holiday season 2016 for around £200-250 ex.VAT. Be sure to check the Akitio website for the latest compatibility list for Graphics Cards and host systems..
AKiTiO Node Thunderbolt 3 Graphics Card PCIe Expansion Chassis

NODE-T3IA-AKTU (does not include graphics card)

CE

FCC

VCCI

Thunderbolt™ technology

Not applicable

1 x Thunderbolt™ 3 (USB-C) port

1 x internal PCIe (x16) slot with 4 lane PCI Express 3.0 interface

Thunderbolt 3 up to 40 Gbps

Not supported

Operating Temperature: 5°C ~ 35°C

Storage Temperature: -20°C ~ 60°C

Relative Humidity: 5% ~ 95% (non-condensing)

Internal power supply (UL, cUL, CE, FCC, BSMI, TUV approved)

Input: AC 100-240V, 50Hz-60Hz

Output: DC +12V/33A

16.85 inches x 5.71 inches x 8.94 inches

42.8 cm x 14.5 cm x 22.7 cm

AKiTiO Node with built-in 400W PSU

Thunderbolt 3 USB-C cable

Setup guide

Retail Box Size: 20.24 x 9.72 x 14.37 in. (51.4 x 24.7 x 36.5 cm)

The computer must support external GPUs.

Not all Thunderbolt 3 computers support external GPUs. If in doubt, please contact the manufacturer of your computer.

To prevent damage, always uninstall graphics cards when transporting the device.

The monitor, VR headset, Intel® NUC and graphics card are for reference only.