Thunderbolt NAS just got even bigger with the Thunderbolt3 QNAP NAS TVS-1282T3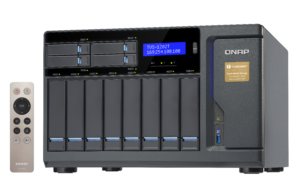 Possibly one of the most anticipated announcements from QNAP at CES 2017 was the massive leap they have made into Thunderbolt 3 enabled NAS! They are upgrading a few of their existing units with this highly demanded connection (40GB/s and recently introduced to Apple products with the MacBook Pro 2016) and the most popular of which is the QNAP TVS-x82T series. Ladies and gentleman, set your sensed to stunned and your excitement all the way up to the red danger level – say hello to the QNAP TVS-1282T3 Thunderbolt 3 enabled NAS.
What is so special about the QNAP TVS-1282T3 and Thunderbolt 3 NAS?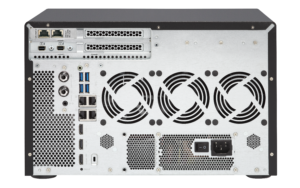 When the QNAP TVS-1282T Thunderbolt NAS was first released late last year, it really make an impact. a large number of Mac users sought this item for their photo and video editing for a number of reason. Everything ranging from the inclusion of Thunderbolt 2 connectivity to 2 separate Macs at the same time, to the SSD dedicated slots at the front and m.2 slots inside to provide tiered storage (the ability for your data and digital assets to be distributed across 3 different storage medium, each with their own speeds and strengths) in an effort to greatly speed up product creation. This device had it all in the hardware and software department. However with the late release in 2016 of the Apple MacBook Pro 2016, suddenly the crowded mass of photoshop, FinalCut Pro and Lightroom users all asked one question – Where is Thunderbolt 3 NAS? And QNAP answered with the TVS-1282T3. More and more detaisla re emerging all the time and in most respects the new TB3 NAS is similar in most ways to the TVS-1282T. Below is what we know.
What are the specs and details of the QNAP TVS-1282T3 Thunderbolt 3 NAS?
 It is using the QNAP TVS-1282T chassis (8 HDD, 4x SSD and 2x M.2) but there is no mention yet if this TB3 connectivity will be spread to the smaller 6 and 8 Bay units (TVS-882T and TVS 682T) – Most likely

Four TB2 ports – 2x TB2 and 2x TB3 (possible Thunderbolt3 version available too – TBC)

3 Rear Fans to keep things extra cool

2 rear speakers for audio notifications and playing media aloud

Same PCIe slots as TVS-1282T, but one is taken by the TB3, one by the TB2 and one by the 10GBe (2 or each port)

3x HDMI – 4K supported

5x USB 3.0 Ports (1 on front, 4 at the back from external devices

Featuring i5 or i7 CPU with upto 64GB of DDR4 Memory
SPAN.COM will be one of the first worldwide to stock this item and if you are interested in knowing more about it, stock, how to buy and when it will be released, click below: