Why buy the Synology DS3617xs or the DS3615xs for your Business Class NAS server?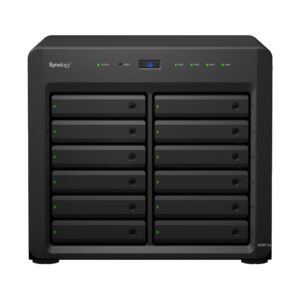 The DS3617xs same as the DS3615xs is made by Synology. People often choose Synology because of user friendly interface as well as being suited for Mac and Windows based environments. It is relatively easy to set up and use, and those who are new to Network Attached Storage are advised to go for the Synology. This model comes with new DDR4 technology random access memorty (RAM). DDR3 used to work at 800 MT/s (or Millions of Transfers per second) and some went as high as 2133. DDR4, starts at 2133 MHz. The increased speed means an overall increase in bandwidth. Unlike the DS3615xs this box has the Intel Xeon D-1527 Quad Core 2.2 GHz (2.7 GHz turbo) processor. Another key difference between the DS3615xs is RAM. DS3617xs arrives with 16GB RAM. The DS3617xs 16GB RAM compared with DS3615xs 4GB is clearly weaker.
What are the advantages and Disadvantages of the Synology DS3615xs NAS?
 DS3615xs D

esign – Pros
This is a beast of a Synology NAS! An industrial 12 bay chassis for those of an industrial NAS need.
Very large and not suited to a small office
It can run almost anything the Synology DSM NAS software requires, but it has been fractionally shadowed by the newer Synology DS3617xs release.
DS3615xs Features

 – Cons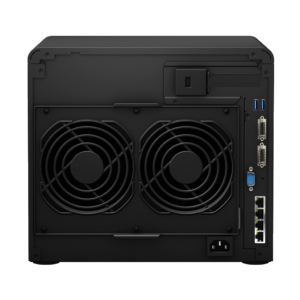 Once again, for Synology, they seem to avoid direct attached options like USB and Thunderbolt connectivity as well as HDMI and remote controls. Such features are becoming more and more requesting in the enterprise sector.
DS3615xs Performance – Pros
The Dual Core i3 will keep pace and run any application you throw at it, as well as running the very latest version of the Synology OS NAS DSM software. You can also upgrade the unit to 10GBe by the installation of a PCIe x3 card into the provided slot.
DS3615xs Performance

 – Cons
The I3 CPU is a strong and enterprise level NAS CPU, but we have seen a rise in i7 and Xeon based NAS units in the last 6 months and this unit is in danger of being left behind
It is is not the cheapest, but it is a really outstanding Synology Business NAS and cannot recommend it enough to those looking to centralise all of their network business applications between staff, communication and distribution. Looking the tiniest bit dated now compared with the newer and more powerful Synology DS3617xs Enterprise NAS 12-Bay Server. Maybe see if that is available first
What are the advantages and Disadvantages of the Synology DS3617xs NAS?
 DS3617xs D

esign – Pros
This unit is a tank of a Synology NAS! The chassis is all industry and no room for glamour. However it still manages to be compact for a 12-Bay Enterprise NAS.
This unit will not easily sit on a desk by your PC or Mac. You will need a good spot for it to live unobtrusively
You are going to be hard pushed to find a Synology Business NAS that can utilise all the Synology DSM applications and services to the high degree this unit can. If you need a Synology NAS server that will not limit you, the DS3617xs is the most powerful NAS yet.
DS3617xs Features

 – Cons
The only limits are the lack of more SMB related features like HDMI ports or a Direct Attached option like Thunderbolt or USB 3.1 Gen 2.
 DS3617xs Performance – Pros
It's rare for us at SPAN to give a NAS a 10 for anything, but this unit and it's Xeon Quad Core CPU, 16GB of DDR4 Memory and 10GBe support mean that this unit is the smoothest Synology NAS experience yet.
DS3617xs Performance

 – Cons
The power consumption is higher than most desktop NAS, but for those specs and 12 Bays, this is not a huge surprise.
It is not cheap, but if you need a Synology NAS that is more than just a file server, but something you can conduct an entire business from ranging from email servers, internal communication between staff, office applications, Virtual Machines, surveillance throughout your building with IP cameras, file distribution and time based backups – The Synology DS3617xs is the Business Class NAS for you. If British Airways, Savile Row or Harrods made a NAS – THIS would be that NAS!
Comparison results
Hardware Specifications
Model Name
The Synology DS3617xs






The Synology DS3615xs






CPU

CPU Model

Intel Xeon D-1527

Intel Core i3-4130

CPU Architecture

64-bit

64-bit

CPU Frequency

Quad Core 2.2 (base) / 2.7 (turbo) GHz

Dual Core 3.4 GHz

Hardware Encryption Engine

 

 

Hardware Encryption Engine (AES-NI)

YES
YES

Hardware Transcoding Engine

 

 

Memory

System Memory

16 GB DDR4 ECC SO-DIMM

4 GB DDR3 ECC

Memory Module Pre-installed

8 GB x 2

2 GB x 2

Total Memory Slots

4

4

Memory Expandable up to

48 GB (16 GB + 16 GB x 2)

32 GB (8 GB x 4)

Storage

Drive Bay(s)

12

12

Maximum Drive Bays with Expansion Unit

36

36

Compatible Drive Type* 

(See all supported drives)

3.5″ SATA HDD

2.5″ SATA HDD

2.5″ SATA SSD

3.5″ SATA HDD

2.5″ SATA HDD

2.5″ SATA SSD

Maximum Internal Raw Capacity

120 TB (10 TB HDD x 12) (Capacity may vary by RAID types)

120 TB (10 TB HDD x 12) (Capacity may vary by RAID types)

Maximum Raw Capacity with Expansion Units

360 TB (10 TB HDD x 36) (Capacity may vary by RAID types)

360 TB (10 TB HDD x 36) (Capacity may vary by RAID types)

Maximum Single Volume Size

200 TB (32GB RAM required, for RAID 5 or RAID 6 groups only)

108 TB

200 TB (32GB RAM required, for RAID 5 or RAID 6 groups only)

108 TB

Hot Swappable Drive

 

 

External Ports

Rear of the NAS

 
 

USB 3.0 Port

2

2

eSATA Port

 

 

Expansion Port

2

2

SD Card Reader

 

 

SDCopy

 

 

USBCopy

 

 

File System

Internal Drives

External Drives

Btrfs

EXT4

EXT3

FAT

NTFS

HFS+

exFAT*

Btrfs

EXT4

EXT3

FAT

NTFS

HFS+

exFAT*

Notes

exFAT Access is purchased separately in Package Center.

exFAT Access is purchased separately in Package Center.

Appearance

Size (Height x Width x Depth)

270 mm x 300 mm x 340 mm 

270 mm x 300 mm x 340 mm 

Weight

9.8 kg 

9.8 kg 

Others

RJ-45 1GbE LAN Port

4 (with Link Aggregation / Failover support)

4 (with Link Aggregation / Failover support)

Wake on LAN/WAN

 

 

RJ-45 10GbE LAN Port

 

 

SFP+ 10GbE LAN Port*

 

 

PCIe Slot for Network Card 

(See more)

1 x Gen3 x8 slot (x8 link)

1 x Gen3 x8 slot (x8 link)

System Fan

120 mm x 120 mm x 2 pcs

120 mm x 120 mm x 2 pcs

Fan Speed Mode

Full-Speed Mode

Cool Mode

Quiet Mode

Full-Speed Mode

Cool Mode

Quiet Mode

Easy Replacement System Fan

 

 

Wireless Support (dongle)

 

 

Brightness adjustable front LED indicators

 

 

Power Recovery

 

 

Noise Level*

22.3 dB(A) 

27.4 dB(A) 

Scheduled Power On/Off

 

 

Power Supply Unit / Adapter

500W 

500W 

AC Input Power Voltage

100V to 240V AC

100V to 240V AC

Power Frequency

50/60 Hz, Single Phase

50/60 Hz, Single Phase

Power Consumption*

108.2 W (Access)
53.4 W (HDD Hibernation) 
88.48 W (Access)
43.54 W (HDD Hibernation) 

British Thermal Unit

369.4 BTU/hr (Access)
182.3 BTU/hr (HDD Hibernation) 
301.90 BTU/hr (Access)
148.56 BTU/hr (HDD Hibernation) 

Redundant Power Supply (for xs+ and RP model)

 

 

Environment Temperature

Operating Temperature

5°C to 40°C (40°F to 104°F)

5°C to 35°C (40°F to 95°F)

Storage Temperature

-20°C to 60°C (-5°F to 140°F)

-20°C to 60°C (-5°F to 140°F)

Relative Humidity

5% to 95% RH

5% to 95% RH

Certification

FCC Class B

CE Class B

BSMI Class B

FCC Class B

CE Class B

BSMI Class B

Warranty

5 Years

5 Years

DSM Specifications
Model Name
DS3617xs
DS3615xs
Storage Management

Maximum Internal Volume Number

1024

1024

Maximum iSCSI Target Number

64

64

Maximum iSCSI LUN

512

512

iSCSI LUN Clone/Snapshot, Windows ODX

 

 

RAID Group

 

 

Supported RAID Type

Basic

JBOD

RAID 0

RAID 1

RAID 5

RAID 6

RAID 10

Basic

JBOD

RAID 0

RAID 1

RAID 5

RAID 6

RAID 10

RAID Migration

Basic to RAID 1

Basic to RAID 5

RAID 1 to RAID 5

RAID 5 to RAID 6

Basic to RAID 1

Basic to RAID 5

RAID 1 to RAID 5

RAID 5 to RAID 6

Volume Expansion with Larger HDDs

Volume Expansion by Adding a HDD

Global Hot Spare Supported RAID Type

RAID 1

RAID 5

RAID 6

RAID 10

RAID 1

RAID 5

RAID 6

RAID 10

SSD Support

SSD Read/Write Cache 

(White Paper)

 

 

SSD TRIM

 

 

File Sharing Capacity

Maximum Local User Accounts

16000

16000

Maximum Local Groups

512

512

Maximum Shared Folder

512

512

Maximum Shared Folder Sync Tasks

16

16

Maximum Concurrent CIFS/AFP/FTP Connections

2048

1024

Windows Access Control List (ACL) Integration

 

 

NFS Kerberos Authentication

 

 

High Availability Manager

 

 

Log Center

 

 

Syslog Events per Second

3000

3000

Virtualization

VMware vSphere 4

 

 

VMware vSphere 5 with VAAI

 

 

VMware vSphere 6 with VAAI

 

 

Windows Server 2008

 

 

Windows Server 2012

 

 

Windows Server 2012 R2

 

 

Citrix Ready

 

 

OpenStack

 

 

Add-on Packages (learn more about the complete add-on package list)
Model Name
DS3617xs
DS3615xs
Antivirus by McAfee (Trial)

 

 

Central Management System

 

 

Chat

 

 

Maximum Users

1600

1000

Notes

The number of concurrent HTTP connections for Chat was configured to the maximum.

CPU and RAM usage were both under 80% when testing the recommended number of clients.

For tested models with expandable memory, the maximum amount of RAM was installed.

The number of concurrent HTTP connections for Chat was configured to the maximum.

CPU and RAM usage were both under 80% when testing the recommended number of clients.

For tested models with expandable memory, the maximum amount of RAM was installed.

Cloud Station Server

 

 

Maximum Concurrent File Transfers

2000

1024

Maximum Concurrent File Transfers (with RAM expansion)

10000

10000

Docker DSM

 

 

Maximum Docker DSM Number (Licenses required)

35 (including 1 Free License) 

(Learn more)

25 (including 1 Free License) 

(Learn more)

Document Viewer

 

 

Download Station

 

 

Maximum Concurrent Download Tasks

80

80

exFAT Access (optional)

 

 

HiDrive Backup

 

 

MailPlus / MailPlus Server

 

 

Free Email Accounts

5 

(Licenses required for additional accounts)

5 

(Licenses required for additional accounts)

Recommended MailPlus Client Number

Up to 300 (Btrfs) / 400 (EXT4)

Up to 300

Maximum Server Performance

2,248,000 (Btrfs) / 2,184,000 (EXT4) emails per day, approx. 68.8 GB (Btrfs) / 66.7 GB (EXT4)

832,000 emails per day, approx. 26.9 GB

Media Server

 

 

DLNA Certification

 

 

DLNA Compliance

 

 

Office

 

 

Maximum Users

1600

1000

Maximum Simultaneous Editing Users per File

90

90

Notes

CPU and RAM usage were both under 80% when testing the recommended number of clients.

For tested models with expandable memory, the maximum amount of RAM was installed.

Client performance may affect maximum simultaneous editing users. Client PCs used for testing: Intel Core i3-3220 / 8GB RAM

CPU and RAM usage were both under 80% when testing the recommended number of clients.

For tested models with expandable memory, the maximum amount of RAM was installed.

Client performance may affect maximum simultaneous editing users. Client PCs used for testing: Intel Core i3-3220 / 8GB RAM

PDF Viewer

 

 

PetaSpace

 

 

Snapshot Replication

 

 

Maximum Snapshots per Shared Folder

1024

1024

Maximum Snapshots of all Shared Folder

65536

65536

Surveillance Station

 

 

Maximum IP cam (Licenses required)

75 (including 2 Free License) 

(See All Supported IP Cameras)

75 (including 2 Free License) 

(See All Supported IP Cameras)

Total FPS (H.264)*

2250 FPS @ 720p (1280×720)
1050 FPS @ 1080p (1920×1080)
600 FPS @ 3M (2048×1536)
500 FPS @ 5M (2591×1944)
2250 FPS @ 720p (1280×720)
650 FPS @ 1080p (1920×1080)
450 FPS @ 3M (2048×1536)
200 FPS @ 5M (2591×1944)

Total FPS (MJPEG)*

900 FPS @ 720p (1280×720)
450 FPS @ 1080p (1920×1080)
280 FPS @ 3M (2048×1536)
200 FPS @ 5M (2591×1944)
600 FPS @ 720p (1280×720)
240 FPS @ 1080p (1920×1080)
150 FPS @ 3M (2048×1536)
150 FPS @ 5M (2591×1944)
Video Station

 

 

Video Transcoding

Group 1 – Type 2 

(See more)

Group 1 – Type 2 

(See more)

Maximum Transcoding Channel Number

1 channel, 30 FPS @ 720p (1280×720), H.264 (AVC)/MPEG-4 Part 2 (XVID, DIVX5)/MPEG-2/VC-1

1 channel, 30 FPS @ 720p (1280×720), H.264 (AVC)/MPEG-4 Part 2 (XVID, DIVX5)/MPEG-2/VC-1

Virtual DSM Manager

 

 

VPN Server

 

 

Maximum Connections

30

30

Environment & Packaging
Model Name
DS3617xs
DS3615xs
Environment

RoHS Compliant

RoHS Compliant

Packaging Content

Main Unit X 1

Accessory Pack X 1

AC Power Cord X 1

RJ-45 LAN Cable X 2

Quick Installation Guide X 1

Main Unit X 1

Welcome Note X 1

Accessory Pack X 1

AC Power Cord X 1

RJ-45 LAN Cable X 2

Optional Accessories

Camera License Pack

16GB DDR4 ECC SO-DIMM

Expansion Unit: DX1215 X 2

VS360HD

Synology Ethernet Adapter E10G15-F1

Synology Ethernet Adapter E10G17-F2

Remote

Camera License Pack

4GB (2GB X 2) ECC RAM Module Kit

8GB (4GB X 2) ECC RAM Module Kit

16GB (8GB X 2) ECC RAM Module Kit

Expansion Unit: DX1215 X 2

VS360HD

Synology Ethernet Adapter E10G15-F1

Synology Ethernet Adapter E10G17-F2