The Buffalo TeraStation Series Featuring the 3210DN and 3410DN NAS

The TeraStation™ line of network-attached storage (NAS) devices represents Buffalo's premier NAS and iSCSI unified storage solutions. TeraStations are designed to meet exacting standards and demands of today's businesses. With robust storage technologies such as RAID, hot spare, and real-time replication, TeraStations offer cost-effective network storage solutions for businesses that value performance and reliability. Browse the 3 leading Prosumer complete and comprehensive lineup of professional and business-class NAS products.
 TeraStation 5010 models are the perfect entry point to 10GbE storage. The TS5010 series is designed to run multiple concurrent services seamlessly and is ideal for organizations looking to add affordable virtualized storage to their business network. The TeraStation 5010 features native 10GbE support with capacities ranging from 4TB to 24TB, and TS5010 also supports legacy 2.5 and 5GbE network infrastructure. Buffalo specializes in technology solutions for SMB customers, and we see that many SMBs want to transition to the 10GbE platform without making a large investment in hardware or needing an IT genius to set up and run the new platform.  We designed the TeraStation 5010 series to meet that need, providing an all-in-one data protection solution for SMBs.

What makes the Buffalo TeraStation 5210 AND 5410 NAS suited for Business?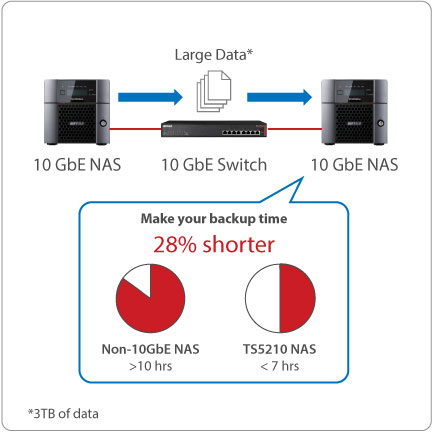 All businesses are impacted by growing data requirements.  10GbE effectively positions businesses to meet the challenge by eliminating traditional 1GbE data transfer bottlenecks.  Other 10GbE networking advantages to consider:
Consolidate network hardware devices reducing physical space required by legacy equipment

Increase energy efficiency and lower utility costs

Provide more scalability thanks to increased headroom for larger applications in the future and more bandwidth per user

Support larger applications while delivering more bandwidth per user
The TeraStation 5010 makes it simple with integrated support for leading cloud providers such as Amazon S3, Dropbox or Dropbox Business. This provides a way to backup your mission-critical data to an offsite backup tool.  Offsite backup adds an extra layer of protection against data loss due to environmental disasters or equipment problems at your primary location.

Many businesses/industries such as hospitals and legal firms have legal requirements preventing them from backing up data to public cloud services. Additionally businesses may want to create a private cloud for greater security or simply because the solution provides finite cost instead of recurring monthly public cloud backup fees. TeraStation 5010 includes data replication capabilities allowing users to create a private cloud backup scenario when connected to another TeraStation. Businesses can enable bi-directional replication so data from each TeraStation is stored offsite. More advanced scenarios could include replicating data in a round-robin type fashion or having a single TeraStation replicate key data to multiple branch office TeraStations simultaneously. Alternatively each branch office TeraStation could replicate back to a single TeraStation at the businesses primary facility.

TeraStation 5010 is an excellent iSCSI target for businesses needing additional network storage.  Used as an iSCSI target for virtualized systems TeraStation 5010 allows businesses to achieve affordable cost per terabyte network storage with excellent throughput speeds via native 10GbE connectivity.  Businesses will achieve increased return-on-investment on existing server infrastructure by migrating older less-frequently accessed data to the TeraStation creating valuable space on the server for more important tasks.

Where to buy the Buffalo Teratation 5010 NAS Series?