Something new and exciting is coming from QNAP NAS later in 2017 with the TS-253B and TS-453B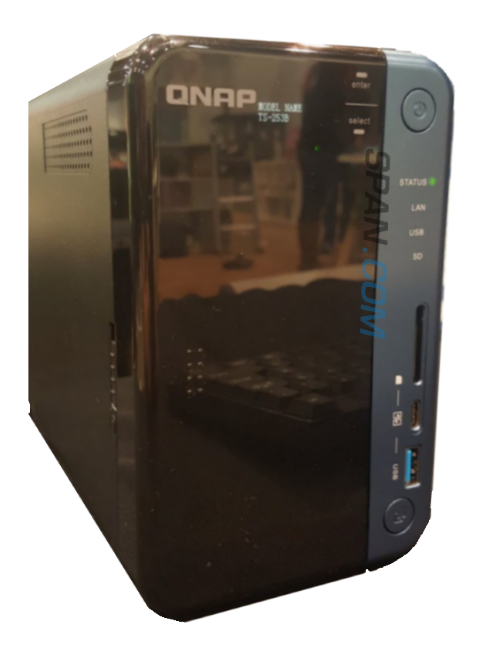 Just when I thought the snow storm that was CES2017 had blown over for me and I was getting ready for CeBit 2017… the TS-x53B series chucks up on my desk. Very little is know at this stage about the unit and we hope more will be revealed soon, but I wanted to update you a little on everything we know about this secretive NAS so far. 
NEW INFORMATION AVAILABLE – Click to see Latest update on the QNAP TS-253B NAS for 2017
QNAP haven't been especially secretive about their plans for NAS in 2017. The are hitting Thunderbolt 3 NAS for Mac and PC users across multiple units, introducing totally new devices like the Qwerky TGX-150 NAS Router and mixing old technology and new with their Highend Optical Media enabled NAS server, the TVS-882BR. But despite this refreshingly transparent approach to their hardware lineup, there is a 2 and 4 bay NAS device that popped up on the radar back at the start of Feb 2017 at WPPI 2017 – the Wedding and Portrait Photographers International Event in Nevada. A rather odd event to uncover a new device and since then, there hasn't been a peep about it. There is a brief indicator to the 4-Bay being shown off at CeBit, but it has been a rather quiet piece of hardware so far. Below are all the details available so far and I am sure that new information will become available in the coming weeks. Nevertheless all details below should be handed with a pinch of salt and I highly recommend contacting us to find out more with regard to prices and release.
Feature a new and more efficient CPU in Quad Core (The Intel Skylake or the Intel J Series), a significant improvement in terms of ability that the Celeron predecessor (and currently being used in the 453Bmini)

2, 4 or 8GB of DD3 Memory

New Chassis design with removable from panelor part chassis removal for installation

USB 3.0 Quick Connect

LCD now available on 2-Bay (not just the 4 Bay as previously)

Front mounted SD Card reader
Anything else I add will be based on educated guesses and stated as so:
USB 3.0 Throughout

2X LAN on the 4 Bay and 4x on larger units

Dual HDMI and 4K H.264 support

Older style Remote, unlike the one used in the TVS-X73 series
Of course I will continue to keep you updated on information on this new QNAP NAS for 2017 as details emerge. The big question of course is where this device will sit in the food chain? Will the TS-253B or TS453B be follow ups to the current TS-253A and TS-453A series. Or perhaps replace the TS-251+ and TS-451+? For all we know the TS-x53B series may well be a completely independent range altogether. Whatever it may be, remember that us will be the first in Europe to stock them and one of the first worldwide! So head there to get ahead of the queues! Thanks for reading.
Did you enjoy the video? Find it helpful? Want to hear more? Of course you want to…you're only human! Why not subscribe to save you searching next time https://www.youtube.com/user/SPANdotCOM
Are you interested in all things data storage. Perhaps you are a Mac users and want to know if this NAS, DAS, Cable or Drive will work for you? That is where SPAN and Robbie can help. For over 20 years SPAN has been helping companies and individuals worldwide with their digital archive and storage needs. Alongside that Robbie (Robert Andrews if you want to be delightfully formal) has been spending the last few years keeping you up to date on all things data and won't shut up about it!