Hardware and Software information now available for the Cost Effective DS218J NAS for 2017/2018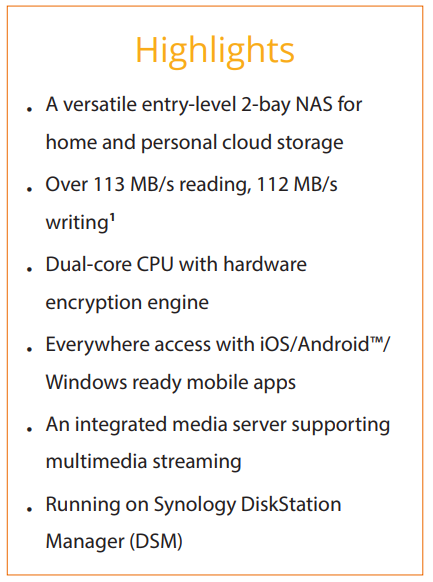 Synology DiskStation DS218j is a 2-bay NAS server which perfectly fits home and personal users to build your own personal cloud. Simple yet powerful, Synology DS218j offers effortless data sharing, multimedia streaming, and cloud synchronization. Synology DS218j is backed by Synology's 2-year limited warranty
The Synology DS218j NAS is your Versatile 24×7 Personal Cloud Solution
Synology DS218j is a 2-bay, entry-level NAS specifically designed for home and personal users. Powered by a dual-core processor, DS218j delivers excellent sequential throughput at over 113 MB/s reading and 112 MB/s writing under RAID1 configuration in a Windows® environment. With the help of the built-in hardware encryption engine, DS218j delivers encrypted data throughput at over 105 MB/s reading and 58 MB/s writing.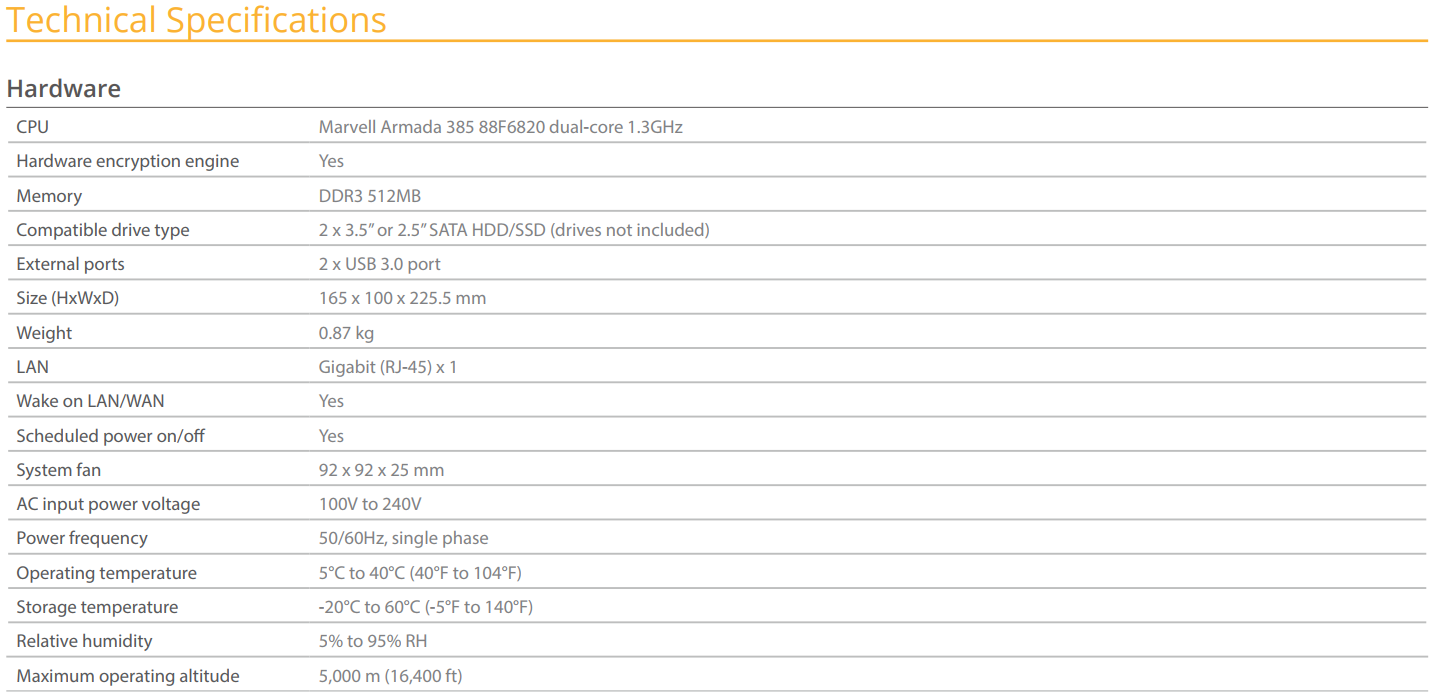 The Synology DS218j is easily one of the lowest power consuming 2-Bay NAS yet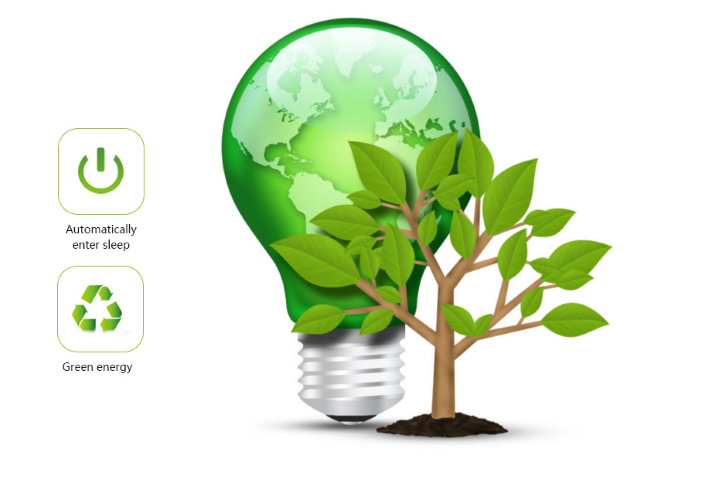 DS218j comes with front LED indicators with automatic brightness schedule control for reducing possible visual interference during night time. DS218j consumes only 17.48 watts during access and 7.03 watts during HDD hibernation, which is power-efficient and budget-friendly to serve as a 24/7 personal storage server.
Enable Easy Cross-Platform File Sharing with the DS218i Cost Effective NAS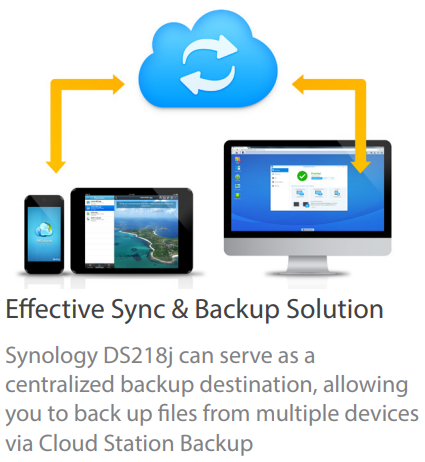 Synology DS218j supports comprehensive network protocols, ensuring a seamless file sharing experience across Windows, Mac®, and Linux® platforms. Windows AD and LDAP integration allow DS218j to fit quickly and effortlessly into any existing network environment without the necessity to create identical user accounts. Cloud Sync keeps your Dropbox, Google™ Drive, Microsoft OneDrive, Baidu and Box storage in sync with your personal DiskStation at home. The Cloud Station Suite allows you to sync files among multiple devices — Windows PC, Mac, Linux, iOS or Android™ tablets/phones — effortlessly keeping everything up-to-date. DS218j combines seamless file sharing capability with enhanced security, even over the internet with HTTPS, built-in firewall, and multiple IP and account intrusion auto-blocking mechanisms.
The DS218J is Your Well-Rounded Multimedia Center for everything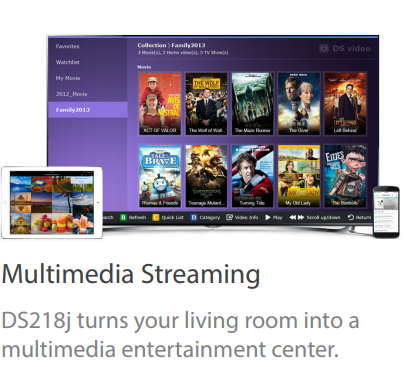 With various tools supported by DS218j, managing your multimedia content has never been easier. Photo Station's intuitive design allows you to effortlessly organize photos into customized categories, smart albums, and blog posts; as well as link them to social networking websites like Facebook, Twitter, Flickr, and Weibo with just a few clicks.
Audio Station comes with a built-in lyrics plugin, Internet radios, and support for DLNA® and AirPlay® speakers for quality playback. With Video Station, you can watch movies and TV shows online or directly through the DS video app on Apple TV.
Have Anywhere/Anytime Availability with the DS218j NAS Server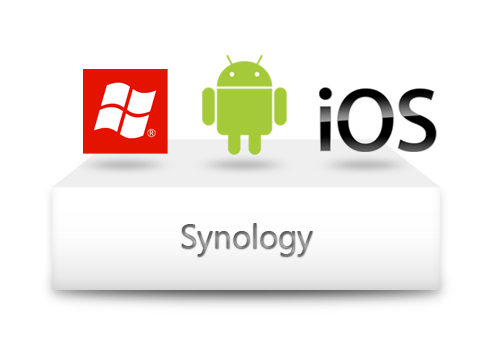 Synology provides mobile applications that allow you to enjoy your multimedia library even when on the go. Available on iOS, Android™ and Windows Phone® platforms, DS photo, DS audio, DS video, and DS file enable access to your Synology NAS through Photo Station, Audio Station, Video Station, and File Station. What's more, you can use DS get to remotely manage and monitor download tasks on Download Station. QuickConnect allows you to connect via a simple customizable address so that you can instantly access media and work files on any Windows/Mac/Linux computer, laptop, or mobile device.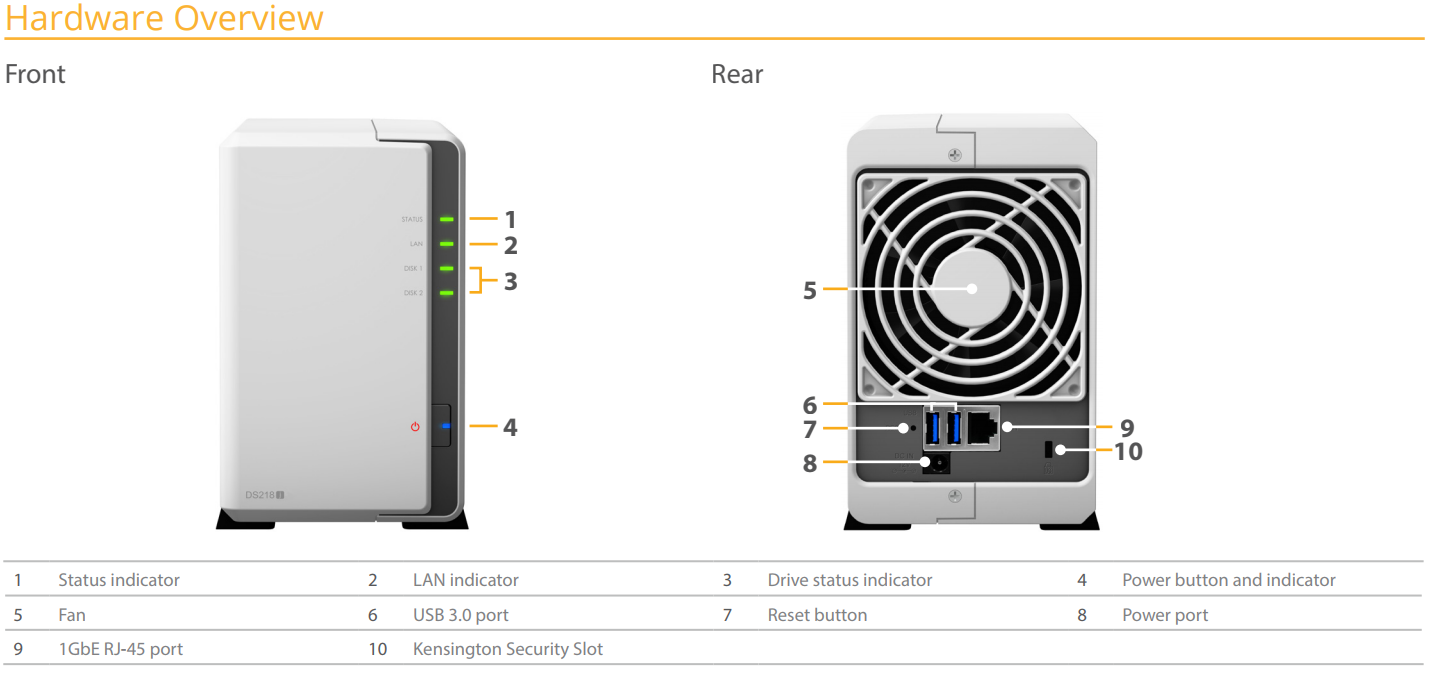 Easy Setup and Forget Backup with the DS218j NAS
With block-level incremental backup and cross-version deduplication, Synology Hyper Backup provides multi-version backup with optimized storage utilization and allows data backup to multiple destinations–local shared folders, external hard drives, network shared folders, rsync servers, and public cloud services.
This slideshow requires JavaScript.
Arriving with the Synology DSM Operating Platform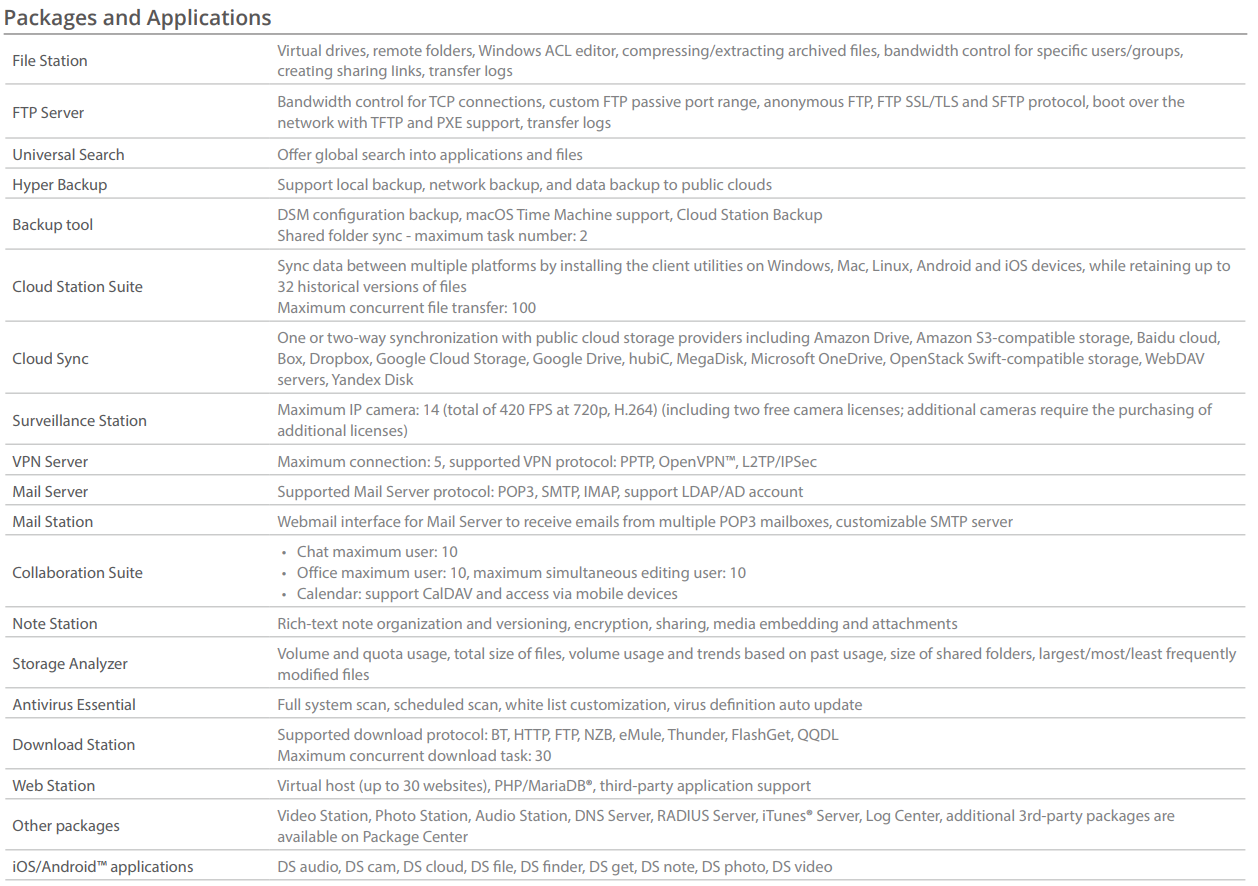 Running on Synology DiskStation Manager (DSM) Synology DiskStation Manager (DSM) is a web-based operating system tailor-made for every Synology NAS. Featuring an intuitive multitasking user interface, DSM provides simple desktop-like experience to minimize effort in exploring and managing your Synology NAS. The built-in Package Center allows you to download and install a variety of packages designed specifically for your unique needs, ranging from file backup, multimedia sharing, productivity tools, safeguard security and utilities. With all the built-in and add-on features, DSM provides you with complete and fine-grained control of your DS218j, helping you maximize productivity and make the best out of your digital assets. All will happen with just a few clicks.
Where and when can I buy the Synology DS218j NAS?
The unit can be pre-ordered now at just £150+ ex.VAT and if you want to install two 2TB WD Red Drives, the whole thing will come in at 4 Terabytes of storage at just over £290+ ex.VAT. If you are on the lookout for your first NAS to get to grips with your own private cloud storage, want a simple backup to sync with your existing NAS server or just want a simple, petite, quiet and low powered NAS for Surveillance over IP Cameras in your shop, home or office, the DS218j could well be the NAS for you.
The Synology DS218j NAS is Available to Buy NOW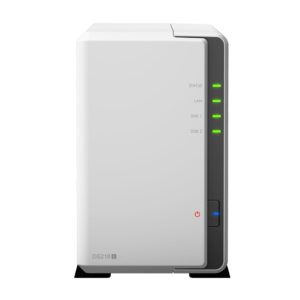 Release Date – End of October 2017

£150+ ex.VAT

2-Bays for HDD or SSD

Marvell Armada 385 88F6820

Dual Core 1.3 GHz CPU

512 MB DDR3 Memory

DLNA Media Player Support – Sonos, PS4, Xbox, Smart TV, Chromecast, Apple TV and more