The New Synology 4K 2-Bay DS218play NAS for 2017 is available – Is it worth your data?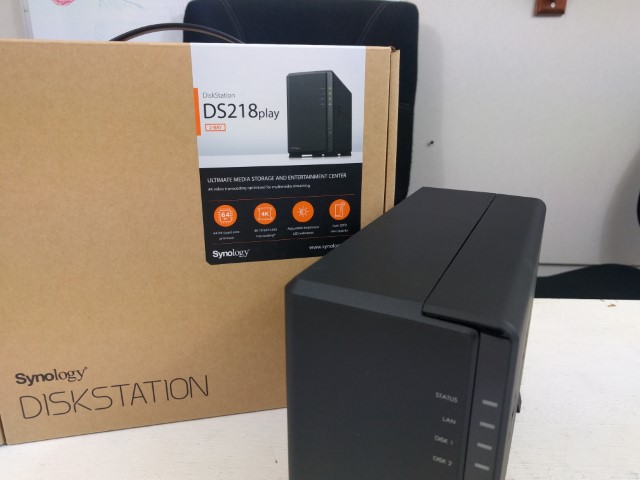 The Synology 'play' series has got a little bigger with the release of the new Synology DS218play NAS, hot on the heels of the release of it's 4-Bay big brother (the DS418Play) this is the latest in a long line of 2-Bay multimedia specialized Network Attached Storage devices from Synology and arriving at a modest £190+ without VAT, it is easy to see why it is appealing. But does this 4K NAS actually deliver?
Costing around £40-50 more than the DS218J and DS118, does this latest Synology NAS deserve your attention?
What are the specifications of the DS218play NAS and what can it do?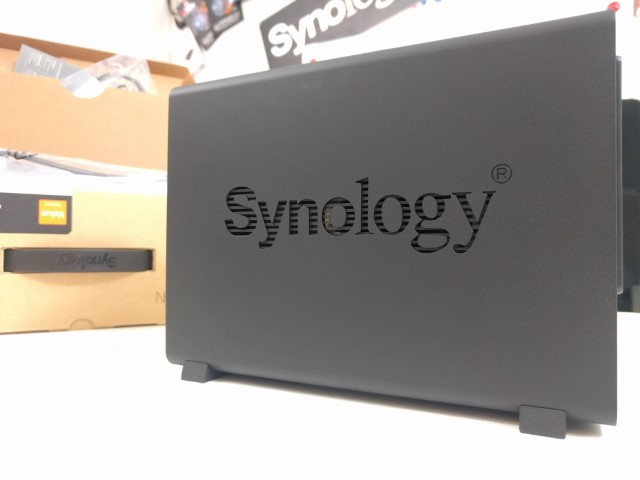 Arriving with an impressive and budget-friendly set of internal specifications, they have really crammed in a number of more modern features than previous play series NAS devices. The CPU is a new and improved 64bit ARM based chip that can transcode 4K media, as well as arrives in quad-core, at 1.4Ghz per core – twice that of the older DS216play.
| | |
| --- | --- |
| Model | Synology DS218play |
| Price | £200+ ex.VAT |
| CPU Model | Realtek RTD1296 |
| CPU Architecture | 64-bit |
| CPU Frequency | Quad Core 1.4 GHz |
| Hardware Encryption Engine 256 | YES |
| Hardware Encryption Engine (AES-NI) | NO |
| Hardware Transcoding Engine | 10-bit H.265 (HEVC), MPEG-4 Part 2, MPEG-2, VC-1; maximum resolution: 4K (4096 x 2160); maximum frame rate per second (FPS): 30 |
| System Memory | 1 GB DDR4 |
Also, the new DS218play arrives with DDR4 memory. This is fast becoming a standard of a number of Synology NAS and something that QNAP and the like could learn from. At 2133Mhz, compared with the 1800Mhz od the DDR3 of the older unit, it is certainly a welcome addition. Alongside 4K transcoding, this CPU also has a hardware encryption engine supporting live 256-bit encryption. Though both these features were present in the older unit, they are performed bigger and better on this new device. Of course, there is more to this device than just multimedia. Like many Synology NAS, this device also supports many other Synology NAS features, such as:
Arrives in a plastic compact chassis, thereby reducing power consumption, noise and heat

Arrives DLNA certified, so you can stream your content to your Smart TV, Xbox One, PS4, Sonos and more
Supports JBOD (Just a bunch of Drives), RAID 0 (combine both HDD/SSD drives into a single large drive of storage, RAID 1 (your data is copied across two drives, so you always have a complete, up to the millisecond backup) and SHR (Synology Hybrid RAID – all the benefits of RAID 1, but with the ability to mix drives. Very handy years down the line)
This slideshow requires JavaScript.
Includes Synology Diskstation Manager (DSM) 6.1 (6.2 in beta) FREE – lots of apps, access, functionality and intuitively designed software options for home and business

Connect with iOS and Android mobile applications – DS File, DS Video, DS Photo and DS Music available FREE
Compatible with Windows, Android and Mac

More than movies, host an iTunes server for audio device access

POwer enough to support apps, including mail and business servers that provide excellent CRM and CMS systems

Set up tasks and schedules for downloading files and in popular formats such as BT, NZB, HTTP, FTP and more
What are the specifications and hardware of the Synology DS218play NAS?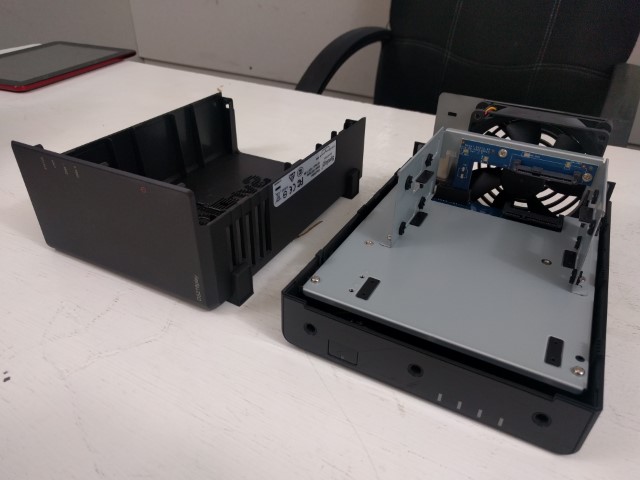 The chassis has barely changed since the release of the older DS216play. It is still a trayless design, so no hot swapping. Not a huge issue in multimedia NAS use, but still a little annoying.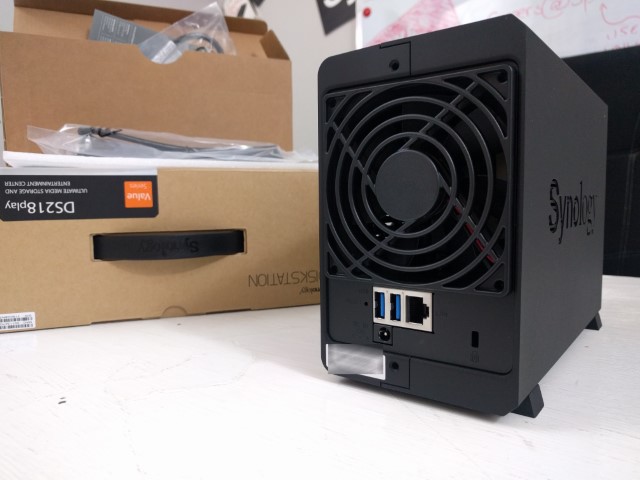 Likewise, though there are dual USB 3.0 ports for backing up and making external drives network accessible, there is only the 1x LAN RJ45 port – which is a little disappointing given that the DS418play arrives with 2x. Given the growing size of 4K multimedia, you would think the ability to uplaod files at twice the speed would be a very welcome treat (hence it's inclusion in the 4-Bay) and therefore a bit of a missed opportunity in the DS218play NAS. That said, both the chassis and the internal hardware all add up to a remarkably quiet and low power device that can playback both HD and 4K Media very well. However if you are looking for a NAS that performs well in transcoding in Plex and more dense 4K/1080p transcoding, then perhaps you should move up to the DS718+ NAS.
What is included with the Synology DS218play NAS?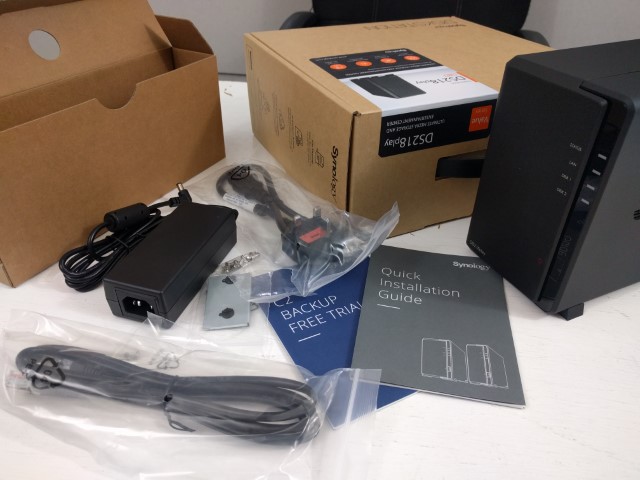 Included in the retail box are the standard accessories you would expect with a Synology Diskstation NAS. Once you remove the boxes that are covered in Synology logos, you find:
The Synology DS218play NAS Server

2.5″ and 3.5″ screws for HDD/SSD

Rear mounting screws for the chassis

A mounting bracket

1x RJ45 LAN cable

1x 90w PSU

Instructions and first-time setup guide

Synology C2 Cloud trial (the official Synology Cloud service for your backups off-site)
The device can be set up with a single HDD/SSD, but works best with two drives inside (WD Red, Seagate Ironwolf or HGST NAS Deskstar v.2) as then you can enable that RAID 1 or SHR enviornment. Later this month I will be comparing the DS218play and DS216play to see which NAS deserves your data, but even at this early stage, it is easy to say that the DS218play is a better NAS in almost every single way. Unless you see the DS216play from Synology in a Black Friday Deal with more than £40-50 off, I would certianly go for the more recent and capable DS218play NAS.
When is the Synology DS218play going to be released and where can I buy it?
As always, we recommend SPAN.COM, the NAS Experts, for buying your first, second or tenth NAS device and they are already taking orders on the new DS218play. With over 20 years of experience in data storage, build and test services included free, cost-effective worldwide shipping, pre and post technical support and a multitude of ways to get in touch with them 24×7, it really is a no-brainer. Arriving at around £190+ ex.VAT, they hope to see a release of this item before the end of the year.
The Synology DS218play 4K Multimedia NAS 2-Bay is Available to Buy NOW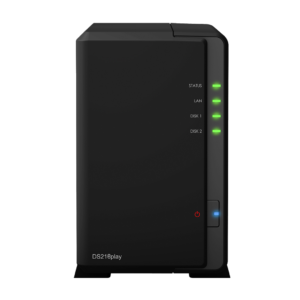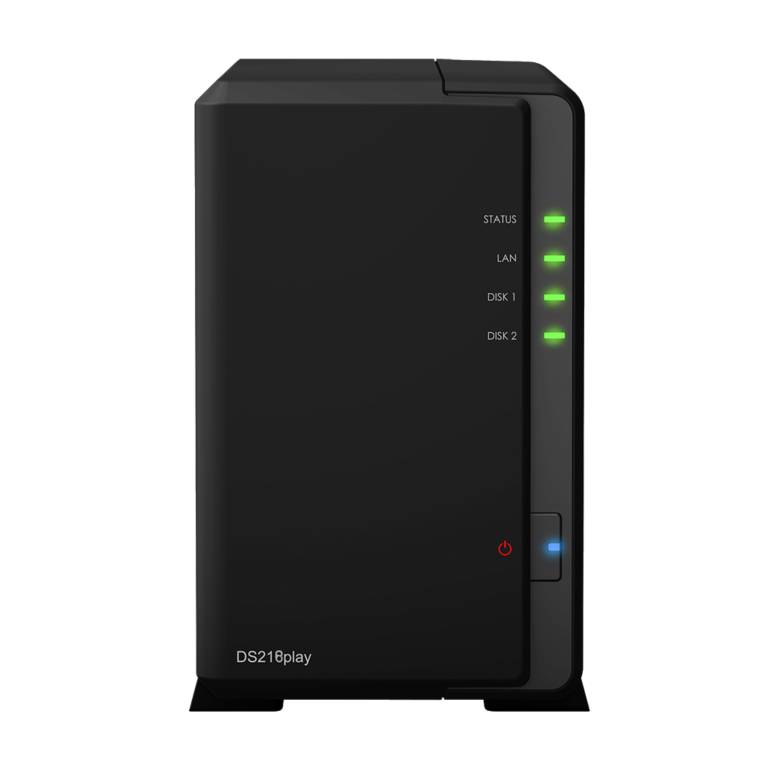 Release Date – End of October 2017

Price – £190+ ex.VAT

Realtek RTD1296 Quad-Core 1.4GHz CPU

1GB of DDR4 Memory

2x USB 3.0

4K and HD Multimedia Playback and Transcoding