New RS818+ and RS818RP+ Rackmount NAS for 2018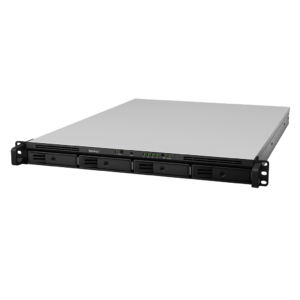 Synology RackStation RS818+/RS818RP+ is a 1U 4-bay rackmount NAS designed for small and medium-sized businesses. Powered by a quad-core processor with AES-NI hardware encryption engine, RS818+/ RS818RP+ provides both high performance and scalable storage, ideal for centralizing data backups, protecting critical assets, and sharing files across different platforms. Synology RS818+/RS818RP+ is backed by Synology's 3-year limited warranty.
High-speed Scalable Storage Server
Synology RS818+/RS818RP+ is a 4-bay network attached storage solution  equipped with an quad-core processor and 2GB DDR3 memory (expandable up to 16GB). RS818+/RS818RP+ supports one optional 10GbE add-in network interface card, and with Link Aggregation enabled, RS818+/RS818RP+ delivers high sequential throughput performance at over 1,099 MB/s reading and 401 MB/s writing. RS818+/RS818RP+ can support up to 8 drives when connected to one Synology RX418 expansion unit. Storage capacity can be expanded according to your business needs with minimal effort.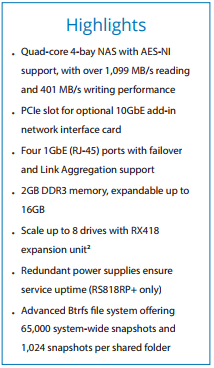 RS818+ Featuring Btrfs: Next Generation Storage Efficiency
RS818+/RS818RP+ introduces the Btrfs file system, bringing the most advanced storage technologies to meet the management needs of modern businesses:
Built-in data integrity check detects data and file system corruption with data and meta-data checksums and improves the overall stability
Flexible Shared Folder/User Quota System provides comprehensive quota control over all user accounts and shared folders
Advanced snapshot technology with customizable backup schedule allows up to 1,024 copies of shared folder backups in a minimum 5-minute interval without occupying huge storage capacity and system resources
File or folder level data restoration brings huge conveniences and saves time for users who wish to restore only a specific file or folder
File self-healing: Btrfs file system can auto-detect corrupted files with mirrored metadata, and recover broken data using the supported RAID volumes, which include RAID1, 5, 6, and 10.
Comprehensive Business Applications via the RS818+/RS818RP+ NAS
Powered by the innovative Synology DiskStation Manager (DSM), RS818+/RS818RP+ comes fully-equipped with applications and features designed specifically for large-scale businesses: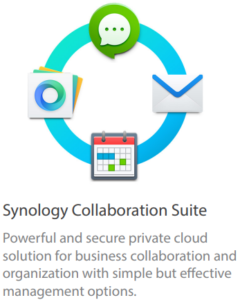 Windows® AD and LDAP support allows easy integration with existing business directory services without recreating user accounts
Windows ACL support provides fine-grained access control and efficient privilege settings, allowing RS818+/RS818RP+ to fit seamlessly into current infrastructure
Internet file access is simplified by the encrypted FTP server and the web-based file explorer, Synology File Station. HTTPS, firewall, and IP auto-block support ensure file sharing over the Internet is protected with a high level of security
Application Privileges controls access to applications and packages based on each individual account, user group, or IP address
MailPlus allows your business to set up a secure, reliable, and private mail server while giving your employees a modern mail client for receiving and sending messages
With Synology Office, Calendar and Chat, the powerful Collaboration Suite allows secure and efficient private communications as well as content organization that your business can easily manage and control
Synology RS818+ arrives Virtualization Ready
Synology's Virtual Machine Manager adds unlimited capabilities to your NAS. Set up and run various virtual machines, including Windows, Linux, and Virtual DSM so that you can test new software versions in a sandbox environment, isolate your customers' machines, and increase the flexibility of your RS818+/RS818RP+ with reduced hardware deployment and maintenance costs. Synology iSCSI storage fully supports most virtualization solutions to enhance work efficiency with a simple management interface. VMware vSphere™ 6.5 and VAAI integration helps offload storage operations and optimizes computation efficiency. Windows Offloaded Data Transfer (ODX) speeds up data transfer and migration rates, while OpenStack Cinder support turns your Synology NAS into a block-based storage component.
Reliability, Availability & Disaster Recovery on the RS818+/RS818RP+ from Synology NAS
System reliability is of paramount importance to businesses which depend upon their commercial servers every day. RS818+/RS818RP+ responds to these concerns with wide-ranging availability and redundancy features:
Synology High Availability ensures seamless transition between clustered servers and that your services remain online in the event of unexpected disasters
Snapshot Replication provides schedulable, near-instantaneous data protection, ensuring business documents in shared folders, virtual machines in iSCSI LUNs, or docker application data remain safe and available when disasters happen
Redundant system fans and network ports with failover support ensure continual service uptime

Synology Flashstation RS818+/RS818RP+ NAS Hardware
CPU – Intel Atom C2538 quad-core 2.4GHz
Hardware encryption engine – Yes (AES-NI)
Memory – 2 GB DDR3L-1600 Non-ECC SO-DIMM (expandable up to 16 GB with 8GB SO-DIMM x 2)
Hot swappable drive – Yes
External ports – 2 x USB 3.0 port 1 x Expansion port
Wake on LAN/WAN – Yes
PCIe 2.0 slot – • 1 x 4-lane x8 slot -• High-performance network interface card support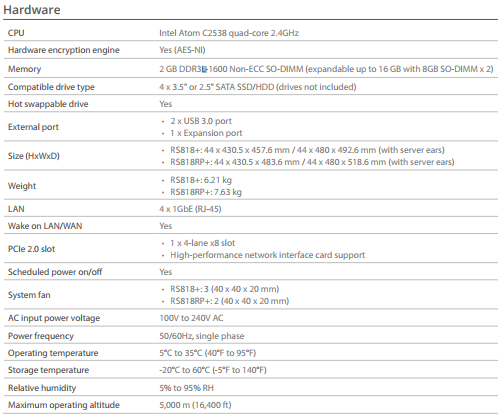 Synology RS818+/RS818RP+ NAS Programs and Applications
File Station – Virtual drive, remote folder, Windows ACL editor, compressing/extracting archived files, bandwidth control for specific users or groups, creating sharing links, transfer logs
FTP Server – Bandwidth control for TCP connections, custom FTP passive port range, anonymous FTP, FTP SSL/TLS and SFTP protocol, boot over the network with TFTP and PXE support, transfer logs
Universal Search – Offer global search into applications and files
Hyper Backup – Support local backup, network backup, and backup data to public clouds
Active Backup – for Server Centralize data backup for Windows and Linux servers without client installation
Backup tools – DSM configuration backup, macOS Time Machine support, Cloud Station Backup
Shared folder sync – maximum task number: 16
Cloud Station Suite – Sync your data between multiple platforms by installing the client utilities on Windows, Mac, Linux, Android and iOS devices, while retaining up to 32 historical versions of files
Maximum concurrent file transfer – 2,000
Cloud Sync – One or two-way synchronization with public cloud storage providers including Amazon Drive, Amazon S3-compatible storage, Baidu cloud, Box, Dropbox, Google Cloud Storage, Google Drive, hubiC, MegaDisk, Microsoft OneDrive, OpenStack Swift-compatible storage, WebDAV servers, Yandex Disk
Surveillance Station – Maximum IP camera: 75 (total of 2,250 FPS at 720p, H.264) (Includes two free camera licenses; additional cameras require the purchasing of additional licenses)
Virtual Machine Manager – Deploy and run various virtual machines on Synology NAS, including Windows, Linux, or Virtual DSM
High Availability Manager – Reduce service downtime by setting up two identical NAS into one high-availability cluster
Snapshot Replication – Maximum of replications: 64, Maximum of shared folder snapshots: 1,024, Maximum of system snapshots: 65,536
Active Directory Server – Provide a flexible and cost-effective domain controller solution
CMS – Provide a single interface to manage and monitor multiple Synology NAS
VPN Server – Maximum connection: 30, supported VPN protocol: PPTP, OpenVPN™, L2TP/IPSec
MailPlus Server – Secure, reliable, and private mail solution with high-availability, load balancing, security and filtering design (Includes 5 free email account licenses; additional accounts require the purchasing of additional licenses)
MailPlus – Intuitive webmail interface for MailPlus Server, customizable mail labels, filters, and user interface
Collaboration Suite – Chat maximum user: 3,000, Office maximum user: 400, maximum simultaneous editing user: 80
, Calendar: support CalDAV and access via mobile devices
Note Station – Rich-text note organization and versioning, encryption, sharing, media embedding and attachments
Storage Analyzer – Volume and quota usage, total size of files, volume usage and trends based on past usage, size of shared folders, largest/most/least frequently modified files
Security Advisor – Malware detection/removal, user account/password, network, system-related security scan
Antivirus Essential – Full system scan, scheduled scan, white list customization, virus definition auto update
Download Station – Supported download protocols: BT, HTTP, FTP, NZB, eMule, Thunder, FlashGet, QQDL Maximum concurrent download task: 80
Web Station – Virtual host (up to 30 websites), PHP / MariaDB®, third-party applications support
Other packages – Video Station, Photo Station, Audio Station, DNS Server, RADIUS Server, iTunes® Server, Log Center, third-party packages available on Package Center iOS / Android™ applications DS audio, DS cam, DS cloud, DS file, DS finder, DS get, DS note, DS photo, DS video, MailPlus Windows Phone® applications DS audio, DS file, DS finder, DS photo, DS video
The Synology RS818+/RS818RP+ NAS to Buy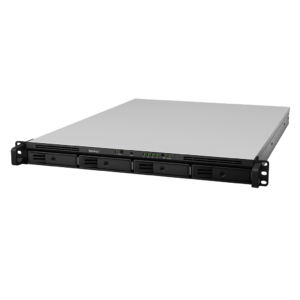 Need Advice on Data Storage from an Expert?
We want to keep the free advice on NASCompares FREE for as long as we can. Since this service started back in Jan '18, We have helped hundreds of users every month solve their storage woes, but we can only continue to do this with your support. So please do use links to Amazon Amazon UK on the articles when buying to provide advert revenue support or to donate/support the site below.


Finally, for free advice about your setup, j
ust leave a message in the comments below here at NASCompares.com and we will get back to you.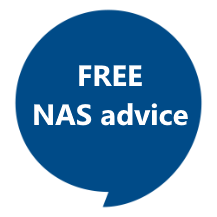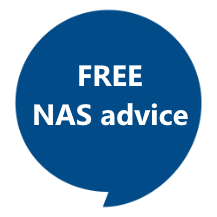 Need Help?
Where possible (and where appropriate) please provide as much information about your requirements, as then I can arrange the best answer and solution to your needs. Do not worry about your e-mail address being required, it will NOT be used in a mailing list and will NOT be used in any way other than to respond to your enquiry.
Terms and Conditions
Alternatively, why not ask me on the
ASK NASCompares forum
, by clicking the button below. This is a community hub that serves as a place that I can answer your question, chew the fat, share new release information and even get corrections posted. I will always get around to answering ALL queries, but as a one-man operation, I cannot promise speed! So by sharing your query in the
ASK NASCompares
section below, you can get a better range of solutions and suggestions, alongside my own.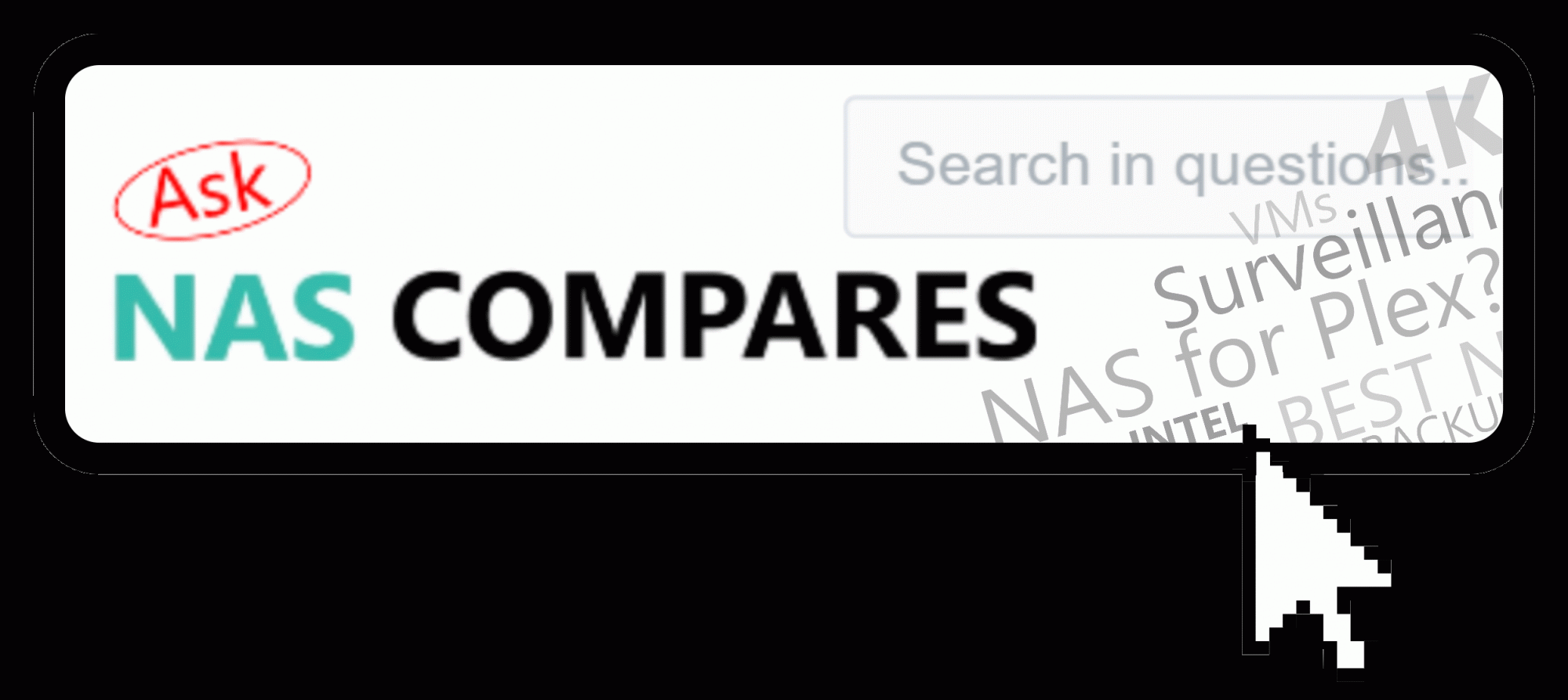 Home: https://www.backblaze.com/cloud-backup.html#af9rgr
Business: https://www.backblaze.com/business-backup.html#af9rgr
Comparison with other service providers: https://www.backblaze.com/best-online-backup-service.html#af9rgr