How to Upgrade the RAM in your Synology DS718+ to 10GB Memory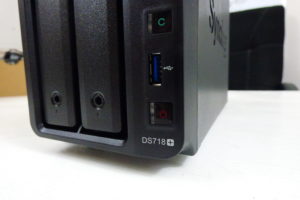 Back in 2017 when the Synology DS718+ was first released, many users were surprised at the maximum memory limit that the manufacturers stated ion the specifications. With the Intel J series chip that Synology DS718+ arrives with, it did seem odd that the maximum or 6GB or 8GB of DDR3L memory (both Synology and QNAP have their own stance on this) for this chip was listed firmly in the specification. On the face of it, 6GB of 8GB seems like plenty. That will comfortably support the NAS tasks of a plex media server, all those productive first party NAS applications and backups. However, as file sizes grow, as NAS surveillance gets popular, as virtual machine and container station applications grow in popularity, it will not be too long before you will see that memory use ALWAYS above 80% in the task manager. Sadly, we have asked the manufacturers and they continue to stand by the fact that you cannot exceed this limit, officially.
However, I am pleased to tell you that I have been experimenting with several different sizes of RAM sticks and various brands, and am pleased to confirm that not only can you use non-official own-brand memory in the Synology DS718+, but also that you can install two 8GB sticks of DD3L RAM (one per slot) meaning you can have a Synology DS718+ with 10GB of Memory! Read below for my guide, it will detail how to install the RAM, how to check that it is installed correctly and how to test that it is working straight away.
Upgrading your Synology DS718+ to 10GB of Memory – Pay Attention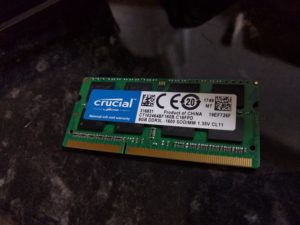 Before we continue with the guide, it is worth highlighting that the Synology DS718+ manufacturer strongly recommends that you do not exceed the stated memory limit on their specifications page. They also highlight that using non-official memory in your Synology DS718+ may invalidate your warranty. We at NASCompares cannot be held accountable for how you use this guide. However below I will show you where to buy the individual memory and Synology DS718+ NAS device you will need. Only attempt this upgrade if you are comfortable with the terms laid out above by the manufacturer. Alternatively, you can buy the Synology DS718+ with 10GB pre-installed using the link below and this unit will arrive TESTED and with SPAN, the NAS experts, ensuring your warranty is unchanged.
Where to Buy the Synology DS718+ with 10GB Memory
NAS Model

Synology DS718+ NAS

CPU:

Intel Celeron J3455

quad-core 1.5GHz, burst up to 2.3GHz

MEMORY SLOTS – 2 (one hidden)

10GB RAM Maximum (2+8GB)

Made with 8GB Crucial DDR3L RAM.

Please note, this is not officially supported.

Suitable for Surveillance: YES

Suitable for Virtua Machines: YES

4K Transcoding Support: YES

Warranty: 2 Years

If we are building a NAS solution to your specifications, the RAM will be installed and tested.

Where to Buy

Synology DS718+

10GB Model NAS
This slideshow requires JavaScript.
10GB Synology DS718+ Memory Upgrade – Step 1, Physical Installation
What you will need:
A Synology DS718+ NAS – Obviously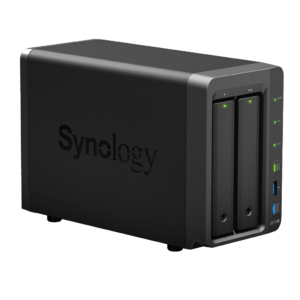 Crucial 8GB (10GB Total with the 2GB pre-installed in the Synology DS718+) Memory Upgrade – Link below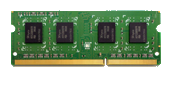 Small Phillips Head Screwdriver – (kinda optional but recommended for chassis)


(OPTIONAL) Anti-static gloves and Envelope – useful to eliminate static charges and also to store the removed older official memory sticks):
First, we need to ensure the Synology DS718+ is completely powered down/off and the mains power has been disconnected. It is recommended that you remove the Hard Drive or SSD that you have installed before accessing the RAM as it may block the slots. Additionally, you should remove the hard drive media as the unit will be moved around a lot during the memory installation and this could damage the drives. Be sure to keep a note of the drives that you remove and the order they were installed (HDD Bay 1, HDD Bay 2, etc) as installing the drives in the wrong slots could damage any existing RAID you have setup internally.
| | |
| --- | --- |
| | |
| NAS HDD #1 | NAS HDD #2 |
Next, we need to access and remove the existing memory, as the news 10GB of memory for our Synology DS718+ will occupy both slots. Be sure you eject the official memory sticks using the clips either side of the slot, as well as only holding the memory sticks by the narrow side edges, never touching the chips or board of the money or NAS.


PICTURE OF NEW RAM INSTALLEDOnce you have removed them, they can either be stored away for a later project, installed in a compatible laptop or sold on eBay etc to make a little cash back! Once they are clear, install an 8GB Crucial Memory stick in each of the now available slots, making sure that you click them both in with the clips either side. Once down, replace the Synology DS718+ chassis lid if you removed it for ease of access, as well as the hard drives.
You have now concluded the physical installation of 10GB of Crucial memory in the Synology DS718+.
10GB Synology DS718+ Memory Upgrade – Step 2, Checking the 10GB Memory is Recognized
What you will need:
A web browser (Chrome, Safari, Firefox, etc) on a Windows, Mac or Android Machine) accessing the Synology DS718+ user-interface as you normally would.
Next you need to power up your Synology DS718+ NAS and access it as you normally would. If you are buying this NAS first time and have yet to set it up, there are numerous first time set up guides and tips on the SPANTV YouTube channel here – that will get you from the hardware installation to set up the Synology DS718+ NAS for use. Once the NAS user interface (UI) is ready to go, head over to the hardware specification page shown here:
As you can see from this CPU and Memory display, the Synology DS718+ has recognized and made available the 10GB of crucial memory. It will be immediately available for use and you will see that the % amount of use of the RAM in the resource monitor will be much, much lower, as there is significantly more memory available for the system!
10GB Synology DS718+ Memory Upgrade – Step 3, Checking the 10GB Memory is Working
There are several ways to check the memory is working on your Synology DS718+ correctly. First, you can perform as many actions and processes as possible (scans, copy/pastes, thumbnail generation, transcode a 4K file, RAID changes, synchronisation, etc) at once to see how the task manager and resource monitor behaves in the Synology DS718+. It should spike each time and at a greater height as you do more and more and once it exceeds the memory you had previously installed, this is a good confirmation that the installation is working fine.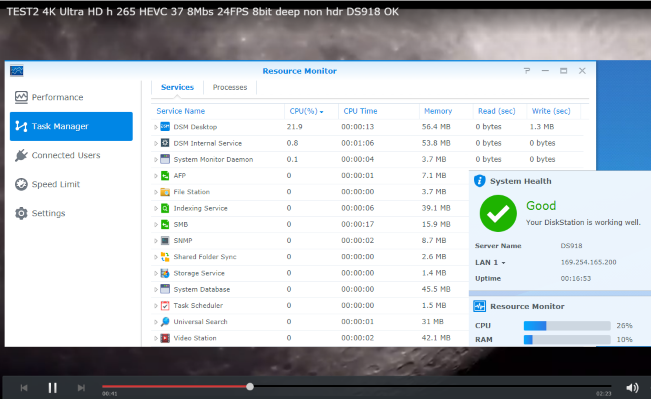 Alternatively, you can temporarily allocate chunks of memory and then that is a much more reliable test. Install the virtual machine application for the Synology DS718+ (P.S. for Synology users it is the Virtual Machine Manager and for QNAP it is the Virtualisation station). Then you can create individual VMs (it is alot easier than it sounds and the Synology DS718+ VM software is very user-friendly) then allocate 3-4GB of memory to each one. When you have created 3 or 4 individual virtual machine containers on the Synology DS718+ software, then you can run them all at once and that will immediately use almost all the memory at once! If there are any issues with the memory, it will show here almost immediately. If no problems, then you know the Synology DS718+ 10GB crucial memory installation as successful. You can then delete the VMs in the virtual machine software and then free up all that memory again.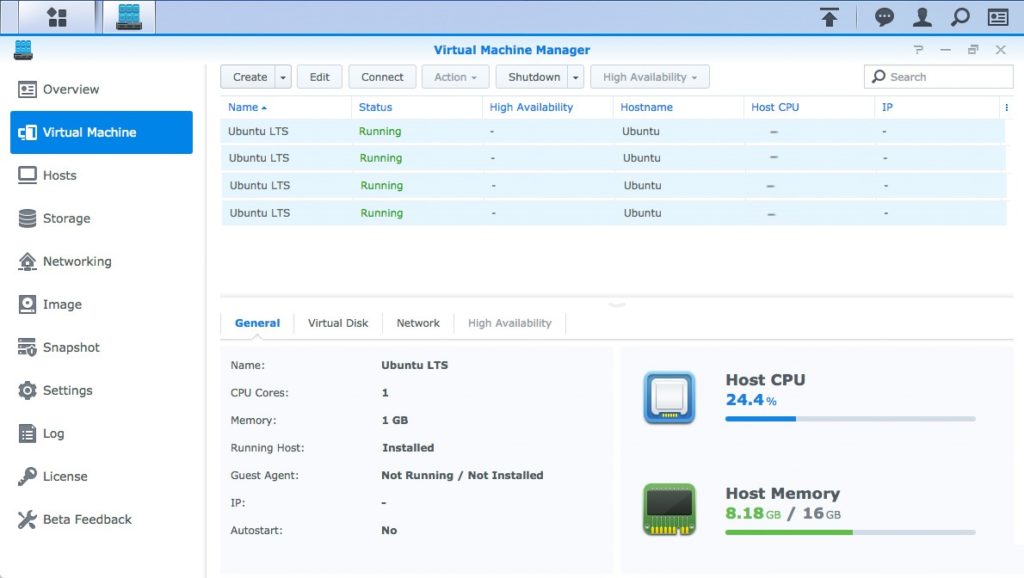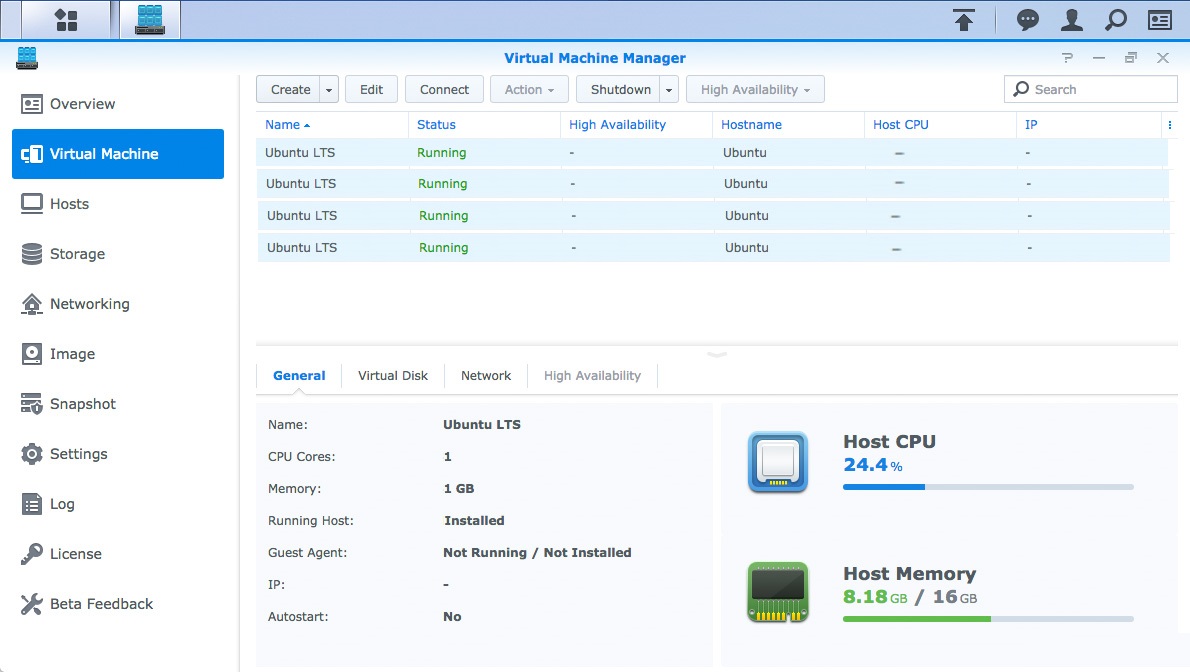 📧 LET ME KNOW ABOUT NEW POSTS 🔔
Join 1,570 other subscribers
Get an alert every time something gets added to this specific article!
This description contains links to Amazon. These links will take you to some of the products mentioned in today's content. As an Amazon Associate, I earn from qualifying purchases. Visit the NASCompares Deal Finder to find the best place to buy this device in your region, based on Service, Support and Reputation - Just Search for your NAS Drive in the Box Below
Need Advice on Data Storage from an Expert?
We want to keep the free advice on NASCompares FREE for as long as we can. Since this service started back in Jan '18, We have helped hundreds of users every month solve their storage woes, but we can only continue to do this with your support. So please do choose to buy at Amazon US and Amazon UK on the articles when buying to provide advert revenue support or to donate/support the site below.

Finally, for free advice about your setup, j
ust leave a message in the comments below here at NASCompares.com and we will get back to you.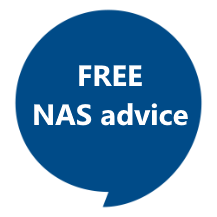 Need Help?
Where possible (and where appropriate) please provide as much information about your requirements, as then I can arrange the best answer and solution to your needs. Do not worry about your e-mail address being required, it will NOT be used in a mailing list and will NOT be used in any way other than to respond to your enquiry.
Support What We Do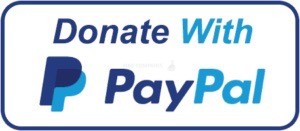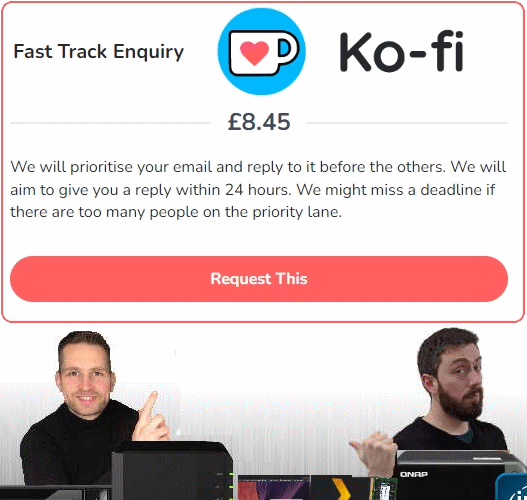 Terms and Conditions
Alternatively, why not ask me on the
ASK NASCompares forum
, by clicking the button below. This is a community hub that serves as a place that I can answer your question, chew the fat, share new release information and even get corrections posted. I will always get around to answering ALL queries, but as a one-man operation, I cannot promise speed! So by sharing your query in the
ASK NASCompares
section below, you can get a better range of solutions and suggestions, alongside my own.
This description contains links to Amazon. These links will take you to some of the products mentioned in today's video. As an Amazon Associate, I earn from qualifying purchases