Lowest Priced 10Gbe we have seen, but does the Buffalo TeraStation 5810DN NAS do the job?
With file sizes growing constantly, the need for a faster network connection in your home or office has never seemed more important. We at NASCompares have spent a lot of 2018 telling you about the versatility of 10Gbe, the ease of 10Gbe and the advantages of 10Gbe. However, most users normally hit a common stumbling block very early on – PRICE.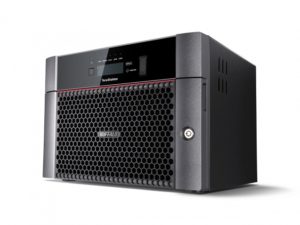 Despite the technology behind SFP+ (fiber) and 10GBASE-T (RJ45 LAN) becoming more common and prices decreasing, it is still noticeably more expensive to buy a 10GBe enabled NAS than a regular 1Gbe network NAS. This can be frustrating because many users want great internal specs AND speed, but in doing so find that will have to spend anywhere from £200-400 more for a fully featured 10Gbe NAS of the same internal specs. Luckily thanks to cost-effective yet high-frequency CPU and Memory being developed, some brands are challenging this price model. A fantastic example of this is Buffalo NAS and their TeraStation series. Somehow they have managed to release a business use, feature-rich NAS in 2 Bay, 4 Bay and 8 Bay that features a dedicated 10Gbe port, quad-core ARM-based CPU, dual LAN, LCD panel for real-time information about your storage and hot-swappable hard drive bays. This coupled with their 5810 range arriving pre-populated with WD Red NAS Hard drives of various capacities means that regardless of the capacity you choose or number of bays, right now in  2018 the TeraStation 5810DN is the lowest priced 10Gbe NAS you can buy. So, what is the catch? Does cheap mean cheerful? Let's find out.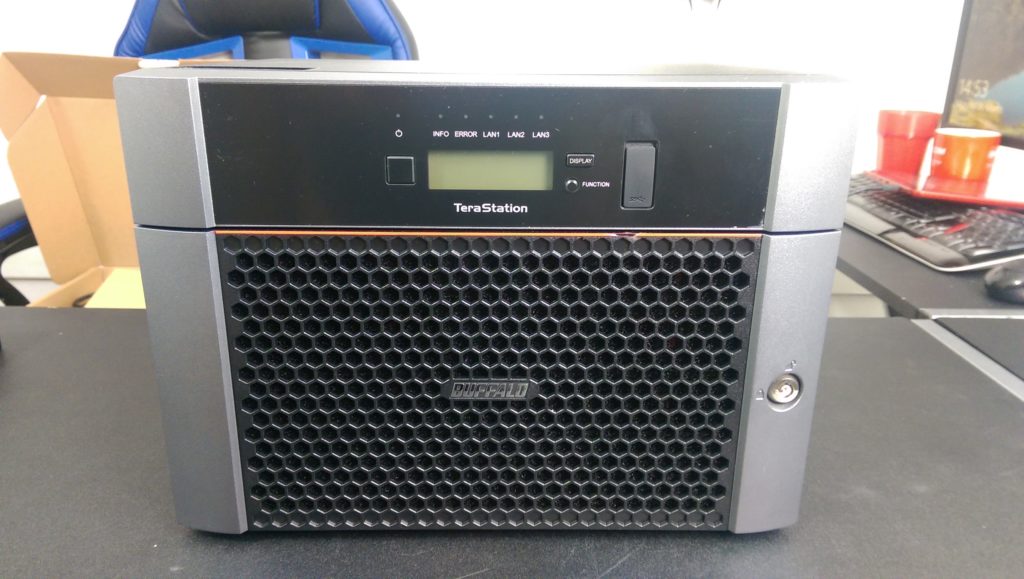 Buffalo TeraStation 5810DN 8-Bay NAS – Design
The first thing that hits you about the Buffalo 5810 8-Bay (and indeed the 2-Bay and 4-Bay) is the chassis. When you think about how much you are actually paying for this pre-populated 10Gbe solution, you fully expect plastic – nope! Once I got it out of the retail box what I found was an almost completely metal designed chassis. What I found was one of the most industrial looking NAS servers I have ever seen. After a year of handling the cost-effective 10Gbe QNAP TS-x31X plastic chassis NAS, this was a real breath of fresh air.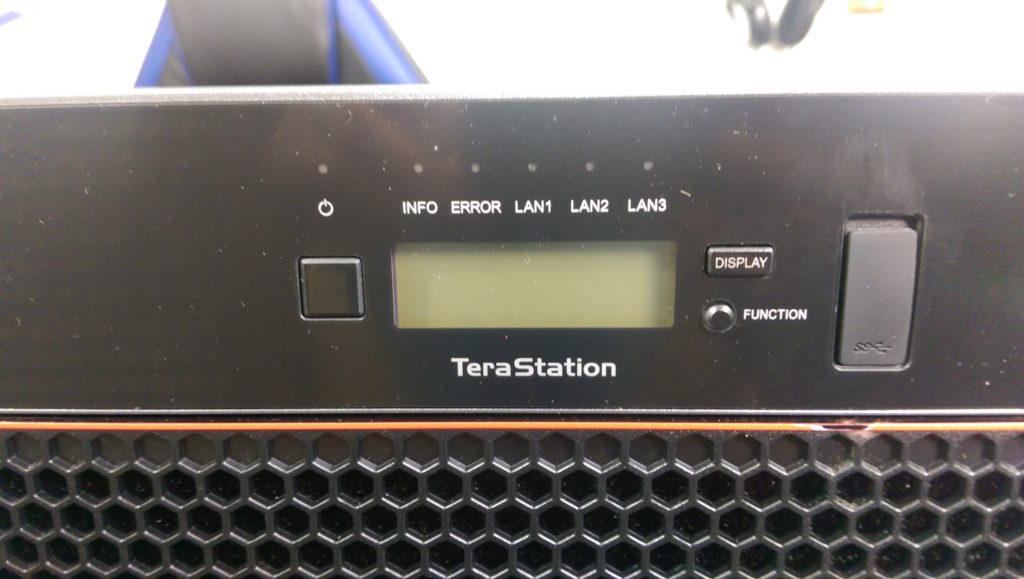 The front of the 5810DN is an aggressively modern piece of work. You find at the top an LCD panel that gives real time setup and IP information, as well as a few light unit config options. There is a front mounted USB copy port that arrives with a rubberized dust and damaged plug protector – again, nothing major, but it is worth mentioning that no other NAS brand provides this little touch and at this price level it is refreshing to find little luxuries like these. Additionally, there are multiple LEDs denoting system health, network activity and connectivity for both the 1Gbe and 10Gbe ports.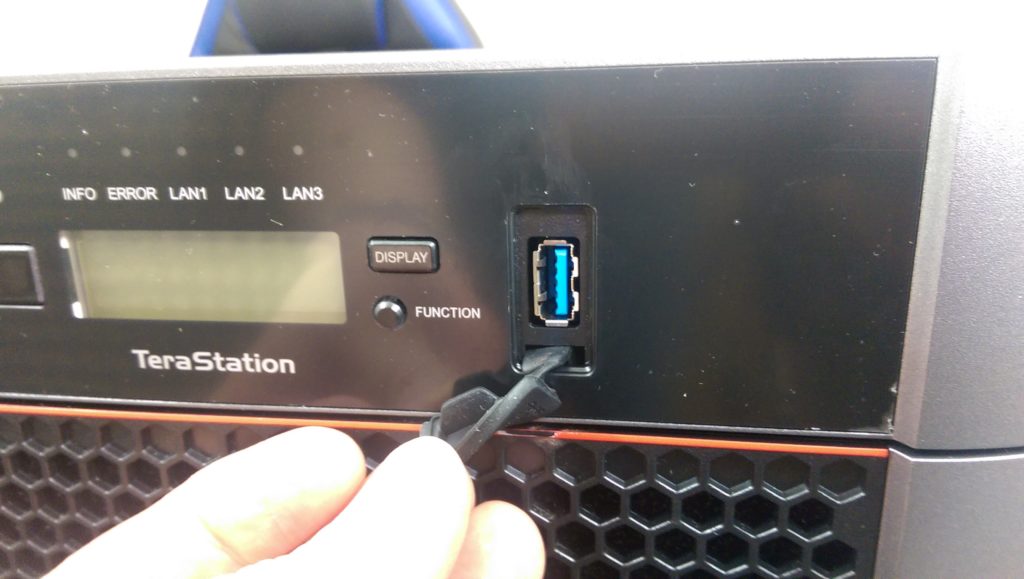 The front panel of the device features some of the best drive ventilation I have ever seen in a desktop NAS server. Though the front panel is a hinged door (with a key lock mechanism), there is both supreme ventilation and a dust filer int he door to ensure that air gets through, but nothing else. On the 2-Bay and 4-Bay 5810 devices, this door is still featured, but smaller and appropriately shaped.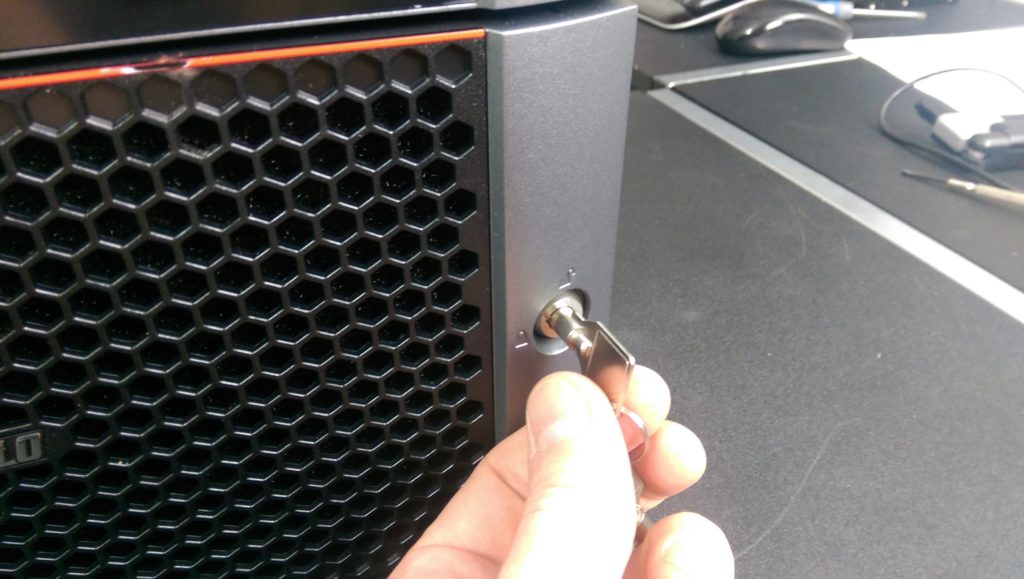 Once you open up the ventilated door, you find 8 rather ruggedly designed Hard Drive trays. As mentioned, the Buffalo 5810DN series is not available unpopulated, so you will always buy this Buffalo NAS with WD Red Hard Drives included. However another thing that Buffalo does that other NAS brands do not offer half-populated NAS devices. What this means is that you can purchase your Buffalo 5810DN TeraStation NAS, but with only 50% of the bays filled. The result is that it will cost you even less overall, as well as let you add storage to the device as years go by. Added drives can be included in your RAID configuration (just adding drives to your existing RAID 5 or 6 storage volume) or as independent drive space with their own RAID config. Defintely a very nice touch and a good third option for those that cannot decide between an empty or fully populated NAS (take note WD My Cloud!!!)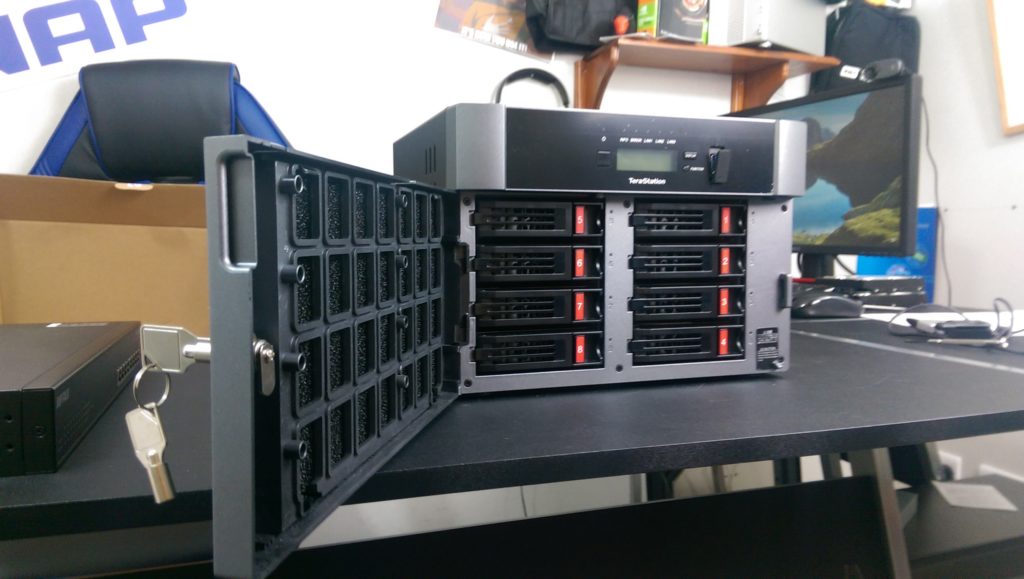 Each Hard Drive bay is fully ventilated, numbered and has an LED light to denote drive access over read and write. The ejection is spring hinged and hot swapping is fully available in case you use different drives on rotation or need to introduce a fresh drive in RAID recovery (no need to power down the device).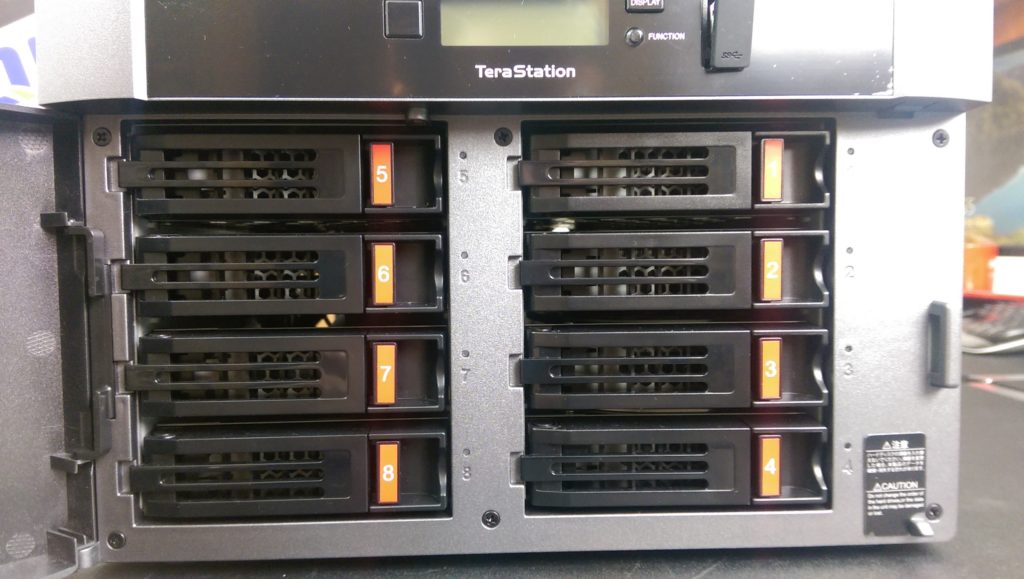 As you would expect, the drives used inside are the most popular current NAS hard drives in the market, WD Red network attached storage optimised drives. Which drives you get will depend on the capacity of the Terastation 5810 NAS you choose. The included drives are the Standard WD Red (not PRO series) and are excellent for NAS and RAID use in all cases.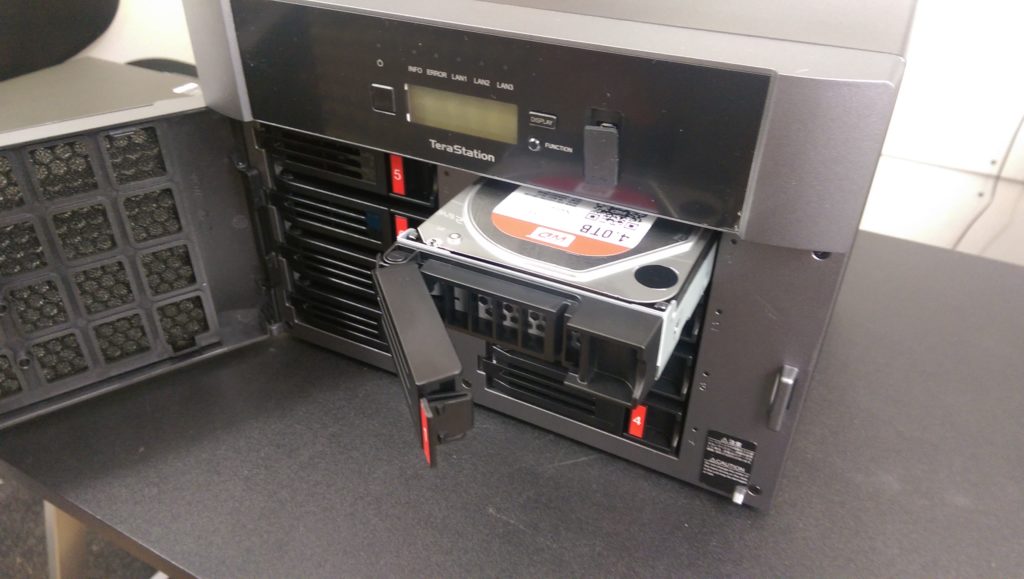 Continuing the subject of ventilation, it is worth mentioning that the sides and base of the Buffalo TeraStation 5810DN NAS are further ventilated throughout the metallic chassis. Once again, things are kept cool and efficient in this case.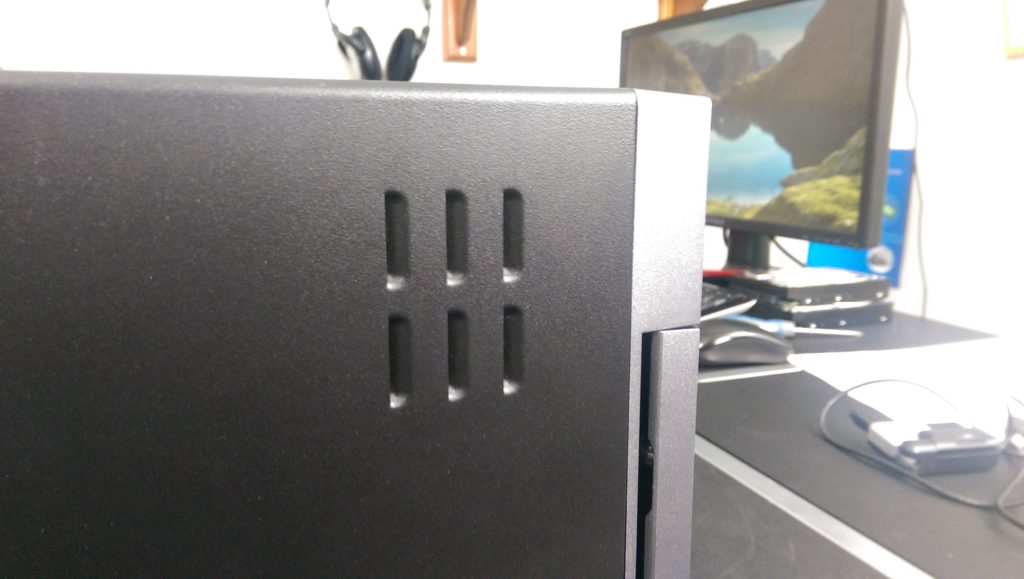 The rear of the Buffalo NAS is a little more industrial than you would see from the likes of QNAP and Synology. This is not really a complaint or a compliment (let's face it, how much time will you spend looking at it?) but more that you can see that the design becomes a little more basic. There are dual fans on the rear that will adjust their RPM automatically based on the usage of the device, as well as have settings in the software menus once the device is set up to adjust yourself.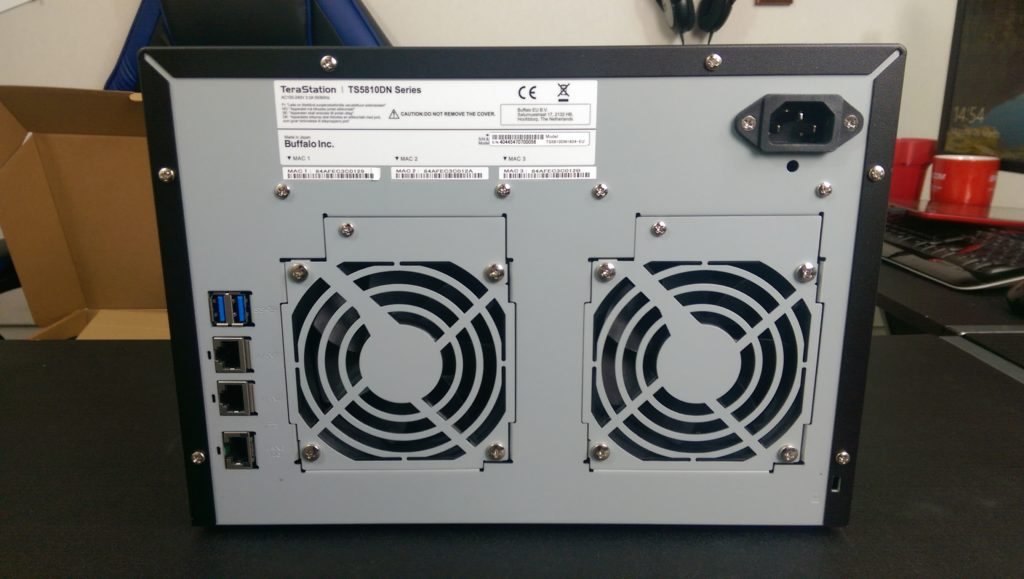 A closer look at the most important ports on the left shows us that this device has two more USB 3.0 (USB 3.1 Gen 1( ports for attaching external storage. This can be used for local backups (which can be scheduled) or for making any USB Flash or Hard Drive network accessible. Beneath those are twin RJ45 based 1Gbe LAN ports. These arrive with link aggregation and failover support as needed.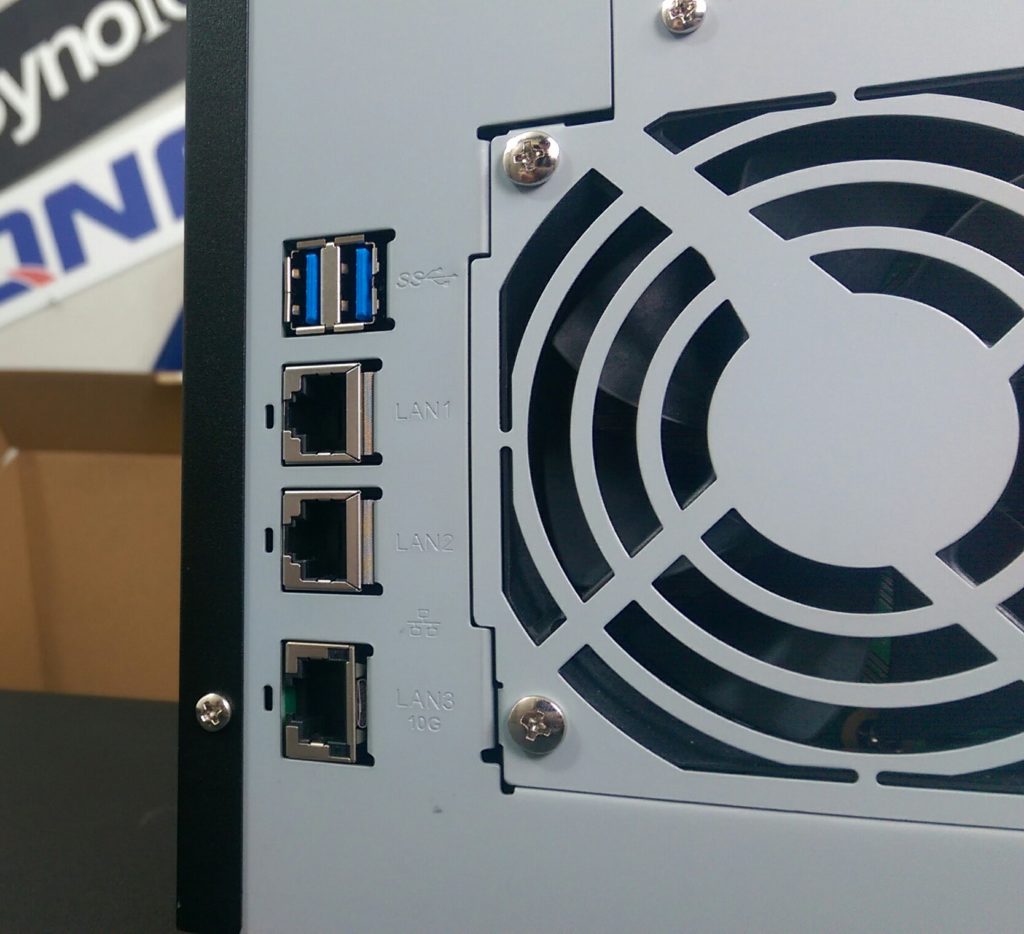 Finally we can get onto what everyone is probably interested in this NAS for – the 10GBASE-T 10Gbe port. For those that do not know, the standard network connection of choice is RJ45 over 1Gbe. Whereas 10Gbe arrives most commonly in two forms.
SFP+ – Fiber, designed for much longer distances without losing speed. These require a transceiver attached to either end of the cable and these are slotted into an SFP+ NAS such as the QNAP TS-431X. Unfortunately, due to the specialised cables, the transceivers and the cost of upgrading surrounding equipment, SFP+ is very much the enterprise 10Gbe solution and often costs 3-4x more and up when compared with a likewise 10GBASE-T setup.
10GBASE-T – The easier option when it comes to 10Gbe networks. The physical connection is identical in appearance to standard RJ45 and therefore makes it much easier to upgrade into, letting you reuse existing cables (especially useful if your cabling in trunked or wall embedded). Likewise more 10GBe 10GBASE-T ports will still work if connected to a 1Gbe outlet, though of course will be reduced down to 1Gbe top speeds. Though the maximum length of cable before you might see any drop in speed is around 20 metres, it is easily the more affordable option when looking at when upgrading to a 10 gigabit ethernet network. Additionally, a 10GBASE-T enabled switch will let you connect your 10Gbe and 1Gbe devices and let them communicate on the same network.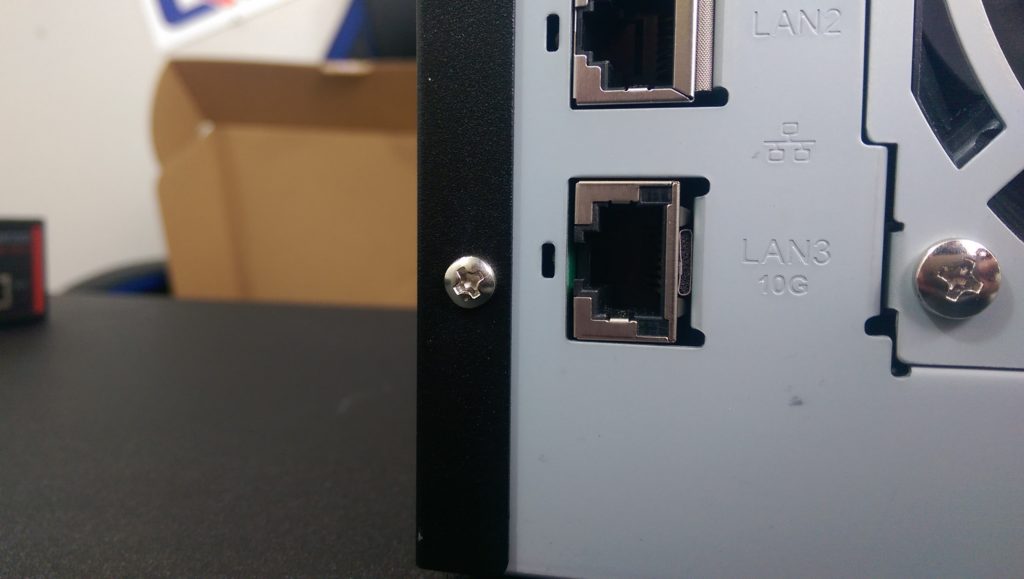 The Buffalo 5810DN arrives with a 10Gbe 10GBASE-T port on the rear and with it makes this device the lowest priced 10G NAS that you can currently buy (with or without drives, it is still lowest). With increased popularity in 10G, it is worth highlighting which industries we find it is most commonly used in 2018:
Larger scale file managing
Photo and Video Editing
Full backup Management
Most of the appeal of 10Gbe comes down to a combination of speed and file sizes – ultimately people want to have and need BOTH. Regular 1GBe runs into problems such as bandwidth consumption, lag when editing on the fly, delayed backups and slow file retrieval indexing. Rather obviously, making your connection to your network storage 10 times faster results in quicker and easier connectivity.  In 2018 we are seeing much larger numbers of people making the switch to 10Gbe as prices of the hardware have come down. This is also multiplied by file sizes getting so much bigger and finally that in a digital age when he who comes first wins, the speed of post-production can mean everything. This is why such a cost-effective, yet powerful 10Gbe NAS such as the Buffalo 5810DN is such a big deal. People are understandably dubious to invest in new tech that promises more than it can deliver and therefore their first steps can often be tentative. The Buffalo 5810 is a solid 10Gbe solution that arrives with hardware and support that many other brands change 30-40% more for.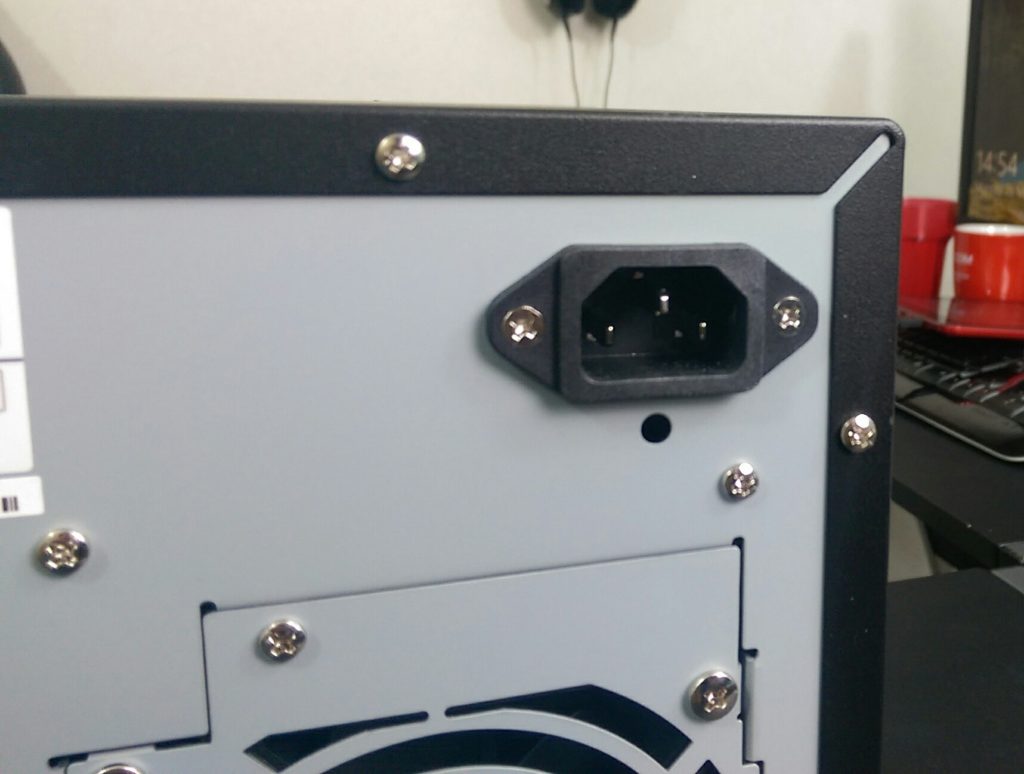 Buffalo TeraStation 5810DN 8-Bay NAS – Internal Hardware
Inside the Buffalo 5810 we find hardware that really backs up the 10Gbe fast file management promises. The CPU and Memory are identical to those found in the QNAP TS-831X (£1700+ with 4x 8TB drives) and the Synology DS1817 (£1800+ with 4x 8TB drives), but with the Buffalo 5810DN arriving at MUCH a lower price point, metal chassis design and better warranty/support options, it is worth also taking a closer look at what goes on under the hood. Featuring the Annapurna ARM based CPU, this quad-core 1.7Ghz processor is chiefly designed to keep those files moving fast. it is not especially well designed for multimedia applications, but that is less of a concern as most network media devices (iPads, Smart TVs, home cinemas and consoles) cannot exceed 1Gbe. This processor is backed by 8GB Of DDR3 memory – ECC memory (enterprise speed and reliability) and though the device arrives in 2-Bay 5210DN, 4-Bay 5410DN and this 8-Bay, all three arrive with this hardware inside and out.
Data is protected from hardware failure with inbuilt RAID options (RAID 1, 5, 6 and 10) and needs, as well as JBOD and RAID 0 if you want it fast but unprotected. It is also worth highlighting again that this device can be purchased with WD Red Hard DRives pre-installed. Not only that but you can purchase the device half populated if you so choose and that means you can go for an 8-Bay NAS with just 4 Hard Drives inside. This is a useful option for those that want to add expandability options later or just want to leverage their spending more effectively between hardware specs and storage. This configuration is especially appealing to those that have Hard drives already and wish to create a separate RAID volume on the device outside of the included drives.
Buffalo TeraStation 5810DN 8-Bay NAS – Software and Support
One area where people have criticised Buffalo in the past is in terms of software, I am pleased to say though that things have changed A LOT. With the likes of Synology and QNAP pushing their software utilities, it is worth addressing what makes Buffalo different on this score. First and foremost, security is paramount and the 5810DN will only let you use first-party/proprietary applications on the device's internal software platform. There is standard network drive availability as well as ISCSI support and more. Alongside this, there is network/Internet-based access to the buffalo user-interface inside the NAS which lets you configure EVERYTHING. It does lack the very user-friendly interface of the Synology, but even the most basic of understanding in IT will see you through. It features all of the versatility and control that you would want and as well as the device arriving with a free multi licence copy of NovaBackup, it also supports third-party cloud migration so you can ensure you have off-site backup options too. I could probably fill another whole article talking about the software and support available on the Buffalo 5810DN (and probably will) but below are the highlights of what you get when you buy the Buffalo 10Gbe 8-Bay.
Amazon S3 and Dropbox Cloud Support
NovaBackup Buffalo Edition (1 server, 10 desktops)
3 year warranty – In the event of HDD failure, Buffalo operates a 24-hour exchange service
3/5 'Keep your Drive' Retention & Replacement service that ensures a new drive is sent in 24hours, but you still keep the failing drive for data security or data retrieval as appropriate (optional purchase)
Rsync Support (can be used between Buffalo Devices or an existing QNAP/Synology)
AES 256-Bit Encryption
Boot Authentication Tool
NASNavigator 2 for setup and FAST drive Mapping and Admin/lite-User web interface as appropriate
NO Third Party App Support
3/5 Year Enhanced Warranty available (optional purchase)
Three strike Data Self Destruct option that will permanently lock your Buffalo NAS if tried incorrectly log into 3 times (disabled by default)
AS you can see, that is PLENTY of support at your fingertips. Also, it is worth mentioning that when we conducted this review with the Buffalo BS-MP2008 10Gbe switch, using the 5810DN (populated with 4x4TB Red in a RAID 6) we have speeds in excess of 600Mb/s over the network, encryption enabled and without even pushing the device.
OFFICIALLY the Lowest Priced FULL 10Gbe 8-Port Switch EVER – Buffalo BS-MP2008 at £400+
Buffalo TeraStation 5810DN 8-Bay NAS – Conclusion
As I may have mentioned about 8 million times in the review, the Buffalo 5810 8-Bay is more than just another NAS. This device represents the changing tide in networking and arriving at both a price and hardware point that aggressively competes with the likes of Synology and QNAP on this growing demand for 10Gbe in 2018. However, it is this device's commitment to more than the speed that leaves me impressed. Features and support that are not available anywhere else, such as the optional 3-strike data destruction option, the 3 years all-in support, partial population options, 10Gbe at a price that competes with many 1GBe devices and genuinely a feeling of solid stability in this device that leaves me pleasantly surprised over and over again. The user interface is still less user-friendly than it's peers and the lack of 3rd party app support (outside of the inclusions of cloud provider support and NOVA backup) may leave some users confused, but in an age of data security being all important and your private cloud needs to remain private, it is a courageous step to maintain this level of protection and should be applauded.


Articles Get Updated Regularly - Get an alert every time something gets added to this page!
This description contains links to Amazon. These links will take you to some of the products mentioned in today's content. As an Amazon Associate, I earn from qualifying purchases. Visit the NASCompares Deal Finder to find the best place to buy this device in your region, based on Service, Support and Reputation - Just Search for your NAS Drive in the Box Below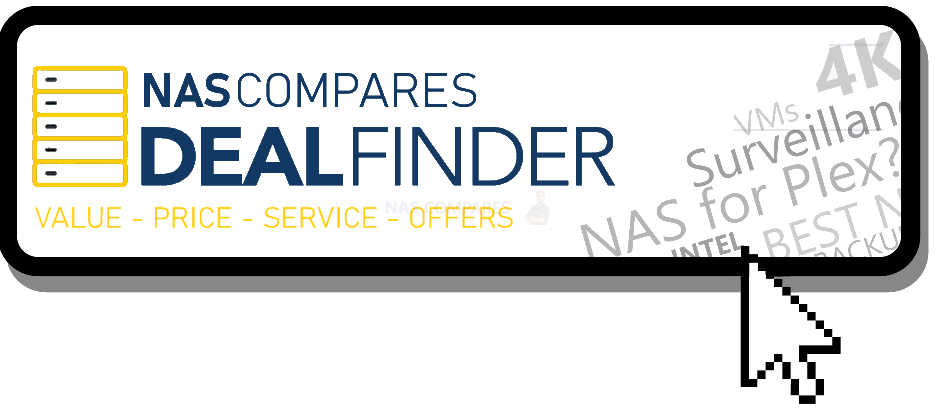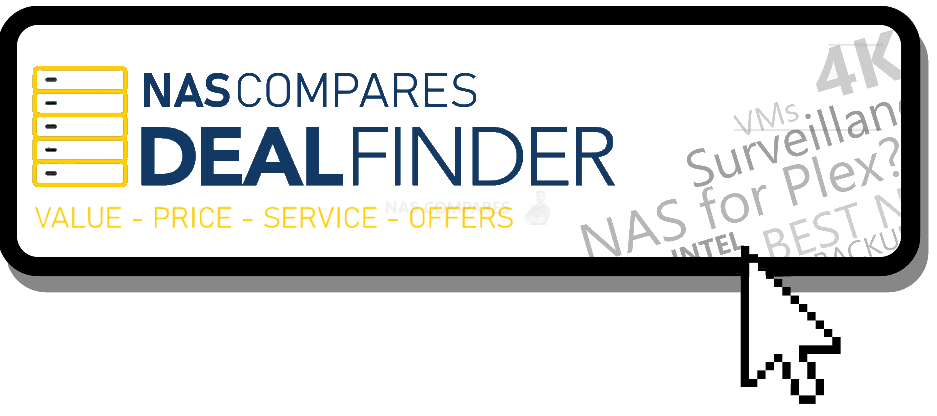 SEARCH IN THE BOX BELOW FOR NAS DEALS
Need Advice on Data Storage from an Expert?
We want to keep the free advice on NASCompares FREE for as long as we can. Since this service started back in Jan '18, We have helped hundreds of users every month solve their storage woes, but we can only continue to do this with your support. So please do choose to buy at Amazon US and Amazon UK on the articles when buying to provide advert revenue support or to donate/support the site below.


Finally, for free advice about your setup, j
ust leave a message in the comments below here at NASCompares.com and we will get back to you.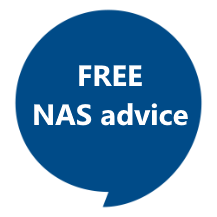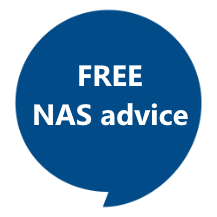 Need Help?
Where possible (and where appropriate) please provide as much information about your requirements, as then I can arrange the best answer and solution to your needs. Do not worry about your e-mail address being required, it will NOT be used in a mailing list and will NOT be used in any way other than to respond to your enquiry.
Terms and Conditions
Alternatively, why not ask me on the
ASK NASCompares forum
, by clicking the button below. This is a community hub that serves as a place that I can answer your question, chew the fat, share new release information and even get corrections posted. I will always get around to answering ALL queries, but as a one-man operation, I cannot promise speed! So by sharing your query in the
ASK NASCompares
section below, you can get a better range of solutions and suggestions, alongside my own.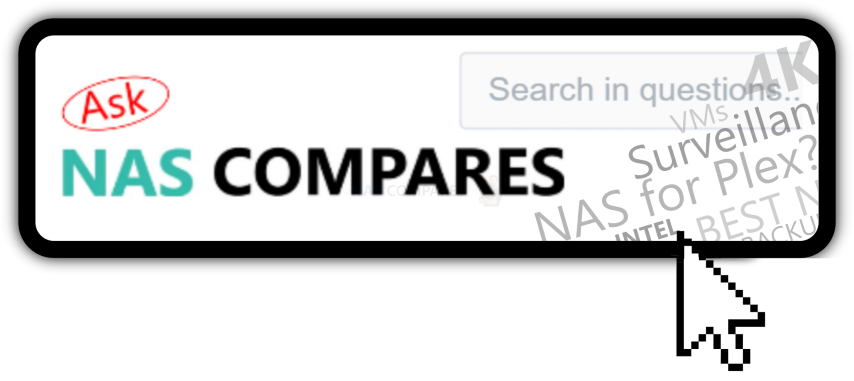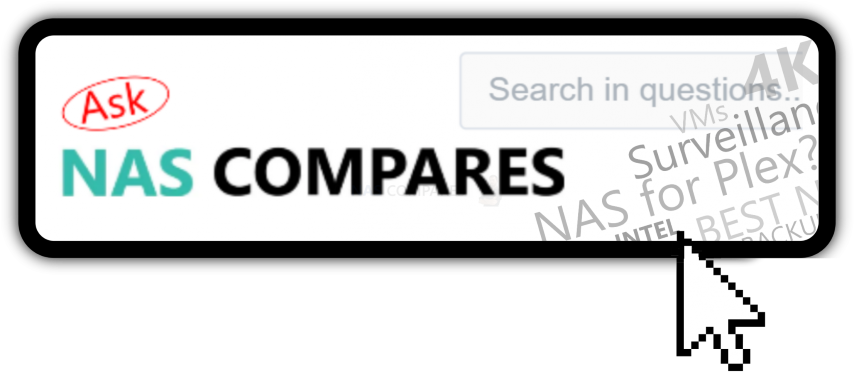 This description contains links to Amazon. These links will take you to some of the products mentioned in today's video. As an Amazon Associate, I earn from qualifying purchases
Summary
Reviewer
Review Date
Reviewed Item
Author Rating