Testing the Synology E10G18-T1 10GBe NIC Upgrade
Ever since the start of 2018, 10 Gigabit Ethernet (10Gbe) has been growing in popularity for both home and business users alike. As already discussed here on NASCompares, 10Gbe is not a new thing and in fact has been around for almost a decade. Though the appeal of network speeds that are 10x that of existing default 1Gbe networks has never been in question, the cost of the technology has been the main barrier for most users who wanted to upgrade. Synology NAS has dipped a toe into 10g network storage solutions for several years now, but only now in 2018 and 2019 have we seen them make genuinely affordable solutions for the home users and content creators to use. The brand new Synology E10G18-T1 PCIe upgrade card is a prime example of this move into 10Gb networking on a more affordable scale. We already reviewed the Synology toast PCIe 10gbe upgrade card a short while ago and today want to discuss the kind of speed difference you will see if you introduce this card in your Synology NAS and 10Gbe into your host PC/Mac machine.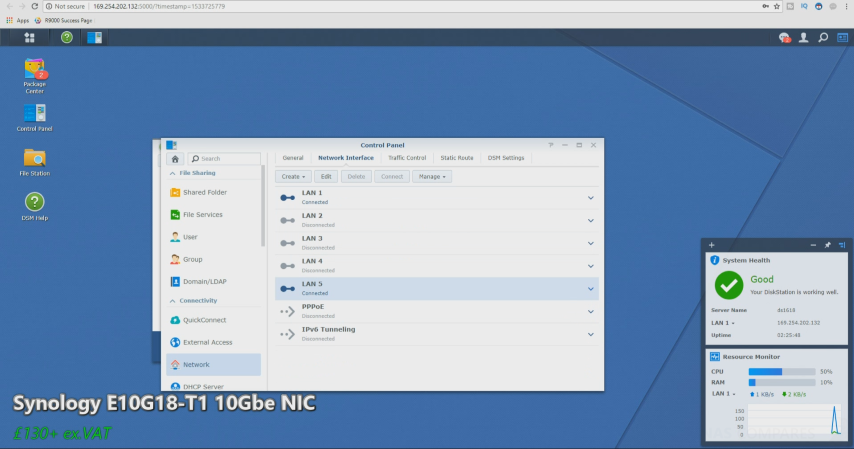 Synology E10G18-T1 10Gbe Performance Tests – Specifications
Many users who adopt 10Gbe networks in the home or office will use the E10G18-T1 for accessing data on a NAS server for live editing, speedy backups or virtualisation. This is especially true of photo and video editors who wish to store an entire portfolio of media on a NAS, and still be able to edit it directly from the host PC/Mac machine whilst it is still living on the network attached storage device. In order to properly test the new E10G18-T1 card, we are going to use the popular software Blackmagic speed test on both the standard 1Gbe RJ45 connection and the E10G18-T1 10Gbe 10GBASE-T port on the Synology E10G18-T1 card. After this, we will test both 1Gbe and 10Gbe again with a standard Windows file transfer, to see what the general speed you will get with 30GB of mixed files being handled, via the 10Gbe E10G18-T1 interface.
Synology E10G18-T1 10Gbe Performance Tests – Equipment
For this test we use a Windows 10 Desktop machine, with the following specifications:
Windows 10 Enterprise

AMF FX-8320E 8-Core CPU 3.20Ghz

8GB Memory

Samsung EVO 960 250GB

Akitio 10Gbe 10GBASE-T x1

1Gbe LAN RJ45 x1
The Synology E10G18-T1 10Gbe Card is installed in the following NAS:
Synology DS1618+ NAS

DSM 6.2 Software

Intel Atom C3538 2.1Ghz Quad-Core

4GB DDR4

4x 1Gbe (only 1 port used for testing)

Synology E10G18-T1 10Gbe Card

250GB Samsung 840 EVO x1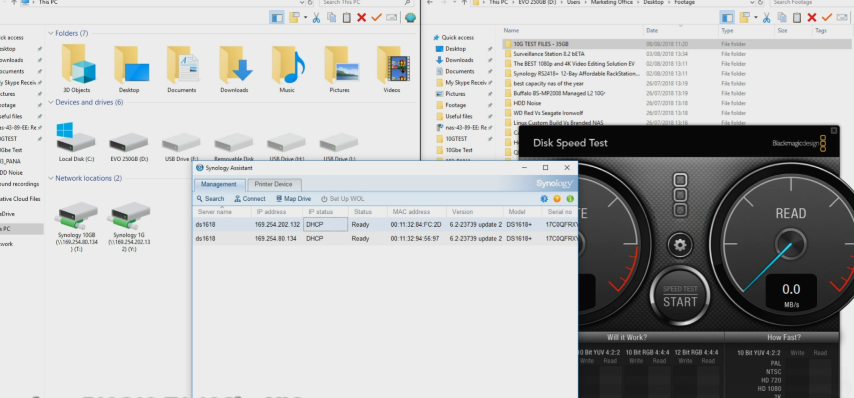 Both 1Gbe and 10Gbe tests were conducted with the NAS and PC directly connected,  no network switch was used. This was chosen because most 10Gbe editors who use the NAS for editing, will directly connect their host machine with their NAS. If you are considering doing this, you just need to connect the two devices together via a CAT 6a or Cat 7 LAN cable and then run the Synology Assistant application. It will find your NAS (it will show multiple if you are connecting the NAS via the internet as well) and you can either double click to connect, or you can use the 'map network drive' option to just add it as a destination in your file explorer.
Synology E10G18-T1 10Gbe Performance Tests – BlackMagic
Once we connected the Synology DS1618+ to our PC over 1GB RJ45, we began the Blackmagic speed test. Once the test was started, we saw relatively consistent read-write speeds of between 99 and 108 megabytes per second. This was to be expected given that, despite the SSD inside the NAS having a read-write speed of 500Mb/s,  the 1Gbe connection limited speeds to considerably less than that. What we see here is the exact reason that photo/ video editors cannot edit over 1Gbe on a standard NAS. Unless you are editing files on the NAS of less than 15-20MB, I genuinely do not recommend editing over 1gbe for anyone.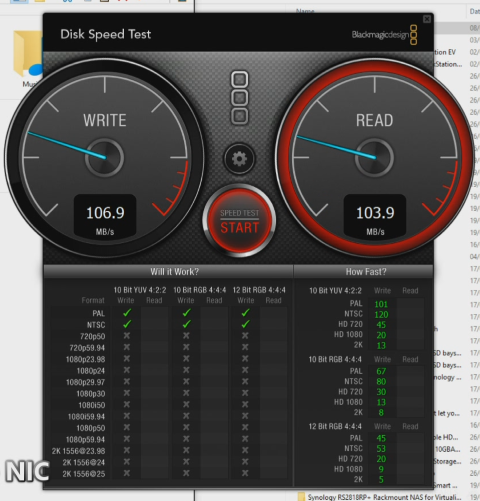 Next, we connected devices up with 10Gbe via the 10GBASE-T port on both the PC and the Synology E10G18-T1 inside the DS1618+. Straight away Blackmagic registered significantly higher speed as anticipated. With write speeds starting out much higher around 420MB/s and eventually settling somewhere between 390-395 Megabits per second on this SSD based NAS. Had we used several SSD drives inside the NAS, in a RAID 0 or RAID 1 environment, I'm confident we would have seen speed well in excess of 500MB/s and higher. In terms of Read speeds, we saw around 180 to 220MB per second performance. For those that are alarmed by the read speed, don't worry, this is a common quirk of Blackmagic, as it is designed for large Write operation tests than Read.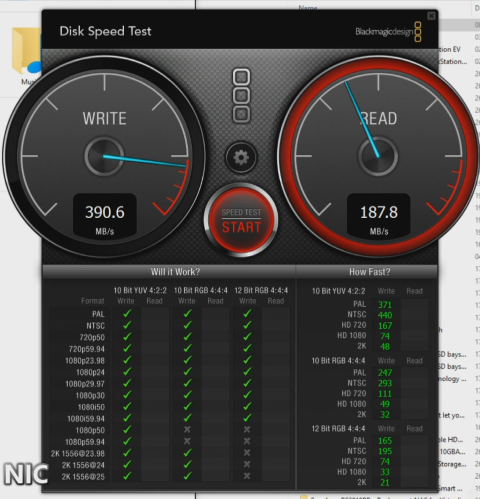 Synology E10G18-T1 10Gbe Performance Tests – Windows File Transfer
Next, we started testing for general transfer speeds with a network drive protocol, over plain old 1Gbe, that we sent to the Synology DS1618+. We utilised 35GB of data (240 mixed files including docx, PDF, MKV, AVI, MP3, ZPI, etc) and copied them over to the NAS via windows file explorer. Much like the Blackmagic test, we saw speeds of a little over 100Mbs and this speed would increase or decrease depending on the density of the file – i.e the larger the file, the bigger decrease in speed (dipping as low as 35MB/s at times. For the most part, it was generally above 95MB/s over this 1Gbe connection. Excellent for network backups and more than suitable for those that I've just looking to upload and download files to be used on a local machine – But again, if you are editing big files live, this kind of speed will result in software lag, intermittent crashing and general frustration!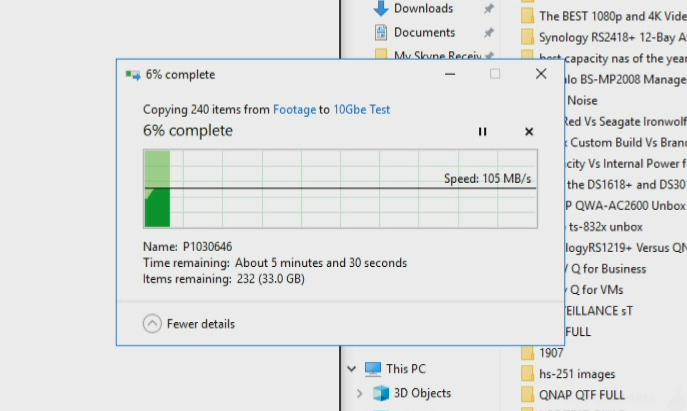 Eventual Transfer Time over 1Gbe: 0:00:05:58
However, if you are looking for fast uploads and downloads, want to playback dense 4K Media, want to edit 1080p and 4K Media on the NAS or want to run an efficient virtual Machine for more than simple web browsing –  you will need to consider the Synology E10G18-T1 10Gbe NIC. When we conducted the same Windows file transfer test using 10Gbe Direct connectivity, we achieved speeds of almost 400Megabits per second for small files and well over 350MB/s for bigger movie files. As you would expect, the 10Gbe connection was able to copy the 35GB of mixed files considerably quicker. These speeds are exactly what a budding photo or video editor in 2018 would need in order to stay stable and productive, as well as ensuring that your editing software (Elements, FinalCut Pro, PowerDirector, etc) whilst editing on a NAS supports non linear editor (NLE) and snapshots of your storage as you go thanks to the BTRFS platform on Synology NAS.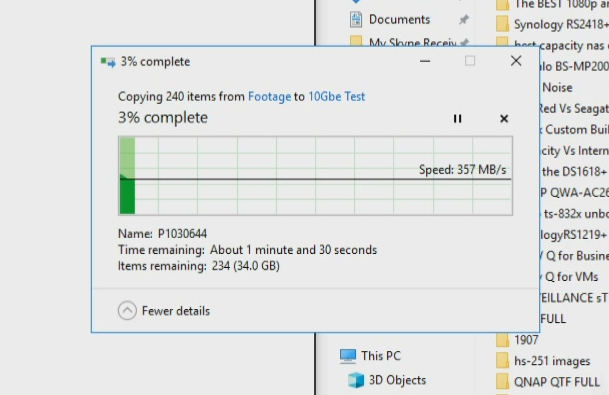 Eventual Transfer Time over 10Gbe: 0:00:01:03
Synology E10G18-T1 10Gbe Performance Tests – Conclusion
With the Synology E10G18-T1 10Gbe Card arriving at a little over £125 ex.VAT, this is a small price to pay for achieving potentially 10x read and write speed increases across your network. You will, of course, need to upgrade your host machines and/or switch to 10Gbe as well, but given the compatibility of both RJ45 and 10GBASE-T,  this can be done gradually and once you are working 5 to 10 times faster, why not redirect some of that profit back into your storage network. 10Gbe is only going to get more popular all the time and with the amount of data we create increasing daily, as well as the average size of media files far surpassing 1Gigabyte,  the need for removing the one-gigabit ethernet bottleneck in your network has never been more important.
Read our full Review of the Synology E10G18-T1 10Gbe NIC Upgrade here
📧 LET ME KNOW ABOUT NEW POSTS 🔔
Join 1,582 other subscribers
Get an alert every time something gets added to this specific article!
This description contains links to Amazon. These links will take you to some of the products mentioned in today's content. As an Amazon Associate, I earn from qualifying purchases. Visit the NASCompares Deal Finder to find the best place to buy this device in your region, based on Service, Support and Reputation - Just Search for your NAS Drive in the Box Below
Need Advice on Data Storage from an Expert?
We want to keep the free advice on NASCompares FREE for as long as we can. Since this service started back in Jan '18, We have helped hundreds of users every month solve their storage woes, but we can only continue to do this with your support. So please do choose to buy at Amazon US and Amazon UK on the articles when buying to provide advert revenue support or to donate/support the site below.

Finally, for free advice about your setup, j
ust leave a message in the comments below here at NASCompares.com and we will get back to you.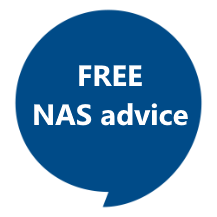 Need Help?
Where possible (and where appropriate) please provide as much information about your requirements, as then I can arrange the best answer and solution to your needs. Do not worry about your e-mail address being required, it will NOT be used in a mailing list and will NOT be used in any way other than to respond to your enquiry.
Support What We Do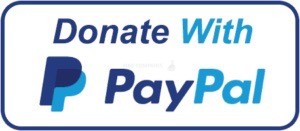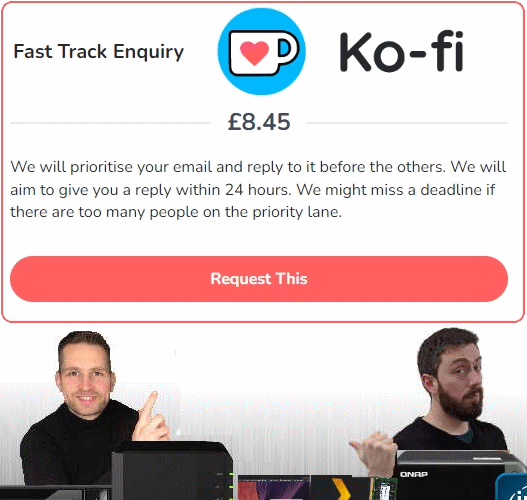 Terms and Conditions
Alternatively, why not ask me on the
ASK NASCompares forum
, by clicking the button below. This is a community hub that serves as a place that I can answer your question, chew the fat, share new release information and even get corrections posted. I will always get around to answering ALL queries, but as a one-man operation, I cannot promise speed! So by sharing your query in the
ASK NASCompares
section below, you can get a better range of solutions and suggestions, alongside my own.
This description contains links to Amazon. These links will take you to some of the products mentioned in today's video. As an Amazon Associate, I earn from qualifying purchases