Understanding AC Number on your Router – 1200, 1300, 1900, 2600, 3200 and more
All wireless routers (regular or mesh) have AC in their name, followed by a number. For example, you have routers such as the Synology RT2600ac, Google Velop AC6600 and TP-Link Deco AC1300. What does this number after AC on these routers mean? Does the number that comes after AC tell you how fast the router is? In theory, manufacturers say that it does, but In reality, the truth is different and there is a big, BIG difference between SPEED and COVERAGE. Here's why this AC naming convention for routers is NOT a good way to choose your router, what it actually means and how not be fooled into purchasing a "fast" router, in favour of a 'better' one.
Router Frequency and Bandwidth Explained
When you purchase a modern wireless router, you see the term AC followed by a number, somewhere in its name. AC means that the router has support for the latest 802.11ac networking standard, which offers fast WiFi network connections on the 5GHz frequency. The number that comes after AC represents the maximum theoretical bandwidth of the router. 1200 means 1200 Mbps, 1900 means 1900 Mbps, 3200 means 3200 Mbps and so on. When reading AC2300 in the name of a router, it means that you are dealing with a WiFi router that offers fast wireless networks using the 802.11ac standard, with a total maximum theoretical bandwidth of 2300 Mbps. You might be tempted to believe that an AC3200 router provides a wireless network that works at 3200 Mbps. That would be amazing but, unfortunately, it is false. The reality is that this naming convention is not that useful for making a purchasing decision.
One key aspect of the calculation that results in an AC naming is the number of bands or frequencies on which the router emits the wireless signal. Let's take a modern and popular router as an example: NETGEAR Nighthawk X6 AC3200. This router has three bands, each of them with its maximum theoretical bandwidth: 600 Mbps for Band 1, and 1300 Mbps for Bands 2 and 3.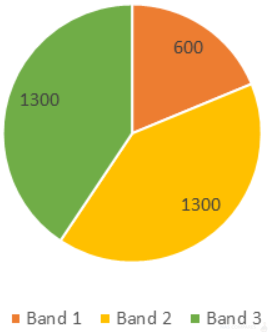 Therefore, AC3200 is not the maximum bandwidth you get on one wireless band or frequency, but the sum of all the available bands or frequencies. The maximum speed you could get is 1300 Mbps on the bands 2 and 3, and only in laboratory conditions, which we will explain later. To give you an even better understanding, here's how modern routers are categorized when it comes to bands or frequencies:
Single-band and emit WiFi only on one wireless frequency, meaning that they emit only one wireless network. In most cases, they emit on the 2.4 GHz frequency, and they have up to AC1000 in their name. Most manufacturers have stopped producing such routers. An exception is an ASUS RT-N18U, which is relatively new and surprisingly good for a single-band router. Such routers are very affordable but not a great option for modern smart homes, because they tend to be underpowered and with little to no support for the latest networking and security requirements.
Dual-band and emit WiFi on two frequencies: 2.4 GHz (which is slower but with a larger coverage area) and 5 GHz (which is faster but with a smaller coverage area). You see two wireless networks being broadcast. The majority of modern routers are dual-band they have up to AC2900 in their name. Their pricing varies a lot, but it tends to be accessible for most people.
Tri-band and emit on three frequencies: one 2.4 GHz frequency and two 5 GHz frequencies. You see three wireless networks being broadcast. The most expensive wireless routers are tri-band, and their names have AC3000 or more in their name. Some of the latest routers even have AC5300 in their name, making you believe that they emit wireless networks at 5300 Mbps, which is far from the truth.
How is the maximum wireless bandwidth measured in manufacturer's labs?
Earlier we gave an example of a tri-band router and explained that its AC3200 naming did not mean that it offers a wireless network at 3200 Mbps but three wireless networks, two of which work at a theoretical maximum of 1300 Mbps. You could assume that the top speed you get is 1300 Mbps, but that would be, again, false. This is because ALL manufacturers of networking equipment such as WiFi routers, don't use real-life measuring environments, like people's homes and apartments. They do their measurements in specialized labs so that they can claim the maximum possible speed. Here's what they tend to do, to calculate the total maximum bandwidth:
Many times, networking companies use two or three identical routers connected to each other to measure the maximum bandwidth when transferring data between them. They don't use regular computers and devices like users do because their routers have better support for wireless technologies than the network cards included in PCs, laptops, tablets or smartphones. As a result, their transfers are faster than when using a laptop, for example.
When they use computers for measuring the maximum bandwidth, networking companies use high-end PCs, with the best possible processor, RAM, and the fastest network card available. Most users don't have the same budget to invest in similar high-end computers. Would you buy a high-end wireless network card like ASUS PCE-AC88? Most people would not.
Networking companies measure the wireless bandwidth using specialized networking software and drivers that are optimized to work with the latest standards and technologies. Therefore, wireless transfers are made at the maximum speed possible. Many computers and gadgets often use older software and operating systems that don't work as well with modern WiFi networking technologies. Your drivers may also be outdated.
The measurements are made in labs without thick walls that absorb the wireless signal.
Manufacturers connect the smallest possible number of devices to the WiFi broadcast by their routers so that they measure its maximum bandwidth. In your home, you will connect more devices than they do, at the same time, limiting the bandwidth you get for each device.
They place the devices that they use for measuring the bandwidth at an optimal distance of 2 to 3 meters (6 to 10 feet). They have no interest in measuring the bandwidth in the far corner of a home or apartment.
They place the router's antennas in a position that guarantees the maximum wireless throughput. In your home, you will likely place the router and its antennas in a less optimal way, to make sure the router is not in your way or easy to reach by your children.
Companies optimize their firmware settings for maximum speed. For example, on some WiFi routers, the USB port, depending on its positioning and default settings, can lower the maximum wireless throughput. Therefore, networking companies, change the firmware settings so that they lower the USB throughput and minimize interference while measuring the wireless bandwidth. They may also disable security features that reduce the WiFi speed, like real-time antivirus scanning or parental controls.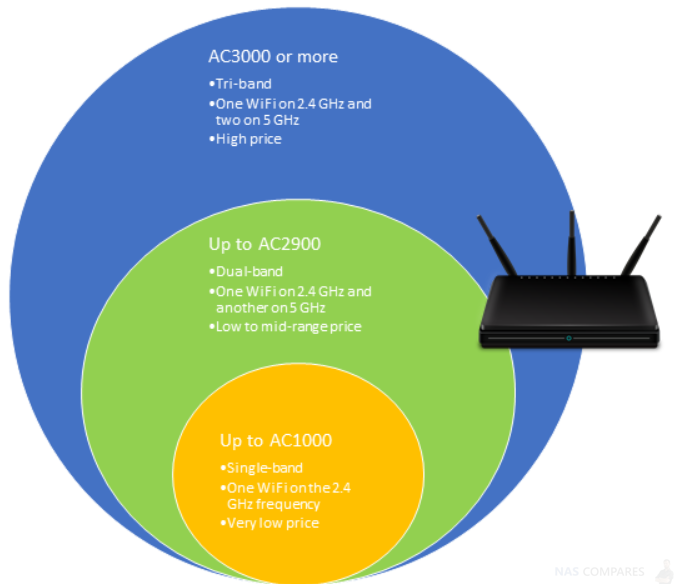 How should I interpret this AC naming convention, when it comes to wireless routers?
The main idea to remember is that the AC naming convention doesn't tell you the real-life speed of the wireless network that you get when buying one WiFi router or another. If you have read our article, this naming convention tells you other things like whether it is an expensive router or not and how many bands it has.
How do I find the real-life speed of a router before buying it?
By now, you know that a router that has AC1200 in its name, doesn't offer wireless at 1200 Mbps and one that has AC5300 in its name doesn't offer wireless at 5300 Mbps. If you want to know the real-life speed you get from a wireless router, before purchasing it, you should read in-depth reviews online.
📧 SUBSCRIBE TO OUR NEWSLETTER 🔔
🔒

Join Inner Circle
Get an alert every time something gets added to this specific article!
This description contains links to Amazon. These links will take you to some of the products mentioned in today's content. As an Amazon Associate, I earn from qualifying purchases. Visit the NASCompares Deal Finder to find the best place to buy this device in your region, based on Service, Support and Reputation - Just Search for your NAS Drive in the Box Below
Need Advice on Data Storage from an Expert?
Finally, for free advice about your setup, j
ust leave a message in the comments below here at NASCompares.com and we will get back to you.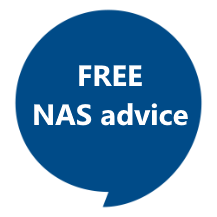 Need Help?
Where possible (and where appropriate) please provide as much information about your requirements, as then I can arrange the best answer and solution to your needs. Do not worry about your e-mail address being required, it will NOT be used in a mailing list and will NOT be used in any way other than to respond to your enquiry.
TRY CHAT
Terms and Conditions
If you like this service, please consider supporting us.
We use affiliate links on the blog allowing NAScompares information and advice service to be free of charge to you.
Anything you purchase on the day you click on our links will generate a small commission which is
used to run the website. Here is a link for
Amazon
and
B&H
.
You can also get me a ☕
Ko-fi
or old school
Paypal
. Thanks!
To find out more about how to support this advice service check
HERE
If you need to fix or configure a NAS, check
Fiver
Have you thought about helping others with your knowledge?
Find Instructions Here

ASK NASCompares forum
, by clicking the button below. This is a community hub that serves as a place that I can answer your question, chew the fat, share new release information and even get corrections posted. I will always get around to answering ALL queries, but as a one-man operation, I cannot promise speed! So by sharing your query in the
ASK NASCompares
section below, you can get a better range of solutions and suggestions, alongside my own.
This description contains links to Amazon. These links will take you to some of the products mentioned in today's video. As an Amazon Associate, I earn from qualifying purchases
Summary
Reviewer
Review Date
Reviewed Item
Mesh Routers - What does AC1200, AC1900, AC2600 and AC3200 Mean?
Author Rating