Synology DSM 7.0 and Synology NAS – Serious Storage
We are continuing our coverage of the Synology 2020 worldwide launch with the UK event here in London. Although we have already covered a number of the big things happening in NAS and DSM 7.0 in our Taiwan and German coverage, there were still a few extra things to see/learn.  With partner presentations from Seagate and continued cooperation with the ioSafe disaster protection series, as well as more information on the SSD caching improvements arriving in the new diskstation manager release, let's take a look at what we have to look forward to coming from the biggest name in NAS.
Disclaimer about Synology 2020 and DSM 7.0 Information
Although the majority of the things I am going to talk to you about today are included within DSM 7.0, Synology has changed tactic recently and introduced a number of key features in a more modular and individual app update fashion (see the increase of optional apps/updates in the beta tab of the App Center). So it is with this in mind that users should consider that some updates will be on an individual app level (such as Drive or Active Server) or less tied to a whole system-wide update (which is the case for the Storage Manager and SSD Caching innovations) in the new DSM 7.0 System update.
Synology 2020 Highlights
Perhaps you are in a rush and need the highlights in a more bite-sized form? Below are the highlights of the event (I will update this over the next few days):
Active Insight revealed, to allow a single web-accessible control panel for multiple NAS drives in the wild
Synology Photo Station 6 and the Synology Moments application are being combined to create Synology Photos, which takes the utilities and organization of both into a single portal
Improvements to the Central Management System (CMS)⠀to create/duplicate and easily manage tasks across the network storage environment
Synology Media Center introduced to simplify access to first-party streaming applications/utilities (i.e. Video, Audio Station, DLNA indexing, iTunes casting, etc)
More information on Drive Failure Protection, with web-based drive monitoring that will spot warning signs, instigate hot spare copying and swapping out, to drastically reduce RAID rebuild times and avoidance
Synology Drive 3.0 with drastically improved operational⠀speeds
Let's Encrypt SSL rolled into the Synology QuickConnect service for ease of setup
Whole Synology configuration included in the Synology Account service
Improved Resource Monitor view and better access to performance instances for troubleshooting and vs-past
Mac Support for Synology Drive client featuring⠀On-demand file streaming and pinning
Mac support in Active Backup Suite in 2020 promised
Hybrid Backup Suite to allow more customizable and management sync between the C2 Cloud platform and your NAS(s)
Massive Improvements to the speed of browser access to the⠀DSM 7 graphical user interface of around 40% in the demonstration compared with DSM 6.2.2
Improved Catagory management in both the control panel and app center
New dark mode switch of the DSM 7.0 GUI – long overdue for some
Vast improvements to the SSD caching methods with more intelligent handling of metadata and change to block-sized cache creation + a new advisor
Much more streamlined design⠀of the GUI of DSM, removing the top bar, improved icons and web socket upgrade means faster app opening and speed overall
New DSM Tips section added to give "Dummies Guide" style information on all areas of NAS use and those trickier terms
Two new affordable J series NAS devices in the DS120J and the DS420J⠀NAS in the works
New SAS based dual controller⠀rackmount NAS, with Active/Passive design in the SA3200D
HUGE 60-Bay HD6400 4U Rackmount NAS, still in development stages
New Plus series mid-range Intel Atom/Deverton-powered RS1220+ and RS820+ rackmounts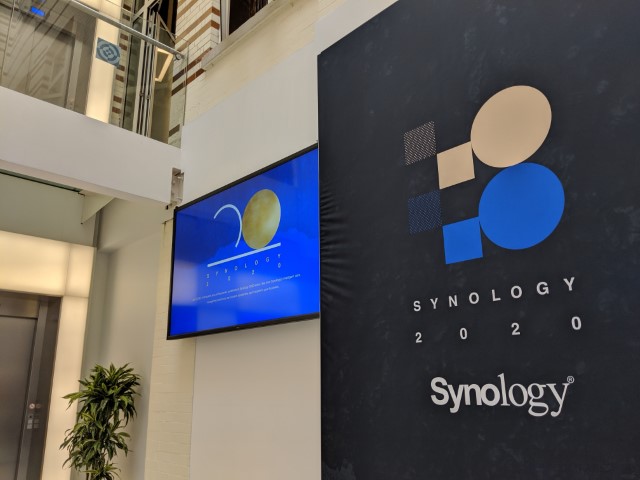 This should cover the bulk of what was on show. Sadly, there was little or no mention of a new DS220+, DS720+ and DS920+ (as expected) which I know is a massive disappointment to a number of you.
Synology DSM 7.0 UI – Big Improvements
Diskstation manager 7.0, first previewed last year, will be noticeably faster in its user interface via the web browser then DSM 6.2 with several examples being provided.
The Synology team were keen to highlight big Innovations in the following key areas:
SSD Caching Methods and Useability
Cloud integration Streamlining
Improved Resource Monitoring, Control and Preemptive Troubleshooting
The user interface of DSM 7.0 via your web browser has been made a great deal cleaner and looks considerably crisper too. However, the biggest changes that users will find in DSM require you to dig a little deeper. The design is a little more minimalistic and thanks to a combination of great memory caching improvements in the background and the latest version somehow manages to look even sharper in it's UI, once again underlining that DSM over the network or internet looks are fresh as using a desktop interface on a local machine.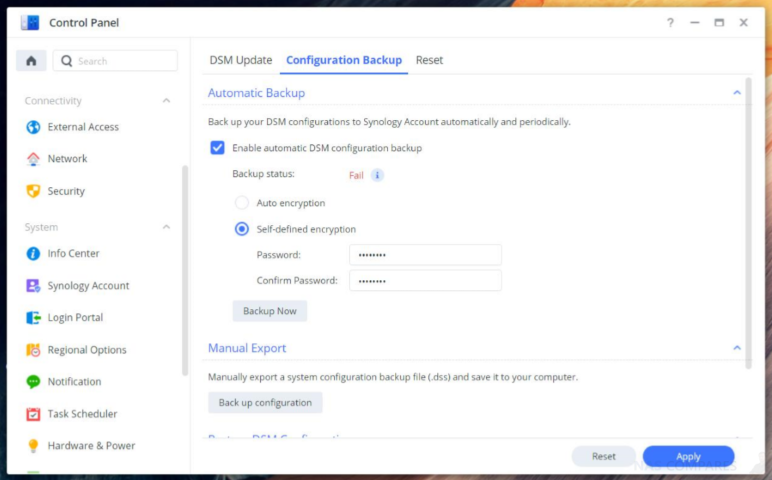 Synology Account Configuration Backups
Those who utilise their Synology account for regular https access and internet synchronisation with their Synology NAS will be pleased to know that they have improved implementation of SSL certificate making it a great deal easier and more streamlined to set up safe, secure and reliable online access outside of your LAN.
Along with this, Synology described the improved means with which to back up the configuration of your Synology NAS (directories, indexes, user account, groups, password, settings, blueprint of your device in general outside of traditional storage) to your online Synology Account, allowing you to access and duplicate these on further devices – a cool little extra that I'm amazed no one provides already. Bravo.
DSM 7.0 and the Improved Storage Manager UI
The user interface of the storage manager tool on your Synology also receives a graphical overhaul in DSM 7, in efforts to improve its usability and understanding to those less tech-savvy. swapping out the system of left-hand options and favouring a tab and breadcrumb design that is more streamlined and understandable in its colour palette. Along with further improvements to the visibility of storage space being utilised in real time by different NAS applications and snapshot usage. This provides a much more centralised and easy-to-understand overview of your storage.
DSM 7.0 and Better Remote Hot Data and Cold Data Handling
Another internet and access level change is control of volumes on expansion devices remotely and allow users to connect or disconnect whole mounted-storage areas that live on expansion chassis to be removed and changed without powering down the device or suspending storage access. Although not a particularly cool or sexy feature, it is definitely something that users with multiple disc stations in place will see the advantages of.
Improved VMware Control and integration
Although heavily geared towards business, there is still a large contingent of NAS users that prefer to use the software user interface of the third-party software they are used to and VMware/vSphere is a prime example of that. VMware vCenter users will often want a virtual environment to live on the NAS hardware, but be configured and controlled by the proprietary VMware control console and it's UI.
DSM 7 promises greater and more fluid collaboration between this software and NAS storage, providing better optimisation and utility of VMware and Hyper-V environments via the Synology NAS, even though the control remit of the vSphere, allowing handling of ESXi, vSphere client and vCenter data on the NAS.
Improved Synology Directory Server and AD Server Migration
Another key area of interest for business users and particularly those utilising windows storage environments is the improved Synology directory server (originally known as Active Server Directory) and migration support.
Providing increased read and write access between supported directories, there is also increased support and compatibility with migration between Windows server setups moving on to the Synology NAS platform. details were a little thin on this and I hoped for more of a live demonstration, as this is a really interesting and unique feature that Synology is providing. We hope to learn more on this in further world launch events in the run-up to DSM 7.0 being fully released. Though this is likely to be one of the more granular/modular changes.
Cloud Integration and Synchronisation
One giant area of improvement that Synology were keen to discuss in many ways at their launch event was improved integration and synchronisation between your Synology NAS and their C2 Public Cloud service. Synology C2 Cloud backup has been around now for a number of years and for those that do not know, it is a Synology provided cloud platform that is designed to run parallel with your existing server's storage as a means of disaster recovery and off-site backup. However in DSM 7, and now at the end of 2019, it is becoming a great deal more than that and some enormous options are being made available to users who integrate this cloud solution alongside their private.
From here Synology has been able to create similar file streaming and on-demand synchronisation found on other platforms, allowing you to pin or prioritise files between the C2 cloud space and one or more Synology NAS' that it is associated with. In real terms, this means that you can free up huge amount of space on a local device when files are on the C2 cloud platform and only a small percentage are required on demand. In essence, this means that rather than create a local client machine and NAS streaming relationship, this goes one step further creating a local marriage and Synology C2 streaming relationship that is fully configurable and customisable to your own file needs.
Likewise, Hybrid share works in a multisite setup allowing multiple devices to synchronise with a key Synology NAS which hybrid share then synchronises with the C2 platform. Thanks to intelligent frequently used cache options being integrated and the on-demand structure of hybrid share, this will drastically reduce bandwidth consumption and better overall file control and synchronisation be made available to you in multinationals environments and their backups.
If a user wants intelligent synchronisation between their local machine and the files on there NAS, they can use the new Synology Drive client for PC and Mac
If they wish to create a similar system of smart synchronisation between their NAS(s) and their C2 public cloud space, they can use Hybrid Sync
And if they want to backup all the devices periodically/live sync in the local environment, they use Active Backup Suite
Great team of applications with almost all data handling being automatic or cherry-picked to the user's requirements.
Synology DSM 7.0 and Synology Active Insight
A new and optional application service within DSM 7.0 known as Synology Active Insight will be rolled out allowing users to conduct system-wide analytical information sharing with the Synology NAS account system. Designed to constantly ping the Synology main server, it allows the huge potential for large data analysis and analytical comparison that will assist in the prediction, prevention, notification and preemptive resolution of issues outside of your storage happening at the worst times.
This requires no small commitment from yourself in sharing this system information and it is for that reason that Synology sets this as an optional feature as some users may be less inclined to share such system-critical and data critical information regardless of the benefits to them or their tech teams.
Additionally, Synology Active Insight will also be available via mobile platforms as a configuration and control tool between you and your Synology NAS' when actioning this service.