Thunderbolt 3 vs 40Gbe – Which Should You Buy?
Questions about choosing between 10GbE and 40Gbe are becoming increasingly popular. People want to understand what does 40Gbe mean and why is it so important. The Most popular connection for people who need the fastest data transfer speeds a priority, currently is Thunderbolt. As you are no doubt aware, Thunderbolt 3 theoretical is speed is around 40Gb/s. When working on video editing projects of 4K and even 8K media, file sizes grow enormously. With bigger files, it takes much longer to transfer them between computer and storage devices for editing, distribution, or to simply backup. You may think "I have Thunderbolt 3, why would I consider another connection which has the same speed?". Let me take a moment or two of your time to explain the advantages and disadvantages of 40Gbe Networks and Thunderbolt 3 NAS/DAS for your storage needs.
When should I choose Thunderbolt 3?
If you have a Mac or PC with this port already and you are the only person using a storage device, you might think twice about changing connectivity. By having this fast port on a computer, you don't need to upgrade your network, your access and therefore have no need to spend any extra money. Drives on your MAC or PC will appear as physical disks and you will be able to link to the drives easily with editing software and also edit directly from a storage device. If this is your setup, then you can stop reading, what you have is fine for a while at least.
When should I choose a 40GbE network?
At some point, if you are genuinely good at what you are doing, your company will grow and have multiple editors or even multiple teams. This is when you will need to be able to collaborate and share your projects between multiple computers across multiple offices/systems. With Thunderbolt you are limited to a single connection and no sharing functionality (if you are looking at Thunderbolt DAS). Alternatively, you can look at Thunderbolt NAS (see below), but it is worth mentioning that TB3 NAS is still dictated by IP protocol and this results in noticeably lower speeds than traditional Thunderbolt DAS – Though you do gain the ability for multiple connected TB3 users and network sharing.
Whereas 40Gbe provides all of the flexibility of 1 and 10Gbe networks but at a hugely increased rate. Plus you can feed the 40Gbe NAS into a 40Gbe switch and then each connected users will maximize their connection speed to the full bandwidth available to them (1Gbe, 10Gbe, 25Gbe, etc respectively). Alternatively, you can install a 40Gbe PCIe card into your editing machine and then connect DIRECTLY to the NAS. This means you can set up 40Gbe max speed network drives to appear in your drive list as a physical drive (useable with Final Cut Pro, Adobe, PhotoShop, ETC). This also means that you can connect the NAS to a switch via 1Gbe, 10Gbe, 25Gbe or another 40Gbe port – so you have multiple users connecting to the NAS to editing, package, complete, distribute and archive your work, all at once, on the same NAS.
Can I have both, Thunderbolt and 10/40GbE?
Yes, QNAP currently is largely dominating the market as one of the only DAS/NAS Thunderbolt manufacturers. You can directly attach these NAS drives to your computer and also share your projects like with any NAS. Thunderbolt NAS come with PCIe expansion slots for 10GbE or 40GbE cards. And if hard drives can generate fast enough data transfer speed, LAN cards will make sure your computer is able to receive all this.
What is Thunderbolt 3 NAS speed?
For NAS or direct attached devices speed always depends on the drives and the RAID in the box. The maximum speed QNAP have reached using SSD drives with rackmount multi-drive solution was on TVS-1582TU  getting 1,600 MB/s. The TVS-1282T3 was performing at speed from  900 MB/s to 1,600 MB/s. There is always a dip in performance compares with TB DAS, due to network protocol being the means of communication for the Thunderbolt connection (thunderbolt-over-IP)
What is 40GbE Ethernet NAS speed?
Also here, more drives or faster drive will mean increased data transfer speed. Synology FS3017 tests showed 6462.36 MB/s. DS1817+ desktop option reached speeds around 1577.61 MB/s. The CPU plays a big part in this, but the number and type of drives is key too.
When should I avoid thunderbolt3
If your current setup does not feature Thunderbolt port, I would suggest planning your set up for few years ahead and going for network-based connectivity. You could start with a 10GbE setup which could be equivalent to Thunderbolt 1 speeds. But it would be easier to upgrade in the future for betThunderbolt. Thunderbolt is easily the more expensive of the two and less adaptable over time.
When should I avoid 40GbE?
If your projects do not require enormous transfer speeds, there is no need to get a fast network. Alternatively, choose 10GbE which will become a standard in the next few years. Because traditional gigabit network is now outdated and very slow. Otherwise, Thunderbolt NAS requires far fewer parts in the mix, is much less complex and is ultimately the easier choice.
40GbE Compatible and Recommended NAS?
In order to take advantage of the immense speeds of 40Gbe in a NAS drive, you will need a high powered CPU to handle the traffic, a high quantity of memory to support the system, an available PCIe slot to install a 40Gbe NIC and a large amount of storage space (ideally in SSD media) to RAID together to provide the multiple Read and Write operations to take advantage of the available bandwidth. We Recommend the following NAS Drives:
Synology DiskStation DS3617xs NAS for 40Gbe
An oldie, but a goodie, the 12 Bay Desktop NAS from Synology still continues to be a fantastic NAS for high-end ANS users. Featuring a quad Core Intel Xeon CPU, 16GB of DDR4 ECC Memory and a huge amount of storage potential.
QNAP TVS-872XT NAS for 40Gbe
Although also a Thunderbolt 3 AND 10Gbe NAS, this 8-Bay device features a 6-Core i5 8th Gen CPU, 16GB of DDR4 Memory and PCIe upgrade slots for installing the official QNAP 40Gbe 2x Port Card. What makes it especially interesting, is that the QNAP TVS-872XT also features 2 NVMe SSD slots inside that each allows you to install a 2000-3000MB/s SSD in each, that can be used as raw storage space (not just cache) – hugely beneficial to the 40Gbe bandwidth users.
Synology FlashStation FS1018 NAS for 40Gbe
This 10 Bay Synology NAS focuses on SSD media and features very similar internal specification to the DS3617xs. It is ideally used for flash storage and this is especially useful for 40Gbe environments.
QNAP TS-2888X NAS for 40Gbe
This monster-sized AI NAS features some insanely scalable hardware. With numerous CPU options ranging from the powerful, yet modest 4 core Intel Xeon and 8GB Memory, all the way up to an 18 Core modern XEON and 512GB of DDR4 Memory, this is some serious kit. 
Arriving with 4 PCIe slots for GPU Card, 40Gbe and more, 10Gbe onboard, 12 HDD Bays and 16 SSD Bays (4x U.2 NVMe), this si the ultimate evolving NAS Drive for users looking to get the most out of 40Gbe connectivity.
Thunderbolt3 compatible NAS
Currently, it is just QNAP that provide a Thunderbolt 3 NAS solution (with a quiet offering from QSAN that has slowly disappeared into obscurity) and they have really taken hold of this technology and grown it into a fantastically powerful and versatile storage tool. Popular with Content creators (photographers, video editors in post-production, broadcasters, etc), it spans many forms of storage and budgets. Take a look:
QNAP TS-453BT3 NAS for Thunderbolt 3
This 4 Bay is powered by a Celeron CPU and arrives with 8GB of DDR3 memory. It is not the very best example of Thunderbolt 3 connectivity you can buy, but it is the most affordable. It arrives with 10Gbe connectivity, along with 2 TB3 USB-C ports – though the speeds (because of the 4 HDD Bays and mid-level CPU) will only reach around 500-600MB/s
QNAP TVS-472XT NAS for Thunderbolt 3
Only released in the closing stages of 2018, the TVS-472XT is a Pentium enabled, 4 Bay NAS. Unlike the TS-453BT3 though, it features much higher read-write options, 10Gbe onboard, a spare PCIe slot for more connections, NVMe slots inside for super fast storage and is generally regarded as the very BEST VALUE Thunderbolt 3 NAS you can buy.
QNAP TVS-1282T3 NAS for Thunderbolt 3
Super Powerful, Super expensive. In it's fully loaded form, the TVS-1282T3 is over £3300. For that money though, you get a quad-core i7 CPU, 64GB of DDR 4 Memory, 8 HDD Bays, 4 2.5″ SSD Bays, 2m.2 SSD Bays, 4 TB3 Ports, 2 10Gbe ports and easily the most powerful desktop Thunderbolt 3 NAS that money can buy in 2019 to date
QNAP TVS-1582TU NAS for Thunderbolt 3
This is the rackmount alternative to the TVS-1282T3 and even manages to be MORE powerful. With an improved generation CPU (in later models), up to 128GB of memory, 6 TB3 ports, 2/4 10Gbe ports, all kinds of storage options and recommendations from high light broadcast media creators, THIS is currently as good as it gets for Thunderbolt 3 NAS Drives.
Articles Get Updated Regularly - Get an alert every time something gets added to this page!
This description contains links to Amazon. These links will take you to some of the products mentioned in today's content. As an Amazon Associate, I earn from qualifying purchases. Visit the NASCompares Deal Finder to find the best place to buy this device in your region, based on Service, Support and Reputation - Just Search for your NAS Drive in the Box Below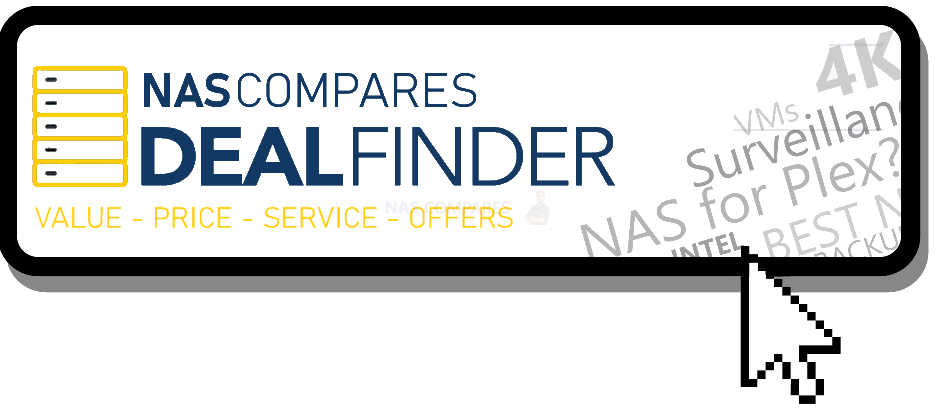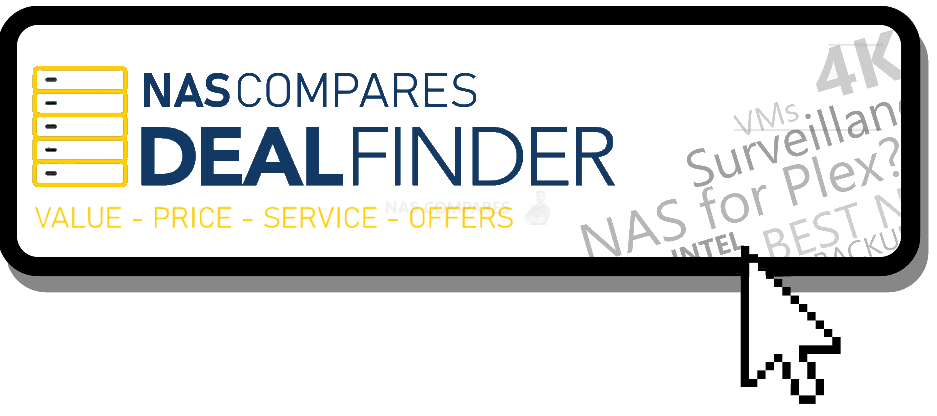 SEARCH IN THE BOX BELOW FOR NAS DEALS
Need Advice on Data Storage from an Expert?
We want to keep the free advice on NASCompares FREE for as long as we can. Since this service started back in Jan '18, We have helped hundreds of users every month solve their storage woes, but we can only continue to do this with your support. So please do choose to buy at Amazon US and Amazon UK on the articles when buying to provide advert revenue support or to donate/support the site below.


Finally, for free advice about your setup, j
ust leave a message in the comments below here at NASCompares.com and we will get back to you.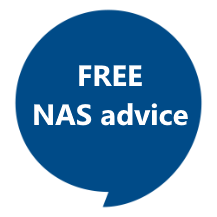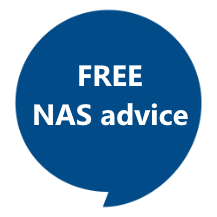 Need Help?
Where possible (and where appropriate) please provide as much information about your requirements, as then I can arrange the best answer and solution to your needs. Do not worry about your e-mail address being required, it will NOT be used in a mailing list and will NOT be used in any way other than to respond to your enquiry.
Terms and Conditions
Alternatively, why not ask me on the
ASK NASCompares forum
, by clicking the button below. This is a community hub that serves as a place that I can answer your question, chew the fat, share new release information and even get corrections posted. I will always get around to answering ALL queries, but as a one-man operation, I cannot promise speed! So by sharing your query in the
ASK NASCompares
section below, you can get a better range of solutions and suggestions, alongside my own.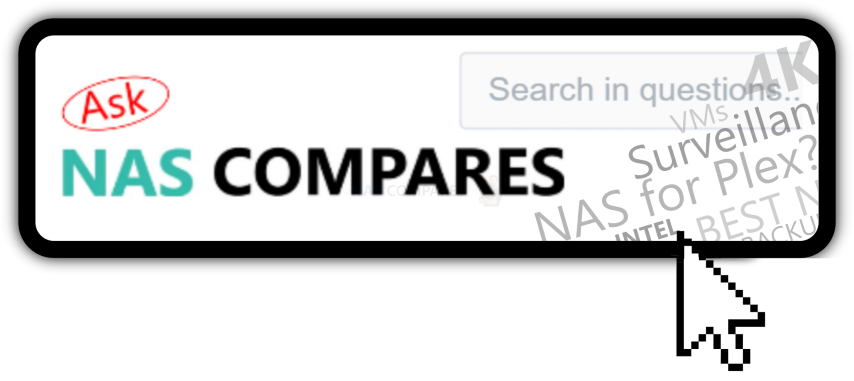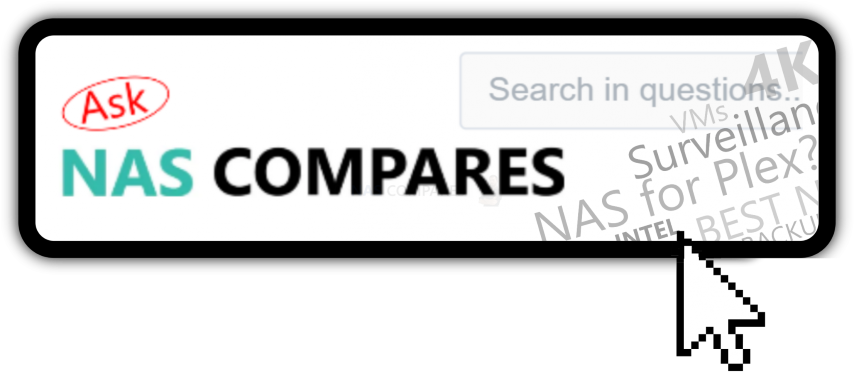 This description contains links to Amazon. These links will take you to some of the products mentioned in today's video. As an Amazon Associate, I earn from qualifying purchases