QNAP TVS-h1288X NAS Review – Ground Breaking or Hardware Overkill?
Businesses these days have tough choices to make when it comes to where they should store their data and despite the seemingly impressive specifications on the TVS-h1288X, knowing whether it is suitable for your needs is no small decision. For many, it is 'hot' data that needs to be accessed as quickly as possible, whilst still keeping speeds high and latency low. Perhaps it is cold data that needs to be stored securely, in three separate locations and with as little intervention as possible. Maybe even a combination of both, and whatever way you look at it – cloud storage might be more affordable, but it just lacks the peace of mind that a physical and company-owned server can command. That isn't to say that 3rd party cloud isn't a good thing, that is precisely why the need for a storage system that uses the virtues of each into a single strategy is so great in 2020 and 2021 – providing fast access and the feeling of local storage, anywhere in the world. This is achieved with smart caching, cloud synchronization and a whole heap of power and it is into this arena that QNAP has released their latest multi-tiered desktop solution that brings together all of their high tier innovations in 2020 (ZFS, intelligent caching, cloud-gateways, enhanced virtual environment management and more) – today we are going to take a good long look at the new TVS-h1288X NAS system, a system with a huge degree of anticipation behind it to live up to, and see if it not only can justify the £2000+ price tag (without storage media) but whether it can compete with the already popular TVS-1282T3 and TVS-872XT NAS that largely dominate this tier. Before we go any further though, let's get something out the way early doors! This is a SERIOUS business solution and not one that is designed for home use. Of course, you CAN use it at home and as long as you don't plan on buying in the same room as it, it will make an insane Plex Media Server, a powerhouse of a family backup and an absolutely incredible editing machine. Just remember that this is quite an enterprise piece of kit and from the slightly higher system noise level to the power consumption of the 550W PSU, this is not a toy and unless you plan on taking advantage of everything it has to offer – you are going to heading into 'overkill' territory! Just wanted to make sure you are on the same page as me, as you read this. Let's go!
QNAP TVS-h1288X NAS Review – Quick Conclusion
This is, hands down, the most impressive desktop NAS drive I have ever handled – and I do not say that lightly! QNAP has been working overtime these last 2 years to not only introduce their ZFS series to the SMB and Enterprise marketing, with gradual but compelling results – but it is only now in the TVS-h1288X system that they have successfully merged it into another core area of their business – content creators. Whether you are on board with the 'optional thunderbolt card' nature behind this device, you cannot fault the sheer weight of hardware on offer here and how it is perfectly tuned and appropriate for the storage, performance and safety benefits of ZFS in QuTS Hero included with this device. Yes, it is a hungry beast of a device in terms of power, but right now THIS is the NAS system to beat in the market right now in desktop form. There are still the odd hurdle for surveillance users to jump and the fact this range starts at 8/12-Bay is an odd choice – but with a 6-core Xeon processor that features high grade embedded graphics, upto 128GB of DR4 ECC memory, 3 storage tiers of scaling speeds, a combined external bandwidth of 30 Gigabits per second (so 3,000MB/s) and that is without even the inclusion of a Thunderbolt update that can allow upto 4 more Thunderbolt users to enjoy simultaneous access for photo/video editing – You simply cannot fault the ambition behind the TVS-h1288X and it leaves most of its 8-Bay competitors in its dust – just maybe raid the piggy bank before you buy it though
QNAP TVS-h1288X NAS Review – Retail & Packaging
The packaging the unit arrives in is unsurprisingly large and rather industrial – this is a unit with business in mind and at this customer tier – the frippery of flashy retail packaging is largely abandoned! The box is one of the same they QNAP package the majority of their 8-Bay solutions in and although I have a huge amount of praise for the protection it provides in transit (often commented upon here on the site), the design is very bland for the most part. The only detail that seemingly tells you about the contents is the affixed QNAP product label that denotes the ID, the hardware abilities, the contents and the software that the TVS-h1288X supports. It's all quite light going and does not quite meet the Apple-like branding externally of QNAP's biggest rival Synology – but to be fair, the hardware inside the packaging is the real show-stealer here.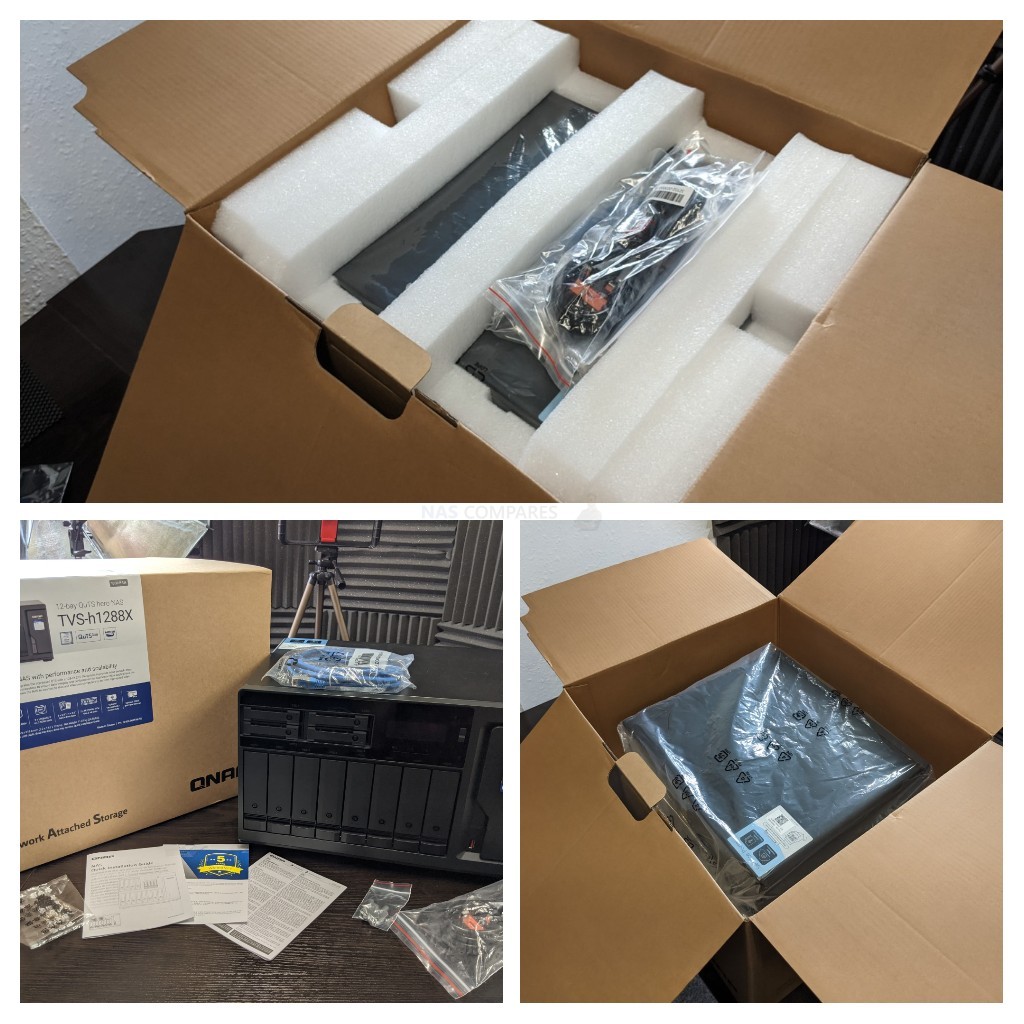 The retail box has incredibly dense and features a hard foam skeleton that protects the device from motion and shock damage in transit. The QNAP TVS-h1288X does not arrive pre-populated with storage media, so many may question the necessity of such overkill packaging. I'll heartily disagree, as the long-term impact of near-invisible shock damage on most storage systems is widely underestimated. Alongside this, we find a unit and a box of accessories for setting the device up for the first time. Inside the retail kit, we find the following:
QNAP TVS-1288X NAS Unit

Cat 6 Ethernet Cable (10Gbe appropriate)

NVMe Heatsink Pads

Mains Power Cable

HDD/SSD Tray Keys

First Time Setup Guide

Warranty Information (3 years + extension information)
All fairly standard stuff. the TVS-h1288X features a large internal power supply, which means no loose external power adaptor either. Normally I would stress how much I prefer an external power brick but at this scale of power, an internal PSU is simply the only option. The accessories also highlight that the TVS-h1288x NAS arrives with 3 years of manufacturers warranty and even details how to go about extending that warranty to a maximum of 5 years. The software that is featured on the TVS-h1288X typically arrives with a lifetime warranty as one might expect. Another small if important detail is the inclusion of a Cat6 ethernet cable, as opposed to the increasingly common Cat5e. If a solution arrived with a 10Gbe copper connection, I think it is reasonable to expect a more appropriate Cat 6 ethernet cable included and it still annoys me that an increasingly large number of brands ignore this simple fact. It is a very small price difference at the point of manufacture and makes a noticeable improvement on longer distance 10G connections in terms of latency.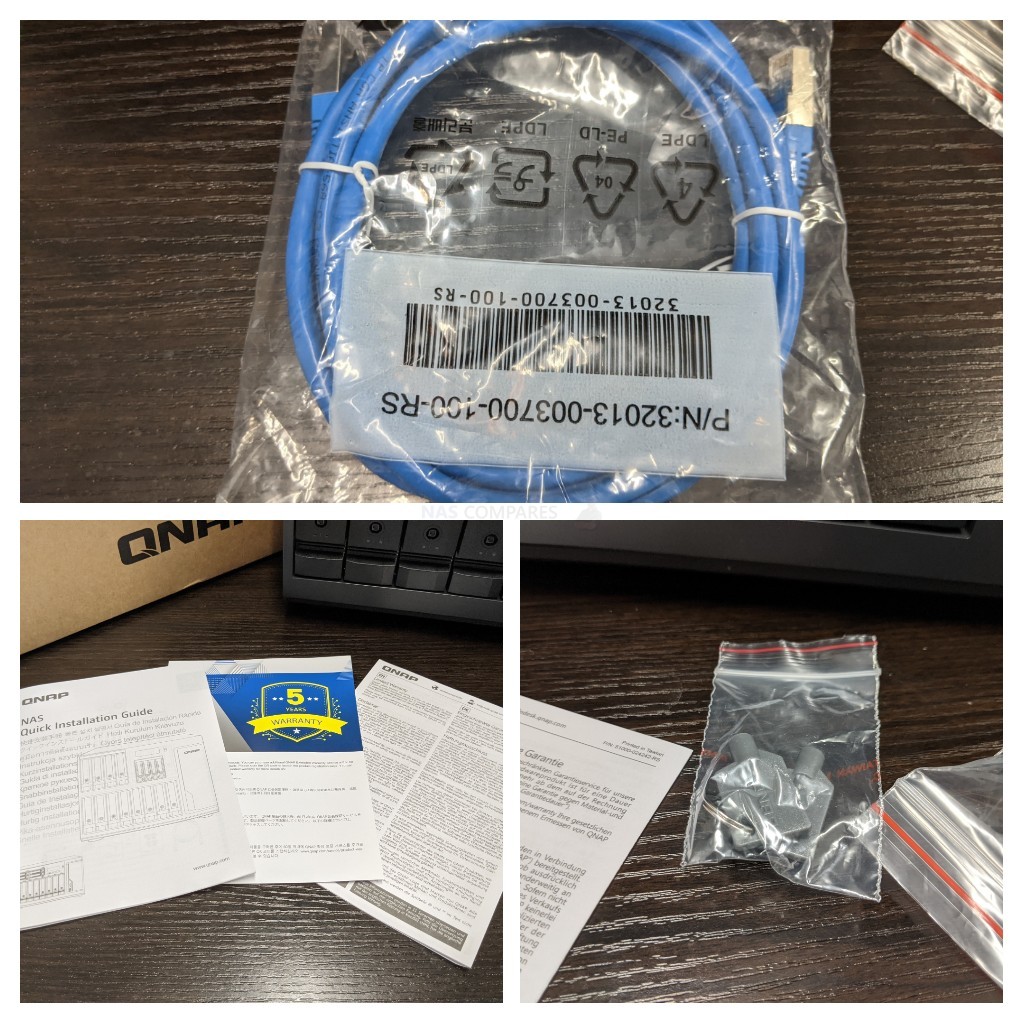 Overall, this is a fairly standard if dependable range of bits that the TVS-h1288X arrives with. I still approve of brands like to QNAP and Synology not arriving free populated, as this ensures flexibility for the end-user on how they want to scale this storage, so I hope this trend continues into 2021. Now, let's get our hands dirty with the hardware.
QNAP TVS-h1288X NAS Review – Design
Arriving at 23.4 × 36.9 × 31.9cm in size, the TVS-1288X NAS chassis is weirdly somehow big and small at the same time. As a desktop network-attached storage device, it is pretty massive and is not what you might think of as discreet or compact. At the same time, we are talking about a system that technically has 16 individual bays of storage, spreading across hard drive and SSD media – comparable to that of a 2U rackmount. The chassis design itself was originally designed in its first from way back in 2017 in the TVS-1282 and has since undergone tweaks in its appearance and architecture throughout that time. Details such as the large controller board cooling system featured on the side of the device and the twin storage bays on the front go a long way to distinguish this NAS system from many of its contemporaries. With reported noise levels of 26db(A) from the official QNAP site, the TVS-h1288X is not recommended for use in close proximity. A large amount of this increased ambient noise generated in use comes down to an almost exclusively metal chassis, triple stage cooling system and triple tier storage media support. Though the storage bays are predominantly plastic and the system is kept impressive cool internally with its structure of multiple internal fans and heatsinks. This generously sized desktop unit is unavoidably going to generate a little bit more noise in hums and vibration than most other 8-bay devices.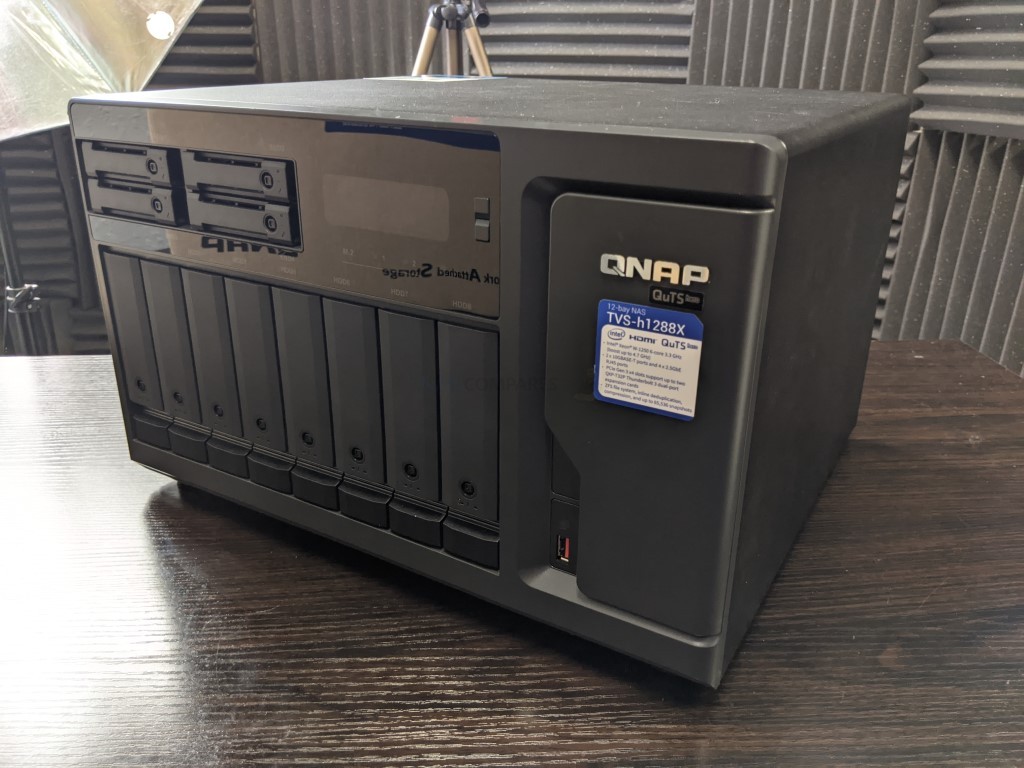 Despite the rather crowned nature of hardware included inside of the TVS-h1288X, the front panel is surprisingly clear and though the bulk of the surface area is seemingly dedicated to the 8 SATA storage bays and side-mounted cooling system, everything is very well space and the design of this chassis still holds up after all these years.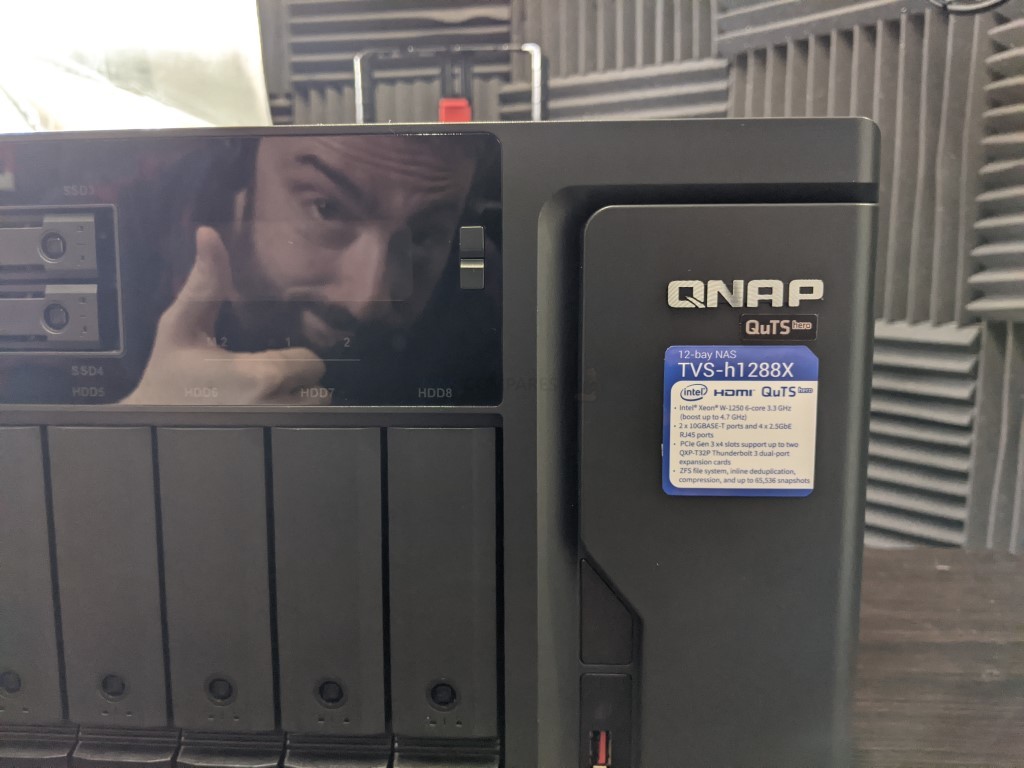 One area that I do want to highlight, though minor, is that QNAP has still featured an LCD panel and control on this device. Many modern releases in 2020 from QNAP have phased out the information panel on the system and I am relieved to see it returns here. Let's be straight, this is a mostly underused feature but for those of us that operate in densely populated hardware network environments and want to be able to identify beeping alert warnings or identify our IPs quickly without the need of software clients, this panel in its rare use cases can save a lot of time. It's not for everyone, but I personally find this arguably more rudimentary feature a plus overall.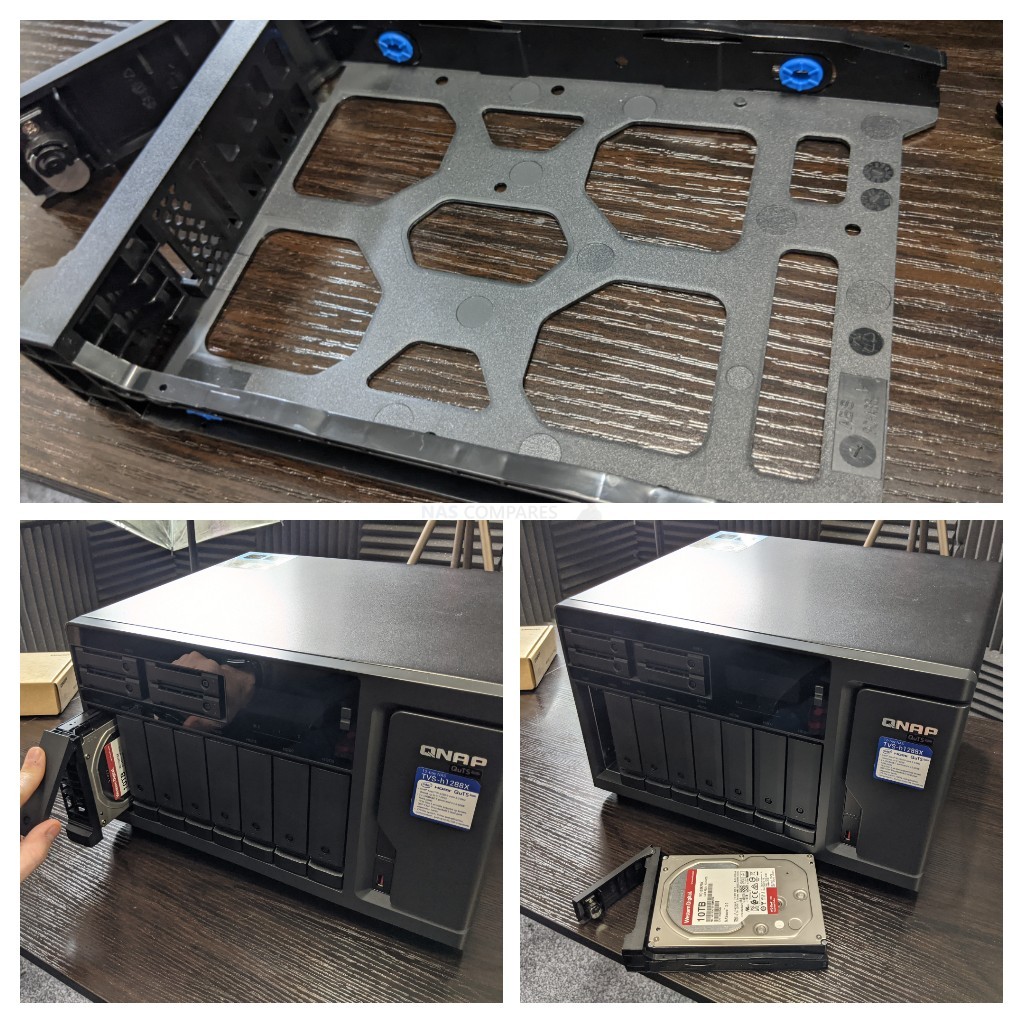 First, we should look at the main SATA hard drive bays. Each one provides 6Gb per second throughput to connected media and although currently traditional hard drives only provide up to 260MB/s even in enterprise form, you can still utilise these bays for SSDs or look forward to much faster drives soon in the Seagate Mac 2 series that reach speeds of over 400 Megabytes per second. This tier of storage on the TVS-h1288X is largely dedicated to larger, more affordable but still arguably slower hard drive arrays, whilst supporting multiple RAID configurations for improved performance and redundancy. Each hard drive tray is plastic in design and does not require a screwdriver for drive installation. That said, the click and load nature of these drives are optional and the kit also includes screws for installing all your media manually and arguably more securely if you choose. You can operate the TVS-h1288X system with as little as a single drive of storage media, but it is advised to set up a robust storage pool and RAID configuration in order to make the most of what this system can do.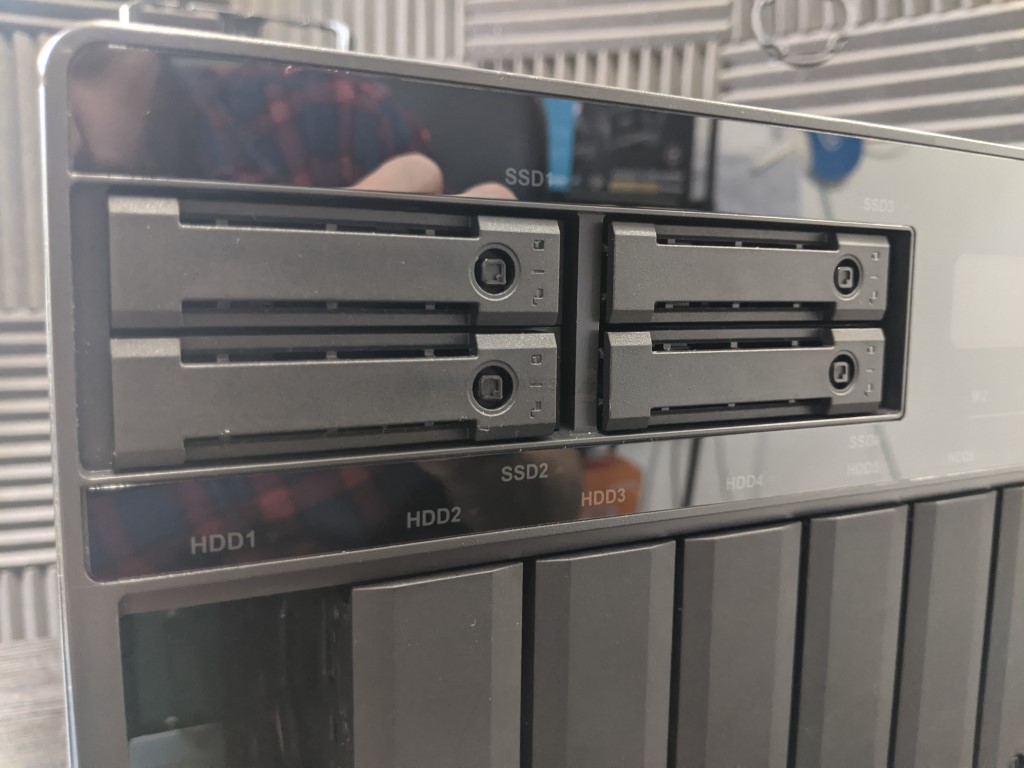 Next, we can look at the 4 dedicated SSD bays that allow the installation of SATA solid-state drives. Much like the eight-bay larger counterpart below it, you can operate the system with one or more SSDs and these bays can be utilised in several RAID configurations as you please. The reason that many users may favour storage solution such as the TVS-h1288X is because of the intelligent caching and shared storage benefits that mixing these configurations provide.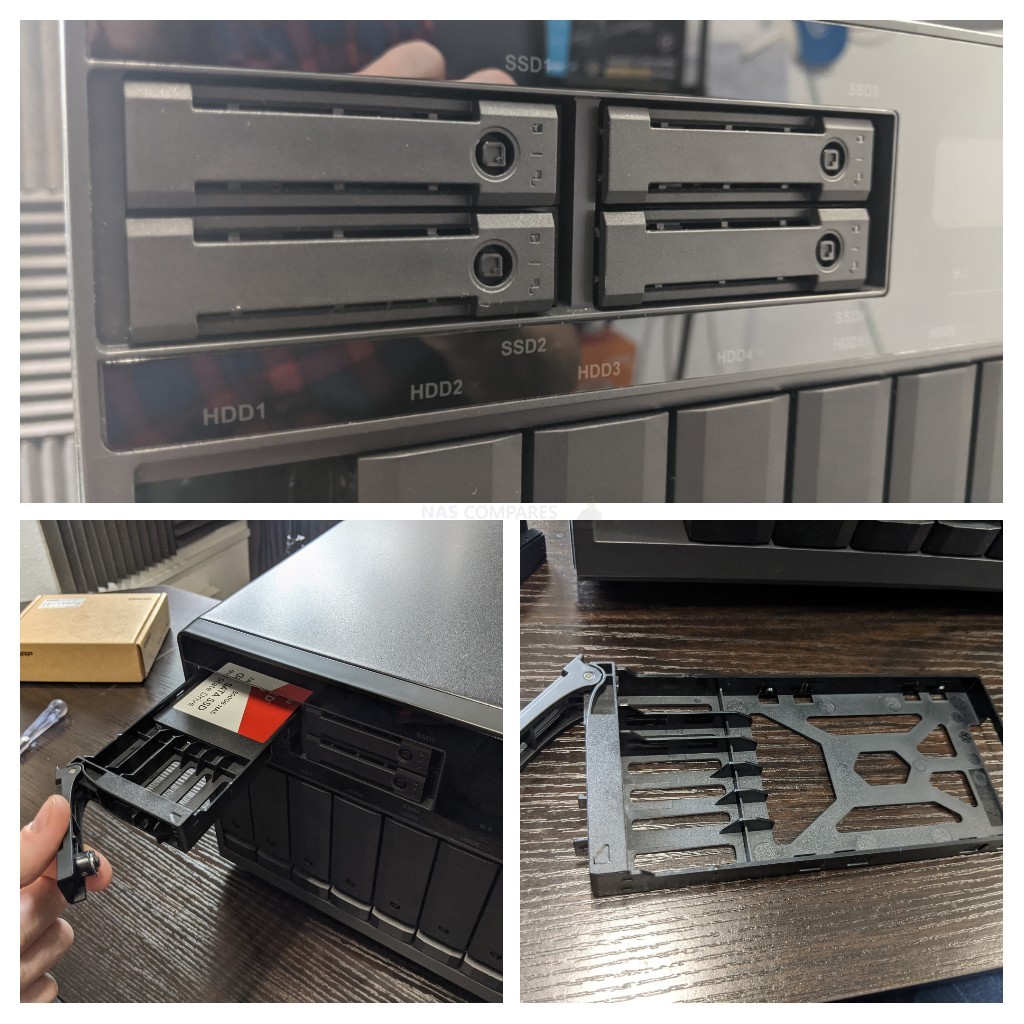 The majority of users will utilise the benefits in high performance, high IOPS and low latency that SSD provide to ensure massively improved background caching for the slower hard drive RAID array. SSD caching on NAS systems is not something new but it is something that has been improving vastly in recent years and QNAP have been on this subject earlier than most in the traditional NAS arena. The TVS-h1288X has another third tier of SSD storage inside that we will discuss later on, but ultimately this means that the triple-tiered storage of the TVS-h1288X allows you to automatically copy data onto the more suitable tears appropriate to the frequency and urgency of the data being accessed. From traditional storage to dynamic methods of accessing data on the NAS that leverage the benefit of all three layers, you have a number of options open to you with this system. Of course, you can always just utilise these for SSD bays (as well as the two NVMe bays inside) as raw storage pools if you prefer and just use this considerably faster area of storage in conjunction with 10Gbe and optional thunderbolt connectivity on the TVS-h1288X. As well as taking advantage of the even further improved performance that RAIDs on each of these individuals storage pools provide.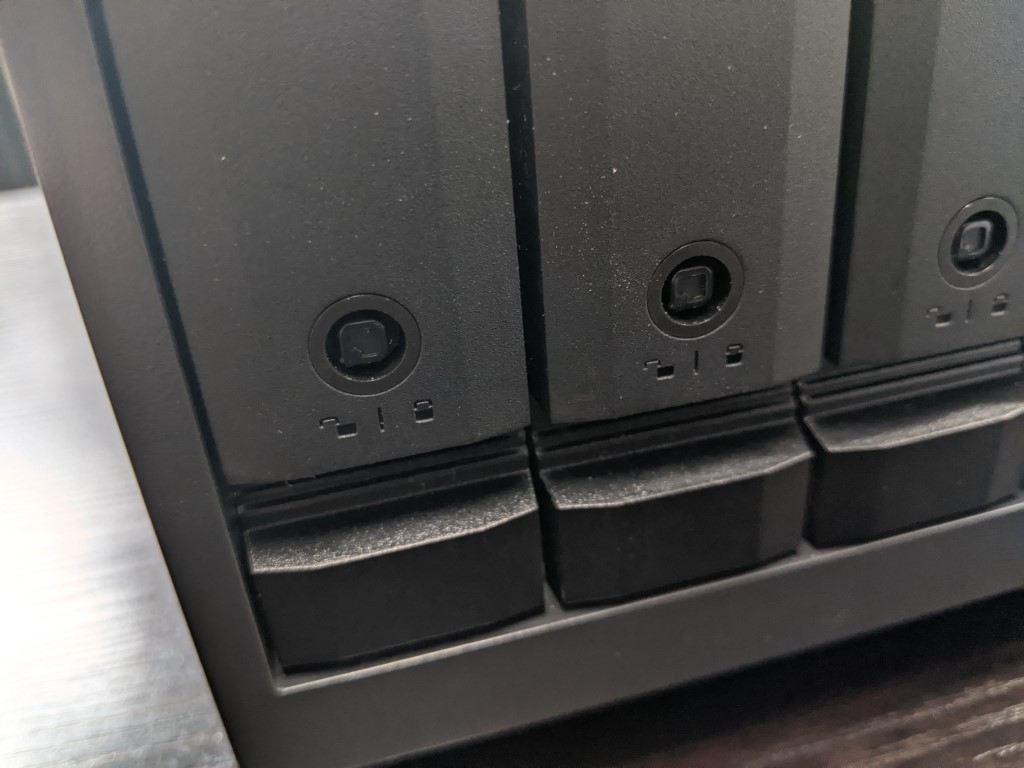 Each of these two main storage tiers supports hot-swapping when used as a storage pool, as well as featuring dedicated locking mechanism and keys. the trays lack the spring-loaded design of some higher tier devices though and the locking mechanism is largely plastic-based , so these are more preventative measures against accidental removal than full-blown security protection.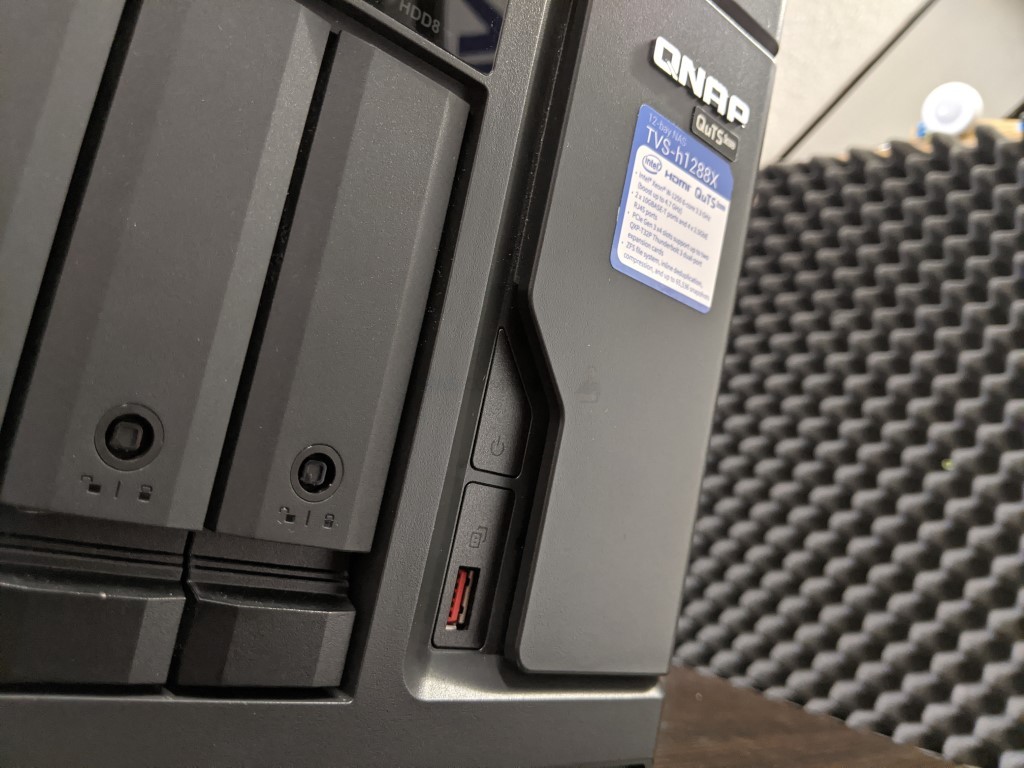 Another old school but appreciated the hardware feature of the TVS-h1288X is the front-mounted USB and physical copy button. I will often wax lyrical about the benefits of this small extra step in a multitude backup strategy, allowing users to backup external storage drives to the NAS (or visa versa) in multiple different fashions that can be preset on the system the first time. Yes, it only a tiny extra bit more than the automated USB backup protocol that this NAS and others feature, but the inclusion of a button you physically click to know that the backup has been actioned rather than just hoping it did its job when the LEDs flash, for me his a necessary and welcome addition. What particularly sticks out for me on the TVS-h1288X in this case though is that this largely backup targeted port is USB 3.2 Gen 2 in architecture. In other words, it supports 10 Gigabits per second USB connection and means you're backups are going to take place a whole lot faster.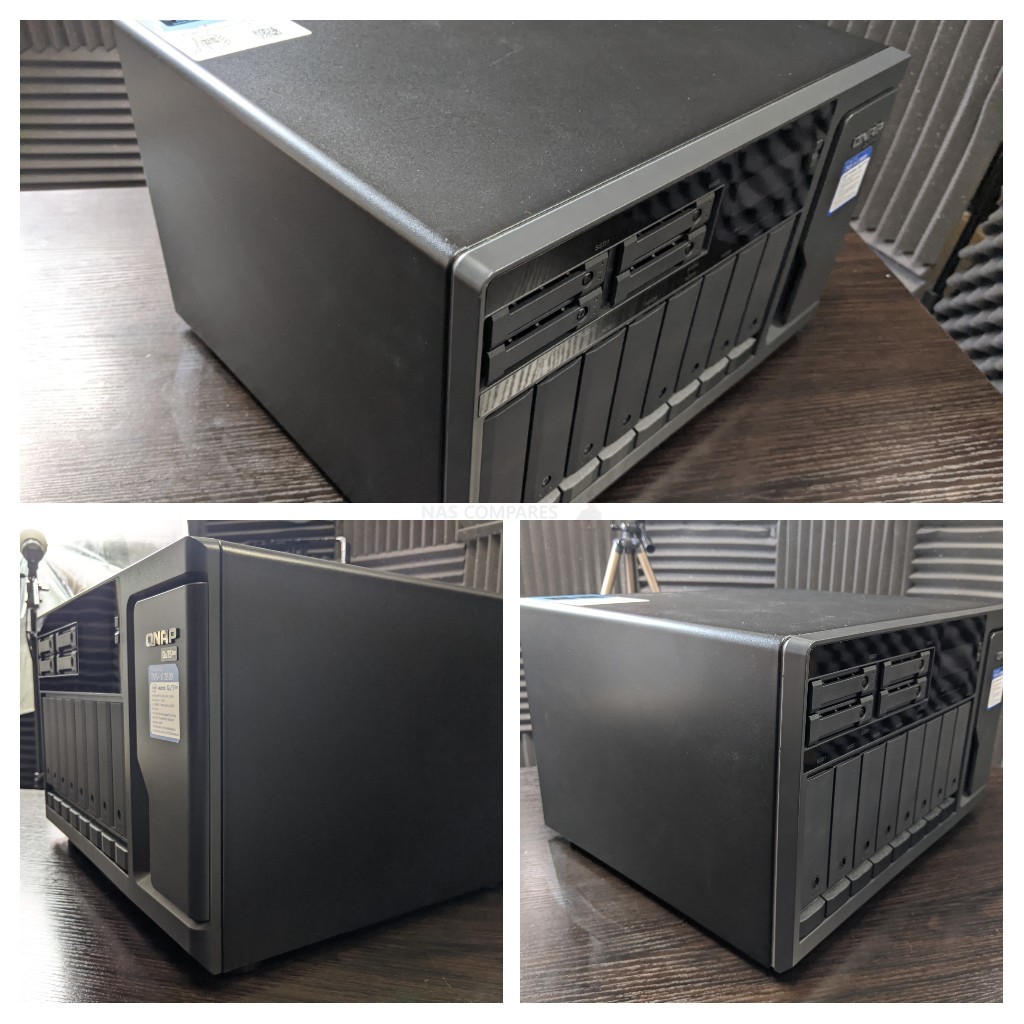 One surprising element of this chassis which I am unsure about is that the sides of the metal external chassis feature practically no additional ventilation. The front and base of the chassis have plenty of ventilation that I will touch on in a bit, but it seems odd to me that this chassis does not have any cooling vents on the surrounding areas of the chassis. Perhaps this is to control the active airflow from the real mounted fans and internal vents, or perhaps a noise limiting device as well as assisting the heat dissipation of a metal chassis? I am a fraction less convinced and although for the most part, I like the TVS-h1288X device, I am just surprised by this lack of passive ventilation.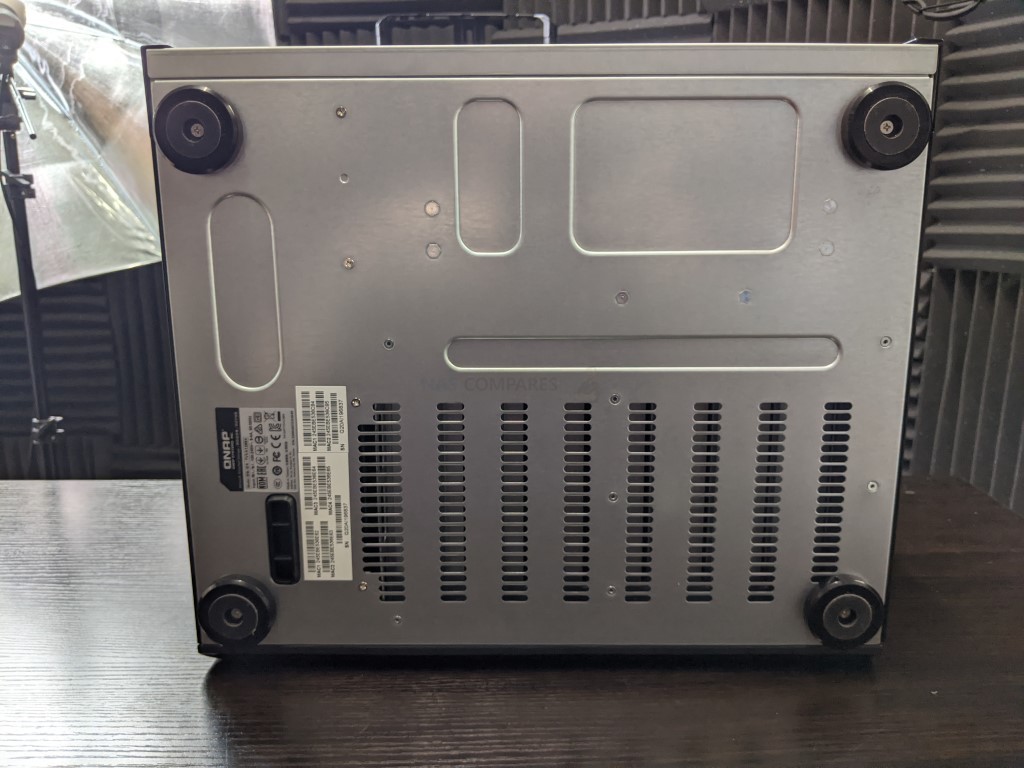 The base of the device on the other hand has an enormous amount of ventilation for both the core storage drives and the controller board found in the dedicated side panel. There are the typical rubberized feet to raise the chassis a fraction higher and limit vibration noise when the system is in operation at desktop deployment, but I am a little more relieved to see this large amount of ventilation for air to flow over the hard drive storage.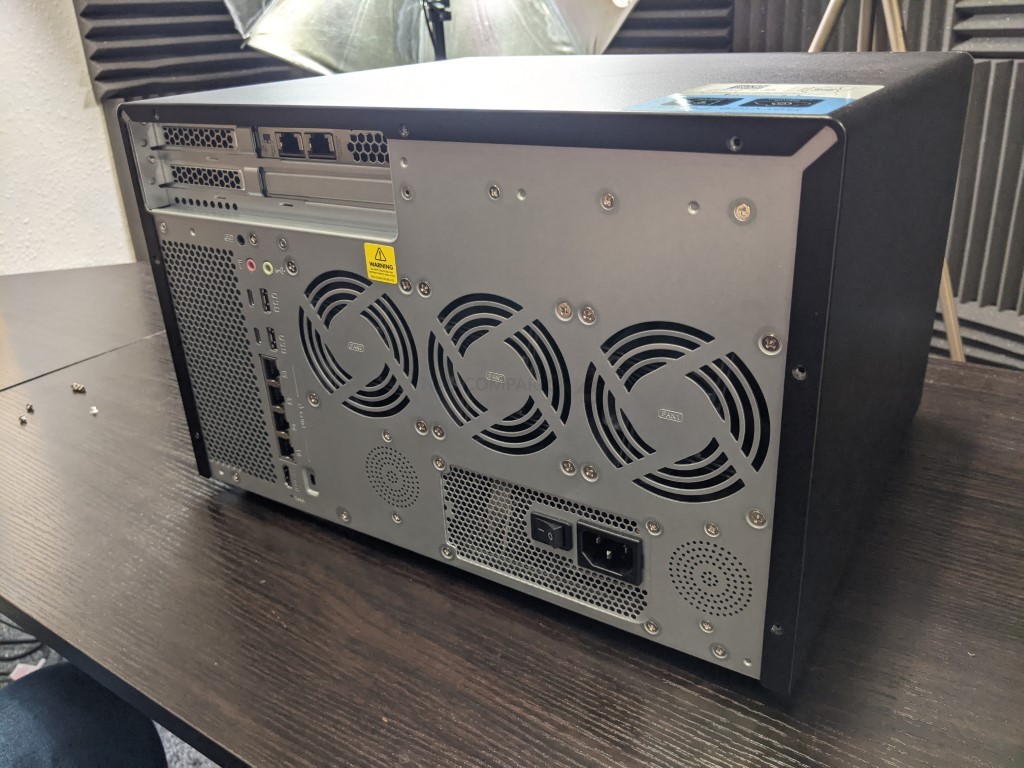 QNAP TVS-h1288X NAS Review – Ports and Connections
The back of the QNAP TVS-h1288X NAS is an absolute feast on the eyes and although in recent years we have seen them remove some of the more ambitious hardware connection choices that they have experimented it with over the years, nearly all of them are out in force on the TVS-h1288X. A huge range of connections for your client and accessory devices can be connected to this NAS and although most users will barely use 25% of them and one or two of them may seem a bit odd, the TVS-h1288X is clearly a NAS that wants to appeal to as many users as possible and the phenomenal chipset that it arrives with allows the system to be a real swiss army knife of connectivity across the board!.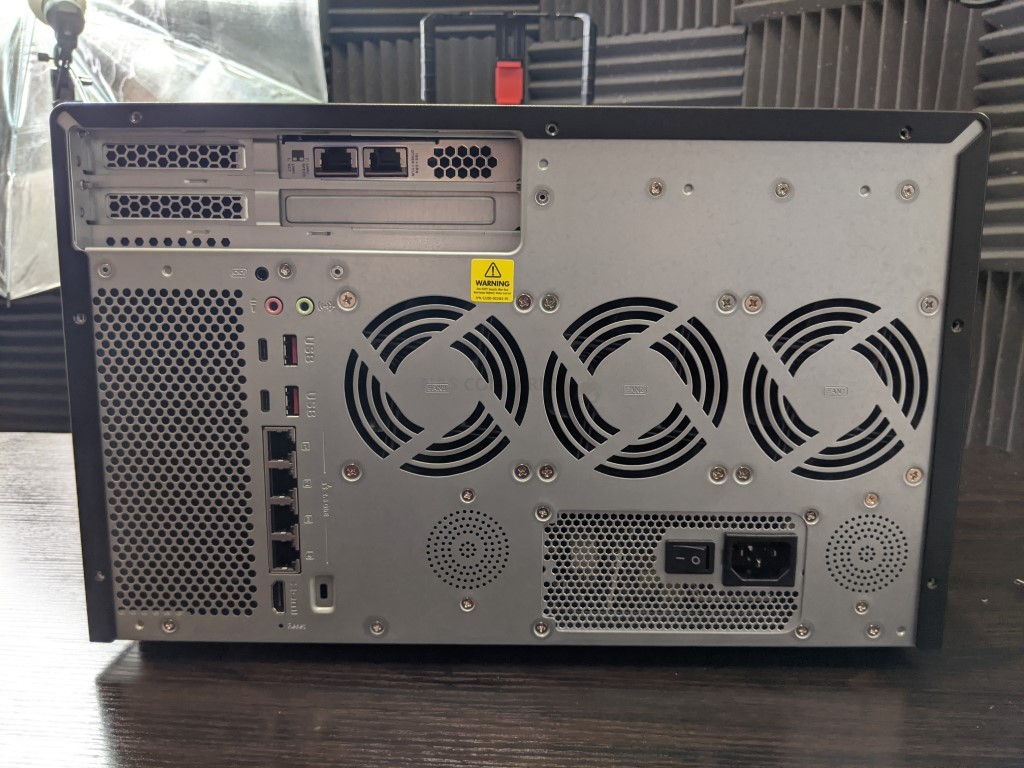 Constructed in metal, of course, this rear chassis screams ventilation and goes a little further to reassure me about the lack of those side vents. With 3 very well defined areas of cooling present that all feature active fan assistance in one shape or another, it is clear that the TVS-h1288X and it's remarkably well-equipped hardware specs needs to be kept at a decent operational temperature.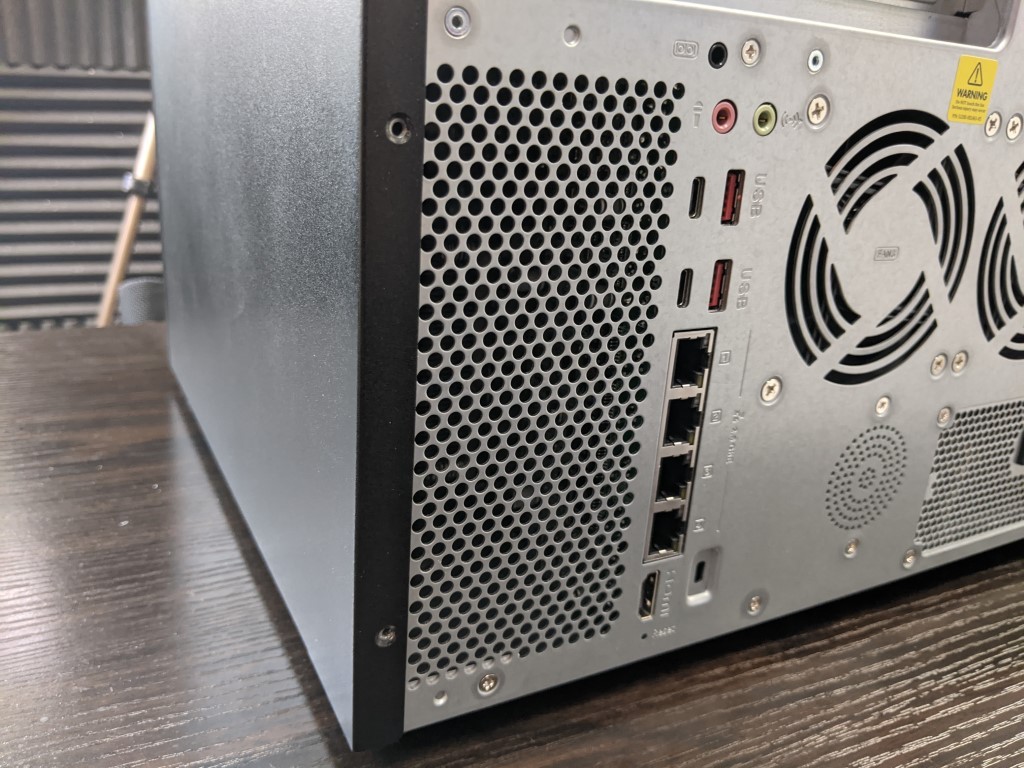 Rather unique to this device, the TVS-h1288X has that larger than usual cooling area for the main controller board. Most systems do allow an area of physical space to allow cool air from the active fans to pass over the internal PCBs, transistors and heat-sinks. However in the case of the TVS-h1288X, this logic is extended dramatically and not only is there a huge area of ventilation featured on this rear panel, but inside there is a twin cooling system over the CPU, memory and NVMe storage to keep even more cool air pushed over the components at all times.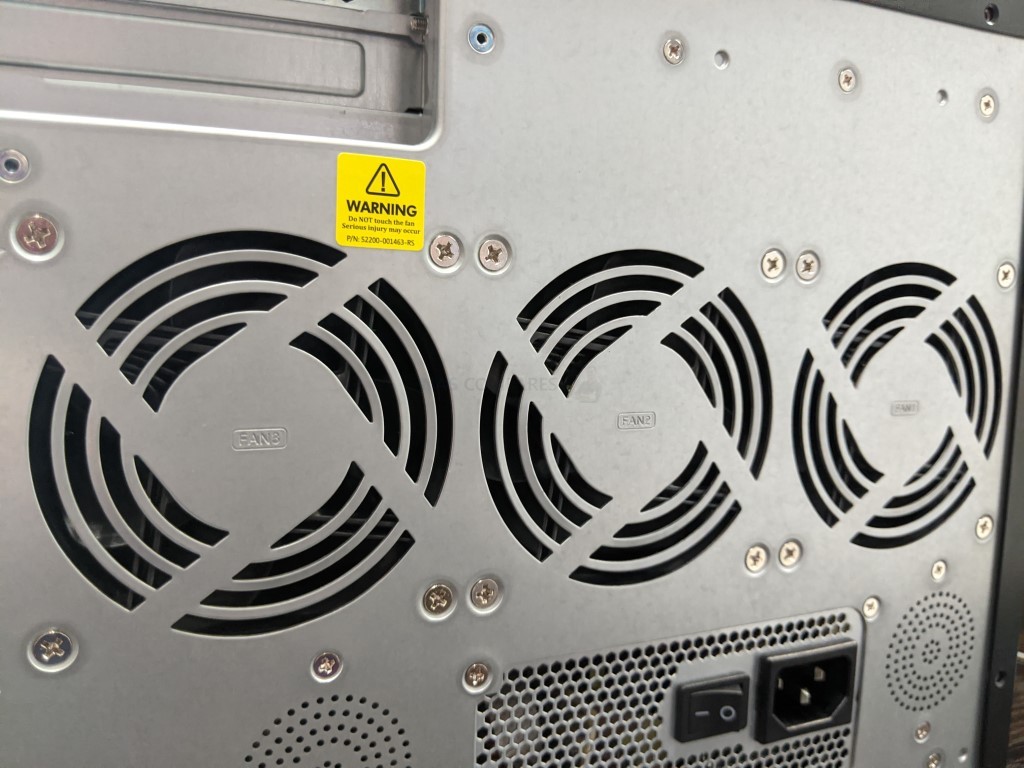 Even the fairly standard cooling fans that you expect from a desktop NAS system are a bit ramped up here on the TVS-h1288X with three controllable fans that are just for the storage media bays. Their RPM can be adjusted by the QuTS Hero system software from automatic temp changes to manual increase/decrease in rotation. I would recommend leaving them, as even in a system with this much active cooling, the system will still work at it's best when the media and soldered/hardwired components are as cool as possible. The final (sort of) area of cooling is included in the internal PSU.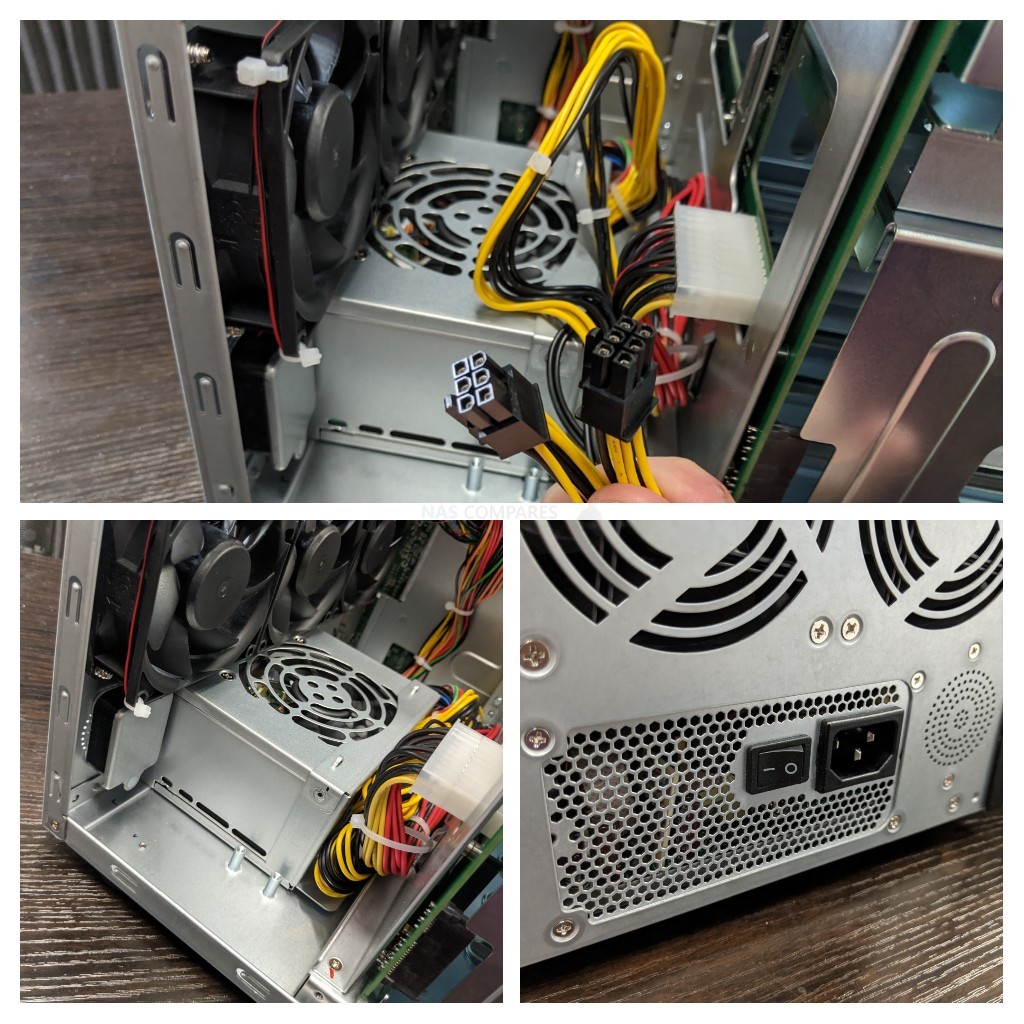 The TVS-h1288X also doesn't cut any corners in terms of power, with an aggressive 550W PSU. This may seem large for a desktop NAS storage device, but you have to take into the consideration the wide range of storage media bays and accessories that are included and optional on the device (including graphics cards too). Obviously, this is a max range of use and in most typical utilization QNAP reported 85.21W power consumption when the device was in idle/standby, which rose to 97.49W whilst the device was in full access (fully populated with HDD+SSD media). Once again, this moves this desktop device into something of a rackmount architecture bracket (stopping short of redundant PSU) but the system does seemingly have the range to use it when it needs it.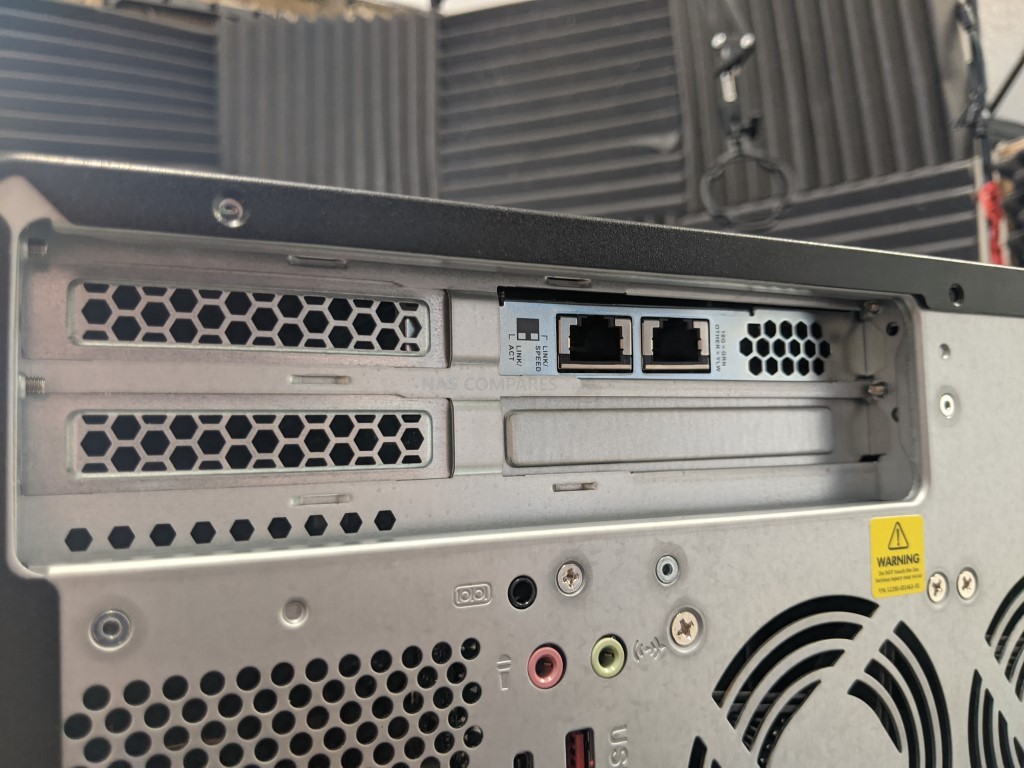 At the top of the chassis, you will find two 10Gbe copper network ports. These 10GBASE-T connections arrive on a pre-installed Broadcom NetXtreme E-Series BCM57416 network controller that supports RDMA over Converged Ethernet (RoCE and RoCEv2), allowing data to bypass general network drivers, the socket layer, and directly enter the ESXi server and storage memory buffer. RoCE technology can improve NAS performance while lowering the CPU usage of applications that use Ethernet networks, ideal for low-latency and high-speed large data transfers. The choice to have the 10Gbe connections on their own dedicated card and onboard controller (with its own cooling system too) is both a good and bad thing. Good, because it means the extra work of enabling fast transmission through this 1000/2000MB/s bandwidth is not left to the internal core system hardware, but a bad thing as it means you cant use one of the 3 available PCIe slots that this system arrives with (something those looking at the TVS-h1288X and it's Thunderbolt 3 PCIe card support will be a bit miffed about). The 10Gbe connections support link aggregation (so upto 20Gb/s on a supported switch and NICs) as well as allow connection of Thunderbolt-to-10Gbe adapters to allow TB3 users to get 1000MB/s media bandwidth support each.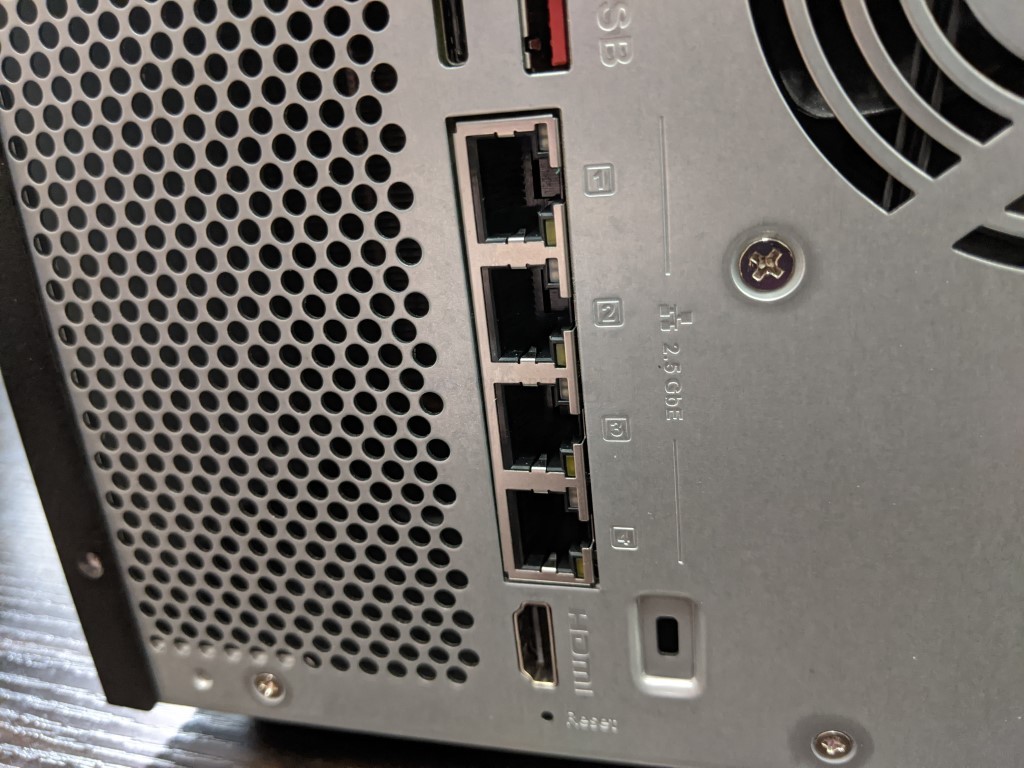 Alongside these two 10GBASE-T connections, we also find 4 more ethernet connections, each rated at 2.5Gbe (copper again), as opposed to the 1Gbe available in most other devices. QNAP has been pretty strong on the subject of 2.5/5Gbe on any device above professional consumer level (Prosumer) and although they were not the first in the market to feature it, they have pretty much made 2.5Gbe replace 1G in their devices as the standard at no additional cost. Of course, you will need a supported network switch and NICs in order to take advantage of the 250MB/s each port can fully provide (otherwise defaulting to 100MB/s) or to use link aggregation/port trunking to get another whole combined 1000MB/s bandwidth connection with all 4 – but the fact this is something the system arrives with for a future upgrade is definitely worthy of note and shows they are still trying to push the limits in hardware accepted norms in this industry. Though some business users may well have argued that a fiber/SFP+ connection would have been useful for covering larger distances internally AND externally. Upgrade cards are an option, but again not ideal for all.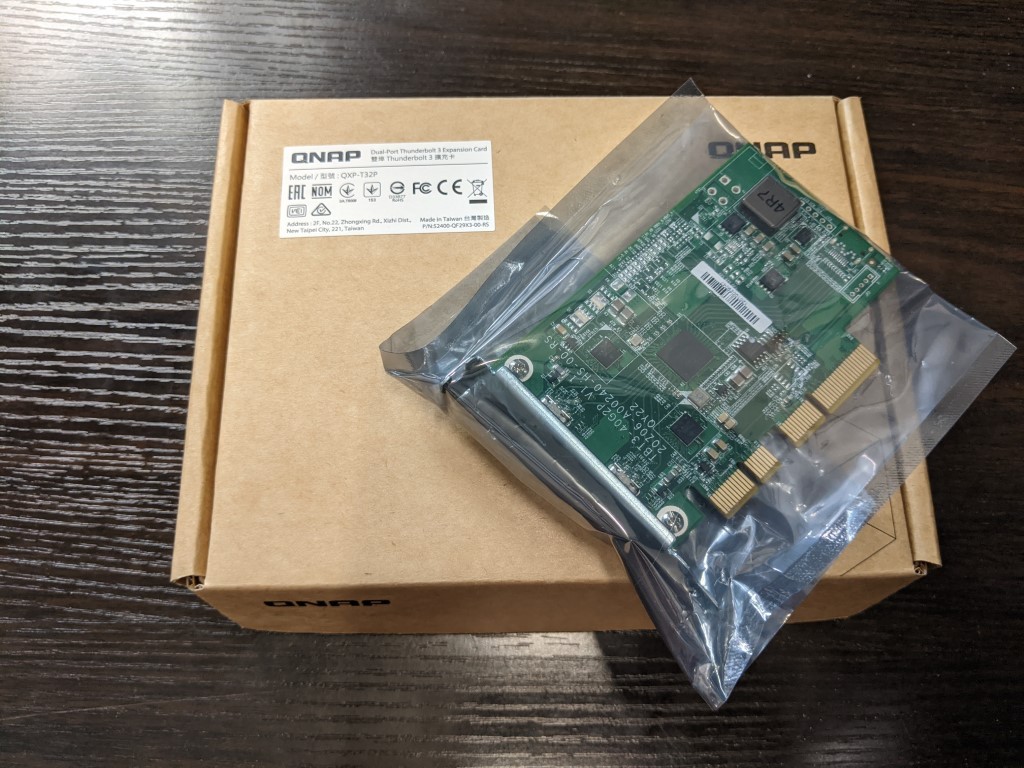 Now, the Thunderbolt 3 support on the TVS-h1288X is something that QNAP has clearly thought long and hard about. They have been remarkably successful on their development (largely unopposed in the industry) of NAS systems that also feature USB-C TB3 connections that allow users to not only access storage media externally at speeds comparable to that of local media, but also allowing users to reinvent their entire workflow, saving time and storage space, whilst at the same time ramping up productivity, collaborative teamwork at each stage of content creation and distribution (vital in post-production). Until the release of the TVS-h1288X, QNAP has always supplied the Thunderbolt 3 NAS technology in dedicated units (numbering less than 10 or so models) and these units have higher pricing because of their increased hardware power that TB3 NAS needs and exclusivity to this method connectivity. However, the QNAP TVS-h1288X is the first device in their portfolio that allow optional thunderbolt with a separate Thunderbolt 3 upgrade card option. This means those who want the high-level base hardware but either don't want Thunderbolt 3/4 connectivity or plan on scaling up to this later have the option to purchase the TVS-h1288X without it.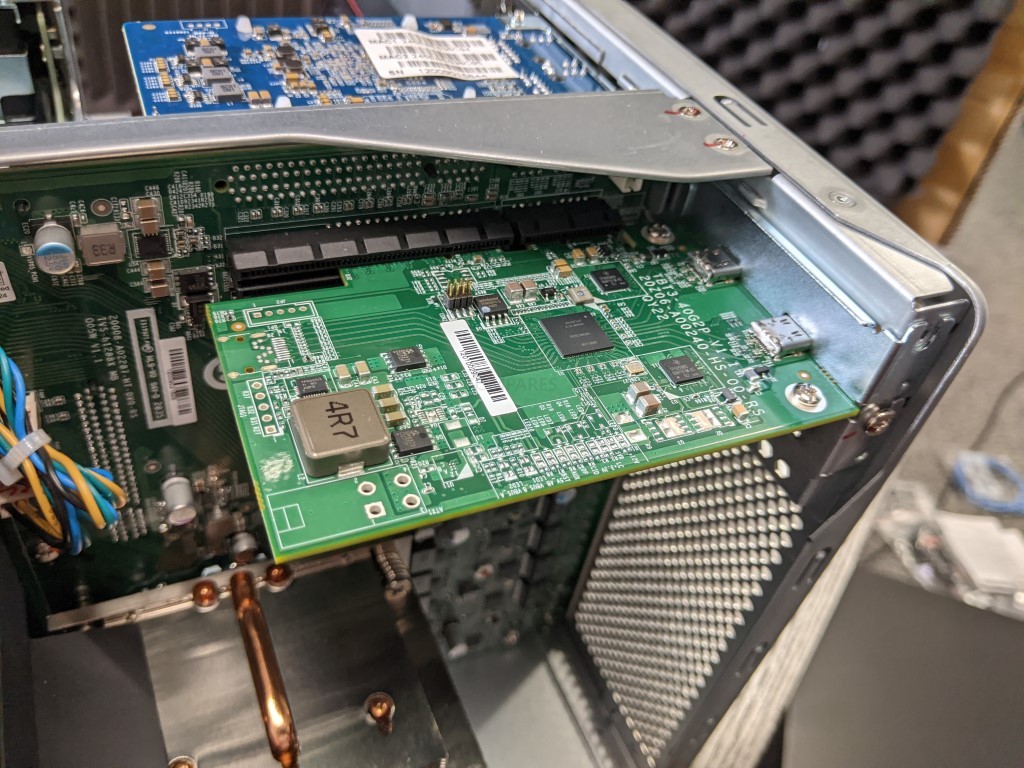 Many users (myself included) have been pestering QNAP to create and sell a standalone Thunderbolt PCIe Upgrade card over the years and the QXP-T32P optional upgrade card (arriving at around £130+ without local tax) is a 2 port USB-C upgrade card that arrives on a PCIe Gen 3 x4 build. You can install two cards inside the available PCIe 3×4 slots of the TVS-h1288X, but the 3rd port features a PCIe Gen 3 x8 slot that is occupied with the 10Gbe card.
Some users are going to be less enthusiastic about the modular nature of this device, as well as the use of Thunderbolt-over-IP as the means of connection (not quite as straight forward as plug-n-play, but not exactly rocket science either and especially useful when used as an ISCSI targeted LUN) but I think the need for Thunderbolt as a gradual upgrade rather than a forced premium system option is a much smarter route. That said, this is all still very early and currently, this upgrade is ONLY officially supported by the TVS-hx88X series (we will, of course, test it on others in the meantime) and that this is no doubt because of the GPU-Embedded Xeon inside the TVS-h1288X having enough horsepower and compatibility to support the Thunderbolt technology. 
Another feature that I thought QNAP had stepped back from in the most recent generation was the support of localized audio in notifications, multimedia and virtual machine use – something that has re-emerged here on the TVS-h1288X in two ways. The first is the featuring of speakers that provide verbal clarifications of system activities. So, the system can and will verbally inform you that "The system has booted", "the storage pool is almost full" and "The RAID is Rebuilding", etc, etc. This can be disabled of course in the system settings (similarly to LEDs and LCD panel dimming/disabling) as well as the speaker supporting audio output – but it is a rather small, low power speaker and therefore the sound is pretty low.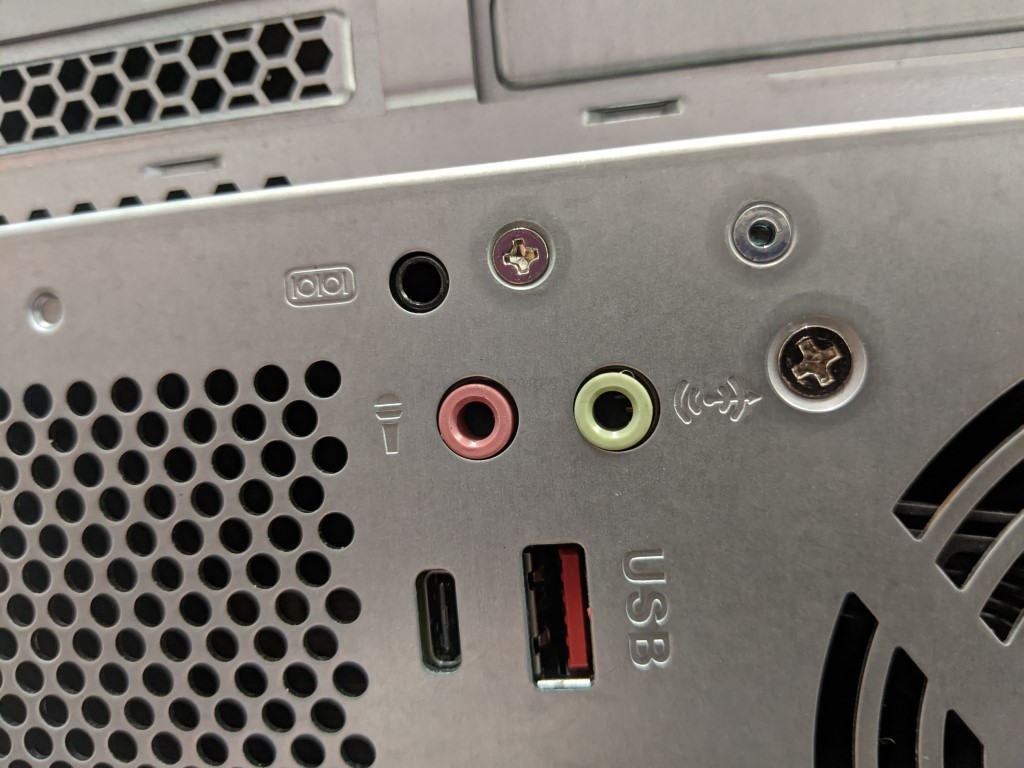 However, those with greater designed on audio output from their NAS can use the HDMI out (which we will touch on in a bit) or the audio in/out ports featured on the back of the TVS-h1288X. These support any 3.5mm jack connected speakers and they will appear as casting options in the QNAP NAS software (alongside DLNA devices and connected appropriate clients) for multimedia, virtual machines, surveillance and more. It's a tiny feature which I believe less than 5% of QNAP NAS owners use, but those that do are always keen to highlight this. There is even a dedicated Karaoke application on the QNAP NAS library that can be used in conjunction with the 3.5mm jack and HDMI out – again, massively underused.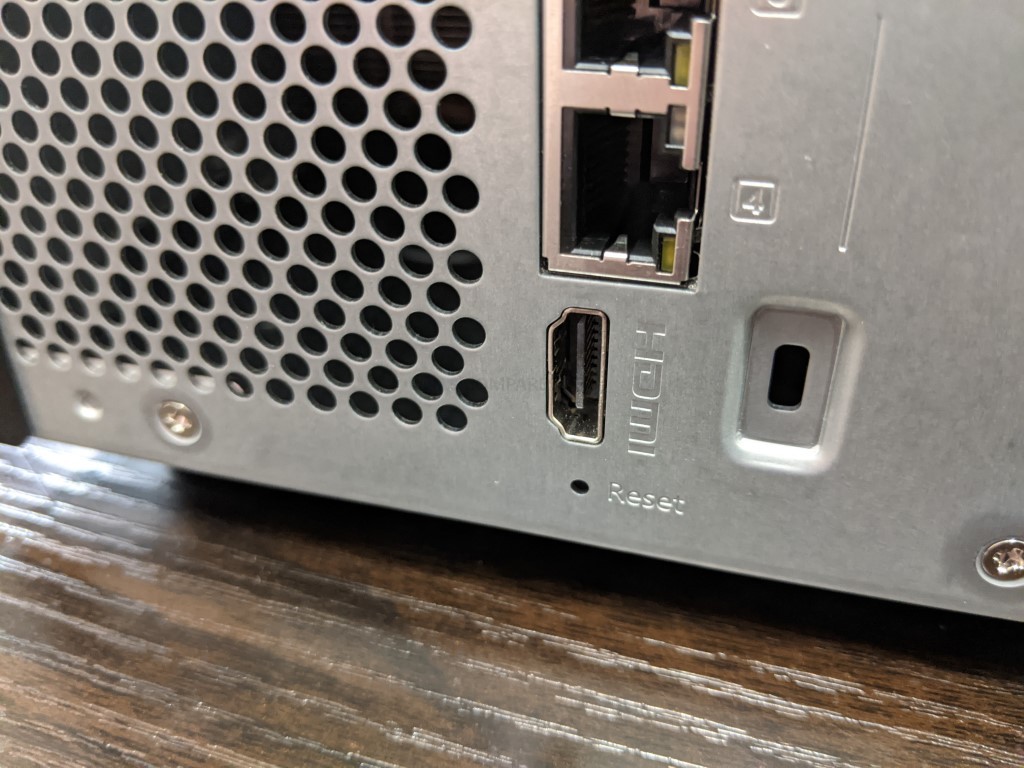 The HDMI out on the QNAP TVS-h1288X is one of the other few areas of the device that I have been left a bit disappointed. The support of HDMI on the QNAP NAS platform has been pretty significant and much like the Intel Core equipped TVS-1282 and Celeron based TS-x53D series before this, the TVS-h1288X has an HDMI onboard that can be used for visual output locally (multimedia, QVR  surveillance, Virtual Machines and more). However, despite the systems raw power, this HDMI out is HDMI 1.4b, not the HDMI 2.0 on some other devices released in 2019/2020. The difference for 1080p connected users will not be noticeable (60 frames per second), but 4K will be limited to 30fps, half that of HDMI 2.0 at 60fps. aA little digging shows us that the Xeon W-1250 used in the TVS-h1288X cannot support higher than HDMI 1.4b and therefore you can see why they have not gone higher in this systems design. Ultimately, this is a very small matter and does not limit you at all for the most part inside and outside of HD Station. This processor is still an enormous leap of the 7th and 8th gen Intel Core in the TVS-872XT and TVS-1282T3 in every other way (equalling in graphical support in all other ways) and though it is annoying, it's a small sacrifice.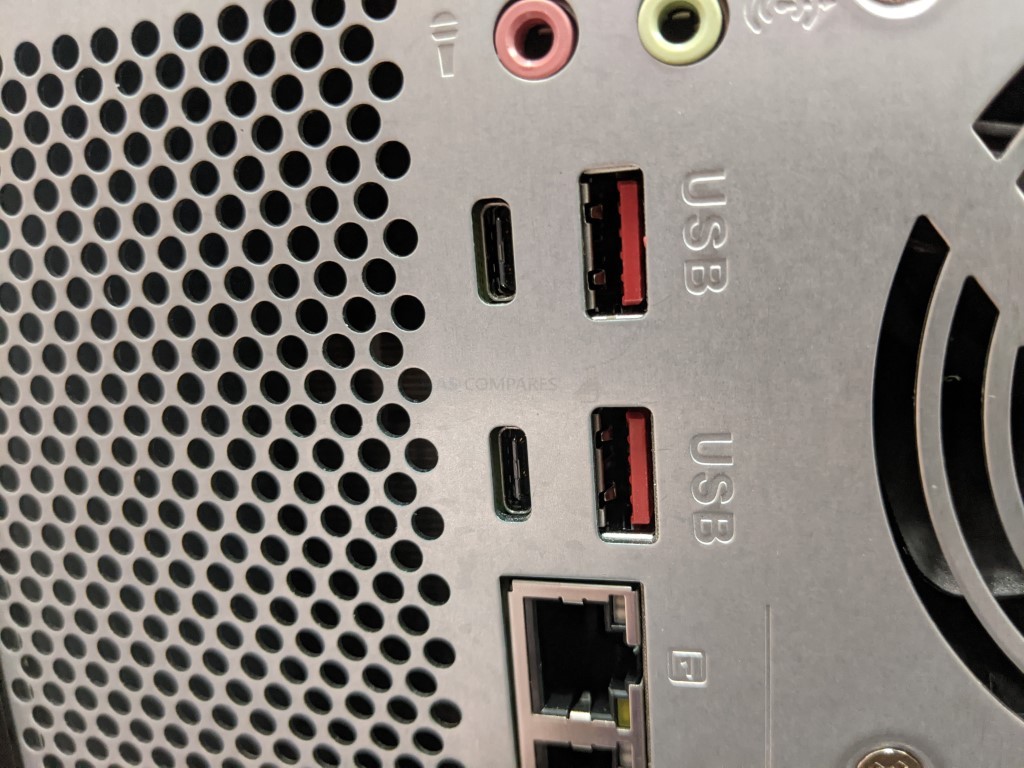 As mentioned, the QNAP TVS-h1288X features a front-mounted USB 3.2 Gen 2 10Gb/s port. However, it ALSO has 4 more ports of the same bandwidth on the rear too, in USB Type-C and Type-A too. Each of these ports supports external storage drives, ethernet adapters (wireless and wired available officially in upto 5Gb/s), Universal Power Suppliers, Keyboard+Mouse devices (known as KVM in conjunction with the HDMI) and a large range of other office hardware devices to make network accessible. The inclusion of these ports is especially useful wh/n used in conjunction with the large range of QNAP storage expansion devices in the TLTR series (that feature Hardware RAID and JBOD architecture – see video below) and with the Thunderbolt 3 expansion series still coming soon (such as the TR-106T and TR-1082T still on the waiting list) will be especially useful used in conjunction with the TVS-h1288X years down the line.
Ultimately, this is on the most well equipped QNAP NAS systems I have ever seen, even without the Thunderbolt 3 upgrade card and in spite of the disappointing HDMI 1.4b. Let's take a look inside and see what else the TVS-h1288X features and whether this can justify that big price tag.
QNAP TVS-h1288X NAS Review – Internal Hardware
Removing the lid of the device to expose the internals of the TVS-h1288X is a fairly straight forward affair and the lid slides off like any other desktop computer. It exposed two very clearly divided areas inside the chassis. There is very little loose cabling and the main media bays are all connected directly to SATA interfaces directly soldered to the controller board.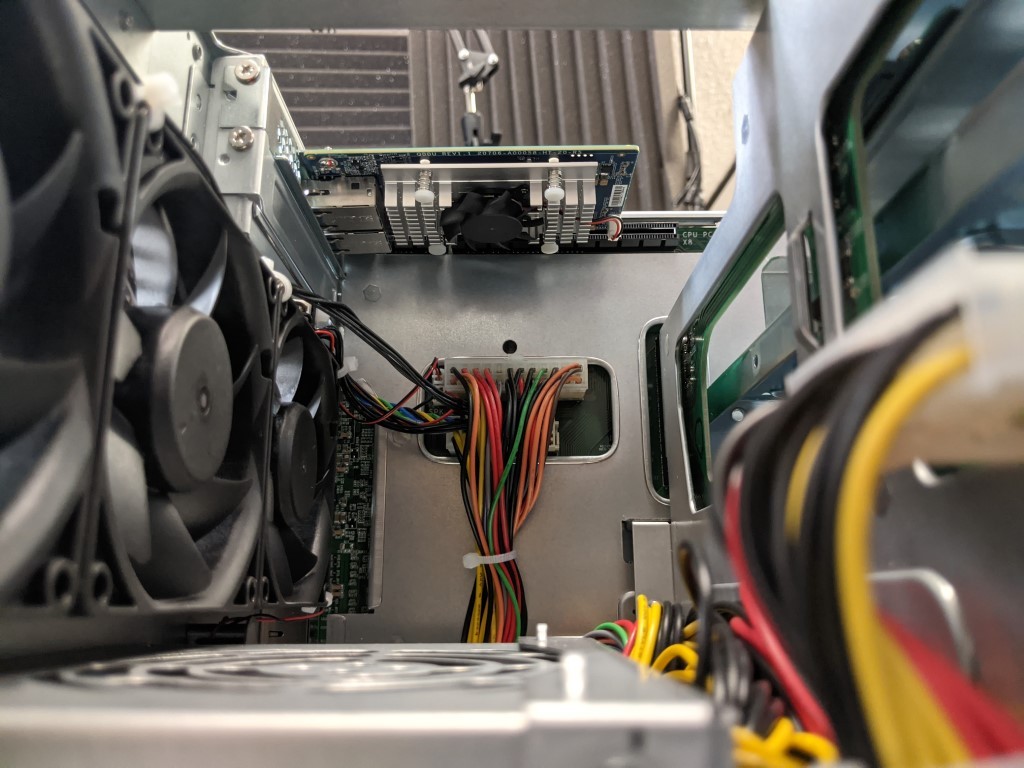 The extra internal cooling arrangement inside the chassis is quite impressive for a NAS system and provides active cooling over the NVMe SSD bays, as well as the individual memory slots. As well as drawing air over the large CPU heatsink too.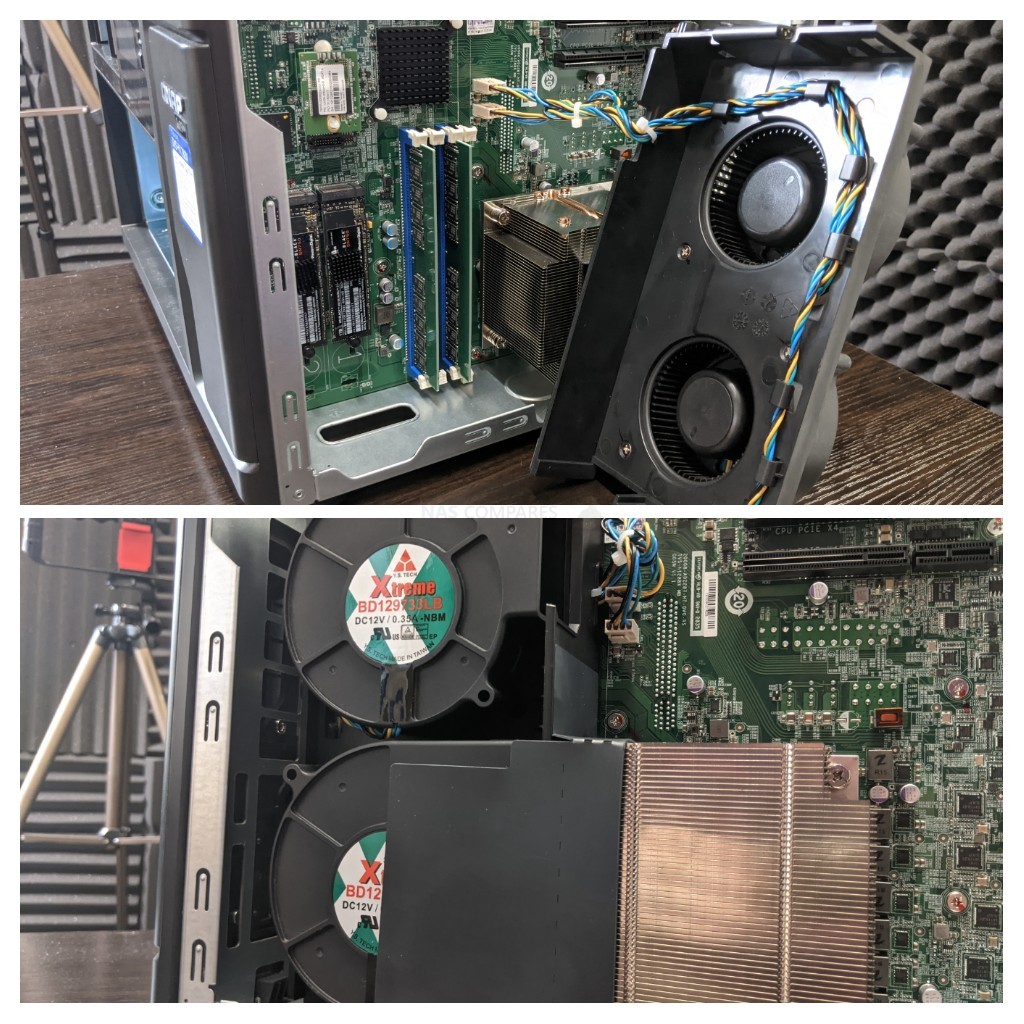 The fan covering houses two 9.7cm quiet fans that work together in drawing air in and out of the black housing and although this is not the first instance of QNAP using this arrangement internally on their tiered storage systems, I think the TVS-h1288X is the best example I have seen.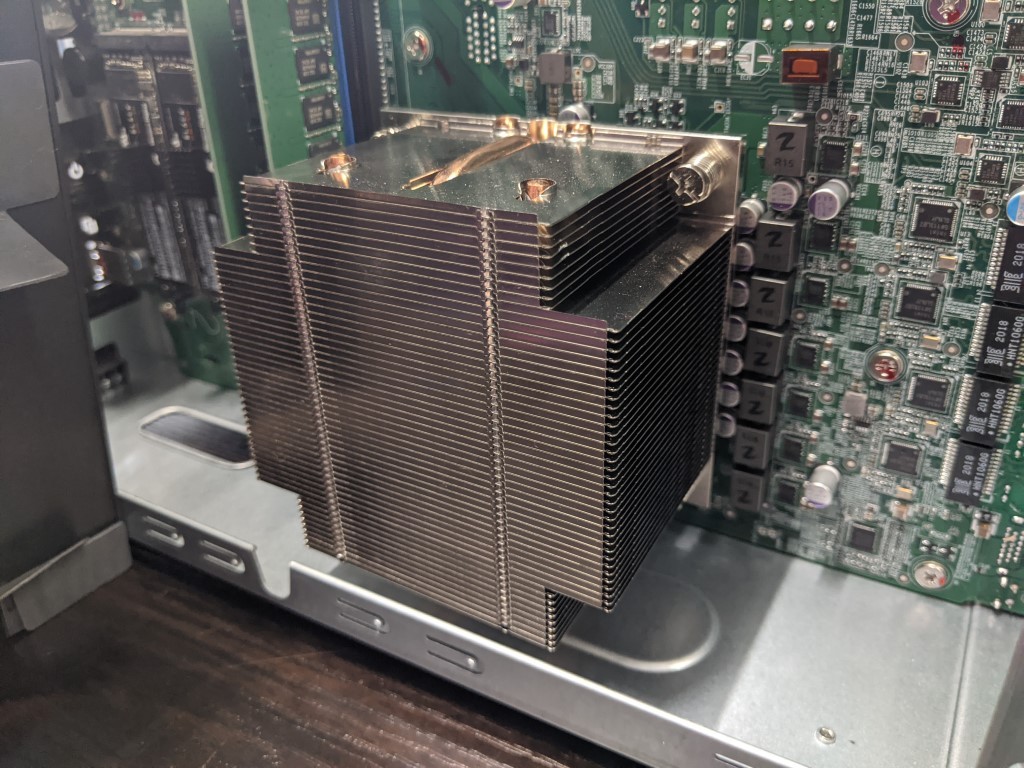 The CPU inside the TVS-h1288X is found under an enterprise-class sized heatsink and it's close proximity to the active internal cooling system is hugely beneficial to the productivity of this processor, long term. Featuring an Intel Xeon W-1250 6-core 3.3 GHz processor (that can be boosted up to a staggering 4.7 GHz), this processor has only ever been used in data centre class NAS storage previously and it is it's first real outing at a desktop level. Supporting EVERYTHING that the ZFS based QuTS Hero system can provide, as well as the storage benefits and performance associated with ZFS in general, it scores remarkably well on CPUBenchmark (see below):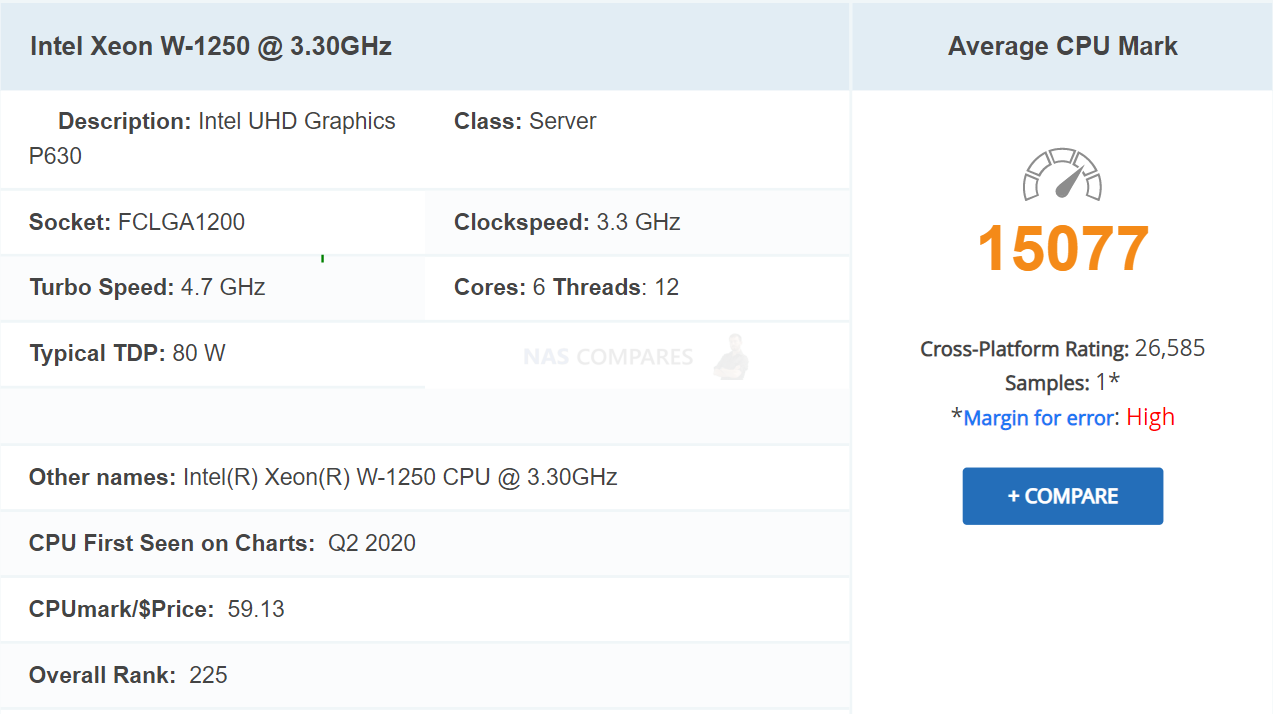 Even when compared to the exceptionally popular Thunderbolt 3 solution, the TVS-1282T3, and it's Intel Core i7-7700 @ 3.60GHz, CPU benchmark still rates the Xeon W-1250 at almost DOUBLE the score: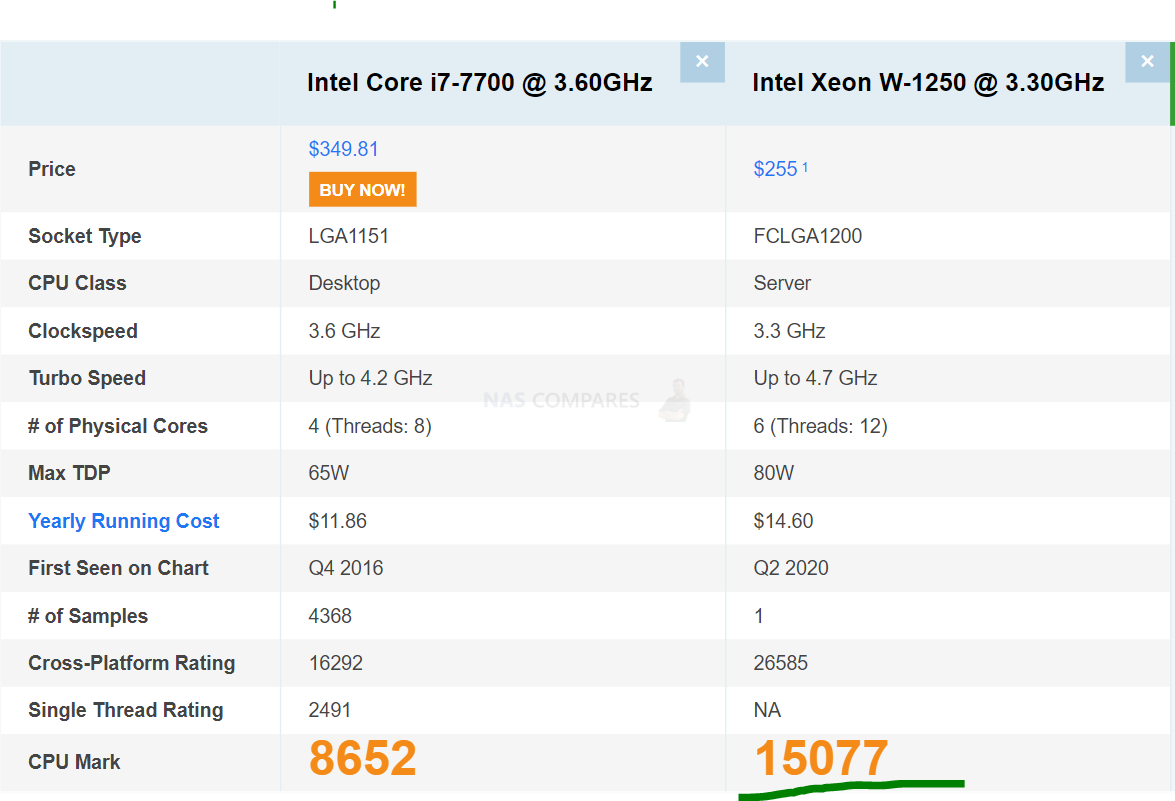 Intel themselves rate this as one of their best graphically embedded processors available to service users and this is especially of note, given the comparative rarity of Xeon processors with a GPU component on board. Most (myself included) would have assumed that the TVS-h1288X would have arrived with an 8th/9th Gen i7, but this embedded graphics Xeon is a smart move, given the how the industry has switched towards Xeon as the defacto CPU of choice in the storage industry in 2020/2021.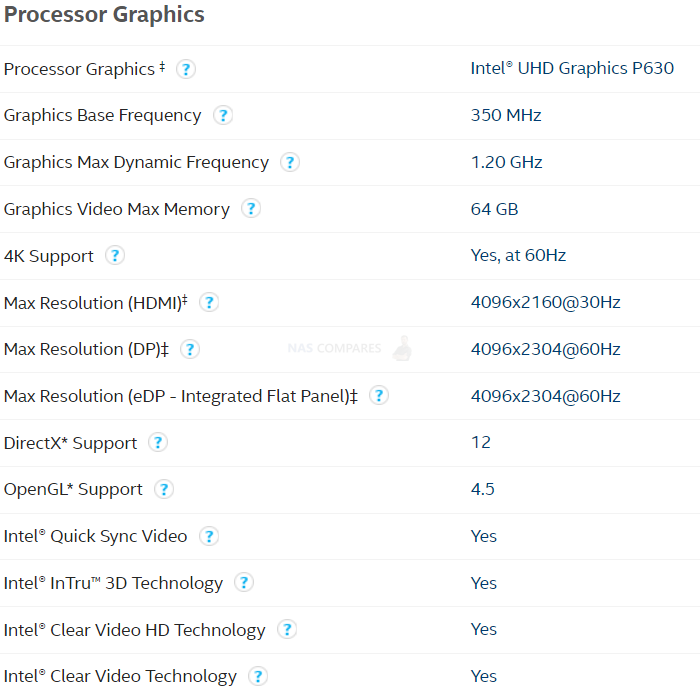 This CPU translates into some impressive performance potential, both internally with the first/third-party applications that businesses will operate on the TVS-h1288X, and externally when taking advantage of the 10Gbe connectivity and optional Thunderbolt 3 card performance. The performance you will get is going to depend to a large degree on the media you use, the number of drives and the usage of those storage tiers, but even then QNAP themselves highlight in testing with just 4x SATA SSD in a RAID 0, the system hit 1,400MB/s Read and 1,257MB/s Write. Using further tiered storage options, as well as combining the utility of those NVMe bays for raw storage or caching will likely result in this number is even higher if done right. Also, remember the speed test from QNAP is of a single connection, this still leaves multiple 10Gbe ports, 2.5Gbe ports and further TB3 connections possible. So if you are using media with high IOPs values or shared drives with a decent level of intelligent caching, you will see high performance on multiple connections being enjoyed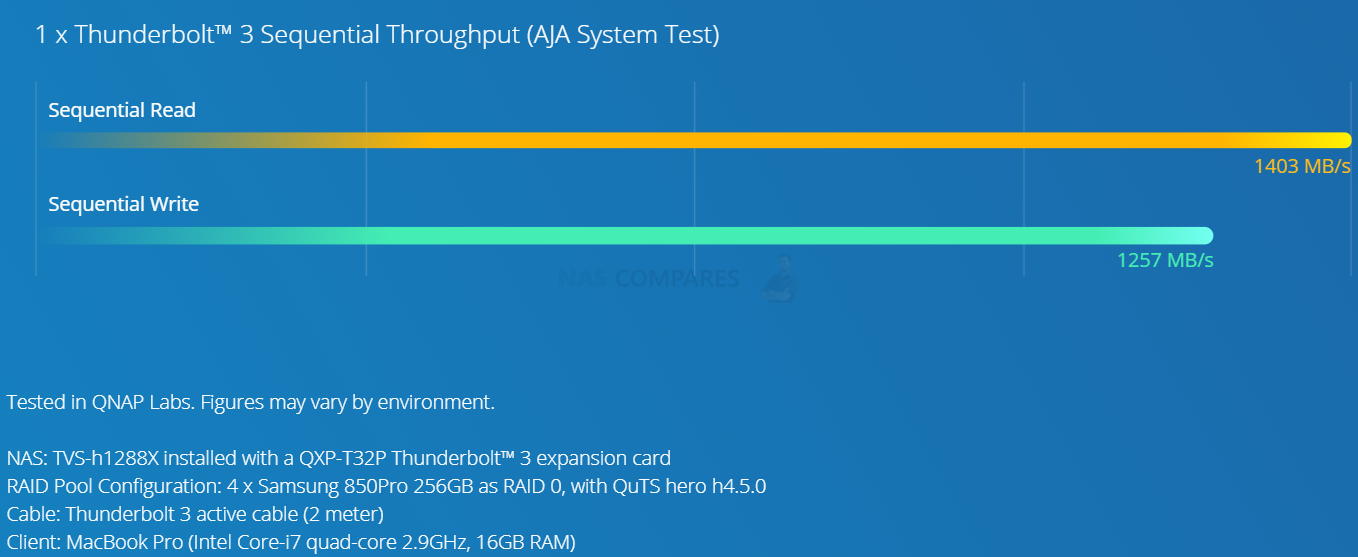 The performance of direct access is only one way to measure performance and another key area is in that of using the system software (or just using the TVS-h1288X as a target drive in conjunction with your own 3rd party software, such as Office 365, GSuite, VMware, Hyper-V, PLex, etc) and in that regard, the TVS-h1288X still has ALOT of hardware to get things moving.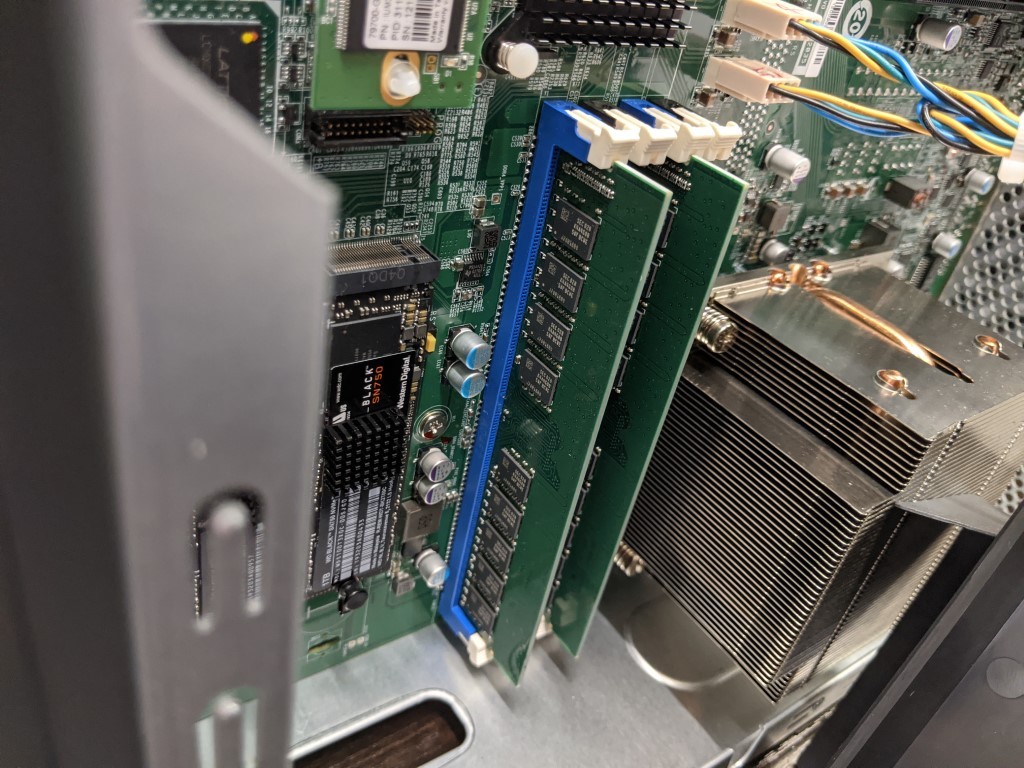 The system arrives by default with 16GB of DDR4 2666Mhz ECC memory and 4 available longer UDIMM slots. The fact it is error code correction memory will definitely make a number of business users happy as it will provide an extra layer of data safety with its self-healing attributes thanks to checks made as data passes through the memory. In order to use the full complement of ZFS features and service benefits, you will need at least 16GB (for incline compression and inline deduplication for example) but also for surveillance, enterprise-level virtual machine deployment and making the most of those cloud gateway sync options in Hybrid Mount, vJBOD, Hypervisor and BoXafe. The ability to scale all the way up to a staggered 128GB of memory is pretty impressive and for those in AI or Hyperscale environments, this is pretty incredible to have at a desktop level. Of course, the memory will typically be flushed periodically and fully cleared at a shutdown/reboot. For something a bit more robust and long term, we look at those NVMe bays.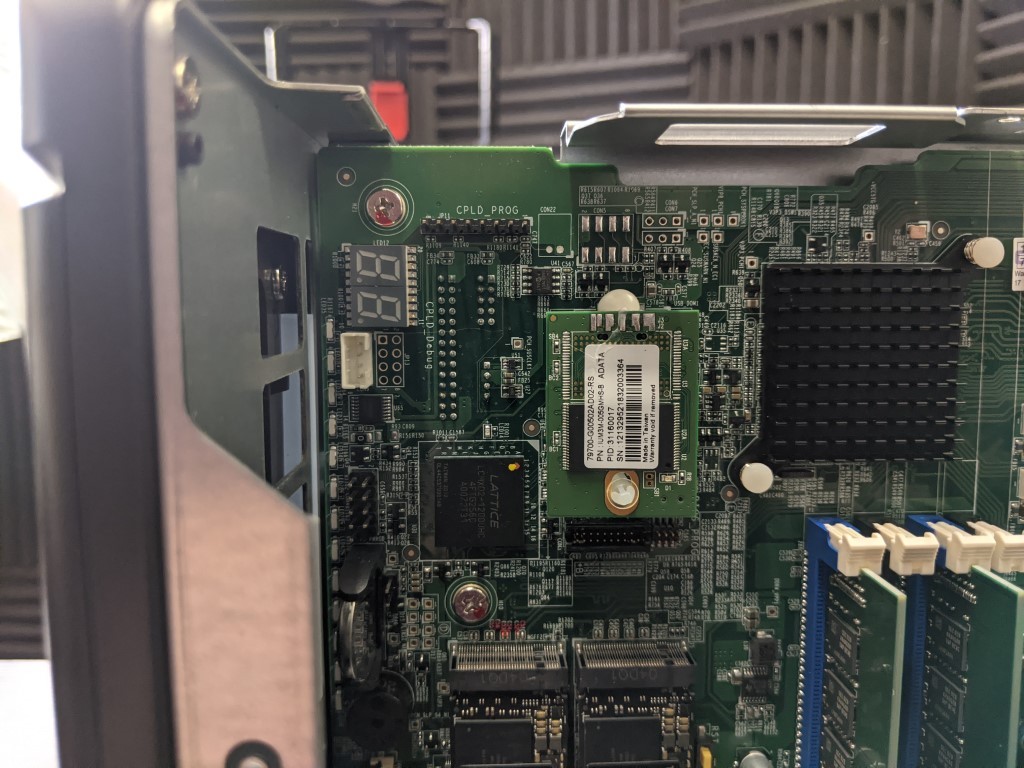 These two NVMe bays, at PCIe Gen 3 x4 each support upto 4000MB/s SSDs (depending on the R/W activity) each and these bays can be used as another layer in yoru tiered and intelligently cached storage system, or can even be set as their very own storage pool if you choose. For those of you that want to create a more human-friendly storage tiering system, the ability to use the individual storage tiers as manually set up storage pools is going to be much easier to understand – if a little caveman in architecture. So, if you work in a video editing company/suite, you could have the editors in post-production editing directly on the NVMe SSD Storage pool over 10Gbe/TB3, then those who work on the metadata, images, database data that surrounds it on the SATA SSD layer, then you have the larger but slower HDD RAID layer for archive storage. The just sync the HDD (or all three) with an offsite backup over the network with rsync or the internet with a cloud service (or even a 10Gbs USB). a HUGE amount of options, whether you want to use the caching system or not.
PERFORMANCE RESULTS – 2x NVMe SSD, RAID 0, 4GB Test File, 5K Resolution, Mac OSX Big Sur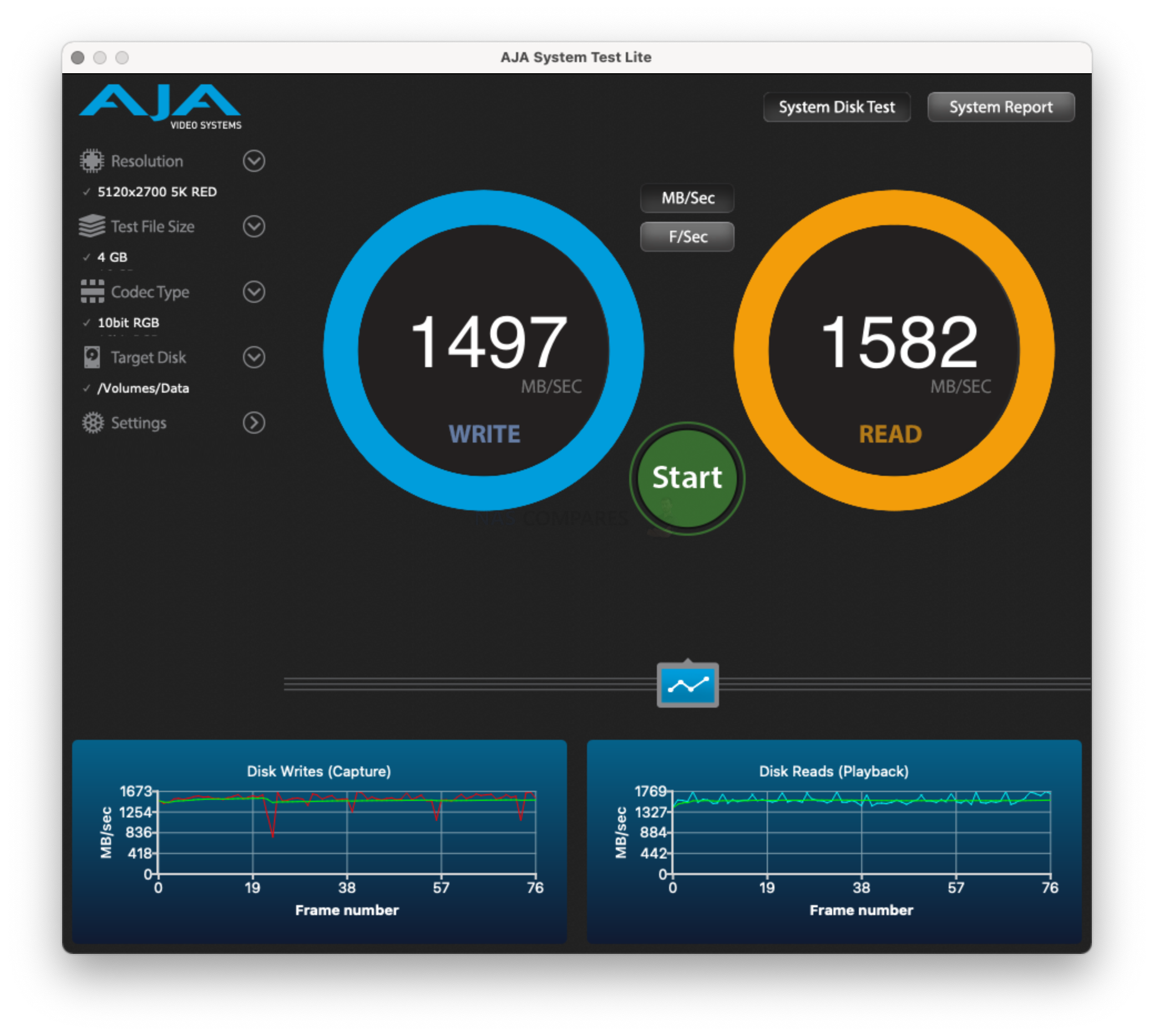 The above speed test was conducted with JUST the two NVMe SSD, in a RAID 0 environment on a Mac Book Pro with the recently released Big Sur update. As you can see, the performance with just these two SSD was 1,497MB/s Write and 1,582MB/s Read – for a Thunderbolt NAS system, that is damn impressive. The PCIe slots inside support a number of different official QNAP and third-party (ie Intel, Mellanox, Nvidia, etc) upgrade cards and allow you to improve the internal and/or external performance of your QNAP TVS-h1288X NAS system. The two PCIe ports that are empty by default are PCIe Gen 3 x4 architecture each (ie 4000MB/s) and support multiple Thunderbolt 3 upgrade cards, as well as numerous other ethernet cards (including a whole bunch of fibre channel FC stuff).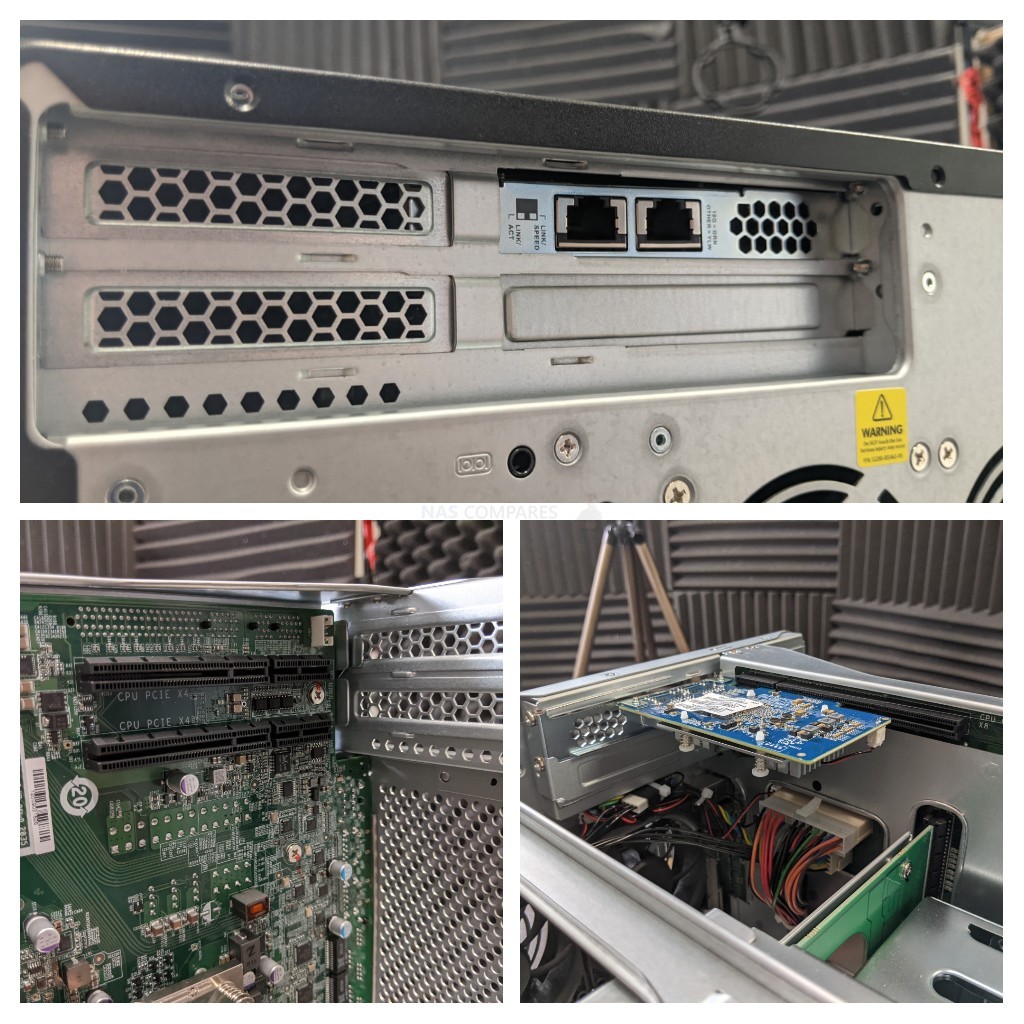 Meanwhile, on the other side of the main controller board, we find the pre-populated PCIe Gen 3 x8 slot that already has a much wider 10Gbe dual-port card. This card can be removed and replaced by other upgrade cards, but it seems a tad odd that QNAP did not decide to install a 2x 10Gbe card (such as their own more compact QXG-10G2T-107 card at PCIe Gen 2×4) in one of the two more suitable slots and leave this potentially 8000MB/s slot spare. This is certainly less of an issue on day 1, but still, a strange choice by them that left me puzzled.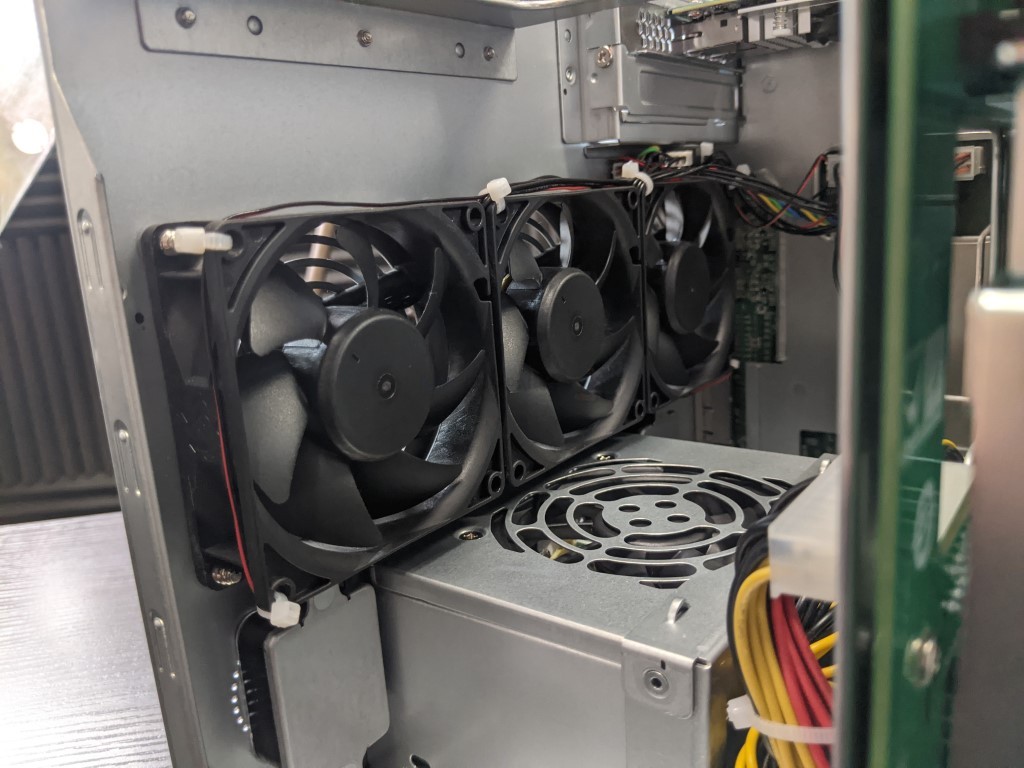 So, aside from the confusion of the PCIe slots, I am remarkably chuffed with what we find inside the TVS-h1288X and aside from some rather odd choices in placement by QNAP on those PCIe slots to ponder, it's still scoring high from me. Let's now discuss the software and how this is a marked improvement over it's predecessor.
QNAP TVS-h1288X NAS Review – Software
The fact the TVS-h1288X arrives with QuTS hero is not a massive surprise, given the hardware discussed so far. But this is the very first Thunderbolt 3 supported solution that QNAP has ever supported with ZFS. Zettabyte File System, although much hungrier as a file system, provides much fast, robust and reliable storage, as considerably faster RAID building, rebuilding and re-silvering. QNAP utilize these features along with those of space-saving and performance-boosting compression and deduplication happening in real-time when data is being transmitted to/from the device. This along with the improvements in redundant storage options and considerably better background caching performance are then combined with the GUI and software available in the QNAP application catalogue. The software found with the QNAP TS-h1288X NAS can be broken down into 2 sections. namely those of the advantages that QNAP QTS already bring to a business user, and then the widespread system and storage advantages that QUTS hero and ZFS bring as well. For those unfamiliar with the QNAP operating system, it arrives with hundreds of free applications, can be accessed from a web browser or desktop client, arrives with many, many apps for mobile on IOS and Android and is definitely in the top two operating systems you can get for network-attached storage devices. Often compared with their biggest rival Synology NAS and DSM, QNAP QTS GUI is designed in a way that will definitely appeal more to Android and Windows users, giving you everything you will need from a network-attached storage device in 2020 and arrives with constant updates for added features and security.
QNAP File Management Highlights
File Station

– File Browsing and Management Tool

QSirch

-Intelligent and Fast System-wide search tool

QFiling

– Smart and customizable long term storage and archive tool

SSD Caching Monitor and Advisor

– Allowing you to scale your SSD cache as needed, or get recommendations on how much you need

QTier

– The QNP intelligent, multi-layer tiering system that works to optimize your SSD and caching configuration

Microsoft Active Directory

– Support and cross-platform control of Active Directory processes

Access-Anywhere with myQNAPcloud

– Safe and secure remote access over the internet to your storage systems, apps or just file storage

Qsync for multiple hardware environment backups and Sync

– Client applications that can be installed on multiple 3rdparty devices and create a completely customizable and scaled back up network between your devices

QuDeDupe / Deduplication tools

– Allowing you to conduct backups between multiple devices and directories, but allows same-data in numerous locations to be only held once (but recorded in all locations) to allow smaller backups and lesser bandwidth consumption
Then you have KEY applications that are used on the QNAP NAS system that moves into tailored data access and use, such as:
Hybrid Backup Sync 3

– Allows you to Backup and Sync with Amazon Glacier, Amazon S3, Azure Storage, Google Cloud Storage, HKT Object Storage, OpenStack Swift, WebDAV, Alibaba Cloud, Amazon Drive, Amazon S3, BackBlaze B2, Box, Dropbox, OneDrive, Google Drive, HiDrive, hubiC, OneDrive, OneDrive For Business, ShareFile and Yandex Disk. As well as backup to another NAS over real-time remote replication (RTRR) and USB connected media. All scheduled and all accessible via a single app user interface.

vJBOD and Hybrid Mount

– Gives you the ability to mount cloud storage as a visible drive within the NAS (and the apps access it as if it was local) or mount a % of space from your NAS onto another as a virtual chunk of space to use

Multimedia Console

– one portal access point to manage media access, searching, indexing and transcoding on your NAS device.

Photo, Video and Music Station – Multiple file type tailored applications to access data in the best possible way that is suited to their output – along with smart searching, playlists and sharing

Virtualization Station

– Used to create virtual computers that can be accessed anywhere over the network/internet with the correct credentials. Supporting Windows, Linux, Android and more. You can import an existing VM image to the NAS, or you can even download Linux and Windows VMs directly to the NAS for trials for free

Container Station

– much like the VM app, Container station lets you mount and access smaller virtual tools and GUIs, then access them over the network or internet.

Linux Station

– Handy application to deploy multiple Linux based Ubuntu VMs from the NAS, all easily and within a few clicks

QVR Pro and Surveillance Station

– Surveillance applications that allow you to connect multiple IP cameras and IP speaks to your network and manage them with the applications. Arriving with 4 camera licenses for Surveillance Station and 8 licenses for QVR Pro (the better one IMO), QNAP is constantly updating this enterprise-level surveillance application – adding newer security hardware and software tools for 2020 (see QVR Face and QVR Door)

QuMagie

– Facial and Thing recognition application to help you retrieve, tag and catalogue photos by its use of AI to actually 'view' all your years of photos and let you search by the contents of them, not the file names.

Download Station

– A download management tool that can handle HTTP, BT, FTP and NZB files in bulk to be downloaded to your NAS drive and keep safe. As well as keeping an eye on your RSS feeds and keeping your podcast downloads automatically updated with every episode

Malware Removers and Security Councillor

– Along with Anti Virus software trials on the app centre, QNAP also provide numerous anti-intrusion tools and even a whole app interface to monitor in/outgoing transmissions with your NAS. It can make recommendations to beef up your security and keep you safe
Then you need to factor in those benefits (incline compression and dedupe) of ZFS rolled into it:
Space Saving Efficiency – Inline data deduplication, compression, and compaction reduce file size to conserve storage capacity and optimize performance.
Intelligent Memory Cache – Main memory read cache (L1 ARC), SSD second-level read cache (L2 ARC), and ZFS Intent Log (ZIL) for synchronous transactions with power fail protection are simultaneously supported to boost performance and security
RAID Z – Multiple RAID levels allow flexible capacity utilization. RAID Triple Parity and Triple Mirror deliver higher levels of data protection.
QSAL (QNAP SSD Antiwear Leveling) – RAID-level SSD lifespan is automatically and regularly detected to prevent simultaneous SSD failure, improving your data protection and system reliability.
So, you have an enormous amount of software options open to you. And if you are a content creator, a 4K video editor, a Hyperscale VM operator or a large scale business user – there is a tremendous amount of productivity available in the TVS-h1288X.
Learn More about how the QNAP TVS-h1288X NAS Performed in Plex Media Server Tests by clicking Below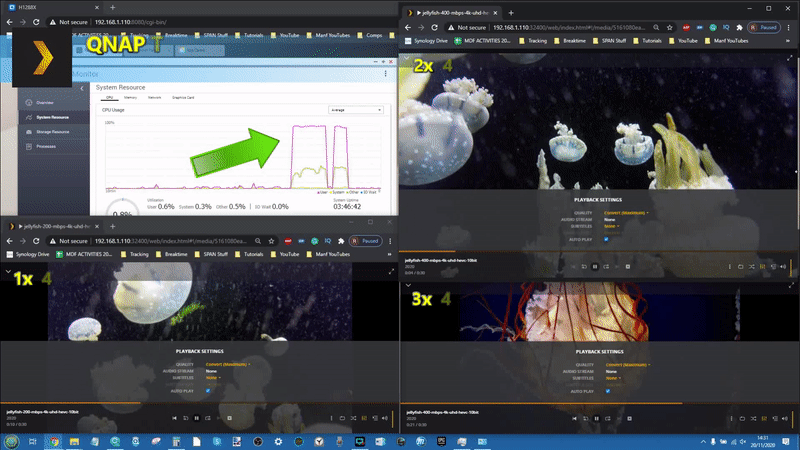 Though the QNAP software platform lacks some of the polish of the Synology NAS platform (DSM) and apple-like branding, it closes the gap completely with a much more fleshed out range of software options with numerous tools to get the job done – just make sure you have a tech guy on hand or can overcome a slight Day 1 learning curve.
QNAP TVS-h1288X NAS Review – Conclusion
When reviewing a business class piece of kit, it is important to stay RELATIVE! You cannot compare a Ferrari with a Ford Focus as equals, as they have a very different audience in mind and a very different price tag – therefore Value and ROI are always relative. That said, the TVS-h1288X is, hands down, the most impressive desktop NAS drive I have ever handled – and I do not say that lightly! QNAP has been working overtime these last 2 years to not only introduce their ZFS series to the SMB and Enterprise marketing, with gradual but compelling results – but it is only now in the TVS–h1288X system that they have successfully merged it into another core area of their business – content creators. Whether you are on board with the 'optional thunderbolt card' nature behind this device, you cannot fault the sheer weight of hardware on offer here and how it is perfectly tuned and appropriate for the storage, performance and safety benefits of ZFS in QuTS Hero included with this device.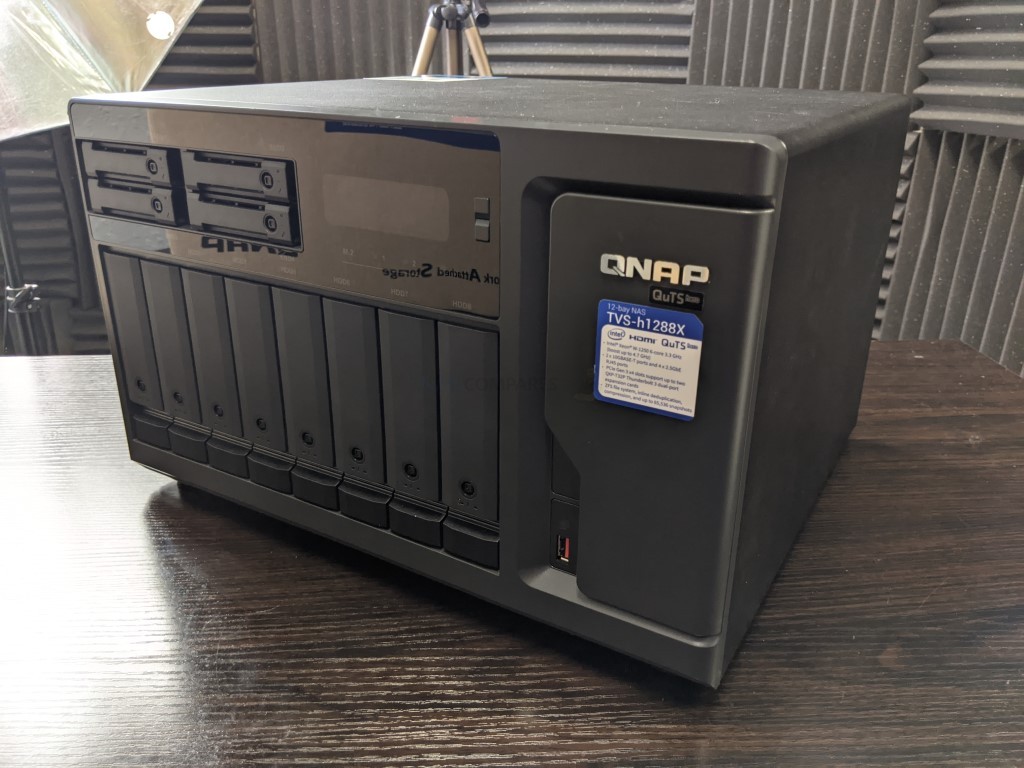 Yes, it is a hungry beast of a device in terms of power, but right now THIS is the NAS system to beat in the market right now in desktop form. There are still the odd hurdle for surveillance users to jump and the fact this range starts at 8/12-Bay is an odd choice – but with a 6-core Xeon processor that features high grade embedded graphics, upto 128GB of DR4 ECC memory, 3 storage tiers of scaling speeds, a combined external bandwidth of 30 Gigabits per second (so 3,000MB/s) and that is without even the inclusion of a Thunderbolt update that can allow upto 4 more Thunderbolt users to enjoy simultaneous access for photo/video editing – You simply cannot fault the ambition behind the TVS-h1288X and it leaves most of its 8-Bay competitors in its dust – just maybe raid the piggy bank before you buy it though
PROS
CONS

10Gb/TB3 Support

2.5Gbe LAN Ports

6 Core GPU enabled Xeon with over 15,000 CPUBenchmark Score

3 Tier Storage System

ZFS File System

PCIe Gen3 x8 and 3×4

Virtualization

Thunderbolt is Optional – many will appreciate the choice (upto 4 ports)

Larger 22110 NVMe Gen3 x4 Support

Upto 128GB ECC DDR4 Memory

5x USB 3.2 Gen 2 10Gb/s

10 min Windows and/or Ubuntu VM install (included)

Expandable (TR-106T and TR-1082T soon)

Quite expensive

HDMI is 1.4b (30FPS 4K)

Shame we haven't got 4/6 Bay options as found in TVS-682/882

Surveillance Software versions and licenses are a bit confusing

Noise/power levels are comparable to a small rackmount
📧 LET ME KNOW ABOUT NEW POSTS 🔔
Join 1,582 other subscribers
Get an alert every time something gets added to this specific article!
This description contains links to Amazon. These links will take you to some of the products mentioned in today's content. As an Amazon Associate, I earn from qualifying purchases. Visit the NASCompares Deal Finder to find the best place to buy this device in your region, based on Service, Support and Reputation - Just Search for your NAS Drive in the Box Below
Need Advice on Data Storage from an Expert?
We want to keep the free advice on NASCompares FREE for as long as we can. Since this service started back in Jan '18, We have helped hundreds of users every month solve their storage woes, but we can only continue to do this with your support. So please do choose to buy at Amazon US and Amazon UK on the articles when buying to provide advert revenue support or to donate/support the site below.

Finally, for free advice about your setup, j
ust leave a message in the comments below here at NASCompares.com and we will get back to you.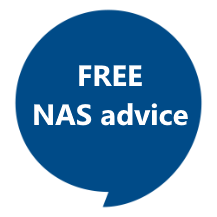 Need Help?
Where possible (and where appropriate) please provide as much information about your requirements, as then I can arrange the best answer and solution to your needs. Do not worry about your e-mail address being required, it will NOT be used in a mailing list and will NOT be used in any way other than to respond to your enquiry.
Support What We Do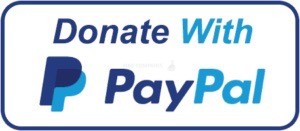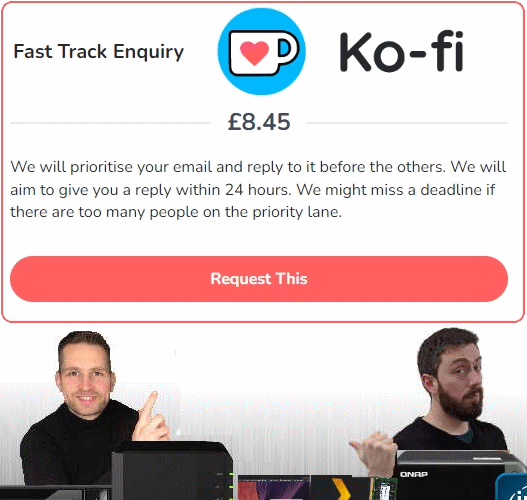 Terms and Conditions
Alternatively, why not ask me on the
ASK NASCompares forum
, by clicking the button below. This is a community hub that serves as a place that I can answer your question, chew the fat, share new release information and even get corrections posted. I will always get around to answering ALL queries, but as a one-man operation, I cannot promise speed! So by sharing your query in the
ASK NASCompares
section below, you can get a better range of solutions and suggestions, alongside my own.
Summary
Reviewer
Review Date
Reviewed Item
QNAP TVS-h1288X NAS Review
Author Rating