Should you bother with SSD cache in on a NAS?
Most modern generation network attached storage NAS drives include the option of utilising SSD cache, which promises to improve file access and general system performance in a number of ways. Is by no means a new concept and has existed in one shape or form for more than a decade in modern server utilisation. However, in order to take advantage of SSD caching on your NAS, there are a number of hurdles that will often increase the price point of your ideal solution and potentially lower the capacity that you can take advantage of long-term. This leads many users into wondering whether SSD caching is anywhere near as beneficial as brands like Synology and QNAP would have you believe. So today I want to discuss what SSD caching is, who can benefit from it, who definitely won't and hopefully help you decide whether you should consider SSD caching on your NAS.
What is SSD caching on a NAS?
The majority of NAS systems are comprised of multiple hard drives supported in a single enclosure that are combined together in efforts to increase capacity, performance and redundancy in a configuration commonly known as RAID (Redundant Array of Independent Disks). The more hard drives you have, the larger and more advantageous the RAID configurations you can create. However, these only marginally increase the performance available to you, multiplying performance on hard drives by a factor of the total number of hard drives. Ultimately, you are still using hard drives for your file system which will always pale in comparison to the performance available via solid-state drives SSD but this group of HDDs will result in higher throughput than any single hard drive. The obvious alternative of course is to replace all of the hard drives in your NAS with SSD and therefore reap the benefit of both SSD performance and RAID combination advantages. However, in practice, the main reason that no one does this is that the price point of SSD is significantly higher than hard drives and although the performance benefits would be greatly increased, the price would rise 5-10x times higher at least and the total available capacity would be significantly reduced – as general commercial and SMB SSDs currently max out at 4TB capacity, rather than the 18/20TB available in modern hard drives. NAS/Servers being fully populated with SSDs is still done though on less common setups which are highly enterprise and more commonly known as flash servers – fast but fantastically expensive!
RECOMMENDED SSDs FOR SSD Caching
SATA SSD HOME
NVMe SSD BUSINESS
SATA SSD BUSINESS
WD RED SA500


Available in SATA 2.5″ and mSATA




Affordable and Large Capacity Options




NAS Optimized




SEAGATE IRONWOLF 510


VERY High Durability of 1.0 DWPD




Data Recovery Services Included




Read Caching Optimized




SEAGATE IRONWOLF 110


Very High Durability




SSD Over Provisioning Ready




Data Recovery Services Included



SSD caching was designed as a hybrid storage media solution to this dilemma and involves pairing a small percentage of SSD storage space together with a larger area of hard drive storage space. Typically recommended at around 10% SSD to 90% hard drive, the NAS system will gradually learn over time which files on the total storage system are the ones being accessed most frequently. These files can range from tiny system files, indexes, thumbnails, directories and minor background data, all the way through to larger files that are in shared drives between multiple users, OS-related files that live on a central server and website files that are constantly being referenced for your domain (depending on the I/O configuration of your SSD cache). As the system constantly learns which files are the ones being constantly accessed, copies of these files are made on the area of SSD cache and in future when these files are requested by connected hardware clients, these faster-accessing copies will be targeted instead. Although this is a large oversimplification of the process, it is generally accurate. Not to be confused with tiered storage, which moves commonly accessed files to areas of SSD (not making a copy in 2 locations), SSD cache has numerous advantages and disadvantages that many users would do well to learn before embracing this storage media process. Let's discuss this a little further, as there are multiple types of SSD cache options available from most modern brands.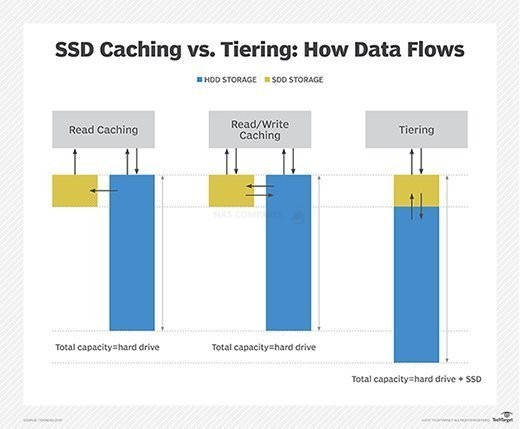 What is Read SSD Caching on a NAS?
The easiest but least beneficial type of SSD cache for a mass is read-only cache. This can be implemented with even a single SSD and much like the description above, involves the system moving copies of the most frequently accessed data onto the SSD. Read-only SSD cache on a NAS prevents editing or modifying of files that are being accessed on the area of the cache. Read-only cache is only of benefit to users who are accessing larger databases of preset data that is not often modified and although improves access to these more common files, limits the overall benefits of SSD caching in most NAS systems long term. Also known/referred to as Write-around SSD caching, this too writes data to the primary storage first instead of to the cache. This gives the SSD cache time to analyze data requests and identify the most frequently and recently used data. The SSD cache efficiently caches high priority data requests without flooding the cache with infrequently accessed data
What is Write Caching on a NAS?
Write Caching on a NAS can actually be broken down into two types. The first, Write-through SSD caching, writes simultaneously to the SSD cache area and to primary storage. The cache enables faster data retrieval, while the primary storage writes safely retains the data even if a system interruption affects the cache (eg a power failure). Write-through SSD caching does not require additional data protection for the cached data (so you can use one or more SSD in a Single/RAID 0 Config), but does increase write latency (i.e write time). The alternative is Write-back SSD caching, which writes ONLY to the SSD area first, then confirms that a block is written to the SSD cache, and the data is available for usage before writing the block to the main storage RAID array of HDDs afterwards. The method has lower latency than write-through, but if the cache loses data (i.e. critical system failure, power loss, etc) before the data writes to primary storage, that data is lost. Typical data protection solutions for write-back SSD caching are redundant SSDs or mirroring (i.e. MASSIVELY recommended or enforced that SSDs in a Write Through config are in a RAID 1/5 at the very least).
The application and customization of SSD caching in modern NAS software are incredibly diverse and in most cases, you can create a very bespoke SSD caching config for your system that integrates one or more caching read/write methods taht are best suited to your system setup, data types and access routines. So, now you know what SSD caching is and the types that most commonly exist, what are the advantages and disadvantages?
| | |
| --- | --- |
| | |
| Guide to Seagate SSDs | Guide to WD SSDs |
What Are The Advantages of SSD Caching on a NAS?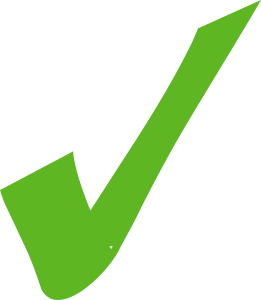 The benefits of SSD caching on a NAS are often tough to measure, as the resulting improvements are the culmination of multiple smaller improvements at once. So the benefits are more often FELT than actually seen, as latency will be reduced throughout the overall access of the data on your NAS. Compressed data like thumbnails, indexing information and system reference files that a NAS will refer to in a given process will be turned around much quicker in the background and therefore will reduce wait times on instructions given by you to the NAS. Typically larger databases in scale rather than individual file volume will reap the most benefits, and therefore the advantages of SSD caching on a NAS are:
Faster Access to Larger databases made up for many smaller files
More cost-effective than an all-SSD system
Write-Cache/Write-Through Caching benefits more traditional one-way activity
Cache is largely self-managed, so once set up, will choose/drop important cached data on its own
The bulk of Porsume/SMB and higher NAS hardware arrive with dedicated SSD Cache bays, so no loss of traditional storage bays
SSD caching is becoming increasingly available on ARM-powered devices
What Are The Disadvantages of SSD Caching on a NAS?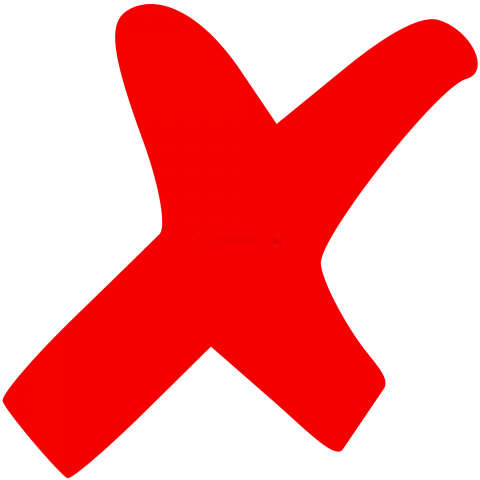 It is very important to understand that SSD caching is not some kind of magic wand that will suddenly make your NAS significantly faster. Indeed, SSD caching will be of little to no use to the majority of home and prosumer users on a smaller scale, as larger files will rarely be moved to areas of cache and most home users will use a NAS predominantly for multimedia use, large-scale backups and surveillance in home or office environments. Not only do these processes use significantly less frequently accessed data (more likely resulting in the CREATION of new data) but as they are often more ad-hoc in nature, aside from some early write-caching, the benefits of SSD caching will be all but useless to you. Then there is the added cost, added system overhead resource use and more. Here are the main disadvantages of SSD caching on a NAS:
Increases Costs of your Storage Setup
Not all NAS M.2 NVMe SSD bays are the same bandwidth, some are capped to 1000-2000MB/s, bottlenecking some SSDs
Cache Data benefits are HEAVILY dependant on storage user type/files
Some Cache methods (i.e Write-Back) store data in the cache, THEN move to the system as it is written and susceptible to loss in the event of a power failure
M.2 SSD Vs SATA SSD Caching on a NAS?
As mentioned in the introduction to today's article on SSD caching, the majority of NAS drives in the market right now support SSD caching. However, though many have adopted NVMe M2 SSD bays to allow users dedicated ports to do this, many other more affordable or smaller scale NAS hardware systems (2-Bays, ARM CPU devices, etc) still require the end-user to occupy existing traditional hard drive media bays for SSD media for caching instead. Obviously, this can be a significant disadvantage to your overall total maximum capacity when losing main storage bays to smaller capacity SSD for caching. But is there any difference in performance benefits by opting for significantly faster M2 NVMe PCIe SSDs for caching over traditional SATA SSD? Well yes and no. The data stored on the SSD cache has the potential to be delivered to the NAS physical interfaces at whatever maximum speed the SSD can output, so NVMe SSD will always technically push that data faster. Likewise, as the library of cached data and metadata is compiled in the system's usage, its creation will be markedly faster on the NVMes than SATA SSD which is going to be advantageous to numerous types of write-caching. However, if you are only utilising one or more gigabit ethernet connections, then the difference felt by the end-users when read-write caching is applied between either SSD media type will be practically unnoticeable. Therefore the noticeable differences between SATA SSD and M2 NVMe SSD caching only really apply to use us who take advantage of a larger external network interface or are running larger database operations inside the NAS architecture, containers and virtual machines. 
RECOMMENDED SSDs FOR SSD Caching
SATA SSD HOME
NVMe SSD BUSINESS
SATA SSD BUSINESS
WD RED SA500


Available in SATA 2.5″ and mSATA




Affordable and Large Capacity Options




NAS Optimized




SEAGATE IRONWOLF 510


VERY High Durability of 1.0 DWPD




Data Recovery Services Included




Read Caching Optimized




SEAGATE IRONWOLF 110


Very High Durability




SSD Over Provisioning Ready




Data Recovery Services Included



It is also worth remembering that despite many NAS systems releasing with NVMe SSD bays, their architecture might not have sufficient PCIe lanes on the CPU and assigned chipset to allow maximum NVMe SSD performance. In short, not all NVMe slots are created equal and although you may purchase a 3000-4000MB per second SSD for your NAS and its caching, don't be surprised if that PCIe m.2 physical revision caps your performance much lower (I strip-down of the hardware inside most home/prosumer NAS systems like the DS920+, TS-473A or Lockerstor 4 will show that the M.2 NVMe slots inside can only reach 1000-2000MB/s at most as they are PCIe 2×2, PCIe 2×4 or PCIe 3×2. In short, NVMe SSD slots for caching are a good thing and can certainly provide better performance over SATA SSD in a number of ways, just be aware that sometimes the way you use it or the hardware of the NAS itself will potentially limit this.
Need Advice on Data Storage from an Expert?
We want to keep the free advice on NASCompares FREE for as long as we can. Since this service started back in Jan '18, We have helped hundreds of users every month solve their storage woes, but we can only continue to do this with your support. So please do use links to Amazon Amazon UK on the articles when buying to provide advert revenue support or to donate/support the site below.


Finally, for free advice about your setup, j
ust leave a message in the comments below here at NASCompares.com and we will get back to you.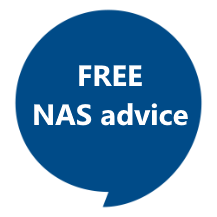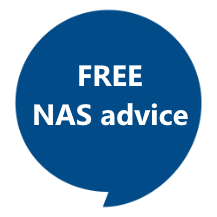 Need Help?
Where possible (and where appropriate) please provide as much information about your requirements, as then I can arrange the best answer and solution to your needs. Do not worry about your e-mail address being required, it will NOT be used in a mailing list and will NOT be used in any way other than to respond to your enquiry.
Terms and Conditions
Alternatively, why not ask me on the
ASK NASCompares forum
, by clicking the button below. This is a community hub that serves as a place that I can answer your question, chew the fat, share new release information and even get corrections posted. I will always get around to answering ALL queries, but as a one-man operation, I cannot promise speed! So by sharing your query in the
ASK NASCompares
section below, you can get a better range of solutions and suggestions, alongside my own.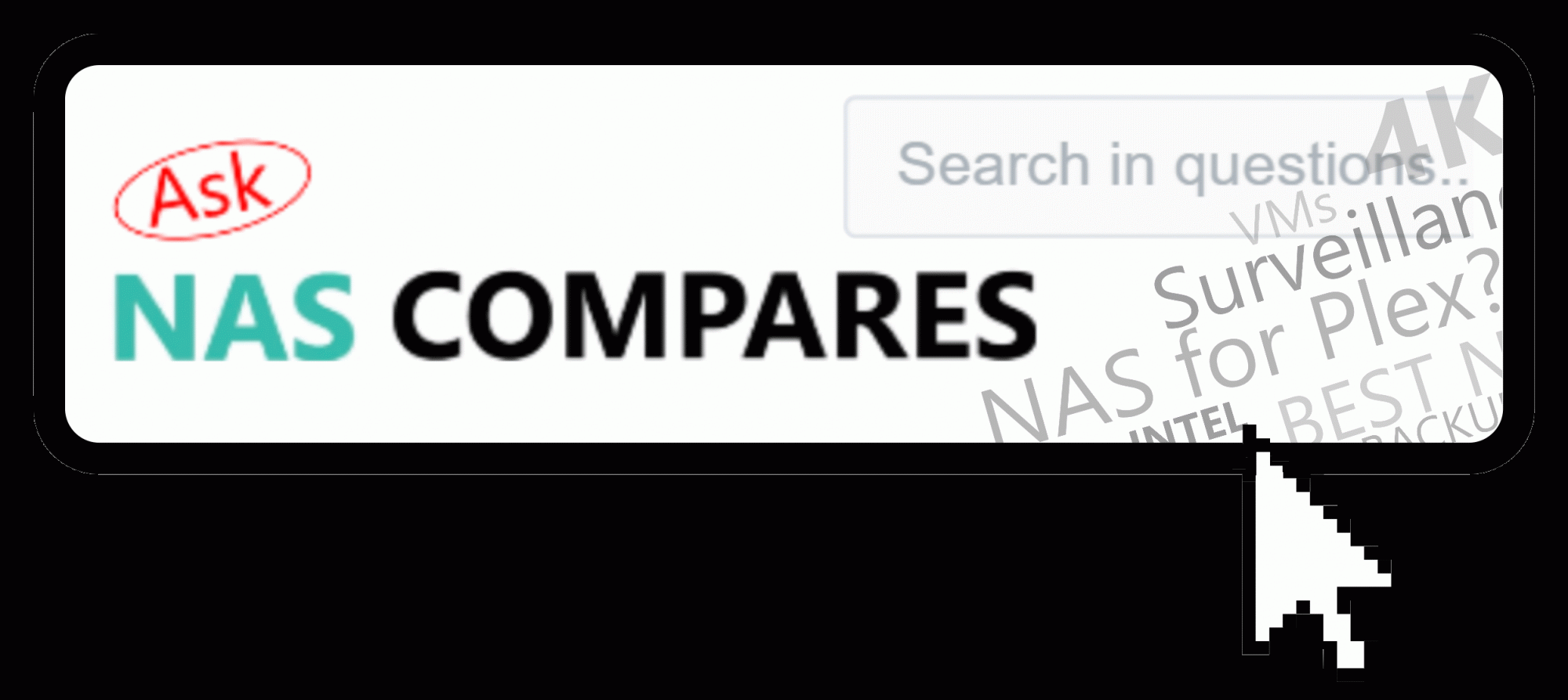 Home: https://www.backblaze.com/cloud-backup.html#af9rgr
Business: https://www.backblaze.com/business-backup.html#af9rgr
Comparison with other service providers: https://www.backblaze.com/best-online-backup-service.html#af9rgr
Summary
Reviewer
Review Date
Reviewed Item
SSD Caching On A NAS? What Is It and Should You Use It?
Author Rating