D-Link EXO AX5400 Router Review – Should You Buy It?
D-Link is no stranger to routers, but the EXO-AX DIR-X5460 Router entered the market earlier this year trying to bring something a little more inclusive to the ever-growing ranges of Wi-Fi6 routers on the market right now. If you are in the market for a Wi-Fi 6 Router, then you are almost certainly falling into three different buying categories. The first is those looking for a small, affordable home router that can replace/work with your ISP router with minimal fuss to take advantage of Wi-Fi 6. The second is those looking to buy a upgrade router that can expand the area of coverage in their home/business. And the third is those looking at a premium solution in a professional gaming or multimedia capacity that will lower latency, increase data speeds on the network and effectively give them a wireless lifestyle that can match their existing wired LAN. The EXO AX5400 Router from D-Link that is attempted to appease ALL THREE buyers with its potential shared 540MB/s bandwidth, across 6 antennae at a price that is still justifiable. Although buyers are becoming a tad warmer to the idea of paid routers over their rather limited ISP free alternatives, now that broadband speeds start to surpass the Gigabit, it is still by no means a done deal, so does the D-Link EXO DIR-X5460 have what it takes to earn it's way into your basket and your home? Does it deserve your data? Let's find out.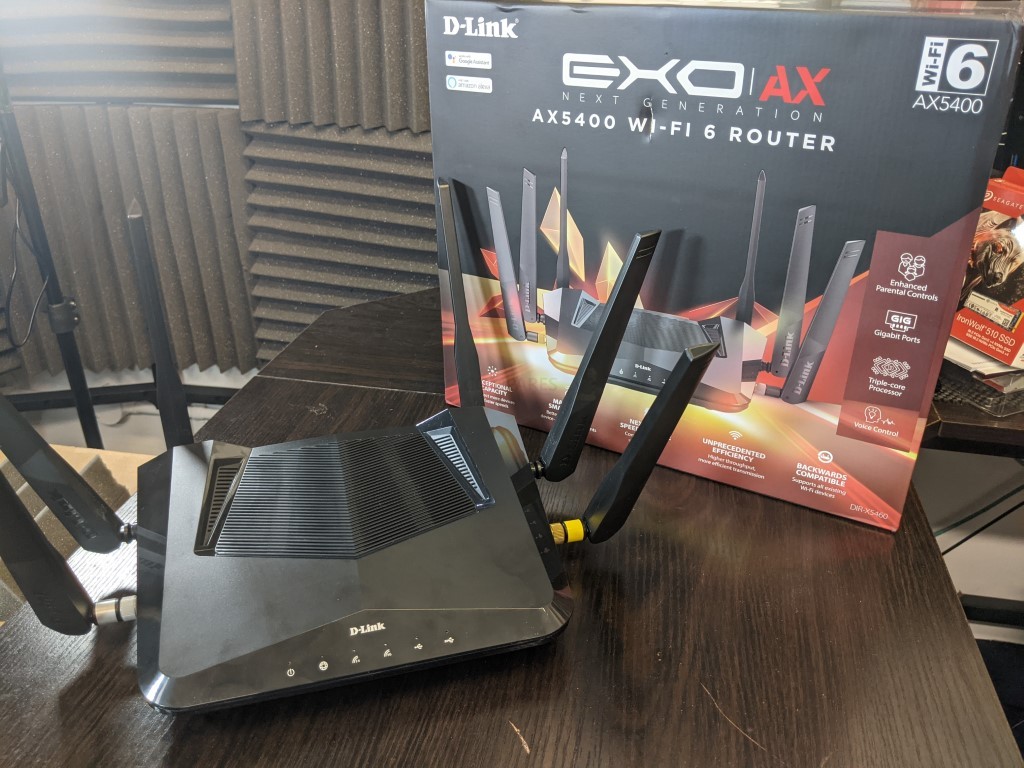 D-Link EXO AX5400 DIR-X5460 Router Review – Quick Conclusion
The EXO DIR-X5460 from D-Link ticks a lot of the key boxes from buyers looking at entering the WiFi 6 market with as little friction as possible. Now that the price point of AX/802.11ax hardware is coming down and becoming a universal standard in the majority of our home hardware (the latest iPhone, the latest Pixel, the PS5, etc), then the advantages of investing in a solution like the EXO DIR-X5460 Router become increasingly obvious. In terms of physical connections, the D-Link EXO is perhaps a little bland and the software and services, though easy to use and very functional, are not going to blow you away. The D-Link EXO DIR-X5460 Router trades on its wireless speed, handling, area of coverage and customization of those networks – and in those areas, this router is a big success. Excellent value, if a little safe overall.
D-Link EXO AX5400 DIR-X5460 Router Review – Retail Packaging
The retail box for the EXO DIR-X5460 is exactly what you might expect from a router squarely aimed at gamers. Brash, loud and oozing in 'performance' stats. This is not D-LInks first entry into WiFi6/AX but it is one of the most recent steps into the growing cloud of professional gamer routers that have a greater focus on packet control, low latency and moving large data as quickly as possible where the different at the megabit level will be sorely felt.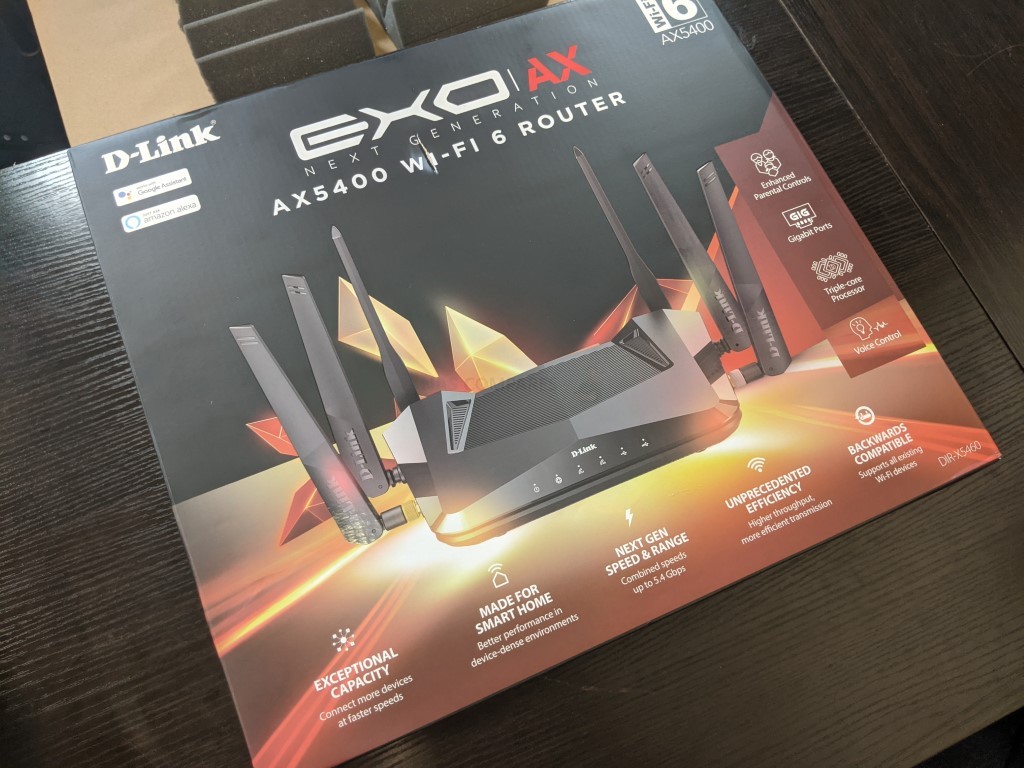 The contents of the box arrive in the a-typical thinly shaped cardboard shaped crate that (I swear!) all routers arrive in. The kit includes the DIR-X5460 EXO router itself, an external PSU, 4 pre-attached antennas, 2 disconnected antennas that you can add later, first-time setup instructions, warranty information, Cat 5e 1m RJ45 LAN cable and some WiFi6/D'Link stickers (unsure why anyone would use these – but ok).
Laying out all these accessories should give you a little idea of just how big the D-Link DIR-X5460 router is. Arriving significantly bigger at 24cm x 33cm x 21cm than the 4 antennae ASUS RT-AX92U feared in a previous review which measured 15.5 x 15.5 x 5.26 cm. Alot of the physical size of the EXO DIR-X5460 would seem to be to make sure that the antenna are spaced out enough for directional use, as well as allowing passive airflow to be amply across the fanless internals (something we will touch on later).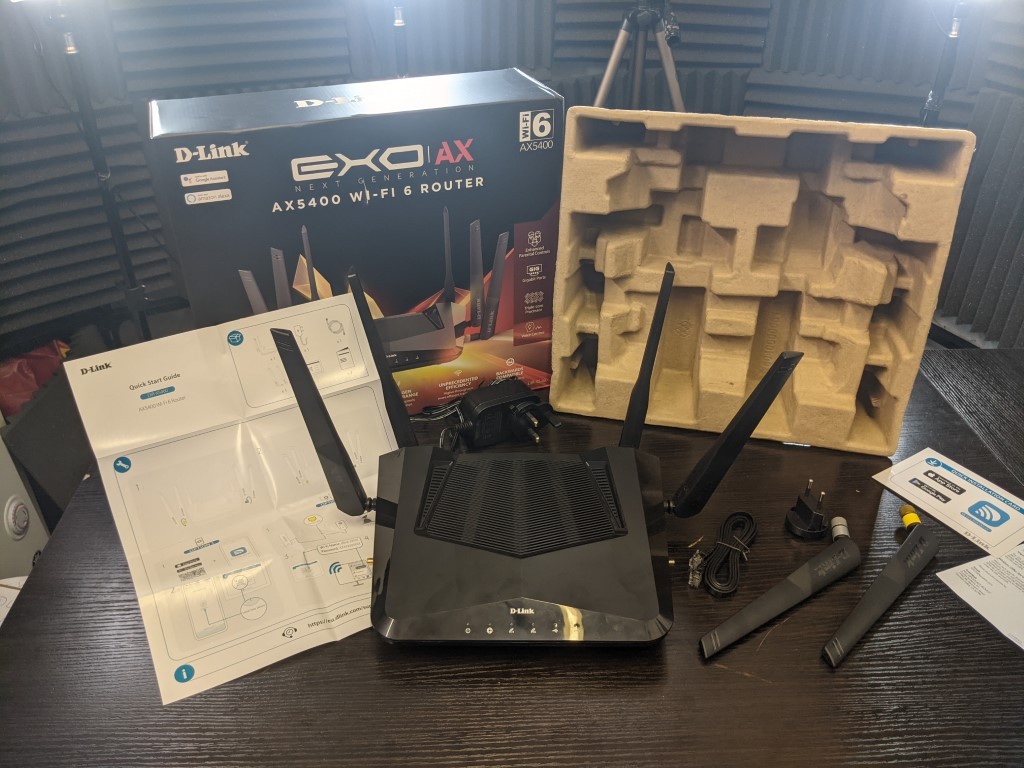 The two additional antennae in the box are easy to attach and once screwed in, feel tight and easily adjustable. Alot of 4-6-8 antenna routers that have movable parts have a tendency to feel cheap and within a couple of months tend to lack any rigidity on each one. The EXO DIR-X5460 definitely feels like the antennae are rigidly connected.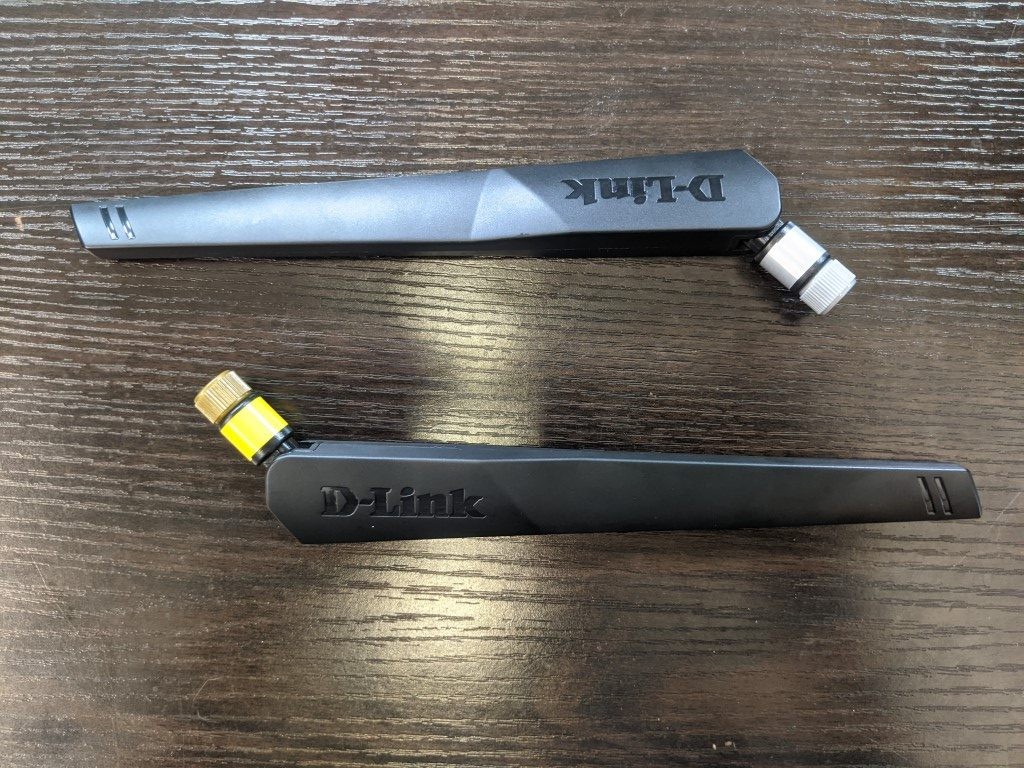 Like a lot of hardware globally, the company includes a PSU with a changeable clip depending on your region. That is fairly standard and understood, but I always find it a shame when they ONLY include the clip for your region. I query the cost at the point of manufacture to include 1x of a pre-set region and not just all 3-4 types. It is a fantastically petty point on my part, but I would be interested to know. In the case of the EXO-AX DIR-X5460 Router, they include the UK and European connector, so better than most.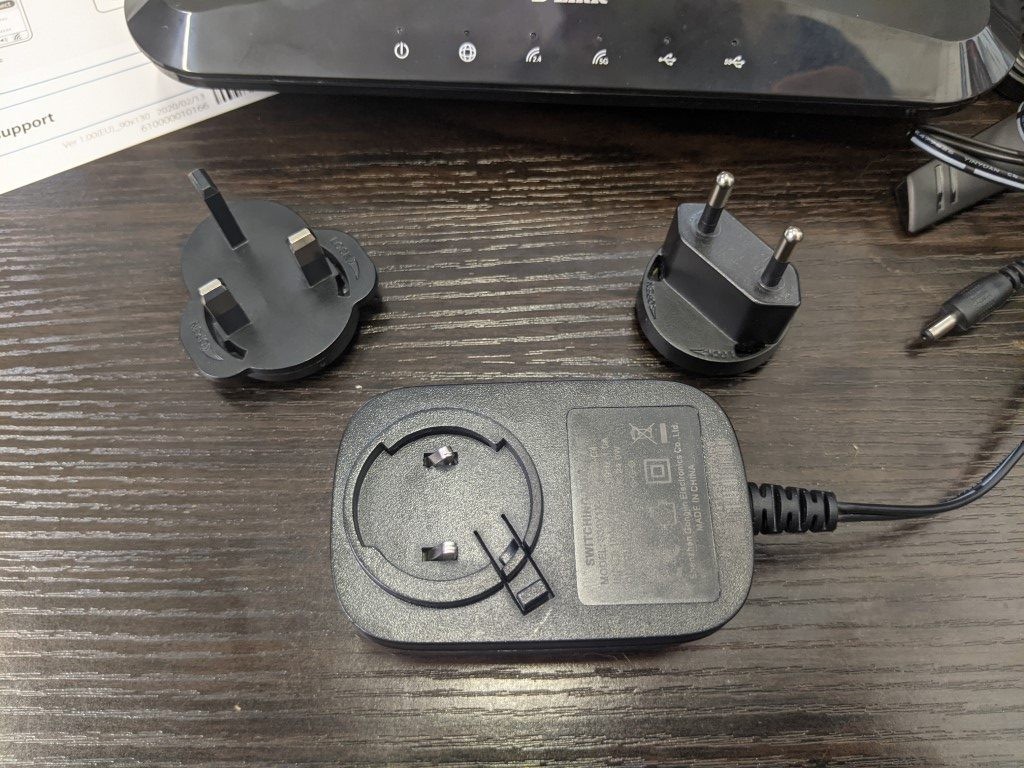 The contents of the EXO DIR-X5460 retail kit are all fairly standard and although it feels a little dull, is definitely everything you are going to need and what I would expect from this price point. Let's talk about the design of the D-Link EXO DIR-X5460 router.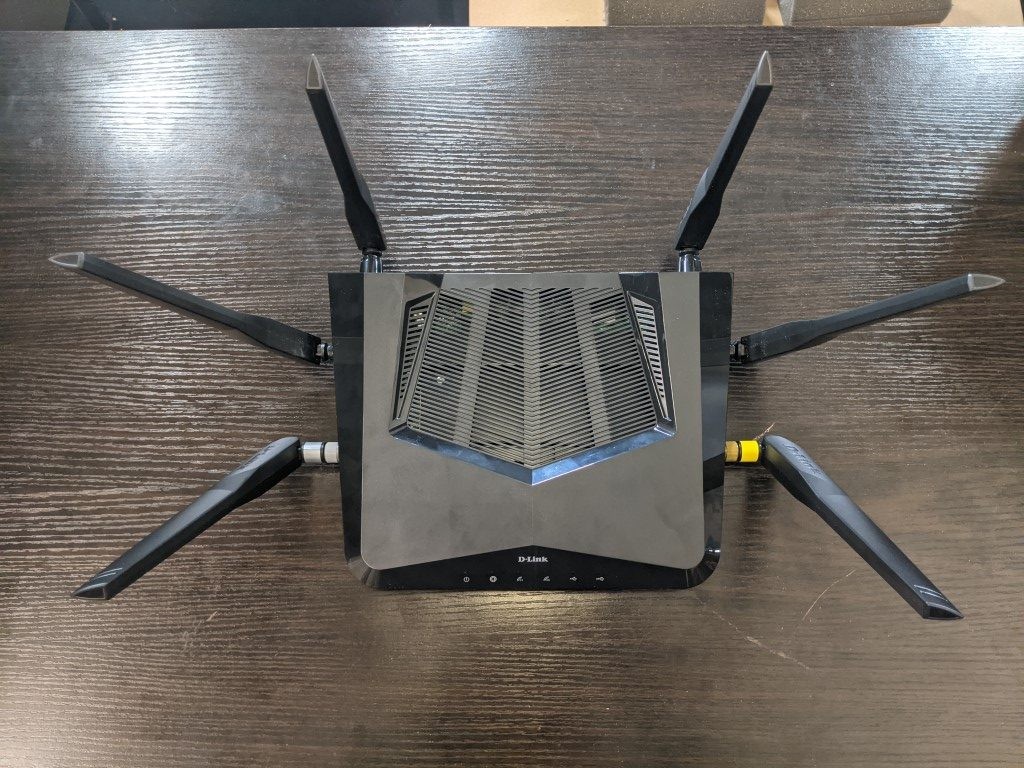 D-Link EXO AX5400 DIR-X5460 Router Review – Design
As little as 2+ years ago, the design of the D-Link EXO DIR-X5460 router would have been seen as crazy or a little insane, but now in 2021/2022, this shape and form of router (even outside of WiFi 6) is actually quite commonplace. Although a fair bit of that design appeal stems from the need to appear to gamers, there is actually logic behind a lot of that chassis and shape. From perfect antennae placement to prevent interference to allowing sufficient spacing to allow passive airflow, modern high spec routers are designed with the efficiency of a supercar in many ways, blending sharp modern feel with intelligent hardware operation. The front of the EXO DIR-X5460 is very branded and although the external chassis is almost entirely plastic, it doesn't look cheap.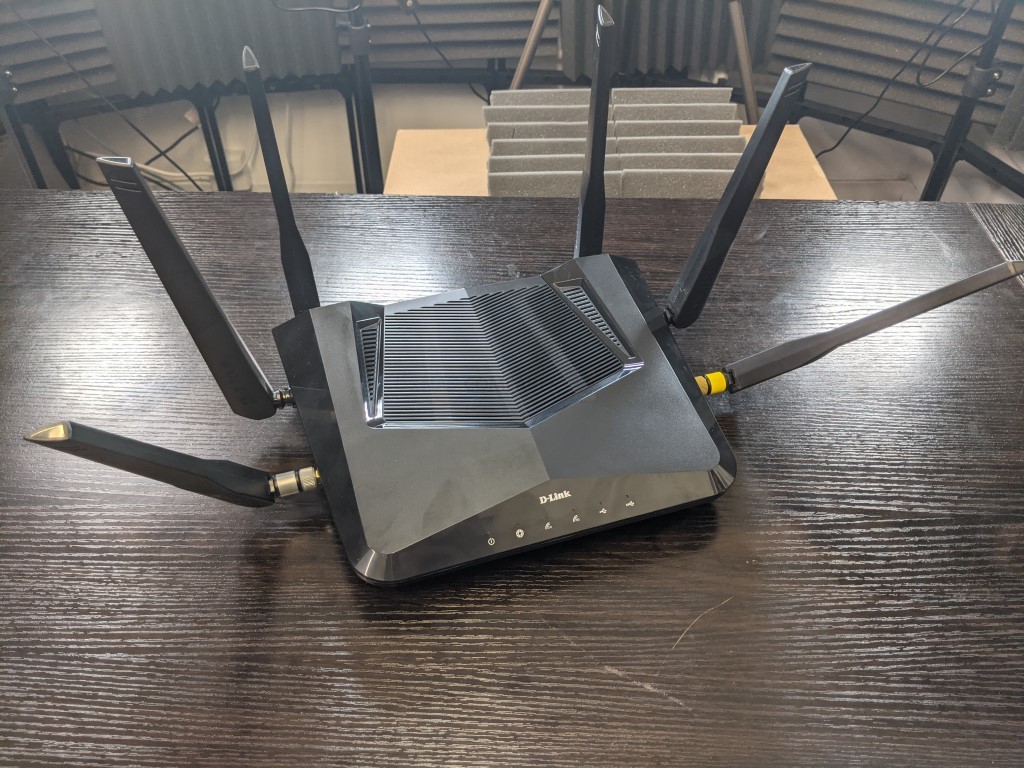 As you might expect, there are multiple LEDs on the front that denote the system activity, connectivity and status. They are Power activity, Internet Activity/connectivity, USB 2.0 & USB 3.0 Storage connected activity, wireless usage of the 2×2 2.4GHz band and finally wireless activity on the larger 4×4 5GHz band.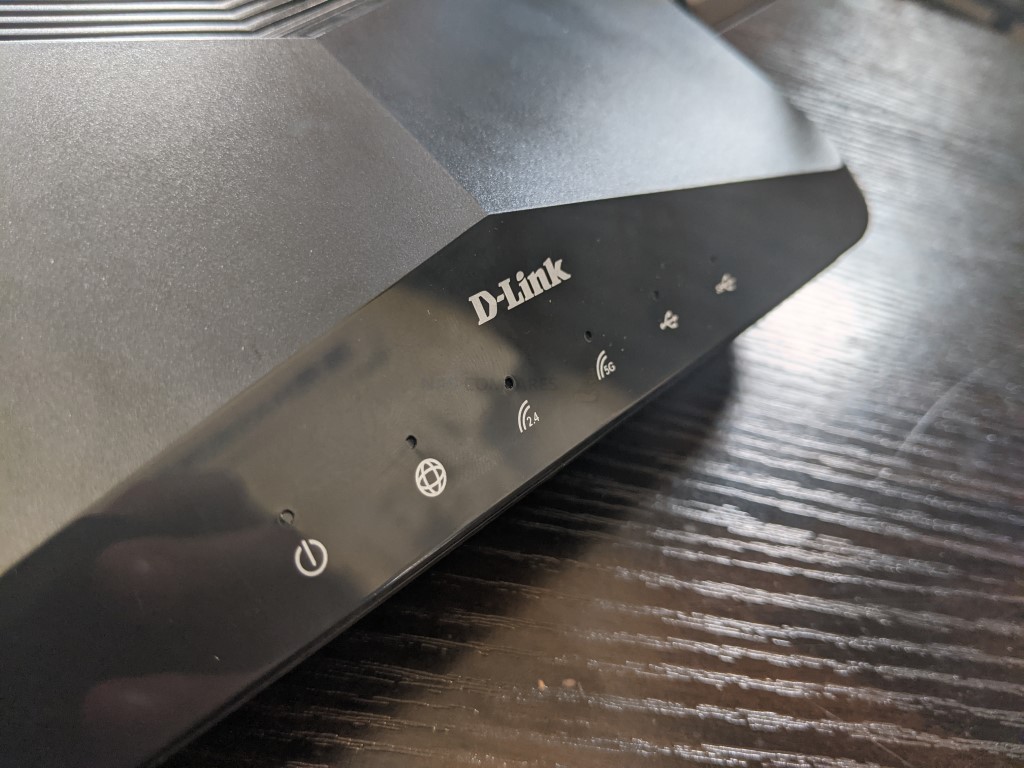 The antennas around the device are spaced a little over 2 inches apart and, as mentioned, are quite sturdy. Each one is branded with the D-Link logo and can be adjusted to best suit your network physical environment. WiFi 6 and these larger MU-MIMO coverage routers are a perfect blend of area coverage to address the reduced area that WiFi 6 works within when compared with WiFi 5 (AC/N/etc).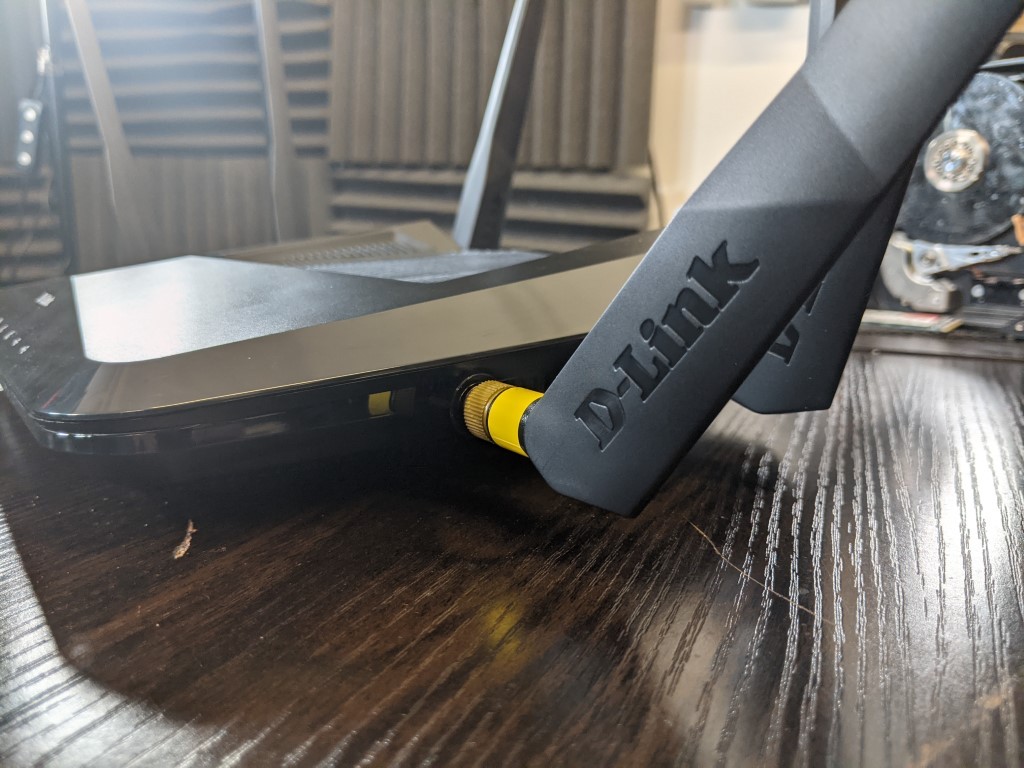 The bulk of the top panel of the EXO DIR-X5460 router is given to a large vent panel that is above the primary components (3 core processor, memory, flash, transistor, etc) and as this router does not feature any internal fan operation, it needs to get as much passive airflow onto these components as possible. This is useful for peak use AND for general 24×7 USE – how often do you turn your router off? Exactly!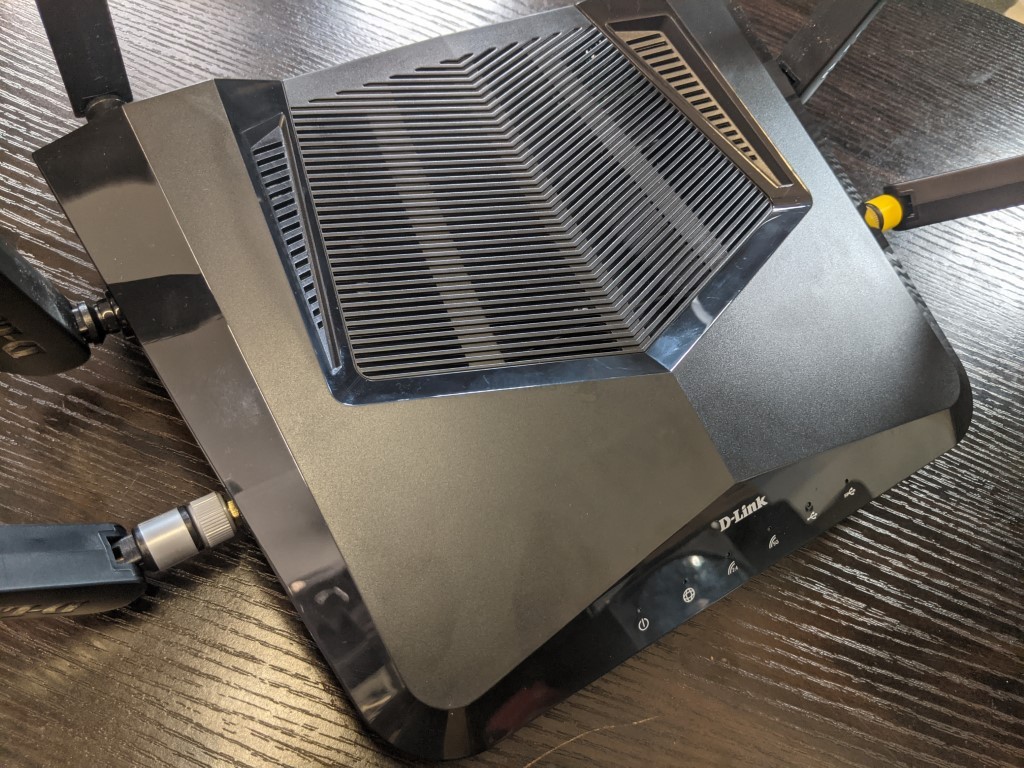 The side of the D-Link EXO DIR-X5460 router continue with further ventilation and the chassis has a triangular angled frame that allows the air to pass under the antennae and into the router vents, around the controller board with relative ease. The EXO DIR-X5460 is raise a few millimetres from table level by 4 pronounced rubber feet to assist this.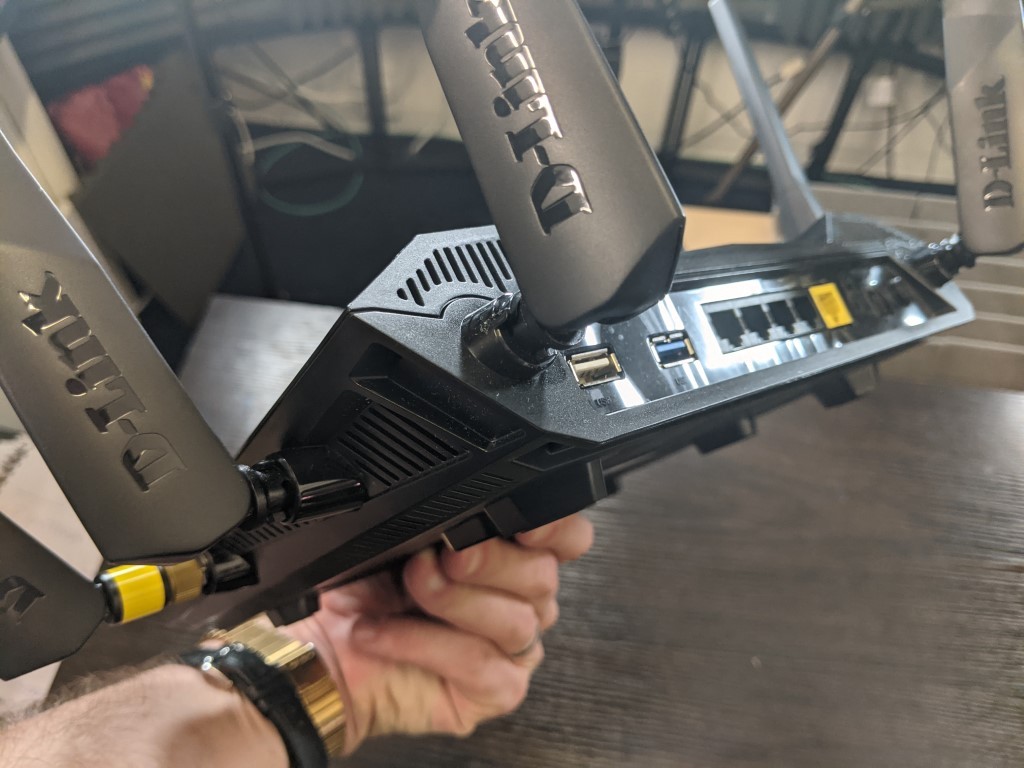 A quick look at the base of the EXO DIR-X5460 router shows a vast amount of passive cooling vents.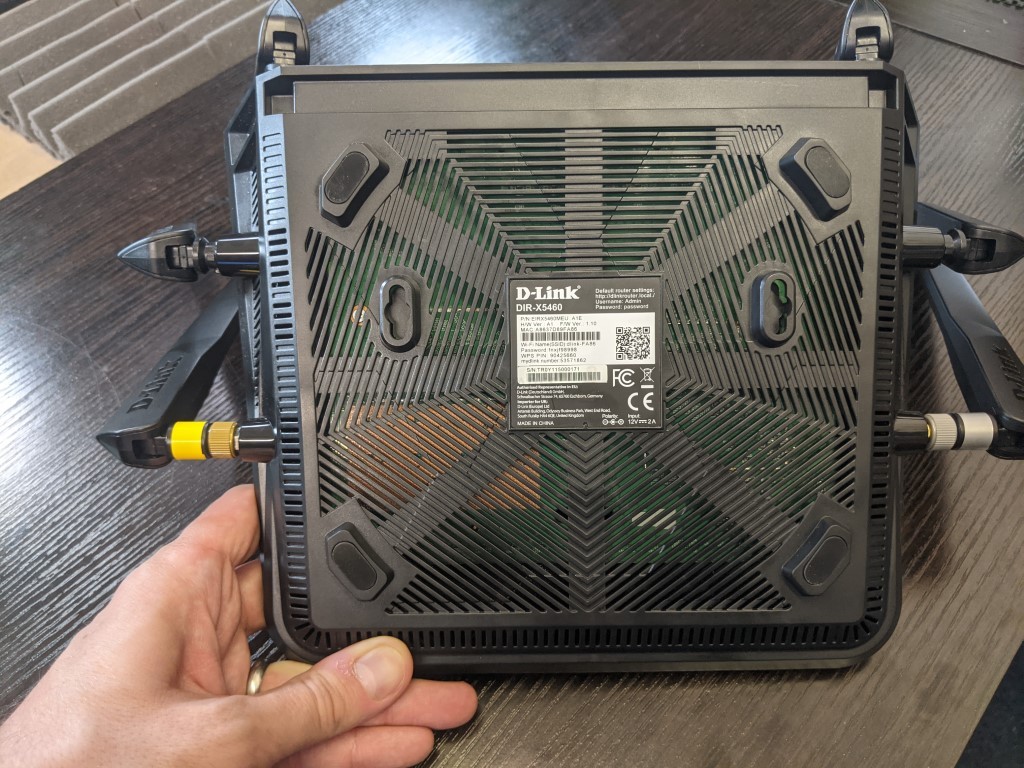 Also, there are wall hook cavities that allow the end-user to mount this router up high, which might be handy to those covering multiple floors of a single environment. No screws or wall plugs were included with the kit, but that isn't a huge surprise really.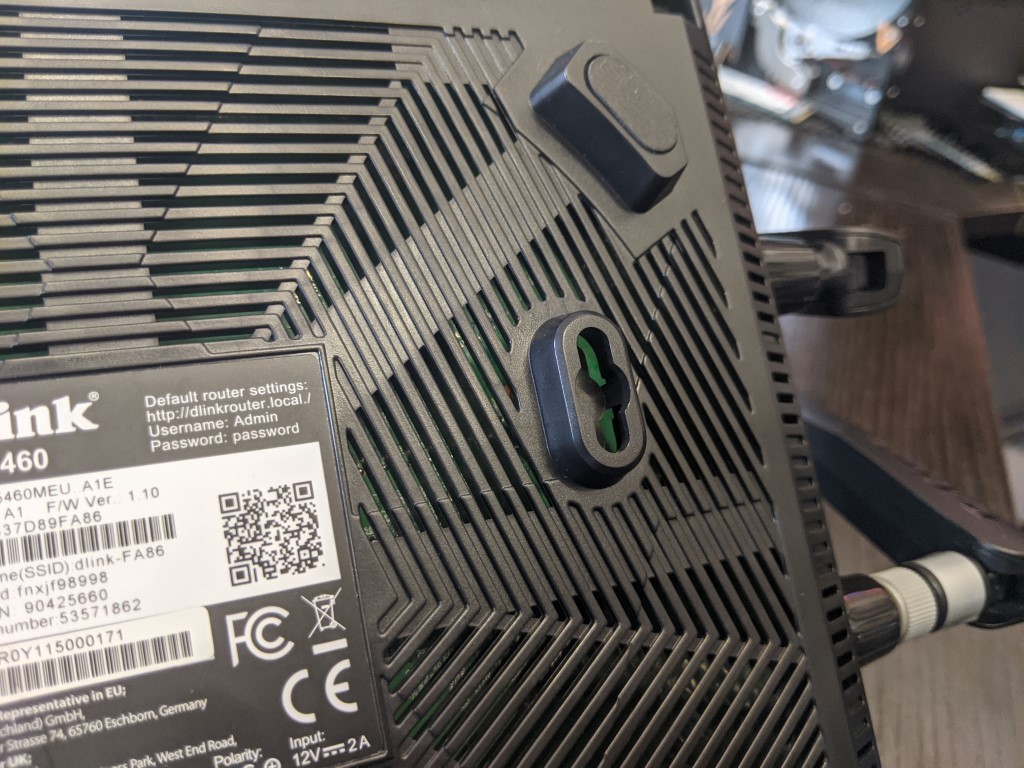 As you can see, the design of the D-Link EXO DIR-X5460 Router is a clear, well vented and modern design that although is becoming more commonplace in 2021/2022 WiFi 6 Prosumer gamer routers, is still good for the price. Plus it is not trying to add any kind of flare or colouring that might divide opinion. In short – I like it! Now, let's discuss those connections – an area that can make or break a paid router's appeal.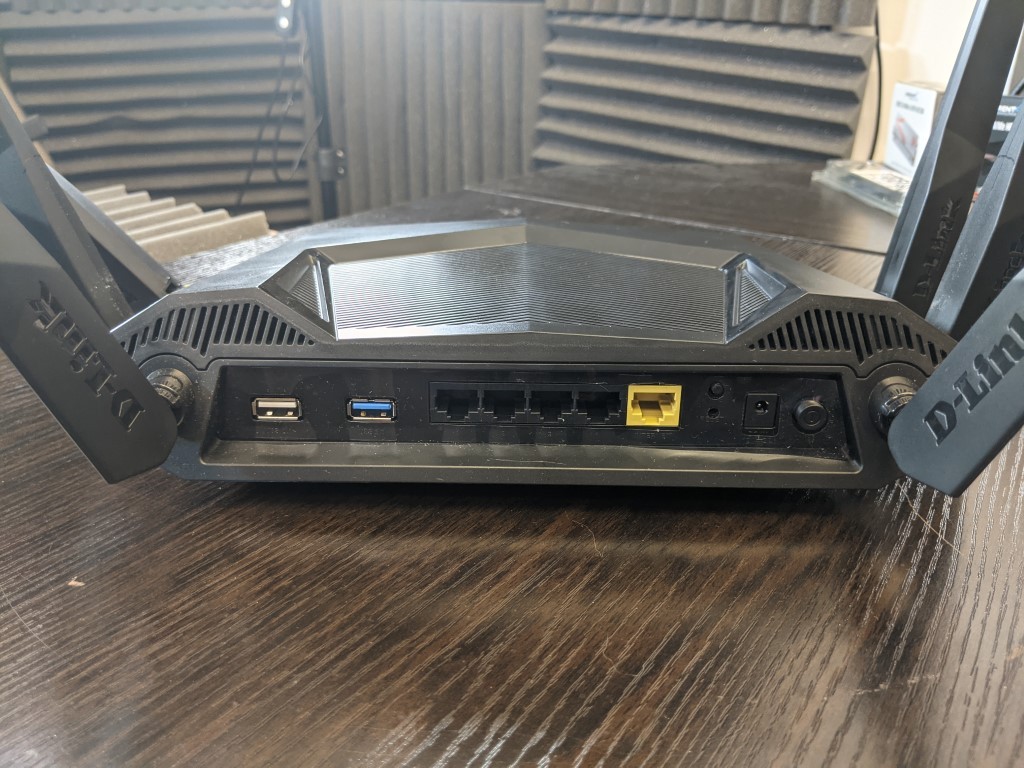 D-Link EXO AX5400 DIR-X5460 Router Review – Hardware & Software Specifications
As mentioned at the start of the review, a lot of buyers will have difficulty paying for a router when they know that the majority of internet service providers (ISPs) give you one for free/inclusive of your contract – let alone paying top dollar for a premium/prosumer grade one. Therefore the D-Link EXO DIR-X5460 needs to be more than a router, but an active upgrade over the freebie ISP router that just justify its investment. I can say that in MOST respects, the EXO DIR-X5460 definitely achieves this – with small exceptions that either apply to particular high-level users missing out on features or clear hardware architecture choices by D-Link to keep it in this more affordable price bracket. First, let's go through those key hardware specifications:
3x Core 1.5Ghz Processor
Six external antennas
128MB Flash, 512MB Memory
The main processor of the router is an undisclosed (at least, not by D-Link) triple-core ARM processor at 1.5Ghz per core. The main router software in the D-Link EXO DIR-X5460 does not allow any 1st/3rd party application installation, so this processor can focus on preset software and service control without needed to be too open for change. Without knowing the nature of the processor, it is hard to drill down into the workload that it handles, but 4 hours of continuous data transmission via the router and a NAS over 1Gbe and WiFi had no slow down and no problems. The CPU is partnered with a 128MB area of flash memory for the software (that has regular updates from the brand available automatically/manually) as well as 512M of DDR3 memory to keep things moving swiftly. Given the lack of any internal app center with add-on tools available (eg client backup tools, Plex Media Server, etc), 512MB is quite a heft chunk of RAM for just handling data packet transmission. This hardware architecture translates into the following coverage across those 6 antennae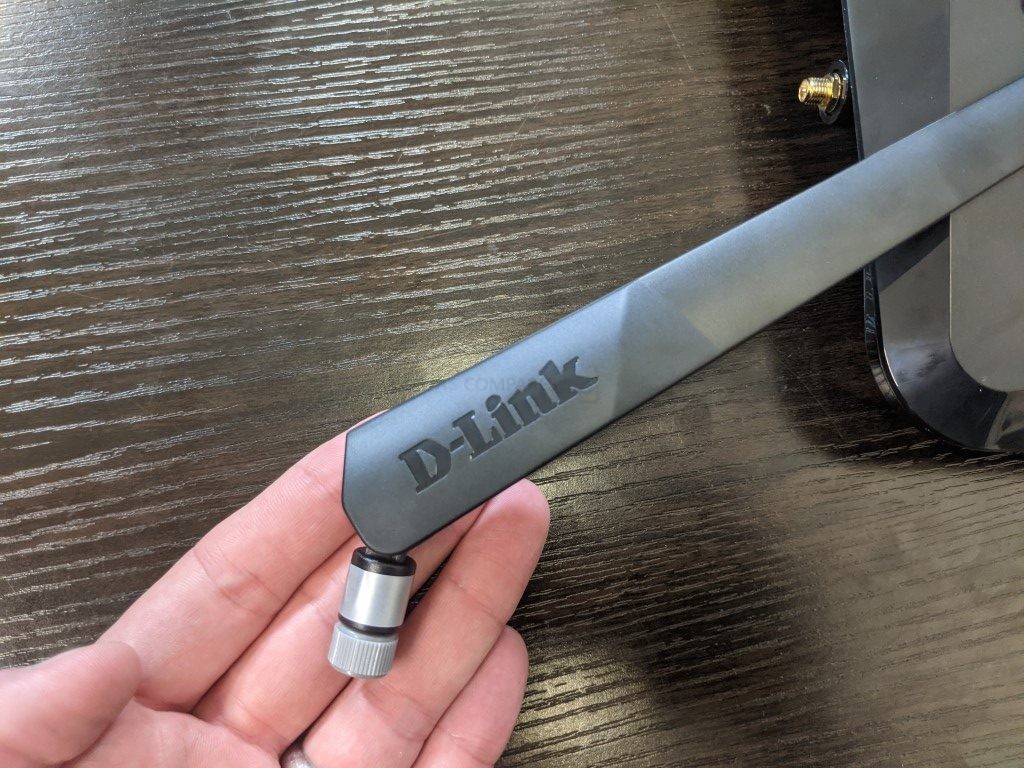 Dual-band Wi-Fi 6/AX Router
AX5400 Rated (4808Mb/s + 576Mbps)
4×4 5Ghz 20/40/80/160MHz Channels
2×2 2.4Ghz 20/40 MHz Channels
The twin band nature of the D-Link EXO DIR-X5460 Router should not be a huge surprise, as this si fairly commonplace. However, the 4×4 double 5Ghz bands is a nice little extra at this price point, as although the 2×2 2.4Ghz band will still have a little use, we are now at a point where even modest network home/office devices are moving over to the 5Ghz band. Having that wider 5Ghz coverage means that your devices that will always prioritize the available 5Ghz frequency will have more bandwidth to share. wITH A POSSIBLE 480MB/s (4808Mb) to share, there's quite a fair bit to go round! Also, support of up to 160Mhz channels means that more modern devices will not be left out and noticeably higher performance speeds are available later in your hardware environments life as other client tools are upgraded naturally. D-link are keen to highlight how useful these will all be to multimedia streamers who wish to watch high-quality H.265 8/10bit 4K and fair play to them, I can see how this would be advantageous in the EXO DIR-X5460 router on WiFi6 devices.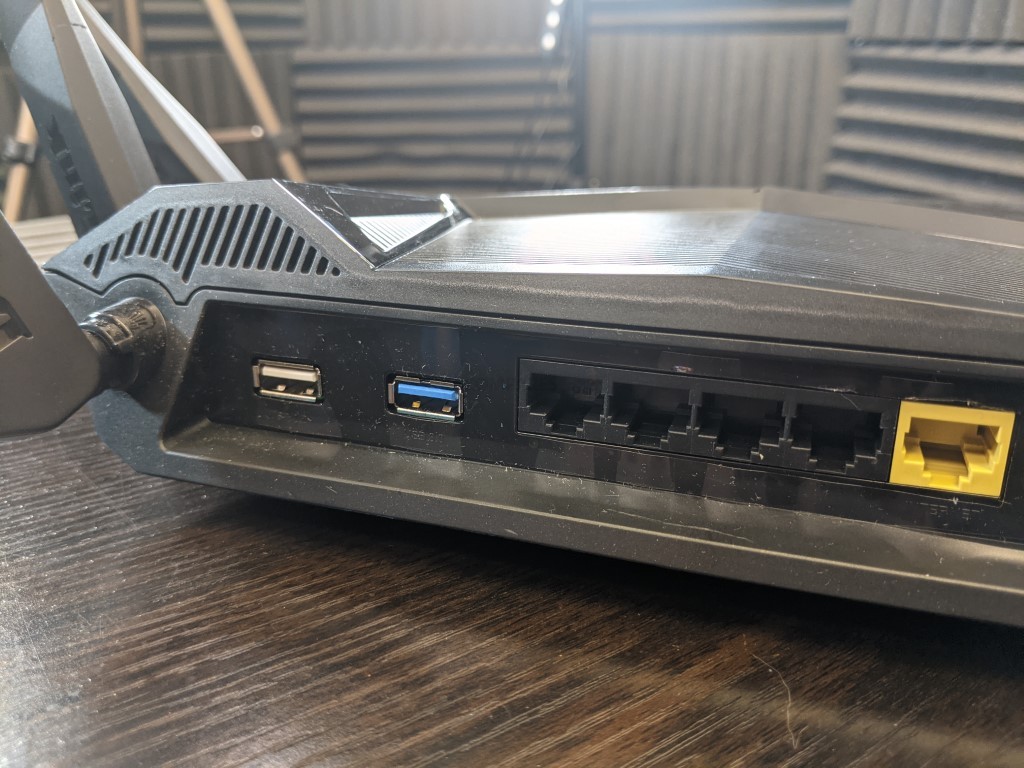 The physical rear connections on the D-Link EXO DIR-X5460 are an area of mixed reception. They are:
4x RJ45 LAN
1x RJ45 WAN, WPS Button
1x USB 3.2. Gen 1
1x USB 2.0
These connections are all fairly standard and I cannot really fault them at this price point. All of the network connections are gigabit and the inclusion of two USB connections for storage media to be connected (5Gb/s max on USB 3.2 Gen 1) are all well and good. The storage media can be used in a few different ways (covered later in the software section) which is nice and at this price point all perfectly acceptable. It just all seems a little tame to see the physical connections to be fairly normal when all the wireless connectivity is so high end. There IS an element of greater than gigabit connectivity on the D-Link EXO DIR-X5460, but it requires Link Aggregation/Port Trunking to be used on up to 2x 1Gbe LAN ports and a LAG supported Switch/client device, which although easy to do is not really in the ballpark of most users network hardware environment typically in 2021/2022.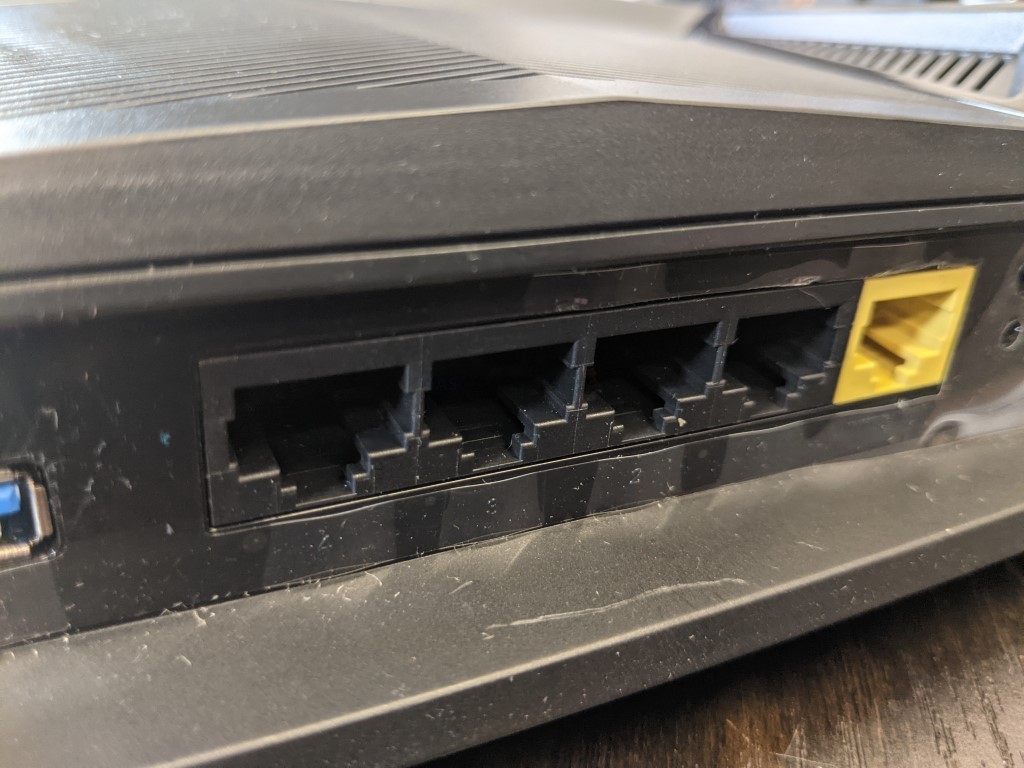 Likewise, although the price point of the D-Link EXO DIR-X5460 router is always going to mean that some features are absent, but the lack of 2.5GbE is a bit of a blow/ 1Gbe (100-109MB/s bandwidth) is something that has been around for upwards of 20 years and now that internet speeds are surpassing the Gigabit (not gigabyte – well, not everywhere anyway!), as well as NAS servers and gaming rigs arriving with 2.5GbE as standard, that is a bit of a shame to be unavailable here. 2.5GbE (2.5GBASE-T) and it's possible 2.5x bandwidth potential here is something that could potentially age this router in your network environment, but not a deal breaker for most users I am sure. So, let's discuss the software and services of the D-Link EXO DIR-X5460 WiFi 6 Rouer.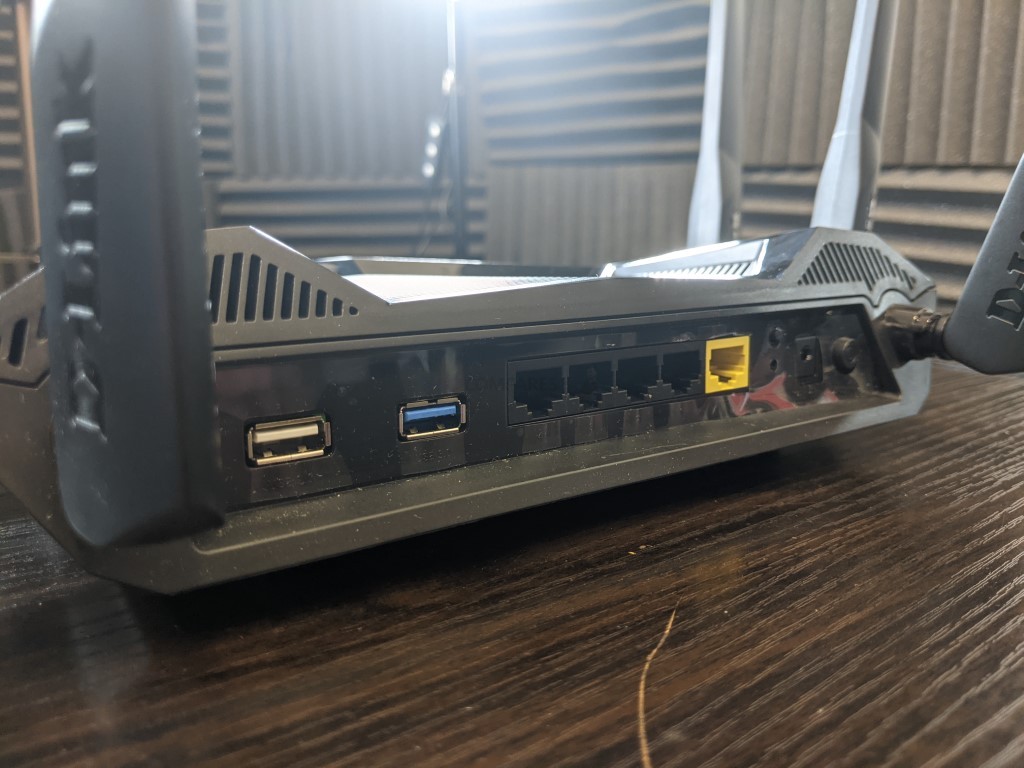 D-Link EXO AX5400 DIR-X5460 Router Review – Software and Services
The software, services and control of the D-Link EXO DIR-X5460 router genuinely find a decent line between the network-noob and the I.T professional. It should be added that the D-Link EXO DIR-X5460 is Plug n play, so you do not immediately need to log in to set up and just connecting the WAN port to your current ISP router will allow it to be used in minutes. It is advised though to take some time to set the device up to your needs using the genuinely well-balanced software. This is achieved by providing access to the administration of the router via a simplified mobile application for iOS & Android and a much more configurable and adaptable web browser-based graphical user interface (GUI). The results are mostly good, with perhaps the mobile app oversimplifying things more than necessary at times (lacking the easy/advanced switching style of the web browser GUI) but it still proves ALOT of useful control and bespoke setup for home or business use. Key software and services in the D-Link EXO DIR-X5460 router are:
Supports WPA/WPA2/WPA3 and 128bit Encryption
6 Simultaneous streams at full bandwidth at once
D-Link Extension Wi-Fi Mesh Supported
128-bit Encryption
BSS Coloring for Clear connectivity
Smart Home / AI Services Supported (Alexa, etc)
Guest SSID, QoS Control, Free Parental Control
VPN Services Supported
Web GUI & Mobile App
Let's go through the key and (likely) most frequently used services on both the desktop and mobile client D-Link applications. The main browser GUI for the D-Link EXO DIR-X5460 shows a useful topographical display of your internet, router, devices, USB and identities.
The mobile application displays mostly the same, but puts them into clickable boxes to dig down deeper if you choose.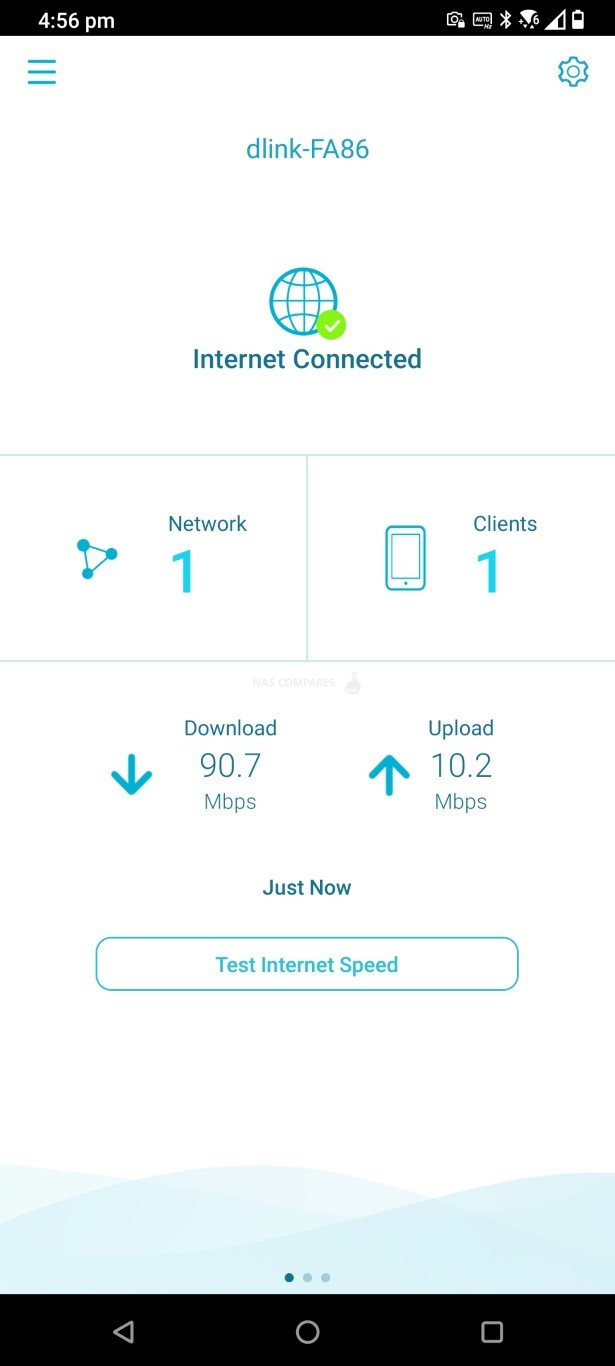 Tapping the menu key on the top right of the mobile application displays a range of service and control options on the D-Link EXO DIR-X5460 router. These are presented in a much more granular fashion, with choices in a 'next step', screen by screen basis.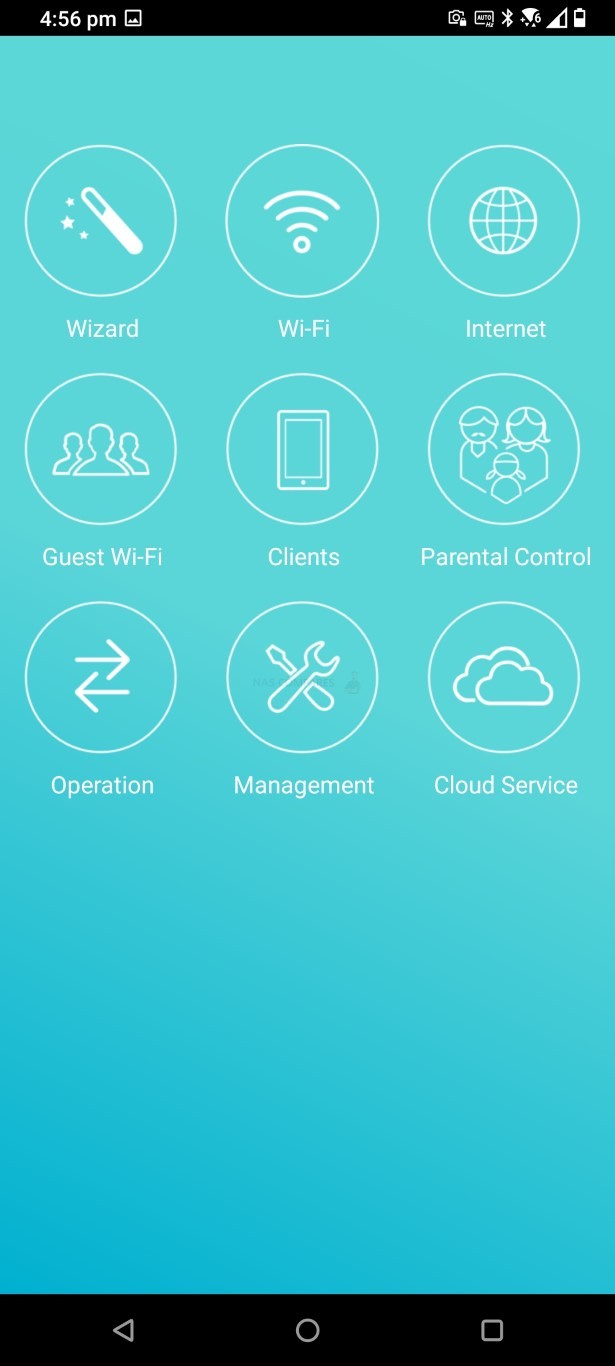 One thing I am keen to highlight is the inclusion of parental control WITHOUT any extra/paid subscription service. Paid parental controls on routers is becoming a nasty inclusion these days, asking people to pay extra (on top of the ISP services AND a pro router!) for the ability to filter content and client hardware on your router. I am pleased to say that the D-Link EXO DIR-X5460 does NOT do this and although the parental control is a tad rudimentary, it is very easy to understand and allows sleep mode, restricted device time management and precise website filtering to one/all devices with ease. The web browser GUI shows al the options on a single screen, like so: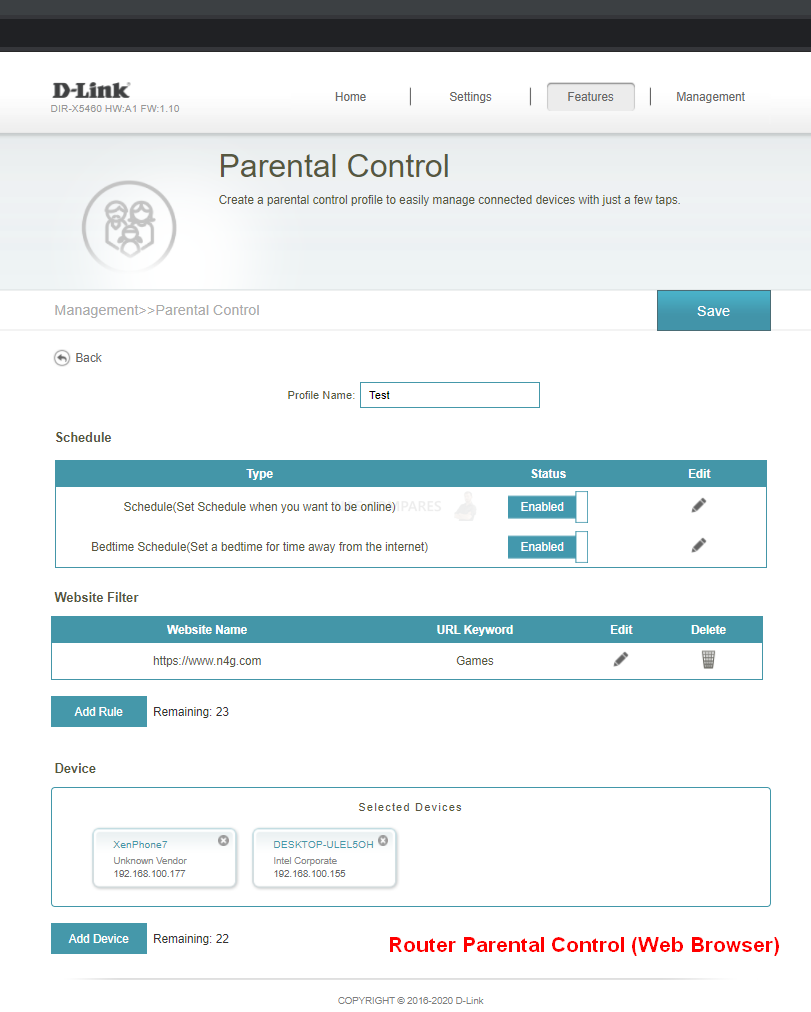 Whereas the mobile client app presents these options as stages and although holds your hand throughout the process, is just as effective and quick to set up.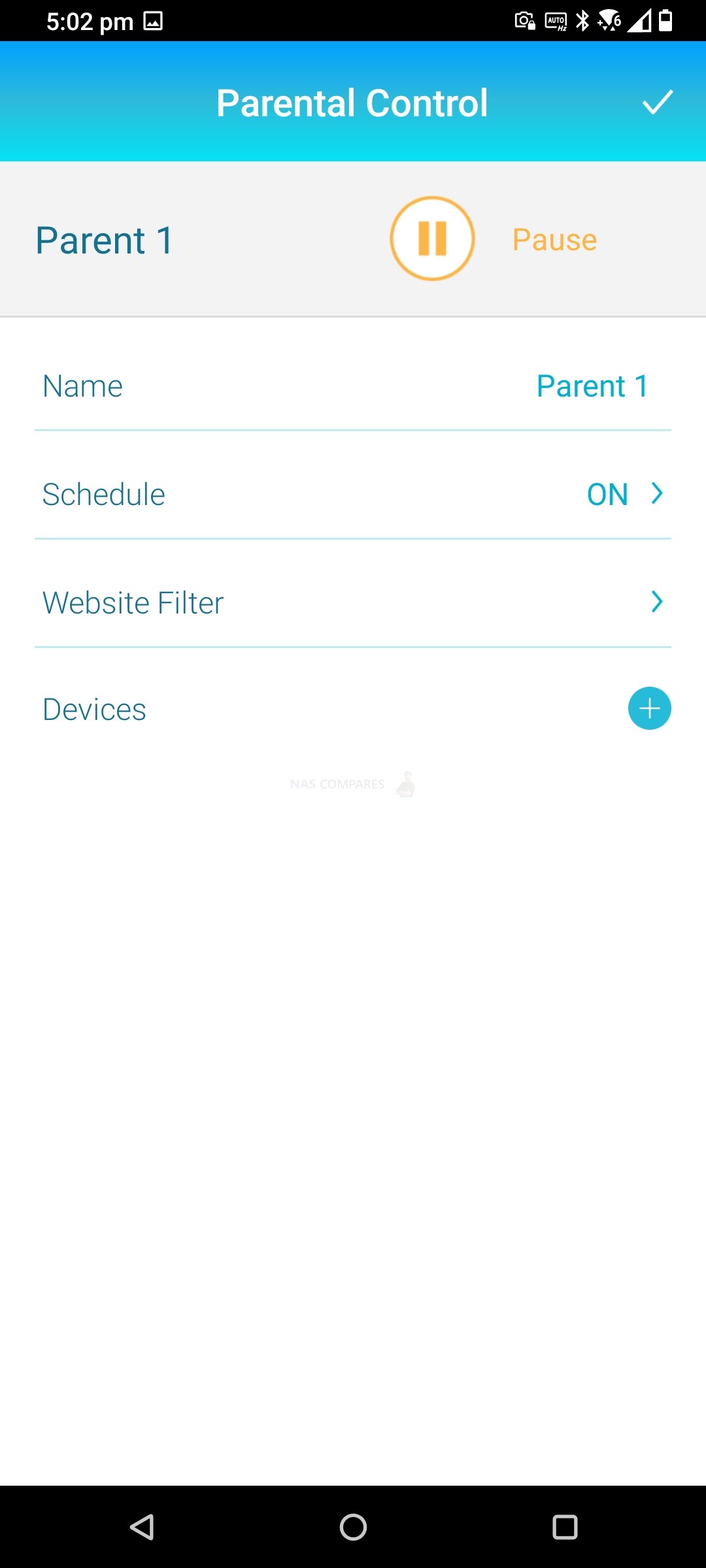 Additionally, the router includes ookla speed testing inside the D-Link EXO DIR-X5460 router itself. Now, many users will argue that you can easily jsut get a speed test tool on your phone/laptop device BUT this is a speed test conducted between the router and the internet connection from your ISP – which is much, MUCH more useful for troubleshooting. Additionally, the D-Link EXO DIR-X5460 factors these results into the quality of service (QoS) settings and can then apply rules to priority devices (across 3 tiers) to divide up the internet connection in the best way to make sure key devices get the lion share of the connection as needed. Pro gamers, VOIP users and those that work from home (the pandemic massively increased this of course) will see enormous benefits to this services AND it's combination with the speed test tool.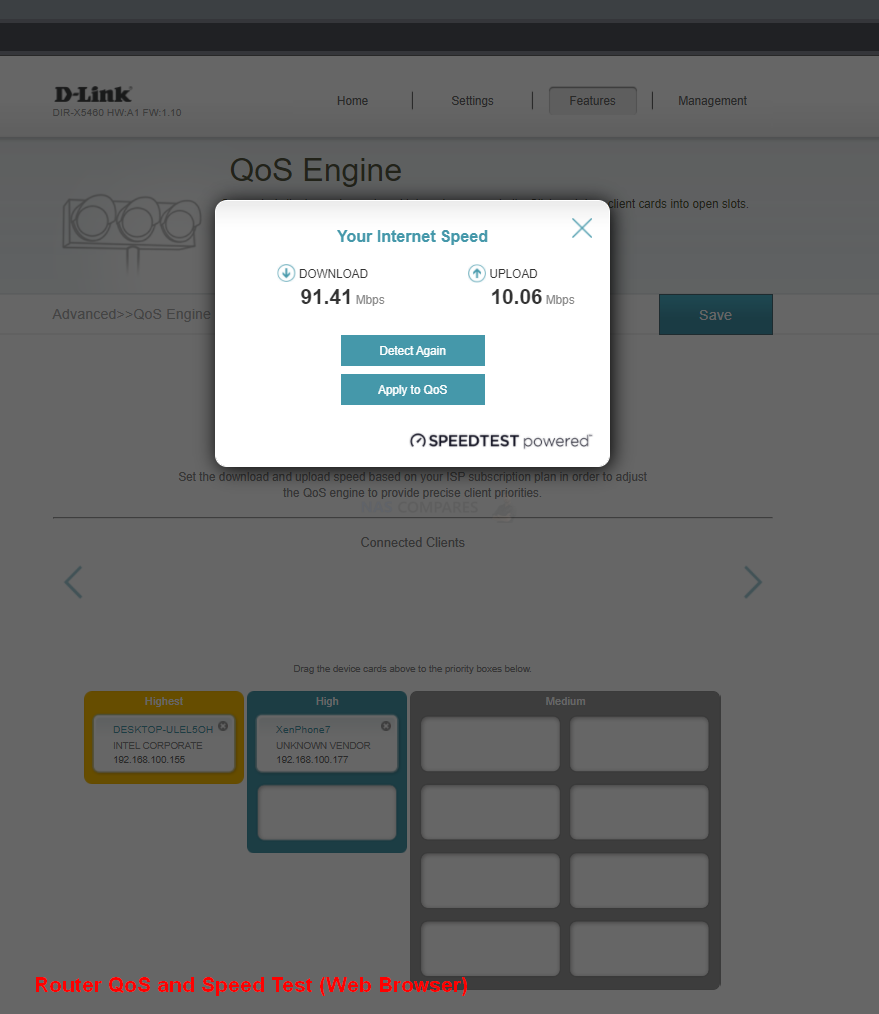 The speed test tool is a little more simplified on the mobile app and control is less integrated with the QoS tools. QoS configuration is still available in the app, but as a separate option.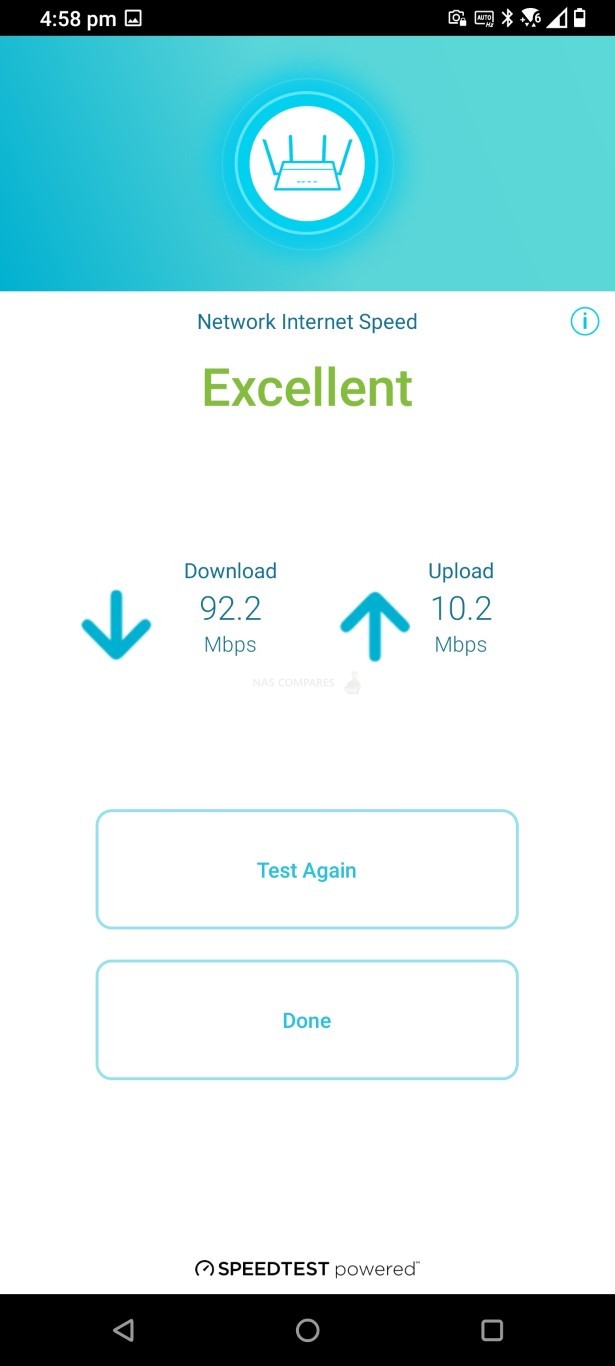 Individual connected client applications are shown on both the mobile application and web browser GUI, with options to name these devices internally, assign fixed network addresses/identities, bandwidth control, USB access, internet-only access and more.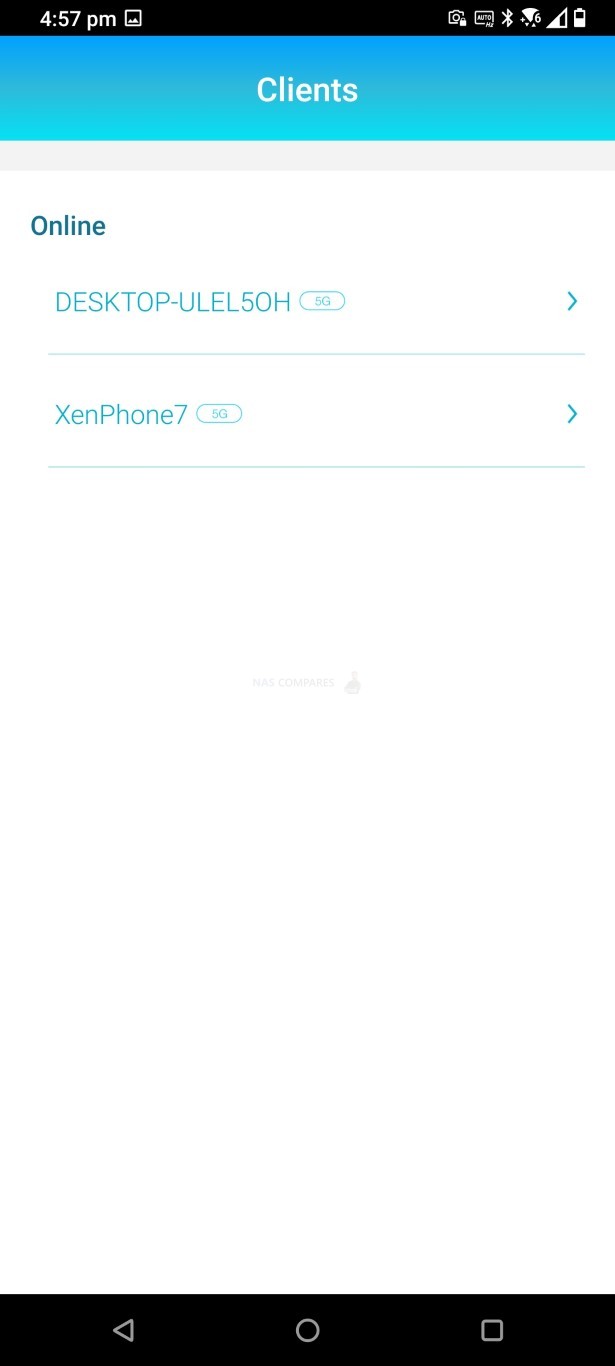 You can even create users on the D-Link software GUI of the EXO DIR-X5460 router and then given them bespoke system, network and internet access, which is especially useful when grouping network client hardware with a particular team or family member.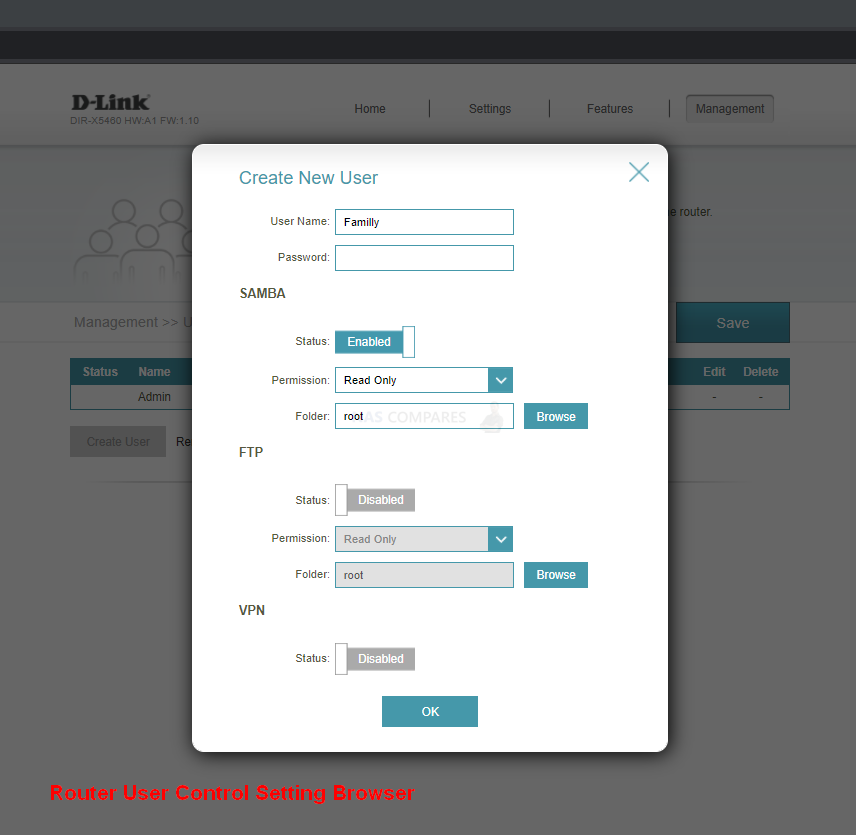 The router can have its operation adjusted to your own needs, in case you are using the D-Link EXO DIR-X5460 as your primary router/access point to your internet connection or ISP modem OR as an extension of your existing system. This configuration is explained well in both the browser GUI and mobile app.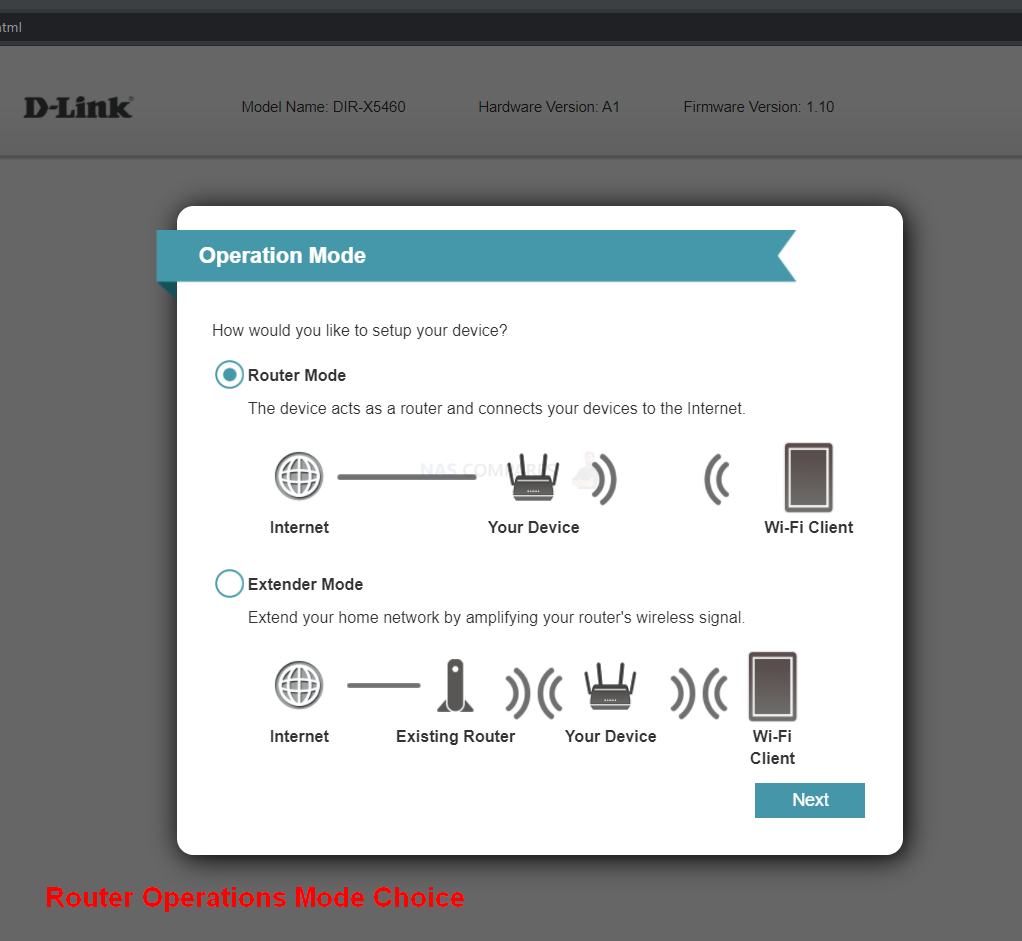 You can change your router operation easily on the mobile application, but it is not advice that you play with this outside of the browser GUI as reversing this is tricker via mobile.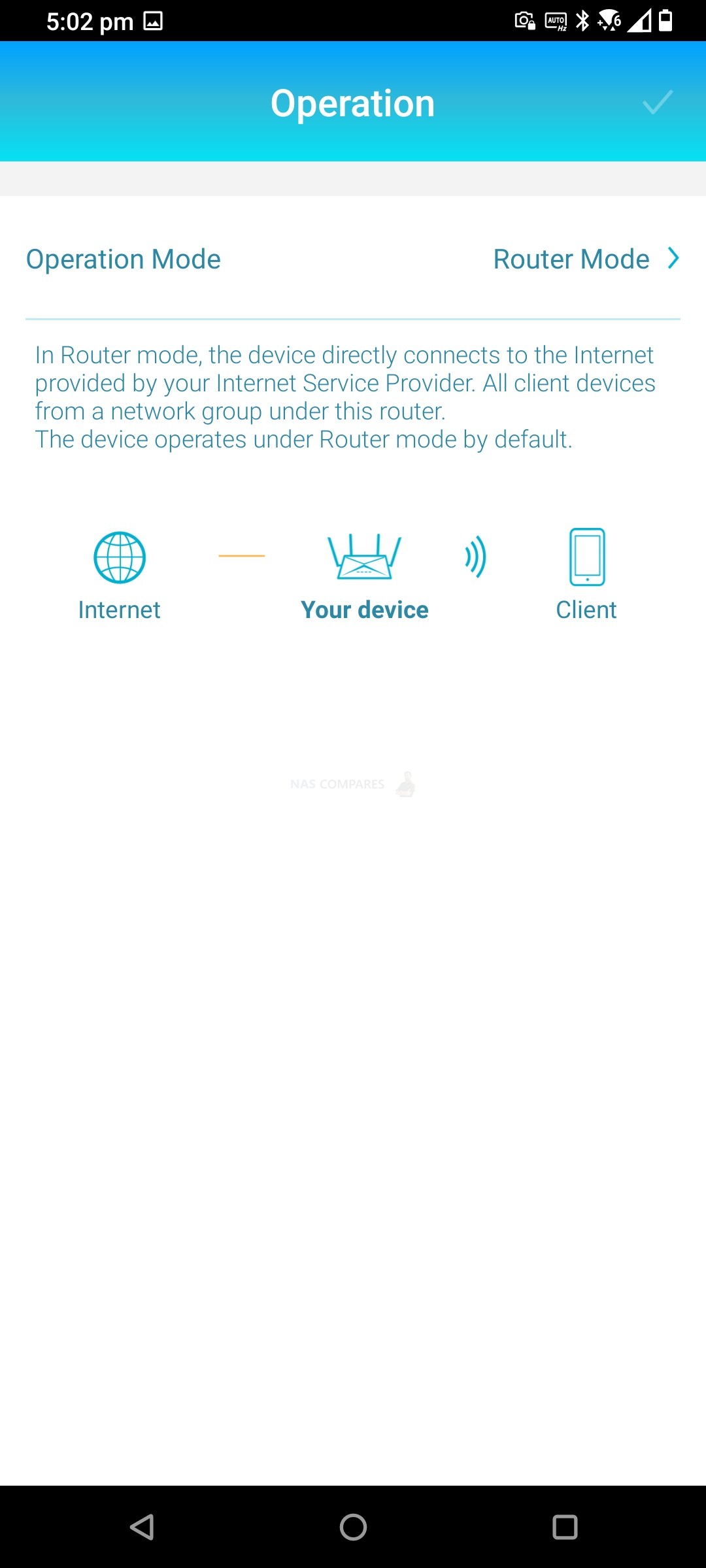 Another predictable but still well-executed feature is the guest SSID mode. This allows you to create a secondary wireless network that has its own name and login credentials.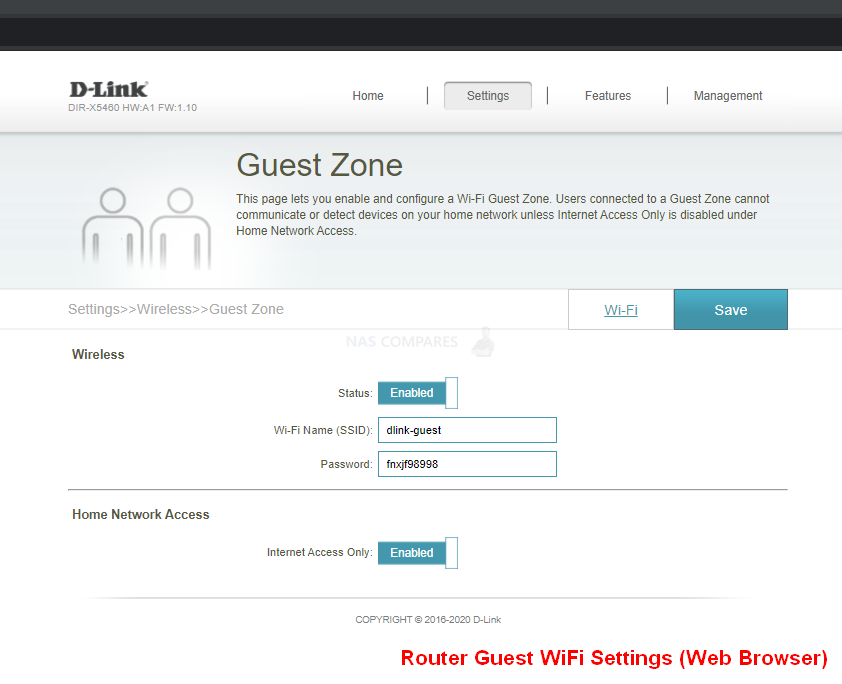 Configurable on the fly, with instant changes as needed, there is also the option to restrict this guest network from having access to the wider network of devices and services, limiting it to only internet access. Which you can then continue to configure in the QoS, client and network settings too.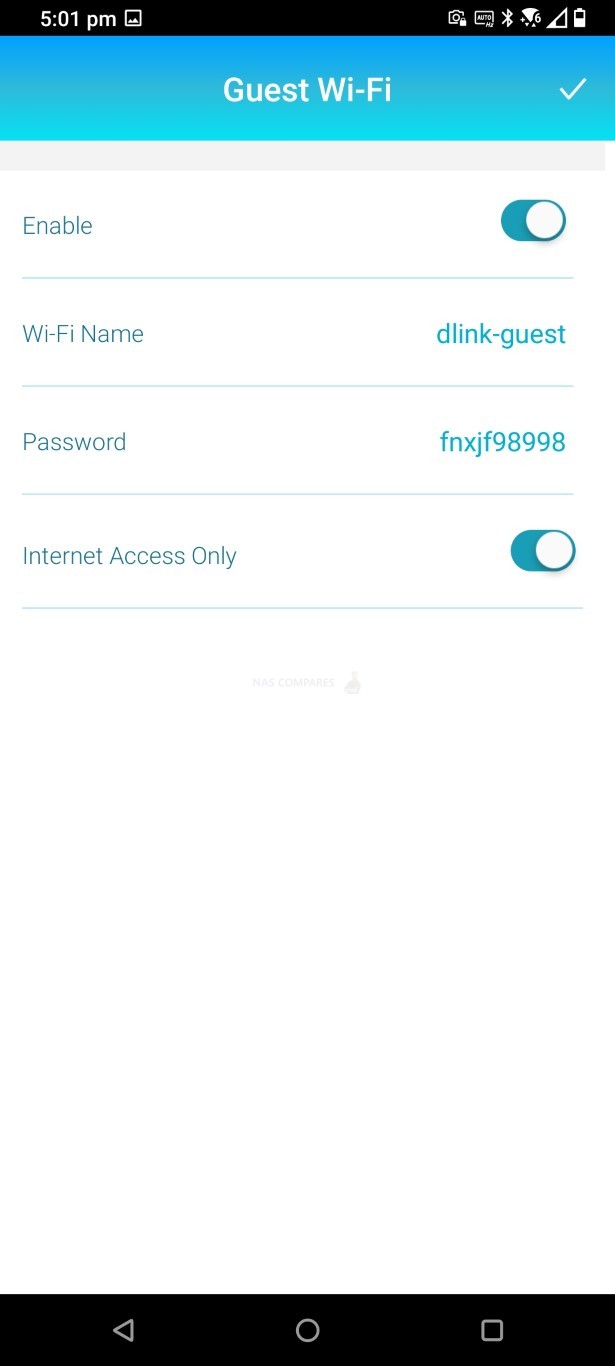 Internet access can also be widely configured on both the web browser and mobile application. Things getting a little more network-techie on the web browser GUI of course and although the bulk of the configuration options here are fairly predictable, they are still presented in a user friendly and clear to follow fashion.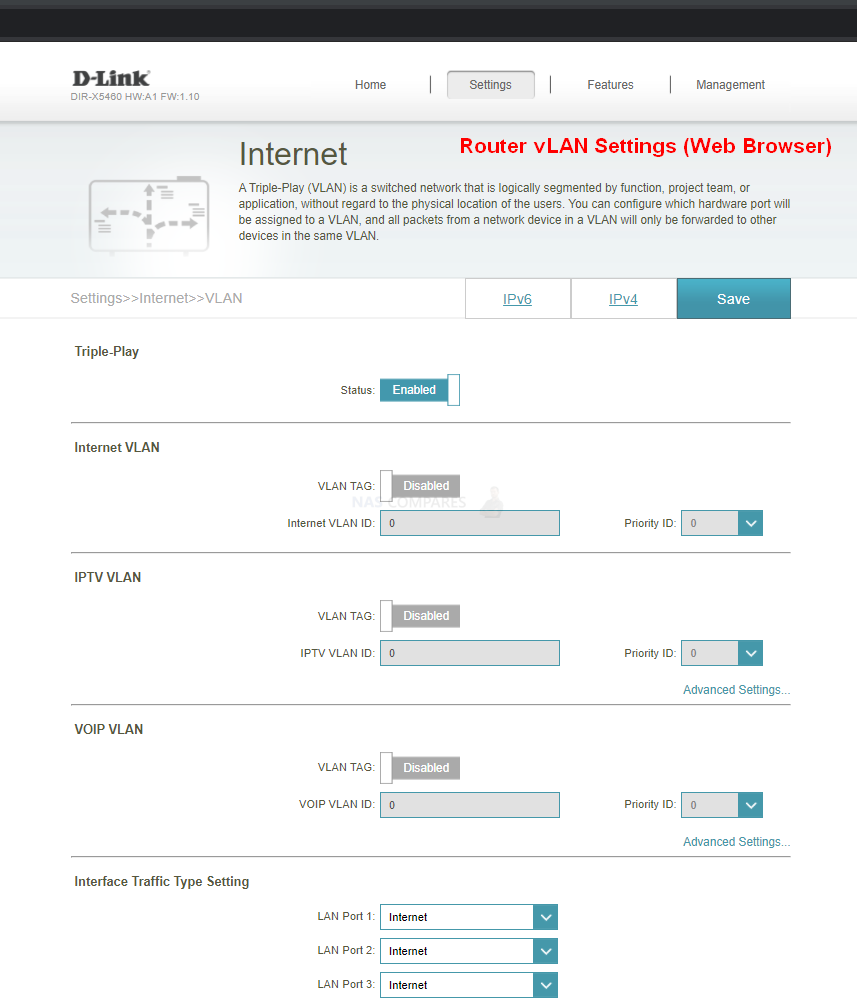 The same goes for the firewall configuration settings, with numerous settings that are applicable to both home router users and business users who have specific office network hardware to take into consideration.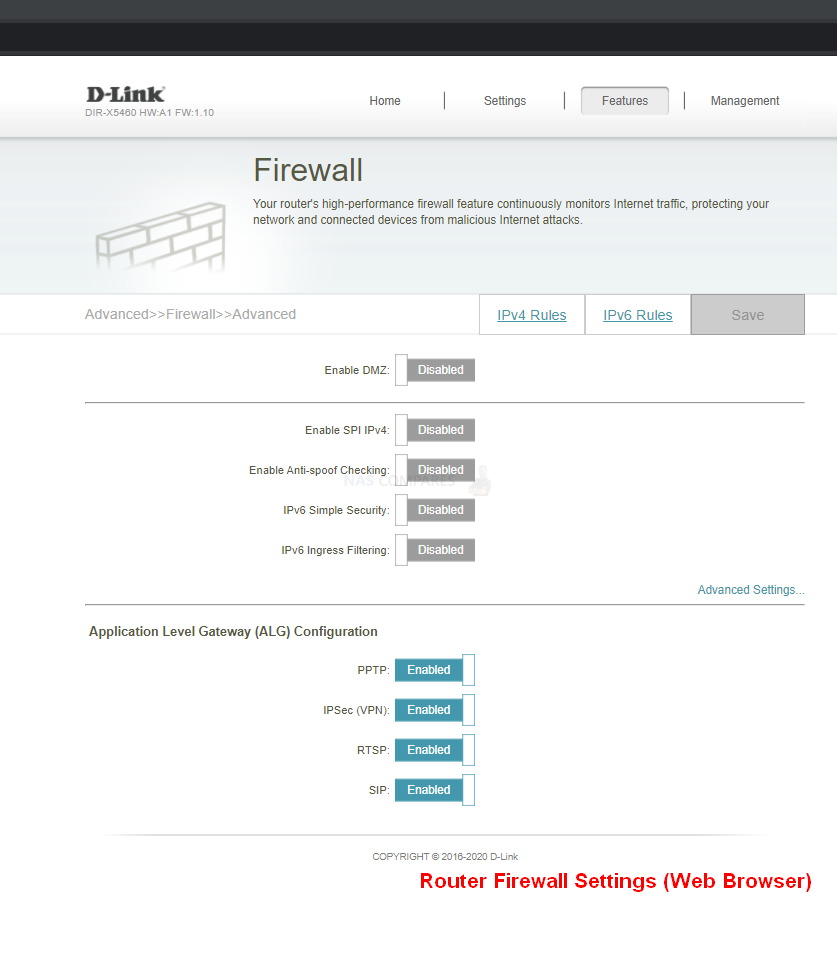 The network configuration setting is quite clear, if a little sedated. The uniform 1Gbe across the whole device means that any changes you make are going to be more a case of downsizing connectivity and access, rather than improving the wider network throughout (though there is port trunking supported on up to 2 1Gbe ports)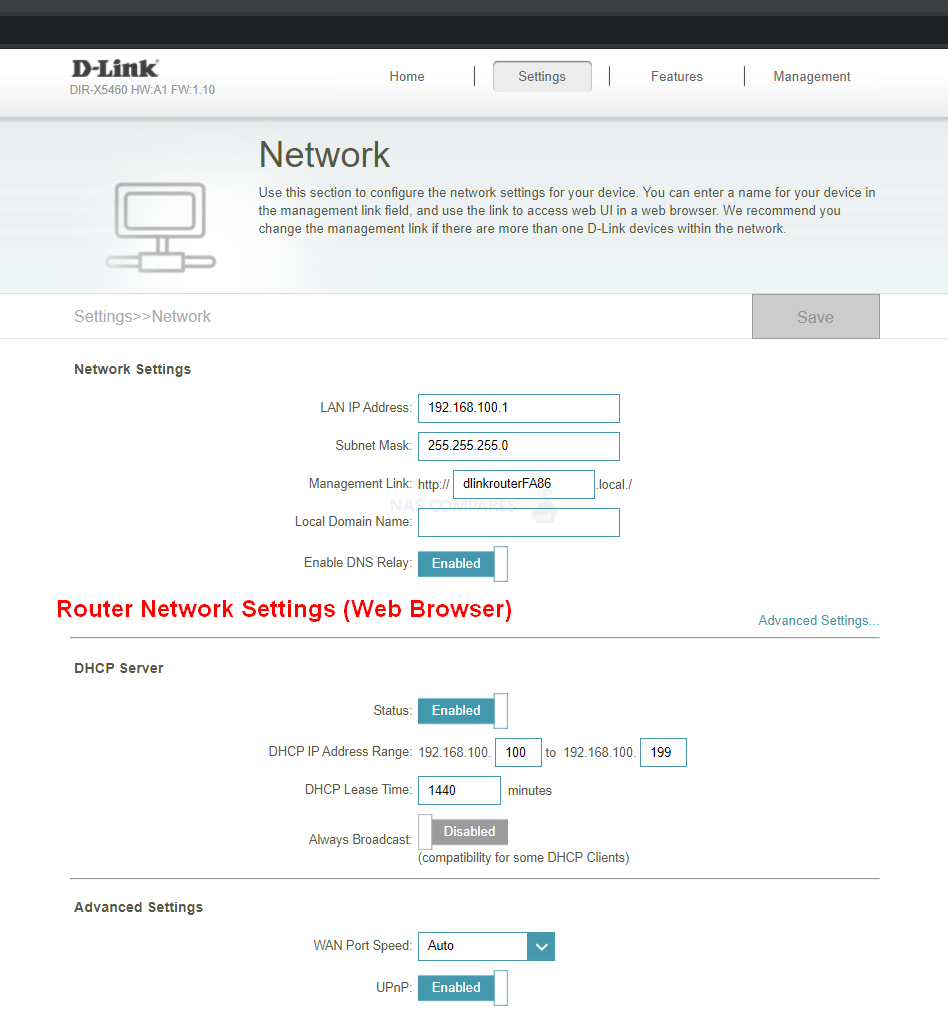 In the management panel, there is a statistics area that displays real-time information on the individual network connections across each band, via RJ45, as well as internet connectivity. This information is useful to have, but long term historical data is not really kept or maintained by the system to access (eg 'data use over a previous period and how it compares against the same period on another date). It is a nice feature, if a little limited in its overall use.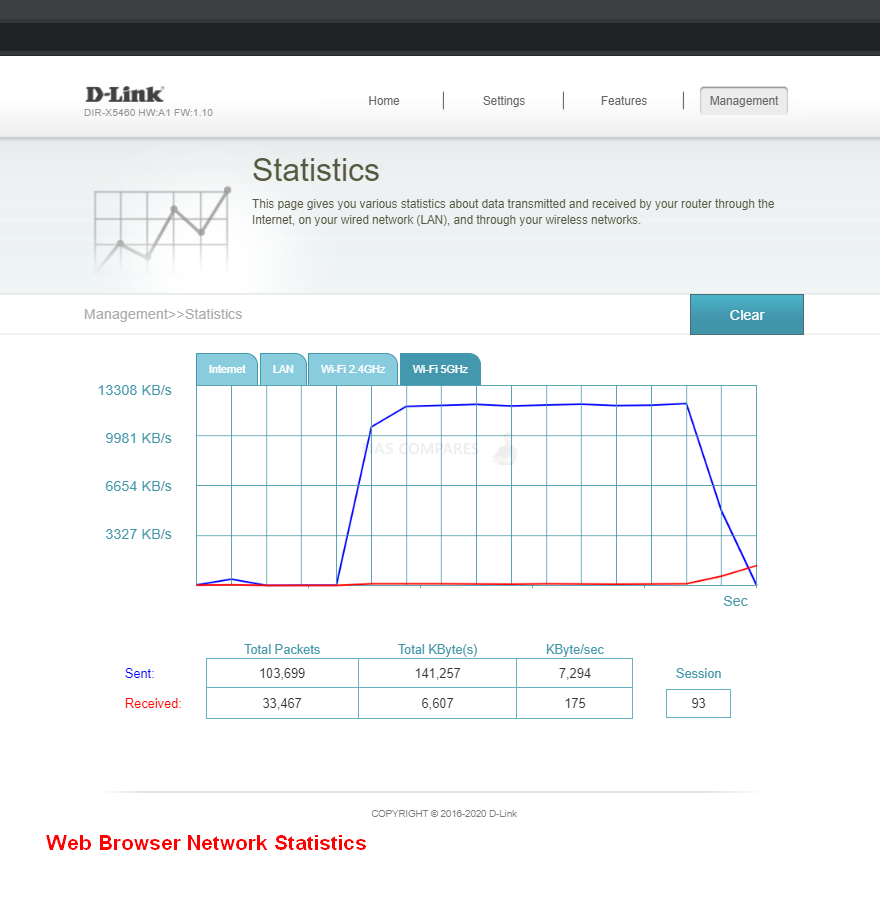 Upgrading the D-Link EXO DIR-X5460 router firmware can be conducted manually or the system will update itself without the need of the end-user if preferred. This can be schedule (to avoid any minor downtime). a minor feature, but surprisingly rare!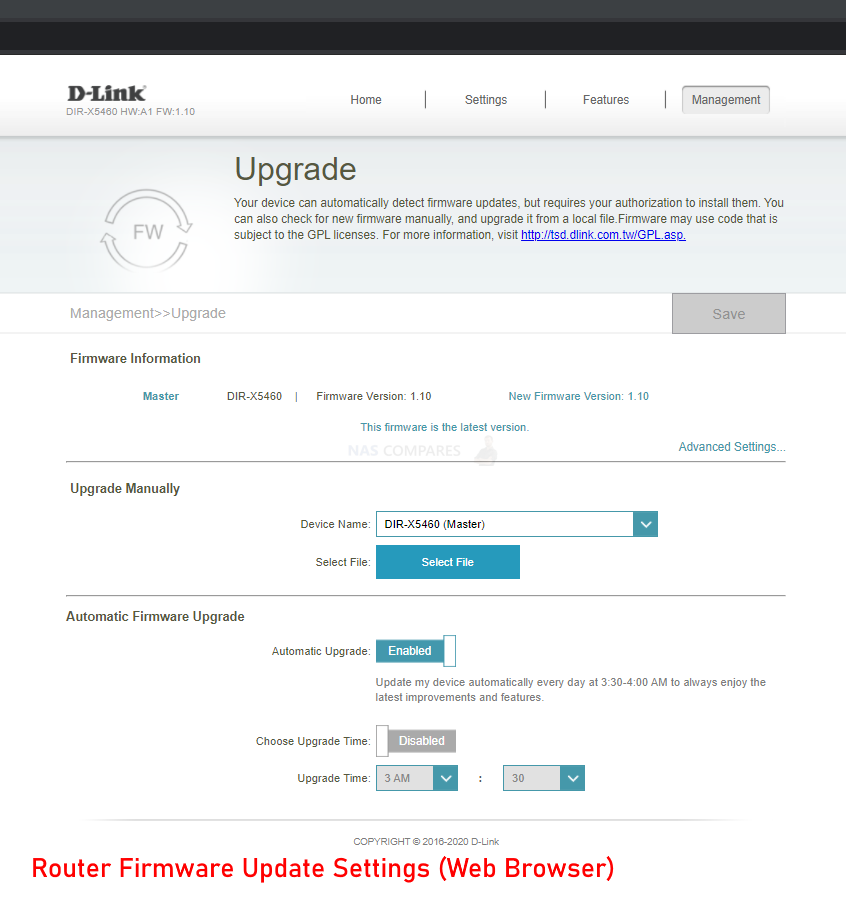 Then there is the option to connect an existing VPN tunnel with the D-Link EXO DIR-X5460. Although this is an area where things get less user-friendly and I am surprised that D-Link has not loaded a number of presets for a handful of popular VPN providers as found by a few other router/NAS manufacturers.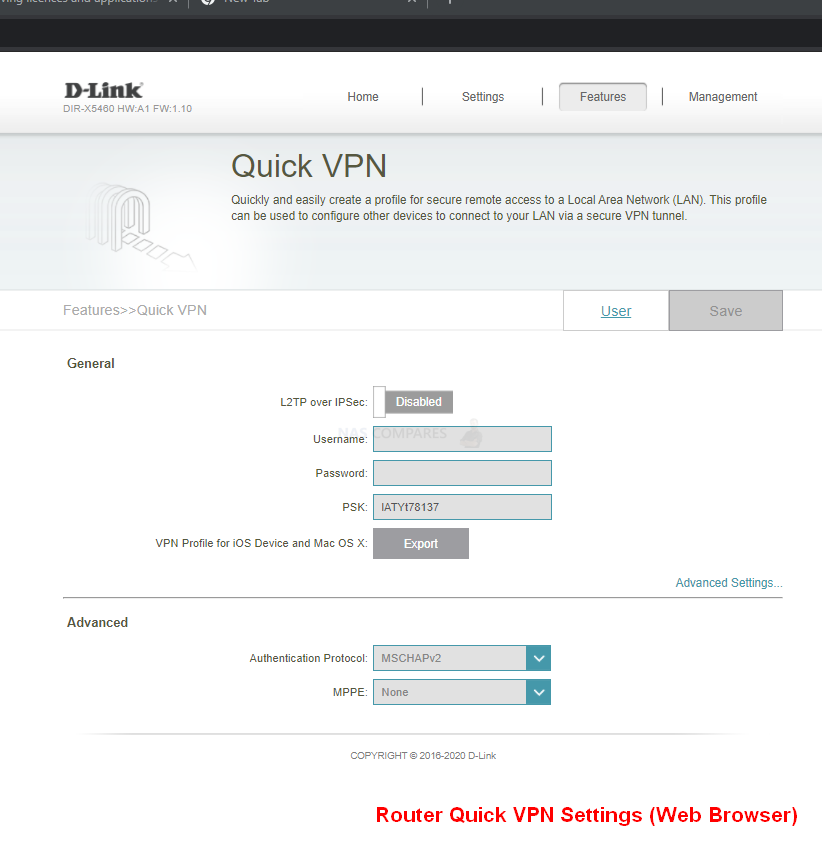 Finally, there are the means to connect the D-Link EXO DIR-X5460 Router with your existing smart home assistant (such as Amazon Alexa or Google Home). You need to create a D-Link account (free) in order to utilize this service and access voice control and direct-to-AI notifications and more (as they need to communicate with a remote server).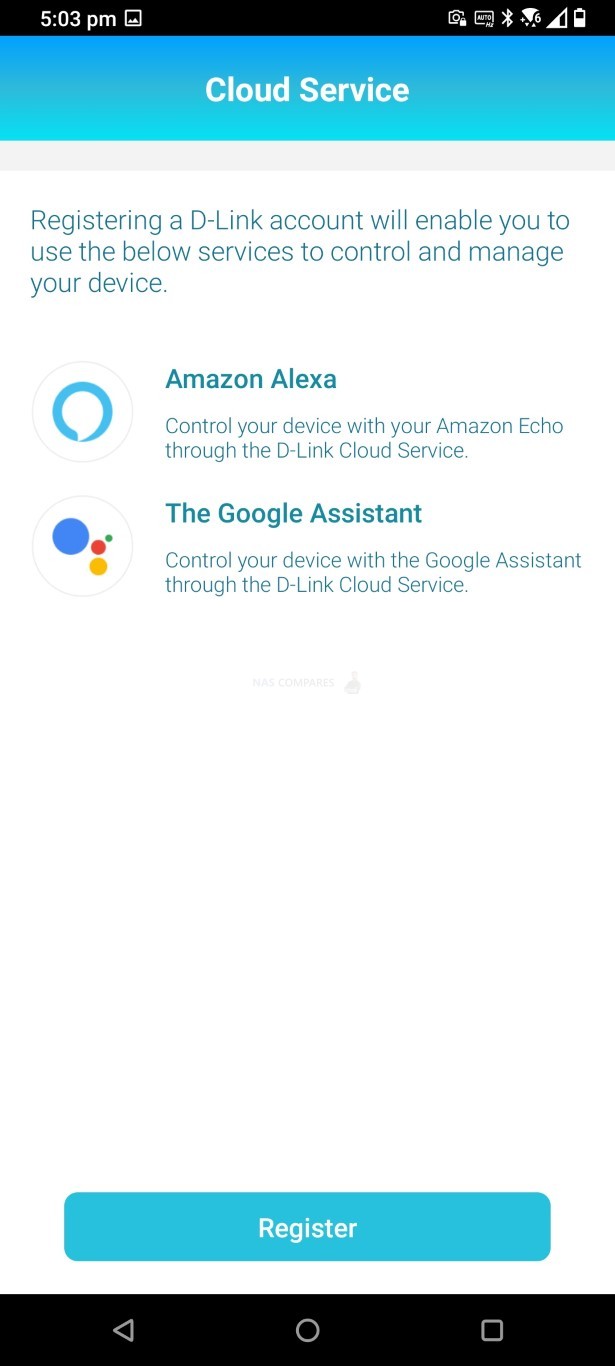 In order to see how the router would compare with a traditional router in the home, I bench tested performance on 3 popular online speed test sites. Now, it should be highlighted that WiFi 6 is NOT a factor here, as the internet was being delivered was sub-Gigabit. However, the results of communication between the laptop testing the connection, at the same distance from the ISP  Router and D-Link EXO DIR-X5460 Router clearly showed that the D-Link provided notable higher performance in all three tests than the ISP router (Virgin Hub 4) in a single 5Ghz connection. Here are the Google Speed Test results, with a 16Mb increased on download and over 3Mb increased upload on the D-Link EXO DIR-X5460: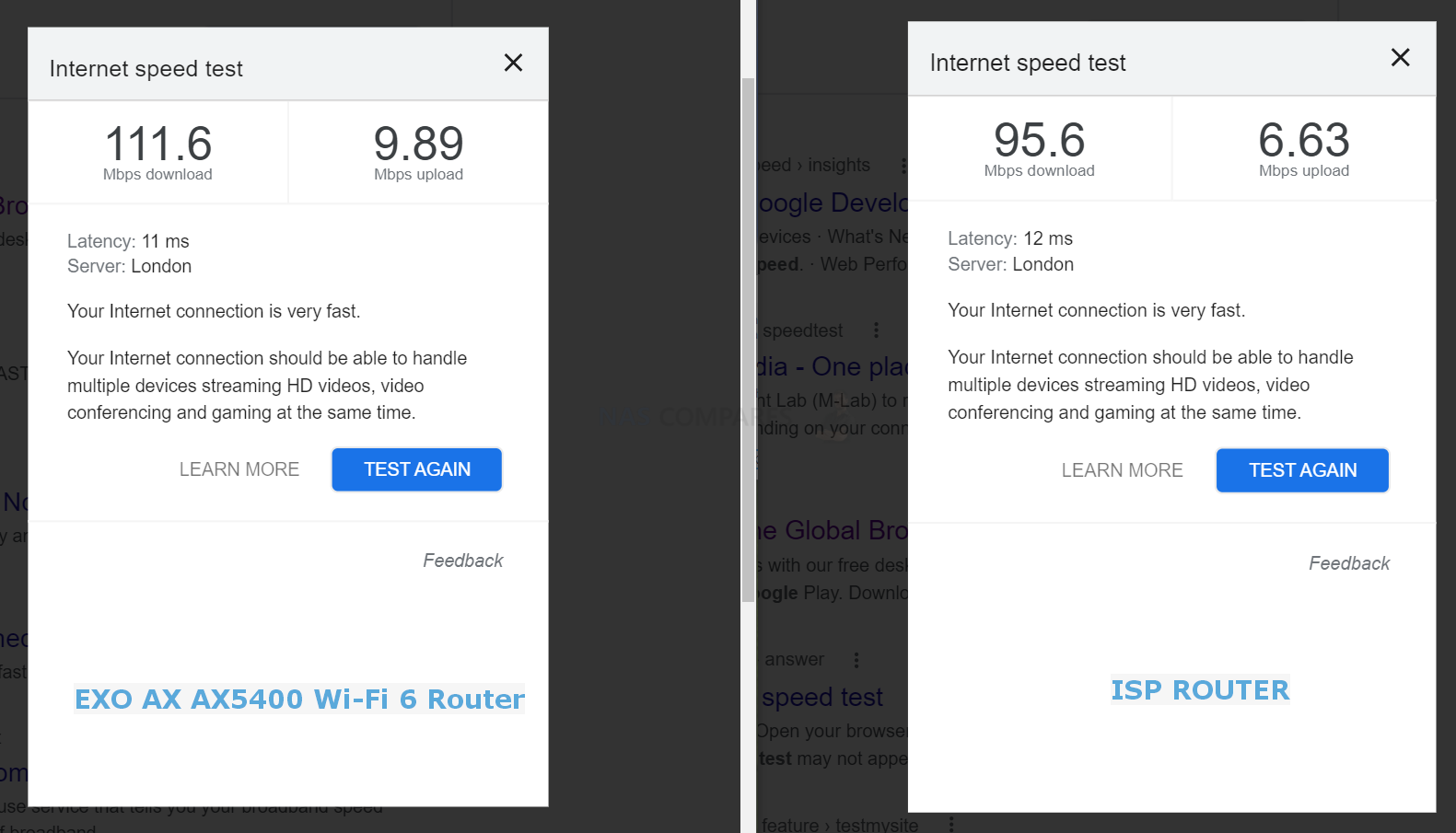 The Ookla Browser-based speed tests (connecting with the same remote server location)  showed the same improvements in Download Speed, just under 20Mb faster:

Finally the 'FAST' speed test was a clear 21Mb faster on the D-Link EXO DIR-X5460 Router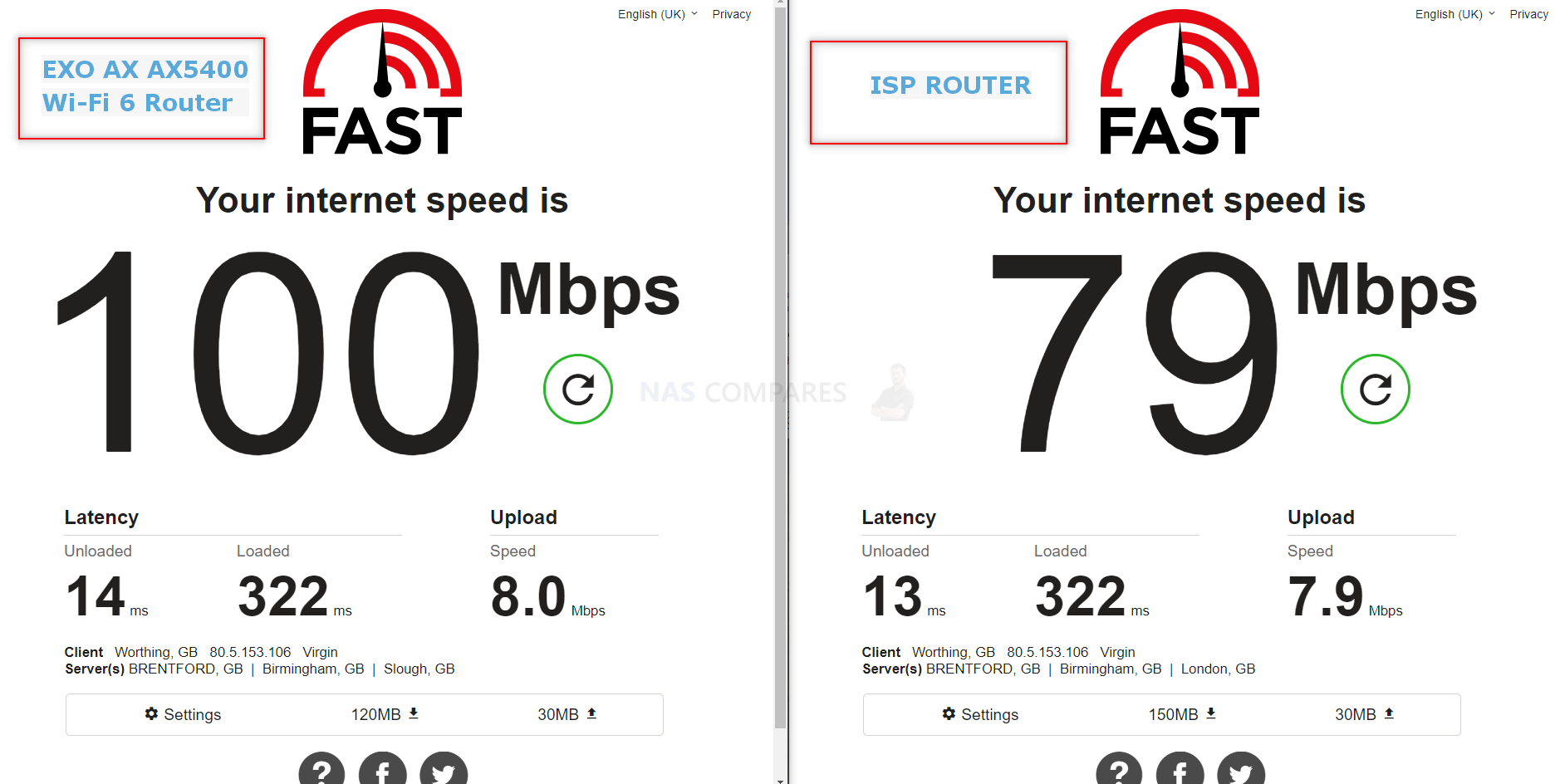 Overall the software and services on the D-Link EXO DIR-X5460 may seem a little safe and vanilla in places, but at this price point and for 2021, these seem quite acceptable. Plus the added bonus of having both a more techie usable web browser GUI and a more user-friendLY chewable mobile application option is handy.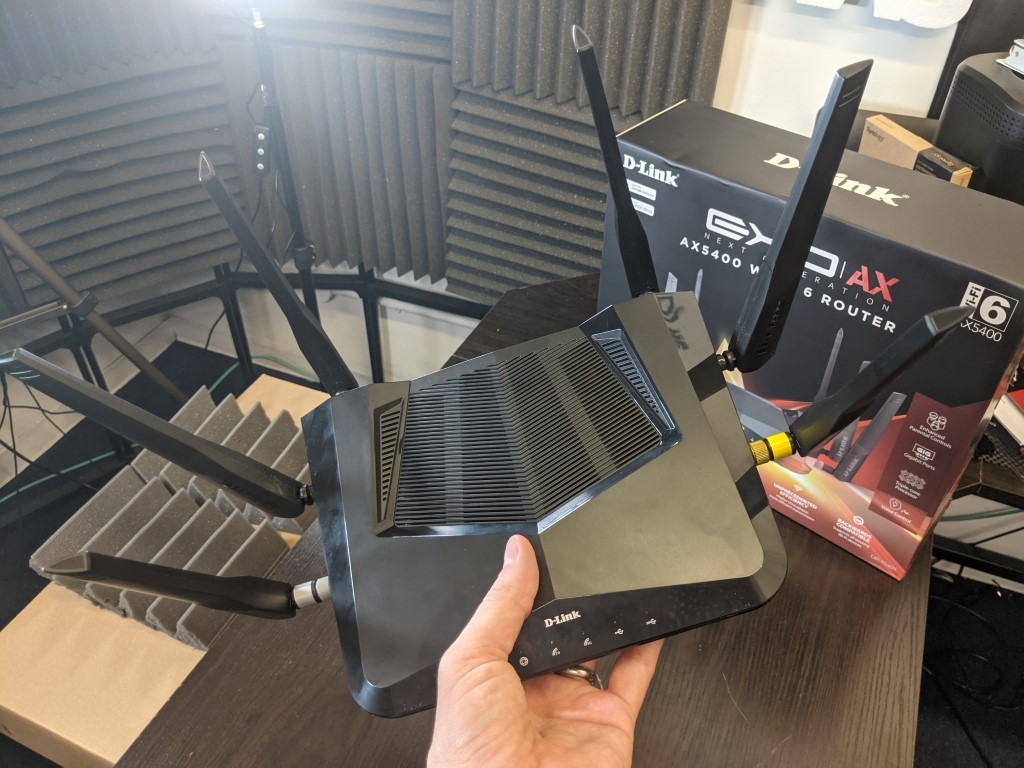 D-Link EXO AX5400 Router Review – Conclusion & Verdict
The EXO DIR-X5460 from D-Link ticks a lot of the key boxes from buyers looking at entering the WiFi 6 market with as little friction as possible. Now that the price point of AX/802.11ax hardware is coming down and becoming a universal standard in the majority of our home hardware (the latest iPhone, the latest Pixel, the PS5, etc), then the advantages of investing in a solution like the EXO DIR-X5460 Router become increasingly obvious. In terms of physical connections, the D-Link EXO is perhaps a little bland and the software and services, though easy to use and very functional, are not going to blow you away. The D-Link EXO DIR-X5460 Router trades on its wireless speed, handling, area of coverage and customization of those networks – and in those areas, this router is a big success. Excellent value, if a little safe overall.
PROS
CONS

6 External and Directional Antennas!
Both detailed Desktop GUI and Simple Mobile App Control
WiFi 6 Support across 2x 5Ghz and 1x 2.4Ghz bands
FAST setup and inc wall brackets
USB 3.2 Gen 1 Port for Storage
Works straight out of the box
In-House Expanded Mesh Support
Triple Core 1.5Ghz Processor
Free Inclusive Parental Control
540MB/s (480MB+57MB) Combined Bandwidth
WPA3 and 128bit Encryption
Wall-mountable
Voice Control via AI Assistant Supported

Limited LAG support on just 2x LAN ports
Lacks 2.5Gbe
Mobile App is a little over-simplified (an Advanced Tab as found in the Desktop Browser GUI would help)
If you are thinking of buying the D-Link EXO-AX AX5400 Router, please use the links below
📧 LET ME KNOW ABOUT NEW POSTS 🔔
Get an alert every time something gets added to this specific article!
Want to follow specific category?

This description contains links to Amazon. These links will take you to some of the products mentioned in today's content. As an Amazon Associate, I earn from qualifying purchases. Visit the NASCompares Deal Finder to find the best place to buy this device in your region, based on Service, Support and Reputation - Just Search for your NAS Drive in the Box Below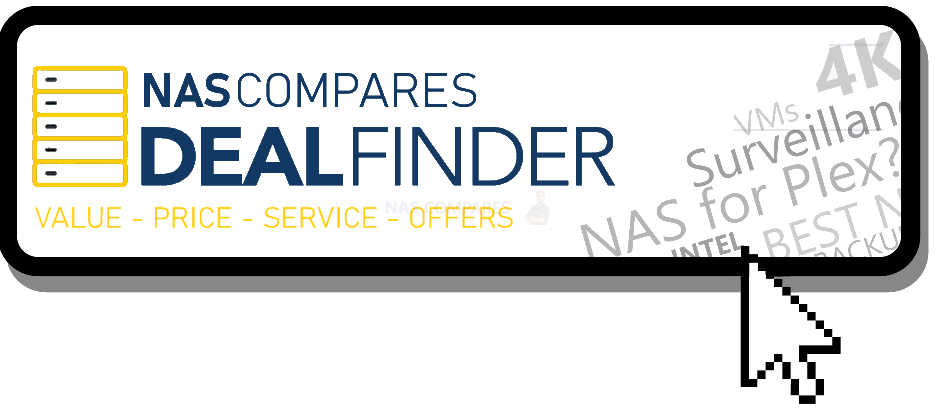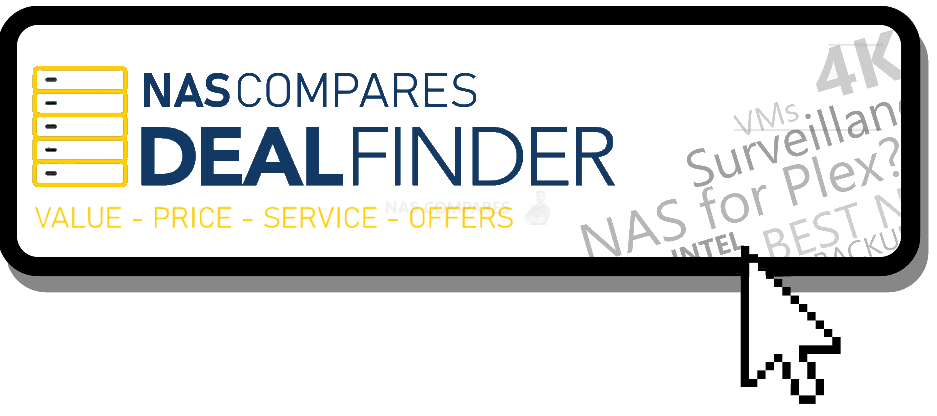 SEARCH IN THE BOX BELOW FOR ANY OTHER NAS
Need Advice on Data Storage from an Expert?
We want to keep the free advice on NASCompares FREE for as long as we can. Since this service started back in Jan '18, We have helped hundreds of users every month solve their storage woes, but we can only continue to do this with your support. So please do choose to buy at Amazon US and Amazon UK on the articles when buying to provide advert revenue support or to donate/support the site below.


Finally, for free advice about your setup, j
ust leave a message in the comments below here at NASCompares.com and we will get back to you.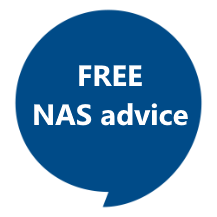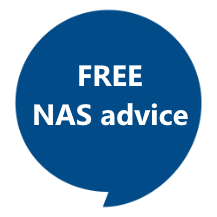 Need Help?
Where possible (and where appropriate) please provide as much information about your requirements, as then I can arrange the best answer and solution to your needs. Do not worry about your e-mail address being required, it will NOT be used in a mailing list and will NOT be used in any way other than to respond to your enquiry.
Terms and Conditions
Alternatively, why not ask me on the
ASK NASCompares forum
, by clicking the button below. This is a community hub that serves as a place that I can answer your question, chew the fat, share new release information and even get corrections posted. I will always get around to answering ALL queries, but as a one-man operation, I cannot promise speed! So by sharing your query in the
ASK NASCompares
section below, you can get a better range of solutions and suggestions, alongside my own.
This description contains links to Amazon. These links will take you to some of the products mentioned in today's video. As an Amazon Associate, I earn from qualifying purchases