Synology Launch the Surveillance Station 9.0 Beta for Public Testing
Good news for any Synology users who have been waiting for an update to the popular enterprise-level NVR platform, Surveillance Station, with the release of the Beta for Version 9.0. With many of its new features revealed in the Synology 2022 event last year, many users who utilize their NAS for home/business CCTV are going to be interested in what this new update to the Surveillance station will have to offer. Find out below how to access the Synology Surveillance Station 9.0 Beta, the changes, the considerations and other key info.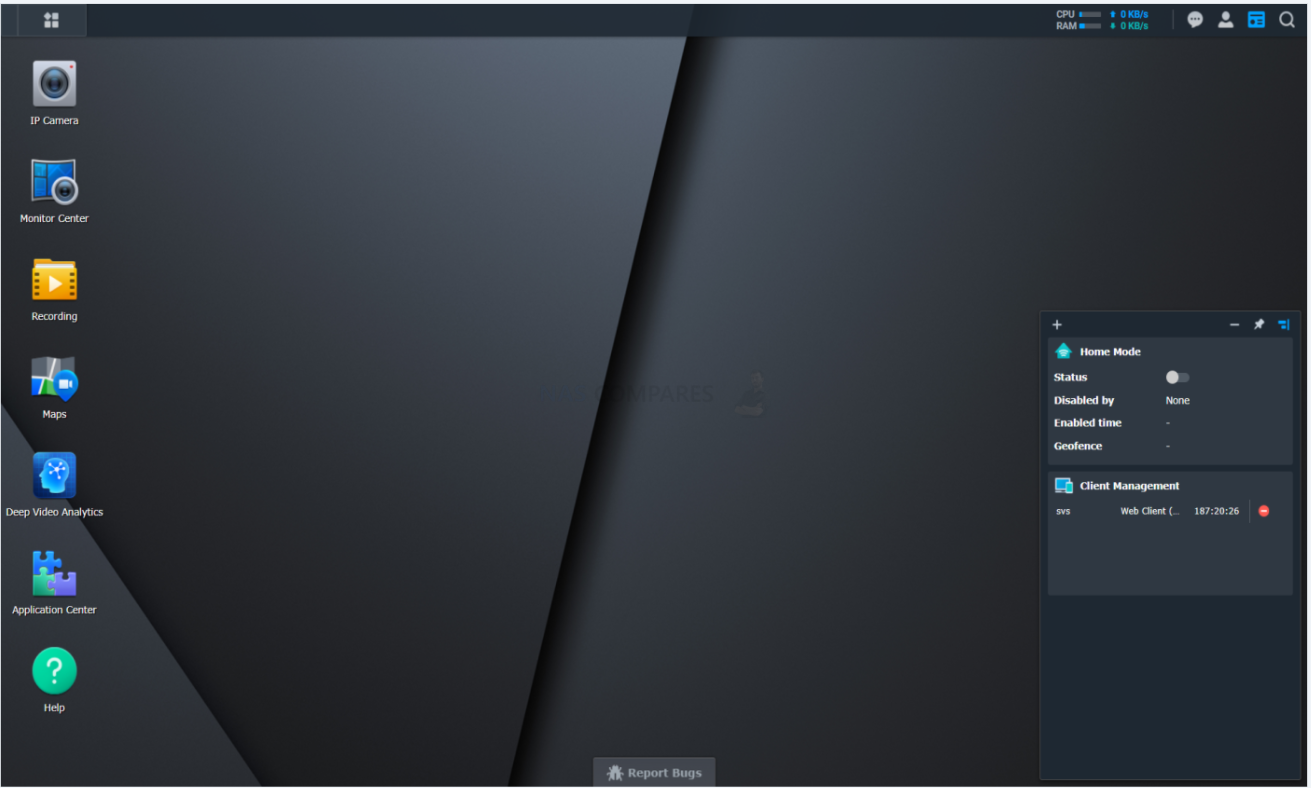 How to Install the Surveillance Station 9.0 Beta on your Synology NAS?
Unlike some of the high profile, beta's that Synology has revealed in the last year or two, the Surveillance Station 9.0 Beta is available now, directly from your own NAS system. You just need to head into the App center on DSM 7.0 or 6.2 and if you have enabled the option to install beta apps (an option that needs to be enabled in the App Center settings menu), the Surveillance Station 9.0 Beta download will be available.
IMPORTANT!
No Downgrade Support!!! – Once you have installed this beta application, you cannot downgrade the software to a previous official version.
For Evaluation Only – This Beta Software is for your evaluation only and should not be installed on any critical equipment or work environment. It is strongly recommended that you read the release information before installing. Synology will not be liable for any damages caused by the beta software, such as accidental loss of data
So, to clarify, here is a quick breakdown of what to do: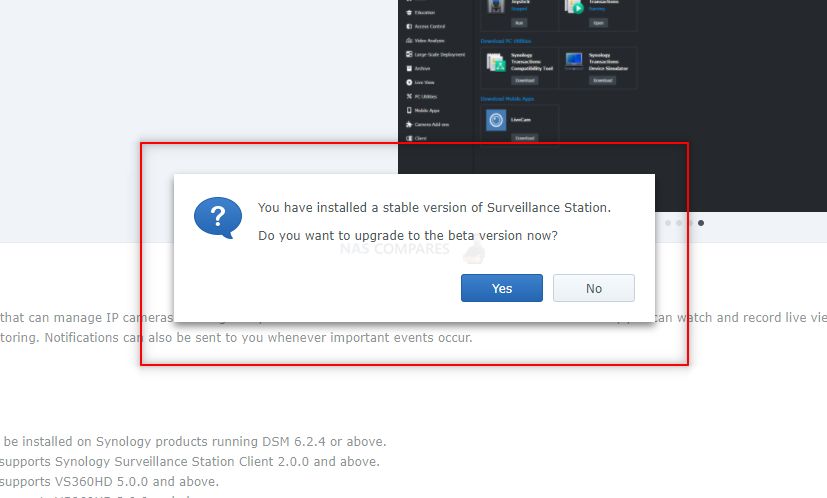 How To install beta software to your Synology NAS
Log in to DSM with an account belonging to the Administrators group .
Open Package Center .
Next you should be able to view and download the currently available trial packages that are compatible with your Synology NAS.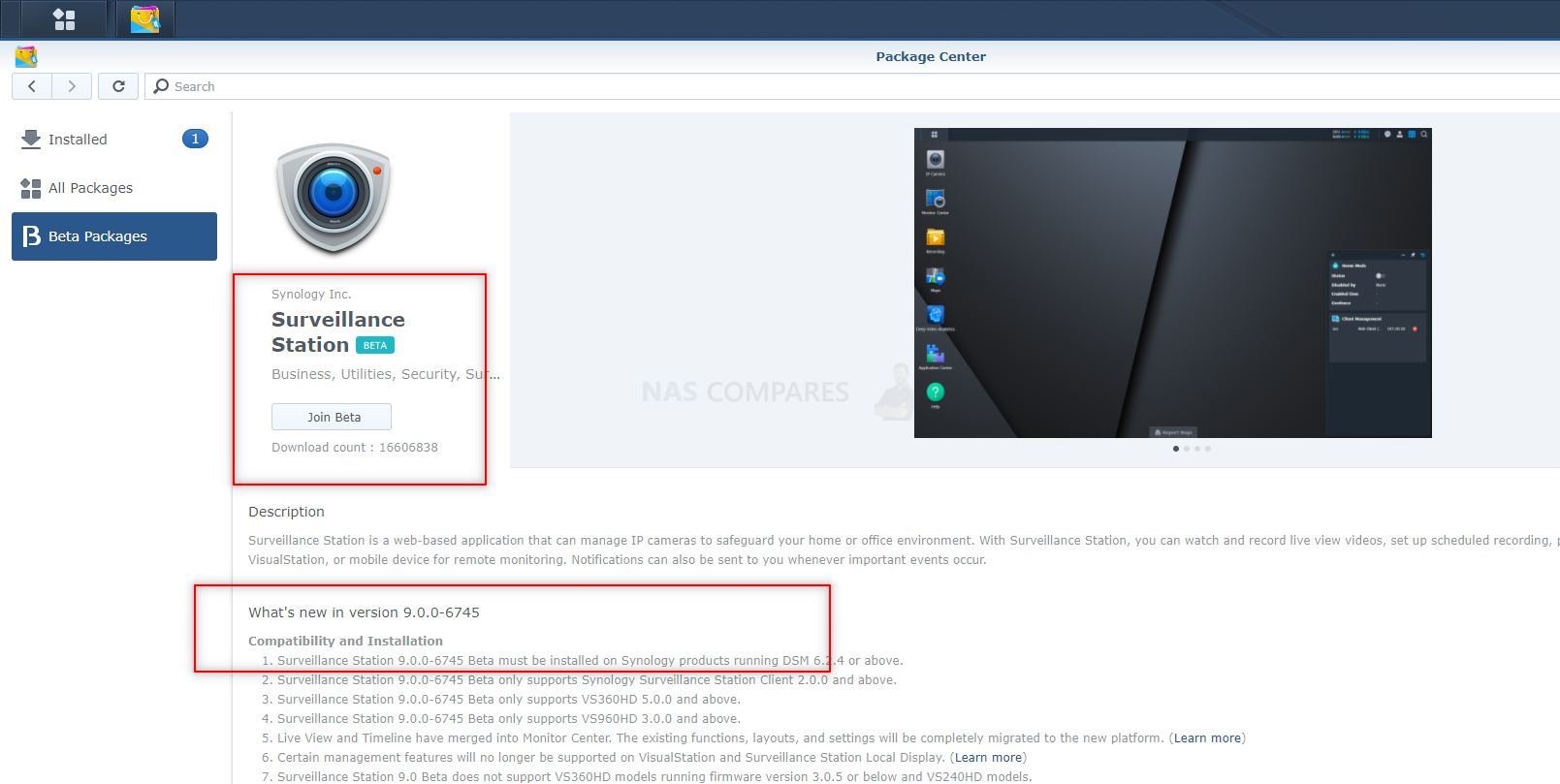 You can report questions or suggestions from Installed > Comments to help us develop an app that better suits your needs.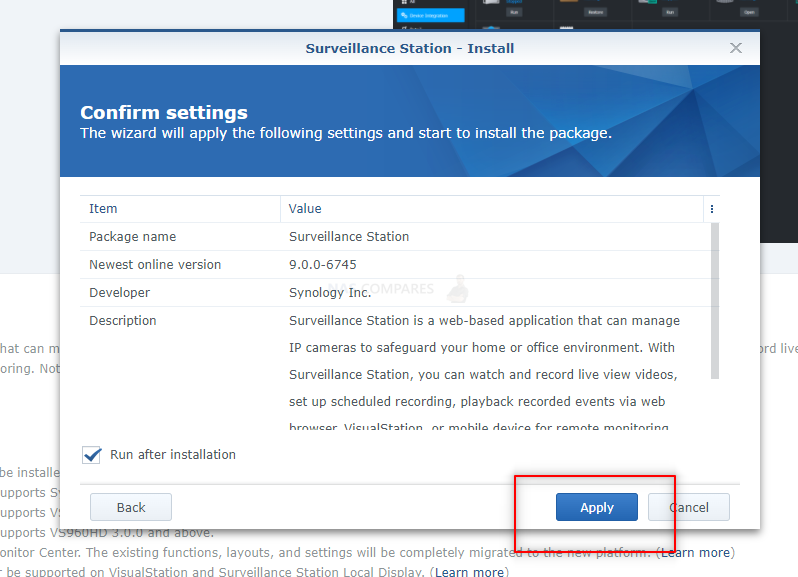 Is My Synology NAS Compatible with the Surveillance Station 9.0 Beta?
The range of Synology NAS hardware and software versions that can support the Surveillance Station Beta is pretty straightforward and only the following provisos and limitations apply:
Surveillance Station 9.0.0-7519 Beta needs to be installed on Synology products running DSM 7 or above.
Surveillance Station 9.0.0-7519 Beta only supports Synology Surveillance Station Client 2.0.0 and above.
Surveillance Station 9.0.0-7519 Beta only supports VS360HD 5.0.0 and above.
Surveillance Station 9.0.0-7519 Beta only supports VS960HD 3.0.0 and above.
Live images and timelines have been combined into a "Monitoring Center". Existing functions, layouts and settings will be completely transferred to the new platform.
Stop supporting some VisualStation and Surveillance Station Local Display management functions
Surveillance Station 9.0 Beta does not support VS360HD models and VS240HD models running firmware 3.0.5 or earlier.
The logging app has removed the rules settings page and instead logs all actions.
At the bottom of this article, there is a full list of the many, MANY Synology NAS drives that support the SS 9.0 Beta.
What Are the New Features of the Surveillance Station 9.0 Beta?
As previously highlighted, a large number of new features and improvements are coming to Surveillance Station 9.0 and the beta is allowing access to several of these for testing etc. We went into considerable more detail after the Synology 2022 event article here on surveillance, but the bulk of the improvements available to try out in this beta are: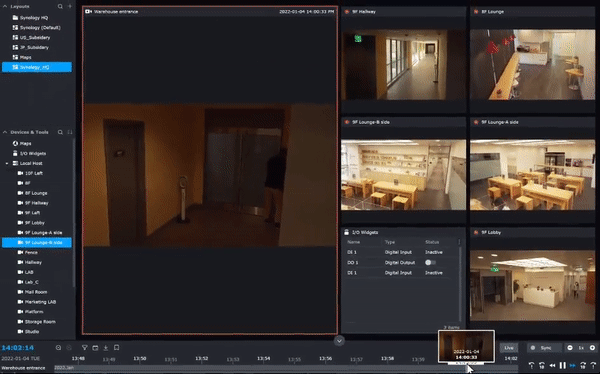 Added support for monitoring center application. You can monitor the real-time camera screen, seamlessly access the video files in time, and customize the layout display.
Added support for Universal Streaming Configuration button. You can switch the streaming configuration of all cameras in the layout at the same time.
Added support for I/O device channels. You can view I/O device status and trigger events.
Added support for manually triggering custom action rule events in the monitoring center.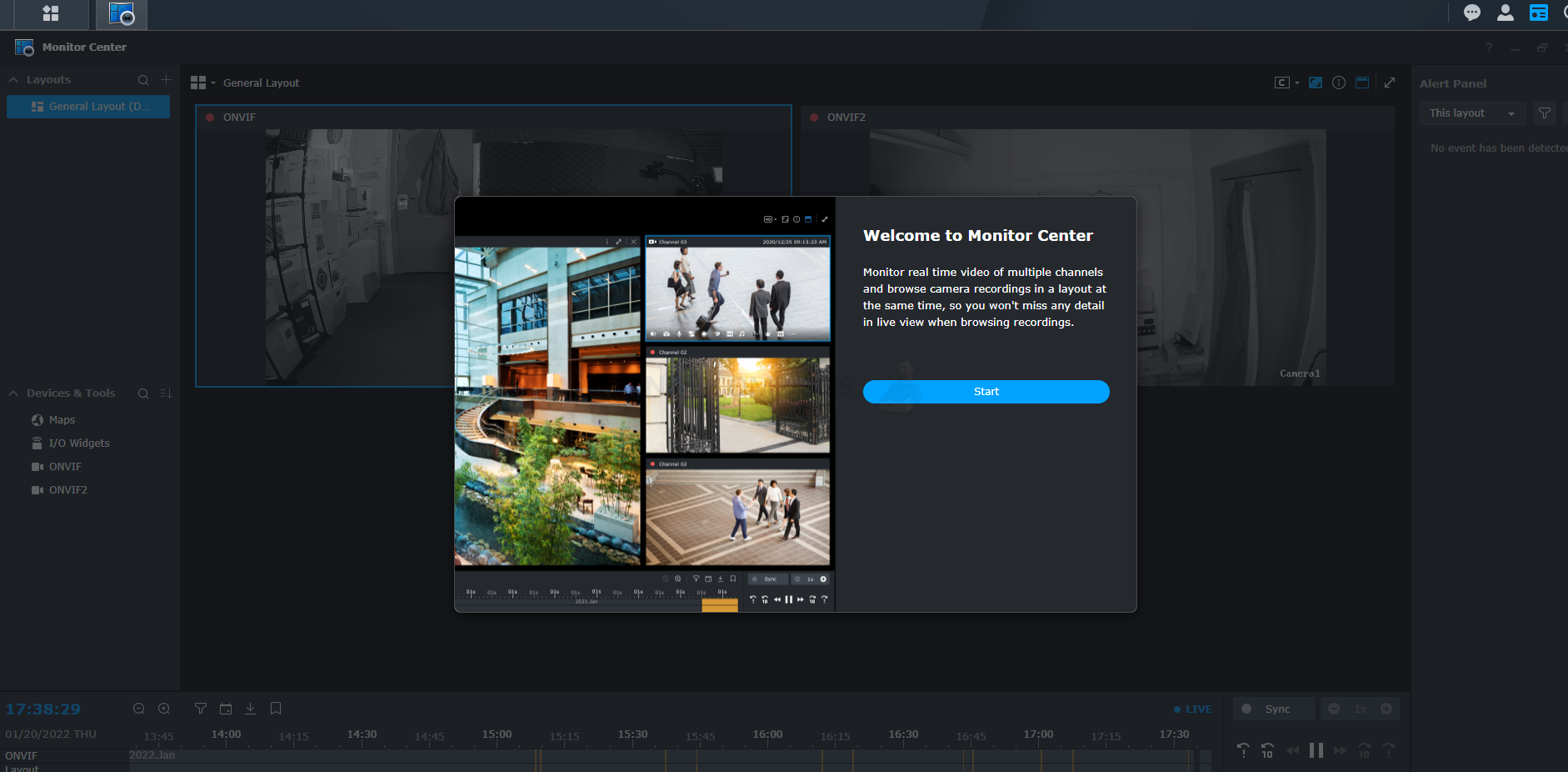 Improved Video Handling
Upgrade the recording mechanism to allow each service to share the same recording file to optimize the recording space.
Added support for bookmark log, which can manage all bookmarked video files.
Added new bookmark event to support action rules.
Added support for dual video recording. You can record a second video file for the camera according to different settings and save it in the local or remote shared folder.
Improved Safety
Improve the security of shared folders. Surveillance Station will require access rights to connect to the shared folders on the Synology server.
Added support for HTTPS secure connections between servers and compatible cameras.
Added support for SRTP image encryption between the server and compatible AXIS, Bosch, Hanwha cameras.
Added support for the privacy mask function, which can hide sensitive areas in the camera screen.
Added support for overlaying text watermarks on live camera images.
Added support for logging out of user accounts.
Added support for activating user accounts on a schedule.#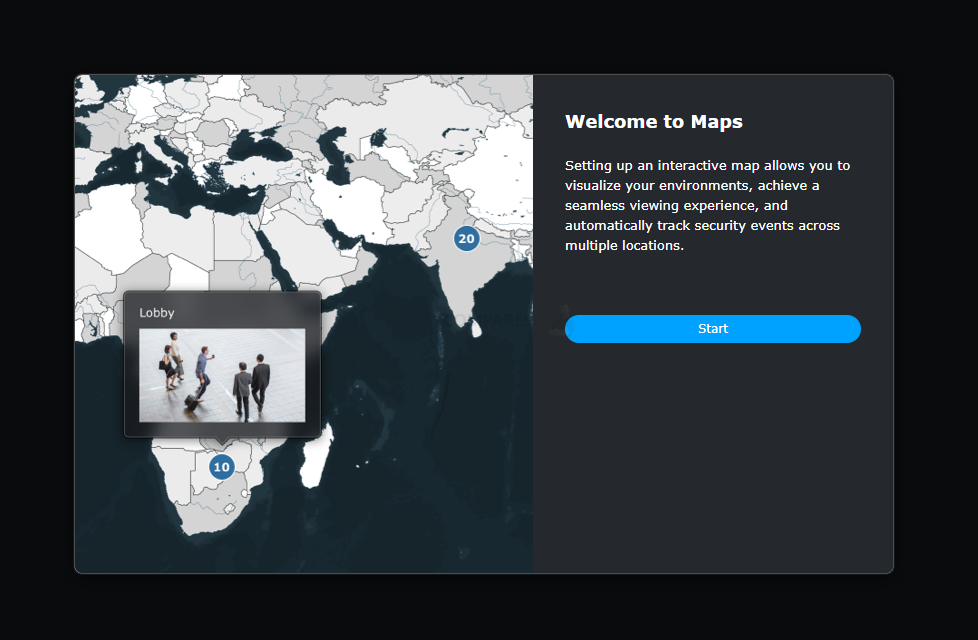 Map Improvements
Added support for the new Maps application. You can grasp the target environment at a glance for a seamless viewing experience and automatically track security events across multiple locations.
Added support for grouping related maps into groups to quickly browse multiple locations.
Added support for network map services such as OpenStreetMap, Google Maps, and custom layer servers to quickly identify abnormal conditions in multiple locations.
Better Device management
Enhanced the process of adding cameras, adding support for automatic search, IP range scanning, and multiple batch setting methods (quick setting, full setting, copy setting).
Added support for importing camera information and configuration lists (.xlsx) to batch add cameras.
Added support for offline camera setup using ONVIF or Generic.
Renamed batch editing function to copy settings, and added support for previewing settings and expected results before applying settings.
Added support for updating multiple servers online or manually via the CMS master server.
Added support for updating a CMS recording server to a compatible version when pairing it.
Added support for online or manual updating of multiple VisualStation devices via connected servers.
Smart Image Analysis Improvements for DVA systems
Added support for license plate recognition.
Added support for license plate recognition event log, event notification, action rule event, and recognition result report.
Added support for searching license plate recognition results, which can tolerate two-character errors.
Added support for displaying license plate detection events in the alarm panel of the monitoring center.
Added option to support triggering events only when both pedestrians and vehicles are detected.
Increases target dwell time cap to 600 seconds.
Added support for automatically adding bookmarks to the video recording application when an object is detected.
Added support for face detection and people counting test functions, which can help correct the camera position to improve accuracy.
Additional features
Added support for displaying event types in advanced event notifications sent by DS cam.
Added support for filtering thermal cameras in the webcam app.
Added support for manually entering the NTP server IP address for the camera.
Enhanced user experience of camera test connection.
Added support for batch editing of Archive Vault bandwidth control settings.
Known Limitations of Surveillance Station 9.0 Beta
With the update of the recording mechanism, some settings of real-time video alarm, action rule recording, manual recording, advanced continuous recording, and Transactions will be changed:
The above services will no longer store separate video files separately.
Its video files will no longer be displayed by category in File Station (it can still be downloaded in Surveillance Station).
The camera will apply the highest archive and streaming settings from the original settings.
During the Beta version, Synology Surveillance Station Client suspends support for Joystick.
Android DS cam 3.5.1 / iOS DS cam 5.4.1 and earlier versions do not support privacy masks and watermarks.
Which Synology NAS Drives Can Be Used with the Surveillance Station 9.0 Beta?
Surveillance Station 9.0 (at least in Beta) does not seem to be particular more resource/system hungry than the current version 8.2, so therefore the range of Synology NAS systems that support it are pretty wide ranging (even going back to NAS systems a decade old. Below is the range of supported Synology Hardware that is compatible:
Applicable models
FS-Series:

FS6400, FS3600, FS3400, FS3017, FS2017, FS1018, FS2500

SA-Series:

SA3600, SA3400, SA3200D

22-Series:

DS3622xs+, DS2422+

21-Series:

RS4021xs+, RS3621xs+, RS3621RPxs, RS2821RP+, RS2421RP+, RS2421+, RS1221RP+, RS1221+, DS1821+, DS1621xs+, DS1621+, DVA3221

20-Series:

RS820RP+, RS820+, DS1520+, DS920+, DS720+, DS620slim, DS420+, DS420j, DS220+, DS220j, DS120j

19-Series:

RS1619xs+, RS1219+, RS819, DS2419+II, DS2419+, DS1819+, DS1019+, DS419slim, DS119j, DVA3219

18-Series:

RS3618xs, RS2818RP+, RS2418RP+, RS2418+, RS818RP+, RS818+, DS3018xs, DS1618+, DS918+, DS718+, DS418, DS418play, DS418j, DS218+, DS218, DS218play, DS218j, DS118, NVR1218

17-Series:

RS18017xs+, RS4017xs+, RS3617xs+, RS3617RPxs, RS3617xs, RS217, DS3617xsII, DS3617xs, DS1817+, DS1817, DS1517+, DS1517

16-Series:

RS18016xs+, RS2416RP+, RS2416+, RS816, DS916+, DS716+II, DS716+, DS416, DS416play, DS416slim, DS416j, DS216+II, DS216+, DS216, DS216play, DS216j, DS216se, DS116, NVR216

15-Series:

RS815RP+, RS815+, RS815, RC18015xs+, DS3615xs, DS2415+, DS2015xs, DS1815+, DS1515+, DS1515, DS715, DS415+, DS415play, DS215+, DS215j, DS115, DS115j

14-Series:

RS3614xs+, RS3614RPxs, RS3614xs, RS2414RP+, RS2414+, RS814RP+, RS814+, RS814, RS214, DS414, DS414slim, DS414j, DS214+, DS214, DS214play, DS214se, DS114, EDS14

13-Series:

RS10613xs+, RS3413xs+, DS2413+, DS1813+, DS1513+, DS713+, DS413, DS413j, DS213+, DS213, DS213j, DS213air

12-Series:

RS3412RPxs, RS3412xs, RS2212RP+, RS2212+, RS812RP+, RS812+, RS812, RS212, DS3612xs, DS1812+, DS1512+, DS712+, DS412+, DS212+, DS212, DS212j, DS112+, DS112, DS112j

11-Series:

RS3411RPxs, RS3411xs, RS2211RP+, RS2211+, RS411, DS3611xs, DS2411+, DS1511+, DS411+II, DS411+, DS411, DS411slim, DS411j, DS211+, DS211, DS211j, DS111

10-Series:

RS810RP+, RS810+, DS1010+, DS710+, DS410, DS410j, DS210+, DS210j, DS110+, DS110j
📧 LET ME KNOW ABOUT NEW POSTS 🔔
Join 1,577 other subscribers
Get an alert every time something gets added to this specific article!
This description contains links to Amazon. These links will take you to some of the products mentioned in today's content. As an Amazon Associate, I earn from qualifying purchases. Visit the NASCompares Deal Finder to find the best place to buy this device in your region, based on Service, Support and Reputation - Just Search for your NAS Drive in the Box Below
Need Advice on Data Storage from an Expert?
We want to keep the free advice on NASCompares FREE for as long as we can. Since this service started back in Jan '18, We have helped hundreds of users every month solve their storage woes, but we can only continue to do this with your support. So please do choose to buy at Amazon US and Amazon UK on the articles when buying to provide advert revenue support or to donate/support the site below.

Finally, for free advice about your setup, j
ust leave a message in the comments below here at NASCompares.com and we will get back to you.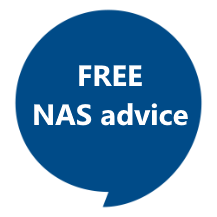 Need Help?
Where possible (and where appropriate) please provide as much information about your requirements, as then I can arrange the best answer and solution to your needs. Do not worry about your e-mail address being required, it will NOT be used in a mailing list and will NOT be used in any way other than to respond to your enquiry.
Support What We Do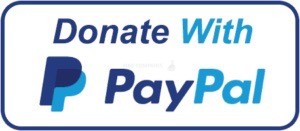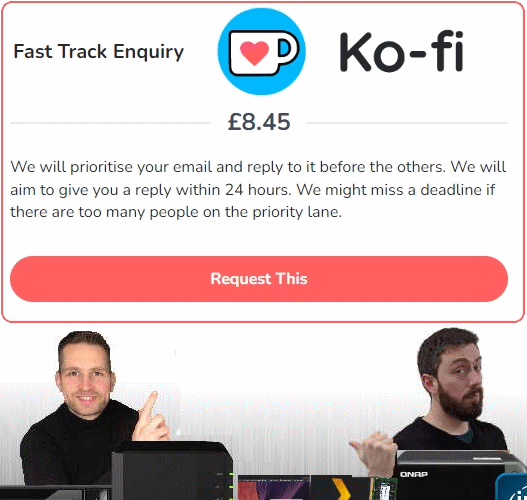 Terms and Conditions
Alternatively, why not ask me on the
ASK NASCompares forum
, by clicking the button below. This is a community hub that serves as a place that I can answer your question, chew the fat, share new release information and even get corrections posted. I will always get around to answering ALL queries, but as a one-man operation, I cannot promise speed! So by sharing your query in the
ASK NASCompares
section below, you can get a better range of solutions and suggestions, alongside my own.