A Guide to the Best Budget SSD to Buy Right Now for PS5
Ever since Sony enabled the ability to expand the storage of your PS5 via the installation of an m.2 NVMe SSD, many users have found themselves having to very quickly learn about this relatively new, high performance and (sadly) VERY expensive form of storage media! SSDs, or Solid State Drives, have existed for the better part of two decades and although the concept itself of data living on static chips (and not the moving parts and platters of a hard drive) has changed very little, the execution and act of transferring of the data from the SSD to your Playstation has changed MASSIVELY. Indeed, SSDs are one of the fastest evolving parts of the tech industry, largely down to the likes of AI-based processes needing faster and faster access to storage media, as well as internet speeds and the power of pocket devices scaling up wildly in recent years. Now, many users (justifiably) will be thinking "Hang on! I just spent a small fortune on the PS5 and NOW I have to spend hundreds more on increasing the storage?!?!?" – Unfortunately, yes. The sad truth is that the days of memory cards of the PS1/PSX are long, long gone. The 825GB (technically 600GB+ after baseline software and updates) can quickly disappear when you look at some modern games (even PS4 era) such as RDR2, GTAV, Cyberpunk, COD Warzone, etc that can weigh in at 100GB a piece with the latest patches! So, if you are even a slightly higher than average PS5 gamer that bounces between 4-5 games and don't fancy re-downloading periodically, then you are going to have to look at an m.2 storage upgrade! HOWEVER, there is actually a surprisingly wide range of SSDs that are compatible with PS5 and although some are certainly of a higher performance or build quality than others, it does mean that some SSDs can be 50-60% lower in price than others if you shop smart. Today I am looking at the best Budget SSDs that are compatible with PS5. By 'Budget', I don't mean purely 'cheap' (though one or two are surprisingly low price), I mean good value for money, whilst still providing a price tag that will not cost as much as the console itself! But before we go any further, let me talk about how these 5 SSDs were chosen.
What Do All the Best Budget SSD for PS5 Have in Common?
As mentioned, there are quite ALOT of SSDs that are compatible with PS5. Indeed, I have made a FULL LIST OF PS5 COMPATIBLE SSDs HERE that you can look through that will details. However, there are around 60-70 different preferred SSDs that are compatible (with small variations in their ranges) that already makes narrowing down the best budget SSD for a PS5 storage upgrade tough. Additionally, sony has issued recommended requirements for SSDs in your upgrades that, although clear on paper, are not quite as straightforward as you might think. For a start, it is recommended to opt for SSDs that have a maximum read speed of above 5,500MB/s. However, this has gradually been confused by the PS5 having it's own internal benchmark system when you boot the system up with a SSD inside that completely differs from the PC benchmark that is supplied by the brand (due to the SSD benchmarks from brands like WD, Seagate and Samsung for example, being measured with tools such as ATTO, CrystalDisk and AS SSD – All REALLY useful tools, but not applicable to the PS5 benchmark. The result is that a number of 7,000MB/s+ SSDs (such as the Samsung 980 Pro and Gigabyte M480) only benchmarking 5,500-5,600MB/s, whereas lower-spec 5,000MB/s rated SSD like the Firecuda 530 from Seagate get PS5 benchmarked at 5,990MB/s. Therefore the minimum recommendations from Sony are quite grey in their rigidity. Luckily I have tested practically all the currently available SSDs that are compatible with PS5 (only 2-3 missing at the start of 2022) and I have a much more detailed breakdown of what works and what doesn't over on youtube. So, for this best budget SSD for PS5 guide, the SSDs covered/considered all feature the following:
For an SSD for PS5 to be considered 'Budget' or Value', it needs to be UNDER $129 for 1TB and UNDER $149 for 1TB ONLY if it includes a heatsink (before Jan 4th 2022, time of writing)
They have to be PCIe Gen 4×4 and TLC or MLC NAND. Any SSD that is PCIe 3 or lower will not work in the PS5 and any SSD with QLC NAND will have too low a performance/durability rating to be a good value purchase for your PS5 SSD
All Budget SSDs in this guide need to be available to buy worldwide. I won't consider any 'regional exclusives' (such as several China/Japan only drives) as this can prove problematic for any warranty/repairs
All SSDs have to feature at least 5 years of warranty or longer. Any less and it means the brand indicates a lack of long term commitment to your SSD and investment (IMO)
ALL Budget SSDs need to be rated at higher than 5,500MB/s on the PS5's own internal Benchmark at boot
And that is it. Those provisos mean that the list of 60-70 types of SSD that are compatible with the PS5 expansion storage bay can be narrowed down into about 30 – which is still quite a lot. So, let's start to go through the best budget SSDs for your console, but we will be discussing a lot of different SSD terminology, so as a reminder (so you can understand what I am talking about when discussing the SSD's strengths and weaknesses), here is a guide to those common SSD terms for guidance (in video and in text!).
Important Terms to Know about SSDs for PS5 in this Guide
GB and TB = GB and TB stand for Gigabyte and Terabyte, those are levels of storage capacity and the more you have, the more storage you will end up being able to use. For clarification, 1024 Megabytes = 1GB, 1024GB = 1 Terabyte (TB). It is recommended to upgrade your PS5 with at least 1TB at the start.
Seq Read and Seq Write = These are measurements that are used to define the maximum speed of the SSD conventionally. Although Sequential speed is less realistic in the real world. Sequential (in the context of SSDs and gaming) corresponds to the speed of moving BIG, blocks/blobs of connected data. However most modern games are made of BIG data chunks AND much smaller and random data when games are playing (data that is needed/loaded mid-game, all the time and particularly common in open-world/sandbox/online multiplayer games. Additionally, READ activity is when data is being pulled FROM the SSD and WRITE activity is when data is being ADDED to the SSD. The PS5 (like most consoles) spends more than 95% of it's time WRITING, so this is the priority (but this might change in the PS5's lifespan and games development)
Random 4K Read/Write IOPS = IOPS, or individual input and outputs per second is the measurement of the maximum number of smallest actions (4K in size) and measured as a random access stat, these figures are used to determine how well an SSD behaves at accessing sporadic/random small data and processes as quickly as possible. This is often measured in hundreds of thousands per second with modern NVMe SSDs, these are also separated into read and write activity
Heatsink =This is a metal plate that can be attached (with a suitable material in between such as a silicone gel, thermal plastic pad or thermal paste) that allows the great heat that is generated by the SSD and it's controller (the brains of the drive) to be withdrawn/dissipated away into the metal heatsink plate and then released into the air. The cooler an SSD (mainly the controller) is kept, the better performance you can expect. Some SSDs arrive with an SSD included, whereas some others are a separate 3rd party purchase. It is recommended to opt for SSDs that have heatsink's attached in advance/by the brand, as these will be more expertly applied, will be designed around a specific SSD physical build and are likely applied in a dust/air controlled environment. There are also several PS5 designed SSD heatsink's in the market from brands such as Sabrent, PNY, Elecgear and more than are specifically shaped for installation and heat dissipation on the PS5.
DWPD and TBW = Drive Writes per Day (DWPD) and Terabytes Written (TBW) are figures that are used to determine the lifespan of an SSD if it is used constantly over 5yrs (typically). This figure means that as long as you do not write more than X amount of data to the drive per day or exceed that total amount of data written over 5 years (taking into account that you would be deleting and adding data on rotation over and over), then the SSD will work fine and will maintain the promised benchmarks. Modern NVMe SSDs can get very hot and are built around a cell material for the storage known as NAND which will very, VERY slow wear away over the years as it is written too over and over again. Few gamers will actually hit/exceed these numbers, but never the less, the higher the DWPD and TBW of an SSD, the more robust and enduring it will be throughout the time it is working in your PS5.
Warranty = Much like the appliances in your home or work (TVs, Phones, Laptops, Printers, etc), modern SSDs also feature a commitment from the manufacturer that the product will last a certain amount of time if it was used constantly/reasonably and the brand will repair/replace an SSD if it does not continue to operate over that period. Most SSDs will have 5 years warranty by default, but so go as high as 7 or even 10 years at extremes.
So, that is the SSDD terminology cleared up. Let's discuss the very best budget SSD you should buy for your PS5 storage expansion in 2022.
Best Performance Budget SSD for PS5 – The Addlink A95 A-Series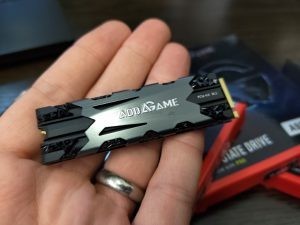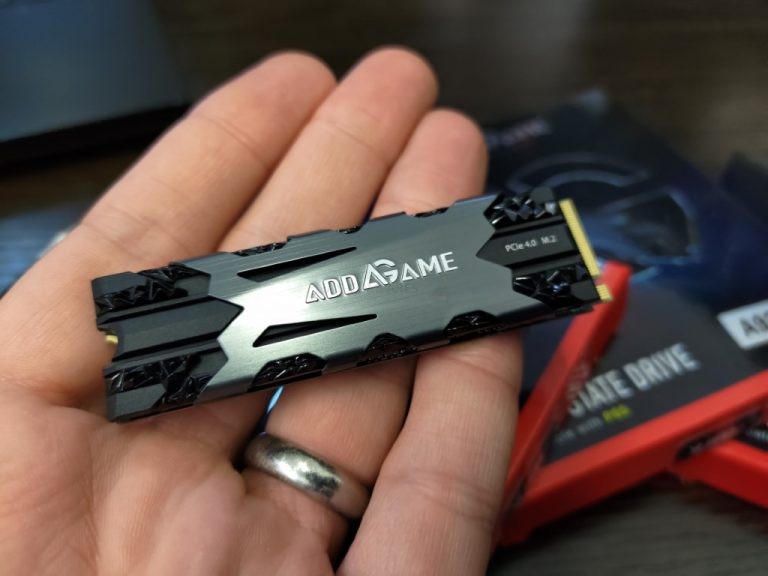 1000GB-4TB, 7400/7000MB/s Max Seq Read & Write Speed, 1M/1M Max Random 4K Read/Write IOPS, Includes Heatsink, 0.4DWPD,  5yr Warranty
Current Price/Availability on Amazon – $169
Written Blog Review & Benchmarks – LINK
YouTube Video Review – Watch
YouTube PS5 Games Tests – Watch
Few SSDs that I have featured here on NASCompares have left me with the consistently please tone that the Addlink A Game A95 SSD has. Whether you are looking at this as an SSD upgrade for your PS5 or your Gaming PC, there is very little to be unhappy about here as a gamer. The Build quality of both the SSD itself, as well as the heatsink and choices made at the hardware architecture level are all high-end choices that do not leave you with a feeling unsatisfied. When choosing to upgrade your SSD, it can be easy to always opt for the much bigger know brands like WD or Seagate, thinking that there is a clear reason for their higher price.
This slideshow requires JavaScript.
As true as that can be sometimes, in the case of the Addlin kA95 you have an SSD that takes advantage of the same hardware choices that those bigger brands office, includes a high-quality heatsink, arrives preattached in a very sturdy build and at no point in the testing did we feel that a power or memory bottleneck appears. It might lack some of the enterprise bells and whistles of more enterprise-level SSDs, but the A95 is not targeting flash, fabric or caching – it is designed for gamers and at this, it is an unquestionable success. Keep an eye on this one!
---
Best Priced Budget SSD for PS5 – The Sabrent Rocket PCIe 4.0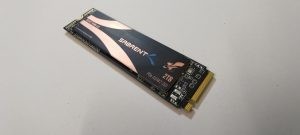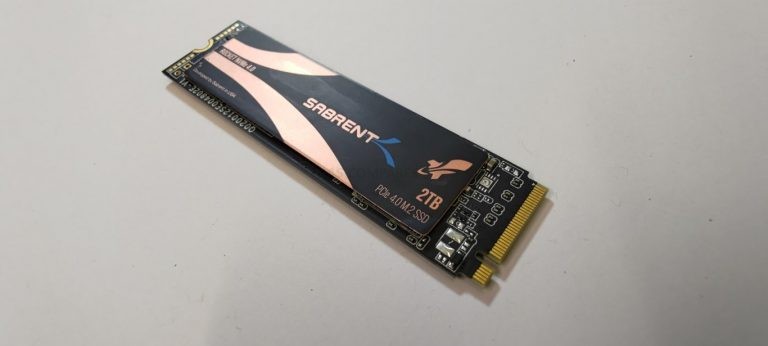 500GB-2TB, 5000/4400MB/s Max Seq Read & Write Speed, 750K/750K Max Random 4K Read/Write IOPS, Optional Heatsink, 0.9DWPD,  5yr Warranty
Current Price/Availability on Amazon – $89+
Written Blog Review & Benchmarks – LINK
YouTube Video Review – Watch
YouTube PS5 Games Tests – Watch
In many ways, the Sabrent Rocket PCIe 4.0 is a victim of the brands own rising success (a bit overly flattering, but hear me out). Whether through accident or design, the fast-paced establishing of their range of PCIe 4.0 SSDs that cover budget buyers to Professional buyers has led to the Sabrent Rocket PCIe 4.0 SSD being somewhat overshadowed by the Rocket 4 Plus SSD. Had the numerous market-changing events of the last 18 months not happened, then the pricing structure between these three SSD tiers would be must more distinguishable.
This slideshow requires JavaScript.
As it stands, now the Sabrent Rocket PCIe 4.0 is very close to the Rocket 4 Plus and unless a buyer is highly concerned with durability (0.9 DWPD vs 0.3 DWPD), it makes spending a tiny bit more and opting for the premium class drive a no brainer. That said, judging the Sabrent Rocket PCIe 4.0 SSD on its own merits, it is another solid release from the brand. It still features the strange warranty registration policy of the rest of the brand's releases (nope, still can't get behind that idea!), but the rest of the drive is exactly what I want in an all-purpose m.2 NVMe SSD. If you see this drive on sale, then do not hesitate to snap it up.
---
Best Value Budget SSD for PS5 – The Seagate Firecuda 520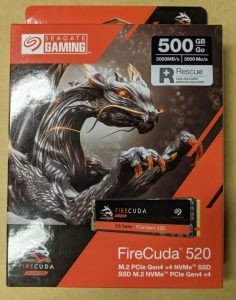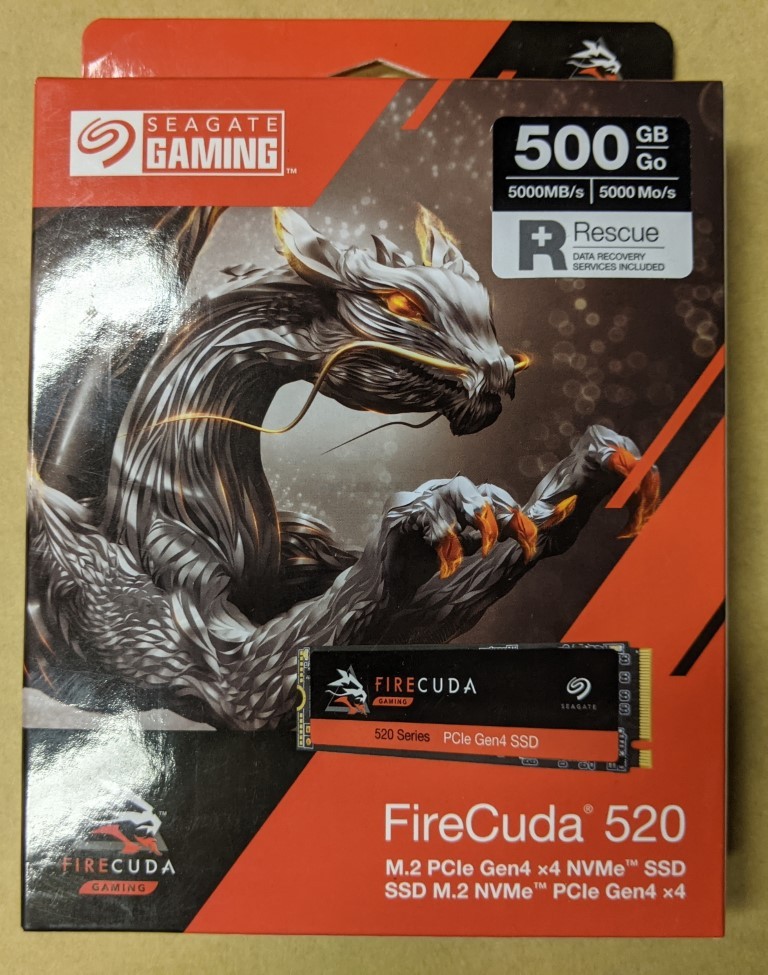 500GB-2TB, 5000/4400MB/s Max Seq Read & Write Speed, 750K Max Random 4K Read/Write IOPS, Optional Heatsink, 0.98DWPD,  5yr Warranty, 3yr Data Recovery Inc.
Current Price/Availability on Amazon – $79+
Written Blog Review & Benchmarks (FC530) – LINK
Seagate Data Recovery Demonstration – Watch
YouTube PS5 Games Tests – Watch
The FireCuda 520 even undercuts the Samsung 970 PRO's pricing. However, while the FireCuda 520 one-ups those drives in the pricing department, similar SSDs from the competition are significantly cheaper. At the launch at the start of 2020, the 1TB FireCuda 520 costs $249.99, while the Corsair Force MP600 and Team Group Cardea Zero Z440 both cost just $189.99. Even Gigabyte's Aorus NVMe Gen4 SSD is $40 less, and the Patriot Viper VP4100 is $30 cheaper at the time of writing. Not only that, these SSDs even come with heatsinks preinstalled, making them tough competition for this SSD.
This slideshow requires JavaScript.
If on the other hand, you're one of the vast majority stuck back on plain 'ole PCIe 3 (sigh), the FireCuda 520 is still worth considering as a premium drive. However, the price to performance delta in the M.2 NVMe market has shifted significantly recently due to such drives as the Addlink S70, which offers the same subjective everyday performance for half the price.
---
Best Build Budget SSD for PS5 – The TeamGroup T-Force Cardea A440
1-2TB, 7400/7000MB/s Max Seq Read & Write Speed, 1M/750K Max Random 4K Read/Write IOPS, 2x Included Heatsink, 0.38DWPD,  5yr Warranty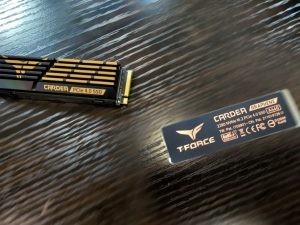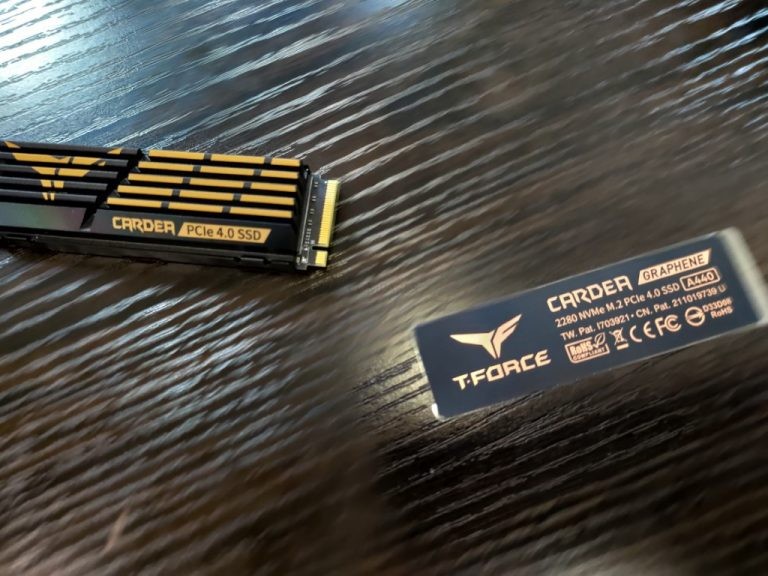 Current Price/Availability on Amazon – $159+
Written Blog Review & Benchmarks – LINK
YouTube Video Review – Watch
YouTube PS5 Games Tests – Watch
Teamgroup's T-Force Cardea A440 M.2 SSD provides top-level performance in gaming, as well as productivity and day-to-day use. Overall low latency keeps things snappy in all use cases but really helps at lower queue depth as you would get in typical use. The A440 is going to be more than ready for Microsoft's Direct Storage when games start taking advantage of it on the PC platform, so it's not a bad time to throw one in your system if you already need an upgrade. If you aren't quite on PCIe 4.0 just yet, you'll still get great performance with some extra bandwidth waiting for your next upgrade.
This slideshow requires JavaScript.
I wasn't blown away by the Graphene and copper heat spreader as it gave slightly worse temps than just the bare drive. If your motherboard has an integrated heatsink, it should work fine, but the included heatsink gives excellent results if you need it. It's worth noting that even with the warmer temperatures, the drive did not appear to actually get hot enough to throttle so putting this in an SFF machine or laptop shouldn't be an issue. Overall The Cardea A440 provides Enthusiast performance at a more mainstream price and would be an excellent choice for anyone needing bigger and better storage they don't have to wait on.
---
Best Package/Bundle Budget SSD for PS5 – The Patriot Viper VP4300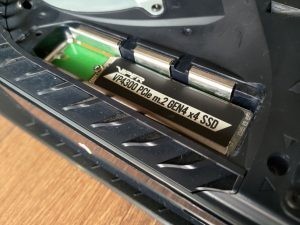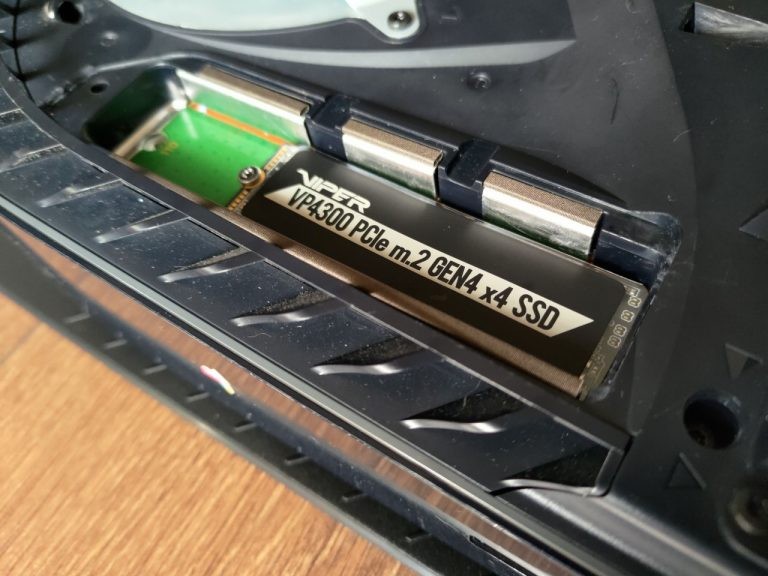 1-2TB, 7400/6600MB/s Max Seq Read & Write Speed, 800K Max Random 4K Read/Write IOPS, Includes 2x Heatsink, 0.5DWPD,  5yr Warranty
Current Price/Availability on Amazon – $179+
Written Blog Review & Benchmarks – LINK
YouTube Video Review – Watch
YouTube PS5 Games Tests – Watch
The Patriot Viper VP4300 is not the lowest priced SSD on the market right now, but then again it is by now means the most expensive either! Sitting neatly in price in the middle of the pack, this is bolstered in value with a great build quality, flexibility in deployment, great presentation (leaving you with confidence in the brand) and overall zero doubt in the abilities of the SSD. In fact, in several areas of testing, the SSD comfortably surpassed a large number of the brand's own reported maximums (i.e surpassing the 1 Million IOPS mark several times, rather than hitting the 800K wall the brand stated). Add to this that Viper VP4300 has a surprisingly underused Innogrit controller that few companies have shown off and what you have here is a very unique SSD indeed that stated out from the increasingly dense PCIe4 SSD crowd.
This slideshow requires JavaScript.
Even durability at a reported 0.5 DWPD puts it comfortably ahead in lifespan ahead of the majority of its competitors (don't forget those two heat dissipation options included too) Only arriving in two capacities is a big of a bummer and the price tag is still a degree higher than many might be comfortable parting with, when more budget-friendly drives arrive on the market each week, but if you are willing to shell out the few extra quid, you won't regret it.
---
What is the Best PS5 SSD Heatsink – The Do's and Don'ts
Most M.2 NVMe SSD that you might look at for your PS5 will NOT arrive with a heatsink. Some brands do include optional heatsinks for $20-40, but there will likely be PC-Grade gamer heatsinks and much, much too tall for the allocated PS5 Expansion storage slot for upgrades. Sony provided a handy upgrade guide for how big the NVMe SSD needs to be, alongside details of the type that is recommended.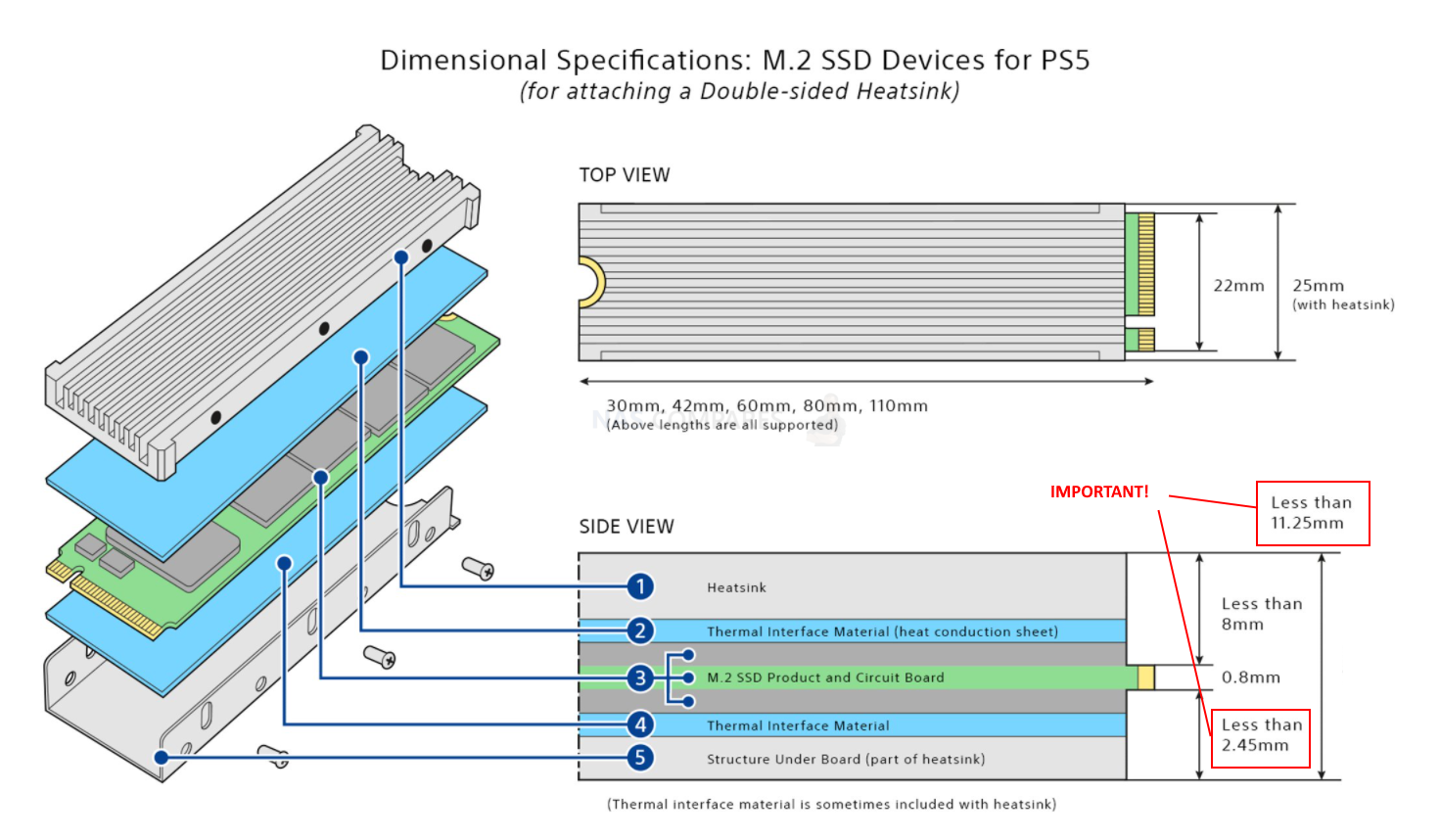 Now, there are ALOT of M.2 NVMe SSD Heatsinks on the market – THOUSANDS! So it is important to know which ones are compatible and which ones you should completely avoid. Heatsink AND SSD together should NOT exceed in millimeters 110mm (L) x 25mm (W) x 11.25mm (H) and in inches 4.33in (L) x 0.984 in (W) x 0.442in (H). Another big thing to remember is that some SSD heatsinks use rubber bands to hold the M.2 NVMe SSD and the HEATSINK together. I would strongly recommend avoiding these kinds of heatsinks as they have a tendency not to last vast amounts of time and the silicon rubber bands (if produced poorly) can wear away. I strongly recommend a met surrounding heatsink case/enclosure like the one below, as it has 2 layers of internal thermal padding, the metal surrounding the whole SSD (assisting heat dissipation) and is screwed in place. Last point. The majority of NVMe M.2 PCIe Gen 4×4 SSDs right now are going to be 2280 (that is the length of the SSD), as this tier of SSD have only JUST been released in the last 6-9 months. However, they WILL get longer (to accommodate more storage cells and bigger capacity) so the fact the PS5 supports up to 22110 lengths SSDs is quite handy. If you are reading this guide much later in 2021/2022, then DO CHECK that the SSD  you are installing in your PS5 is 2280 or 22110, as the heatsink will also need to be this length too (as the screw holds an SSD Board mount need to match). This is much, MUCH less of a concern in 2021 however, so you can ignore this right now. So,  there you have it, those are the do's and don'ts for buying a heatsink for your PS5 SSD upgrade. Below are 5 great examples of M.2 NVMe SSD Heatsinks that will fit in your PS5 Expansion slot. They vary in price, design, height, colour and density. Take a look: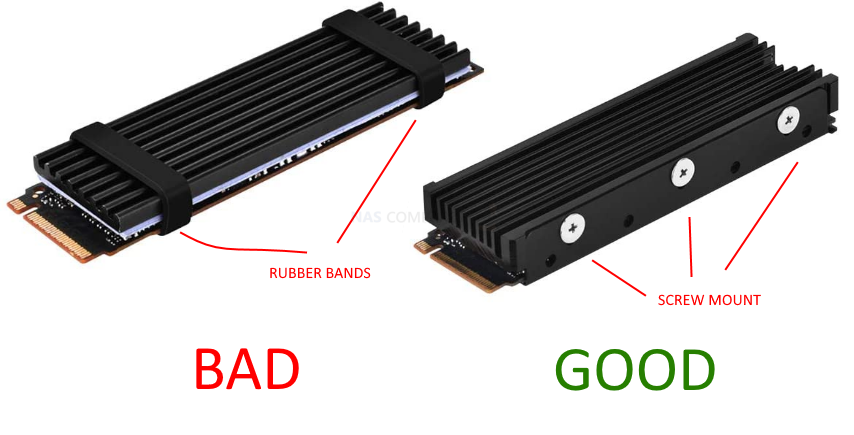 UPDATED – The Recommended Ones Below Keep Selling out, so I have added more!
Sabrent PS5 SSD Designed Heatsink – $19.99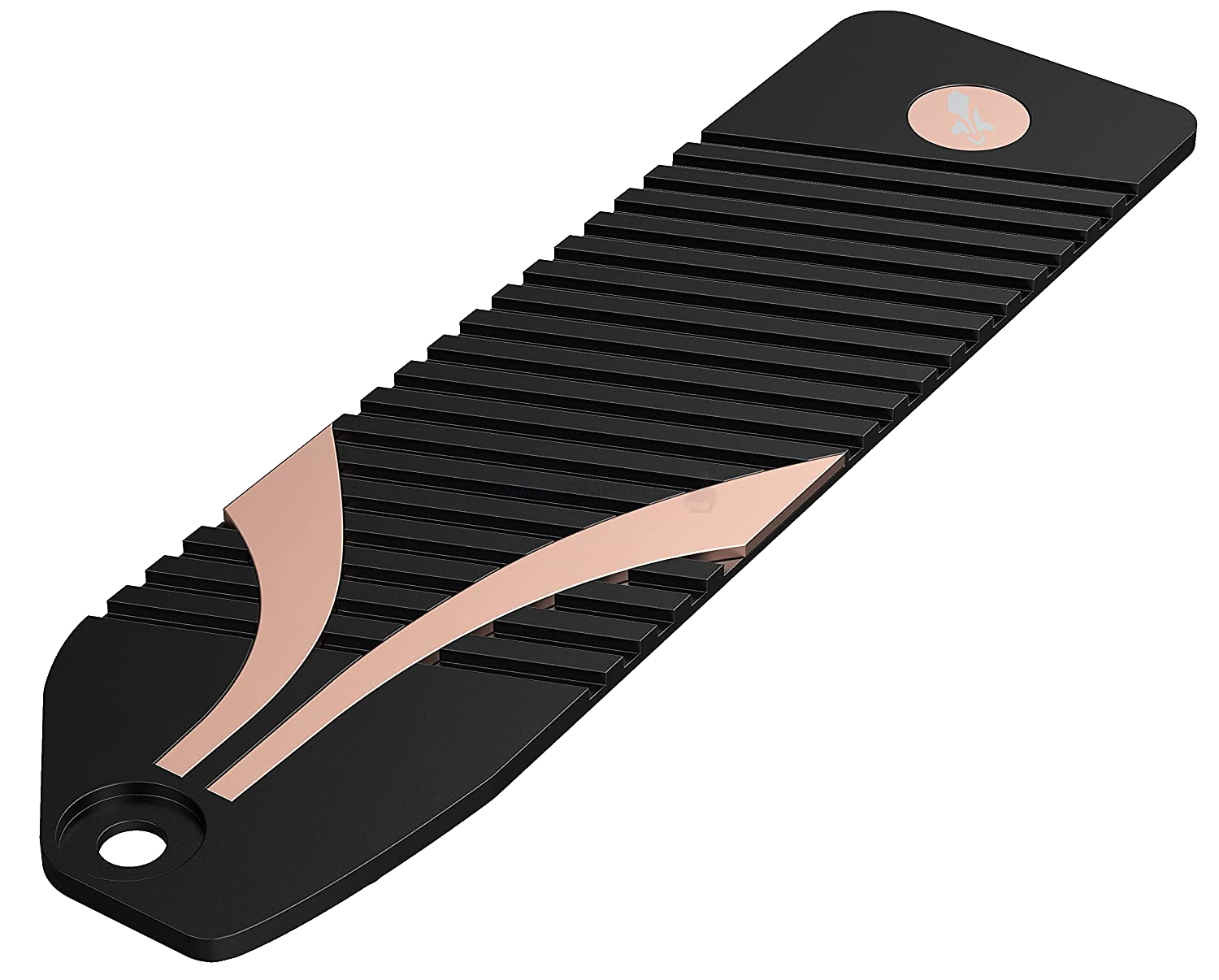 DESIGNED FOR PS5: Engineered to fit perfectly and easily into the PS5 SSD expansion slot. The installation has never been easier on the PS5

REVOLUTIONARY COOLING: Made from High-Quality CNC'd aluminium, the Sabrent PS5 Heatsink was specifically designed to maximize cooling performance and simplify the installation

UPGRADE YOUR PS5! Rather than creating a heatsink that would only trap the heat in the metal cover, we designed a heatsink that replaces the native PS5 cover. This allows for better cooling using the native fan as well as being a larger heatsink

INDUSTRIAL QUALITY: This SSD heatsink method also uses Sabrent's "Sandwich Design" which ensures even pressure throughout the SSD for efficient and consistent heat transfer unlike methods used by other brands

CONVENIENCE: Comes with an installation guide as well as screws and thermal tape for easy convenient installation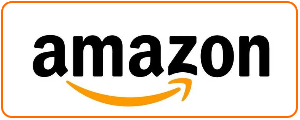 ElecGear PS5 SSD Designed Heatsink – $34.99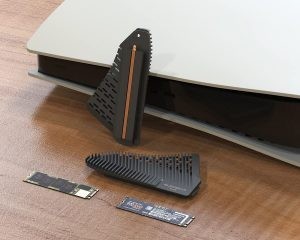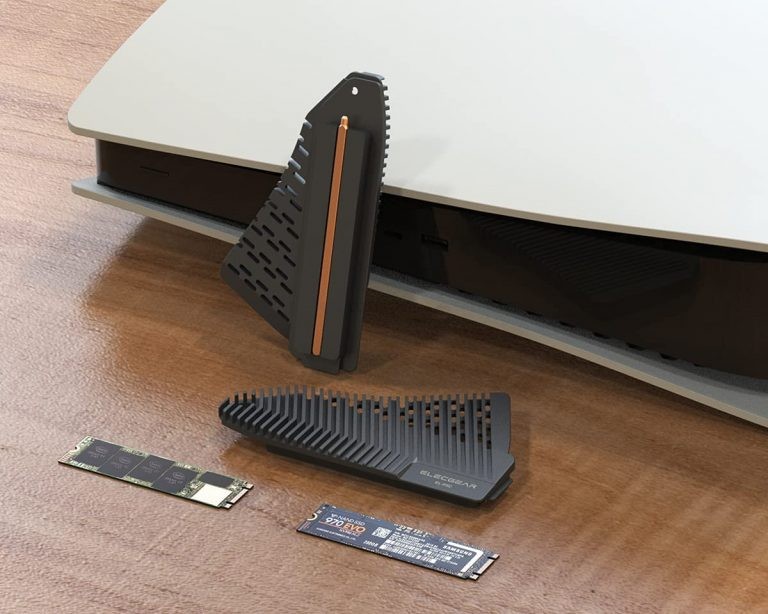 [PS5 NVMe Heatsink] – The patent-pending cooler is exclusively designed for PlayStation 5 internal NVMe SSD. It features a heat pipe and a huge solid aluminum heatsink. The high performance comes from the numerous cooling fins and the delicate utilization of air circulation sucked by PS5 main cooling fan. The streamlined profile is a snag fit with the middle frame of PS5 chassis. The heatsink is the ultimate cooling solution to the heat management of extreme Gen4 gaming SSD

[Heat Pipe and Thermal Pads] – A 5mm heatpipe seamlessly embedded in the lower aluminum deck. The passive design with no cooling fan is aiming for being totally silent. The heat produced by SSD will be absorbed by the heat pipe and effectively conducted to the extensive aluminum fins. Two pieces pre-divided thermal pads are included for excellent heat connection. 0.8mm and 1.5mm thickness option adapts to any PCIe NVMe M.2 SSD

[Improved Mounting Post] – It seems the leading maker Sony does not belong to M.2 SSD industry. We don't think that the stock screws mount M.2 SSD appropriately in the memory compartment. ElecGear did it better with a re-designed fixing structure for your gaming SSD. The modified guide post, standard M.2 screw and even a copper washer to adjust the height of SSD are included in the box

[Compatibility Note] – The cooler fits both PS5 Ultra HD and Digital editions. In terms of hardware, it's compatible with any standard NVMe M.2 solid state drive. Fully tested with WD Black SN850, Samsung 980 Pro and Sabrent Rocket NVMe 4.0. It supports 2230, 2242, 2260, 2280 form factor and also works with 22110 in the future. Please be noticed: The SSD maker's thin heatsink should be removed before installing, for example, Corsair-Force MP600 and ADATA XPG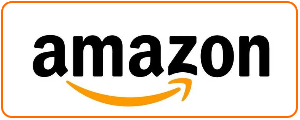 PNY XLR8 Gaming PS5 SSD Designed Heatsink – $24.99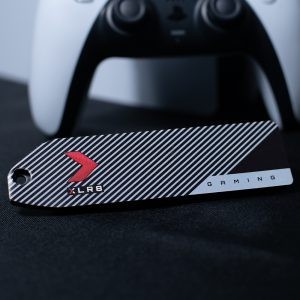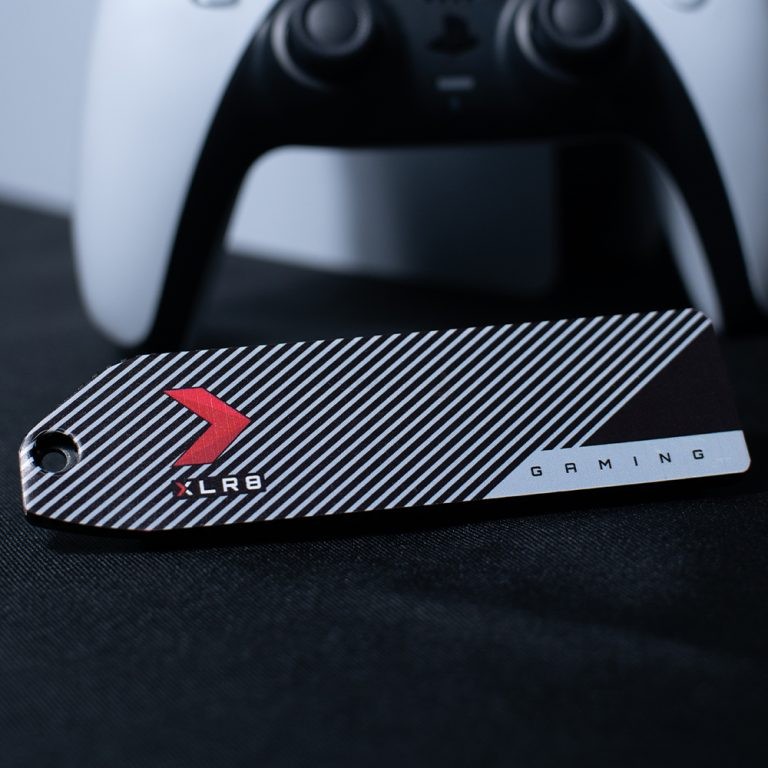 PNY XLR8 PS5 SSD Heatsink is designed for PS5, integrating the original PS5 SSD cover, PNY offers a brilliant design, combined the cover with heatsink which provides extreme cooling performance, taking your extra upgraded PS5 NVMe SSD to the extreme. Not only can you destroy the competition, and play more games, but your system can look good while doing so.
Part No : M22110PSVHS-XR-RB
Design to integrate PS5 SSD cover & heatsink
Greatly improves cooling efficiency
Included spare screws x1 + Thermal pads
Compare to no heatsink, cools downs the SSD over 40%*
Recommended SSD: XLR8 CS3140 Gen 4×4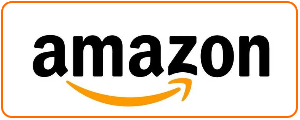 INEO / GRAUGEAR PS5 SSD Designed Heatsink G-PS5HS01 – $34.99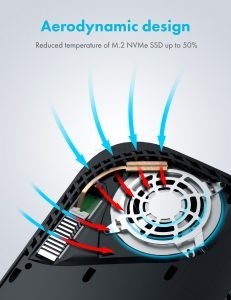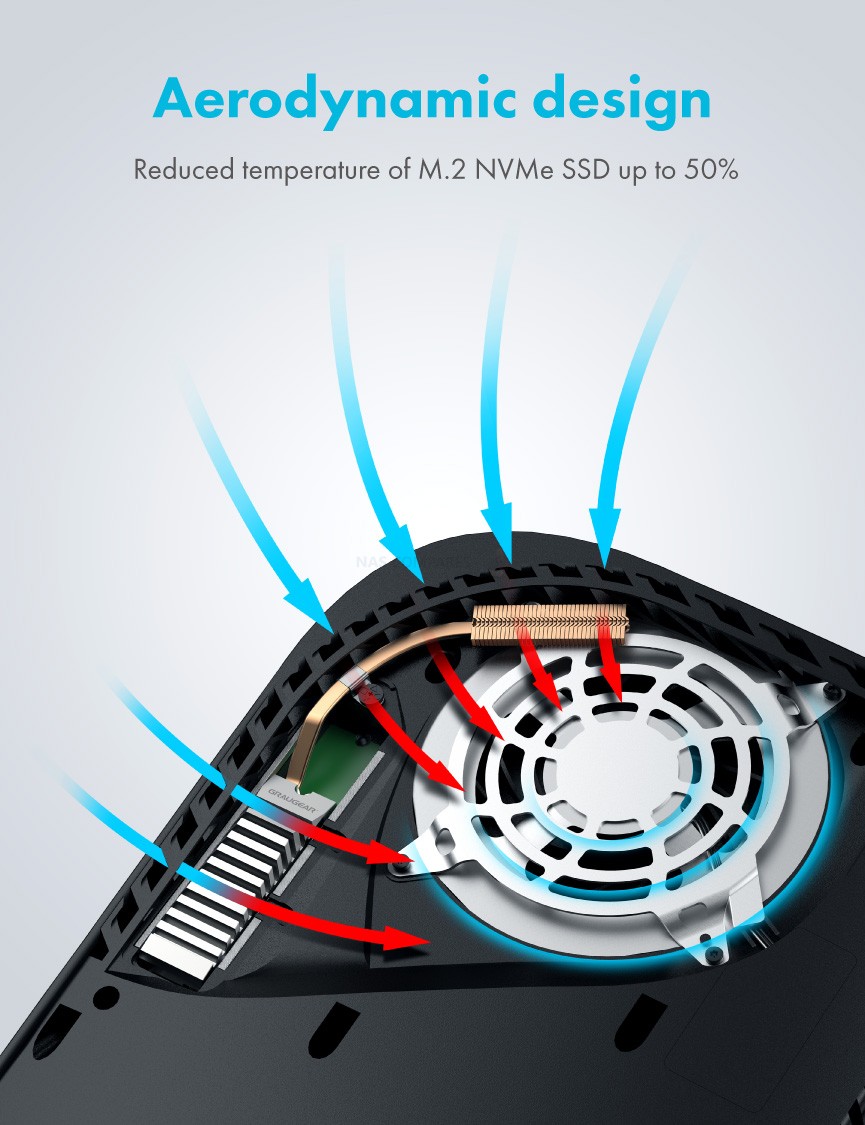 The new GRAUGEAR/INEO heat pipe cooler G-PS5HS01 reduces the temperature of your M.2 NVMe SSDs in the PlayStation®5 by up to 50% and thus contributes to a longer lifetime of your SSDs. The performance of your M.2 NVMe SSDs is also positively influenced by the GRAUGEAR/INEO heat pipe cooler G-PS5HS01. The Ø7mm copper heat pipe and the copper fins and aluminium heat sink ensure maximum performance.
Heat Pipe from Copper maximum performance
The reduced temperature of M.2 NVMe SSD up to 50%
Designed for PlayStation®5
Compatible with Single/Double-sided M.2 2280 SSDs
1 x G-PS5HS01, 4 x Thermal Pads
1 x Screwdriver1 x SSD mounting screw
1x Screws, 1 x Manual, 1 x Warranty card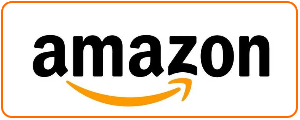 QIVYNSRY M.2 heatsink 2280 SSD Double-Sided Heat Sink
Designed for desktop computers, but works with PS5
Aluminum body, Anodic Oxidation Surface Treatment;
with 10°C – 30°C cooling effect;
Compatible with Singel/Double sided M.2 NVME NGFF SSD;
Easy to install, and not damage the hard disk.
Includes:
1* EZ NVMe Heatsink-Silver

2* Thermal pads

5* Screws.

1* Installation guide.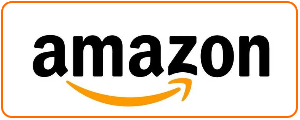 SUPER BUDGET OPTION – Akuoly M.2 SSD Heatsink 4 Pack Aluminum Heatsink Cooler Cooling
To Save Your Device from Fail Prematurely–

Reduce the risk of hardware failure due to overheating. The gap of these Akuoly heatsinks between the larger fins increases the area of the board and thus provides for greater heat transfer

Made of High Quality Aluminum–

Made of high quality aluminum, great thermal conductivity. An aluminum heatsink is a passive heat exchanger that efficiently transfers heat through electronic signal or mechanical signal with device, thus keeping a regulation of the temperature of the device at an optimal level

Suitable for Various Devices–

Suitable for heating elements on Wi-Fi routers, M.2 SSD, AC adapters, chargers, high power amplifier transistor semiconductor devices and so on

Cheerful 4 Pack Heatsink & Thermal Pads– 

4 pieces x aluminum heatsink Cooling Fin (each 70mm x 22mm x 6mm), large surface area and great fins; with 4 pieces of double-sided thermal tape whose thermal conductivity: about 1.3 W / (m·K).

Material: 

Aluminum

Size:

 70mm (L) x 22mm (W) x 6mm (H)

Package: 

4 Pack x Aluminum Heatsink Cooling Fins

4 Pieces Double-sides Thermal Tape 

whose thermal conductivity: about 1.3 W / (m·K).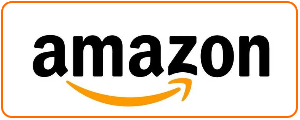 SGTKJSJS M.2 Heatsink SSD Cooler for PCIE NVME
Excellent little kit. Comes with: A screwdriver, a cleaning and drying towelette(not needed if the m.2 is new and/or not dusty) and it has two dark blue(.5mm) for the bottom(U bracket) and two light blue(1mm) for the top(heatsink) for 2 m.2 drives. There is a protective film on BOTH sides of each of the thermal tape piece. Remove BOTH pieces of film of EACH of the thermal tape pieces and apply them. Once the thermal tape is on both sides(1 blue-bottom, 1 light blue-heatsink) place the bottom of your m.2 drive into the U bracket/bottom of the thermal unit. Next make sure that the top piece(heatsink) has the open spot for the screw for your motherboard facing the back to leave space to attach. Next, line up the holes and gently drop the top heatsink into the U bracket/bottom.
Package list
M.2 SSD heatSink  X2

Silicone thermal pad   X4

Fixing screw  X8

screwdriver  X1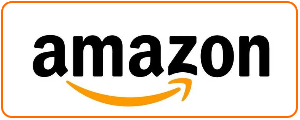 EZDIY-FAB M.2 2280 SSD heatsink
Double-Sided Heat Sink, High-Performance SSD Cooler for PCIE NVME M.2 SSD or SATA M.2 SSD- Red or Black – $15
Designed for desktop computers, but works inside PS5

Aluminum material for best heat dissipation and maximum performance.

Compatible with Singel/Double sided M.2 2280 SSDs.

Easy to install.

Beautiful metal surface treatment, installed in the chassis to form a beautiful landscape.
Includes:
1* EZ NVMe Heatsink-Silver

2* Thermal pads

5* Screws.

1* Installation guide.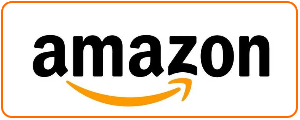 ---
MHQJRH M.2 2280 SSD heatsink – SINGLE SIDE SSD USE ONLY – VERY TIGHT FIT!!
Double-Sided Heat Sink, Matching Thermal Silicone pad for PCIE NVME M.2 SSD or SATA M.2 SSD – $9.99
Designed for Compact M.2 NVMe SSD Installation

Aluminum body, Anodic Oxidation Surface Treatment.

Aluminum alloy-Groove design, greatly increase the heat dissipation area, with 10°C – 30°C cooling effect.

Compatible with Singel/Double-sided M.2 2280 SSDs.

Easy to install, and not damage the SSD

Advancing Gene thermal pad is made from Nano Silicon Grease Material, with good thermal conductivity ability. Soft enough and good ductility, compatible with uneven surfaces of the M.2 SSD. Low viscosity, with no damage to the SSD label.
Includes:
M.2 SSD heatSink X1

Silicone thermal pad X3

Fixing screw X6

Screwdriver X1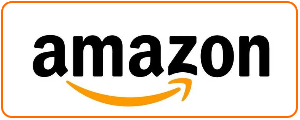 ---
Ice Cold Ineo M.2 heatsink 2280 SSD
Thermal Silicone pad for M.2 PCIE NVMe SSD – $10.99
The NVMe heatsink are able to support the NVMe SSD type 70x20mm

Please place the silicone cooling pad between the heatsink and the SSD to prevent damage to the SSD and protect the particles of the SSD, which can effectively extend the life of your SSD.

Package including: 1 NVMe Aluminum heatsink, 2 silicone thermal pad, 1 user manual, 1 screw driver , 1 guarantee card, 1 screw

Each product has strict tested before We sent it to you and offer 1 Year Limited Warranty, Life-time free technical support by ineo.
Includes:
1 NVMe Aluminum heatsink
2 silicone thermal pad
1 user manual
1 screw driver
1 1 screw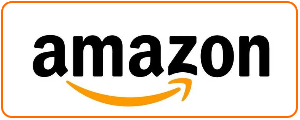 ---
WARSHIP Pro M.2 2280 SSD Heatsink
PCIE NVME or SATA m2 2280 SSD Double-Sided Heat Sink – Black – $8.99
Suports PCIE NVME M.2 2280 size SSD or SATA M2 2280 size SSD
Aluminium alloy, silver plating , anodic oxidation surface treatment
Easy to install, NO damage to the SSD.
Aluminum alloy-Groove design with 10°C – 30°C cooling effect
Includes:
HeatSink X2
Big Silicone thermal pad X 2
Small Silicone thermal pad X 10
Screws X 6
Screwdriver X1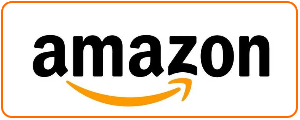 ---
Best Budget Choice – Nankui SSD Heatsink Surround –

SINGLE SIDE SSD USE ONLY – VERY TIGHT FIT!!
NVMe Heatsink for m.2 2280 SSD,Double-Sided Cooling – $5.99
Originally designed for desktop computers, This M.2 SSD heatsink compatible with all single sided Type.

Simple Lock design, easy to install

Double Aluminum alloy-Groove design, greatly increase the heat dissipation area, with 7°C – 30°C cooling effect (Varies depending on the environments), Ensure the high-speed and long-lasting performance of SSD, continuous high-speed reading and writing and long-term game performance are still strong

Main body material: Aluminum alloy, anodic oxidation surface treatment. Dimensions: 76.5*24.*12mm , Nano Silicon Grease Material Dimensions:70*20*T.4 ,Thermal conductivity:3W/m-k
Includes:
M.2 SSD heatSink X1

Silicone thermal pad X3

No Screws – Clicks Shut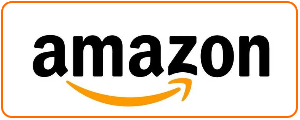 ---
And there you have it. Those are the five best Budget SSDs for PS5 available right now at the start 2022. thought it is always worth remembering that these SSD series typically have a refresh (i.e manufacturers release a new version/follow-up) every 2-3 years on average. Therefore although these drives are all still great Budget PS5 upgrade options, they might have been upgraded in a newer released version (eg the WD Black SN850 and SN850X later in the year, or recently released alternative Budget alternatives that feature different NAND may have arrived on the scene that provides better pricing, value or durability. If you are in doubt about whether to buy a Budget PS5 expansion solution from my recommendations, want to check if a newer SSD has been released recently OR are simply looking for some free expert advice, then use the free advice section below over. Just enter in a few details of your setup, storage requirements and (in the case of buying a new solution) your budget – then me and Eddie the Web guy can help you with your question. This is a completely free service, is NOT provided with profit in mind and is manned by two humans (no bots, no automated replies, etc). Assistance might take an extra day or two (the service gets a lot of visitors) but we do try to answer every message. If you want to support this service, you can find out how to donate HERE. Otherwise, you can still jsut message us for free advice anyway!
📧 LET ME KNOW ABOUT NEW POSTS 🔔
Join 1,582 other subscribers
Get an alert every time something gets added to this specific article!
This description contains links to Amazon. These links will take you to some of the products mentioned in today's content. As an Amazon Associate, I earn from qualifying purchases. Visit the NASCompares Deal Finder to find the best place to buy this device in your region, based on Service, Support and Reputation - Just Search for your NAS Drive in the Box Below
Need Advice on Data Storage from an Expert?
We want to keep the free advice on NASCompares FREE for as long as we can. Since this service started back in Jan '18, We have helped hundreds of users every month solve their storage woes, but we can only continue to do this with your support. So please do choose to buy at Amazon US and Amazon UK on the articles when buying to provide advert revenue support or to donate/support the site below.

Finally, for free advice about your setup, j
ust leave a message in the comments below here at NASCompares.com and we will get back to you.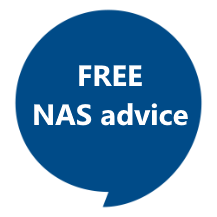 Need Help?
Where possible (and where appropriate) please provide as much information about your requirements, as then I can arrange the best answer and solution to your needs. Do not worry about your e-mail address being required, it will NOT be used in a mailing list and will NOT be used in any way other than to respond to your enquiry.
Support What We Do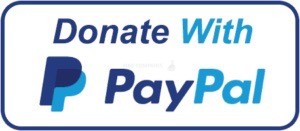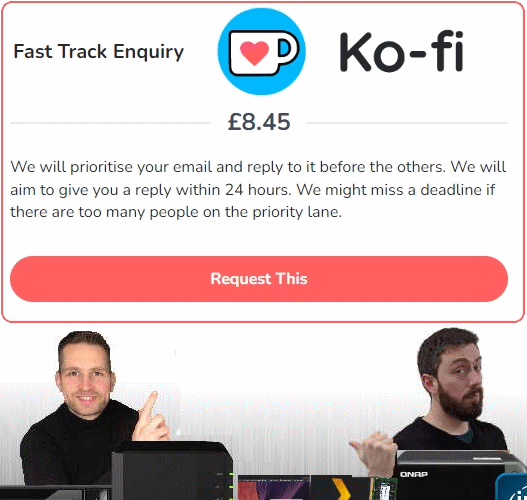 Terms and Conditions
Alternatively, why not ask me on the
ASK NASCompares forum
, by clicking the button below. This is a community hub that serves as a place that I can answer your question, chew the fat, share new release information and even get corrections posted. I will always get around to answering ALL queries, but as a one-man operation, I cannot promise speed! So by sharing your query in the
ASK NASCompares
section below, you can get a better range of solutions and suggestions, alongside my own.
Summary
Reviewer
Review Date
Reviewed Item
Best Budget/Value PS5 SSDs to Buy in 2022
Author Rating