Synology Reveals New Surveillance Cameras coming to their Portfolio – The BC500 and TC500
Yes, that is right! Synology has revealed (at their Synology Enterprise Data Management Annual Conference Event in Taiwan) that they plan on releasing a new range of Surveillance PoE cameras to be used in conjunction with their excellent CCTV/NVR software, Surveillance Station. These are the Synology BC500 compact Bullet camera and the Synology TC500 Dome camera. Although not a vast amount of information was revealed on these new cameras, it is worth highlighting that this makes Synology the FIRST commercial NAS brand to release their own range of cameras. To put that into perspective, although IP Cameras (Web cameras, internet cameras, etc) have been supported and compatible with Synology NAS systems for years (thousands of models and brands), this is the first time they have directly produced a camera that they are personally recommending for use with their systems and software. This is something that alot of users have been asking/demanding for quite a long time (for reasons I will get into later in the article), but for now, let's discuss the new BC500 & TC500 Surveillance Cameras, why they are a big deal and everything that Synology has revealed on them so far.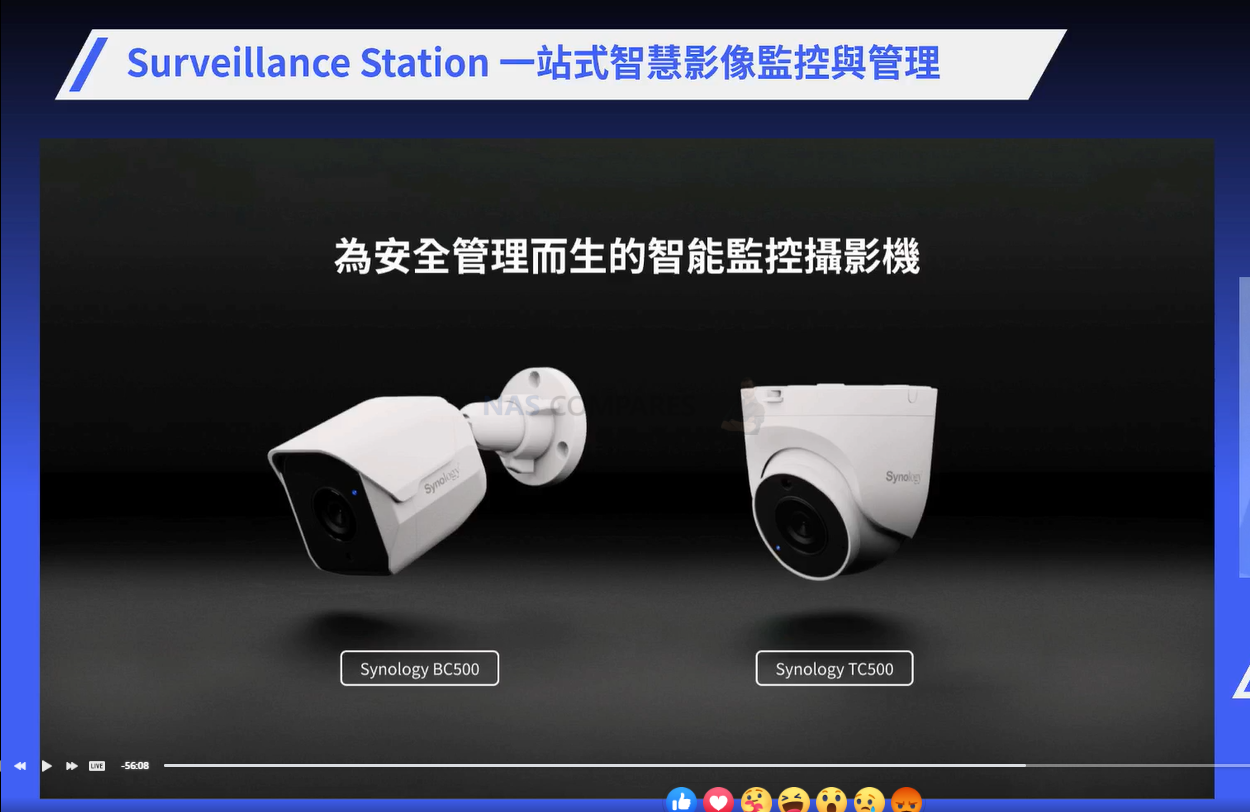 Why Is Synology Releasing Their Own Branded Surveillance Cameras Such a Big Deal?
It would be fair to say that NAS systems are a niche area of technology (data storage focused, not as flashy as laptops, phones or TVs), however even MORE niche is Surveillance NAS use. So, it is understandable that the impact of Synology releasing the TC500 and BC500 cameras is a little underwhelming for some users. Let me explain. In all the decades of time that NAS drives have been on the market (not just Synology), the utility for a 24×7 powered large-scale storage system that is remote/network accessible has been HUGELY suitable for CCTV use in the home or business. That is one of the main reasons that early in the Synology NAS software development (not just them) the compulsion for the brand to provide their own surveillance software was a bit of a no-brainer. However, in ALL that time, Synology would never DIRECTLY recommend a camera brand. They would demonstrate their systems with 3rd party companies (which would scale depending on the solution – so AXIS for enterprise perhaps or Reolink/Hikvision for Home/SMB, etc), allow RSTP/ONVIF network support on their platform and even provide a huge compatibility list of thousands of cameras on their support pages. But when it comes to actually loudly picking a single camera brand and saying "THEY are the brand that we endorse/recommend for our NAS systems!", that has never happened. This makes sense in a way. They are not in any kind of corporate relationship with any camera brand, they would need to heavily investigate a company and it's portfolio, as well as develop software in partnership with them up to a point . Therefore, it made sense for them to sit on the fence a bit (sometimes to the annoyance of users who just want clear and concise Camera recommendations for their NAS and Surveillance Station).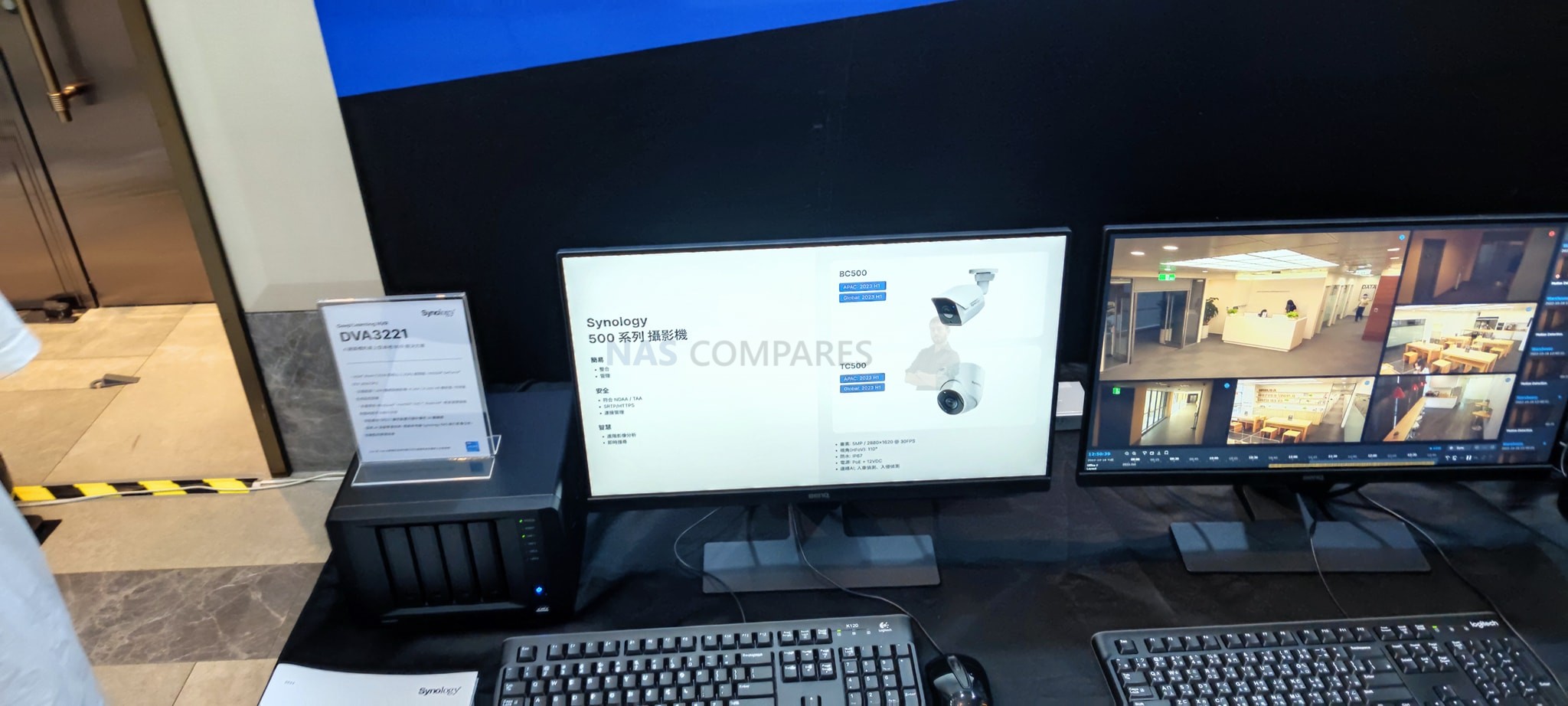 However, this has now all changed with the reveal of the Synology BC500 and TC500 Cameras. Alongside their software platform making enormous leaps in it's features, supported services and general GUI, the addition of AI-supported services (used in Deep Video analysis to make more effective and efficient security judgements) has resulted in them needing/wanting to promote this AAA+ feature more prominently. The idea of Synology releasing a range of branded cameras was something of an inevitability – if they didn't, no doubt one of their biggest rivals would. Plus, this allows the brand to pair its systems and software with a camera that has it's firmware and features tailored to their ecosystem for much better (and of course efficient) use when deployed. Let's discuss the hardware of the TC500 and BC500 that we know so far.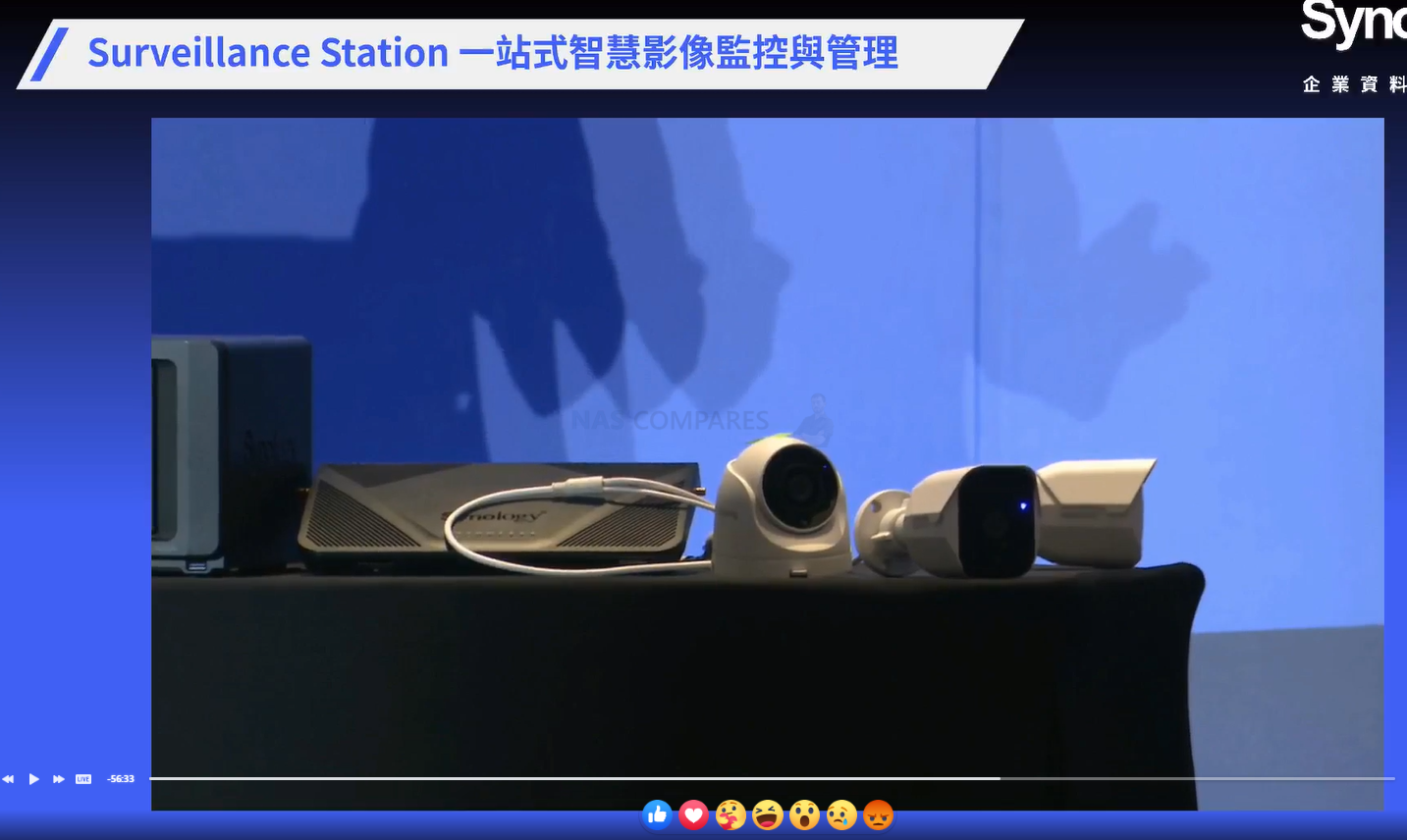 Synology BC500 Compact Bullet Camera and TC500 Dome Camera Hardware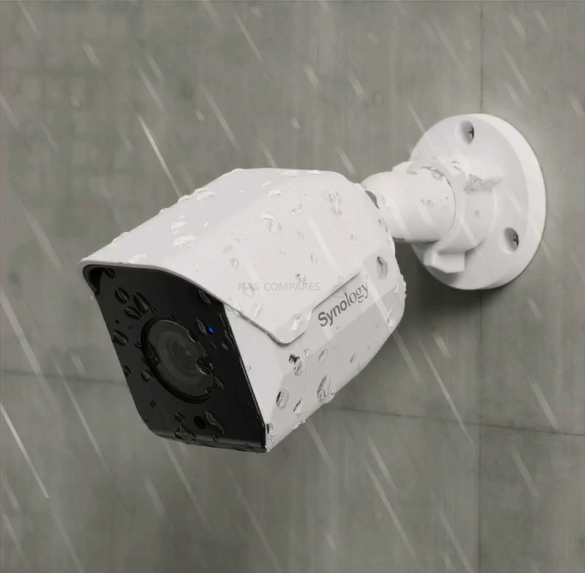 The Synology BC500 and TC500 camera hardware is still a little light on the finer details. We do have a number of the preliminary hardware specifications confirmed (recording quality, build, operation) and it looks like both cameras are going to be running the hard/similar hardware specifications – but differ in deployment design. It is fairly likely that these cameras are going to be of 3rd party creation (much like their HDD series that are Toshiba MG drives) BUT will have Synology-specific firmware onboard which means that will run in improved and more effective ways with Surveillance Station 9. Equally, there is every likelihood that some features of the camera to do with hardware onboard the camera SoC/NPU/etc for advanced detection and recognition will be primarily accessed by the NAS system natively – but that is still fully TBC. Let's discuss the hardware that we know right now: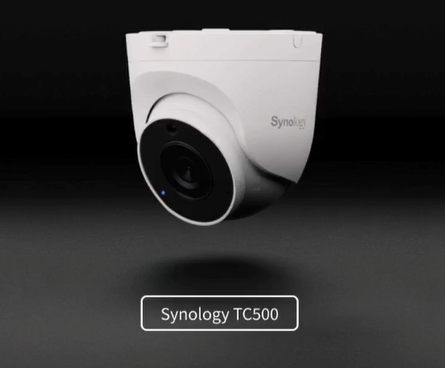 Synology Surveillance BC500 & TC500 Cameras
BC500 = Compact Bullet IP Camera
TC500 = Dome IP Camera
Pricing and Licensing Details TBC
5MP – 2880×1620 – 30FPS
Onbard Hardare Integration
110 Degree Viewing Angle
RJ45 PoE Support
180-Day Reported Storage in SS9 (Quality/Size TBC)
IP67 Weatherproof
Encrypted Recording Transmissions
SD Card Support TBC
Release Date: H1 2023
The full details regarding the AI hardware services that these cameras will likely include/support is also TBC. We fully expect the specifics on these cameras to be revealed shortly and we will update this article accordingly when we know more. Let's talk about the things we DO know about the BC500 and TC500 Cameras and Surveillance station from the brand's presentation.
Synology Surveillance Station and the BC500/TC500 Camera Support
During the Synology event, a demonstration of the BC500 and TC500 cameras being set up and deployed in Surveillance station. This allowed us to see that these cameras will allow users to take advantage of the AI-supported services of the NAS software. How much of this was thanks to the camera's onboard AI services for person/vehicle/object recognition (onboard NTU or general smart processor we will be looking into. It would appear that these cameras might well allow non DVA series NAS devices to use on-camera hardware integration and use the AI services of Surveillance station in a way currently available on the DVA3221 and DVA1622. Again though, this is still TBC! Nevertheless, it would make ALOT of sense for Synology to include this a selling point for their branded cameras.
This slideshow requires JavaScript.
There was a little information on the 5MP reported camera recording of the cameras, which is arguably quite standard in 2022. At the time of writing, we are still awaiting confirmation of camera's capture specifics, such as the CMO, lens, optical/digital zoom and LED affected Nightvision coverage (perhaps even PiR support thanks to internal hardware). But, even the initial camera hardware we know so far is a good indication.
This slideshow requires JavaScript.
The angle of coverage(view etc) of the BC500 and TC500 was also discussed and confirmed at 110 Degrees. No mention was made of when the TC500 dome camera supported remote tilt control or manual adjustment (and the BC500 bullet camera will have zero PT – Pan/Tilt – control of course.
This slideshow requires JavaScript.
All in all, we fully expect the reveal of further hardware specifications officially before the end of the year (as Synology no doubt ramps up for it's end of year annual event 'Synology 2023') and perhaps the discovery of the hardware that camera is built from (with Synology software/service integration) will arrive. If/when it does, we will of course update this article, along with further information linked accordingly
What Do We Still Need to Know About the BC500 and TC500 Synology Surveillance Cameras?
The details we have on the Synology BC500 and TC500 Surveillance Cameras are lighter than we would like, BUT are still more than this normally very secretive brand would ordinarily reveal so publically. Nevertheless, there ARE larger questions that people are going to have about Synology releasing their own branded cameras in conjunction with their systems are people are going to wonder. Below are the main questions that (at the time of writing) we still do not have answers for:
How are Synology Camera Licenses going to be handled in conjunction with these new cameras?
With all Synology NAS systems, you get full access to Surveillance Station and 2x Lifetime Camera Licenses (the exceptions being NVR/Surveillance optimized systems like the DVA1622, NVR1218, DVA3221, etc that have more included in their pricing) and the understanding has always been that if you wanted to add more cameras (i.e a business user that wanted to use them for asset protection, insurance and staff provisioning) you would need to buy further licenses at £30-50 each (bundle dependant) to add more cameras. This was done to ensure the more niche surveillance software of the platform can still massively innovate, but strike a balance between home and business users with different requirements (learn more in my NAS Surveillance Before You Buy Video HERE). However, how are things going to be handled by a Synology-branded Surveillance camera? Will these have their own inclusive Camera License OR will they not even need a license?
DVA Services on Synology BC500 and TC500 Cameras?
On the assumption that the BC500 and TC500 Synology Cameras have Synology firmware on board to allow better/more-efficient use of AI services and recognition, will that means that NON-DVA (deep video analysis) NAS systems will now be able to use the services that are currently exclusive to the DVA3221 and DVA1622 NAS?
Will Synology make any changes to Surveillance Station that mean that some features or services down the line are ONLY available for use with their cameras?
They had something of a message/presentation issue of DSM Storage Manager and their own HDDs in DSM7 (which was amended in DSM 7.1) when support and compatibility of HDD/SSDs on enterprise systems in the 2021/2022 series was different on 1st and 3rd party drives. Will some features currently in SS9 change to Synology Only cameras? Or future surveillance innovations? If you CAN make surveillance station use the onboard hardware of IP cameras to lighten server-side processes and allow the camera to do the hard work of AI analysis on the Synology camera services (likely a 3rd party camera and onboard SoC/NPU much like other cameras), will they restrict this to just their own cameras but disallow it from 3rd party cameras?
I have to stress that these are all questions that Synology has not been addressed with at the time of writing, so until we have clear confirmation on any of these, they are pure conjecture. Most/all of these are bound to be answered in the coming months, as well as Eddie in the background translating more information as we speak/write! We will of course update this article accordingly as we learn more. Otherwise, head to this article HERE as we learn more and more about the Synology 2023 Hardware in our Mega Post that is regularly updated.
When will the Synology BC500 and TP500 Cameras Be Released?
Synology did not give a particularly large amount of information on the commercial release of the TC500 and BC500 Cameras, but DID indicate 'H1 2023', so that means the first half of 2023. Not a particularly concise release window, but still – not hugely far away in the overall scheme of things. Expect pricing to be confirmed alongside bundle deals at launch.
What do you think of the Synology BC500 and TP500 Cameras? Let us know below in the comments below. We pool the comments on this article and the videos that are featured in it to keep all the relevant comments in one place, so take a look and see if your POV is the same as everyone else's.
📧 LET ME KNOW ABOUT NEW POSTS 🔔
Join 1,409 other subscribers
Get an alert every time something gets added to this specific article!
This description contains links to Amazon. These links will take you to some of the products mentioned in today's content. As an Amazon Associate, I earn from qualifying purchases. Visit the NASCompares Deal Finder to find the best place to buy this device in your region, based on Service, Support and Reputation - Just Search for your NAS Drive in the Box Below
Need Advice on Data Storage from an Expert?
We want to keep the free advice on NASCompares FREE for as long as we can. Since this service started back in Jan '18, We have helped hundreds of users every month solve their storage woes, but we can only continue to do this with your support. So please do choose to buy at Amazon US and Amazon UK on the articles when buying to provide advert revenue support or to donate/support the site below.

Finally, for free advice about your setup, j
ust leave a message in the comments below here at NASCompares.com and we will get back to you.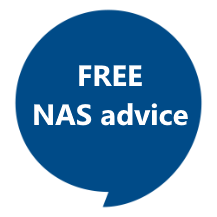 Need Help?
Where possible (and where appropriate) please provide as much information about your requirements, as then I can arrange the best answer and solution to your needs. Do not worry about your e-mail address being required, it will NOT be used in a mailing list and will NOT be used in any way other than to respond to your enquiry.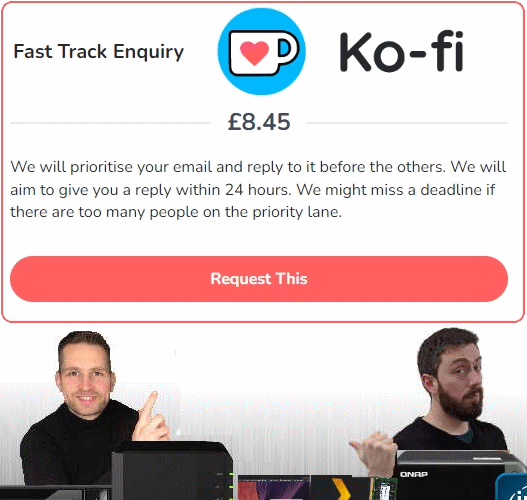 Terms and Conditions
Alternatively, why not ask me on the
ASK NASCompares forum
, by clicking the button below. This is a community hub that serves as a place that I can answer your question, chew the fat, share new release information and even get corrections posted. I will always get around to answering ALL queries, but as a one-man operation, I cannot promise speed! So by sharing your query in the
ASK NASCompares
section below, you can get a better range of solutions and suggestions, alongside my own.