Synology TC500 Camera Review – Smart Choice?
It's been a couple of months since the full release by Synology of their new surveillance cameras, the TC500 current style ceiling camera and BC500 bullet style wall camera. When initially revealed, the brand seemed to be FINALLY addressing a long overlooked gap in the market by turnkey NAS solution providers who up to that point provided incredible surveillance software and services, but the asked users to choose one of 8000+ supported 3rd party cameras- never directly recommending one over another. Much like when Synology released their own first-party routers, hard drives, SSDs, network upgrades and more, this was done to further solidify their status as a single brand ecosystem provider (cough where is the official Synology Switch! WHERE!), so it made ALOT of sense. However, they are entering the camera market perhaps a little tentatively with the release of just two cameras and at a price point that is arguably a lot more business-focused than many would like (especially given the approx 2 decades old Surveillance station software is so incredibly popular and available on ALL of their NAS devices, big or small). Today I want to review the Synology TC500 Camera, discuss it's strengths, it's weaknesses and hopefully help you decide if it is perfect for your home/business CCTV setup!
You can find our Synology TC500 Camera Review YouTube HERE
Check Amazon for the Synology BC500 and TC500 Cameras
Synology TC500 Camera – HERE
Synology BC500 Camera – HERE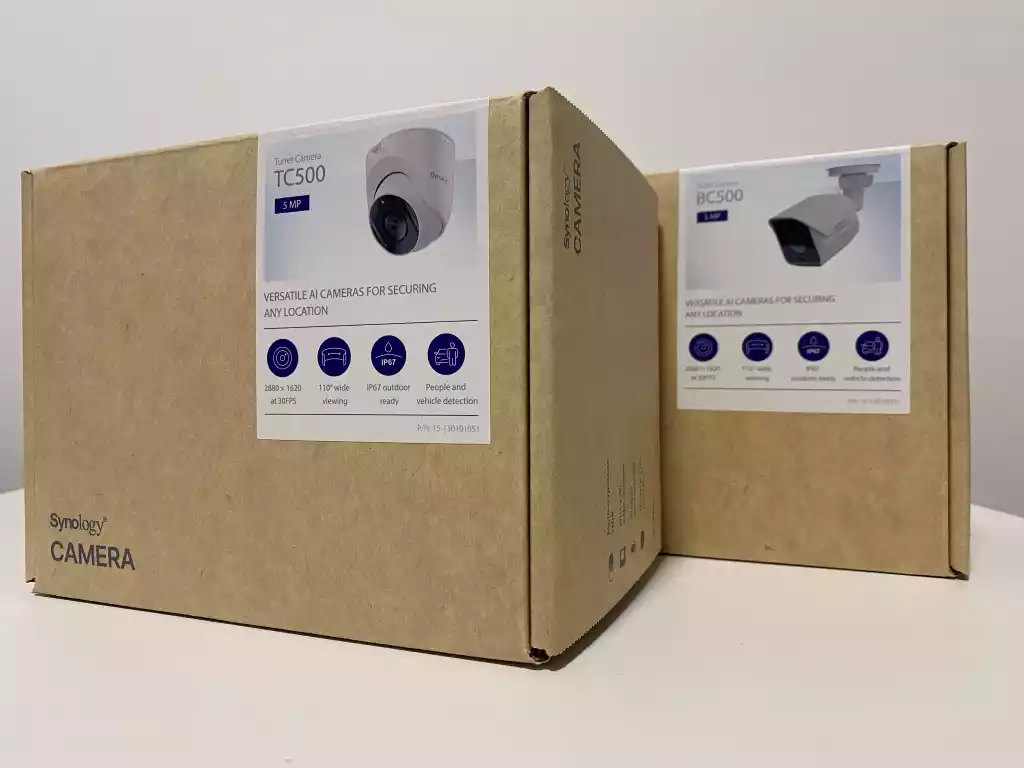 Synology BC500 and TC500 IP Camera Specification Highlights:
BC500 = Compact Style IP Camera

TC500 = Dome Style IP Camera

Resolution: 5MP – 2880×1620 – 30FPS

Horizontal angle: 110 degrees

Weatherproof standard with IP67 Rating

IK10 Vandal Proof

Nightvision  covers 30 Metres

SRTP/HTTPS support for enhanced security of video streams

Complies with US NDAA/TAA standards

Intelligent vehicle and person detection

Integrate seamlessly with Surveillance Station, enhancing the seamless surveillance management experience

Encrypted recordings

SD Card Slot
Synology TC500 Camera Review – Quick Conclusion
The Synology TC500 Turret-style camera, characterized by advanced edge-based AI recognition, epitomizes the new era in surveillance technology by efficiently filtering out unneeded alerts and enhancing operational efficiency. Despite a higher price, Synology's superior software and cybersecurity commitment, manifesting in TAA and NDAA-compliant products, could outweigh the cost for users seeking a safe surveillance solution. While there might be some hardware compromises compared to cheaper models, the TC500's robust functionality and performance stand out. Synology's cameras, predominantly aimed at business-class users, offer immense value for large-scale surveillance deployments. However, home users may find less appeal due to the limited model range and pronounced emphasis on advanced security features. The TC500 offers substantial benefits for businesses, but home users might need to wait for an expanded range more tailored to their needs. Until then, the TC500 remains a reliable option for sophisticated, business-grade surveillance.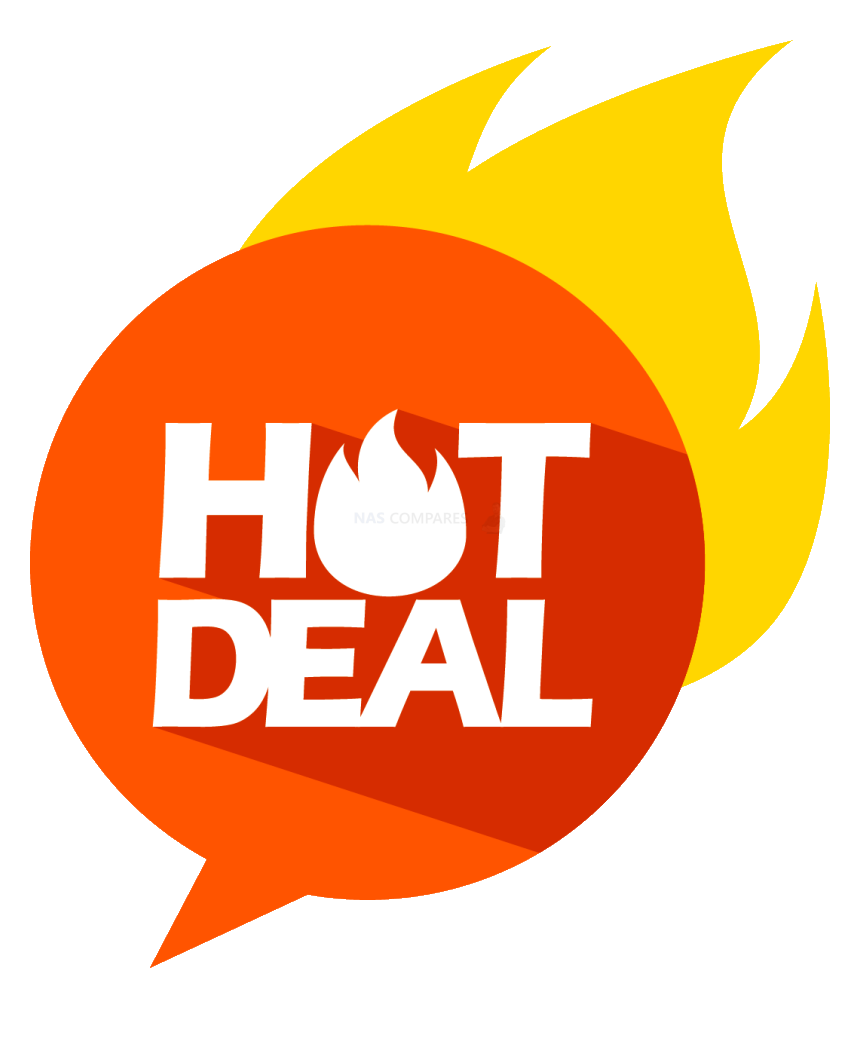 DEAL WATCH
– Is It On Offer Right Now?
These Offers are Checked Daily
Synology TC500 Camera Review – Packaging
Upon first look, the TC500 retail box is very 'on brand'. True to the Synology house style, the packaging is almost completely recyclable, clearly labelled and very modern – an aesthetic that's stylishly minimalist and straightforward.
This slideshow requires JavaScript.
The box's sides are amply covered with detailed information specific to the TC500 camera. This presentation is impressively neat, particularly for a product traditionally not associated with such looking nice at the retail level.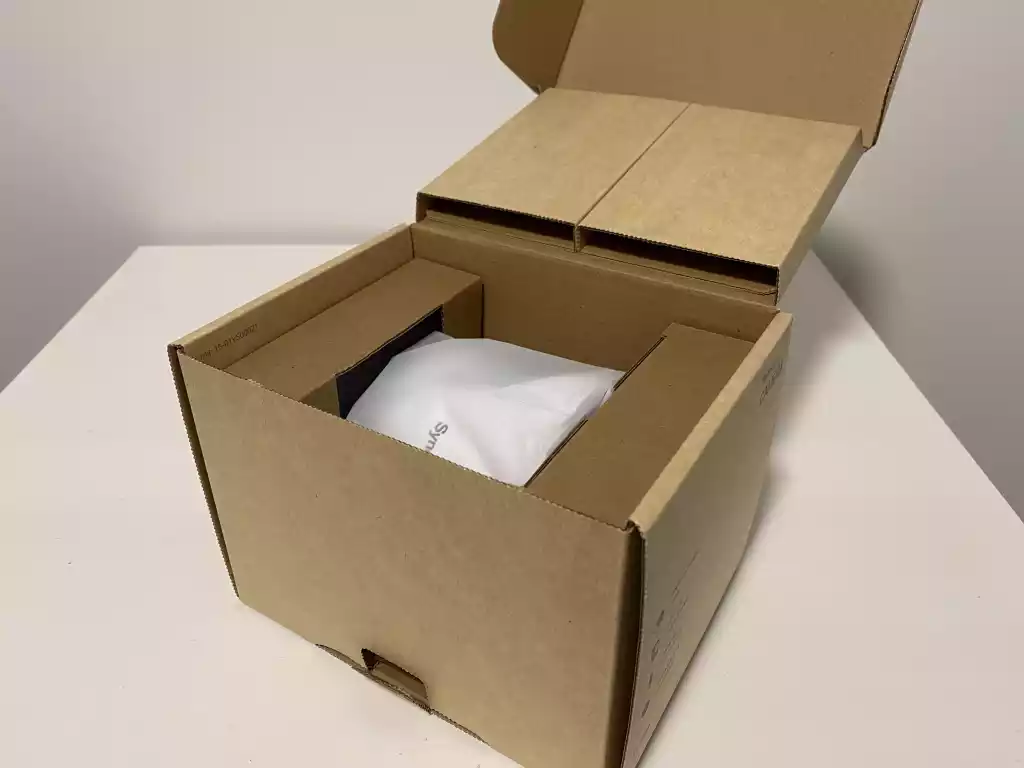 The camera kit itself includes the TC500 camera, a quick-start setup guide, a wall guide for installation, screws, raw plugs, and a waterproof cable cover.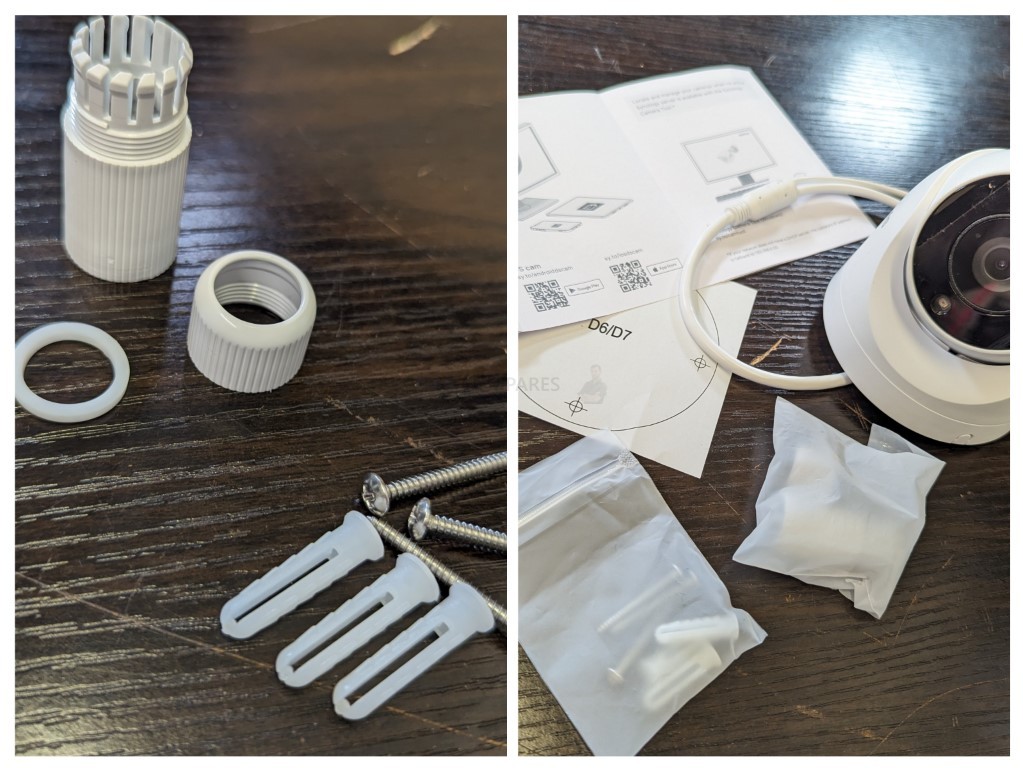 Unfortunately, the package lacks a Power over Ethernet (PoE) injector for mains power. Considering the camera's price tag of $250-300, this omission is a bit disappointing.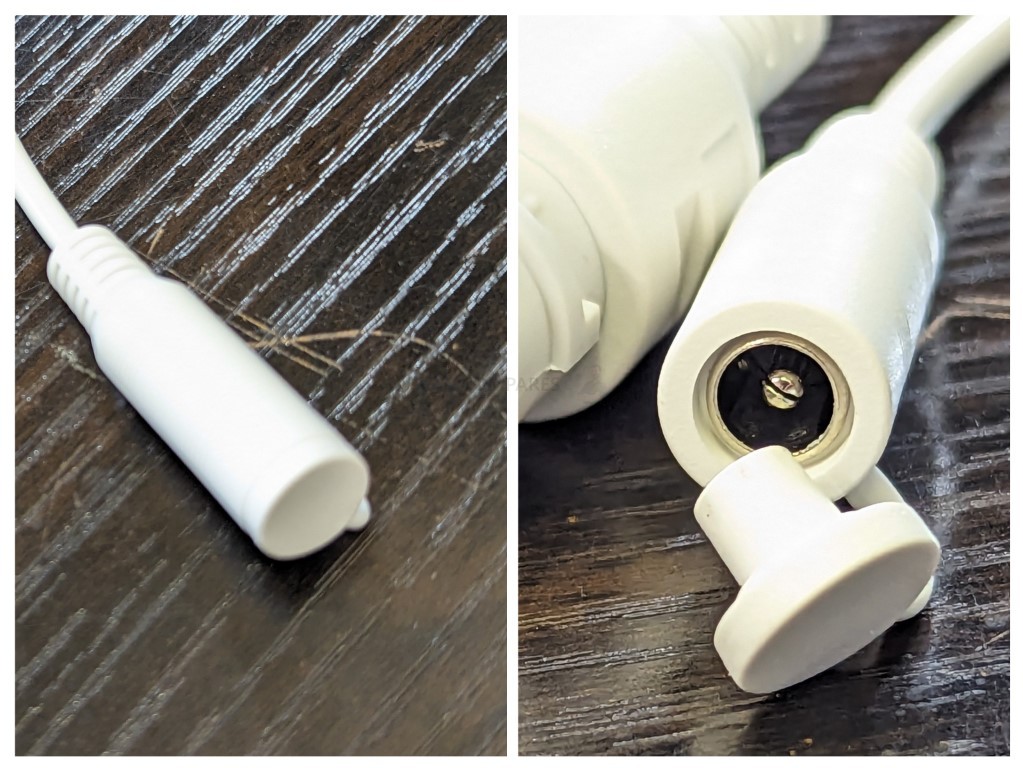 Nonetheless, the TC500 camera comes with a 3-year hardware warranty and offers lifetime support in Synology Surveillance station, which is probably going to matter more to most users who plan on having this camera deployed for 5-10 years without thinking about it. All in all, the TC500 is packaged neatly and practically, setting the stage for the camera's design and functionality.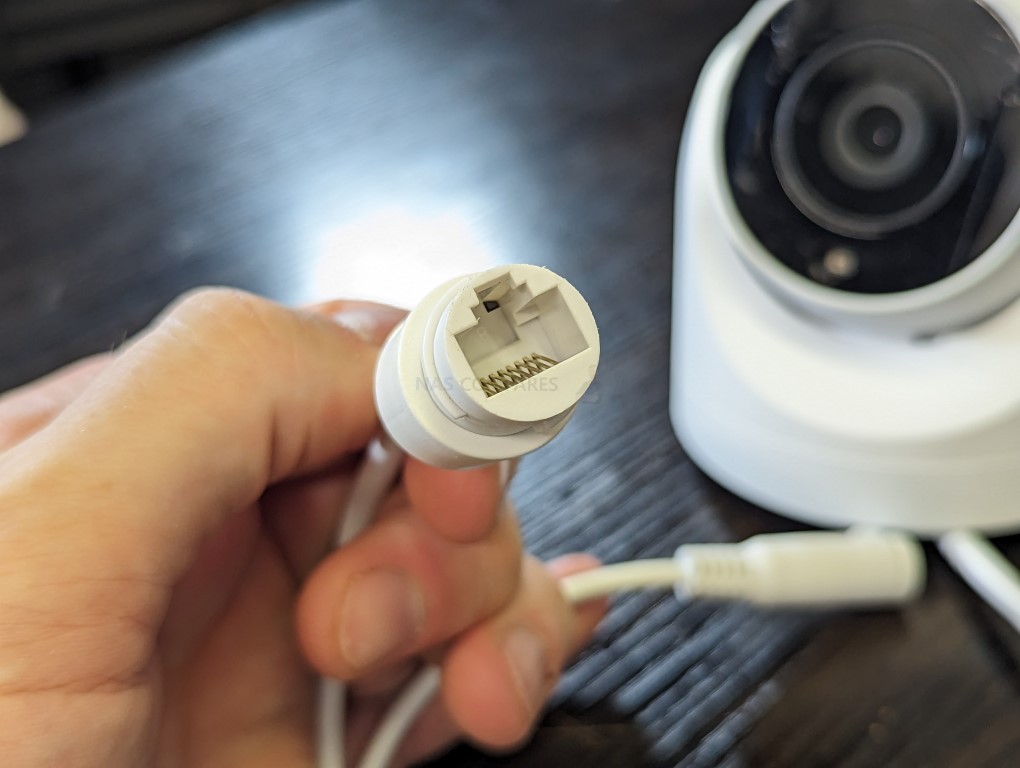 Synology TC500 Camera Review – Design
The TC500 camera boasts a rugged, compact design. The main camera is on a rotating base that can be turned 360 degrees, as well as a verticle adjustment angle of around 100 degrees. The TC500 is designed to be ceiling/wall mounted (high!) and has a lens view of 110° x 56° x 132°.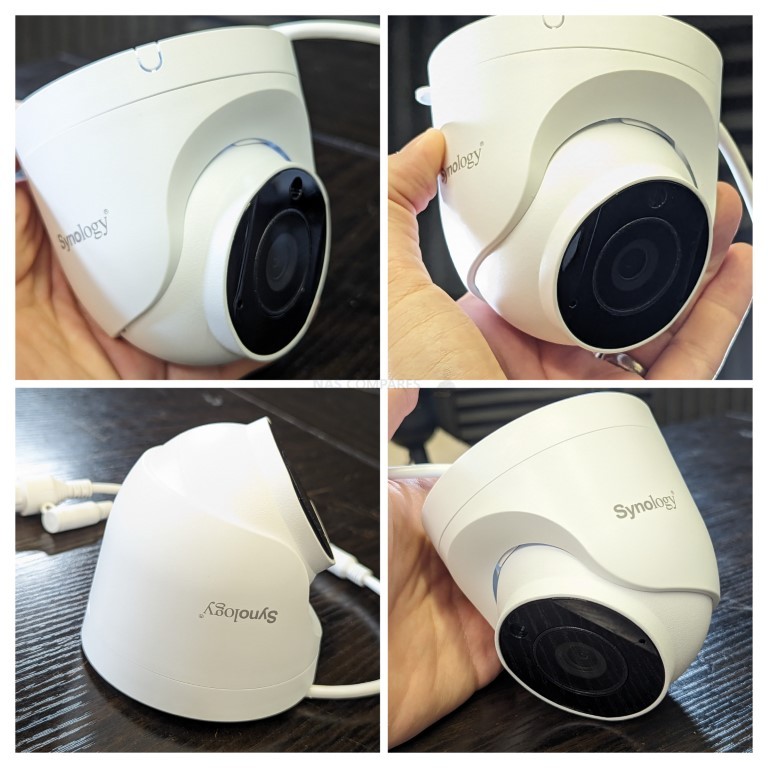 However, it is important to not that the Synology TC500 is not a PTZ (pan, tilt, zoom) camera and adjustments to it's viewing angle need to be manually adjusted after deployment as needed. The Synology camera brand at the time of launch is only two models (this current style one and one bullet model). No doubt a PTZ model is on the cards later in the series.
This slideshow requires JavaScript.
However, on a plus note, it's worth noting that unlike its counterpart, the BC500 Bullet-style camera, the TC500 current style is rated IK10 vandal-proof. Although this won't be an issue for some users, it's something to remember when comparing these two for specific setups. It is IP67 weatherproof and unless it gets fully water submerged, it should more than withstand heavy downpours of rain and typical cold/frost.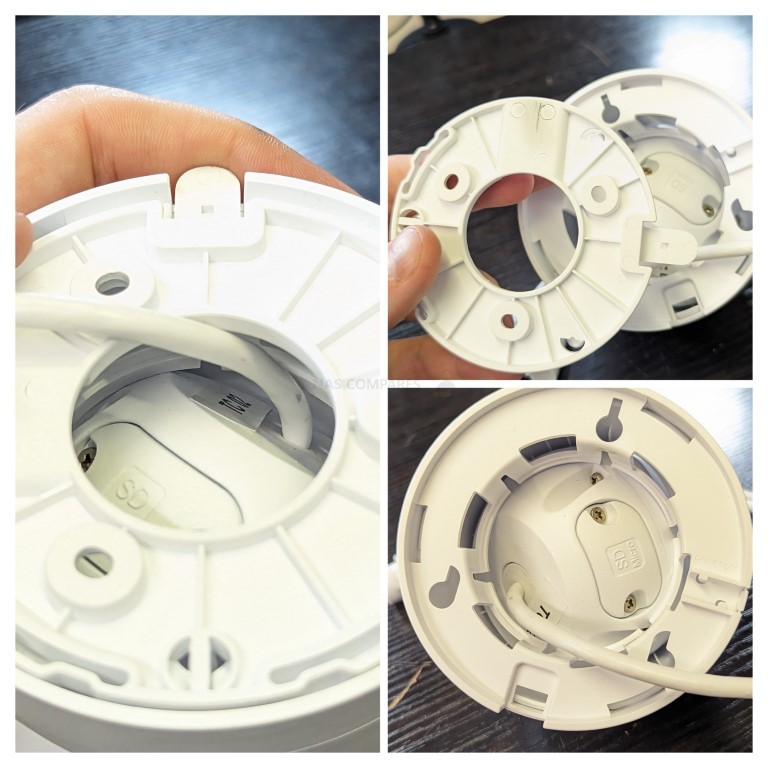 The base of the back panel of the TC500 is removable and allows you to install to the wall first, before mounting the camera. This is to ensure a clean installation and maintain the camera's weatherproofing when deployed outside. Resettings the camera is achieved via the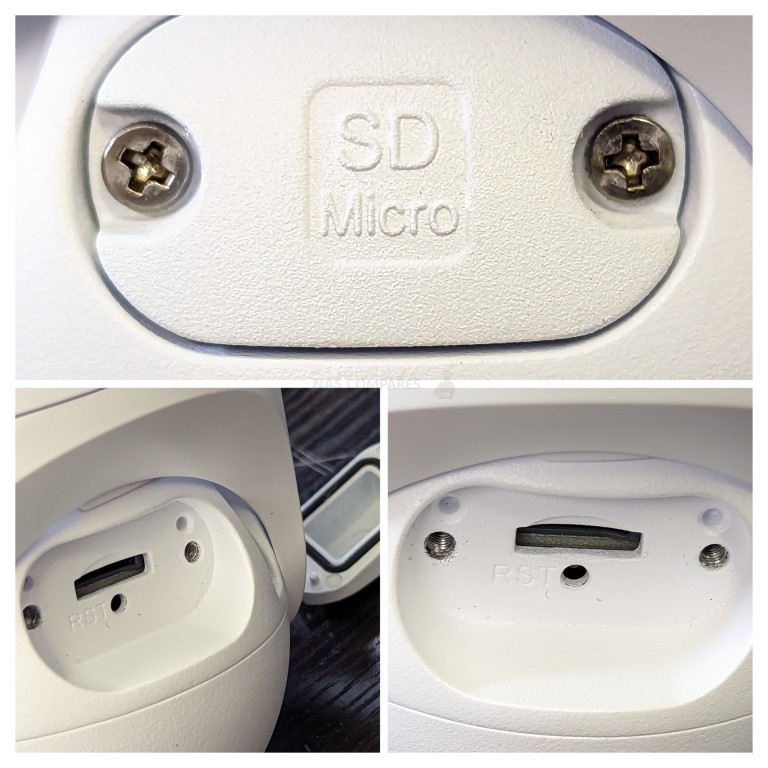 A removable panel at the bottom of the camera reveals an SD card slot supporting up to 128GB and a reset button. This SD card slot allows edge recording. In the event of a network error or an unreachable target surveillance NAS, it will record directly onto the SD card and then resync the recordings with the NAS when the connection is restored.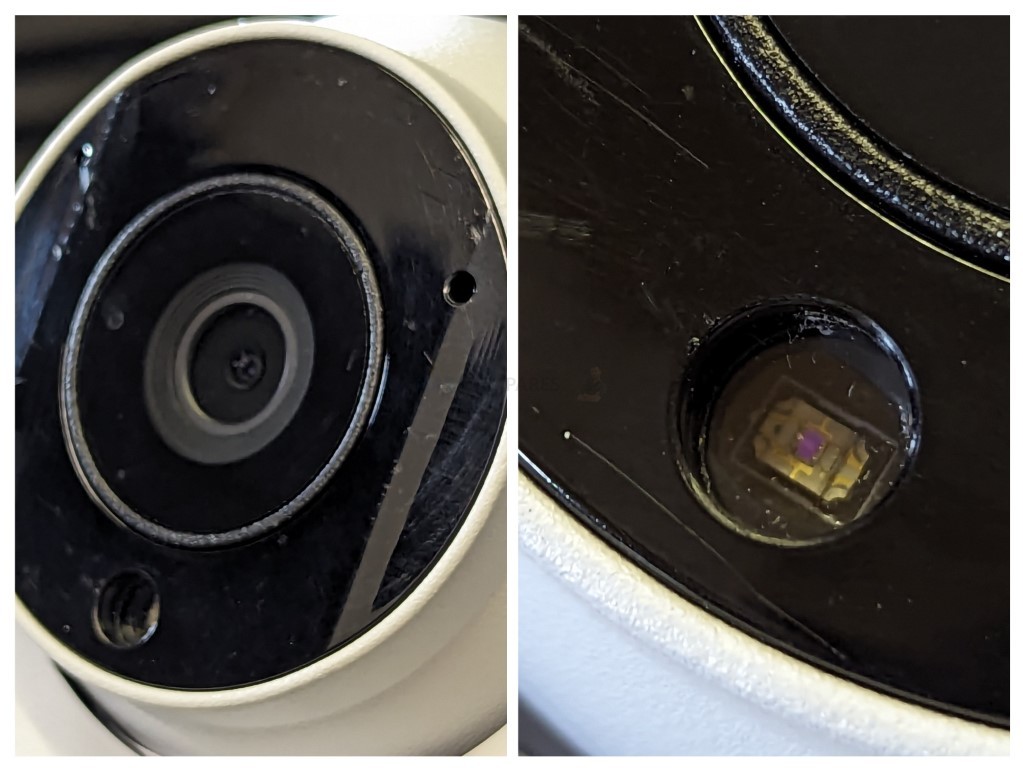 The TC500 features a considerably large lens surface area, with a status LED on the top right and a microphone on the top left. This microphone can be used to record audio alongside the video feed. Moreover, the BC500 supports Audio Detection, allowing the user to be alerted when noise exceeds a certain threshold.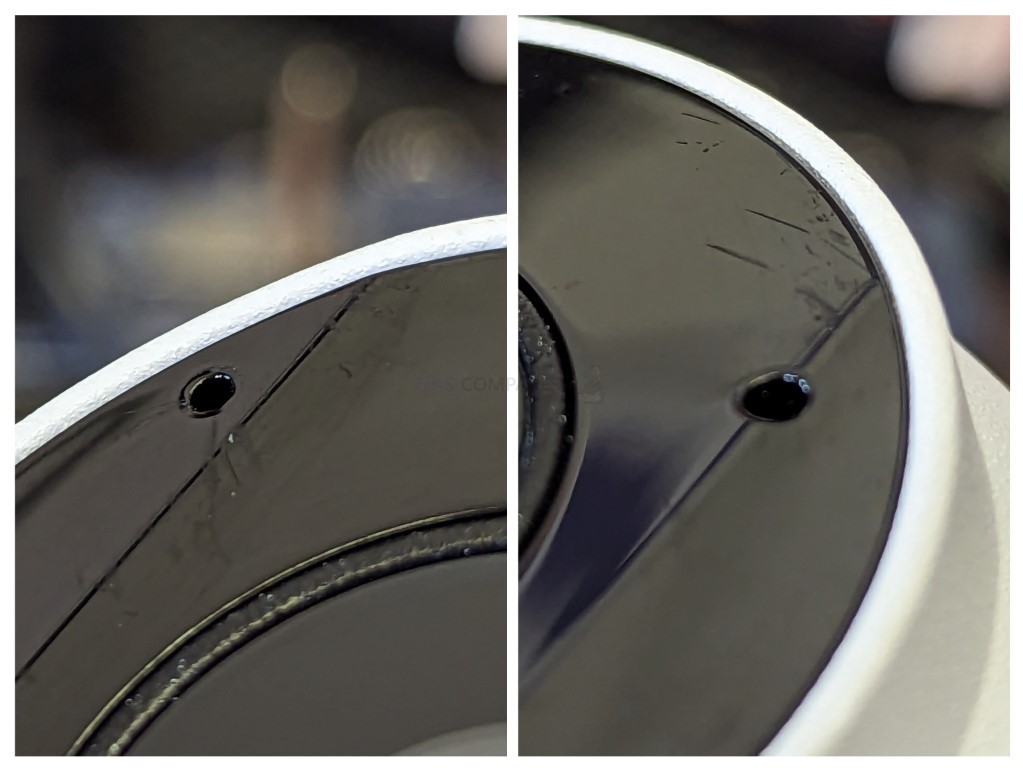 The TC500 camera can record at 2880×1620 resolution at 30 FPS, or a substream at 1920×1080 @ 15 FPS or 1280×720 @ 30 FPS, using either H.264 or H.265 (also known as HEVC).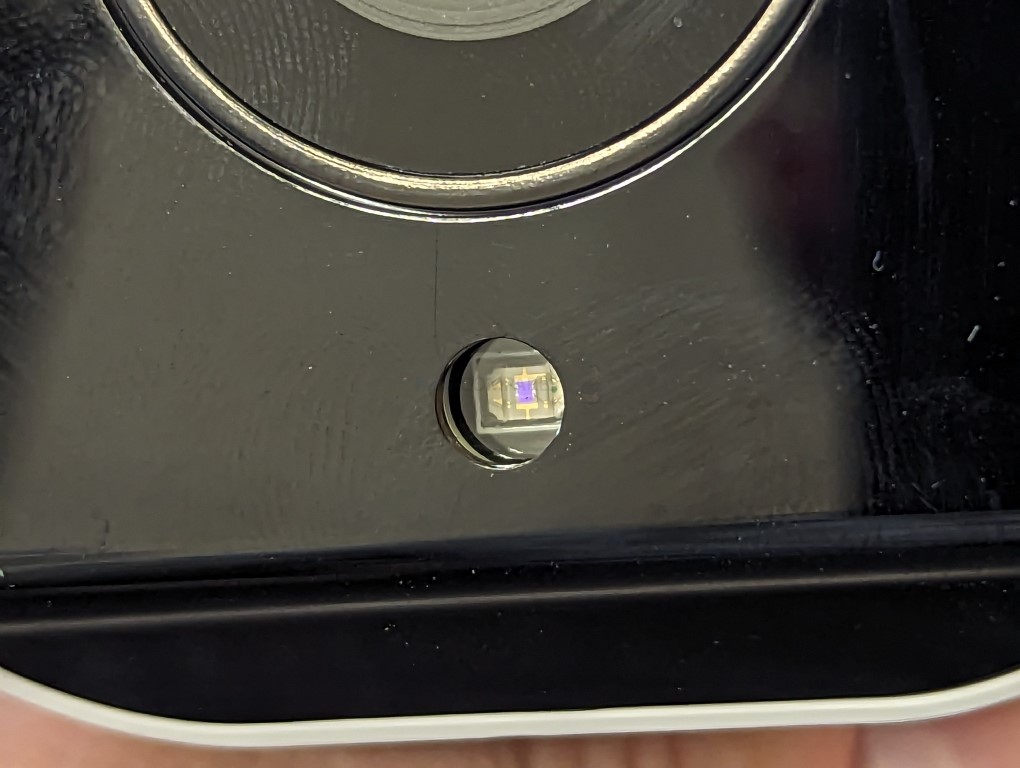 Unfortunately, given its price tag, the 5 Megapixel/5MP lens is slightly underwhelming when you consider that you can buy 4K cameras with optical zoom at a lower price point. That said, there is a large amount of adjustment possible in the Surveillance station software: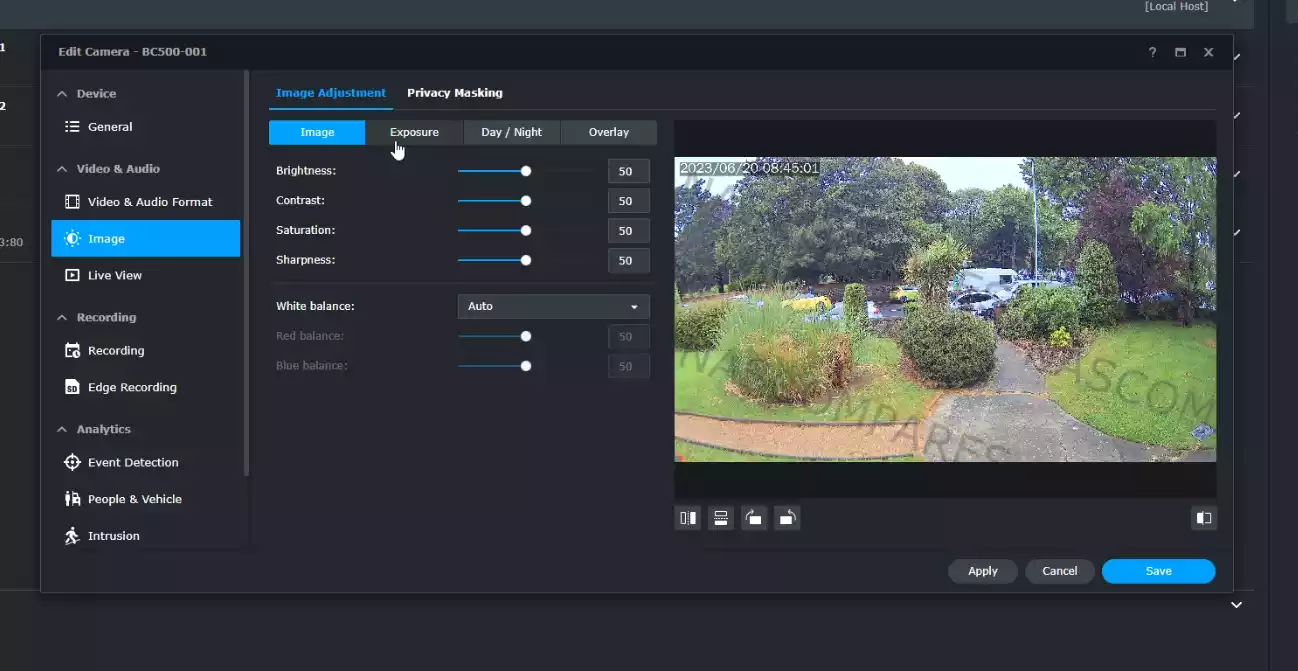 There is no denying that the Synology TC500 camera lens and recording quality maximum is a little underwhelming for the price point, however, the image clarity is nevertheless commendable and should satisfy the needs of most users.
Synology TC500 Camera Review – Surveillance Software and Services
The Synology TC500 camera is specifically engineered to provide optimal performance with Synology Surveillance Station, the current version being 9.1.1. The camera's integration with Surveillance Station offers advanced functionality that outshines the features provided by third-party and non-edge-AI-recognition cameras.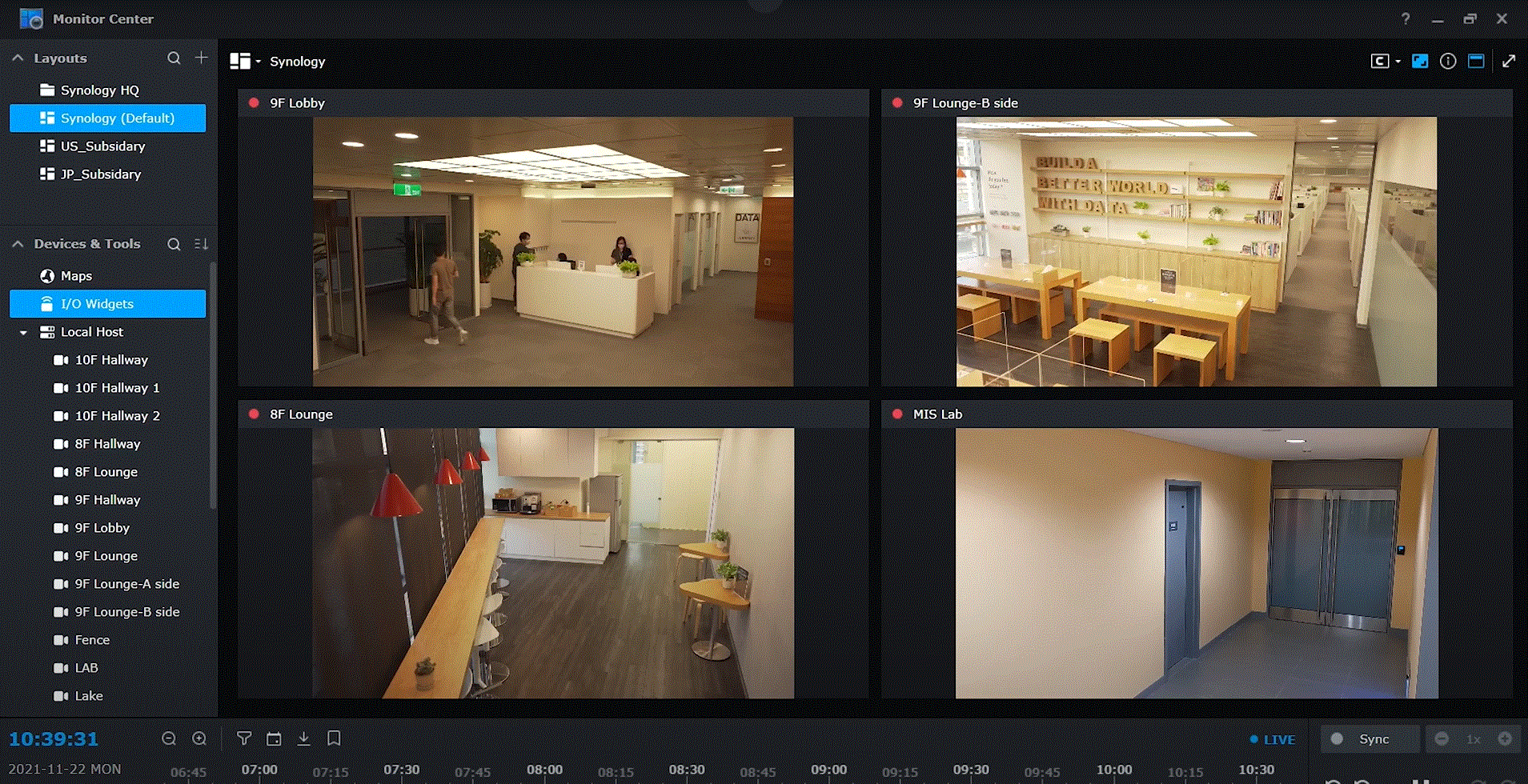 The TC500 camera, when paired with Surveillance Station, supports a plethora of services that transform your security experience. It provides access to live camera feed (monitoring center), which can be scaled to accommodate several cameras on screen simultaneously. You can also view live feeds and previous recordings side-by-side on the software.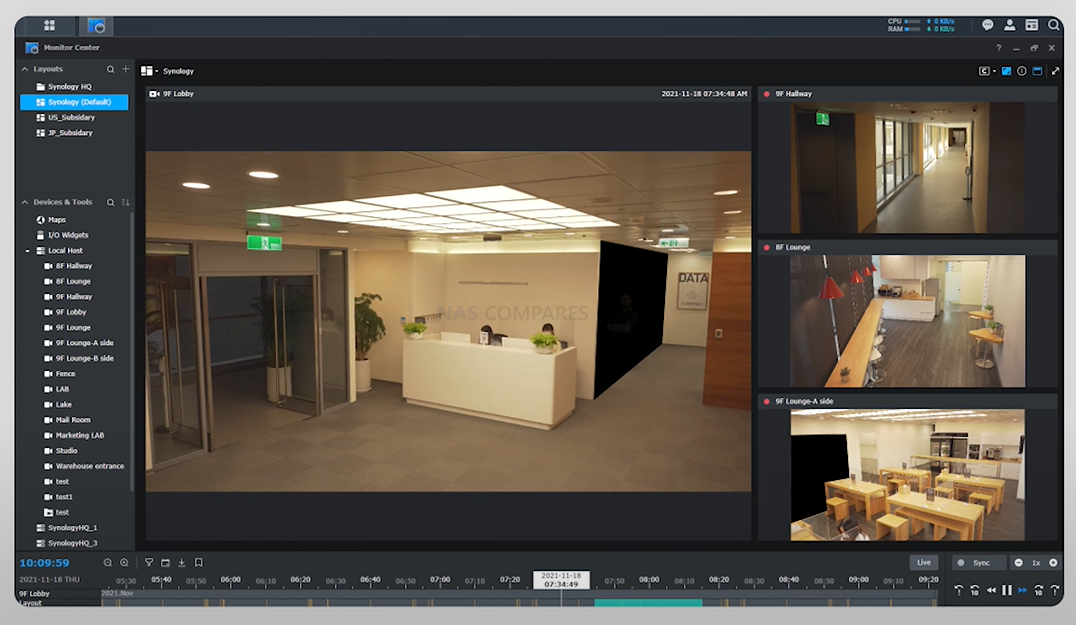 Additionally, the Surveillance Station allows for privacy mask and watermark applications on the feed.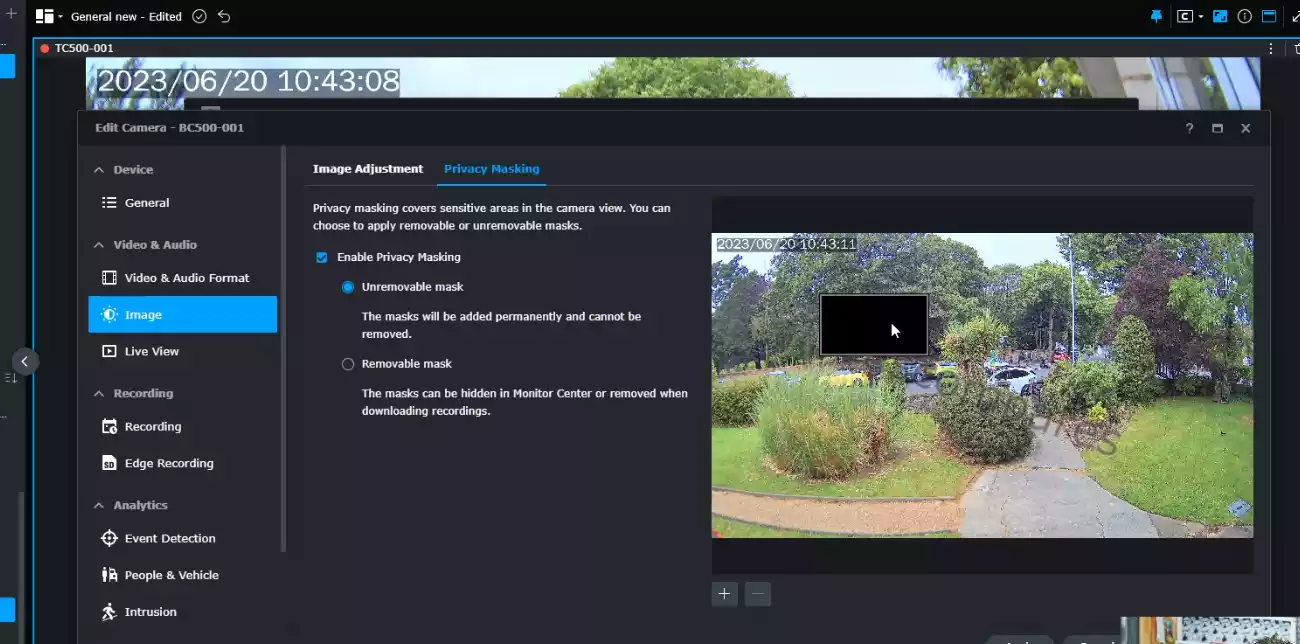 It also supports the upload of eMaps and integrates with third-party mapping services like Google Maps and OpenMaps.
This slideshow requires JavaScript.
Surveillance Station isn't limited to camera support. It also provides control for IP speakers, door controls, and I/O supported peripherals. Users can access the system swiftly and intuitively via a mobile app, and even use their mobile as another surveillance camera feed with Synology Live Cam. Alerts and push notifications can be scheduled for specific events, and the system generates downloadable analytical reports.
This slideshow requires JavaScript.
The Surveillance Station further extends its functionality with an array of additional add-ons. These range from YouTube Live Streaming and video integrity tools to transaction checking and IFTTT/Webhook services.
This slideshow requires JavaScript.
It also offers features like motion detection, missing object detection, idle zone monitoring, and foreign object area tagging. Access to the Surveillance Station is conveniently provided through web browsers, desktop clients, and mobile clients, either over the local network or remotely.
This slideshow requires JavaScript.
One of the key features is the Smart Lapse creation, which lets you truncate long periods of recording into speedy sequences. For example, you can turn a full day's footage into a few minutes for quick scanning. It also supports cloud recording with Synology C2 Surveillance (available with a free trial, then on a subscription basis).
This slideshow requires JavaScript.
The Surveillance Station also offers a Home Mode, which allows automated camera schedules to kick in when a defined user exits or enters the premises using WiFi links. More details on these features can be found in our review of Synology Surveillance Station 9.1 on our YouTube channel:
The TC500 camera, paired with Surveillance Station, supports sophisticated AI detection techniques like people detection, vehicle detection, intrusion detection, crowd detection, and loitering detection. It also offers a Smart Search feature that lets you search a predefined area of a recorded feed for specific incidents.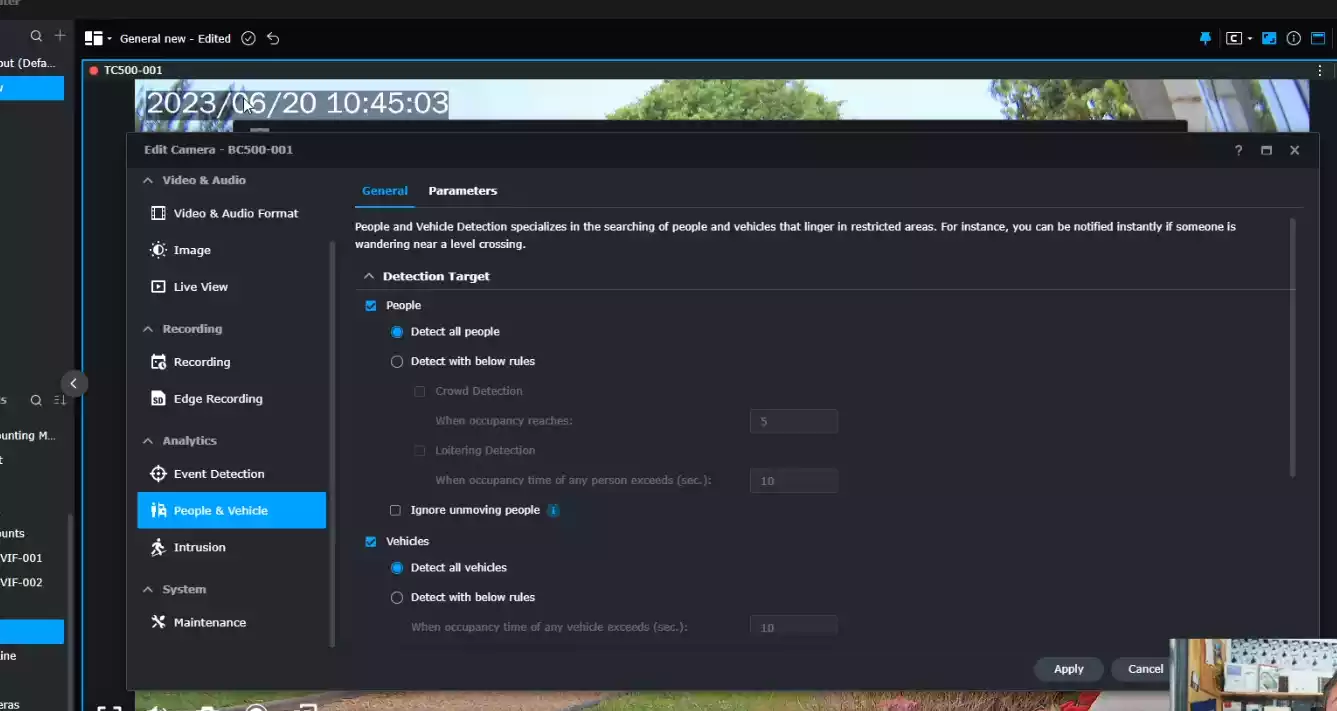 Vehicle Detection – Similar to its capability for human detection, the TC500 camera extends its intelligent recognition to vehicles as well. This feature proves particularly useful in situations when the premises are closed, and an unexpected vehicle enters the vicinity. The surveillance system can be programmed to provide 'out of hours' alerts, notifying owners whenever vehicles approach their premises during closed or off hours. It's an excellent way to ensure the security of your property when you're not physically present.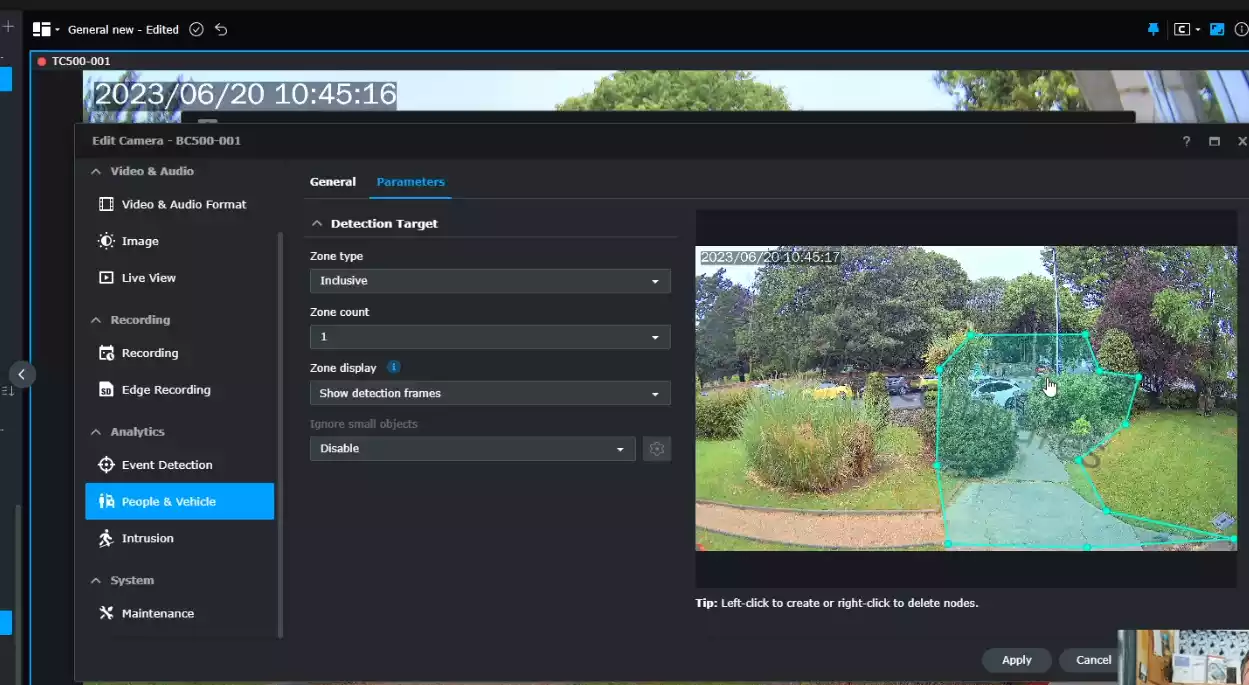 Intrusion Detection – The TC500 camera takes intrusion detection a notch higher with its advanced features. Users can draw lines on the feed that can have multiple bend or break points, marking out specific areas as off-limits. This allows the system to monitor if people or vehicles cross into these forbidden zones. Thanks to edge AI recognition, you can customize this feature to fit your needs—for example, allowing an area to be entered by people but not vehicles or vice versa. This level of customization helps create 'no go' zones at specific times, further enhancing the security of your premises.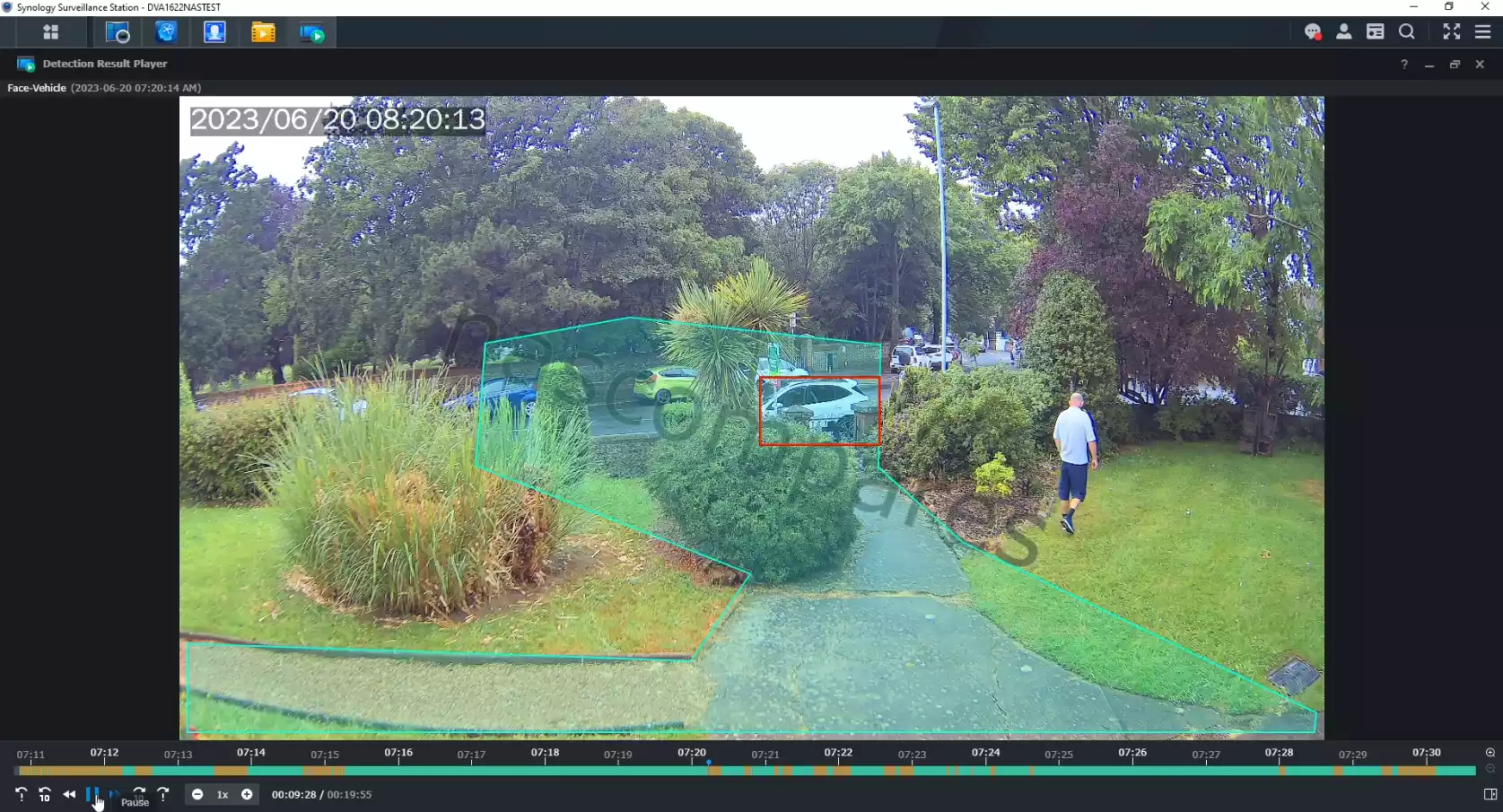 Crowd Detection – The TC500 camera's recognition capabilities extend beyond just humans and vehicles. It also offers nuanced crowd detection. For instance, the system could be programmed to ignore one or two people in a predefined area. However, if that number increases to five or six, it could trigger an alert. This crowd-detection feature enables you to set thresholds for alerts based on the number of people in a particular area, ensuring you're notified only when necessary.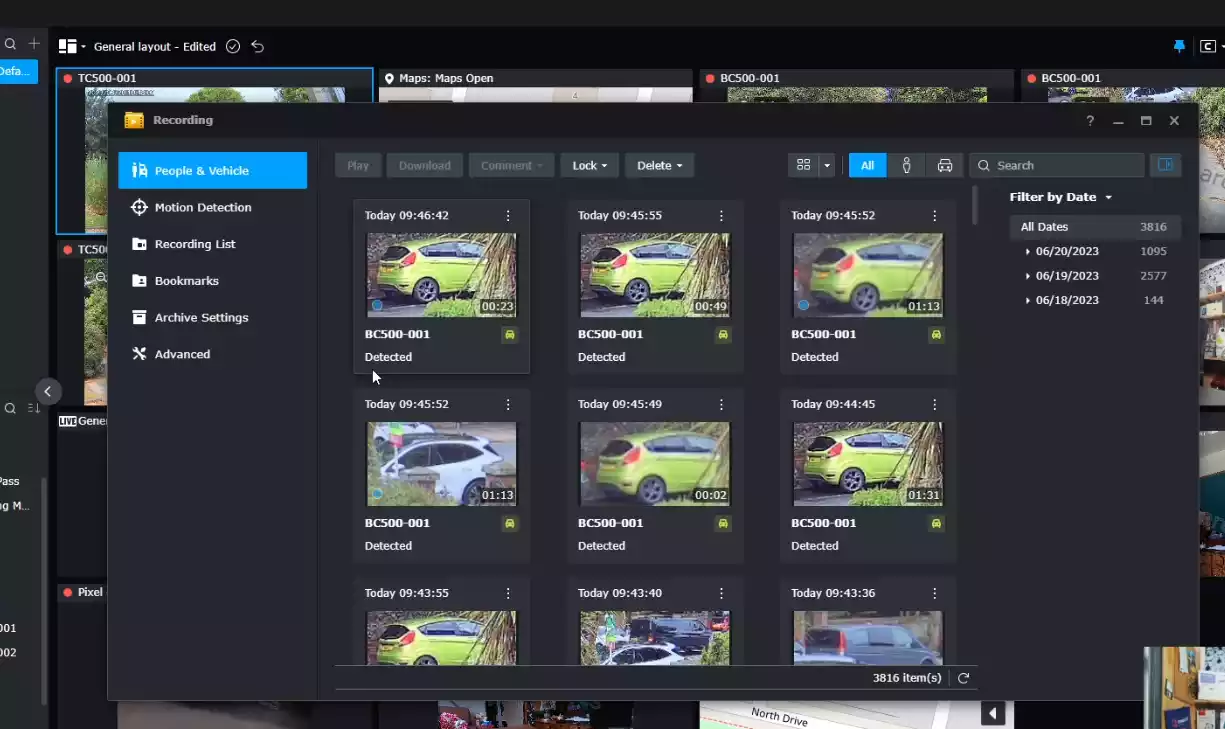 Loitering Detection – Similar to crowd detection, loitering detection is another impressive feature of the TC500 camera. This function enables the camera to alert you when an individual or vehicle remains within a predefined area for an unusually long period. People just passing by won't trigger an alert, but if they loiter around for a while, the system will notify you. This helps you keep an eye on any potential suspicious activity around your premises.
This slideshow requires JavaScript.
Smart Search – This feature significantly enhances the surveillance process by allowing you to focus on a specific area within recorded feeds. For instance, you can set the system to alert you of any movement, person, or vehicle in a predetermined spot, such as a door, desk, or window. By combining Smart Search with Smart Time Lapse, you can sift through weeks of recordings in a fraction of the time, automatically identifying any noteworthy events in a particular spot. It allows you to retroactively apply advanced surveillance parameters, even if they weren't set up at the time of recording.
This slideshow requires JavaScript.
While the TC500 camera is impressive, it's important to note that it does not support database storage. It cannot store a reference of specific people or faces and vehicle registrations for future comparison when they appear in the feed, allowing alerts to be scaled accordingly. To access this kind of functionality, a DVA system such as the Synology DVA1622 2-Bay or DVA3221 4 Bay is necessary. Similarly, the TC500 camera cannot keep track of the number of people or objects crossing the set intrusion lines, making it impossible to maintain an accurate count—for instance, knowing who is in or out during a fire alarm. Thus, while the TC500 camera provides a range of advanced features, it has its limitations.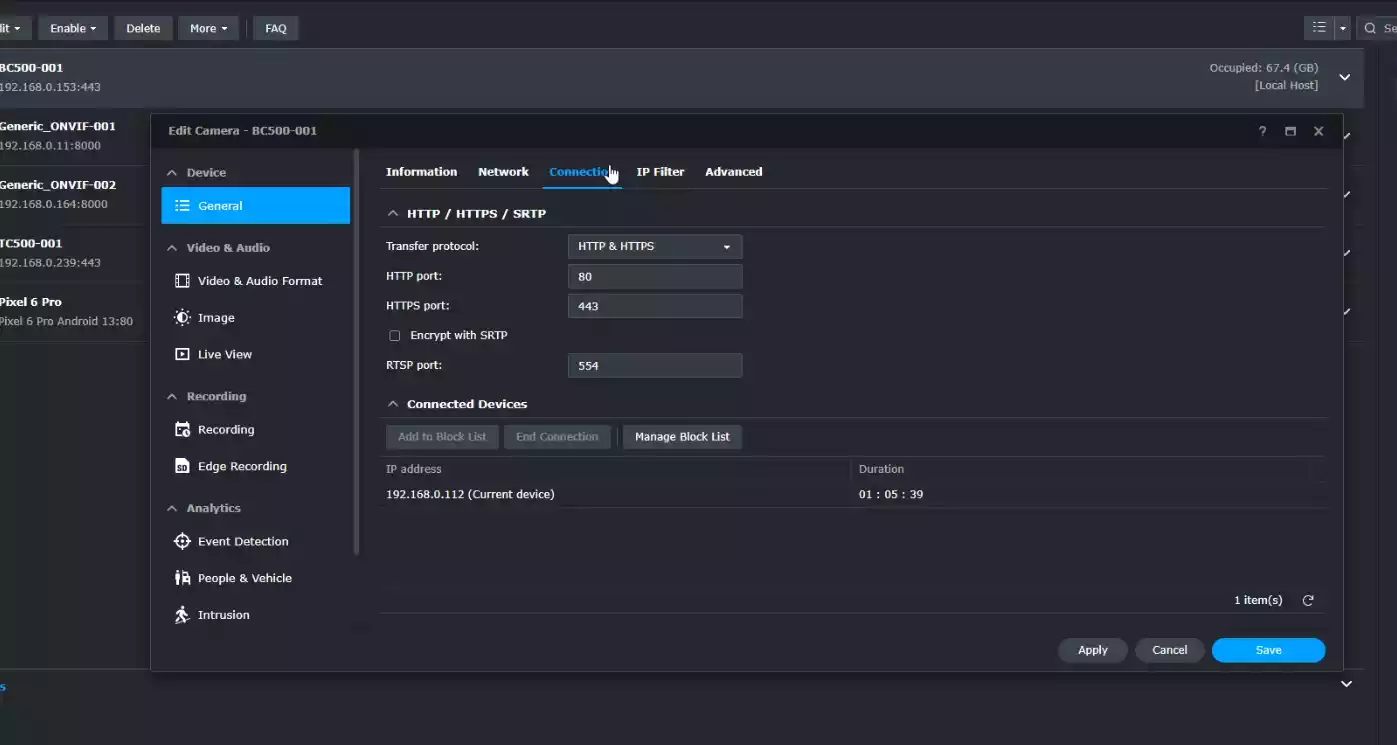 Recordings are sent via HTTPS/SRTP encryption to the NAS, are encrypted when recorded to the local memory card, and remain encrypted when backed up on the Surveillance C2 cloud service. Furthermore, the Synology BC500 camera is NDAA and TAA compliant, which gives it a distinct edge over lower-priced Chinese cameras. In conclusion, while the TC500 Camera does not match up to more expensive Deep Video Analysis systems like the DVA162/DVA3221, its exclusive features and exemption from surveillance licenses make it a compelling choice.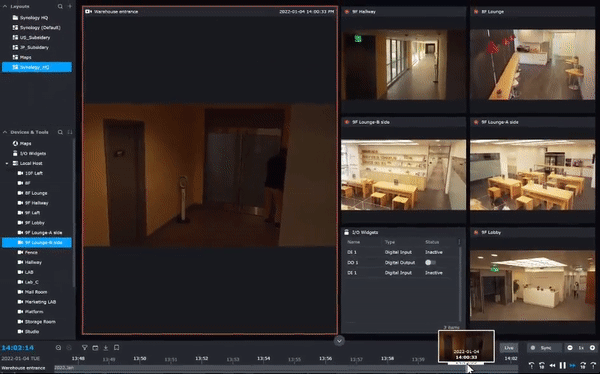 All these edge AI recognition services sound good, but what about the Synology DVA series of Surveillance NAS? Don't those have AI services? What can the more expensive Synology DVA1622 and DVA3221 do the BC500 and TC500 Cameras cannot?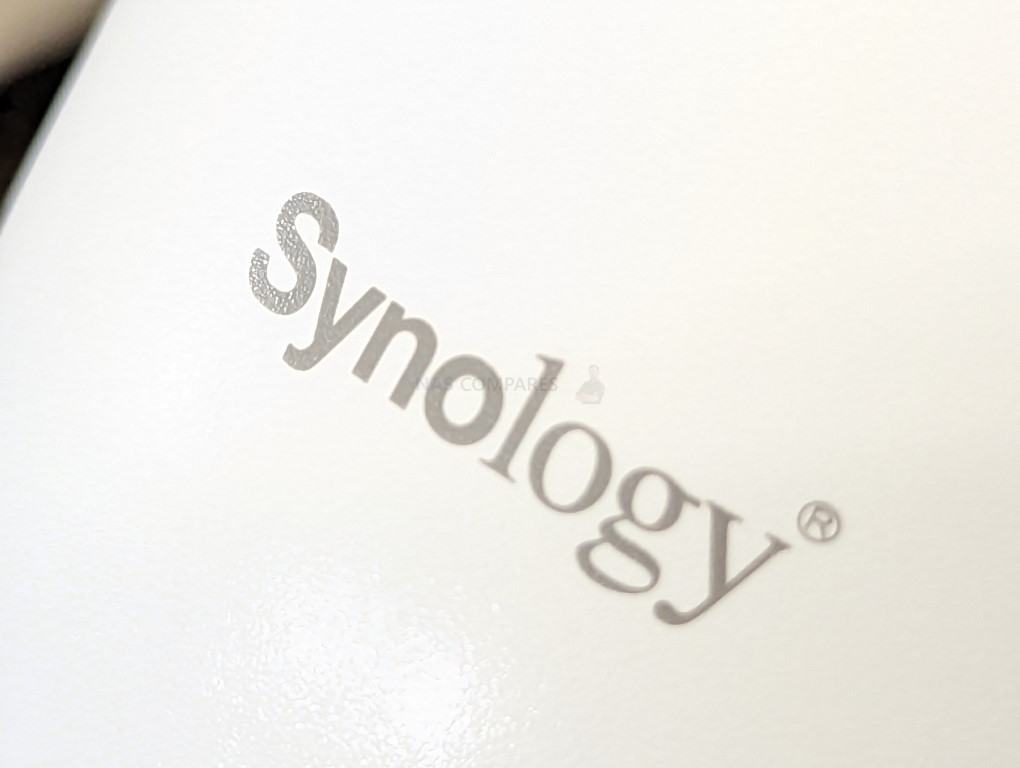 Which AI Services Are Included with the Synology TC500 and BC500 Cameras (and which ones are not)?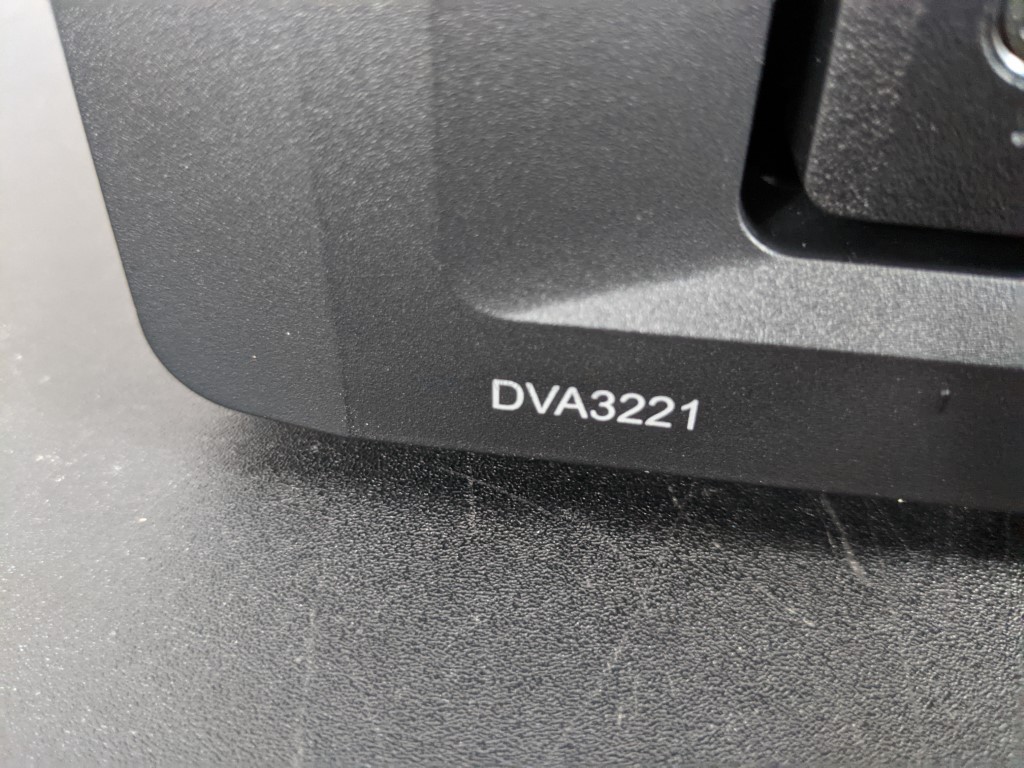 Now, despite the Synology TC500 and BC500 Surveillance Cameras arriving with onboard hardware for AI-powered recognition tasks, it is worth highlighting that using them is NOT the same as using the Deep Video Analysis (DVA) series of NAS servers in Synology's portfolio. These operations are managed from inside the camera and the alerts are handled and actioned by the NAS after the camera sends the appropriate alert – and these cameras so NOT have the same level of hardware as the DVA1622 and DVA3221 inside each of them! Additionally, whereas the DVA series manages multiple tasks internally from multiple cameras, only using the camera hardware as a life 'feed', these cameras cannot run deeper AI tasks that involve counting, internal database management and keeping records of AI referral data internally – they do not have the storage or processing power for that. So more complex people counting and specific facial recognition will not be immediately available to your PLUS series Diskstation, just because you are using the TC500 and/or BC500. Here is a breakdown of the services available to users with either Synology Cameras or a Synology DVA NAS:
| | | | |
| --- | --- | --- | --- |
| AI Service | Case Use | TC500 & BC500 | DVA1622 & DVA3221 |
| People / Vehicle/Loitering Detection | Reduce false alarm and protect against loitering | YES | YES |
| Crowd Detection | Monitor public safety or quality of service | YES | YES |
| Intrusion Detection | Protect perimeter and restricted area | YES | YES |
| Instant Search | Investigate incidents quickly after they happen | YES | NO |
| People/Vehicle Counting | Calculate occupancy in shops, food courts, or parking lots with aggregated counting of people and vehicles entering and leaving | NO | YES |
| Face Recognition | Automate personnel identification and prevent unauthorized access | NO | YES |
| License Plate Recognition | Identify license plates and set up triggers based on configurable allow or block lists | NO | YES |
If you are unaware of the Synology Deep Video Analysis NAS system, you can find out more about it in the video reviews of the hardware and software below from our YouTube channel:
Synology TC500 Camera Review – Conclusion & Verdict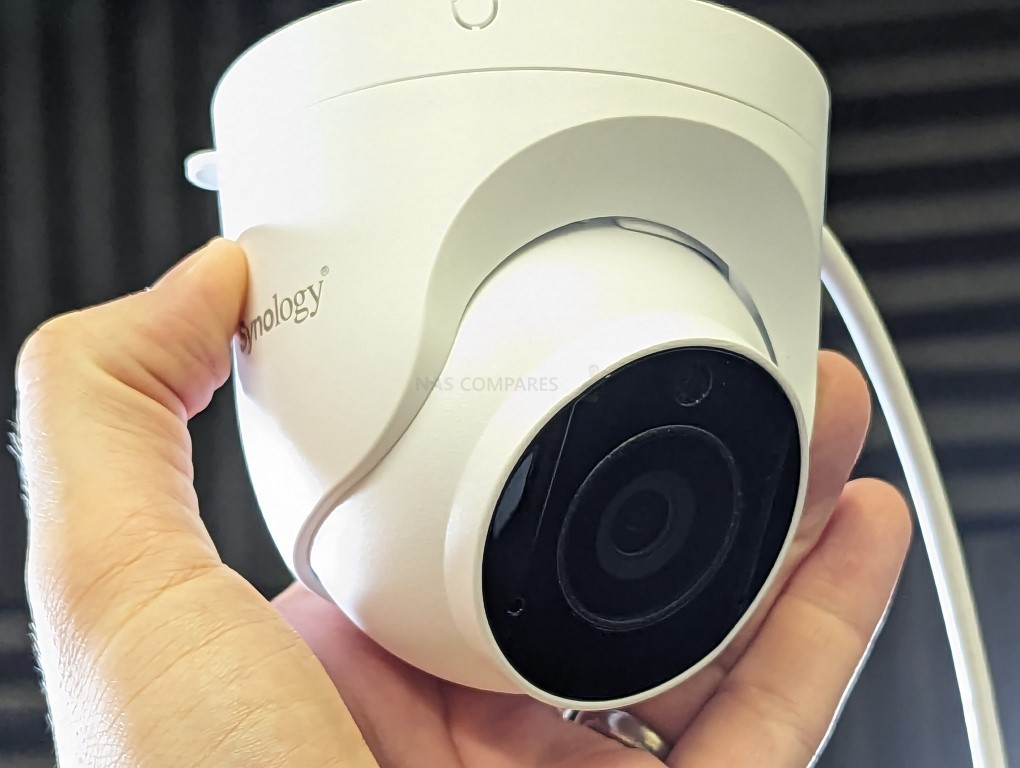 With the rise of edge-based AI recognition, surveillance technology has taken a new turn. Cameras like the Synology TC500, a Turret style camera, embody this advancement beautifully, designed meticulously to sift out unnecessary alerts from your surveillance feeds, enhancing your operational efficiency and managing your time optimally. This particular aspect of the TC500 makes it an essential tool in an era where time is the most coveted asset. Now, I am aware that Synology has placed a higher price tag on their products, but let me provide you with a perspective on this. Synology's dedication to creating superior software and its steadfast commitment to cybersecurity has made its products TAA and NDAA-compliant. This compliance could potentially outweigh the cost factor for many users who are looking for a safe and secure surveillance solution.
Comparing the TC500 to some more economically priced models in the market, there might be a perceived gap in terms of hardware such as resolution and sensor quality. However, Synology's cameras are not just about hardware; they deliver on robust functionality and reliable performance that others might struggle to match.It is quite apparent that Synology's cameras, especially the TC500, are primarily aimed at business-class users. These cameras are incredibly valuable for large-scale surveillance systems deployment and utilize edge AI recognition, making them a sensible choice for businesses. However, for home users, who could potentially find comparable hardware for a lesser cost, the appeal might be somewhat limited. This is especially true considering Synology's current limited model range and the pronounced emphasis on high-level security features that may be more relevant to business scenarios than residential ones. Synology's TC500 offers tangible benefits for businesses of all sizes. Its features and functionalities can streamline surveillance operations, making them more effective and less time-consuming. However, home users might want to exercise a bit of patience. With Synology's track record of slowly but surely adapting to expanding tiers of their portfolio, it's not unreasonable to expect an expansion of their range that is a little more home-user rich (perhaps a J/Value series), tailored more towards the modest market. Until then, the TC500 stands as a solid, reliable option for those seeking a sophisticated, business-grade surveillance solution.
Synology TC500 PROS
Synology TC500 CONS

Unparalleled Synology Surveillance Station Integration

Also, Surveillance station is 10/10 on its own

NDAA/TAA Compliant, unlike many budget alternatives (HTTPS/SRTP Support Recording Options)

Edge Recording Object Recognition is incredibly useful

Person/Car Loitering and Crowd gathering monitoring does not get enough credit for how useful it is!

No Additional Camera License Requirements

Sturdy and Solid Build Quality

EXCEPTIONALLY FAST and EASY first-time setup

Sub 5W use over PoE typically

3 Year Hardware Warranty and Effective Lifetime Software Warranty

Edge Recording and C2 Surveillance Cloud Recording Support

Smart Search is a gamechanger for precise retroactive searching

Intrusion Mapping is intuitive and very customizable in it's design

Noise Detection (custom threshold) is exceptionally useful and often overlooked

More than double the cost of 3rd party similar cameras

Good, but not top-tier night vision

Only 2 Models in the Synology Camera range limit the scope of deployment

Can only be used with Synology NAS Systems

No PoE Mains power Injector or SD Card included, which at this price seems poor

Somewhat cancelled out by the Synology DVA1622 with Deep Video Analysis at $599
Need More Help Choosing the Right NAS?
Choosing the right data storage solution for your needs can be very intimidating and it's never too late to ask for help. With options ranging from NAS to DAS, Thunderbolt to SAS and connecting everything up so you can access all your lovely data at the touch of a button can be a lot simpler than you think. If you want some tips, guidance or help with everything from compatibility to suitability of a solution for you, why not drop me a message below and I will get back to you as soon as possible with what you should go for, its suitability and the best place to get it. This service is designed without profit in mind and in order to help you with your data storage needs, so I will try to answer your questions as soon as possible.
📧 LET ME KNOW ABOUT NEW POSTS 🔔
Join 1,750 other subscribers

Get an alert every time something gets added to this specific article!



This description contains links to Amazon. These links will take you to some of the products mentioned in today's content. As an Amazon Associate, I earn from qualifying purchases. Visit the NASCompares Deal Finder to find the best place to buy this device in your region, based on Service, Support and Reputation - Just Search for your NAS Drive in the Box Below
Need Advice on Data Storage from an Expert?
Finally, for free advice about your setup, just leave a message in the comments below here at NASCompares.com and we will get back to you.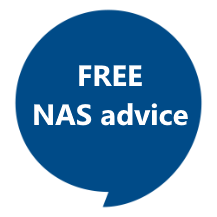 Need Help? Where possible (and where appropriate) please provide as much information about your requirements, as then I can arrange the best answer and solution to your needs. Do not worry about your e-mail address being required, it will NOT be used in a mailing list and will NOT be used in any way other than to respond to your enquiry.
TRY CHAT
Terms and Conditions
If you like this service, please consider supporting us. We use affiliate links on the blog allowing NAScompares information and advice service to be free of charge to you.Anything you purchase on the day you click on our links will generate a small commission which isused to run the website. Here is a link for
Amazon
and
B&H
.You can also get me a ☕
Ko-fi
or old school
Paypal
. Thanks!To find out more about how to support this advice service check
HERE
If you need to fix or configure a NAS, check
Fiver
Have you thought about helping others with your knowledge?
Find Instructions Here

ASK NASCompares forum, by clicking the button below. This is a community hub that serves as a place that I can answer your question, chew the fat, share new release information and even get corrections posted. I will always get around to answering ALL queries, but as a one-man operation, I cannot promise speed! So by sharing your query in the ASK NASCompares section below, you can get a better range of solutions and suggestions, alongside my own.