The Best SIM/LTE Routers of 2023/2024 So Far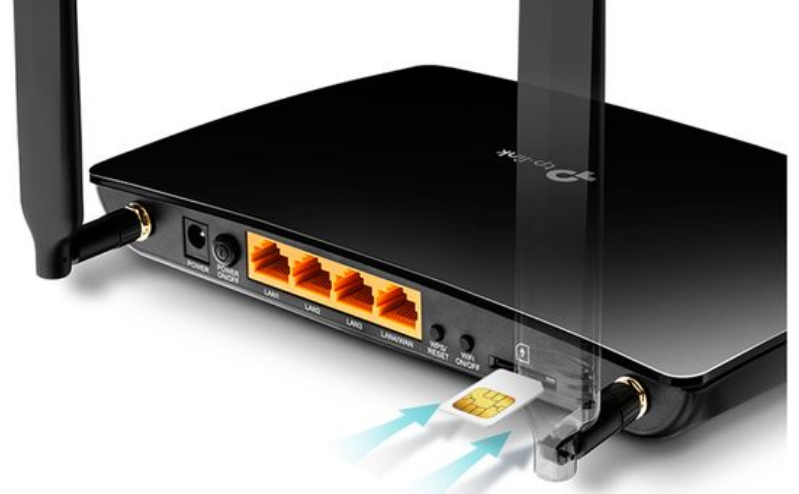 With the rapid development of portable routers and the increase in cellular data internet speeds, many are wondering whether it's finally time to cut the cord on wired internet in their homes and businesses. Not long ago, a SIM/LTE router was slightly larger than a phone and only marginally better than using your mobile device as a hotspot. Fast forward to now, and SIM card routers are not only comparable to static wired desktop routers at home but also to enterprise-grade business routers that support multiple incoming internet connections (both cellular and wired). This, combined with the evolution of modern roaming data connections and the increasing global coverage of 5G, makes SIM/LTE routers an attractive primary internet source, rather than just a backup option. In this article, I'll discuss the best SIM/LTE routers available in 2023 and 2024. A quick glance at your local eShop reveals thousands of options. It's easy to end up with an inferior product or one that's cheap but lacking in features.
How Were the Best SIM Routers Chosen?
That's a valid question. With countless SIM routers on the market and varying user requirements, I've categorized the numerous SIM router options into five groups. Additionally, I've set some non-negotiable criteria:
Dealbreakers:

5G SIM/LTE Support (with plenty of 4G options already available): Due to the global shift from 4G to 5G and the cost of 5G matching 4G's, any considered SIM router must support 5G. This might slightly raise the price, but the performance boost and the ubiquity of 5G in recent consumer mobile devices justify it.
Unlocked: Some SIM/LTE devices restrict mobile cellular providers. Any router on this list is unlocked, meaning it accepts any SIM card from any provider. However, users are still subject to the provider's regional coverage.
WiFi 6 Minimum: Many modern devices now support WiFi 6 (802.11aX), a high-bandwidth wireless connection that can, in the right setup, exceed wired gigabit speeds. I won't consider any SIM/LTE router without WiFi 6 support.
Not Tied to a Phone/SIM Plan: I won't consider any router available only through a mobile phone plan. While some providers offer data-only SIM cards with a router instead of a mobile phone, such arrangements usually involve binding contracts.
Minimum Security/Router and Management: Given that SIM/LTE routers now rival domestic wired routers, any considered SIM router must meet standard network security and management protocols, including multiple SSIDs, application-level firewall, NAT/NAPT firewall, LAN/MAC filtering, DoS attack detection, IP filtering, WPA2 and WPA3, URL filtering, and Web/App GUI. Features like parental control and VLAN creation are desirable but not essential.
5G vs. 5GHz – Don't Get Tricked!
It's vital to differentiate between 5G and 5GHz. They're distinct, with 5G referring to the cellular data network from providers like EE, AT&T, and Verizon, and 5GHz being a frequency associated with device-router connections. Some brands misleadingly label their products as 5G SIM routers when they're 4G SIM routers supporting 5GHz bandwidth. Don't be fooled by a "5G SIM router" priced at just $40. You might end up with a subpar SIM router mispresented as something superior. Expample below: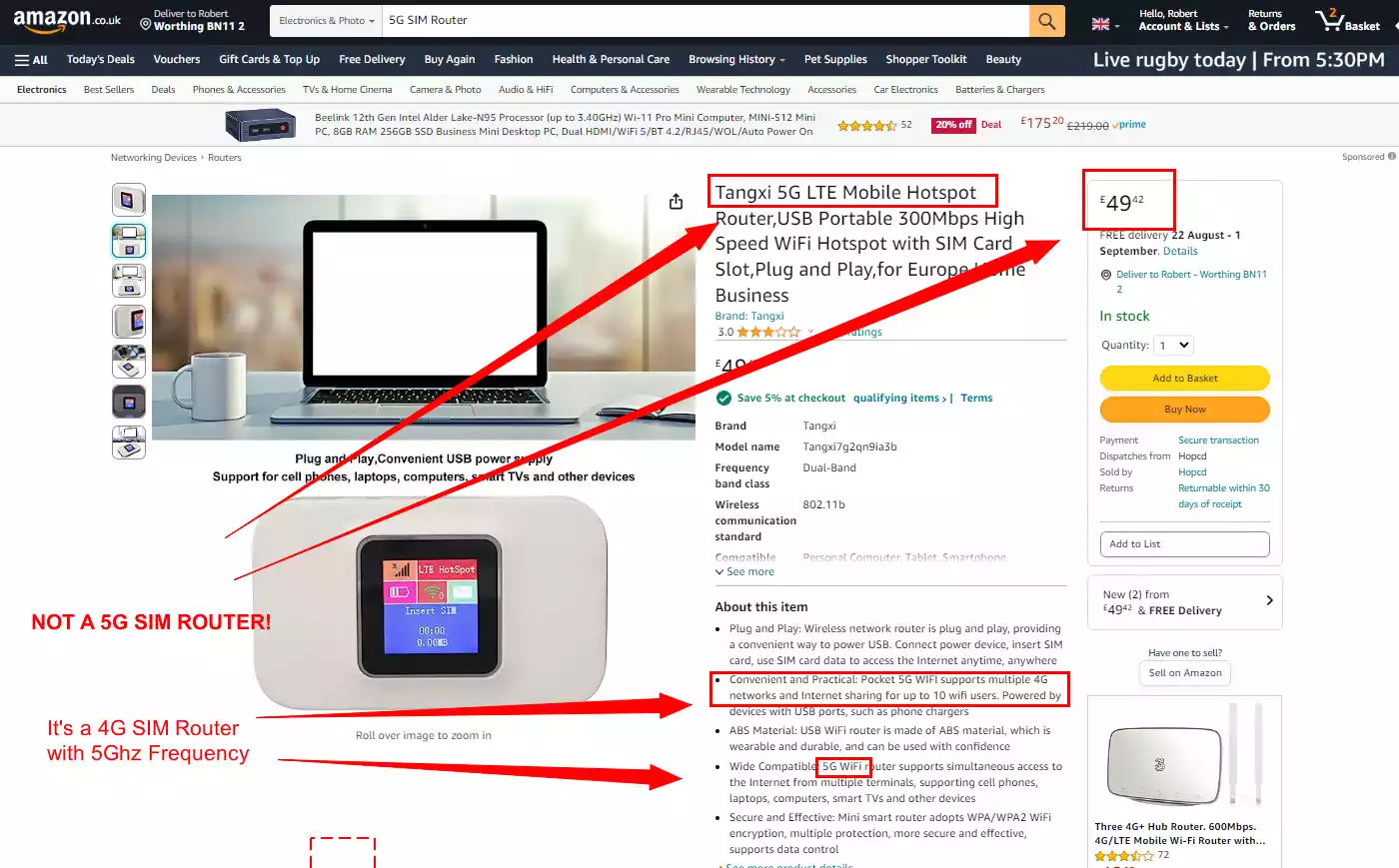 With the criteria set, let's proceed.
---
Most Affordable Home (but has almost everything) ZTE 5G CPE MC888 –

£249
Now, it's probably worth mentioning upfront that you're not going to find many routers here for less than $250 across the entire list. Although there are plenty of SIM routers in the market, with many of them priced as low as $25 to $50, many of these lack even the most basic features of a domestic wired router (let alone being comparable to that of a free ISP router these days). If you're looking to establish a 5G SIM internet connection at home and enjoy the same flexibility, performance, and multi-device support that you've become accustomed to with a wired broadband connection, you will unfortunately need to spend a bit more. 5G Wi-Fi 6 SIM-enabled routers that also support physical wired client devices in your home or office typically have a higher price tag. That said, the ZTE CPE MC88 is one of the best value home SIM routers on the market. It supports all of our deal-breaker factors and even boasts very user-friendly software and a GUI, so there's a lot to like.
Moreover, the system comes with two gigabit Ethernet ports that can be used as individual network LAN connections or to add a secondary wired internet connection as a WAN. Additionally, this device supports up to 64 simultaneous network-connected devices. In contrast, most budget SIM wireless routers may support only up to 8 devices on a good day. This is a mains-powered router, so it's not a portable option and won't be powered via USB-C. However, it is a fully featured and well-structured router for the home that's comparable to most domestic wired internet routers. Indeed, you'll find the ZTE router being used by many cellular phone providers who offer data-only SIM cards with mobile routers in their contracts, simply rebranding it with their own cellular brand name. Thankfully, instead of committing to a lengthy 12 to 24-month contract, you can purchase a $20 unlimited data SIM and pick this up for just a little over $250. It may not be the most impressive router on this list, but it's definitely the best home entry point for those wanting to move away from wired broadband for whatever reason.
WiFi 6

2x 1GbE LAN/WAN

3.6Gb / AX3600

64 Devices

Mains Power

---
Best Portable 5G SIM Router, The D-Link DWR-2101 –

£364.99
We reviewed the D-Link DWR-2101 Router HERE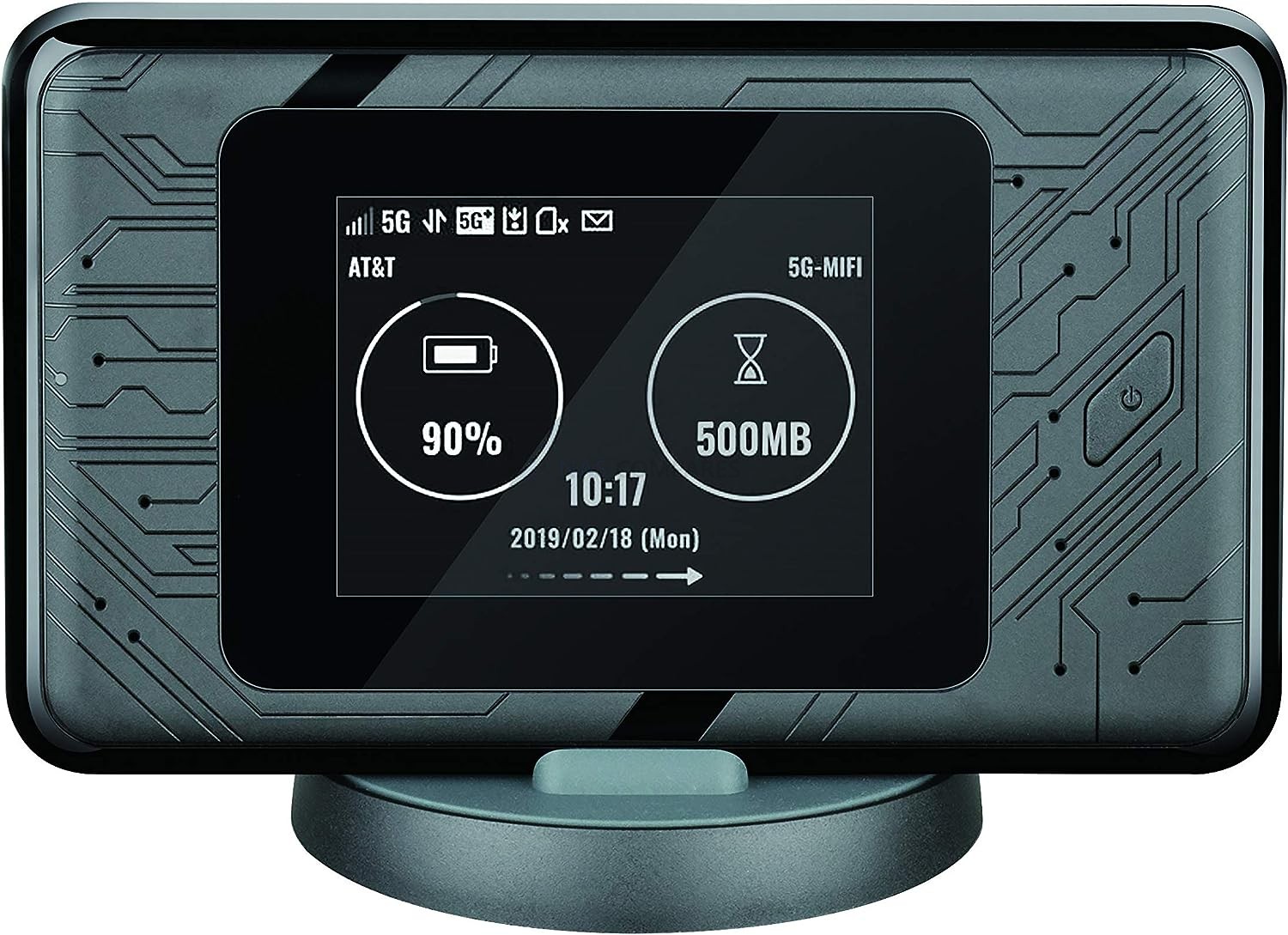 We reviewed the D-Link DWR2101 almost 2 years ago here on NAS Compares, and despite many other 5G SIM routers arriving in the market space, this router still continues to be, by far, the best portable 5G SIM router I have ever used! If you saw me or Ed at a trade show or brand event, there's a better than average chance that this router was safely tucked at the bottom of our bag, doing its job. Its price is around 100 quid more than the home ZTE model. It even comes with a physical gigabit ethernet connection, so alongside the 1.8 gigabit network connectivity, you can also physically attach a one-gig device to the router. Given that the D-Link DWR2101 was released 2.5 years ago, it is astonishingly well-featured. It is a portable router that, in addition to supporting a 5G SIM card, offers Wi-Fi 6 connectivity and can support up to 32 devices. It achieves all this on a battery that can last up to 14 hours!
Sure, you can connect a USB-C charger and power this device from a plug point or even an available USB on your laptop or power bank. However, it's the fact that the D-Link router provides such impressive network coverage for its size, remains portable, and even has a user-friendly LCD that lets you configure the device on the go. It also supports creating secondary SSID network connections and can be configured both via the onboard LCD and remotely on your desktop through a browser. It's an exceptionally impressive mobile 5G router, and while it might not be the cheapest, it remains one of the best for its price.
WiFi 6

1GbE LAN

1.8Gb / AX1800

32 Devices

LCD and Touch Screen

14hr Battery Life
On a side note, if you're looking for a mobile SIM router with specs similar to the D-Link DWR2101 but don't need a physical ethernet connection, there's an alternative in the ZTE MU5120. I haven't personally used this router, but there are quite a lot of positive reviews online, so it might be worth checking out:
(Alternative with no app/desktop GUI AND NO LAN) ZTE MU5120 https://amzn.to/3qmkXvn

---
Most Feature Rich 5G SIM Router, The GL.iNet GL-X3000 (Spitz AX) – £489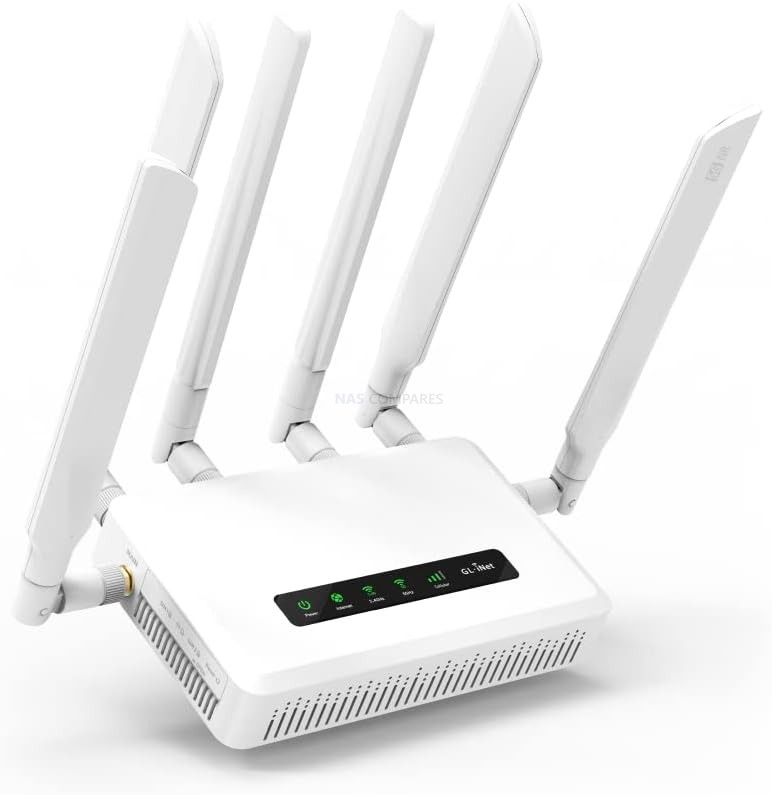 I really cannot stress enough how much GL.iNet has managed to squeeze into an ostensibly compact 5G SIM router here! On both a hardware and software level, this might be one of the most impressive feats of network engineering I've seen in a very long time. Very bold words, I know, but the GL-X3000 offers every single feature of a premium wired router, then doubles down on every appealing feature of SIM routers, and manages to produce the best hybrid solution for both endeavors I've witnessed in ages. With the exception of a lack of internal battery and just two physical ethernet connections, in every other regard, this is the dream SIM LTE router. 5G cellular support? Check. Wi-Fi 6? Check. 2.5G network connection? Check. Dual-SIM support? Check. Balanced but capable software? Check. USB port? Check. It boasts all the baseline hardware features of practically every other router on this list, but it doesn't stop there.
Alongside the USB support for storage, the GL-X3000 comes with 8GB of internal storage and the support of an SD card storage upgrade slot! This storage can be utilized for internal applications that are installed via OpenWRT, or just for making the storage network and remote accessible. This USB port can also be employed for attaching a wireless network dongle, network adapter for adding more physical network ports, and even connecting an existing mobile phone for another cellular data link. This, combined with the physical WAN support, means that the system effectively boasts a four-tier internet failover system. Additionally, it supports VPN/encrypted connections, with native support for several VPNs internally and a physical VPN button on the device itself to activate the router's VPN exit node exceedingly easily and quickly when required. Finally, in terms of physical coverage, there are six individual external antennas that it features, four of which are for cellular coverage and two for local Wi-Fi 6 dual-band coverage. This, coupled with the comprehensive software managed via the web browser and through a mobile app, results in the GL-X3000 being one of the very best SIM routers I have ever seen!
WiFi 6

1x 2.5G and 1x 1GbE LAN/WAN

OpenVPN, WireGuard, and AdGuard Pre-installed + physical switch

4 x Cellular Antennas (SMA, 600M6GHz) 2 x Wi-Fi Antennas (RP-SMA, 2.4G2.5GHz, 5.15~5.84GHz)

3Gb / AX3000

64 Devices

USB Storage Share

SD Card Slot

8GB Internal Storage

Mains Power

4 Way Failover (SIM/LAN/USB Dongle/Repeat)

---
The Most User Friendly (but Expensive!) The NETGEAR Nighthawk M6 (MR6550) –

$999
If you've been examining SIM routers over the past few years, one prominent brand in the network hardware industry that has carved a niche within the tech-savvy community is Netgear. With a significant pedigree in the realm of routers and switches, Netgear has been curiously subdued in the domain of 5G cellular SIM routers. It has primarily launched just a single product series that gets updated every few years to accommodate the evolving network hardware landscape. This is, of course, the Netgear Nighthawk M (for 'mobile') series of SIM routers. Originally available exclusively through phone company contracts, these routers can now be procured from most leading e-shops. However, akin to purchasing an iPhone or a Google Pixel phone without a contract, the pricing of these devices seems steep. This is because the price point must appeal to those committing to 18 and 24-month phone carrier plans. Even though the Netgear M6 Pro boasts a compact design, sleek production, and user-friendly architecture, its almost $1,000 price tag is quite daunting. Personally, I'm hesitant to assert that this router justifies such a hefty price. Nonetheless, it remains an exceptional piece of hardware. For prospective SIM router buyers seeking a user-friendly and guided experience, it certainly overshadows its rivals.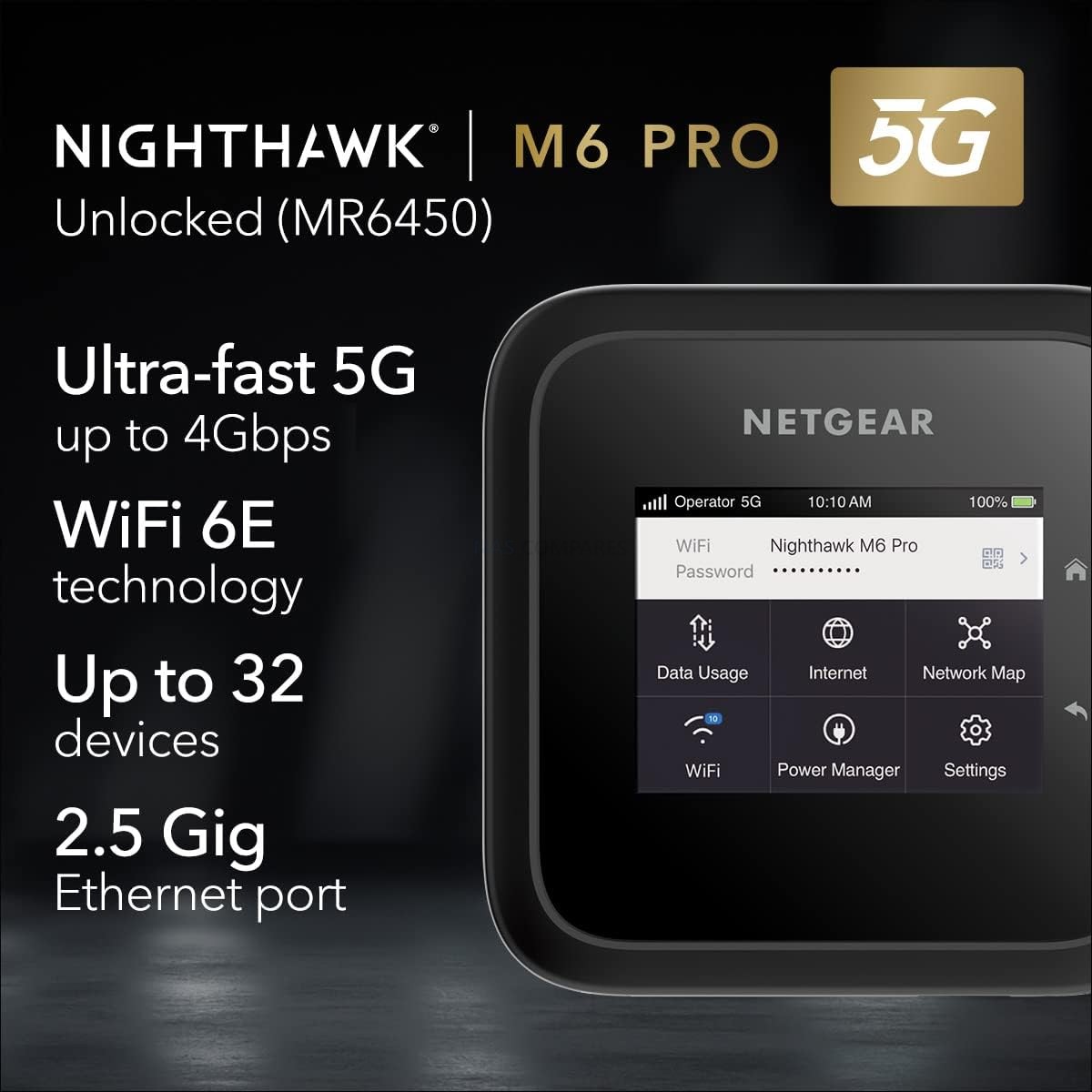 On the surface, it's puzzling why this router garners such acclaim, especially when, at first glance, it closely resembles routers priced at a fraction of its cost. So, what distinguishes it? For starters, instead of employing Wi-Fi 6, this router supports Wi-Fi 6E. Although Wi-Fi 6E doesn't offer speeds superior to Wi-Fi 6, it provides access to the six-gigahertz frequency. This enables more active client hardware to maintain 160-megahertz connections to the router, allowing more devices to relish a 1.2 Gigabit wireless connection concurrently. Additionally, beyond the anticipated 5G SIM support, the router features a physical 2.5GbE network port. Thus, a physically connected client device can relish a network bandwidth that's over double the speed of most other routers on this list. Furthermore, it boasts a 16-hour battery life, which surpasses many of its peers. The device also comes equipped with a responsive LCD touchscreen that offers a remarkable depth of information and control. While there is mobile app control available, having direct physical access to the device's features is a distinct advantage. The primary attribute that elevates it above many other routers is its user-centric design: it's highly intuitive and user-friendly, while still being potent and compact. In fact, it's the most compact router among those listed, approximately 30% lighter than the aforementioned D-Link model, and boasts a longer battery life and is about 25% smaller. This, coupled with its user-friendly software, makes it one of the most consumer-friendly 5G SIM routers available.
WiFi 6E

2.5GbE LAN

3.6Gb / AX3600

32 Devices

LCD and Touchscreen

16hr Battery

---
Best Static Office Router, The Zyxel NR5101 WiFi6 5G – £319
The Zyxel NR5101 router is priced around 100 quid more than the ZTE home router I mentioned earlier. However, it's more business-focused and offers additional layers of functionality that cater to small office spaces, startups, and those looking to swiftly set up an office with a few users. Such users will find a solid internet solution at their disposal. With six internal antennas, two physical ethernet ports, and an impressive 4.2Gb of wireless bandwidth spread over Wi-Fi 6, this router not only has the potential to distribute your 5G internet effectively but also provides ample local network bandwidth for connected devices to utilize. Additionally, it features a high-capacity supporting USB port. This allows users to connect a standard USB drive to share its contents with others or even designate it as a backup target for all connected devices as their workload expands. Speaking of increased workload, another reason I recommend this device as a business sim card router is its ability to handle up to 64 devices simultaneously. While it's unlikely that a single 5G SIM card will provide adequate internet for all those devices, managing over 4 gigabits of wireless traffic and 2 gigabits of wired traffic across them is highly attractive.
This slideshow requires JavaScript.
Similar to the ZTE home router I referenced earlier, the Zyxel NR5101 is among the few routers that mobile cellular phone carriers have rebranded for inclusion in rather pricey contracts. In fact, if you enter into a mobile router data sim contract with brands like EE or Three, you'll end up paying more than double for this device, excluding the data plan. Given this backdrop, purchasing this business router for just a bit over 350 quid is a remarkable bargain. Pair it with even a basic $15 network switch, and you've got an exceptionally functional network and internet setup weighing less than a kilo. While it's portable and requires mains power, it remains an excellent alternative to contract-bound wired broadband in rented office spaces.
Also known as the EE SIM Router Plan here – https://broadbandsavvy.com/ee-5g-broadband-review/
WiFi 6

2x 1GbE LAN/WAN

Two external antenna connectors (custom/optional)

6 Internal embedded omni-directional antennas

4.2Gb / AX4200

64 Devices

USB Storage Share

Mains Power

---
---
Very Good 5G SIM LTE Routers – Honourable Mentions
It's worth mentioning a couple of SIM/LTE routers that almost meet the requirements. In the past two years, these devices have outperformed many others:
GL.iNet XE3000 5G WiFi 6 SIM LTE Router (Pre-Order)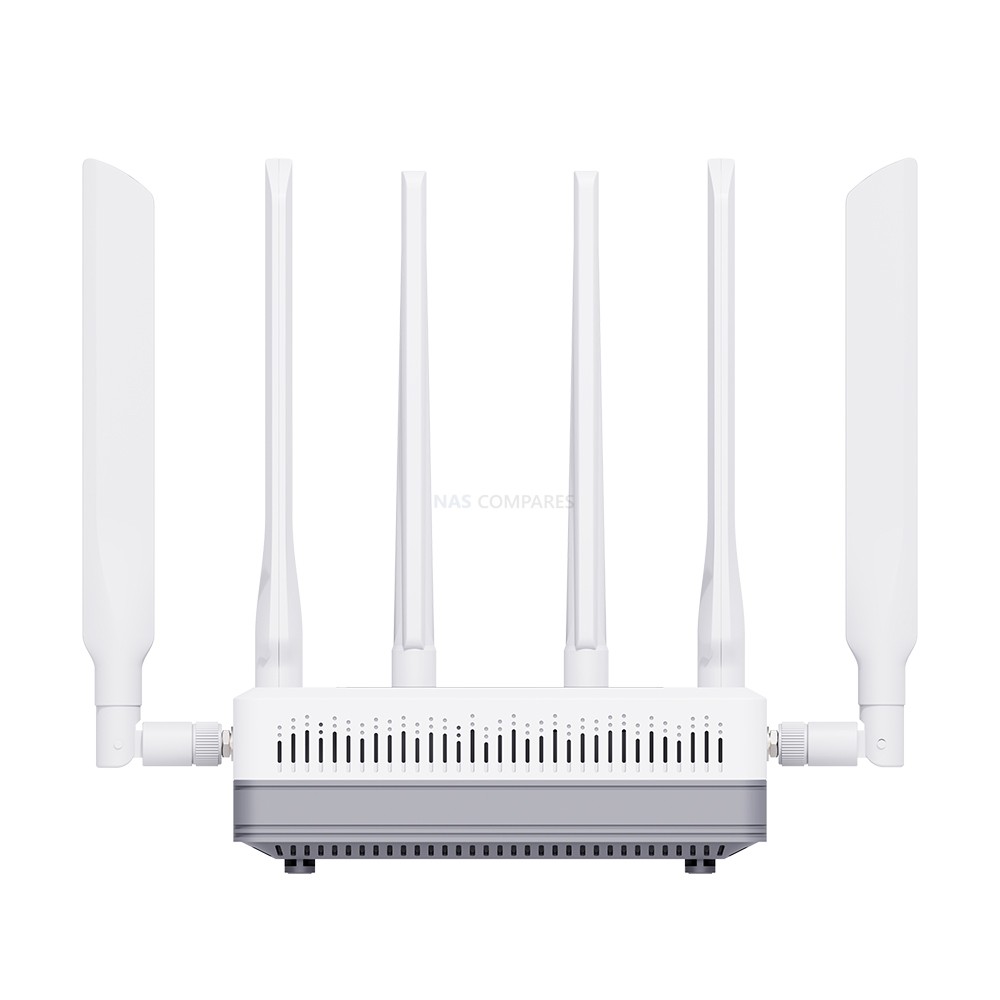 If you were to metaphorically put a gun to my head (which would be odd) and ask me right this second, "What's the best SIM router available?" I would almost certainly point to the XE3000 from GLI net. However, there's a catch: it's not actually available for purchase yet. Its production has been delayed for the past 6 months or so. Consequently, even though I'd argue it stands out as the best SIM router in terms of both hardware capability and software, I can't include it in this list at the time of writing since it's not up for sale. Given its ongoing delays, there are doubts about its eventual full release. Nonetheless, if you're reading this, consider taking a moment to check if the XE3000 router has been launched and is available for purchase. It truly ranks among the most impressive routers I've ever encountered, even without 5G support included. It caters to everything a home, business, student, or mobile user could possibly require.
Price: $428 (early) $556 Features: 2x 5G SIM, WiFi 6, Battery 6400mAh, 2.5G/1G, Dual Band, physical VPN Button, 6 antennas (2 WiFi, 4 Cellular)
We reviewed the GL.iNet Beryl AX3000 (no SIM) router in the video below. This should give you a good idea about the software, failover and VPN switching:
The Teltonika RUTX50 5G SIM LTE Enterprise Router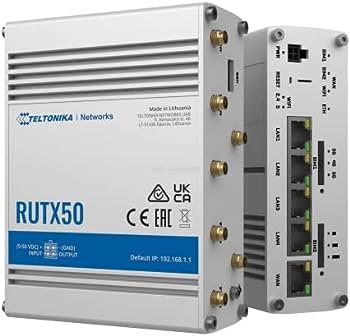 Another honourable mention for the best 5G SIM router is the Teltonika RUTX50. This industrial 5G router, which I reviewed earlier this year on our YouTube channel, is incredibly impressive. It offers a level of technical sophistication and network management that is simply unmatched by most other routers, whether they are SIM-based or not. However, it doesn't make the cut for this article or my top five SIM routers because it lacks support for Wi-Fi 6, a deal breaker, I believe, for most users considering SIM routers for long-term use. Everything else about this router is perfect, with the possible exception of its hefty price tag. There are mixed reports online suggesting that this router supports Wi-Fi 6. However, based on my own tests and review from over six months ago, I can confirm that unless they've released a newer version (since you can't add Wi-Fi 6 support via a firmware update – it's a matter of physical antenna and band design), this device only supports up to Wi-Fi 5.
Price: $428 (early) $556 Features: 2x 5G SIM, WiFi 5, 4x 1G, Dual Band, 6 antennas (2 WiFi, 4 Cellular)
Mixed online reports suggest this router supports Wi-Fi 6. From my testing and a review six months ago, unless a new version includes this (as Wi-Fi 6 can't be added via a firmware update due to hardware limitations), it supports up to Wi-Fi 5 (See Here)
📧 LET ME KNOW ABOUT NEW POSTS 🔔
Join 1,750 other subscribers

Get an alert every time something gets added to this specific article!



This description contains links to Amazon. These links will take you to some of the products mentioned in today's content. As an Amazon Associate, I earn from qualifying purchases. Visit the NASCompares Deal Finder to find the best place to buy this device in your region, based on Service, Support and Reputation - Just Search for your NAS Drive in the Box Below
Need Advice on Data Storage from an Expert?
Finally, for free advice about your setup, just leave a message in the comments below here at NASCompares.com and we will get back to you.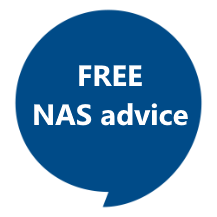 Need Help? Where possible (and where appropriate) please provide as much information about your requirements, as then I can arrange the best answer and solution to your needs. Do not worry about your e-mail address being required, it will NOT be used in a mailing list and will NOT be used in any way other than to respond to your enquiry.
TRY CHAT
Terms and Conditions
If you like this service, please consider supporting us. We use affiliate links on the blog allowing NAScompares information and advice service to be free of charge to you.Anything you purchase on the day you click on our links will generate a small commission which isused to run the website. Here is a link for
Amazon
and
B&H
.You can also get me a ☕
Ko-fi
or old school
Paypal
. Thanks!To find out more about how to support this advice service check
HERE
If you need to fix or configure a NAS, check
Fiver
Have you thought about helping others with your knowledge?
Find Instructions Here

ASK NASCompares forum, by clicking the button below. This is a community hub that serves as a place that I can answer your question, chew the fat, share new release information and even get corrections posted. I will always get around to answering ALL queries, but as a one-man operation, I cannot promise speed! So by sharing your query in the ASK NASCompares section below, you can get a better range of solutions and suggestions, alongside my own.