The Corsair MP700 vs Seagate Firecuda 540 Gen5 SSD – Which Should You Buy?
It has taken some time, but Gen 5 m.2 NVMe SSDs are becoming more available, seeing a decrease in price, and are now being launched by major players in the SSD market. The slow rollout of Gen 5 in the solid-state drive world can be attributed in part to the 2020 pandemic and its subsequent impact on the production of Gen 5. The integration into motherboards and adoption by SSDs transitioning from Gen 4 to Gen 5 has also taken its time. Gen 5 promises enhanced performance capabilities and is accompanied by improved controllers from industry leaders. However, adoption at the motherboard and system levels has lagged slightly. While you can purchase a Gen 5 SSD now, the degree to which you can harness its peak performance consistently is still under discussion. Yet, if you're buying a drive today for use over the next 5 years, it's wise to be forward-thinking and future-proof your choice. As Gen 5 becomes more affordable and advanced, it's poised to surpass and replace Gen 4. Thus, if you're eyeing a high-performance SSD for future use, investing in a Gen 5 SSD now is a long-term strategy. Today, we're evaluating two early Gen 5 SSD releases: the Seagate Firecuda 540 and Corsair MP700. These two SSDs may seem similar at first glance due to Gen 5's nascent stage, but their priorities for a Gen 5 SSD differ. Let's dive into a comparison of these drives.
| | |
| --- | --- |
| | |
| Seagate Firecuda 540 NVMe SSD | Corsair MP700 NVMe SSD |
| Check Amazon | Check Amazon |
Comparing Seagate Firecuda 540 and Corsair MP700 Hardware Specifications
From a consumer standpoint, Gen 5 has been available for just under 2 years, or closer to 18 months when considering when one could actually make a purchase online. In contrast, at the data center and enterprise levels, Gen 5 has been on the scene for nearly 3 years. This timeline has allowed for ongoing research, development, and innovation. As expected in the SSD realm, Phison was among the first to unveil a Gen 5 controller with its E26 controller and followed this with a few alternatives targeting enterprise and efficiency, like the DRAMless E31. Companies like Integrate and Silicon Motion soon joined the fray. This progression led numerous SSD brands to decide early on their Gen 5 SSD direction (and that's without discussing in-house component brands like Samsung and WD). Concurrently, there were strides in storage efficiency and flash technology, resulting in increased layer counts and the possibility of denser storage while still upholding the high Gen 5 performance standards and expectations of durability and endurance. Given that these two Gen 5 SSDs are among the first wave in the market, their performance profiles are quite comparable. However, subtle differences in I/O metrics and durability might make some distinctions more significant than others in their head-to-head comparison. Here's how the Seagate Firecuda 540 and Corsair MP700 stack up at the hardware level:
The competition in the SSD market is fierce, with manufacturers constantly aiming to outperform each other in various specifications. Today, we dive into a comprehensive comparison of the Seagate Firecuda 540 Gen5 SSD and the Corsair MP700 Gen5 SSD. Let's delve into the details. Both SSDs, the Firecuda 540 from Seagate and the MP700 from Corsair, come equipped with PCIe Gen 5×4, powered by the Phison E26 controller, and using 3D TLC Micron B58R NAND Type. They are both built for enthusiasts who require the best speed and reliability. However, there are slight differences in features and performances that might tip the balance for potential buyers. In the current landscape of SSDs, the Seagate Firecuda 540 and Corsair MP700 stand out as noteworthy contenders, each with its unique offerings. While the Firecuda 540 offers a competitive price per TB and an extended data recovery warranty, the Corsair MP700 boasts a higher sequential read speed in the 1TB model and an integrated, fan-assisted heatsink, ideal for those concerned about optimal temperature management. Your choice between these two depends on your specific needs and preferences. Do you prioritize budget or cooling mechanisms? Do you need that extra data recovery assurance, or is a slight edge in performance more crucial for your tasks? Consider these factors, alongside the specifications provided, to make an informed decision that suits your requirements best. No matter the choice, both options represent the cutting-edge in SSD technology, promising users efficient, fast, and reliable storage solutions.
General Specifications
| Specification | Seagate Firecuda 540 | Corsair MP700 |
| --- | --- | --- |
| Manufacturer | Seagate | Corsair |
| Name/Series | Firecuda 540 | MP700 |
| Capacities | 1-2-4TB | 1-2-4TB |
| PCIe Gen | PCIe Gen 5×4 | PCIe Gen 5×4 |
| Controller | Phison E26 | Phison E26 |
| NVMe Rev. | NVMe 2.0 | NVMe 2.0 |
| NAND Type | 3D TLC Micron B58R | 3D TLC Micron B58R |
| NAND Layer | 232L | 232L |
| Inclusive Heatsink? | No (inc Heatshield) | Yes (vented + fan) |
| Price Per TB (2TB) | $148/TB | $289 / $144 per TB |
| DWPD | 0.55DWPD | 0.38DWPD |
| MTBF | 2 Million Hours | 1.6 Million Hours |
| Warranty | 5yrs + 3yrs Data Rec | 5yrs |
1TB Model Specifications
| Specification | Seagate Firecuda 540 | Corsair MP700 |
| --- | --- | --- |
| Model ID | ZP1000GM3A004 | CSSD-F1000GBMP700R2 |
| Price | $189 | $175 |
| Seq Read Speed | 9.5GB/s | 10GB/s |
| Seq Write Speed | 8.5GB/s | 8.5GB/s |
| 4K Random Read IOPS | 1.3 Million | 1.3 Million |
| 4K Random Write IOPS | 1.5 Million | 1.5 Million |
| TBW | 1000TBW | 700TBW |
2TB Model Specifications
| Specification | Seagate Firecuda 540 | Corsair MP700 |
| --- | --- | --- |
| Model ID | ZP2000GM3A004 | CSSD-F2000GBMP700R2 |
| Price | $299 | $289 |
| Seq Read Speed | 10GB/s | 10GB/s |
| Seq Write Speed | 10GB/s | 10GB/s |
| 4K Random Read IOPS | 1.5 Million | 1.5 Million |
| 4K Random Write IOPS | 1.5 Million | 1.7 Million |
| TBW | 2000TBW | 1400TBW |
4TB Model Specifications
| Specification | Seagate Firecuda 540 | Corsair MP700 |
| --- | --- | --- |
| Model ID | N/A | CSSD-F4000GBMP700R2 |
| Price | N/A | TBC |
| Seq Read Speed | N/A | 10GB/s |
| Seq Write Speed | N/A | 10GB/s |
| 4K Random Read IOPS | N/A | 1.5 Million |
| 4K Random Write IOPS | N/A | 1.7 Million |
| TBW | N/A | 3000TBW |
For those unfamiliar with SSD jargon, like DWPD, IOPS, and TBW, please refer to the video below. It will acquaint you with prevalent solid-state drive terms, aiding in grasping the nuanced differences between these two drives.
In today's rapidly advancing SSD market, both the Seagate Firecuda 540 and Corsair MP700 have made considerable strides to establish their dominance, with each showcasing unique features that set them apart.
Performance and Price: The Seagate Firecuda 540 offers an enticing balance between performance and affordability. Its price per TB, especially for the 2TB model, is notably competitive, making it a strong contender for those who are budget-conscious yet unwilling to compromise on speed and efficiency. On the other hand, the Corsair MP700, while priced slightly higher, flaunts a marginally better sequential read speed in its 1TB variant, which may be the deciding factor for users seeking that extra boost in performance.
Cooling and Durability: The Corsair MP700 takes the lead in thermal management with its vented heatsink complemented by a fan, ensuring optimal performance even under heavy workloads. This advanced cooling solution can be particularly crucial for those who run intensive applications or have concerns about the longevity of their drives in warmer environments. Meanwhile, the Seagate Firecuda 540, although devoid of an inclusive heatsink, does come with a heatshield. The additional data recovery warranty offered by Seagate is also a standout feature, offering users peace of mind in the rare event of data loss or drive failure.
Future Considerations: As technology continues to evolve, so will user needs. Those looking to invest in an SSD for long-term use should also consider factors like future software updates, compatibility with evolving hardware, and the brands' reputations for customer support and post-purchase service.
In conclusion, the choice between the Seagate Firecuda 540 and the Corsair MP700 boils down to individual priorities and use cases. While both drives are top-tier in their category, prospective buyers should assess their specific needs—be it price, performance, cooling solutions, or additional warranty features—before making a decision. Both SSDs represent the pinnacle of current SSD technology, and regardless of your choice, you're investing in a device that promises speed, durability, and a significant boost to your computing experience.
| | |
| --- | --- |
| | |
| Seagate Firecuda 540 NVMe SSD | Corsair MP700 NVMe SSD |
| Check Amazon | Check Amazon |
📧 SUBSCRIBE TO OUR NEWSLETTER 🔔
🔒

Join Inner Circle
Get an alert every time something gets added to this specific article!
This description contains links to Amazon. These links will take you to some of the products mentioned in today's content. As an Amazon Associate, I earn from qualifying purchases. Visit the NASCompares Deal Finder to find the best place to buy this device in your region, based on Service, Support and Reputation - Just Search for your NAS Drive in the Box Below
Need Advice on Data Storage from an Expert?
Finally, for free advice about your setup, j
ust leave a message in the comments below here at NASCompares.com and we will get back to you.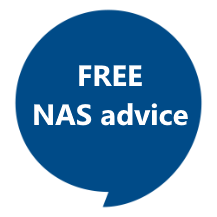 Need Help?
Where possible (and where appropriate) please provide as much information about your requirements, as then I can arrange the best answer and solution to your needs. Do not worry about your e-mail address being required, it will NOT be used in a mailing list and will NOT be used in any way other than to respond to your enquiry.
TRY CHAT
Terms and Conditions
If you like this service, please consider supporting us.
We use affiliate links on the blog allowing NAScompares information and advice service to be free of charge to you.
Anything you purchase on the day you click on our links will generate a small commission which is
used to run the website. Here is a link for
Amazon
and
B&H
.
You can also get me a ☕
Ko-fi
or old school
Paypal
. Thanks!
To find out more about how to support this advice service check
HERE
If you need to fix or configure a NAS, check
Fiver
Have you thought about helping others with your knowledge?
Find Instructions Here

ASK NASCompares forum
, by clicking the button below. This is a community hub that serves as a place that I can answer your question, chew the fat, share new release information and even get corrections posted. I will always get around to answering ALL queries, but as a one-man operation, I cannot promise speed! So by sharing your query in the
ASK NASCompares
section below, you can get a better range of solutions and suggestions, alongside my own.