At the moment, all this data is only stored locally, on these nases, backed up to Backblaze cloud storage using the Hybrid Backup utility, each to its own bucket. We need to get additional storage capacity, and are thinking about using a mixed model of production data and archived projects, so we can store archives of older projects only on the backblaze cloud (not replicated on our local nases, unless the retrieval of a single project is required for any reason) plus ongoing production and projects which would them be stored on our nases, and also backed-up (although not archived) on backblaze. An option is to postpone the problem to a later date and simply buy 12x16TB disks, but this will likely only be viable for about 1 to 1.5 years of data production.

I've been looking for a tool/suite of tools to do this and stumbled upon Media Asset Managements systems, without finding the solution fitting our needs. I was wondering if you had to set-up this kind of system at some point, and what kind of tools you used. Also, we might switch from our 5 NASes to a real file server with close to ~30 disks (given our current consumption) to make the whole backuping/archiving process simpler and usable with existing softwares. Again, if you've encountered this kind of problems with companies of our size and could give me hints of where to start looking or predicted costs, this would be really appreciated.
Yes, Synology will not allow a solution like this and you will need to consider Qnap. There is the software they offer called Hybrid mount. I have copied some more info about this from Qnap bellow. You can mount a cloud storage space on BackBlaze or another provider to your Qnap. It will then appear as a "volume" on your NAS. You can then see this data in a regular way via SMB/NFS/AFP (as a network drive next to your C: or D: drive). This way everything is kept under one umbrella and there are no changes for end-users. Qnap also offers automation tools for your folders and files. You can enable automatic archiving where files in certain places if not accessed for a few months can be moved to different folders like Archive.
This app is compatible with home-based NAS like TS-253D (USA, UK)  as well as rackmount options.
Also if you need an expandable solution where data grows fast, the best choice will be a rackmount. You can then stack one box on top of each other and increase the space. If you go for Qnap ZFS based models (preferably with double speed SAS hard drives) then there is also no 200TB volume size limit.
TS-h2483XU-RP-E2236-128G is a SATA based ZFS model with 24 bays.
TS-h1886XU-RP-D1622-32G  18 bays
TS-h1277XU-RP-3700X-32G 12 bays
Just look for Quts Hero OS
Source bellow: https://www.qnap.com/solution/hybridmount/en/
Directly connect to the cloud via SMB/NFS/AFP
Cloud storage that is mounted on the NAS using the gateway mode can then be mounted to individual computers using SMB, NFS or AFP, allowing users to access cloud-based files as if they were stored locally. In the network drive mount mode, a folder on a file server mounted on the NAS via SMB and NFS can be set as a local shared folder and local permissions can be assigned for mounting and accessing on another device.
Supports major cloud storage services
HybridMount supports numerous cloud storages (including file storage and object storage) and S3-compatible services. You can also mount remote devices (including NAS or servers) using CIFS/SMB, FTP/FTPS, NFS, or WebDAV protocols. Multiple mounting possibilities allow you to flexibly expand NAS storage capacity while enabling single-interface management of the files on NAS, cloud storage and remote devices.
Alibaba Cloud
Amazon Drive
Amazon S3
Azure
BackBlaze
BOX
Catalyst cloud
Share File
SWARM
Digital Ocean
DropBox
Google Cloud
Google Drive
HiCloud
HiDrive
HKT
Huawei
IBM Cloud
luckycloud
One drive for business
One drive
Openstack
Oracle Cloud
Cloud
QINIU
RackSpace
SharePoint
Wasabi
Yandex Disk
Local caching enables low-latency accessibility to the cloud
Enable local caching for connected cloud storage and save the cached files in the HybridMount Cache Volume on NAS to benefit from a near-LAN access speed to your cloud files. QNAP provides two free HybridMount licenses, and additional licenses can be purchased as needed to activate local caching for multiple mounted cloud storages.
Note: Due to cloud limitations, Amazon Drive and ShareFile do not support enabling local caching.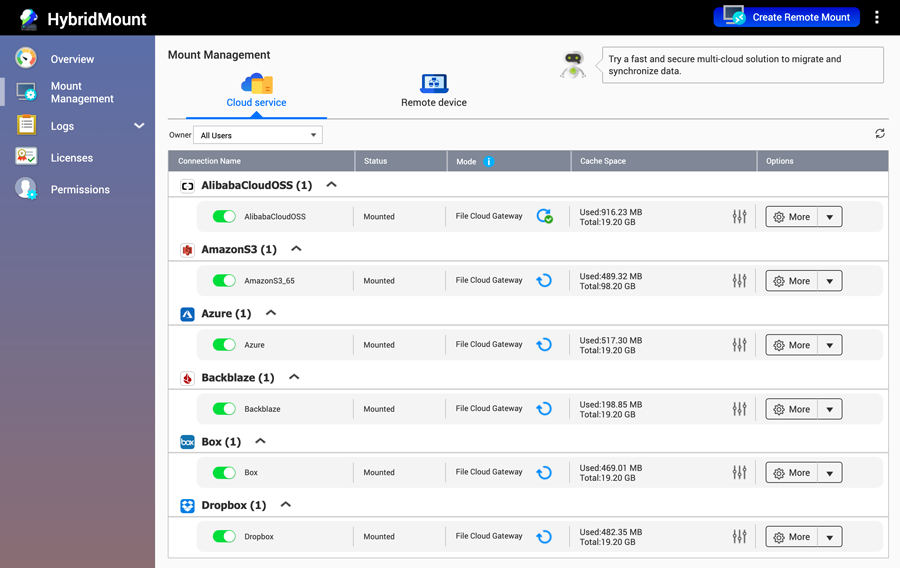 FAQ